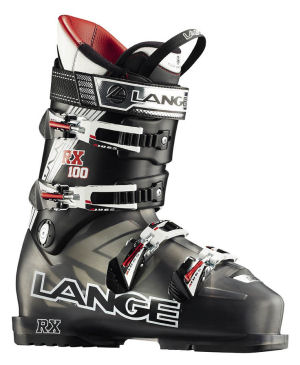 'The difference between men's and women's boots is mainly the cuff height and flex. Women's boots are generally softer than men's and their lining has more padding – to help accommodate a woman's slightly lower volume foot. They also tend to be a bit more flexible.
'The cuff height in the calf area of a woman's boot and boot liner is shorter, simply because women have shorter calf muscles. Sometimes the calf area is also flared to accommodate a women's lower calf, which can be more shapely than men's calves!
'The biggest mistakes that women make when buying boots and skis are buying on colour, buying what their friends have, buying in a rush and buying boots too big!
'Problems that can arise from having poor-fitting ski boots can vary but if your boots are too big – either too long, or too wide – your foot won't be totally in contact with the skis, making it hard to turn them.
'If your boots are too tall in the leg it makes it harder to flex forward and get the weight onto the right part of the ski, this can also be a cause of shin pain. In this situation women can then over-buckle the boot to compensate. This, in turn, causes you to claw with your toes to help you steer, which isn't a good technique.
'Boots that are too stiff can throw you into the "back seat", which makes it hard to transfer your weight along the full length of your skis. But, equally, overly soft boots can give you shin pain and throw you forward onto the tips of the skis making it harder to initiate a turn.'