Snow Magazine | Winter 2022/23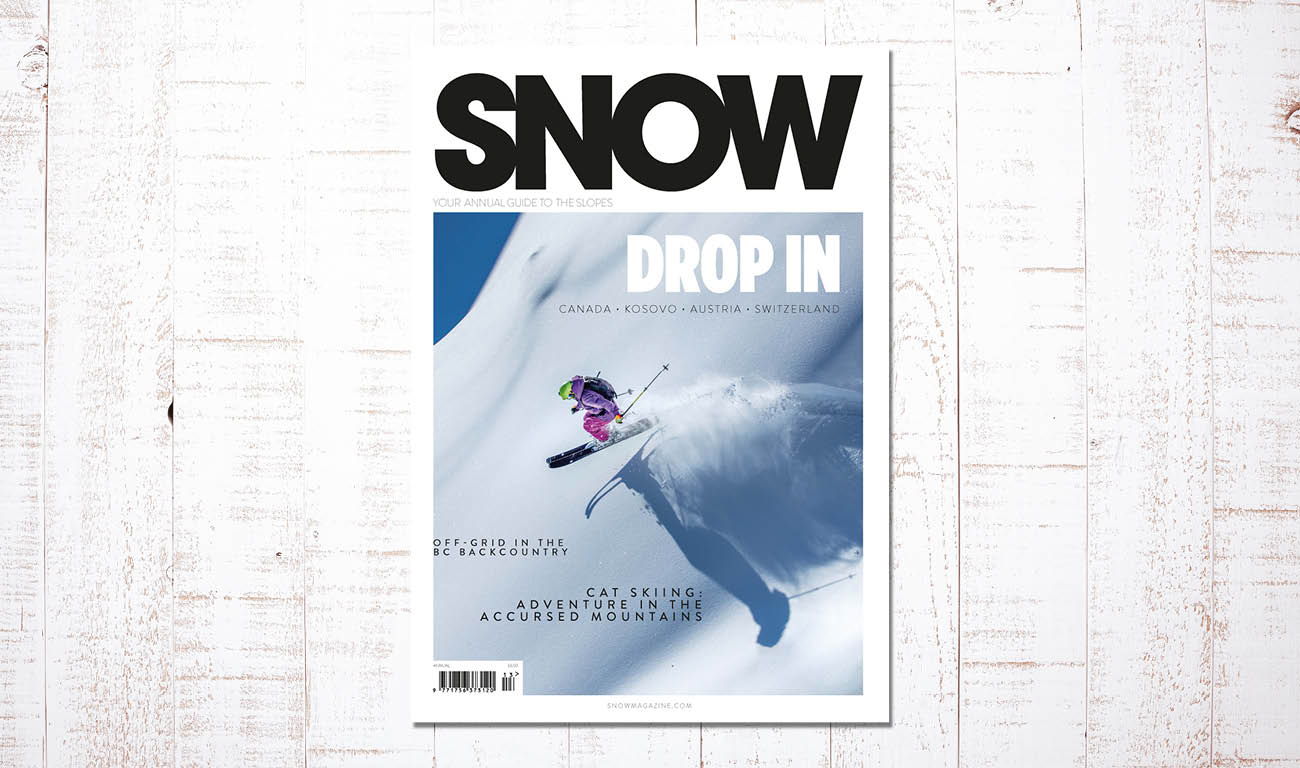 I've not been watching the new Game of Thrones. But more than once in the past month, I've found myself excitedly repeating the original show's catchphrase: "winter is coming". It's a happy thought to cling to in what often feels like an ocean of overlapping environmental crises—from the catastrophic floods in Pakistan, to glacier collapses in Italy, to the impact of Hurricane Ian in Florida.
When the news cycle is so unremittingly bleak, dreaming about skiing and snowboarding can feel like a frivolous indulgence—fiddling while the planet burns. But often, it's their love of sports like these that drives the people who are making the biggest difference. Witness the story of Yvon Chouinard, the passionate climber, skier and surfer who founded Patagonia in 1973, built it into one of the world's biggest brands, and then, a month before we went to print, announced that he was giving the entire, multi-billion-dollar enterprise away in order to combat climate change. As well as offering a powerful example of how business can be a force for good, the reluctant billionaire's mic drop moment showed the true meaning of putting your money where your mouth is. "If we have any hope of a thriving planet 50 years from now, it demands all of us doing all we can with the resources we have," said Chouinard, by way of explanation. "I am doing my part".
This issue mixes stories of people and organizations "doing their part" (like Europe's most eco-friendly ski resorts p. 56) with stories designed to stoke your love of the winter sports world, from Kosovo (p. 82) to Canada (p. 64). We hope they inspire you to channel your inner Yvon, and indulge that love. But we also hope they serve as a reminder that we must all "do all we can with the resources we have" to help curb carbon emissions—and to ensure that, in future, winters keep coming.
See you on the hill.
- Tristan Kennedy, Editor
SNOW MAGAZINE BACK ISSUES
Snow Magazine | Winter 2021/22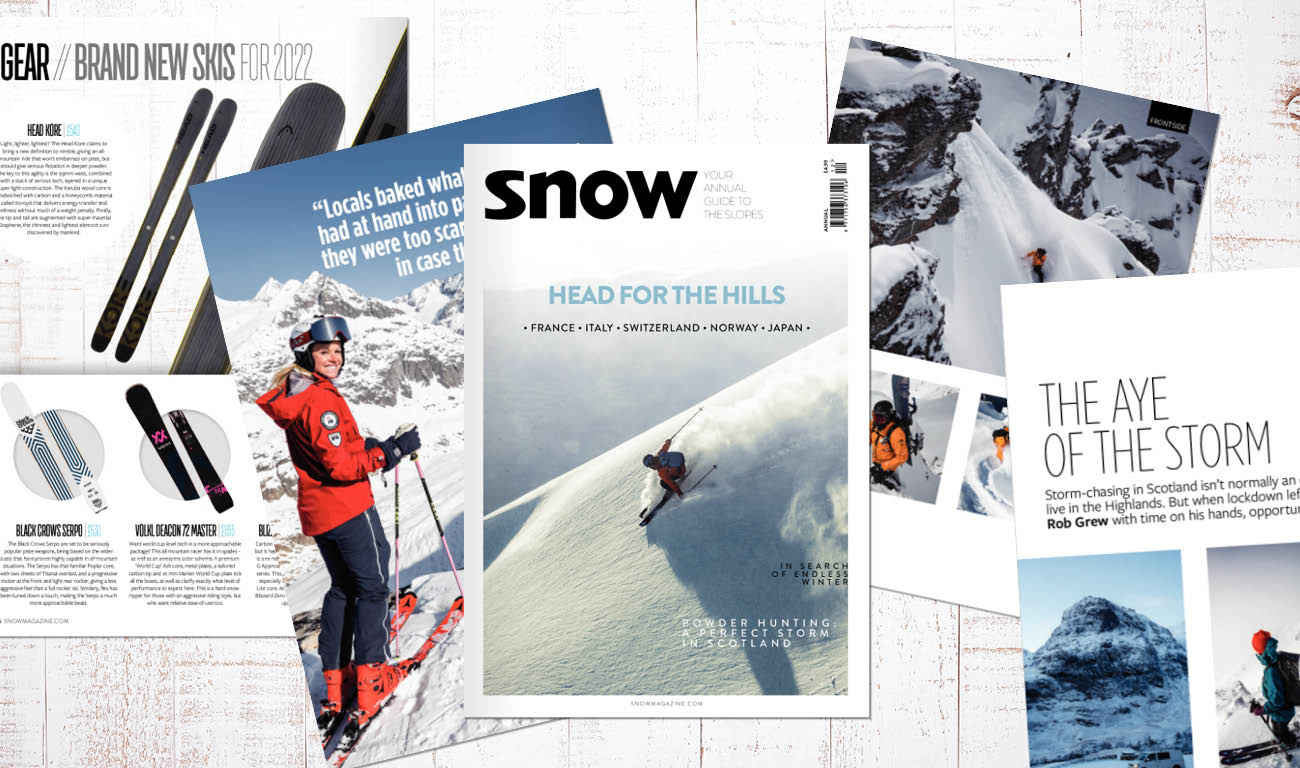 They say absence makes the heart grow fonder. So it's no surprise that I, like many other people, am absolutely frothing about the start of winter.
Without wanting to jinx it, at the time of writing, all the signs are looking positive. Lifts have already started running in some parts of Europe, resorts are opening up, and excitement is reaching fever pitch. Of course, a lot of things will doubtless be different.
Masks and other precautions will probably be required. After all, we're not out of the woods when it comes to Covid yet. But there's nothing like being denied something you love to make you realise how much you miss it.
Like several of the contributors to this year's magazine (including pro skier Chemmy Alcott, and professional photographer Rob Grew, I was lucky enough to see some snow last winter. I live in Italy, and even though lifts were shut, ski touring was still allowed.
If anything though, stripping the activity of its normal rituals – the excitement of travel, the enjoyment of après pints, the sharing of post-shred stories – made me realise that the actual skiing itself is arguably the least important part of it.
The thing I really missed about skiing is the same thing I've missed for so much of the past 18 months: being able to spend time with other people, whether that's friends, or family, or even just some randoms who've bought you a shot of jäger at the bar.
Hopefully, this magazine will provide plenty of inspiration for places to ski this winter, from Scotland (featured on our cover, no less), to Svalbard. Here's to enjoying it all with other people, and soaking up every moment after so long away. See you out there.
- Tristan Kennedy, Editor
Snow Magazine | Winter 2020/21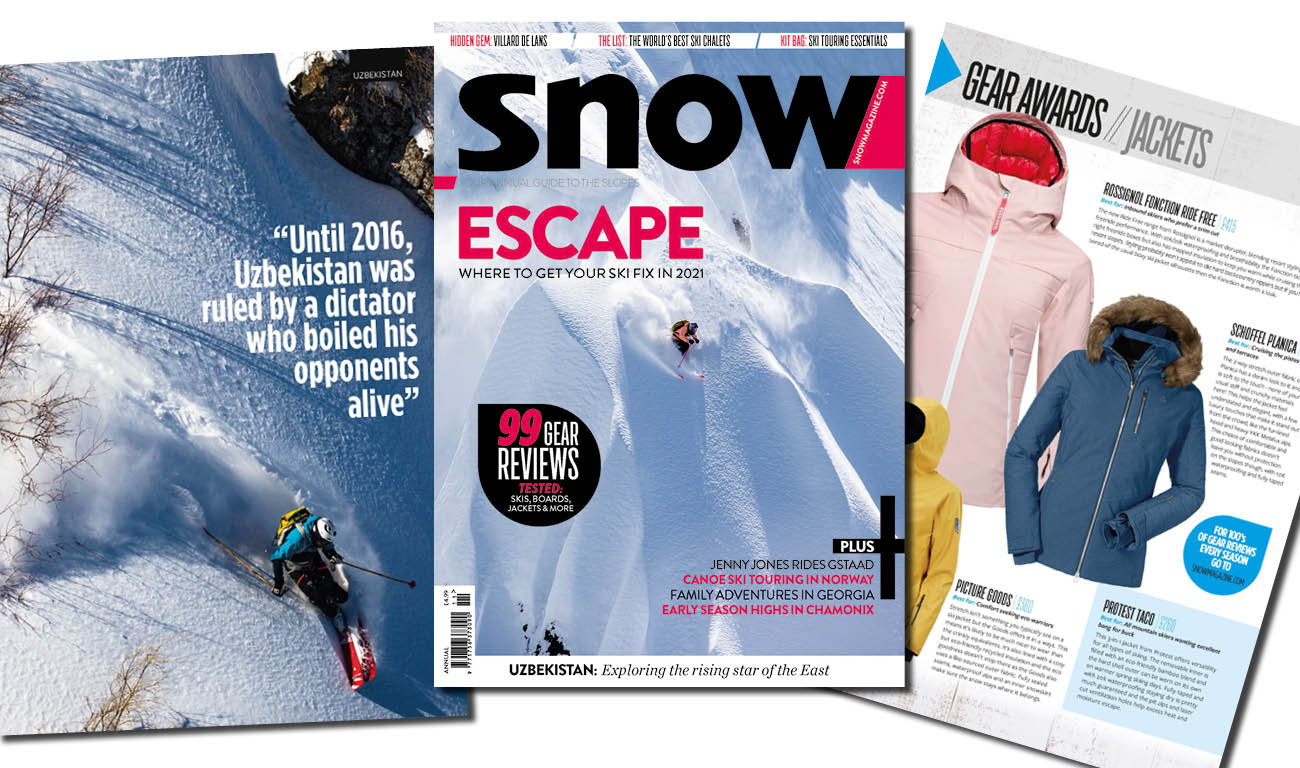 There's no two ways about it, this is going to be a strange season.
With that in mind, we've put together an issue jam-packed with ideas of where to go when you can. There's a focus on touring and the backcountry, where social distancing is the rule, rather than the exception. Matt Carr went to northern Norway to try out a new, amphibious way of accessing lines - paddling to the base of couloirs in a canoe. Pete Coombs took his family way off the beaten track to Georgia where his kids loved the complete lack of crowds. Meanwhile, I went to check out the touring potential of the brand new resort that's just opened up in Uzbekistan.
We've got tips on where and how to get your fix closer to home too - from skiing in Scotland to the alpine resorts that are waiting to welcome you just as soon as travel opens up again (Postcards from the Mountains). Our gear pages are stacked with exciting new kit that will help you get out and amongst it, from backcountry essentials to the best touring skis.
The reality is, however well kitted out or prepared we are, there's going to be a certain amount of uncertainty about this winter. It's a little bit like dropping into a new line - you can study photos of the face all you like, but when you're skiing down it, you're still going to end up making split-second decisions about which way to turn. Of course, that's what makes getting to the bottom rewarding - and there's no doubt in my mind, that as and when we do make it out into the mountains this winter, it's going to feel all the more special.
Hope to see you out there.
Tristan Kennedy, Editor
@tristan_kennedy
Snow Magazine | Winter 2019/20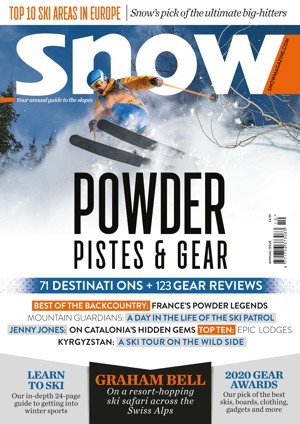 Order the winter 2019/20 issue now!
Let it snow - we're raring for another winter in the mountains now that our latest issue of Snow has dropped. Whether you're a keen powder seeker or are taking your first steps in snowsports, we've got all the practical knowledge and wanderlust-inspiring winter stories you need within these fair pages to help you ski and snowboard further and better this season.
Once again our powder-hungry team have been all over the globe in search of the best snowbound adventures, both on-piste and off. This is a pretty medal-tastic issue of Snow Magazine, as five-time Olympic skier Graham Bell heads on a country-crossing road trip of Switzerland's finest resorts and Olympic snowboarder Jenny Jones reports back on why Baqueira Beret in Catalonia is a bit of a hidden gem.
Robert Grew heads far from the pistes in France's Isère to seek out the best backcountry, and Pete Coombs searches for powder on the wild side in Kyrgyzstan.
And if you've ever dreamt of heading to the mountains and staying here, come along with Bethany Mercer to join the gnarly ski patrol team of La Clusaz in France as they save lives and drop bombs in their mountain playground.
And it's not all about the experienced skiers in this issue - Jim Walker reckons Morzine is the perfect place for littler skiers to find their feet, and we've got a 23-page New to Ski guide for anyone completely new to snowsports, covering everything from what to expect from your first lesson to how on earth you get on a charlift.
Ready to make a beeline for the pistes? Get kitted up first - in this issue our team of expert testers bring you the finest skis, snowboards and winter gear in our 2019/2020 Gear Awards.
See you in the mountains.
Snow Magazine | Winter 2018/19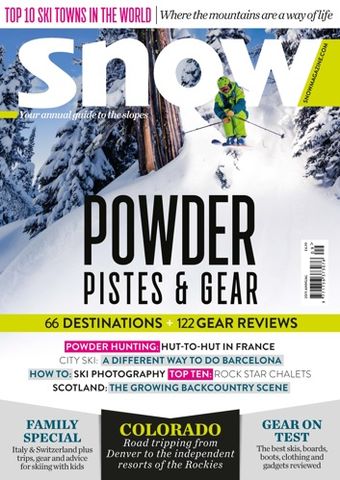 Order the winter 2018/19 issue now!
In this issue we're celebrating another season of slopeside adventures and tons of fresh snow. Stuffed with winter inspiration, whether you're a keen powder hound, planning your first snow holiday, taking the kids or searching for the ultimate party chalet.
Our writers have travelled the world to seek out the best winter adventures, all guaranteed to get you itching to step into your bindings and hit the slopes.
First up, Daniel Wildey finds a secret, crowd-free wild side to Val d'Isere and then combines a foodie Barcelona city break with a tour of Pyrenean pistes. Pete Coombs hops across the pond for an epic road trip through Colorado's best independent resorts, and I travel to Bansko to see how Bulgaria's cheap-as-chips approach to skiing measures up to the Alps. Plus, we show you how to make the most of some epic snowfall on a Tignes short break.
There's no need to leave Blighty for an epic snowsports adventure, either - Sophie Nicholson heads for the hills to uncover the Scottish Highland's flourishing backcountry scene. It's not all about the grown-ups in this issue - Pete Coombs takes his offspring on their first backcountry tour in Italy (gulp), Jim Walker heads to Mürren on a multi-generational family holiday and we pick the best resorts for adventurous families.
You're going to need some shiny new kit for all these winter adventures. Our team of expert testers jetted off to the Austrian mountains (it's a tough job) to bring you our 2018/19 Gear Awards, including our skis and snowboards of the year, the best jackets, goggles, gadgets and more.
See you in the mountains.
Sian Lewis, Editor
Snow Magazine | Winter 2017/18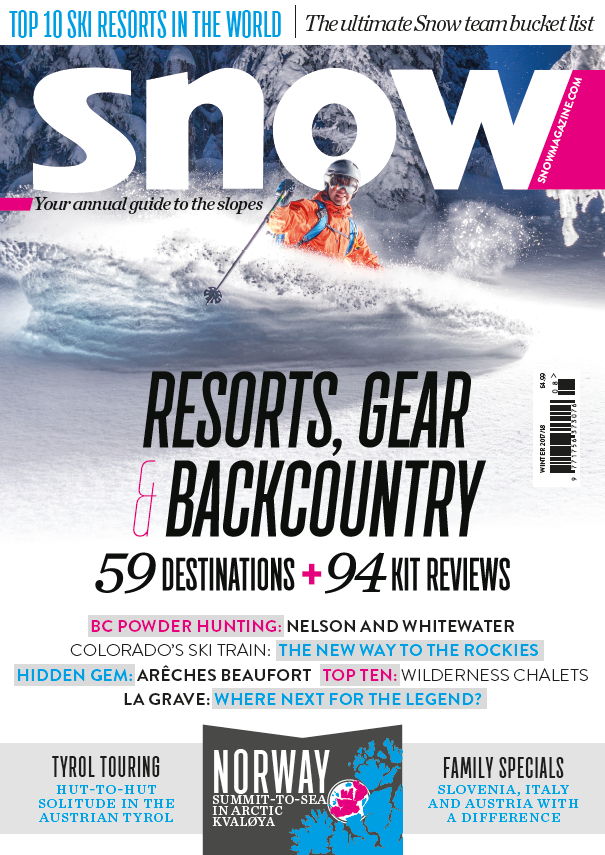 Order the winter 2017/18 issue now!
Open this issue on any page and you'll quickly see that our take on the wonderful world of skiing and snowboarding is not just about taking the lift up and then hooning down a piste for seven days.
Being into snowsports in the UK necessarily means being into travel, and that's how we like it, with every trip an opportunity to explore the white capped mountains of the world. New cultures, languages, food and horizons are all vital components of the ski holiday mix which we're here to celebrate.
To this end we've brought you trips to destinations as disparate and diverse as British Columbia, Colorado, the Arctic Circle, and Slovenia. Then, when we do take you to more familiar countries, such as France, Italy, or Austria, we've gone off-piste in the way that we've explored them. Hence we unveil the hidden gem of Arêches Beaufort in the snowy shadow of the Mont Blanc Massif, take a family trip to the high Italian resort of Livigno, by starting and finishing next to the sparkling waters of Lake Como, and a relaxing Christmas city break to Austria's beautiful mountain capital Innsbruck.
My own contribution to this eclectic mix is a family trip to Slovenia, where we visited four wildly contrasting ski resorts in seven days, easily driving around this affordable, small but magically beautiful country of frozen fairytale lakes, pristine national parks and medieval castles.
But inspiring travel stories are just part of the mix: inside you'll also find our 2017/18 Gear Awards, where we've ridden and rated the best skis, snowboards and snowsport gear you can buy this season, plus distilled for your bucket lists our Ultimate Wilderness Chalets, the Best Family Ski Resorts in the World, and our hotly contested (and debated) Top 10 Ski Resorts in the World. Enjoy!
Neil Pedoe, Editor
Special offer! Get Snow Magazine & The World's 100 Best Ski Resorts for only £10!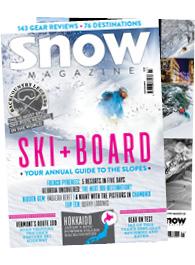 That's right get both magazines delivered direct for your door for only £10 including postage!*
The World's 100 Best Ski Resorts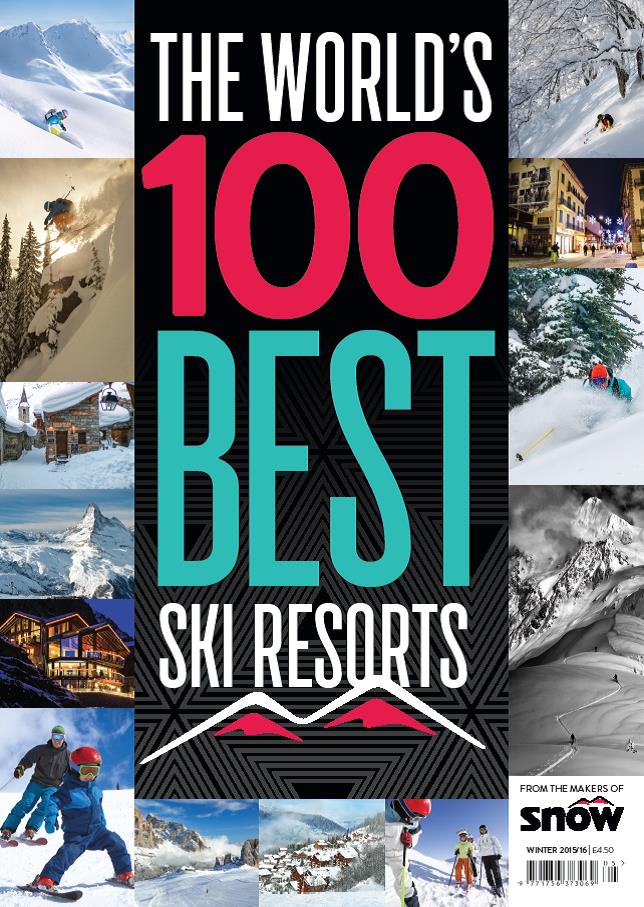 This season we're releasing a very special issue of the 100 best ski resorts in the world. We include the big players as well as the weird, wonderful and backa beyond resorts that you need to know about. We've ridden and rated all of the resorts in the guide to provide you with a comprehensive overview of where to go, when, and why.
The resort guides are accompanied by stunning imagery on extra thick paper making this a perfect gift for your loved one - even if that loved one is yourself!
Available to order now for the very special price of £6.99 delivered to your door*
Special offer: Now only £3.99 delivered to your door!