A landmass to take your breath away – there is nothing quite like giant folds of ice to make you feel human, nothing quite like an Antarctic wind to remind your bones of the cold, and nothing to compare with the freshness of the air as it lightly scalds your lungs.
It's not every day you get to go to Antarctica because, of course, getting there is not in most mortals' budget. There's also no whaling industry any more. So, the distance and the inhospitable nature of the place restrict it to committed scientists, wealthy tourists and hard core adventurers.
But I had been invited to interview the South African explorer Mike Horn. It was a decadent trip – I was a guest of Champagne house GH Mumm, which was re-enacting a dinner at Antarctica and had brought three-star Michelin chef Gérard Boyer to cook a four-course meal on Mike Horn's sailboat at Charcot Bay on the Antarctic peninsula. It was not your everyday kind of excursion – in a whirlwind trip lasting just over a week, I made it to Antarctica and back. At a stretch you could have called it a long weekend.
It's a hell of a long way. The the plane rides keep coming and coming and you barely know where you are in time and space when you have crossed the globe so quickly. You can't go direct from London to Santiago, Chile, so there was an irritating early stopover at Madrid. The fun only begins when you have already been travelling for more than 20 hours. This involved getting a DC-3 plane from Punta Arenas in Chile to King George Island, a plane which had apparently dropped British troops into Germany in WW2.
This is when normal reality ceases, you can say goodbye to your beeping Blackberry clinging on to the rat race, and hand your fate over to the wilderness and nature's will. It's quite feasible that you might become stranded. Nothing is predictable. We were immediately delayed by the weather, indefinitely. Four hours later, though, the whiteout lifted and we made it to King George Island to meet Mike Horn. This was the first land discovered in the region, by Englishman William Smith in 1819.
This is also where Horn had been hosting 20 young explorers on his boat, educating them in environmental projects he is involved with and something he will be doing with kids all over the world over the course of his four-year expedition, Pangaea. In this insanely ambitious plan Horn, 42, is travelling to both poles, climbing mountains in the Himalayas, crossing deserts in Asia and Africa and trekking through the sticky dangers of the Amazon rainforest, to name a few highlights. But he's certainly the man to do it. This is the adventurer who body boarded the whole way down the Amazon and made it to the North Pole in freezing winter darkness.
'On my journey I am looking to spread my word through teaching and selling the world through beauty, not through fear. We must learn to appreciate what we have,' he explained.
After a mile hike across King George Island, we boarded the boat which is to be his base camp round the world. Also called Pangaea, it is one of the most high-tech custom-made sailboats you are ever likely to encounter. From the ice breaker on the front and the navigation system, to the giant TV screen and the mini desalination plant for water, this boat is capable of withstanding any conditions in the world, according to Horn's laidback skipper Nick, and sleeps up to 30.
It was not long before we felt the rough seas of the Southern Ocean and some of the journalists and crew began to be seasick. It was a seven-hour journey by motor to Deception Island, where we anchored in the centre of a live volcanic crater. I noted with interest in the guidebook that scientists said it could erupt at any time, and it gave details of trying to find high ground should lava appear in the sea.
Continued...
---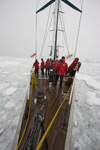 Horn had arranged a surprise for us. Some of the crew had gone ahead and dug a giant pool on the beach for us to swim in – yes, swim in. The live volcano meant there were hot springs all over the beach, so you could slip into a hot pool with the air temperature around you at minus15ºC. It was very surreal – we were handed vintage Champagne to drink and I could see beautifully rugged mountains all around. We then managed a kamikaze run into the freezing water, where I heard my body fizz for the first time, like running cold water over a popcorn pan. The run back up the beach was hysterically fast.
After caviar, truffles and Champagne on board the boat, we had another nine-hour overnight trip to the Antarctic mainland, bumping and veering through icebergs all the way. It was like sleeping on a roller coaster which kept crashing.
Looking out over the ice fields as Nick negotiated our way through, with the whole sea swaying like a giant, white ice carpet, we finally made it to Charcot Bay.
This is one of the places where, in 1908, the French explorer Jean-Baptiste Charcot, on his boat Pourquoi-pas surveyed 1,250 miles of coastline and new territory while Ernest Shackleton was still trundling south on the other side of the continent.
Here we hiked up an iceberg on the Antarctic mainland and Horn posed for a photo with the chef Gérard Boyer in the spirit of Charcot 100 years before. This was where we saw the desolate beauty of the harshest continent and realised quite how powerless you can be in such an environment. The tradition of adventure was alive but the weather was turning. A hurricane was approaching King George Island and a whiteout was preventing us leaving immediately when we returned to the boat. We were stuck, we had no control over the next week of our lives, and we were running low on food. We were left with Champagne and cheese. So, we proceeded to live on these for the next 24 hours, in between visiting a penguin colony as we braced ourselves for the wind. We felt for Horn, who was about to set off across Antarctica alone for four months on the first leg of his journey but set about entertaining the people trapped on his boat by dressing up as a pirate captain and hosting a party with his very last supplies of booze.
However, just as a couple of journalists were threatening to mutiny, the pilot found a window to get us out before the hurricane. The general relief masked a little disappointment – being stuck in an Antarctic hurricane could have been quite an adventure.
Horn was then off to battle and climb his way onto the Antarctic peninsula in the very same gale-force winds, while we had a very turbulent six-hour hour flight back to Punta Arenas, into a mighty headwind. I have to say I was dizzy by the time I got back to London. A week to Antarctica and back is a world of rabbit holes and strange white dreams. It was a trip from a fantasy world.
Nothing is cheap for an experience down there. Supported trips to the South Pole cost around £30,000, while climbing Mount Vinson, the highest mountain on Antarctica at 4,892m, can be done for £18,000. But if you have the money to spend, it might be worth looking at White Desert (white-desert.com), a luxury tented camp in Antarctica run by British explorer Patrick Woodhead, where you have the chance to climb uncharted mountains and learn the art of kite-skiing for a cost of around £17,000 for a 10-day trip.
Mike Horn is sponsored by GH Mumm champagne. Go to mikehorn.com for more details on his adventure.