Anyone who has ever been on a ski holiday will know the feeling – you ski like a demon on day one, then wake up the next morning with achy thighs, sore knees and a stiff back. The walk to the lifts seems longer and those skis feel heavier…
Skiing is undoubtedly a demanding sport, so it is vital not to neglect basic fitness in the run-up to your ski holiday. Depending on the kind of skiing you'll be doing you'll need to take part in different levels of pre-ski exercise.
Whether you plan to cruise the pistes or are looking to push yourself with turn after turn in deep powder, a good level of physical fitness will make sure you get more from your winter, make the most of every moment and avoid unnecessary injuries.
Here are our top six tips to get yourself ski-ready: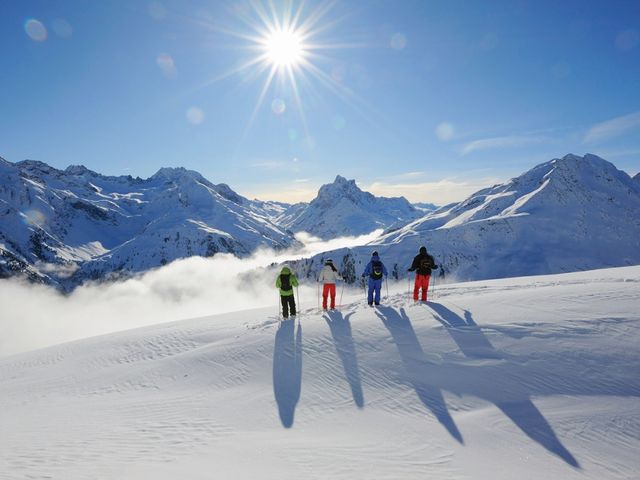 Get your heart going
Even if you are planning to stick to cruisy blues, teamed with coffee stops, a long lunch and mulled wine breaks you'll need good stamina for a whole week of such a punishing regime! And all the squats in the world won't help if your cardiovascular fitness is not up to scratch. To get ski-fit, aim to do cardio work (which will raise your heart rate) at least three times a week, for between 20 and 60 minutes.
Running is the most obvious way to work on your cardio, however there are other ways which are more relatable to skiing. In the gym, try a spin class. These will work your lower body at the same time as your heart; cross trainers or stair machines also offer better preparation for skiing than a flat treadmill. Outside, running up and down hills will naturally work your body in a way more similar to skiing than running on the flat will. Walking and cycling will also improve your cardio over a longer period.
Weight for it
While a general fitness level is essential, we also need to perform exercises which most accurately replicate the forces and movements your body will experience on the slopes. Skiing for a week can be taxing on certain muscle groups, so it makes sense to tailor your workouts to these.
Conditioning, or weight training, can help to strengthen the ski muscles. As you'll spend most of the time with your legs bent, absorbing the downhill forces, squats and lunges are go-to moves. They'll prepare your quads, hamstrings and glutes for those thigh-burning descents, and will engage your core and stabilise your legs. Don't neglect your arms though, especially if you're a beginner or are planning to head out into deeper snow. If you take a tumble, you'll need some upper-body strength to pull yourself upright again. So, factor in some bicep curls, tricep dips and press-ups.
Get some online help
While it's better to maintain a good level of fitness all year round, you should start training your body at least six weeks before your ski holiday. However, you can still squeeze in some ski exercises at home without stepping foot inside a gym. With online workout videos, you can swap your sofa for some squats without sacrificing your nightly TV fix.
Crystal Ski Holidays has teamed up with partnered with David Lloyd last year to produce a fitness programme called Slopercise, specifically for skiers. Slopercise has been designed to tone and tighten the muscle groups you'll be using the most.
You don't have to be a member of a gym either. Instead, get slope-ready in the comfort of your own home with the online workout plan. With three videos in total, you can pick the workout to suit your current fitness and move on up through the levels as your holiday approaches.
You'll find all three Slopercise videos on the Crystal Ski Holidays YouTube channel and on the Crystal blog.
Take a balanced approach
Balance is extremely important for skiing and boarding, particularly when you're skiing in bad visibility. To increase stability and reduce the chance of falling, spend some time perfecting your posture and core strength.
One helpful technique is to close your eyes and stand on one leg for, say, two minutes – do this up to three times a week. Once you feel comfortable, you can take it to the next level by brushing your teeth at the same time or adding little knee bends into the mix.
Think flexibly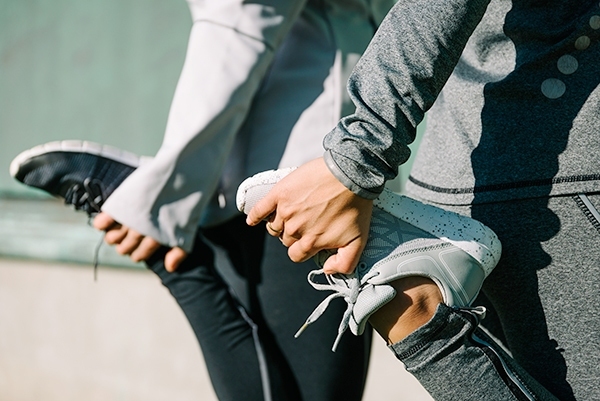 After your workouts, make sure you stretch. Cooling down the muscles keeps them flexible, strong and healthy, and helps to maintain a good range of motion in the joints. If you don't, the muscles can shorten and tighten, increasing the risk of injury.
Go skiing!
Ultimately, the best way to condition your body for skiing is… skiing! So a few trips to your nearest dry slope or indoor snow centre are invaluable. Dry slope surfaces are not very forgiving to ski on (especially if you fall over) but they are great places to work on the basics – think of it as a ski gym. Aldershot, Southampton, Christchurch, Sunderland and Edinburgh are a few of the many dry slopes now operational.
Indoor snowdomes are becoming more and more popular in the UK and there are now six which produce real snow - Braehead (Glasgow), Castleford (Snozone), Manchester (Chill Factore), Tamworth SnowDome, Milton Keynes (Snozone) and Hemel Hempstead (The Snow Centre). At these venues the temperature is usually kept between -1°C and -5°C, allowing snow cannons to produce snow in the same way as those used in many ski resorts.
Skiing here also gives you a chance to see if your kit and clothing are also ready for your next trip to the mountains.