The iconic twin peaks of Mt Ushba rose high above us like giant viking helmet horns, and as I turned to put my splitboard together I could see the full length of the Becho valley to a bench of glaciers in the south. More than a 1,000m below was the snowbound Mazeri village and the now familiar sight of Svaneti's iconic medieval stone defence towers. These intimidating safe houses high in the Caucasus mountains had warded off aggressors for centuries but now UNESCO protects them.
We stopped on a narrow snowy ridge to scope our options – one a wide open bowl, the other a powdery tree run. With the sun beating down from a bluebird sky the snow in the bowl looked heavy, so for the first time all week we opted for the trees. We're not disappointed. We keep expecting the run to end but it doesn't; another pillow to hit, a tight turn, then finally we tuck to race across the flat, deserted valley floor. This is splitboarding in Georgia and to us it is paradise.
Strange beginnings
Our trip started in Tbilisi airport several days earlier, where a loud throaty roar announced Dato's arrival. He was driving a huge old 4x4 truck, complete with racing numbers and sponsors' logos. "Seriously, is this the hire car?" I muttered. "Is super fast on snowy roads, you like it?" our Georgian friend asked the two of us. I smiled a nervous smile while Marion looked confused as we loaded our gear.
A 4am arrival and no sleep on the flight were far from the perfect preparation for driving on the notorious Georgian roads. But at least there was no traffic as we headed through the deserted streets to drop off Dato, before heading out of the city alone for the nine-hour drive to the west Caucasian mountains.
The grey curtain of drizzle meant we could see little past the post-industrial landscape and occasional monuments to Stalin from the USSR days. But we made good progress, stopping for coffee and local pastries along the way, and soon the road started winding uphill into the mountains of the Svaneti region.
For centuries Svaneti was infamous for its lawlessness, while its isolation combined with its network of tall defence towers helped it repel marauding armies. Driving this road as recently as 2008 was still strongly advised against due to the threat of bandits. However the Georgian government has since embarked on a programme to improve the road quality and security; they also replaced most of the police force, almost eradicating police corruption overnight.
Our arrival in Svaneti was confirmed by the appearance of the first iconic medieval defence towers rising high above the houses, with ancient orthodox churches perched on small peaks and steep mountainsides nearby. Legends say they were so safe they were filled with national treasures when the wider country was under attack. The locals say there is gold still locked away in the more remote churches.
Into the snow
Most importantly, long before we arrived exhausted in the real frontier ski town of Mestia, we had passed through the rain and the road was getting snowy. In summer hikers from the Russian-speaking world fill the streets and as a result a number of good guest houses and comfortable hotels exist, so we quickly found ours and turned in.
Despite a short night we were up early to enjoy the previous day's fresh snow, splitboards in hand, heading for the shuttle bus to Tetnuldi resort, which first opened just two weeks before.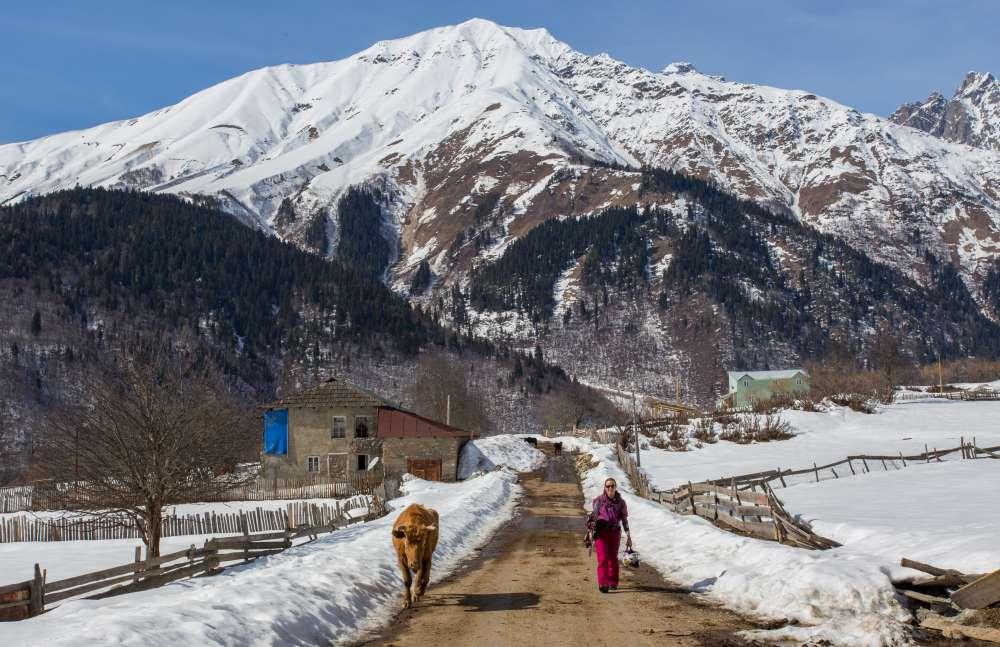 Around the first street corner a nonchalant-looking group of cows blocked my path. They refused to move and I narrowly avoided slipping from the copious piles of cow dung on the road. "You wouldn't get this kind of sh#t in Verbier!" I shouted to Marion. We hopped straight onto the waiting 'bus' – more accurately a soviet-style truck with seats – and headed for the slopes.
There was only one lift open so far meaning Mestia was all about exploring the off piste. We quickly split the boards and started to slide uphill, taking in the scenery: snowy ridges and spectacular summits for 360 degrees. Straight in front of us rose the photogenic Mt Tetnuldi which gives the resort its name. Best of all, the area was empty and completely untracked.
"You wouldn't get this in Verbier either!" I shouted to Marion. The only other ski tourer we saw on the bus was coming with us – an Australian lady excited about some English-speaking company. The terrain could be kept mellow so setting a skin track was straightforward – a large cornice the only cause for deliberation.
As I took some photos, a member of the ski patrol ran over. I was expecting a lecture on the snow conditions or a warning of dangers. Instead I got a big smile and a thumbs up: "Enjoy our beautiful mountains!" he said in broken English, like the other locals we met, excited about Europeans coming here in winter.
"You should ski there," he said, pointing to a steep powder-loaded face. I replied with a smile and a high five. In any European resort that slope would be tracked out soon after first lift but here in Svaneti we had the rare luxury of knowing it could wait for our last run of the day.
The higher we climbed the more individual peaks gained context, the infamous twin horns of Mt Ushba catching our eye in the distance. Called the 'Georgian Matterhorn' it's a unique and beautiful mountain. Later in the week we planned to carve its lower flanks.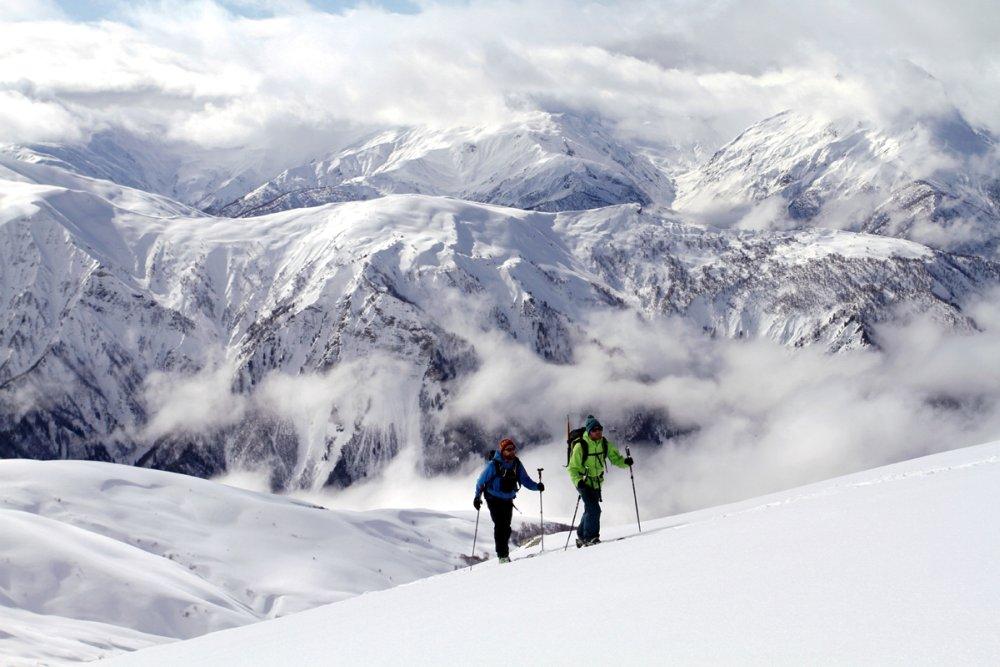 At the top of our first descent the scene that met us would not be out of place on a Canadian Heliski trip. "Where is every one else? Oh wait – they're in the Alps," we smiled to ourselves.
A couple of runs later and we returned to ski that front face. Once on the summit ridge the convexity hid a steep drop-in but we knew the line and trusted the snow, dropping in and heading back towards the resort base with the village in the distance. The snow was slightly more wind-scoured here but yet again delightfully empty.
Back in Mestia we explored the genuinely interesting museum and wandered around the unique buildings. A few minibuses of Russian skiers buzzed about but we opted to stick to our guesthouse, with its good local food and free-flowing chacha, the potent local brandy.
Nina, our host, enthusiastically explained the desire of the region to become a popular ski destination. The road had been improved, lifts were going in, and soon the resort base would open. Part of me selfishly hoped the authenticity and lack of crowds might remain a bit longer.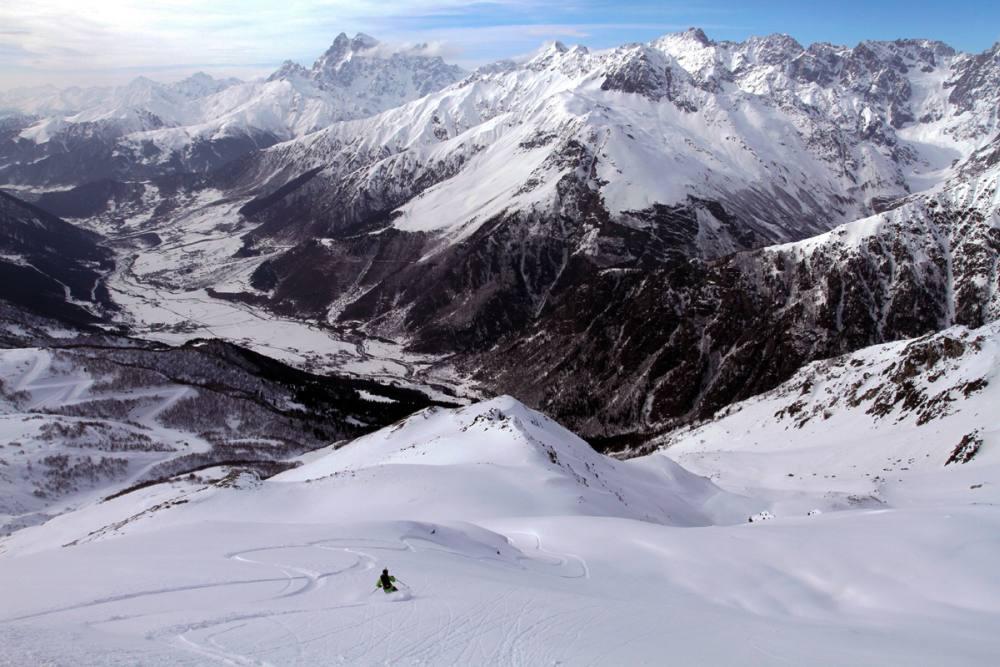 High spirits
The next morning back at the resort car park a friendly chap in a snack van shouted us over: "You want chacha?" The question was rhetorical because he'd already poured a plastic glass full of purple-tinged spirit with an uncanny resemblance to meths and, I suspected, as much alcohol. After being abused for sipping it, I downed it, took a high five then headed to the first lift up.
Yes it was 10am on day two in Georgia and I was already a bit drunk. All the same, we enjoyed another sunny day shredding the rest of the untouched off piste, making the most of it before the forecast warmer weather.
The next day we wanted to both sober up and reach the village of Adishi by splitboard. We first spotted this remote mountain village on Google maps, and then discovered that it was totally cut off by road in winter. The challenge of skiing there for the night proved irresistible, so Nina, our hostess in Mestia, called a friend in the village to arrange a homestay and a plan was set.
Our topo map suggested still using the lifts to gain height and then traverse a few bowls towards Adishi.
Soon after leaving the resort area we spotted an inviting ridge to a steep snowy headwall and agreed it had to be ridden. At over 3,000m, the climb took longer than expected, but finally we were scoping the drop in, with a panorama of pristine snow and blue sky before us.
Miles of mellow rolls and powder slashing in the cold shadows followed, with just one more uphill before the spectacularly isolated Adishi finally slid into view, the snow on its south facing walls rapidly melting to reveal a close-knit cluster of tumble down houses and tall towers.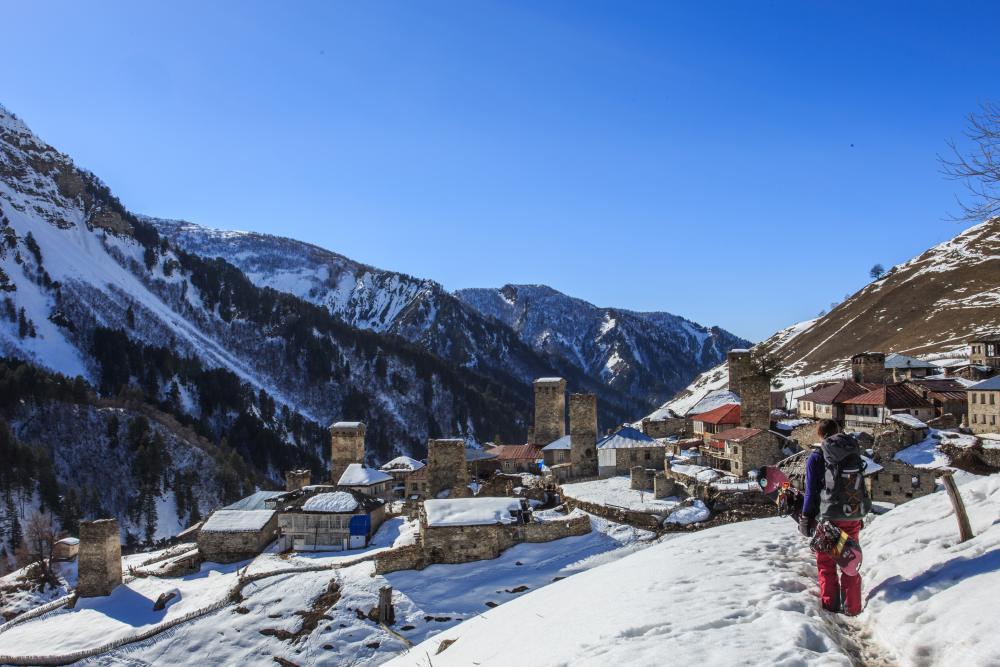 At the village boundary we passed more cows sheltering for the winter, and some men needing help to push a jeep up a steep icy track, shortly before a traditional bull-led sleigh arrived behind the jeep – a far more practical option than wheels here!
At our homestay we were plied with large quantities of black tea, bread and mystery green jam, tasting like nothing we had ever eaten before. Given the isolation of the village we had limited expectations for food, but how wrong we were. It was a proper feast: home-made cheesy pizza pie khachapuri, hearty soup, pickled vegetables, pasta, chips with dill, lentil stew, salad and hot milk.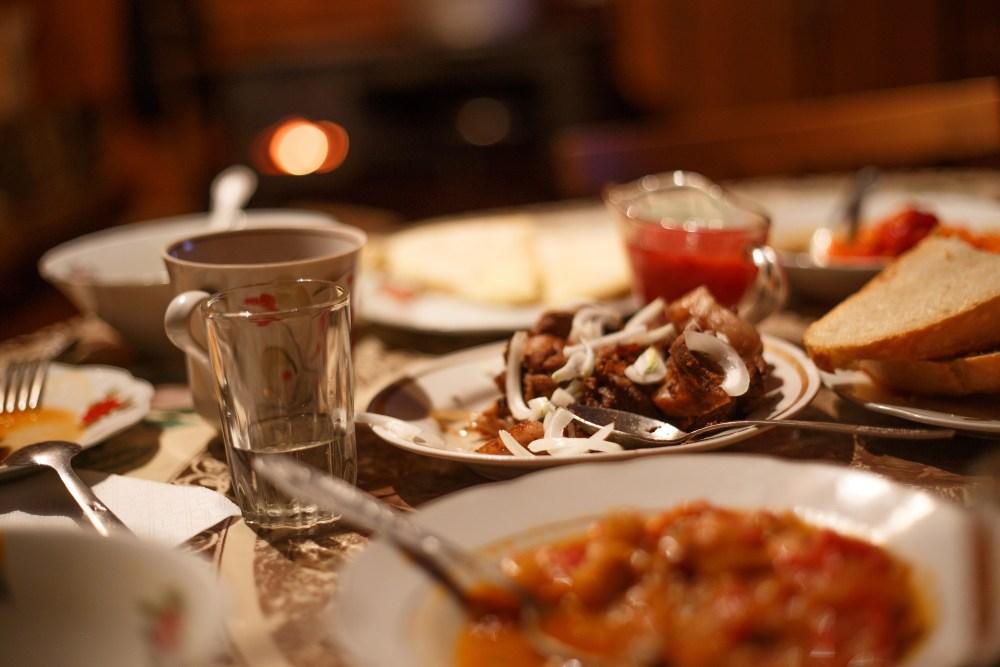 After our return to Mestia we drove up the Becho valley to the village of Mazeri. We were even closer to the Russian border here and we passed armed guards casually sitting on a wall, turning their heads to check out our 4x4. The truck certainly came into its own here as I slid and span it along 10km of track to our final guesthouse.
Although high temperatures had reduced the number of safe touring options here for us – and with no lift to help us gain any serious height – we scoped out the flank of Mt Ushba which we'd seen from afar. It looked feasible, so with an early start we skinned up a forest track past two spectacularly sited ancient churches.
Clearing the tree line Mt Ushba towered above us but the bowl we had hoped to ski was catching more sun than expected. Discretion being the better part of valour, we opted instead for a tree run. We weren't disappointed, with pillows and tight turns ample compensation.
For our final day, we set off in shorts and t-shirts for a spot of 'nordic splitboarding' just to unwind and admire the views. Bear tracks in the snow reminded us these hills are wild but full of rich reward for the adventurous.
Before we flew home we had one day in Tbilisi exploring the fascinating city's mazelike, cobblestoned medieval centre to top off this incredible journey.
Svaneti might have been home to the golden fleece that Jason and the Argonauts came to loot, but today I suspect he would return to steal fresh tracks, in an area so remarkable the secret will surely soon be out.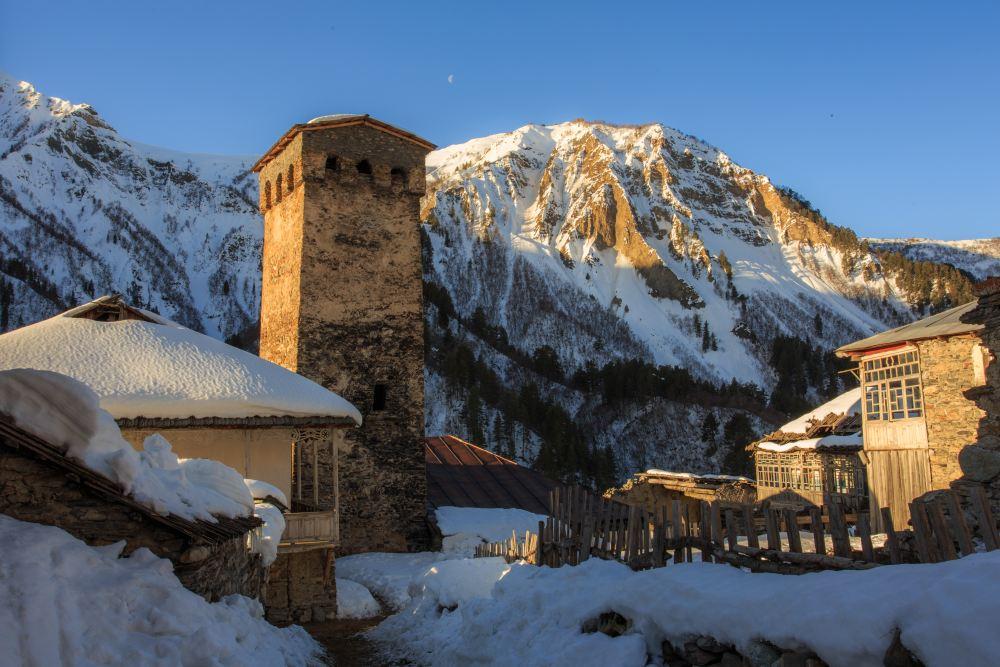 SNOW HOW
Flights
Fly via Istanbul with Turkish Airlines or Pegasus air. The closest international airport to Svaneti is Batumi but there are more frequent flights to Tbilisi, the capital. Flying to Batumi reduces the drive from 8hrs to 4hrs. Internal flights do go to Mestia but are very weather dependent
Airport transfers
Most guesthouses provide a minivan service for getting about. Taxi's are cheap and handy. Driving yourself here is not for the faint hearted.
Where to stay
Ed went fully independently. Flights with Turkish Airlines and a guesthouse called Nina Ratiani in Mestia through Booking.com. Fully inclusive guided trips are available through 40Tribes.com
There are a good selection of hotels and guest houses in Mestia. Nina Ratiani's and Guesthouse Svan Ski come recommended with English speaking hosts. £14-£20 for B&B in double room.
Where to eat & drink
Georgian mountain food is hearty. The national dish: Khachapuri is a cheese baked into bread perfect post skiing food. Expect tasty meat dumplings and delicious soups, lots of chips and also interesting salads. Georgians love their own wine too , it's sweet and very drinkable.
The skiing
Georgia is the growing winter sports capital of Eastern Europe. There are three distinct regions for skiing.
Firstly the Adjara region and Bakuriani resort near the Turkish border, which is family-focused. Goderdzi is further into the Adjara mountains and at similar altitude of 1700m to 2200m therefore snow is not entirely reliable.
The second area is in the high Caucasus mountains and is the closest area to Tbilisi at just 120km north of the city. The resort is called Gudauri and it offers excellent terrain for all abilities and a refined resort experience with fancier lodging and seven lifts. The altitude is at 2000m to 3250m so pretty snow sure across the season. Snowfall is a bit lower than Svaneti but comparable to the Southern French alps. Being on the main highway to Russia it is easy access but loses a bit of the wild mountain charm.
The third and final area is Svaneti, at 475km from Tbilisi it is quite a trek but skiers are rewarded with views over the highest Caucasus peaks and fascinating mountain culture. There are two areas, Mestia lift and the Tetnuldi resort. Mestia has one tree line lift while Tetnuldi has three lifts for 2017 and six planned. The altitude ranges from 2200m to 3050m with further easy off piste hikes. At 9USD per day Tetnuldi is pretty reasonable.