Ski touring is a magical way to explore the mountains beyond the piste markers - and it isn't just for experts. The Swiss ski resort of Crans Montana is making it easy for beginners to give ski touring a try with a new series of mapped signposted ski touring routes.
The so-called Rando Park (from ski randonee, or ski touring) includes 15 marked trails that range from a gentle 1,3km ramble with 212 metres of ascent, perfect for complete beginners, to La X'treme, a 34,7km trail with a whopping 3,059 metres of ascent, suitable for the experienced and the adventurous.
Each trail is graded blue, red or black in the style of ski pistes, and the three easiest routes are designed specifically for anyone who is new to skiing on skins. The ski touring area spreads across 40km of trails and ranges 8,000 metres up the mountain, opening up an adventurous playground far from the busy pistes.
The best time to explore these new trails? When the crowds of downhill skiers and snowboarders have gone home. When I head to Aminona, one of the four villages that make up Crans Montana, to try out one of the new trails, we strap skins on our touring skis at 3pm. The winter sun is already low in the sky and other skiers are heading off the mountain.
We're following trail number 14, the 'Grand Loup' (or Big Wolf) a 5,6km route that winds up the mountain with a healthy ascent of 871 metres. The Grand Loup begins in Aminona and leads up to the peak of Petit Mont Bonvin at 2,383 metres – from here you can ski back down on marked pistes, and our plan is to skin up for sunset and then ski down again in the dark.
As a touring newbie (this was only my second time on skins) I still find getting into the fiddly bindings of touring skis difficult, but once my skis are securely on and I get used to the strange feeling of being able to freely lift up my heels, sliding over the fresh snow feels effortless.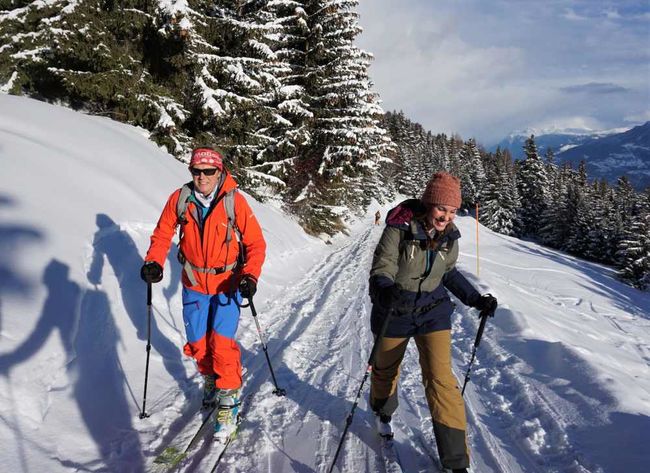 We set off through the woods, following the markers that dot the shady trail. The higher we climb, the more effort is required to push skis uphill, and the more layers I have to shed, but the views across the mountains and down to Crans Montana below are mesmerising.
We keep climbing – the trail is getting steeper but it's a great workout, and probably the sweatiest I've ever been on skis. What's really astonishing is that it's still daylight but the surrounding mountains are totally empty of people – we don't see a soul for miles.
For me, the joy of ski touring is that it has all the adventure of off-piste skiing - the chance to get off the beaten track and into wild parts of the mountains - without the technical difficulty of downhill backcountry skiing. As long as you're reasonably fit, you can go ski touring, and it's also a cheaper way to explore the mountains without the cost of a lift pass. Crans Montana's new marked trails are proving perfect for beginners like me who want to go it alone but with the security of a mapped route to follow.
As the sun starts setting, we emerge out of the treeline and onto windswept bare mountain. The going gets tougher, but as the sun finally slips behind the horizon, it paints the snow around us in orange and gold.
When daylight disappears below the skyline, the temperature drops sharply. We switch headlights on, eat a handful of Haribo and keep climbing, our guide showing us how to turn our skis on the narrow switchbacks of the now very thin and steep path we're following. As soon as we stop moving I feel the cold bite at my core, a good incentive to keep slogging on up the mountain, left ski after right ski.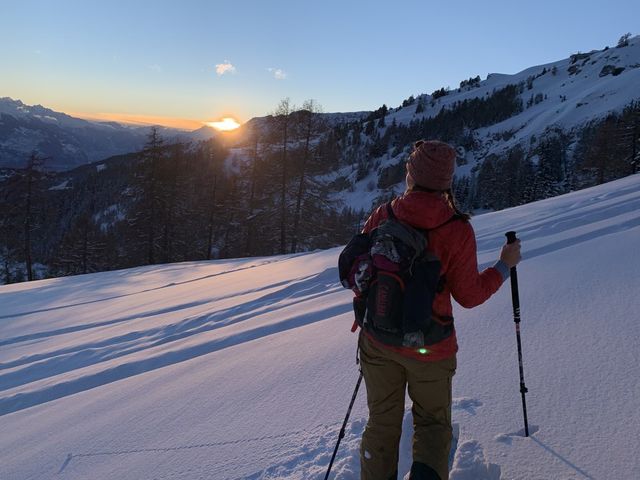 When we finally reach Petit Mont Bonvin at 2,383 metres, it is completely dark, just a sprinkle of stars above us. We huddle inside a shelter and our guide plies us with wine from a thermos. As we switch our skis to downhill mode (your heels are fixed for descents on touring skis, which feels similar to traditional skis), we finally encounter some other people – a group of local ski tourers are out for an evening tour with their dogs.
Skiing back down the mountain in a procession of winking headlights is surreal - and tremendous fun. We float over powder that we can barely see, the sky bright with stars above us, then follow a ski track that winds all the way down the mountain and back to the valley.
We arrive in time for raclette and more wine, an exhausted and blistered but happy group of ski tourers. I decide that I'm hooked on adventurous ski touring, and that I'll be back to take on some of Crans Montana's other magical trails solo.
SNOWHOW
GO SKI TOURING
The Crans Montana ski area offers a specific Rando Pass (£3.86 per day) that allows ski tourers and snowshoers to use cable cars and chairlifts to reach the start of ski trails and to ski down on pistes after a hike. Find maps of the Rando Park available in lift stations.
As well as taking on the trails self-guided, ski touring events are planned throughout the season in Crans Montana, including guided night tours of the trails. Every Sunday morning, Crans Montana offers free introductory courses with professional coaches. Visit crans-montana.ch for more, including a list of approved touring guides.
Touring skis and boots are available for hire from the RANDO shop in Crans, which rents out ski touring kit as well as avalanche transceivers, snowshoes and climbing equipment.
FLIGHTS
Sian flew with Swiss Air from Heathrow to Geneva, two hours from Crans Montana. Flights from £60 return.
WHERE TO STAY
Stay at the Hotel Elite, a comfortable and retro-themed modern hotel near to the slopes, the centre of Crans and cross-country ski trails. Double rooms from £141 per night.