The annoying buzz grew louder and louder until I managed to find the 'off' button. The red numbers were reading 3am. Yes, it was time for the annual pilgrimage to Gatwick for the 6.30am flight to Geneva. It was the Easter holidays, and the Alps were calling.

Eleven hours later we (my 14-year-old son and I - his sister and mum were exam bound at home) got off the transfer bus at Les Arc 2000. Those looking for a cute French alpine village would be disappointed. However, we were there for the skiing and at 2,000m it is a snowsure resort even in April. The 425 km of runs and 98 lifts, should keep us busy.

A short walk took us to the Matterhorn chalet. Our apartment on the seventh floor consisted of five bedrooms and four bathrooms. The bedrooms were of a moderate size unlike those in some chalets where you feel like Harry Potter living in his cupboard under the stairs. It was very comfortable and utilitarian.

Charlie, our 18-year-old gap year chalet host, was quick to offer to take us down to the ski-hire shop so we could get kitted out ready for the next day's skiing. A five-minute walk through the resort, incorporating short cuts through several apartment blocks, found us in a surprisingly empty ski shop where we were both quickly fitted with boots, skis, and a helmet for my son, all of which we hired. With his current growth rate, there is little point in buying ski equipment for Benjamin, so if it can't be borrowed, hiring it is the next best option.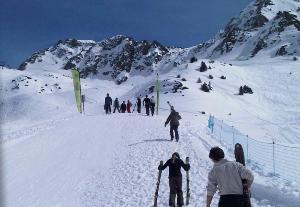 Finally, I needed a ski helmet. It was time I stopped lecturing my children about why they need to wear a helmet, and listened to my own words. Tearing down a snowy slope without head protection, even if you are mostly in control, is quite frankly insane. There is a strong argument to say that if you don't wear a helmet you don't have enough of a brain worth protecting (I am sounding like a reformed smoker!) . With a bit of help from Charlie we negotiated an end of season deal and I was the proud owner of a new helmet.

We decided on the full Paradiski ski pass which at £500 between us (no discount for a 14 -year-old) gave us full access to not only Les Arc but also La Plagne which, when combined, form one of the largest ski and snowboarding areas in the world. As it turned out we did not make it to La Plagne due mainly to a pair of dodgy fifty-year-old knees.

Our very long day was starting to tell, so it was back to the chalet for a nap and then the first taste of Charlie's cooking. I must admit, we couldn't help but wonder if we were in for a week of dry bread and gruel. However, despite his young age, Charlie was an accomplished cook having undertaken a gourmet cooking course. The lemon cake for afternoon tea was a delightful pre-curser for a delicious dinner which comprised carrot and coriander soup, Mediterranean beef casserole with mustard mash and honey glazed carrots, followed by bread and butter pudding. Dinner was also our opportunity to meet our fellow chalet guests.
---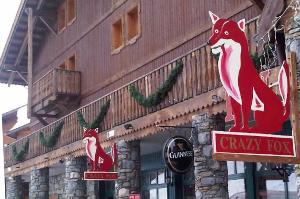 First we met Andrew and Nicki from Gloucestershire with their three children, Elliot, Martha, and Louis, who were all under 11 years old. Accompanying them was Nigel, lovingly known as Nige. Also in the chalet were Charlie's mother, Jane, and her seventeen-year-old daughter Laura. After dinner Andrew & Nige were quick to don their Everton FC shirts and head down to the Crazy Fox bar, conveniently located in the same building as our chalet, to watch Everton draw 2-2 with West Ham. The Crazy Fox is a typical French ski bar run by British bar staff. Sky Sport screens are dotted throughout, and a big screen projector relayed not just football but also the obligatory extreme skiing videos. The downside to the Crazy Fox was the €7 price for a pint!

In the morning the sun was out, the snow was fresh and the runs were pristine. A short walk to a 50m button lift, a final stretch of my knees, and we were off. We started with a short run to the Marmottes lift and knew we were in for great day. The night's frost had left an icy crust on the runs but that was soon to burn off. The first lift of the holiday, with the sun starting to feel warm on your face, always brings a feeling of elation. Marmottes was a short run to the bottom of one the longest lifts, Arcabulle. This provided a fifteen-minute ride to the top of Col du Grand Renard. It was the last day of the Easter break so it was busy, but not too bad. With such a large ski area and a well thought out and connected lift system, we never had to queue for more than a few minutes.

Skiing down towards Arc 1600 was the first real test of the fifty-year-old knees that had been punished on various squash courts. Being concerned about just how well the knees would cope I came well equipped with more knee braces than Forrest Gump. The first few runs were spent trying to keep up with a fourteen- year-old who has aspirations to be the next Franz Klammer. Needless to say his knees were not screaming in pain.

You can only imagine my joy when we discovered the snow park. I took a very sedate path through the park finding a picnic table at the bottom at which to rest. I was thinking that this might not have been the best idea and maybe we should have gone scuba diving! Too late now for that kind of thinking. I packed the 14-year-old up and down the snow park for the next hour - which trust me was not a hardship for him. We shot the airborne stills.

We shot the video. We shot the take-offs and the landings on the freestyle airbag. For those who have not come across an airbag, the idea is you ski down a 50m slope then hit a near vertical ramp taking off, doing your best to complete whatever aerial stunt you can pull off, which for the most part is a panicked expression with arms, legs, and skis flailing in all directions. These is no requirement to land gracefully, instead one lands in a heap on a large bouncy castle. The next part is usually the most amusing for the assembled crowds and involves watching the aerial daredevils trying to get off the airbag - no easy feat still strapped to skis.

Having collected enough photo evidence of his bravery to send his mother, his sister, and his school friends, it was time to find lunch. We did consider one last trick - the water slide which involves a 100m hill and a 20m wide pond. The idea is you build up enough speed on the hill to be able to ski across the pond. For those that make it they are rewarded with a big cheer from the crowds, for those that don't make it they get a bigger cheer and the rest of the day spent in freezing cold wet clothes.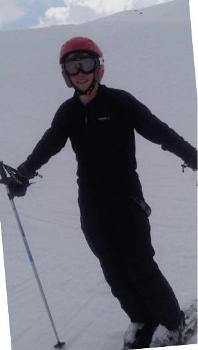 For lunch we skied back to near where we had started the day. On a recommendation from Charlie we tried out La Bouille - or the Dome as it is known to the Brit chalet gang. It was a typically mid-resort restaurant serving the normal faire of pizzas and sandwiches. Charlie had recommended it because it was reasonable priced. He was right. It was reasonably priced compared to the other restaurants, however, with isotonic energy drinks costing €5, it was a definition of reasonable that I was not familiar with.

With lunch over we hit the slopes again. The lower runs were rapidly turning to slush which caused the knees even more pain than the morning sessions. We stayed at higher altitudes where the snow was still great. The Grand Col was particularly fun so that we repeated that run numerous times. A lot of other people had the same idea so the runs were busier than we had experienced in the morning. By 4pm the knees had had enough so we retired for the day. I hit the sofa with ice packs in attempt to ready the knees for the next day. The 14-year-old discovered the pool in the basement, which turned out to be routine for the rest of the week.

Happy hour in the Crazy Fox from 5 - 7 pm brought the cost of drinks down by 50 per cent which was a good excuse to get to know Andrew and Nige better. Both were expert skiers. Andrew was a qualified ski instructor who juggled a fulltime job in education, a family, and passion for skiing that involved four to five trips a year. Dinner was at 7.30 and Charlie did us proud again with spaghetti in lemon with Parmesan and chilli dressing followed by honey glazed chicken. After dinner we had the pleasure of meeting another assistant resort manager. Oli was another 18-year-old gap year student who had a place at Birmingham University to study medicine. He was extremely laid back, but in his own way very efficient. He was very eager to please and followed through with every request. This was a consistent trait with all the Alpine Element staff.

The week continued, the knees got progressively worse until Day 4 when like whining children they suddenly realised that they were not going to be let off skiing no matter how much they moaned. My fellow apartment guests were great. They all stepped in and skied with the 14-year-old when on a couple of occasions the knees simply gave up. The sun appeared every day. The lower slopes become more and more worn. On the last day we skied down to Plan Peisey for lunch. At 1600m it was not really skiable at that altitude, but was a great lunch. The evening before had been Charlie's day off so we had ventured out to Charlet de L'Arc which was a typical French alpine restaurant. The good food was great and the bill even greater; but worth it.

There had been no fresh snow all week so by Saturday we had pretty much enjoyed the last real ski week of the season. Till next year!