I last went skiing 17 years ago; it was the worst holiday of my life. I bought a white ski suit with a turquoise stripe from Oxfam (only when I saw the photos did I realise quite how hideous it was) and went with five alpha males to the Tignes, in France.

The guys were exceptional skiers - with egos to match. They insisted I didn't need lessons (which in some ways was a relief, given the cost) and told me that since I was "sporty" I'd soon have skiing "sussed".

Of course, I didn't "suss" it at all. As the others shot past yelling words of encouragement such as "it's not that difficult" and "can't you just get on with it?" what confidence I had, vanished.  I spent the next five days floundering, falling over and feeling foolish and I couldn't wait for the holiday to end. When it did, I told myself I never had to go skiing again. Until now.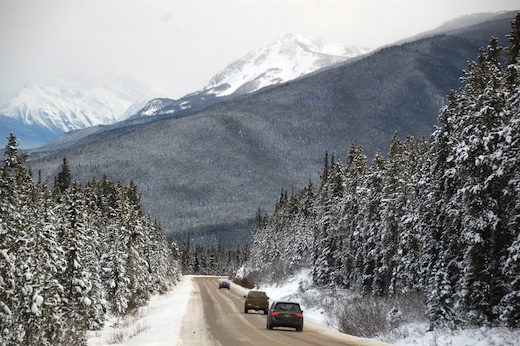 I'm at Marmot Basin ski resort, a 20 minute drive from Jasper, in the province of Alberta, in the Canadian Rockies. I'm struggling with a pair of ski boots (can anything, other than a straightjacket, be more difficult to put on?) and I'm getting increasingly agitated and feeling incredibly apprehensive: in a moment of spontaneity I signed up for lessons in three of Canada's most popular ski resorts: Marmot Basin, Lake Louise and Sunshine Village, Banff and I'm about to get going. 

Marmot Basin lies slap bang in the middle of Jasper National Park, close to Alberta's border with British Columbia and around a five-hour drive from the provincial capital, Calgary. Its USP is that, at 1689m, its base is the highest of the Canadian ski resorts. It also has extensive tree skiing and an extra long season, which runs from November until May. Add to that a 3000 ft vertical drop and 1675 acres of slopes, 35% of which are suitable for beginners, and you've got yourself a pretty awesome resort.

I tell Joycelyn, my cheery ski instructor, that we need to "start at the very beginning." I subsequetly find myself wearing one ski at a time and shunting across the snow. A three year old bombs past.

"This could be embarrassing," I comment.

Joycelyn remains focussed. She talks about stance and balance then teaches me to turn and stop. "Keep your hips parallel to your skis," she urges. "We're not ready to slalom yet."  

I glance round. A teenager in a fluorescent hoody is carving circles with his snowboard; kids, skiing backwards, are practising tricks. Mine is the snowplough and parallel skis routine: "pizza and chips, pizza and chips." My skis interlock. I wobble and fall.  

"Embrace the slope!" Joycelyn cries. "Don't fight the mountain!" (Now why would I want to do that?)

I tell her I'm happy to stay on the nursery slope all day but she wants to move on.

"You have moved on," she says, "if not in your mind."

We head to the chairlift. It slows as it swings round; Joycelyn gives the operator a wink.
"Let it scoop you up, then raise your skis so they don't get caught and pop off," she suggests: a useful tip.

As we climb the mountain, I take in the view. The slopes are wide and noticeably uncrowded: the routes marked by pine trees more than poles. The vibe is mellow and relaxed and it's nothing like I remember Tignes. Admittedly it's early (December) but there are no queues for lifts, no jostling for space and no one about to crash into a learner me from behind.

We tackle a blue run. I talk myself through it: hips parallel, lean forward, don't sit on your skis - and turn.  I'm amazed to reach the bottom intact.

That evening I travel to Lake Louise, a four hour journey along the scenic Icefields Parkway, a 200 km stretch of glaciers linking Jasper and Banff national parks.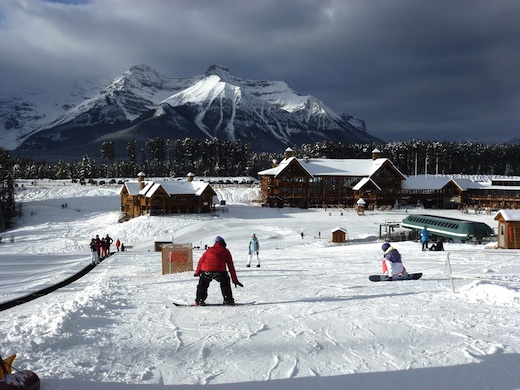 Lake Louise is one of North America's largest ski resorts and as I arrive, professional skiers are in training for the Ski World Cup. I spot the coaches of the Swiss team in the lobby of my hotel.

"I'm learning to ski," I say.  They grin.  "I know; at my age." (I'm aware their champion is 20 years my junior). "Er, any tips?". "Stay fit and practise," they suggest, "although at your age it's probably best just to have fun."

Ouch.

I tell this to Sarah, my instructor at Lake Louise ski area, its pistes are perfectly groomed. Trying not to smirk, Sarah shows me how to walk in ski boots. "Heel, then toe," she says, demonstrating, (it's a whole lot easier), "Now at least you can strut your stuff!"

We spend the day working on coordination, balance, pole planting and laughing; Sarah tells me I need to chill more, which is easier said than done.

I'm getting used to following instruction when at Sunshine Village, Banff, the lesson is turned on its head. "So what do you really want to know?" My final instructor, Kenji, asks. I pause, "To turn when I want to and not when the mountain runs out". "That's a very good thing to learn", she says.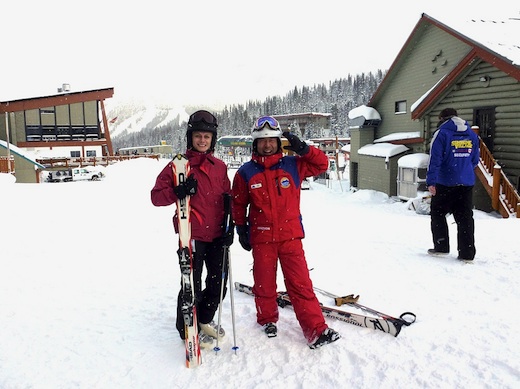 We spend the day immersed in theory and technique but Kenji's endless explanations pay off. Finally, as he suggests, I allow my skis and not my body to initiate the turn. I see my greatest improvement yet.  

As we leave the slopes, I tell Kenji that although it's been a long way to come, Alberta with its perfectly groomed pistes and wide, open slopes has been a perfect place for a cautious beginner to learn to ski. I don't have it "sussed" but I do have a smile on my face and more importantly I want to go skiing again.
Snow How
Getting there – Air Canada flies direct from London Heathrow to Edmonton. It's a three-and-a-half hour drive from Edmonton to Jasper aircanada.com
 
For general information on Alberta and Canada visit TravelAlberta.co.uk, Canada.travel.com

For additional information:
jasper.travel.com
skimarmot.com
banfflakelouise.com

For information on skiing at Lake Louise and Sunshine village: skibig3.com

Tonquin Inn, Jasper: decorehotels.com
Fairmont Chateau, Lake Louise: fairmont.com/lake-louise
Buffalo Mountain Lodge, Banff: crmr.com