My first foray on skis was when, mid- season, I decided give two planks a go rather than one. My boyfriend, a die-hard skier, said he was going to give me, 'one piece of advice'. I dutifully tuned in and engaged my brain ready to process the pearl of wisdom that was going to turn me into Lindsey Vonn. 'Go faster than you've ever gone before, and I'll see you at the lift,' he shouted, as he fired down the piste.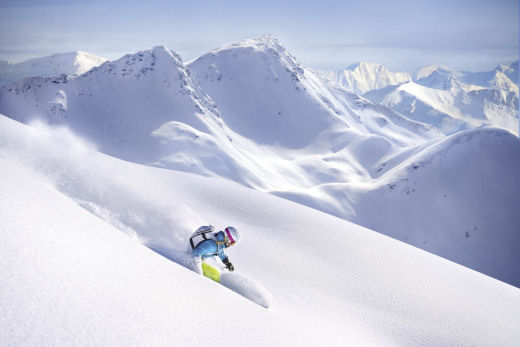 But as a woman, style has always appealed to me over speed (or bravado) and so rather than career to the lift at breakneck speed and no doubt end up in the blood wagon, I took my time and tried to tune into how to make my skis turn. This approach to skiing is, it seems, often the female way. 'Men can usually use their power to get by when they ski,' says Pamela Thorburn, GB Ski-X athlete and ex-downhill skier. 'Women tend to hang back and be a bit more neat,' she adds.
It's not just a question of mentality. The biggest difference, according to Pamela, who has skied against the likes of World Cup skiers such as America's Lindsey Vonn and Germany's Maria Riesch, is down to anatomy. 'A woman's centre of mass is different to a man's,' she states. Put simply, this means that female bodies are generally heavier in their lower half. This is primarily because women have a bigger pelvis area and evolution dictates that we need the extra support during pregnancy.
On the slopes this bottom-heavy feeling translates as a plus for balance, but because our centre of gravity is also lower and further back than a man's (about an inch), we have a tendency to sit back on our skis (a minus for initiating turns).
Another fundamental difference between the sexes is power output, says Pamela. 'Women can make a much tighter turn, which is down to having shorter levers and also using shorter skis, but we're not as powerful as men and as a result we just don't ski as fast,' she explains.
But it's not all doom and gloom. Katie Dobson, who runs Ski Goddess, believes both men and women can reach the same level of skiing given the same amount of time, as long as the approach to learning is appropriate. And with the rise in the number of women-specific ski courses it seems that there is demand for a women-only haven away from the testosterone of the piste, where ladies can really spend time nailing their technique.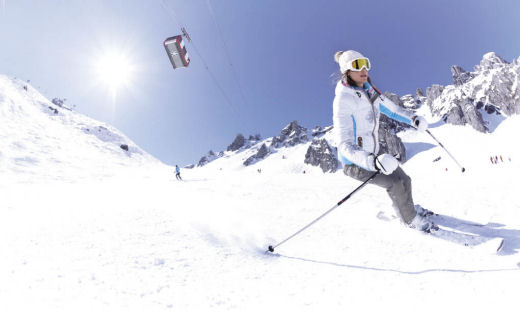 According to Dobson, whose women-only courses are designed to give female skiers a confidence boost and to encourage enjoyment in the sport, although we can rise to the challenge, the way that we learn to ski is different from that of our male counterparts. 'When faced with a new physical challenge, women need to process the required skills more thoroughly than men,' she says.
For example, to attempt to reach a new level in their skiing, women need to feel very confident with their existing skills. And for some, an all female-environment is an ideal place to build on these skills. However, it is not a catch-all. 'I always loved racing with my brother,' says Pamela Thorburn. 'It's when I leant to ski really fast.'
So, if there's an acceptance that women ski in a different way to men, should ladies take advantage of the explosion of women-specific equipment on the market, or is the female-friendly tag just a marketing ploy? When it comes to hardware there are fundamental differences that can really benefit women skiers. 'Female-specific equipment isn't just a gimmick,' says Pamela. 'If I'm racing I use men's skis – there's no question that a longer ski makes you go faster – but if I'm just enjoying the mountain I like the comfort that women's skis can give'.
Beyond the sometimes patronising graphics (pink, flowers, really…) women's skis are lighter and softer to compensate for our lower muscle mass, or bulk. The tips are shorter, which keeps our boots closer to the front of our skis, for better turn initiation. And the waist of the skis is also further forward to accommodate our lower centre of gravity and the bindings are lighter and mounted further forward, too.
So if you're a woman looking to progress on the slopes don't be held back by the idea that men will always be the better skiers. By adopting your own, more measured approach you'll soon be ripping up the piste and who knows, you might just get to the lift first…