Alpe Di Siusi
, Lavinia, Jane and Vicky were a little apprehensive. Friends since their schooldays some 45 years ago, they holiday together regularly, leaving non-skiing husbands at home and urging each other on to try new challenges.
It was Jane's idea to give the Ski Safari a go. 'I was attracted by the idea of an on-piste, guided tour and spending each night in a different mountain refuge,' she explains. 'The Italian Dolomites is the world's largest ski area, and it isn't an area we knew at all, but the brochure made it sound extraordinary.'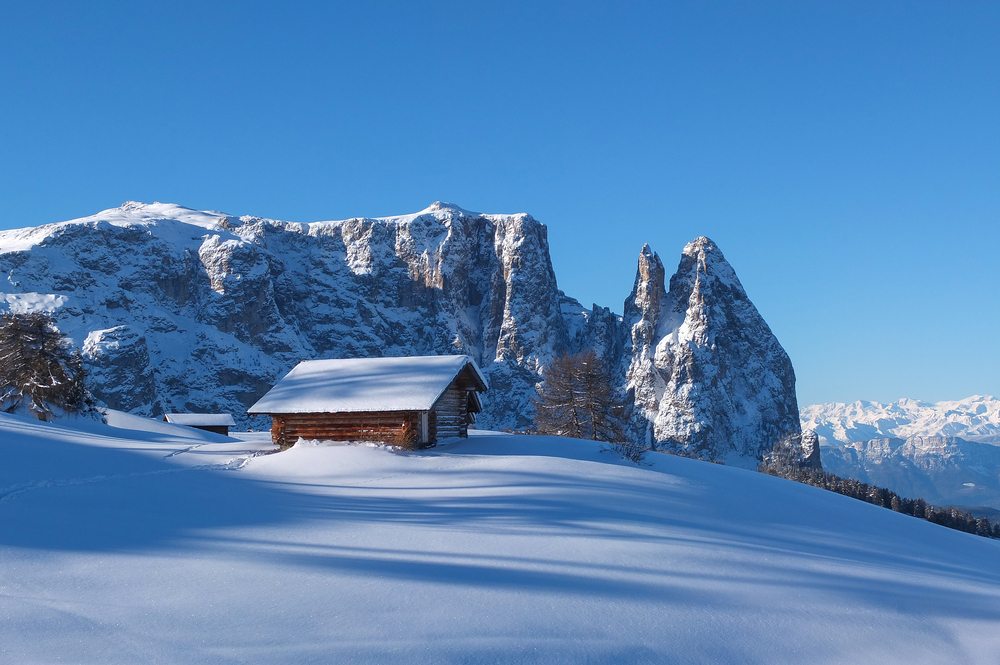 Their Ski Safari began in the comfortably unchallenging setting of the four-star Cavallino D'Oro hotel in the four-star village of Castelrotto. Dating from 1326, the hotel stands alongside the equally impressive clock tower in the medieval Tyrollean piazza that is the centre of life here. The hotel delighted Lavina. 'It's so far removed from a typical ski hotel experience. Everything about it is intimate and welcoming and the individually decorated rooms are such a delight.'
Following a relaxing first night with a delicious dinner in the Cavallino's 'stube', warmed by a colourful, ceramic log stove, the ladies got down to the serious business of easing muscles back into action and regaining their ski legs on the Ski Safari's introduction day. Skis and boots are sorted and tested, and bodies readied for more demanding days that lie ahead.
On Monday morning, prepared, packed and full of anticipation, the adventure proper begins. The first gondola glides through the shadow of the Scillar, a dramatic, double-peaked mountain standing sentry at the western extremity of the Dolomites ski area, and marking the official start of the Safari. Jane, Lavina and Vicky adjust boot bindings and their small Safari backpacks and fingers are pushed deep into warm Gore Tex gloves. Tim, their English Ski Leader, briefs on safety and Ski Safari group protocol.
Tim has more than 5,000 Dolomite ski miles under his belt and is a veteran expedition leader. The days skiing starts on the gently ribbed crispness of pristine pistes, when other skiers are scarce - almost non-existent. Under an azure sky, all apprehension melts away. From their Spitzbuhle Hut vantage point, Tim points east towards vertical rock faces and deep valleys, announcing that the distance they are about to undertake is, point-to-point, some 30 miles beyond in
Cortina d'Amprezo
.
There is a real sense of adventure, of entering an unknown, of migration. Covering a total distance of approximately 60 miles as the crow flies, a typical Ski Safari week might entail 90 ski lifts, ascending 37,000 vertical metres and covering 170 skied kilometres.
Criss-crossing the beautiful Alpe di Siusi plateau, Tim shepherds and offers the group guidance as they progress – 'carry your speed', 'keep right' and 'stay close' – simple but useful navigational aids.

'This is the first time I have skied with a ski leader and Tim is excellent,' says Vicky. 'He is always there when needed, but never overbearing. His descriptions of local sites and the pistes, not to mention his knowledge of hidden restaurants and coffee stops, make every day so memorable. Above all, we feel safe.'
One hour in, the group is rewarded with their first great Ski Safari memory – Zallinger, a little known, remote and very quiet back-bowl piste into which nestles a barn and farmhouse, now a picturesque restaurant and refuge, along with adjoining snow-covered chapel, all grouped within a perfect surround of fir trees throwing shadows onto the gently folding landscape in the glinting morning sunshine. This is indeed a winter idyll, and the three women drink in the view (and their thick hot chocolate) in appreciative tranquility.
Throughout the week, Tim guides the group along glorious, largely undiscovered pistes, avoiding bottlenecks and crowds. These hidden valleys, little-used pistes and sneaky routes with their restaurant gems have taken Tim and the Ski Safari team years to hunt down.
And having a ski leader to make all those tricky group decisions relieves you of the bane of any ski group experience - agreeing when to stop and where to head to next. And best of all, there is no time wasted struggling to fold and unfold uncooperative piste maps. All that is taken care of.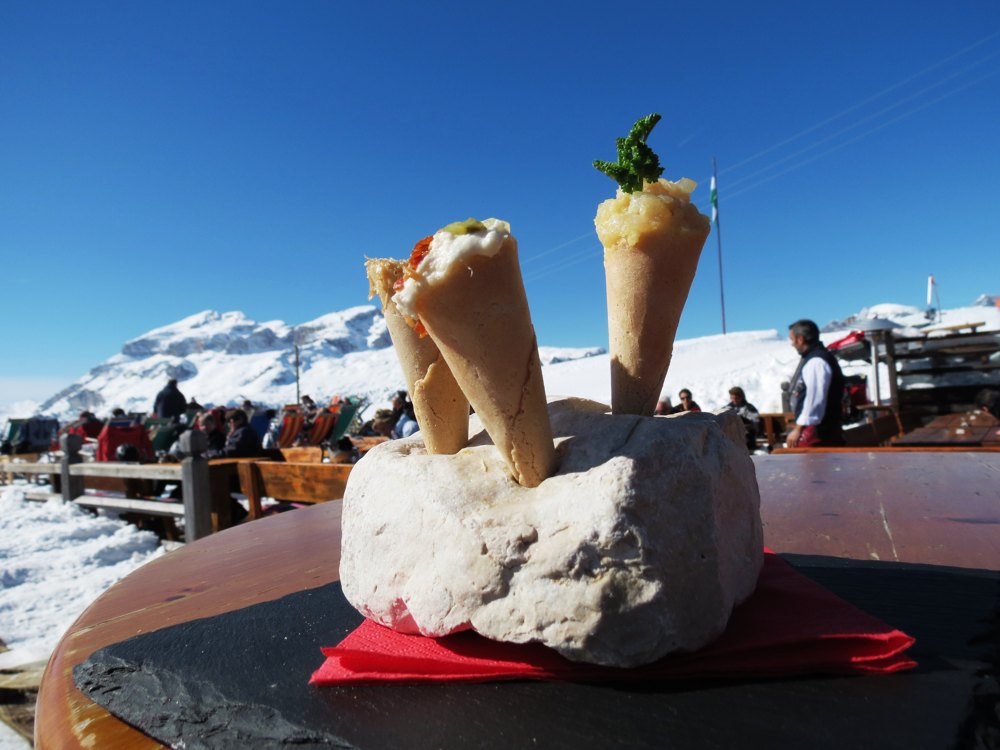 At about 3.30pm, the group is rewarded with site of their first overnight rifugio. As they arrive, a few skiers are finishing their drinks at the bar and preparing to descend from the 2,213m elevation into the Val Di Fassa below, leaving the Ski Safari group with a mixture of emotions: relief, exhaustion, elation, pride, expectation and best of all, the wonderful knowledge that as all the other customers say goodbye and head into the cold late afternoon sunshine, the group can stay and relax.
Now for the fluorescent warmth of an Aperol Spitz and a boots-off moment to reflect on the highlights of the day. And for those who dare, a sauna on the terrace and a roll in the snow set under a stunning pink and crimson sunset which ignites the few evening clouds hanging motionless above this most dramatic mountain range.
How would you usually unpack your holiday suitcase? Here, there is only one option: grab hold of the base of your Ski Safari backpack - supplied by Inspired Italy and amazingly comfortable to ski with - and pour its limited contents onto the middle of your bed. There, another strain taken care of. You are advised on what to carry and how best to prepare and pack your 20 litre rucksack and you will be surprised by how little you really need.
Throughout the week, the group visit four different rifugios over five days. The highest, Lagazuoi is 2,752m above sea level; a truly on-top-of-the-world feeling! Dinner menus in the rifugios all typically offer fresh, robust and home-cooked dishes of the region, with accommodation to match, all remarkably comfortable, warm and welcoming, given the remote location. Bedrooms are, with only one exception, all en suite and some have private balconies.
No rifugio is quite the same, of course, but in one respect they never vary - the dawn experience. You find yourself standing on your balcony clasping a camera, dressed only in a T-shirt despite the minus 12C breeze. The silence is more intense than any you have ever felt and nothing can match the joy of seeing your mountain shadow cast out before you along the valley floor, knowing that you are at the top of it, not at the bottom as would normally be the case. What a way to begin the day.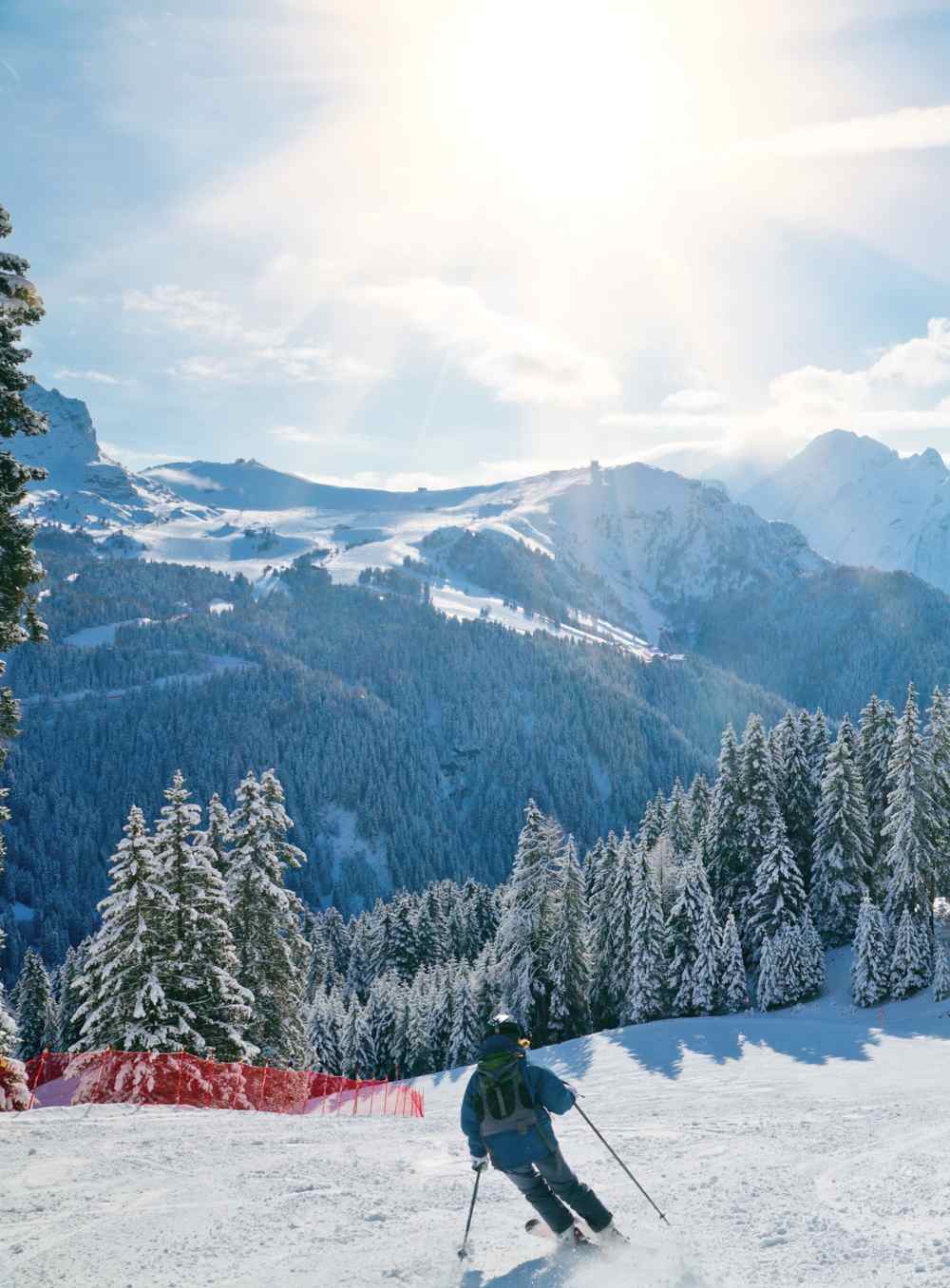 Later, Jane sums up her Ski Safari week. 'This was a fantastic holiday and spoilt me. We never skied the same run twice, we were led by an expert, not only on the slopes but on the "watering holes" too! To be the only people at the top of the mountain in the morning is a real treat and skiing with a small pack made no difference, much to my surprise! The skiing was not too hard but being fit certainly adds to your enjoyment. I thoroughly recommend this wonderful original holiday.'

Lavina adds: 'Would I do it again? The answer is a resounding YES. Money well spent for a great skiing experience.'

For more information contact: www.theskisafari.com

Ascending the long bubble lift to Europe's highest skiable plateau,