As any self-respecting snow bunny knows, skiing isn't cheap. Follow in the ski boots of the A-listers and splash out on Chanel skis (£3,000) and a rock star chalet in the Alps (£130,000 for a week) and a week's skiing can cost as much as your house. Seemingly oblivious to the recession, über-luxury Alpine chalets are multiplying, and becoming increasingly lavish. This is a world where private cinemas, priceless artwork and helipads are the norm and where gold-leaf hot tubs, mink curtains and Michelin-starred chefs merely raise an eyebrow.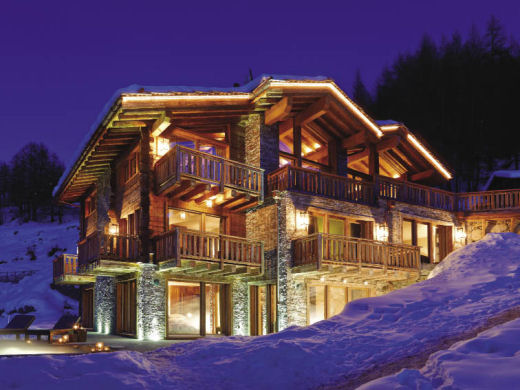 But just because you're not one half of Brangelina doesn't mean that you're denied a blissful bolthole to retire to when you come off the slopes. Alongside the million-pound pads there's also been an explosion of budget-friendly, good-looking lodges where the glamorous chalet life could be yours for around £500 a week (that's the cost of a bottle of vintage bubbly). We've scoured the Alps to find these rare gems that offer great food, great service and cool living. Now all you have to do is track down those D&G diamante-encrusted goggles and get on the plane…
MÉRIBEL, FRANCE


Méribel, in the heart of Les Trois Vallées, the world's largest ski area, is a skiing heaven. The pretty village has a little bit of everything, making it the perfect place for carving up the piste, cruising the blues, leisurely lunches and après-ski antics. What's more, a new La Folie Douce bar (where people start dancing on the tables at 3pm) to add to the ones in Val d'Isère and Val Thorens, is opening near the new Saulire Express mid-station, in December.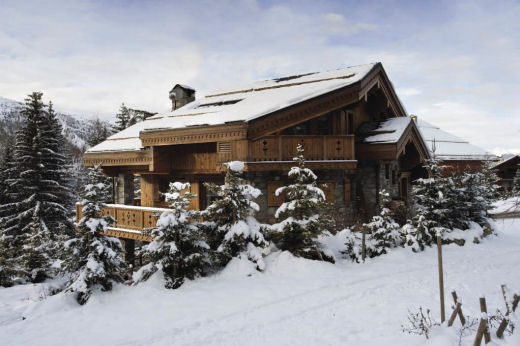 LUST:
Tucked away off the exclusive 'Route des Chalets', Trois Ours is the essence of Alpine chic with gorgeous wood-panelled rooms, roaring open fires, large south-facing balconies overlooking the pistes and an outdoor hot tub next to a stream. The secluded ski-in/ski-out chalet works the traditional look but adds a sprinkling of modern luxury with a private cinema, gym and steam room, making it a desirable spot in which to recharge your batteries.
Six nights' chalet board accommodation in the ten-person Trois Ours costs from £1,311 per person per week (
www.averycrest
; 07518 582147).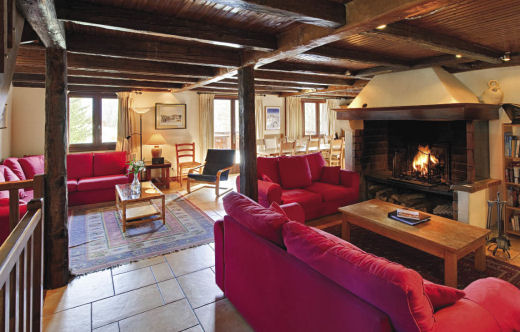 BUDGET:
Two minutes' walk from the lifts, Chalet du Guide is located in the heart of Méribel. This gorgeous, ground-floor apartment is super cosy – think roaring fires and huge sofas – and is one of eight chalets in Méribel and Val d'Isère run by the 'gastro' chalet operator Fish&Pips. The founders, childhood friends Holly Fisher and Philippa Hartley (Fish&Pips, get it?), focus on providing exceptional food at affordable prices to their guests. So, when you're not soaking in the hot tub or relaxing by the fire feeling like an A-lister, you can watch your chef preparing dinner in the kitchen and pick up some tips.
Six nights' chalet board accommodation in a double room in Chalet du Guide costs from £445 per person per week (
www.fishandpips.co.uk
; 0845 474 1054).
St Anton was selected as the set for Chalet Girl for good reason: the village is the epitome of Alpine cute but is also home to challenging off-piste terrain and rocking après-ski. There's plenty of 'normal' skiing to be found as well but be warned: you will almost certainly be dancing on the tables in your ski boots when the sun goes down!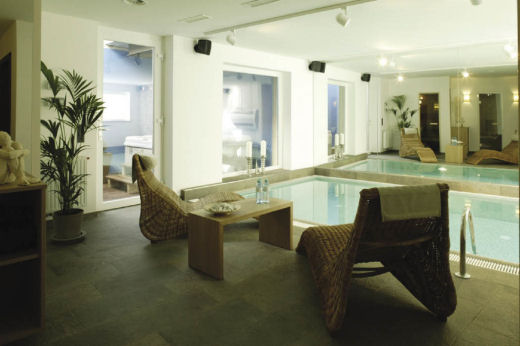 LUST:
From the moment you spot the futuristic Chalet Artemis, you know you're in for a treat. A snazzy elevator whisks you from your chauffeur-driven 4x4 past the stunning spa in the basement and slick bedrooms spread across two floors, up to the top-floor living and dining area. The whole place oozes James Bond suave from the fur throws and wall-to-wall wine fridge to the high-tech music system and private cinema, and makes the ultimate party pad.
Six nights' chalet board accommodation in the 12-person exclusive use Chalet Artemis costs from £1,180 per person per week (
www.scottdunn.com
; 020 8682 5099).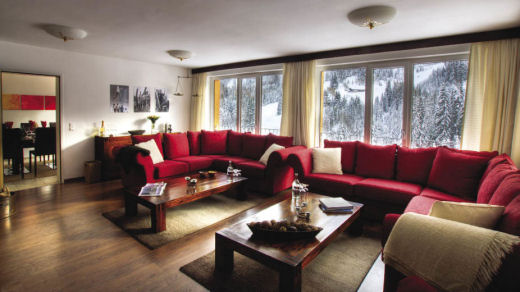 BUDGET:
On the other side of St Anton's pedestrianised town centre, in the peaceful Stadle area, is the spacious, eight-bedroom Chalet Gertrude Gabl. This modern chalet benefits from uninterrupted mountain views from the living and dining areas (rare in St Anton) and a bubbling hot tub on the terrace, to which your hosts, Jason and Annabel, deliver chilled drinks. The charming couple spoil their guests rotten – Jason will drive you to and from the ski slopes while Annabel, a trained chef, will blow you away with her gourmet dinners, kick-started by canapés and Prosecco by the fire.
Six nights' chalet board in a double room in Chalet Gertrude Gabl costs from £377 per person per week (
www.alpine-evolution.com
; +43 664 446 0966).
ZERMATT, SWITZERLAND
Walking in Zermatt is like taking a stroll on the lid of a box of Swiss chocolates: the narrow cobbled streets are lined with snow-clad ancient timber chalets, which house chic boutiques, restaurants and bars. And, towering high above the car-free town is the iconic Matterhorn, home to some of Europe's best and most snowsure skiing.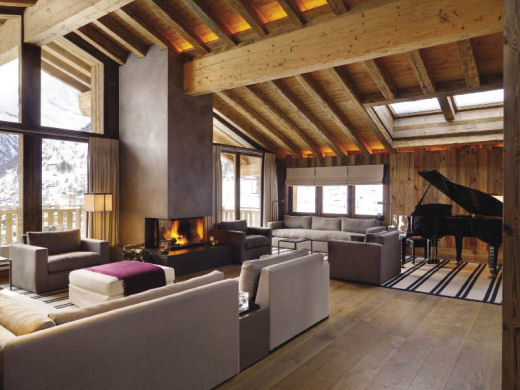 LUST:
Possibly the best views of the Matterhorn are to be had from the bathtub of the master bedroom in Chalet les Anges (we kid you not). This contemporary chalet, located in the exclusive 'Petit Village' enclave above the heart of Zermatt, is 700m² of unadulterated, cutting-edge, design beauty. Floor to ceiling windows give unbroken views of the Matterhorn from the vast sitting room and bedrooms and the Zen-like wellness area comes complete with a rose petal-strewn pond.
Six nights' chalet board accommodation in the exclusive use 14-person Chalet Les Anges costs from £2,590 per person per week (
www.elysiancollection.com
; +353 1524 1314).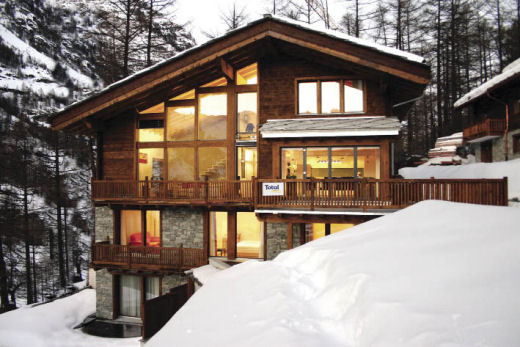 BUDGET:
Although not quite visible from the bath, the views from the aptly named Chalet Bella Vista are also impressive. And, like Les Anges, this new property, built from fragrant larch wood, boasts contemporary, minimalist interiors – there's a glass-fronted fire and bold orange sofas. Also set in the prestigious Petit Village, under ten minutes' walk from the centre of town, Bella Vista sleeps six guests in spacious double rooms and serves delicious food and wine, making it a great pad for ladies who love to ski.
Six nights' chalet board in a double room in Chalet Bella Vista costs from £509 per person per week, including flights (
www.alpineanswers.com
; 020 7801 1080)
LES GETS, FRANCE
Les Gets is a picturesque old Alpine village in the heart of the huge Portes du Soleil ski area, which encompasses 12 resorts in France and Switzerland. It's ideal for ladies who are learning, thanks to its gentle nursery slopes and has a thoroughly relaxed vibe – après-ski involves cakes in a cosy café and ice-skating on the open-air rink.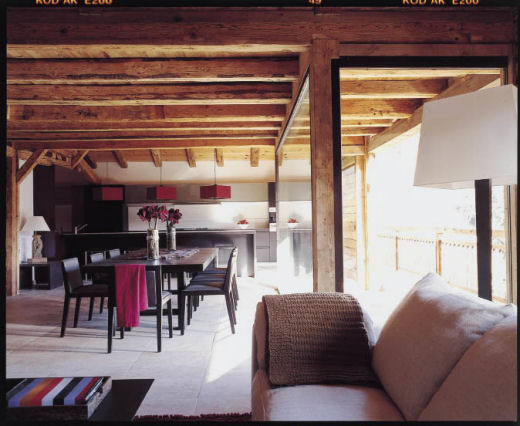 LUST:
Just three minutes' (chauffeured) drive from town lies Ferme de Moudon, one of France's most desirable chalets. Nestled amongst the pine trees above Les Gets, the 17th-century farm building was transformed into the epitome of sophistication by London designer Nicky Dobree in 2004, expertly blending original timbers with modern furnishings and artwork and softening rustic antique furniture with tweed sofas and cashmere throws.
Six nights' chalet board accommodation in the exclusive use Ferme de Moudon costs from £1,870 per person per week (
www.luxurychaletcollection.com
; 01993 899429)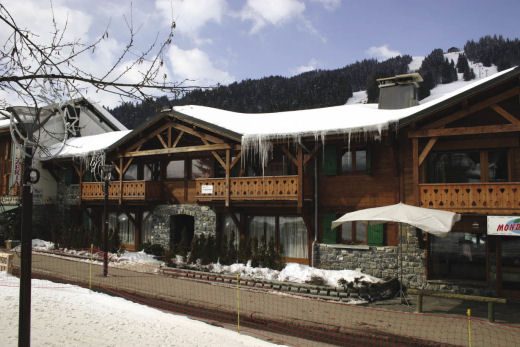 BUDGET:
It's tough to compete with an über chalet but Chalet Negritelles I and II boast a superb location, in the heart of town, right at the base of the slopes. Run by Ski Famille, a company dedicated to making family ski holidays fun and effortless, the two spacious chalets also come complete with a chef who caters as expertly for your children as for you. Even better, professional childcare is included in the price of your holiday, meaning mummies (and daddies) can ski to Switzerland for lunch, Rock the Pistes at the annual Portes du Soleil music festival or just soak up the sun on the balcony.
Six nights' chalet board accommodation in a double room in Chalet Negritelles I costs from £410 per person per week (
www.skifamille.co.uk
; 0845 644 3764).
CRANS-MONTANA, SWITZERLAND


Crans-Montana oozes chic Swiss sophistication as well as some of the country's most expansive Alpine views. The twin towns of Crans-sur-Sierre and Montana, which lie either side of a small lake, are joined by a mile-long road of boutiques, hotels, restaurants and bars. There's also a plush casino, year-round golf and hundreds of walking trails, which may explain why the140km of pistes are often gloriously empty!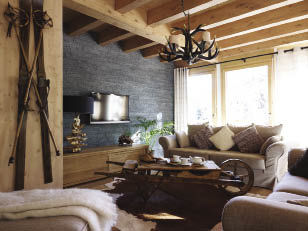 LUST:
With a handful of five-star hotels and some seriously lavish chalets, Crans-Montana takes luxury very, very, seriously. At Le Torrent you can choose between having your own personal chef (with Michelin star if desired), or having your chosen ingredients delivered to your door and rustling something up yourself in the super cool kitchen – think Grand Designs décor, rather than B&Q. Le Torrent's rooms are all effortlessly stylish – faux fur throws, vast beds and enormous vases filled with flowers – but it's the master bedroom that offers serious 'wow factor', with a huge Jacuzzi and balcony looking out onto the forest.
Six nights' full-board in the exclusive use Le Torrent costs from £984 per person per week, excluding the cost of food (
www.oxfordski.com
; 01993 899420)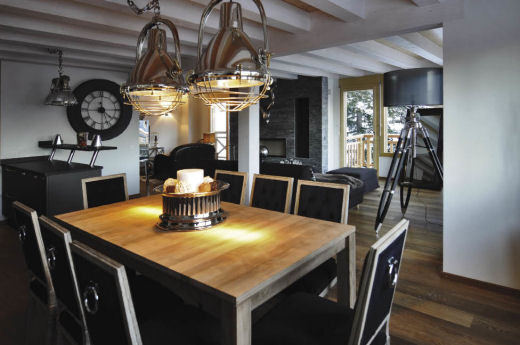 BUDGET:
A week at Le Torrent's sibling, Chalet le Bénou, may be easier on the purse strings but this contemporary chalet, spread across four storeys, is still super chic. With a wellness area on the lowest floor, complete with hot tub overlooking the Alps, and cool styling throughout, it's hard to believe that a week here is so reasonable. After a day's skiing, or riding, kick back in front of the fire in the huge living room where the leather sofas, modern coffee table and designer ceiling lamps add a touch of luxe. There is also a chalet bar where you can hang out (stylishly of course), so you need not even leave the chalet!
Six nights' bed and breakfast in the exclusive Chalet Bénou costs from £430 per person per week, with the option for catering (www.
alpineanswers.co.uk
; 020 7801 1080).