Independently researched and written by the Snow Magazine team, sponsored by the experts at Crystal Ski Holidays.

Austria is a land of cute alpine villages, gently wooded slopes and super-friendly hosts, armed with endless bottles of schnapps. It's where beginners can learn with an arm round the shoulder rather than a shove down the slope, intermediates can ski all day on pistes wider than a motorway, and experts can enjoy some of Europe's most epic off-piste itineraries. Whether you're into downhill skiing, cross country skiing, ski touring, or snowboarding, Austria's ski areas have got you covered.
It's is also (despite the French name) the spiritual home of après ski. There are world-famous venues like the Mooservirt in St. Anton, but it's the sheer ubiquity of banging slopeside bars that really makes ski holidays in Austria really special. Ride down any one of the pistes, in any of the country's 435 ski resorts, on any given afternoon and you're all-but-guaranteed to come across a middle-aged local, one-piece stripped to the waist, dancing on the tables to the sounds of "oompah trance": you know, that genre of music that's found exclusively in Austrian ski resorts, where the accordion is always accompanied by a thumping club beat, and every chorus is a variation on "oi, oi, oi!"
Best of all, ski holidays in Austria also work out relatively cheap overall. It's a world-class skiing destination— Austria's resorts are as big, as snow sure, and as well groomed as any in France or Switzerland. But almost everything - from accommodation, to lift passes, to the cost of a round of jägerbombs, works out less expensive when you're skiing in Austria.
Transfer times are also often shorter, snowmaking is first-class, and its lift systems are among the world's fastest. So what's not to like? Of course, not all ski resorts in Austria are created equal, but if you pick one of these destinations, you're guaranteed to have a good time. These are the best ski resorts in Austria right now.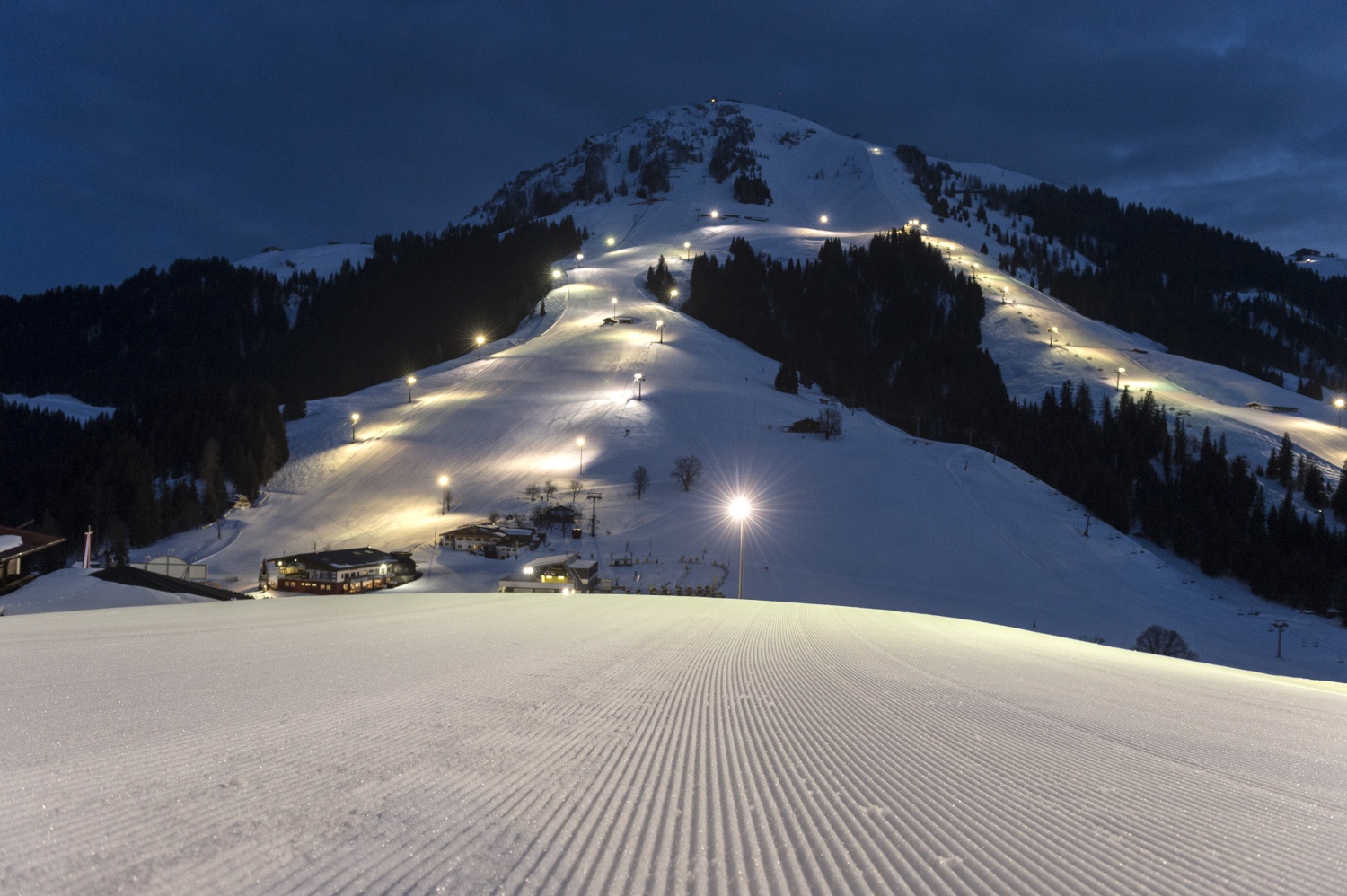 Image credit: WilderKaiser_Daniel Reiter_Peter von Felbert
Söll
Perennial Brit favourite Söll is the liveliest village in the vast SkiWelt domain. Popular with beginners, it also works for intermediates – and lovers of Austrian table-dancing.
This traditional Austrian family-friendly ski village is the biggest of the nine gateway villages around the SkiWelt ski area, and the main gateway to its 279km of mostly easy and intermediate pistes. Its reputation for family fun isn't just down to easy ski runs either - with loads to do in and around the resort, from ice skating to making a splash at the aqua-leisure centre. Also be sure to check their fantastic night-skiing run for something a bit different.
Check out our Söll ski resort review for the full lowdown.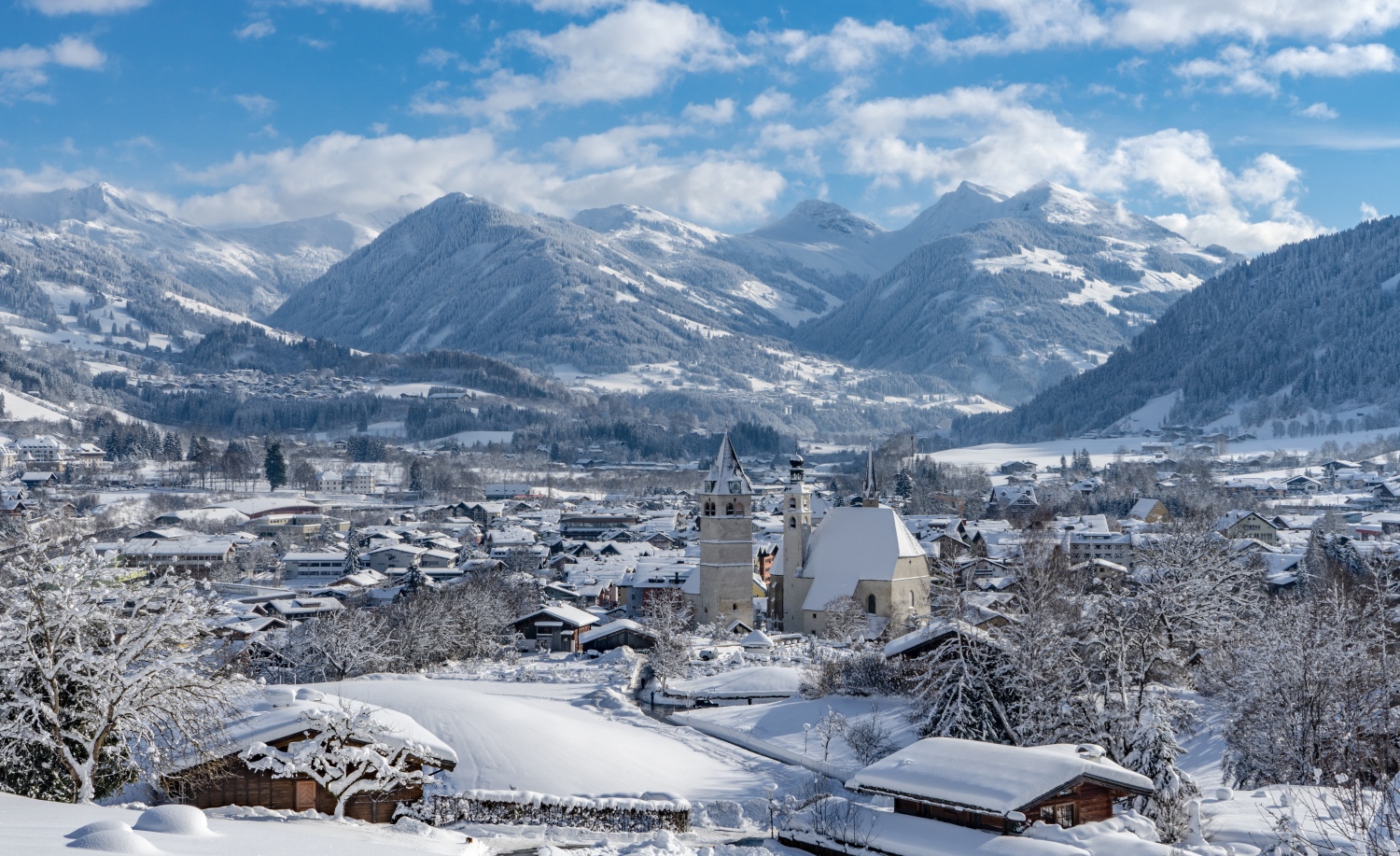 Kitzbühel
This Tyrolean resort is most famous for its historic Hahnenkamm downhill skiing race. Famously the gnarliest course on the World Cup calendar, it's a maker of skiers' reputations, and all too often, a breaker of skiers' bodies! For all that scariness however, the terrain here is actually pretty varied, and it's an excellent resort for intermediates, although a low base altitude means snow reliability can be an issue.
What really makes Kitzbühel however, is the town - a classy, old-world village, with a history stretching back centuries. The charming medieval quarter is filled with swanky boutiques, swish hotels, and even swisher patrons - but thankfully, all of them know how to cut loose come après time.
Check out our Kitzbühel ski resort review for the full lowdown.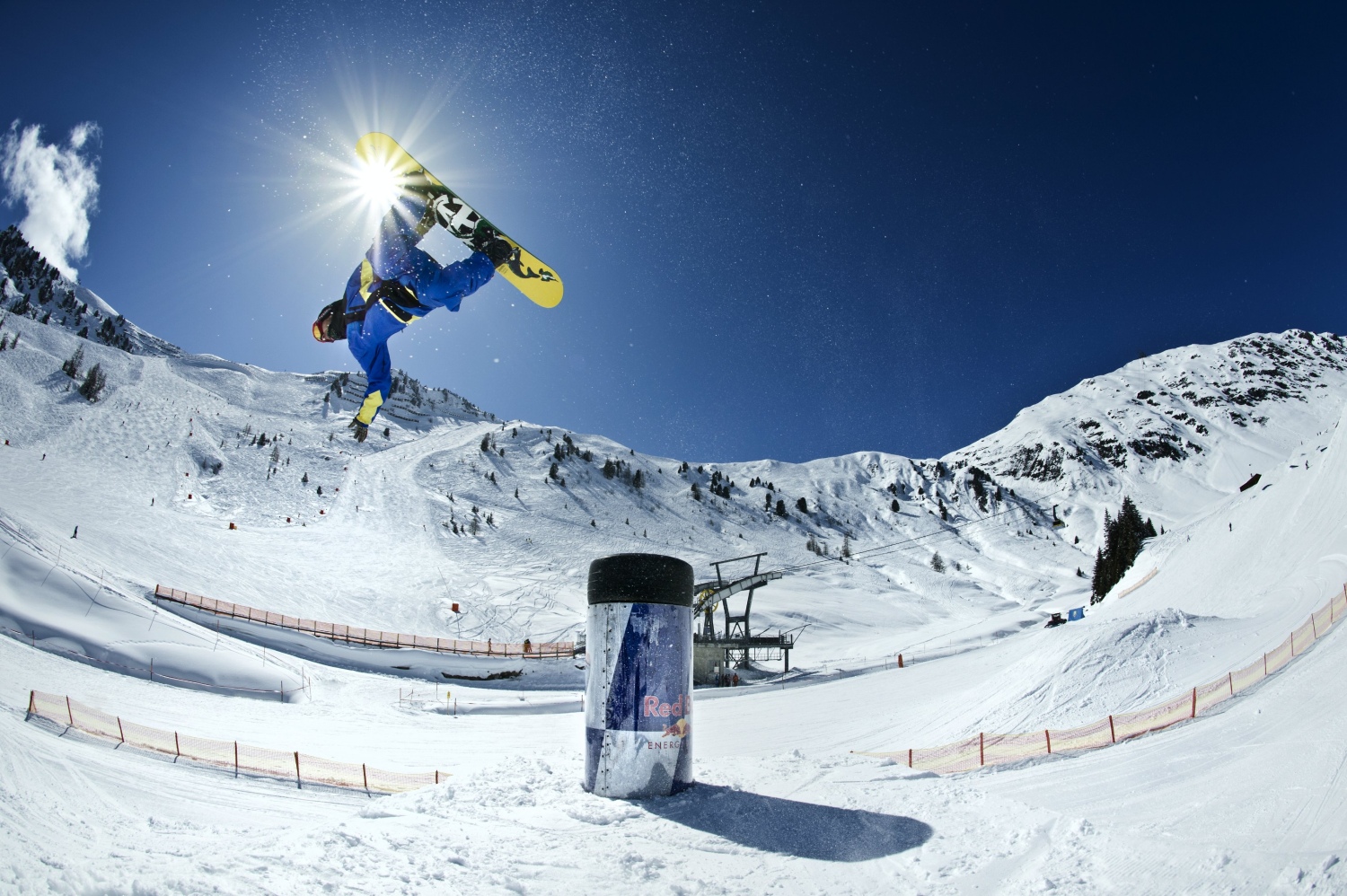 Image Credit: Phillip Platzer_Red Bull Content Pool
Mayrhofen
A favourite with party-loving Brits, this picture-postcard resort is perfect for confident skiers, and boasts one of the Alps' great snowboarding scenes. The legendary Aësthetiker crew call the surrounding Zillertal valley their home, and the snowpark here is second to none, with lines for every level of rider or skier, from complete beginners to seasoned pros.
Mayrhofen village, linked by the Penkenbahn cable car to the main resort, looks as you'd expect an Austrian resort in the heart of the Tyrol to look -chocolate box cute, with a few new additions bringing things into the 21st Century. But while it's quiet by day, this place comes alive in the afternoons and evenings - especially when Snowbombing, the world's biggest, best and longest-running winter music festival rolls into town.
Check out our Mayrhofen ski resort review for the full lowdown.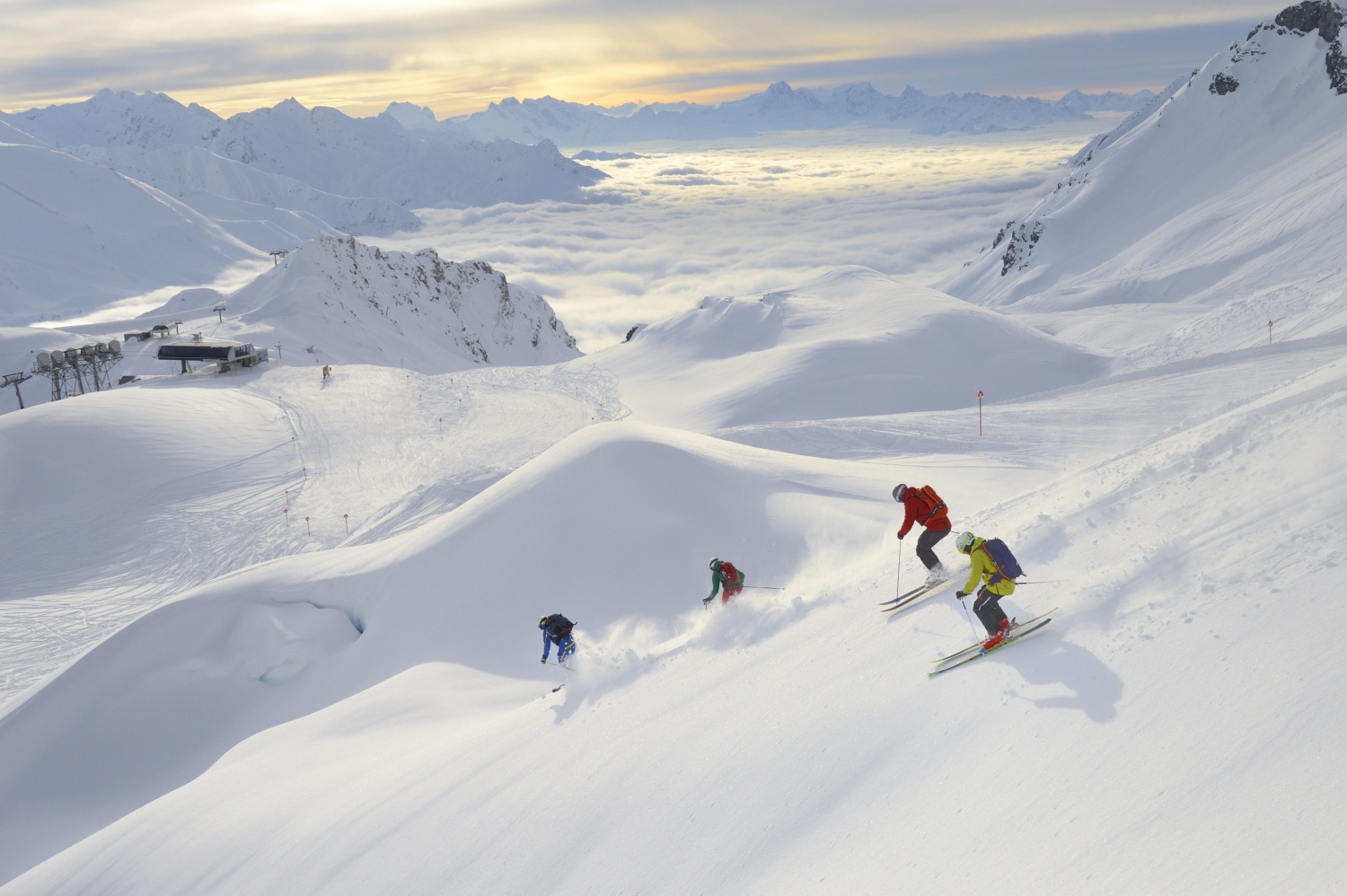 St Anton
St Anton in the Arlberg region is one of the world's most famous ski resorts. It's home to some of the most challenging slopes in the Alps – and an equally demanding après scene!
Sitting in a narrow valley, St Anton village has a car-free centre, with bags of traditional character, and bustles with activity throughout the day and late into the night. The surrounding slopes offer an incredible amount of diversity, from the steeps of the Valluga to the gentle village slopes around Nasserein. An extensive artificial snow-blower system ensures that the ski area is always snow sure.
As well as being one of the best ski resorts in Austria, St Anton is steeped in history - one of the very first cable cars in the Alps was installed here, and it was here, in the 1920s, that the concept of group ski lessons was first tried. Regarded as one of the cradles of the modern Alpine skiing tradition, St Anton is deserves every bit of its reputation as one of the best resorts, not just in Austria, but in the world.
For more information, read our St Anton ski resort review.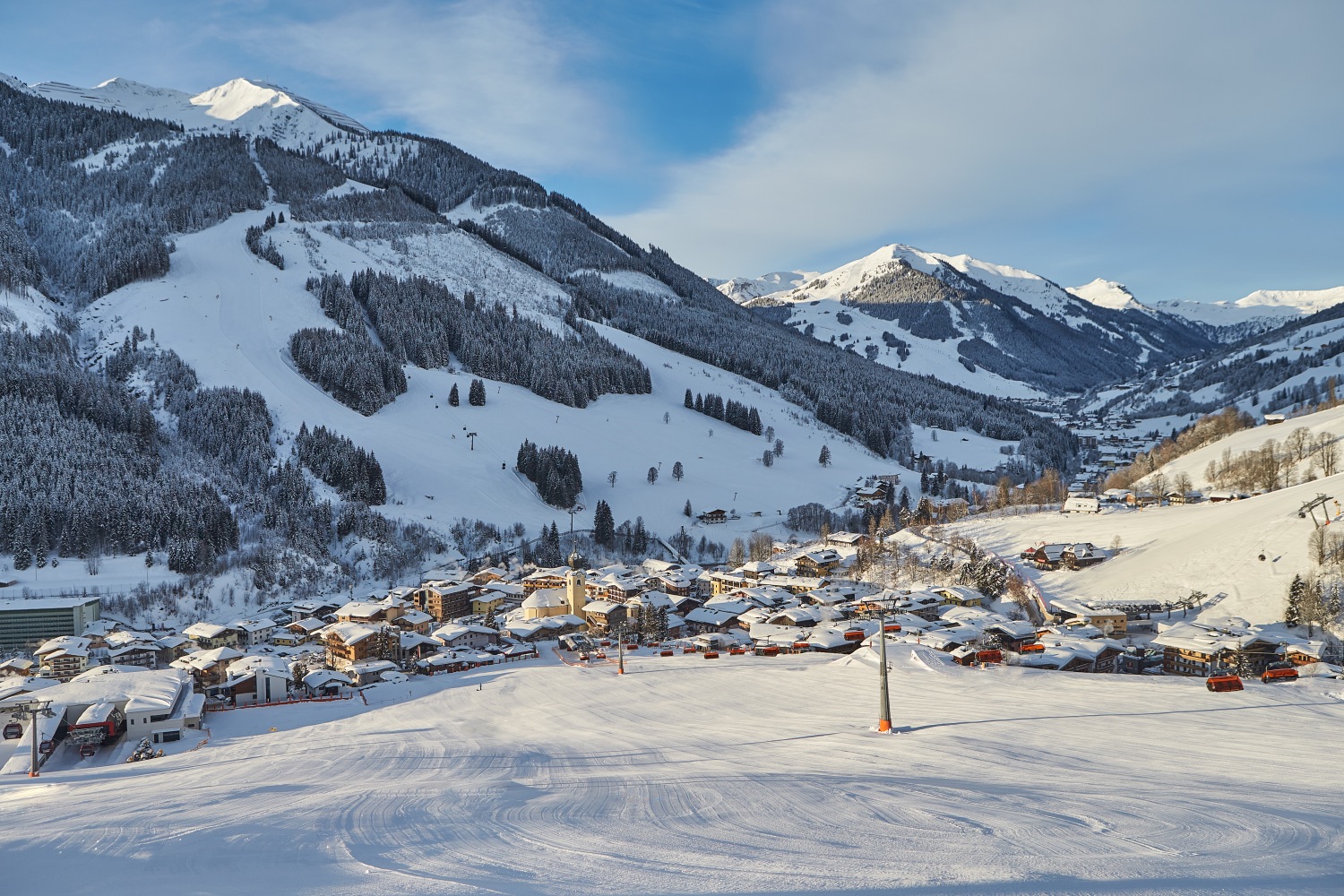 Saalbach
One of Austria's most rocking resorts, Saalbach is centred on an attractive old Tyrolean village and renowned for its full-on après ski. Oh, and access to one of Austria's largest lift-linked ski areas.
The hugely popular Saalbach-Hinterglemm-Leogang Ski Circus area was recently expanded with a gondola link to Fieberbrunn, giving it the the tongue-twistingly long name of Saalbach-Hinterglemm-Leogang-Fieberbrunn. As it sounds, this is now a sizeable ski area, with over 270km of pistes.
From the freeride paradise of Fieberbrunn, to the cruisey blues surrounding Saalbach village, these slopes cater for every kind of ski holiday. If you're staying in Saalbach itself, you just need to make sure you're up for the après once you step off them!
To get the full lowdown, read our Saalbach ski resort review.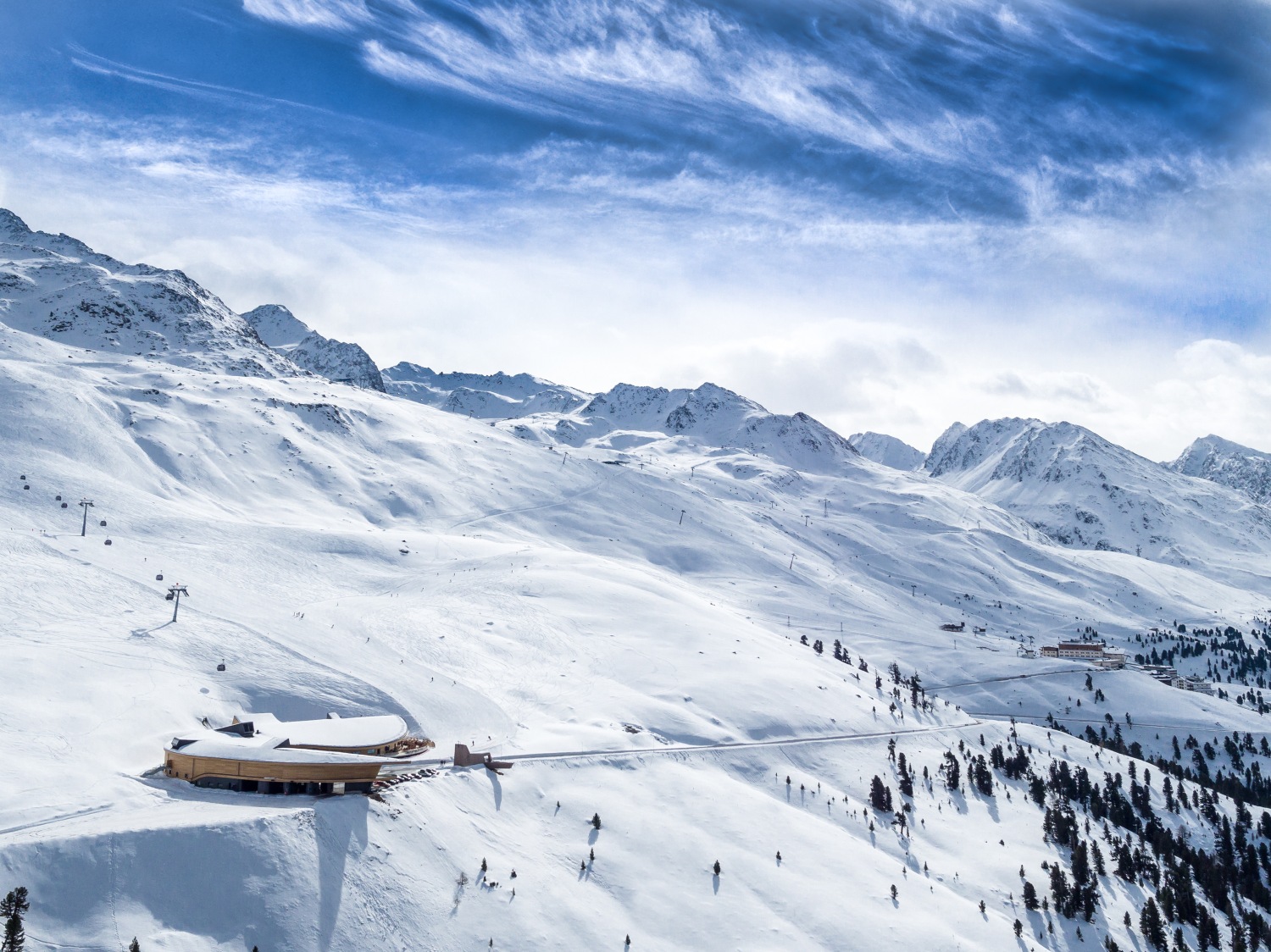 Image credit: Otztal Tourismus_Alexamder Lohmann
Obergurgl
Stretched out along one side of the upper Ötztal valley, Obergurgl, and its twin sister Hochgurgl, combine to form one of Austria's most snow sure resorts. The main reason for this is the high altitude - the village sits at 1,930 metres, and the lifts go up to above 3,000 metres. But there's also an impressively high-tech snow generation system to fill in the gaps where needed, and the fact that the resort faces north-west means snow coverage is pretty much guaranteed all the way into May.
If its backcountry you're after, head to the tiny nearby town of Vent, where the two lifts (accessible on the same Ötztal lift pass) offer access to an enormous high altitude areas, dotted with refuges and mountain huts.
The village itself has all the usual après attractions, but still somehow seems quiet compared to its noisy neighbour, Solden. Thankfully, Solden is accessible on the Ötztal lift pass, so if you want a big night out, head down there for the day and simply catch the bus back up the valley at whatever time you finish.
For the full lowdown on what makes this area one of the ten best ski resorts in Austria, check out our Obergurgl ski resort review.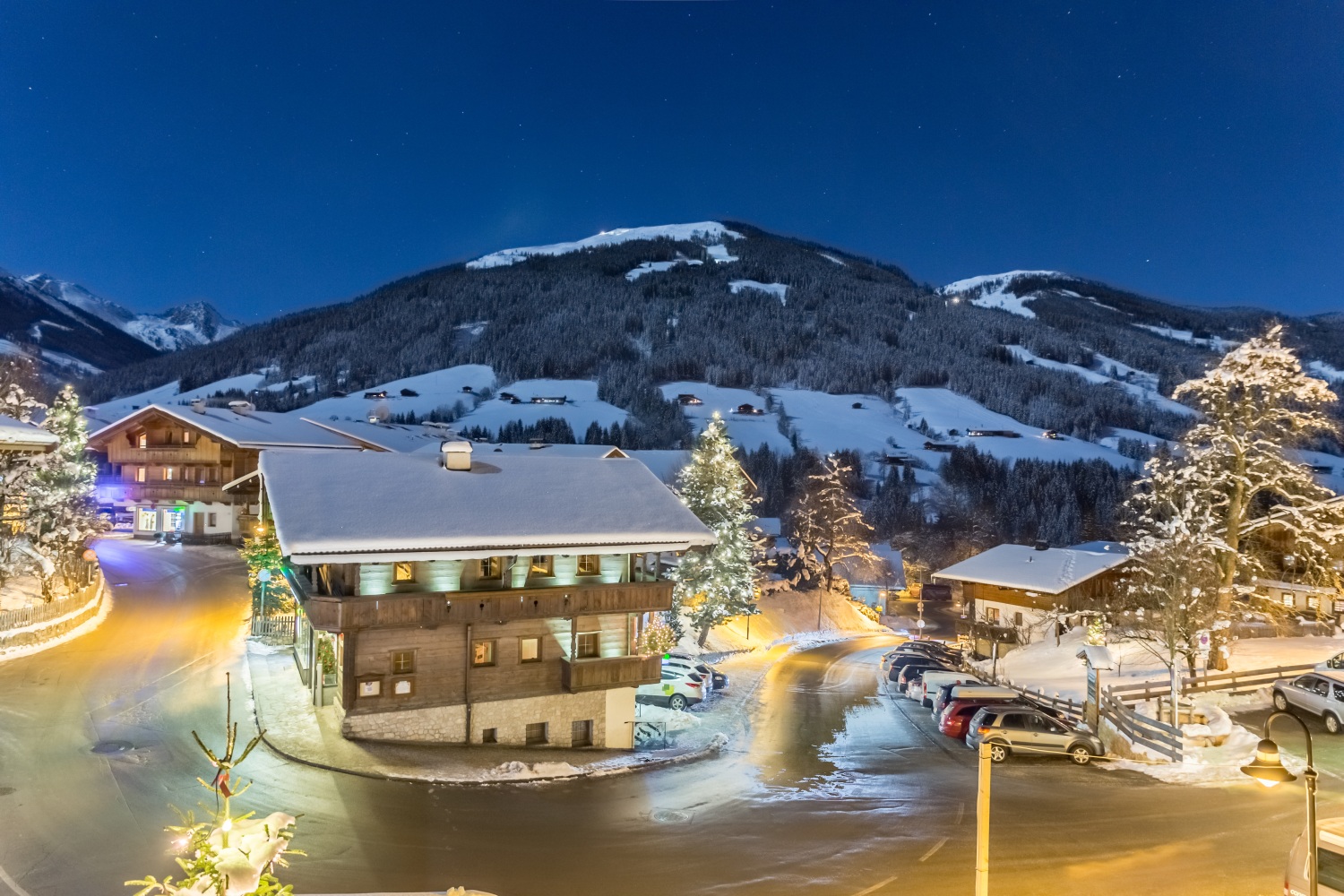 Alpbach
Laden with traditional Tyrolean charm, Alpbach is one of Austria's prettiest ski resorts. In fact, it's often voted 'Austria's Most Beautiful village', and the link to the neighbouring Wildschönau valley only makes it all the more attractive.
Just because its chocolate-box cute, however, doesn't mean that Alpbach doesn't know how to party - slopeside bars like Joe's Salettl start pumping from midday onwards. The ski area, dubbed Ski Jewel Alpbachtal-Wildschönau, offers a huge array of intermediate slopes, and is excellent for beginners.
Read our full Alpbach ski resort review to find out the full pick of the pistes.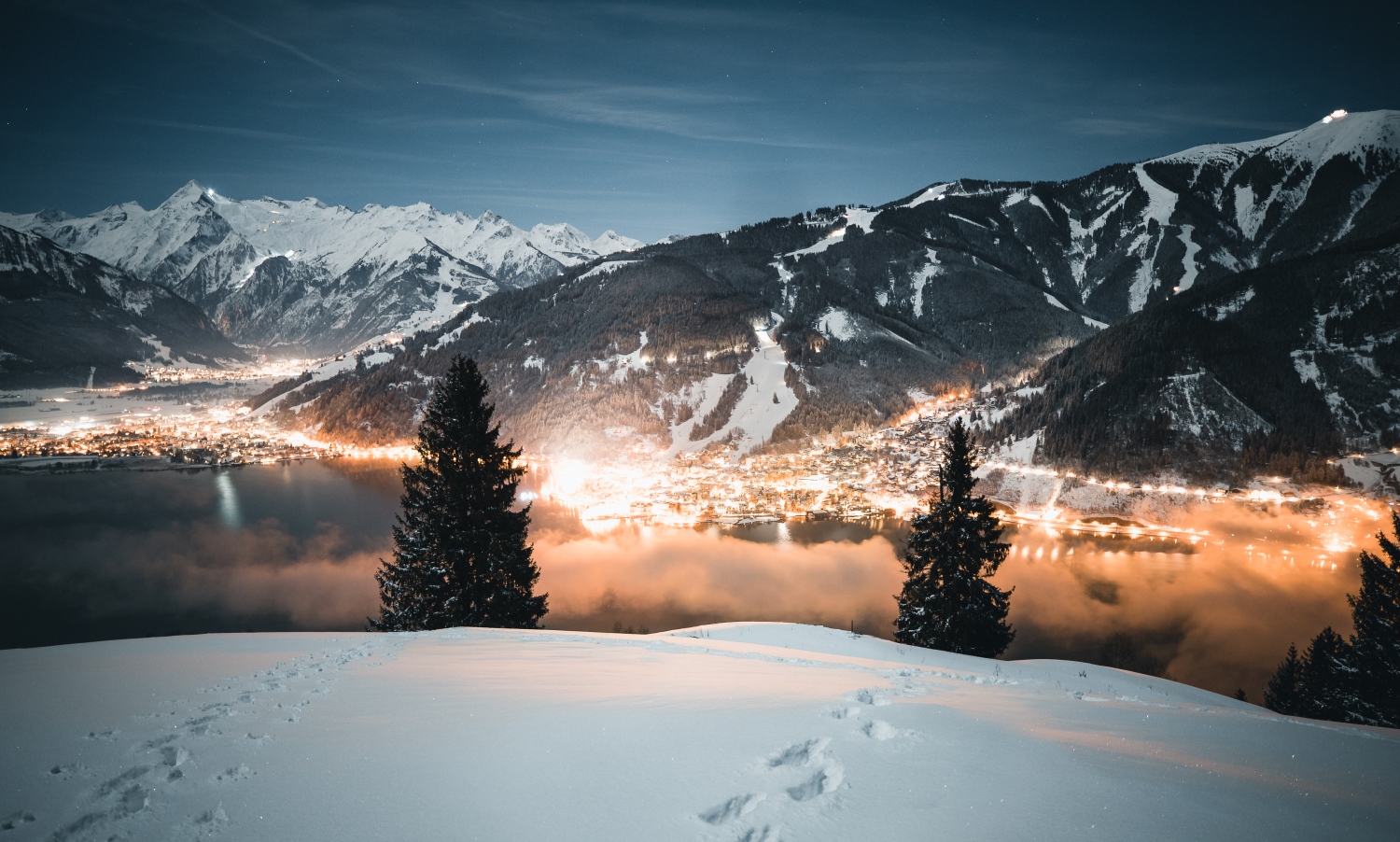 Zell am See
If Alpbach has a rival for the title of 'most beautiful ski resort in Austria' then it has to be Zell am See. Set on the shores of a large freshwater lake, it's stunning all year round, and in the winter the the glacial peak of the Kitzsteinhorn and the surrounding Hohe Tauern range, create an incredible, ice-white backdrop.
The village itself is equally beautiful, with an attractive and atmospheric old town centred around a Gothic church, and filled with charming boutiques, restaurants serving traditional Austrian fare and, inevitably, some excellent après ski bars. The lift pass for Zell am See offers access to Kaprun, creating one of the largest ski areas anywhere in the country, with an incredible 400 km of pistes accessible.
Our full Zell am See ski resort review tells you where to start in this huge area.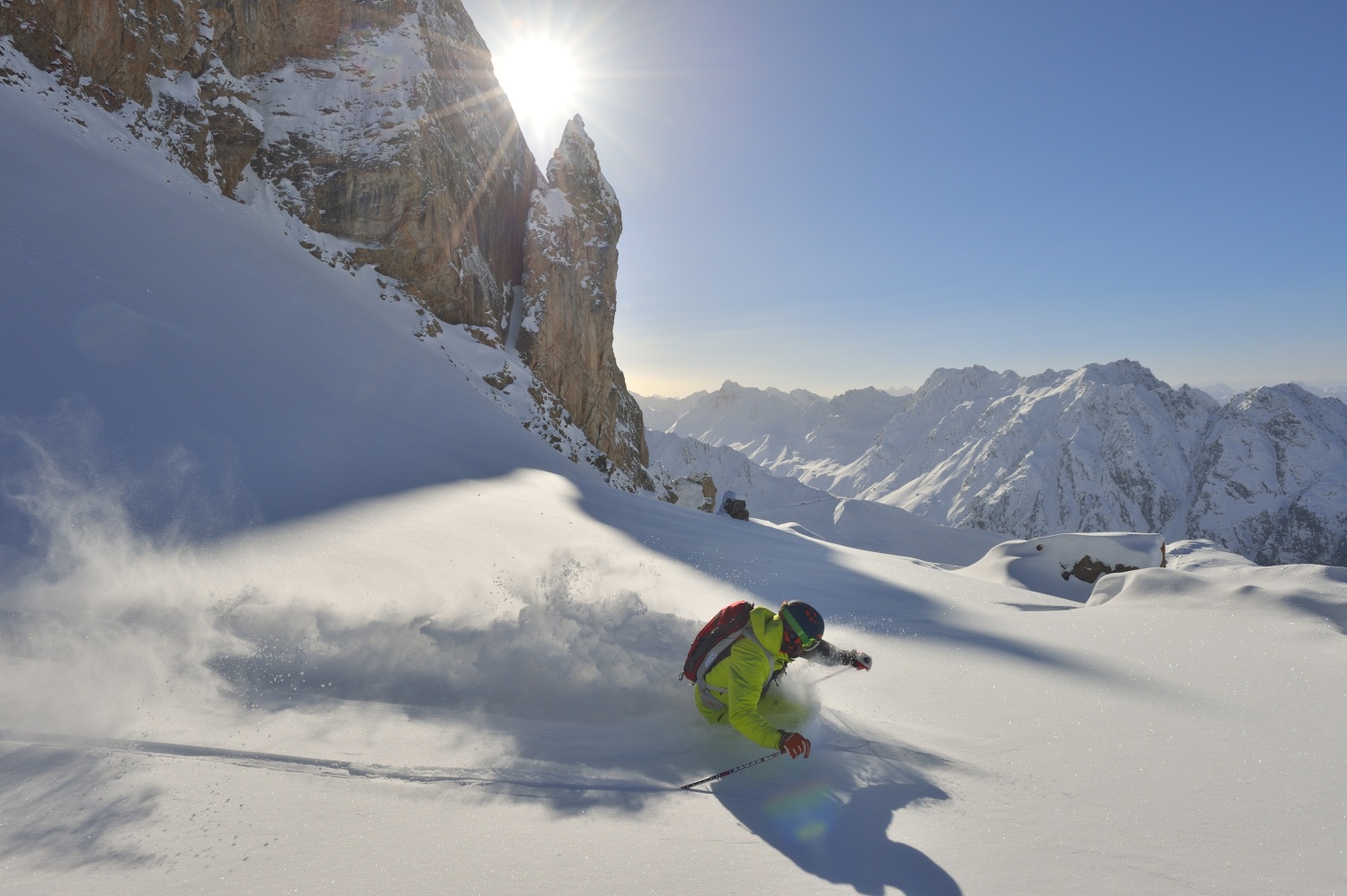 Ischgl
Winter party capital, Ischgl, in the Eastern Alps, has one of the liveliest après ski scenes in Europe, if not the world. But that's not all it's got to offer. High, snow sure slopes, an excellent lift system make Ischgl a great choice for a full-on ski holiday.
The lift-linked Silvretta Arena ski area here is large, but you can also access three neighbouring resorts Galtür, Kappl and See, on the same lift pass. Yet for all that the skiing here is excellent Ischgl probably prides itself more on its parties than its pistes. The infamous Hotel Elizabeth, with its booming oompah trance and scantily-clad dancing girls sums the resort up. If the real, Austrian après ski experience is what you've come for, look no further.
Check out our full resort review of Ischgl to find out where to go - and where to avoid - in eastern Austria's après capital.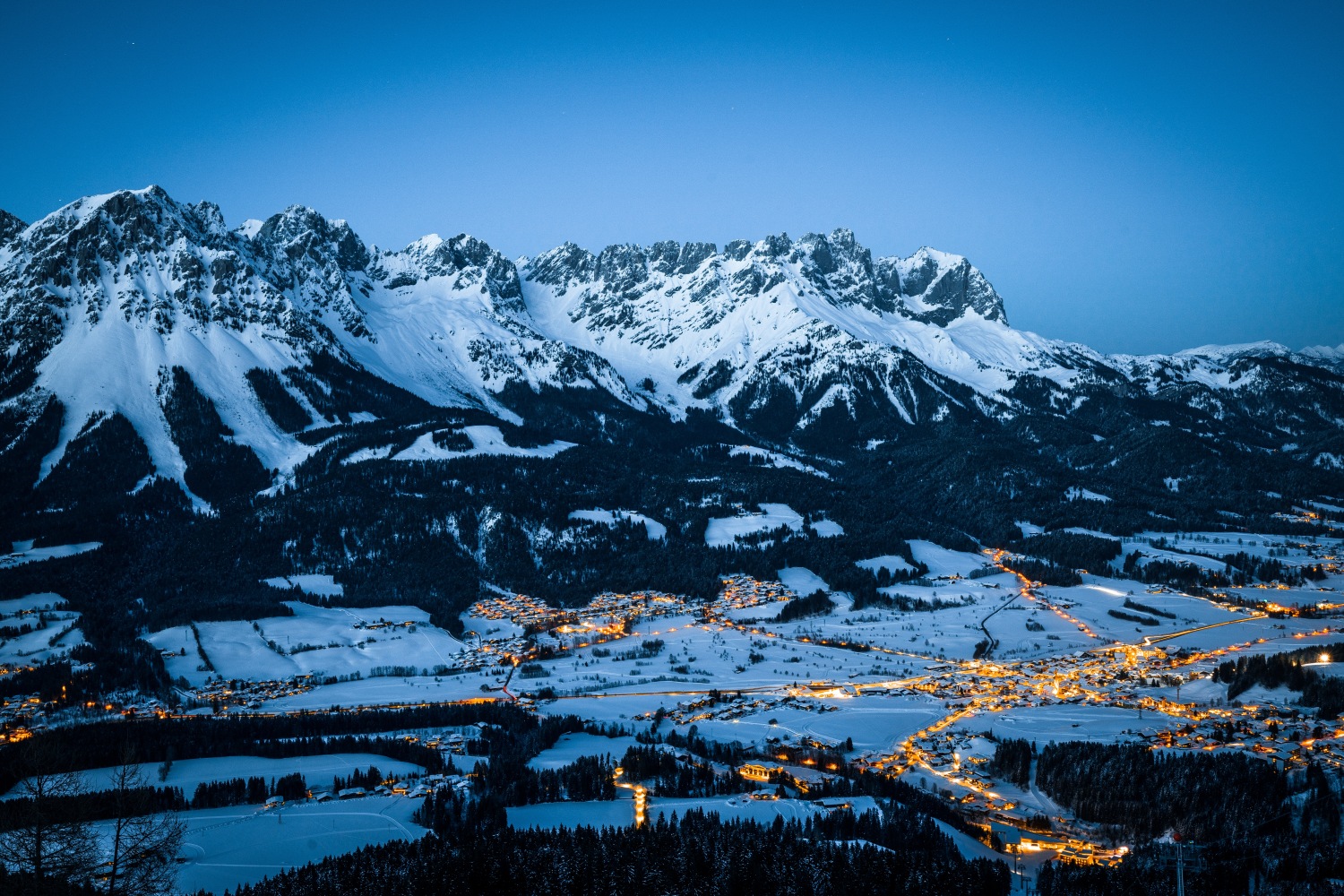 Image credit: Wilder Kaiser_ Mathaeus Gartner
Ellmau
Ellmau is perhaps the ultimate family-friendly ski resort - a charming traditional village tucked away in the corner of the SkiWelt ski area, that's renowned for not costing an arm and a leg - both in terms of lift pass prices, and accommodation, food, and drink.
The SkiWelt is fantastic for intermediates, but novices can find its sheer vastness overwhelming. Ellmau, however, has its own little ski hill – shared with its tiny neighbour Going – in the quietest corner of the domain, where gentle slopes are served by a well-designed series of parallel ski-tows.
If we were taking the family skiing in Austria, Ellmau would be where we'd go. Unusually, for Austria, the après ski scene here isn't that developed, giving the resort a peaceful vibe. Good child-friendly facilities and an excellent beginners' zone, right next to the village, combine to make this one of the best ski resorts in Austria. Not only that, it's excellent value for money too!
Read our full ski resort review of Ellmau to find out what makes this lesser-known resort one the best Austrian ski destinations going.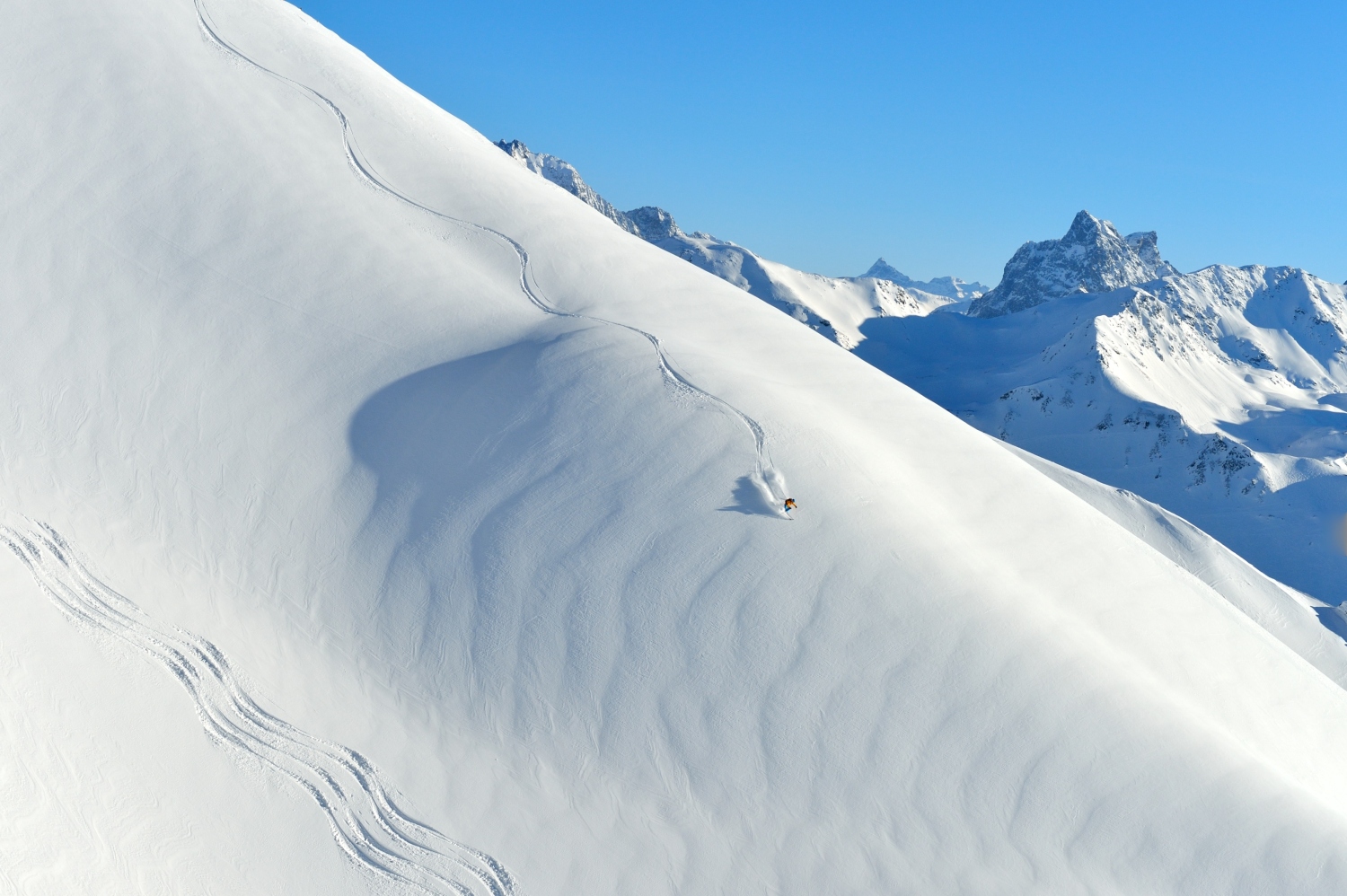 Lech
For a long time, Lech was something of a secret—tucked away in Austria's Arlberg region, it was overshadowed, in the British imagination at least, by the massive resort of St. Anton nearby. That allowed it to cater for a more discerning (and higher paying) clientele, and develop more organically, away from the attentions of developers. But with the opening of the Flexbahn Gondola in the 2016-17 season, Lech found itself connected to the vast Ski Arlberg area (of which St Anton is a part), and while it still maintains its smaller village charm, it now has offers access to a vast network of pistes that rivals anything in Austrian skiing. With 88 lifts and cable cars and 300km of pistes Ski Arlberg is now one of the largest ski areas in the world.
The sheer number of groomed pistes mean that there's plenty for intermediate skiers here. In fact the local ski area around Lech could have been designed for them, with plentiful red and blue runs to choose from. But there's also a ton of options for advanced skiers and snowboarders around the Ski Arlberg region, including multiple snow parks, and over 200km of marked, but un-pisted, backcountry ski routes. While the off-piste terrain throughout the ski area is impressive, the ski areas of Lech and Zurs are where the best stuff is found, making this a great place for more experienced skiers to base themselves.
The town itself has maintained its charm, and while there are luxury hotels, there are more affordable options too. All in all, its an excellent, well-rounded package.
Read our full-length ski resort review of Lech here.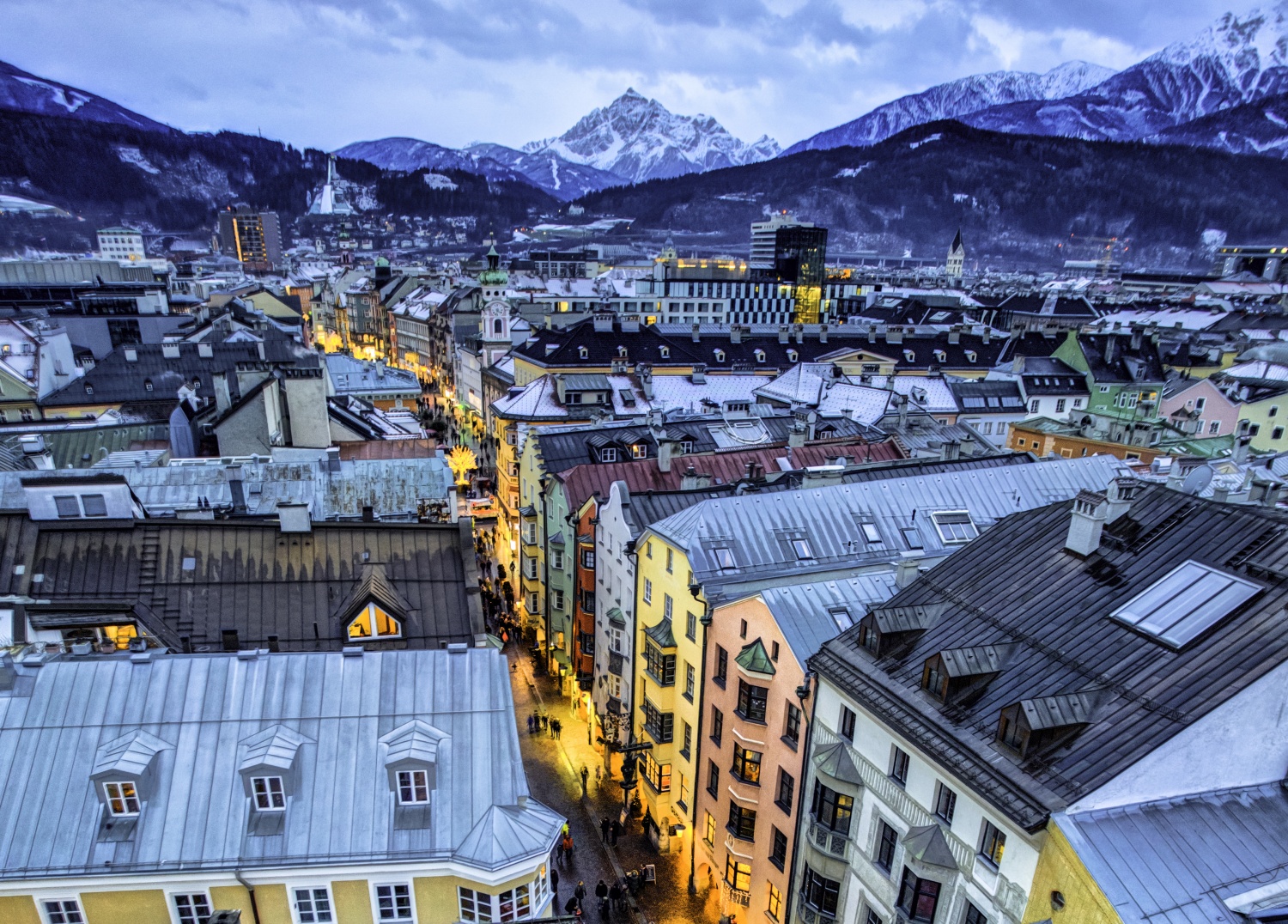 Innsbruck
It might seem strange to include the city that most people fly into to reach the Austrian Alps among the ski resorts on this list. But in recent years Innsbruck has emerged as a skiing destination in its own right.
The latest element in this evolution from transit hub to terminus came with the introduction of the Ski Plus City Pass in 2019 —a single ski pass which offers access to 13 of the closest ski areas as well as 22 of the city's museums and other attractions. Each of the many ski resorts which overlook the city offers something slightly different, from the beginner-friendly ski slopes of Mutteralm, to the famous fun parks of Nordkette and Kühtai.
The latter two, while not the largest ski resorts, both boast some seriously challenging terrain, and there are more excellent off-piste opportunities in Axamer Lizum. If you're there early or late season, there's snow sure skiing on the Stübai glacier, and the varying aspects of the different resorts means that the snow quality is second to none. In short, there's something for every type of skier around Innsbruck.
While they're not all linked, the modern lift system which serves Innsbruck's various resorts is supplemented by the busses, and bus travel is also included on your lift pass. The city itself, a university town of 125,000 people, has world-class restaurants, beautiful architecture and the kind of cultural life that most ski resorts can only dream of.
Of course, if you're after ski-in ski-out, then Innsbruck itself can't cater (although you could stay in one of the resorts and still makes use of the Ski Plus City Pass). But there's more to this town than Innsbruck airport (convenient as it undoubtedly is). If your ski holidays have become a bit samey, and you fancy combining your next one with the best bits of a city break, then this is the place.
Read our full Innsbruck ski resort review here.