A ski jacket is your first line of defence against the cold, harsh winter elements, whether skiing pistes in Meribel or backcountry touring in Colorado.
We've picked out the best ski and snowboard jackets this season and then further whittled down our selection to the stand-out performers of the year from the best brands. From great-value insulated piste jackets to high-end technical shell jackets designed for backcountry skiers and snowboarders, there's something here to suit everyone.
Columbia Snow Slab Jacket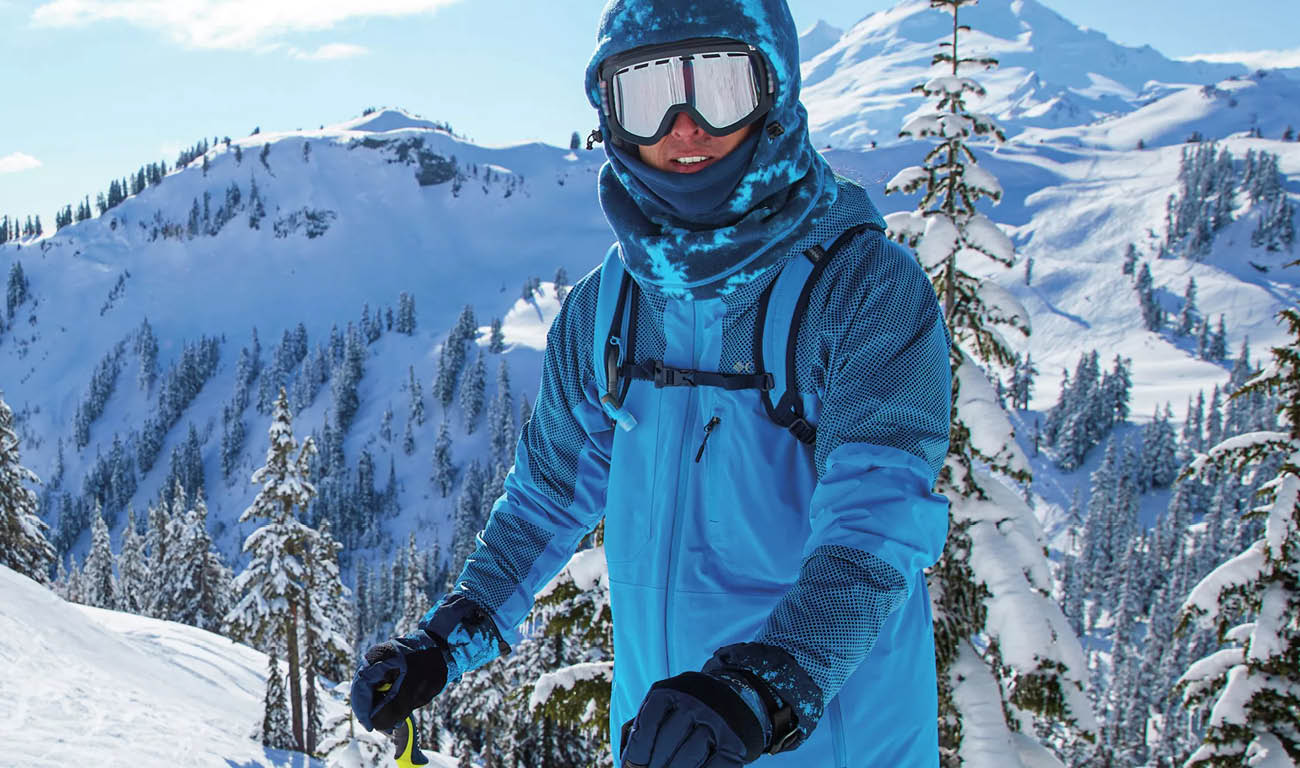 Best for: Warmth when skiing without the associated weight
RRP: £315
Wearing this jacket, you could be forgiven for thinking it's insulated, given the amount of heat you generate and retain inside it, but it's actually a shell. Internally, it uses a shiny gold lining to reflect body heat, while those little black dots on the outer aren't just for style—they trap solar heat and help reduce heat loss. Despite the space age tech, the Snow Slab is relatively inexpensive, but is still guaranteed to keep you warm and comfortable on the slopes.
FULL REVIEW OF THE COLUMBIA SNOW SLAB
The North Face Dragline Jacket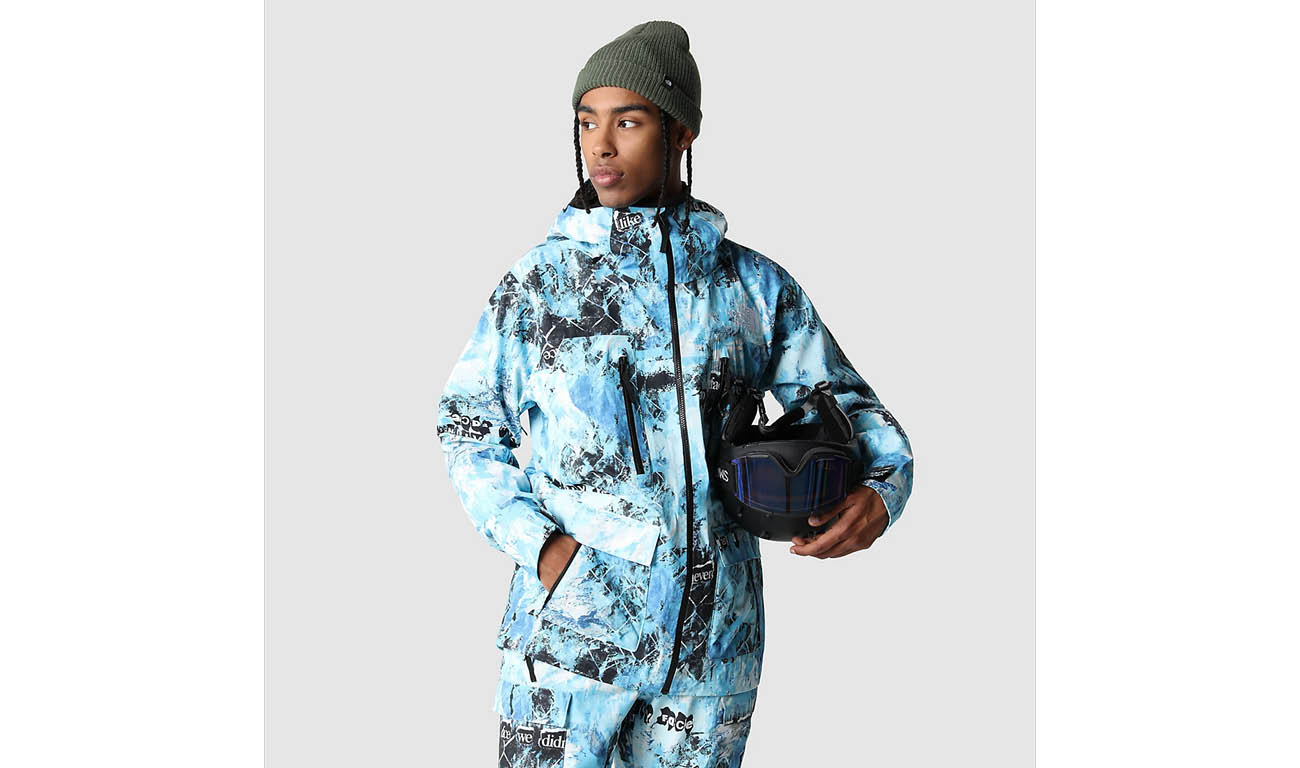 Best for: Freeriding like a pro.
RRP: £380
Super baggy and super bold, that's the order of the day for North Face's Dragline Printed jacket. The casual fit and looks hide an otherwise high-tech spec, with a durable 3-layer ripstop Dryvent fabric, full seam sealing and YKK Aquaguard zips to keep all moisture out. In true freeride style the hood is large and helmet compatible, and the chin comes up high over the face to offer excellent protection from biting winds. Other, much more muted colours are available.
FULL REVIEW OF THE NORTH FACE DRAGLINE
Buy The North Face Dragline Jacket: £379.99 at Ellis Brigham
Artilect Shadow Canyon Jacket
Best for: Skiing in the winter and hiking in the summer.
RRP: £420
We're big fans of Artilect here at SNOW—the Colorado-based brand just make really nice looking kit. Their Shadow Canyon jacket is designed to be multi-use, so it actually doesn't feature a powder skirt. But we don't feel that detracts too much from what is otherwise a stonking ski jacket. The 3-layer 40D two-way stretch ripstop shell is soft to wear but highly abrasion resistant and performs brilliantly, whether skinning up a slope or kicking back in town. The styling is minimalist, meaning it will work in all settings and situations.
FULL REVIEW OF THE ARTILECT SHADOW CANYON
Buy the Artilect Shadow Canyon Jacket: £420 at Cotswold Outdoor
Keela Munro Jacket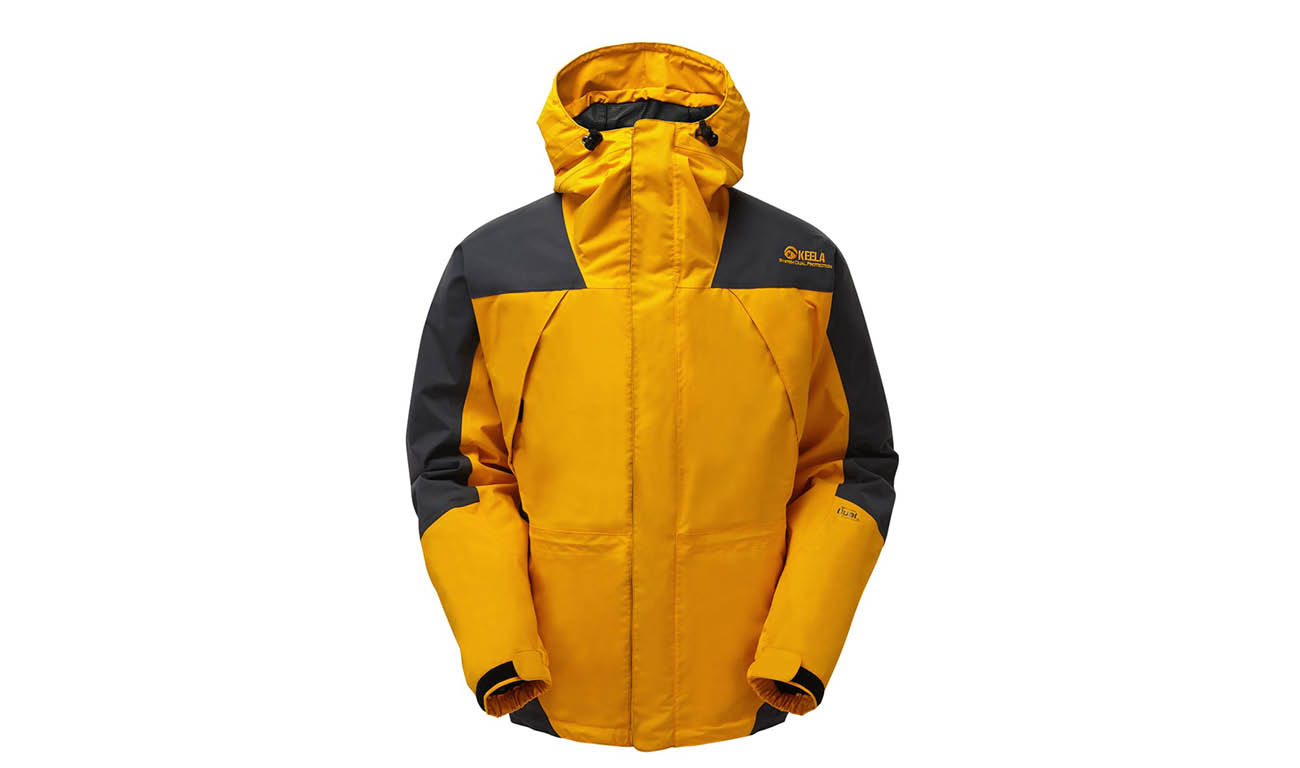 Best for: Skiing in Scotland where you might encounter sun, 100mph winds, and hail, all in the same day.
RRP: £210
Robust, practical, and hardy. The Munro is the sort of jacket that you use to weather a Scottish winter - and that makes perfect sense as Keela are a proudly Scottish company. This no-nonsense jacket, with a barrage of features designed to help you survive in the toughest mountain environments, also comes at a very keen price considering the specs. So despite not being your classic ski jacket, it's a jacket worthy of consideration for ski holidays. Fully waterproof and windproof the Munro also aims to be highly breathable, utilising Keela's System Dual Protection technology to wick moisture away from the body. This keeps the climate inside the jacket dry and pleasant despite a fair amount of heft to the material.
FULL REVIEW OF THE KEELA MUNRO
Buy the Keela Munro Jacket: £224 at Amazon.co.uk
Roxy Ritual Jacket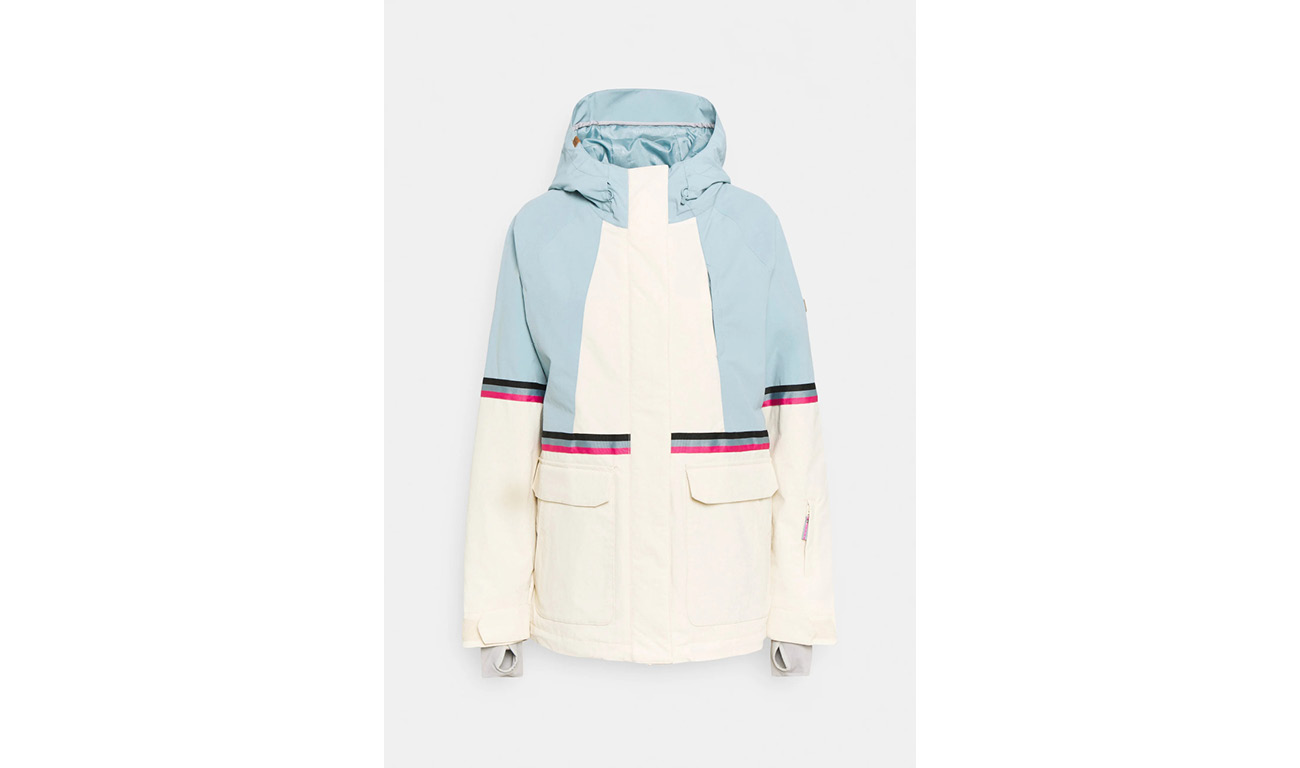 Best for: Cruisy piste skiing.
RRP: £200
Roxy's Ritual is an insulated ski jacket that's as much about comfort as it is slope performance. It's luxuriously appointed with synthetic insulation, mapped to 80g in the body and 40g in the hood and sleeves. This is enough to keep you warm in seriously frigid weather but it has also proven to be reasonably breathable when cruising the pistes.
The lightweight polyester taffeta lining is silky smooth and there are areas of fleecy brushed tricot for extra comfort on the neck and chin.
Seam taping on critical zones is complimented by 10k waterproofing and storm flaps to protect zips and pockets from water ingress. The adjustable hood is comfortable and effective and there are further adjusters on the cuffs and hem, as well as a powder skirt to keep snow out.
If you're looking for a comfortable, warm ski jacket with enough performance for cruisy piste skiing the Ritual could be the answer.
Salomon S/Lab QST Gore Pro Jacket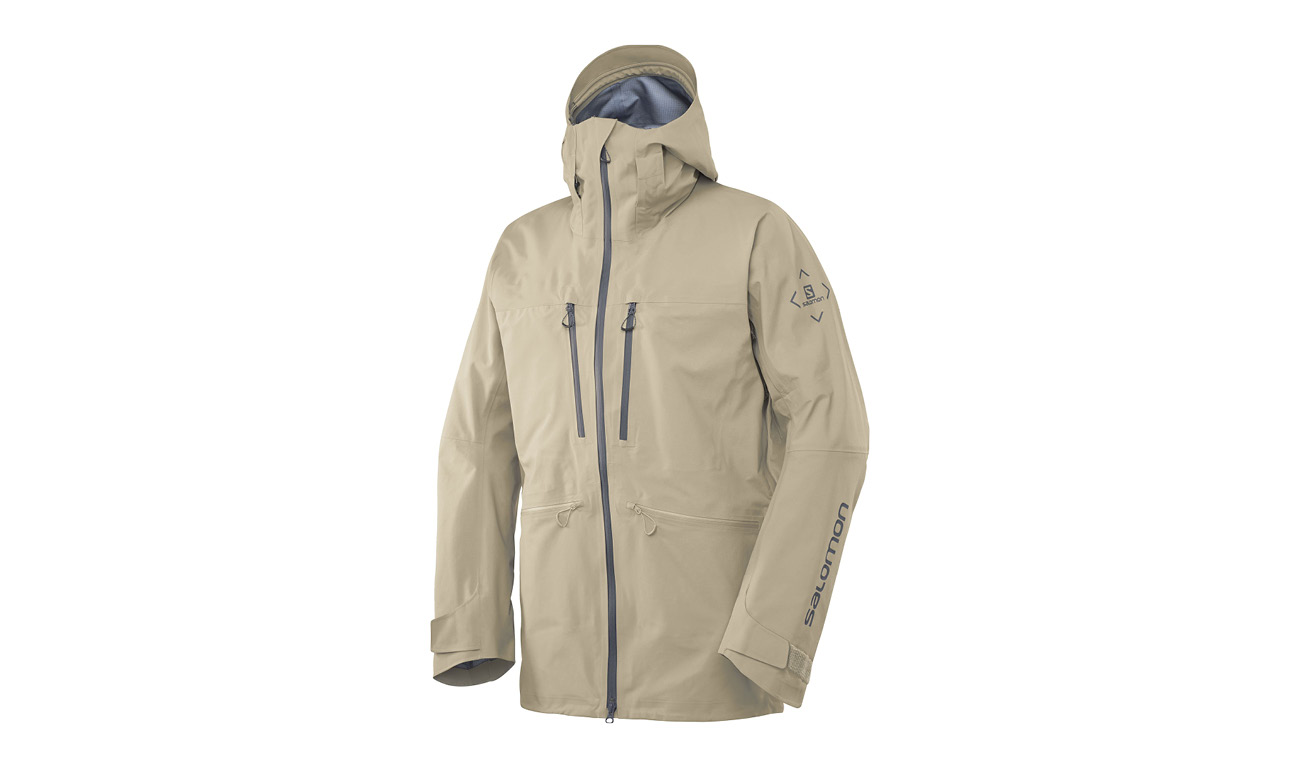 Best for: No-compromise freeriding
RRP: £550
If you want the absolute best in ski gear, then look towards Salomon's S/Lab range which offers no-compromise performance. Obviously, this comes at a price, if you're looking for bargain kit this isn't the ski jacket for you, otherwise read on.
The S/Lab QST jacket uses Gore-Tex Pro 3L, this is one of the best materials for a ski jacket thanks to a balance of top-of-the-line waterproofing, breathability, and bombproof durability. As a result, the material feels thick, stiff and crinkly but that's no different to most other high end ski jackets.
Look past that and the S/Lab QST impresses on every level. Fit is baggy enough for layering with excellent coverage over the bum and wrists and great, anatomical shaping. All the adjusters are easy to use, and the side vents help you cool down quickly. The pockets are in the right places and big and plenty enough to fit all your kit. The helmet compatible hood fits well and is truly storm ready with coverage over most of the face and a wide, wired peak.
All the seams are of course taped and the YKK Aquaguard zips won't let any wet through. In our experience Gore-Tex Pro is ridiculously reliable in terms of waterproofing as well and doesn't need a lot of looking after.
If you're looking for a storm ready freeride jacket the S/Lab QST should be on your list.
Klattermusen Brage 2.0 Jacket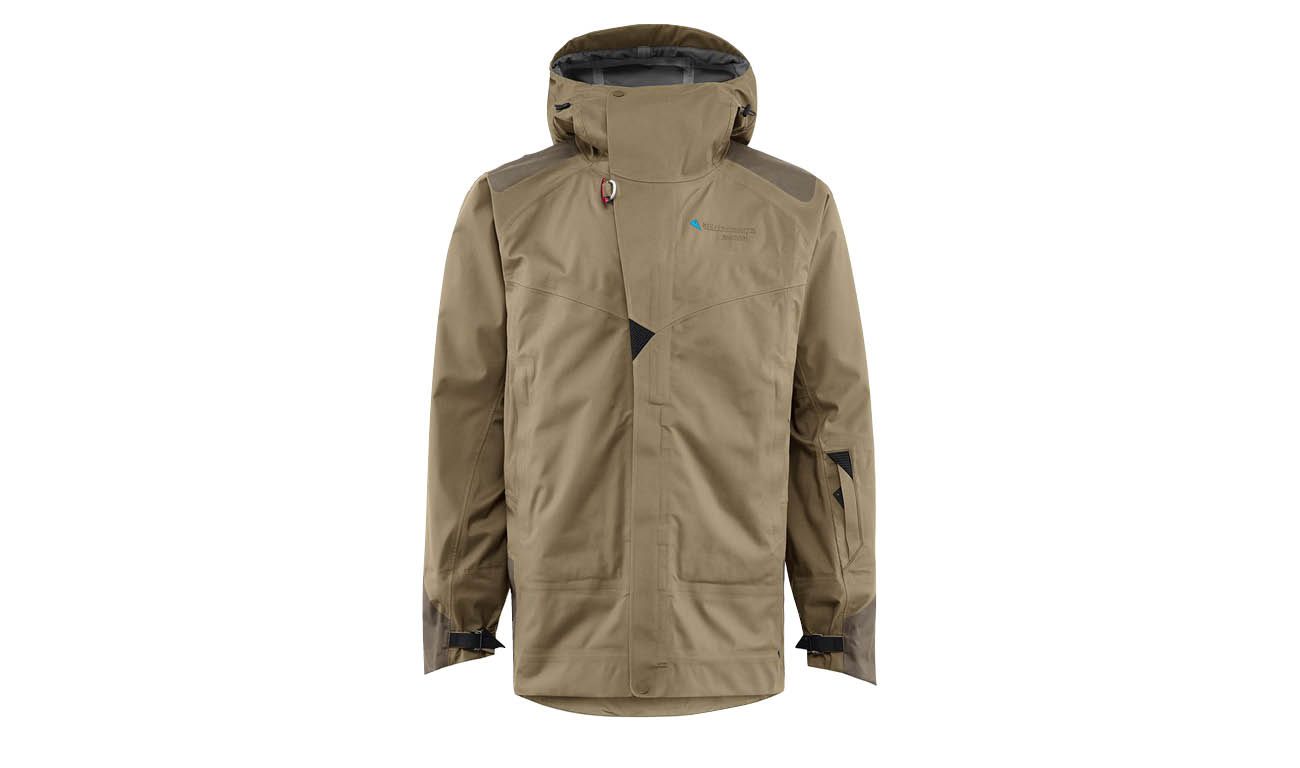 Best for: All mountain cruisy riders who like to wear their ski jackets out and about too.
RRP: £590
Klattermusen come out of Sweden, and although that doesn't guarantee decent outdoor clothing, they do have skin in the cold weather game so it tends to ring true. They're also a mountaineering focussed brand, with a small line of ski and snowboard jackets and pants, which gives us more confidence that they know how to protect you from the elements.
The Brage 2.0's 3-layer shell make-up is high end with fully taped seams and 20k/20k waterproofing and breathability. It's a proprietary fabric made of 100% recycled materials (Pertex Revolve) and it's relatively soft and stretchy. The jacket has a few aesthetic adornments like the metal fastener at the top of the main zip, webbing strap cuff adjusters and storm flap zip coverings. These help give the Brage 2.0 a look that's not out of place on the streets, where the removable function of the powder skirt comes in handy. On the mountain though the Brage 2.0 performs impeccably well, offering the right mix of protection, durability and comfort. The fit is just right, with coverage over the bum and wrists and room for layering underneath. The adjustable hood moves with your head and cinches down over helmet or bare head equally well.
We have never quite understood the benefit of an offset zip but it doesn't offend in any way. We found the Brage 2.0 breathable when picking up the tempo and it has easily grabbed pit zip adjusters for when the going gets tough.
Pockets are plenty, with hand, chest and lift pass as well as a tall, thin mesh dump pocket inside - which is much more useful than the floppy wide ones you would usually find in a ski jacket.
Overall a top notch ski jacket that offers performance on the mountain and has the looks for the streets.
Buy the Klattermusen Brage 2.0 Jacket: £446 at Amazon.co.uk
Spyder Leader Jacket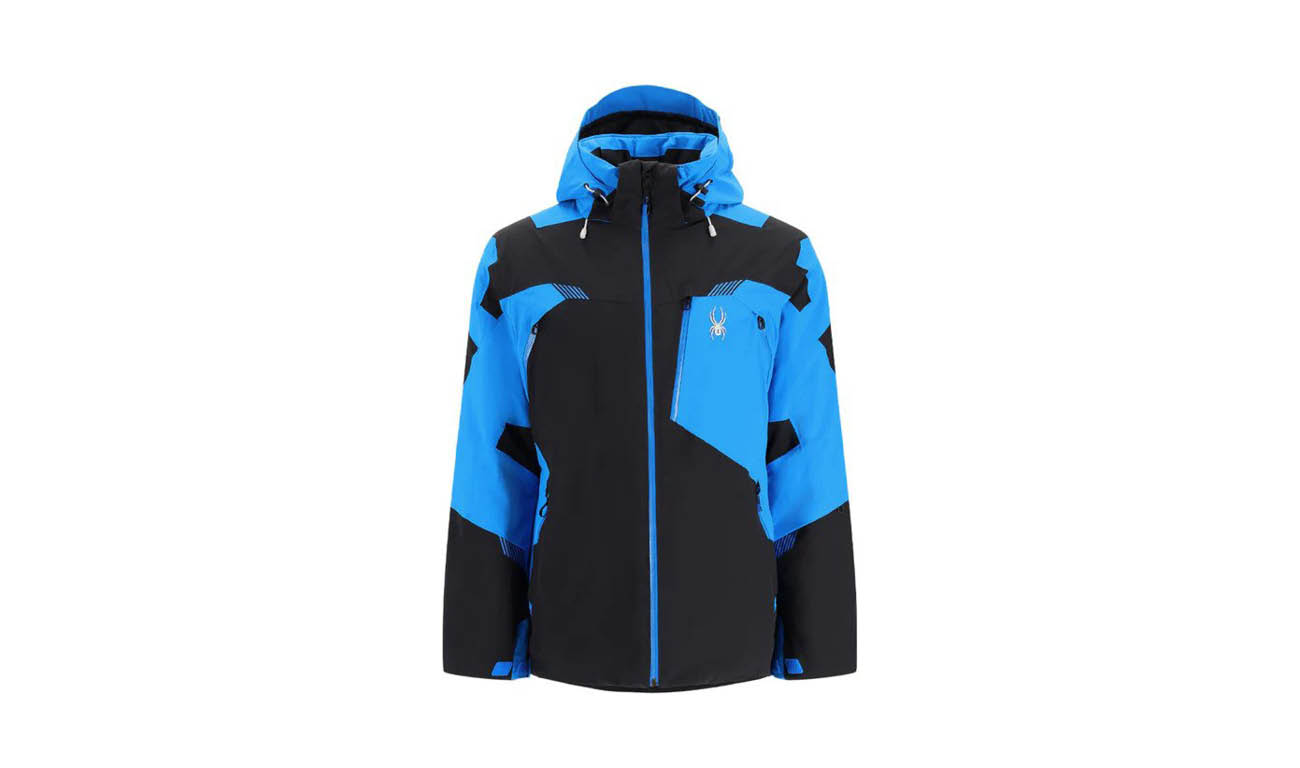 Best for: Demanding resort skiers
RRP: £530
Mix Gore Tex and Primaloft into a stylish ski jacket and you're onto a winner. The Leader is about as fully featured as it gets so will perform like a beast out on the slopes, protecting from the elements and keeping you sweat free, but it's also built with comfort in mind. You'll find stretch panels sewn in as well as a removable hood and powder skirt.
Buy the Spyder Leader Jacket: £424 at Cotswold Outdoor <Sale deal>
Patagonia Stormstride Jacket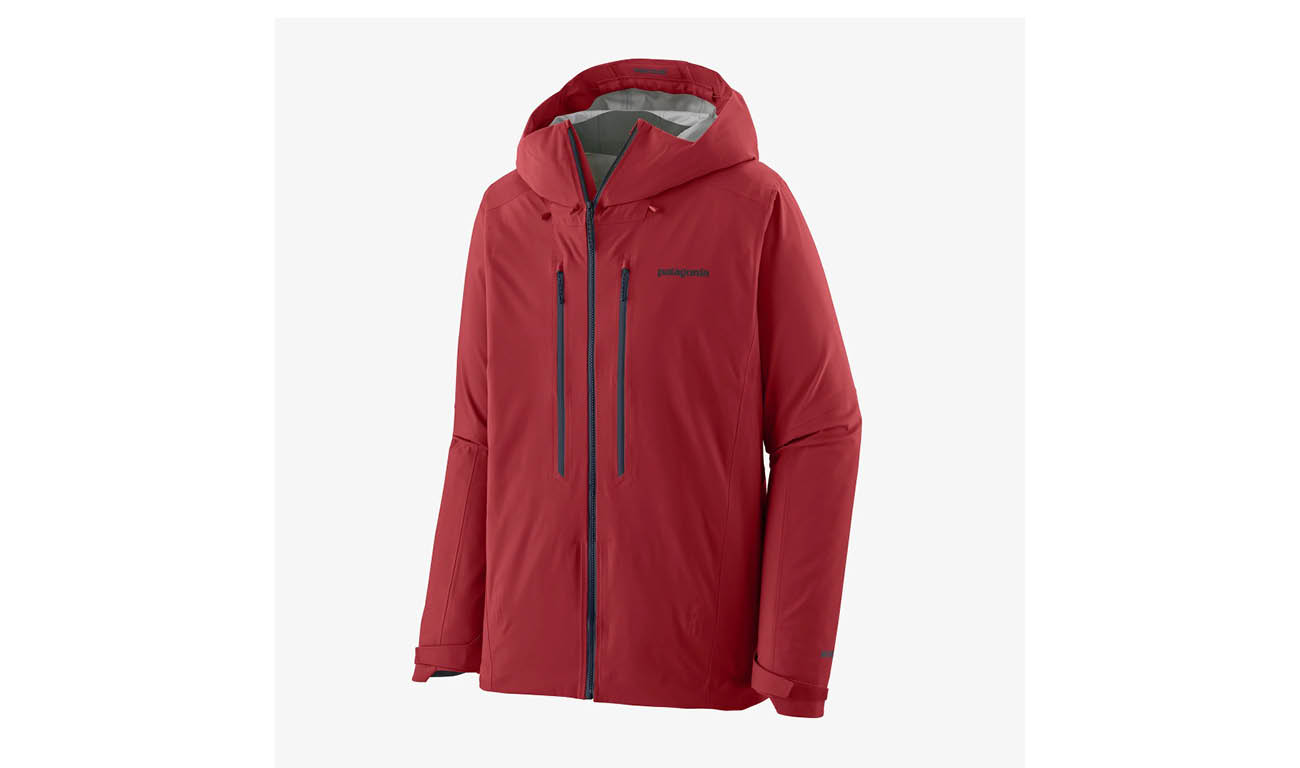 Best for: Minimalist ski tourers
RRP: £450
Built for dedicated ski tourers, the Stormstride has everything you need and nothing you don't. This has the distinct benefit of keeping the weight down to just 490g, perfect for stuffing in your pack on the uphill. The 3-layer shell uses all the best in material technology, with a highly waterproof but stretchy ripstop outer for great freedom of movement and durability and a soft polyester knit backer, which gives a lovely next to skin feel and a touch of warmth.
Buy Patagonia Stormstride Jacket: £450 at Cotswold Outdoor
Picture Goods Jacket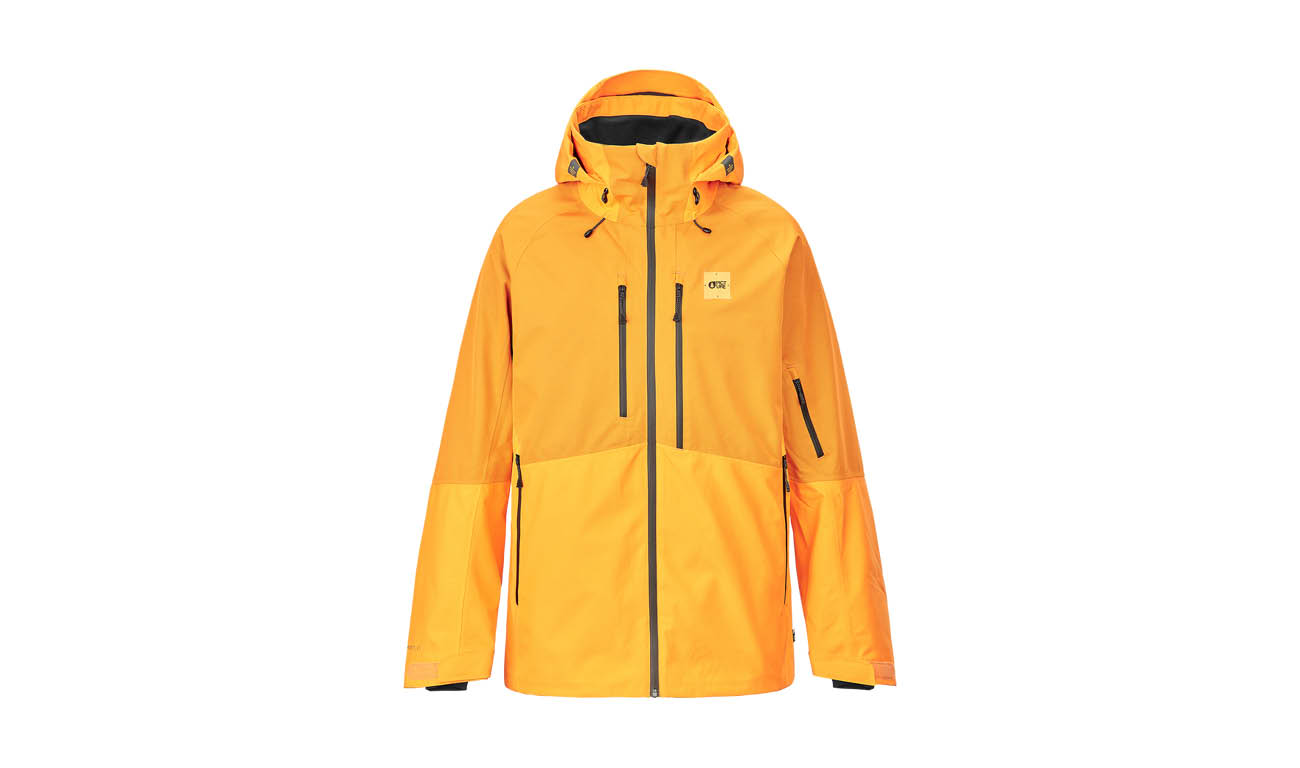 Best for: Comfort seeking eco-warriors
RRP: £360
Stretch isn't something you typically see on a ski jacket but the Goods offers it in 4 ways. This means it's likely to be much nicer to wear than the crinkly equivalents. It's also lined with a cosy but eco-friendly recycled insulation and the eco goodness doesn't stop there as the Goods also uses a Bio-sourced outer fabric. Fully sealed seams, waterproof zips and an inner snowskirt make sure the snow stays where it belongs.
Buy Picture Goods Jacket: £251.99 at Ellis Brigham <BEST DEAL>
The North Face Chakal Jacket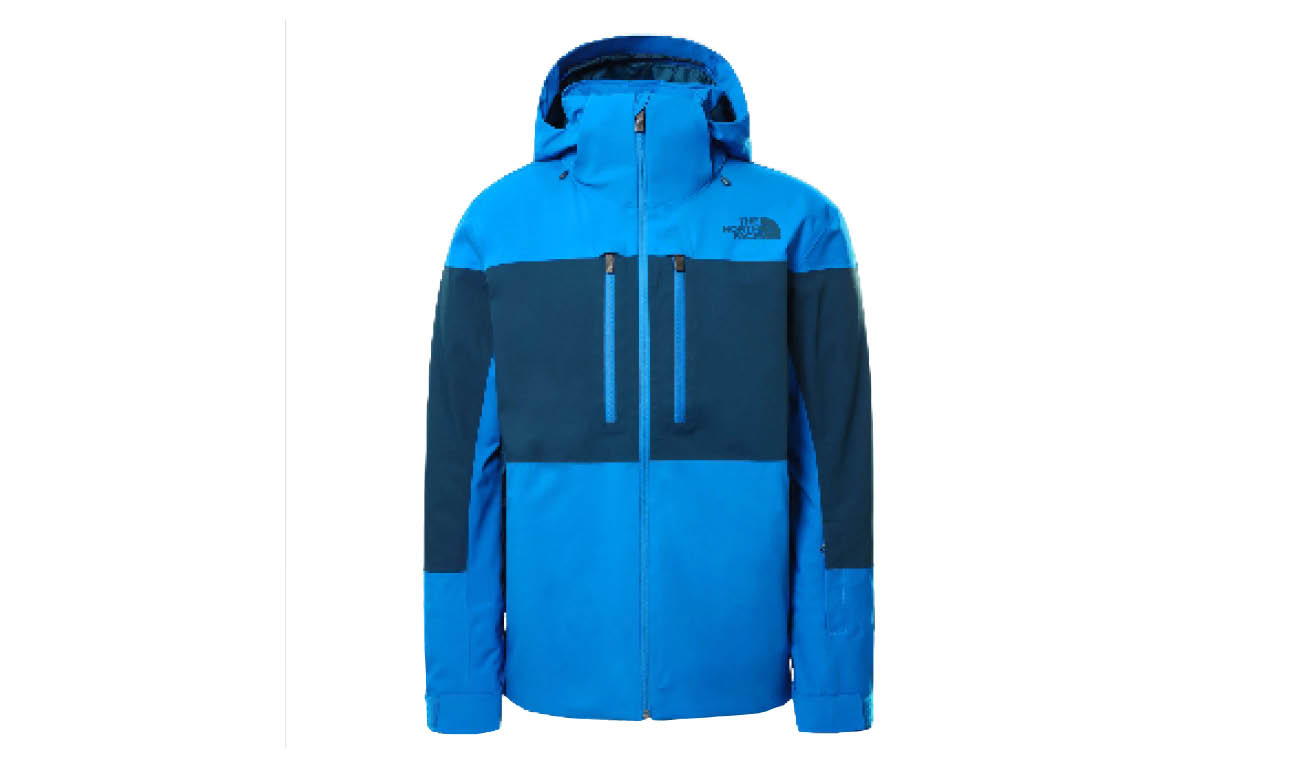 Best for: All-mountain fun on a budget
RRP: £330
The Chakal is the type of ski jacket that earns its place in your wardrobe by offering everyday wear versatility, thanks to its great looks. Under the exterior you get dependable, warm, and breathable PrimaLoft insulation as well as a number of pockets to store your kit. North Face's own DryVent fabric is as waterproof as the competition and AquaGuard zips make sure no moisture creeps through from the outside.
Buy The North Face Chakal Jacket: £280.46 at AlpineTrek.co.uk <BEST DEAL>
Buy The North Face Chakal Jacket: £330 at Cotswold Outdoor
Buyer's guide: What do you need in a ski jacket?
Before buying a ski jacket ask yourself these questions.....
Is the jacket fully waterproof and how do I tell?
Get the basics right first, make sure your jacket is waterproof. We would suggest a minimum level for skiing and snowboarding of a 10,000mm hydrostatic head, this information can be found on the tag of the jacket or on the manufacturers web page. If you're really putting the jacket through its paces in all weathers then you should aim for a higher level of 20,000mm or above.
What are taped seams and do I need them?
Taped seams are important to stop the gradual creep of moisture past small holes created when the various panels of the jacket are sewn together. Some only have critically taped seams usually above the shoulder and in the hood but most dedicated ski jackets have fully taped seams i.e. every seam on the jacket has a layer of waterproof tape bonded over the top of it.
Are the zips waterproof?
Any zips will need to either have storm flaps - a flap of material over the top of the zip - or preferably be water tight. If they don't have either eventually moisture will creep through. You can tell if a zip is watertight by looking at the area either side of the teeth, if it has a rubbery looking coating then you're good to go. Also make sure that all zips run smoothly and have chunky pullers so you can easily use them with gloves or simply with cold hands.
How many pockets do I need and do I need pit zips?
Make sure you have enough for your needs, look for a jacket with a lift pass pocket on one of the sleeves as this will save a lot of hassle in busy lift queues. If you're going to be doing a lot of high intensity skiing or ski touring then pit zips are a must for ventilation through the body without having to remove your jacket.
Do I need an insulated ski jacket?
Whether you go for shell or insulated depends on if you prefer to layer up or not. Shell jackets (jackets with no insulation) are more versatile as long as you have a wardrobe full of technical layers to go underneath. You can vary these layers depending on conditions, from a light baselayer underneath on warmer days to a full compliment of base and mid layer for deep winter days. It also allows you to vary layers through the day for better temperature regulation overall. Some prefer insulated jackets for their simplicity and the fact that you don't have to buy expensive extra layers to go underneath them.
Is down insulation any good for skiing?
As a general rule synthetic insulation is better than down for ski clothing as it retains most of its insulating properties when wet. Although tempting be careful not to buy overly insulated jackets as they will quickly get hot and clammy when you're skiing.
Other features
Other features that skiers and snowboarders find useful, but aren't necessarily vital, are a powder skirt, which is designed to keep snow from going underneath your jacket, and thumb loops which keep your sleeves down and tucked under your gloves.