Snowboards might look broadly similar, but their performance is affected by a whole load of factors, including their shape, flex pattern, and the materials they're made from. Until the mid-90s, most snowboards were primarily aimed either at riders who wanted to do freestyle (i.e. tricks), or those who wanted to ride off piste (otherwise known as freeriders). Then in 1996, Burton Snowboards launched the Custom, the first all mountain snowboard, and the snowboard market changed for good. Designed as a compromise between the two extremes, it nonetheless performed incredibly well on all kinds of terrain, and was quickly adopted by pro freestylers and pro freeriders alike.
Why should you buy an all mountain snowboard?
These days, the vast majority of the snowboards sold each year are all mountain snowboards, for obvious reasons. Why would you spend money on buying multiple boards when you could ride it all with a jack of all trades? Most intermediate to advanced riders will want to sample a little bit of everything anyway, and if you've only got a week of snowboarding in France or Austria each winter, it makes sense to buy a versatile board that will handle whatever conditions you find.

That's not to say that specialist snowboards don't still have their place. If you know you don't like tricks, or you're heading to somewhere where there's likely to be a lot of powder (like Hakuba in Japan, for example) then it buying a freeride snowboard makes a ton of sense. Similarly, out and out beginners will probably be better off looking at entry-level snowboards, or a freestyle board (as these often share the characteristics of entry-level boards. But for everyone else, all mountain snowboards are a good place to get started. And these are the best all mountain snowboards on the market this winter.
How we selected the best all mountain snowboards
Almost all of the models on this list are classics—all mountain boards that the manufacturers have included in their lines for years (in the case of the Burton Custom, for almost three decades). Of course, these classic get updated every season, with new graphics and the latest advanced materials, but the broad parameters of how they ride, and who they're aimed at, stay the same.

As well as testing the latest versions, our test team has ridden every one of these models extensively over the years. Many of them, we've owned, and can bring this longterm test experience to bear on our reviewing process. We've chosen a mixture of men's all mountain snowboards and women's all mountain snowboards, and we've listed them in alphabetical order.
If you want some clarification on the terms used in our reviews, check out our handy all mountain snowboard buyer's guide below, which will help you get educated on the basics involved in buying a snowboard. Otherwise here's our pick of the best all mountain snowboards for the 2023 season.
Bataleon Goliath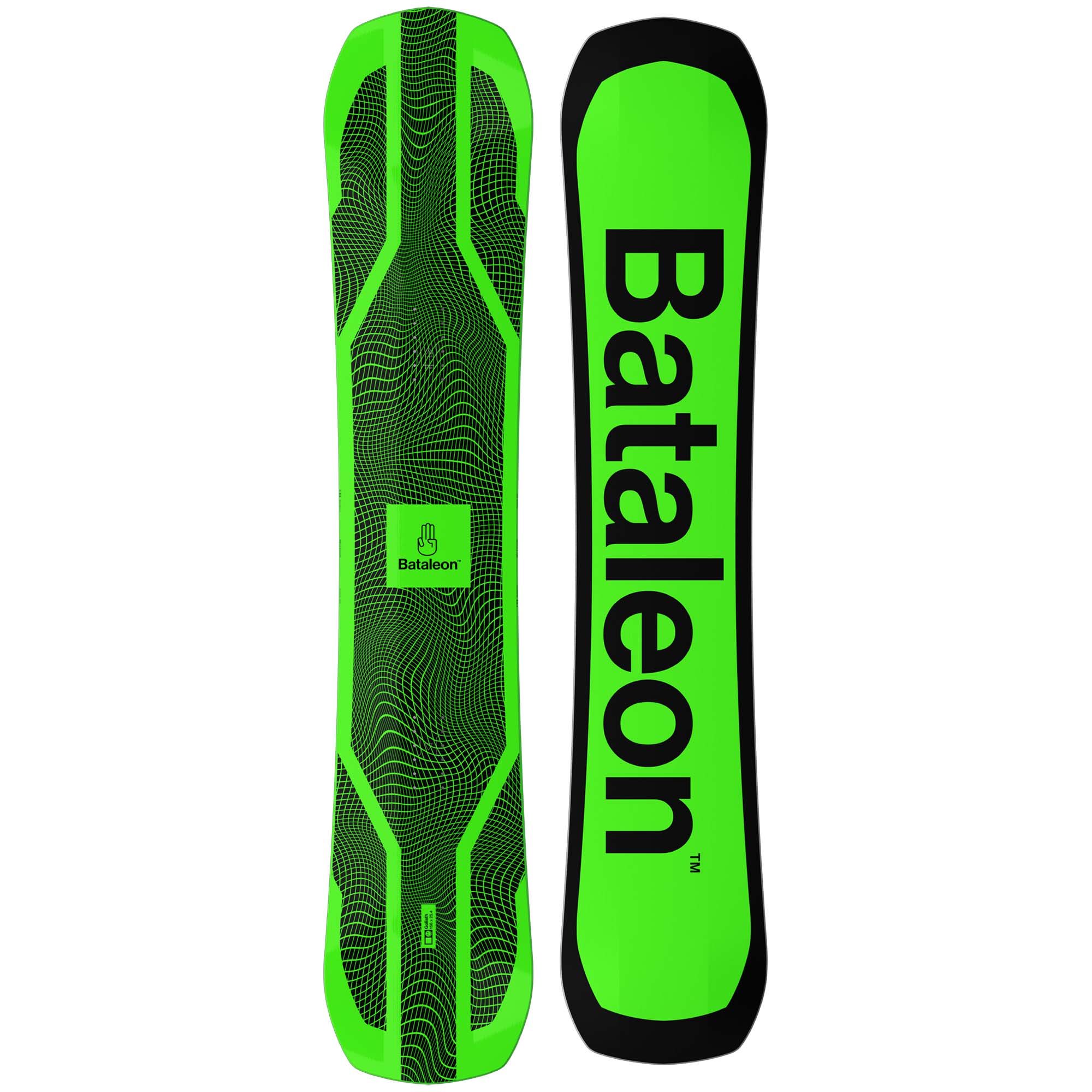 This is a seriously sophisticated all mountain snowboard, perfect for those who love high-speed slashing. Nobody likes a bail, and they're significantly less likely on the Goliath, thanks Bataleon's patented Triple Base Technology (also called 3BT) which lifts the edges of the board's base, making catching them less likely. To this, the brand have added Dual Radial Super Tubes—hollow carbon tubes which run parallel to the edges of the board to give it better response, and power transfer to the edges.

The Goliath's SideKick Tips —which increase sidebase uplift at the widest points of the nose and tail—are a genius addition which makes for smooth turn initiation and easy handling whether on ice, slush or hardpack. Bataleon is a brand that inspires true fandom, and this is pretty much the best all mountain snowboard they make. Try one, and you'll see why people love them so much.
Men's board

Flex 6/10

Shape Directional twin

Profile Triple Base Technology (Bataleon's own invention, which mixes the best of rocker and camber)

Best for Intermediate and advanced all mountain riders

Verdict A fast, fun ride loaded with technical features to justify the slightly higher price tag.

Overall rating 9/10

RRP £540
Buy Bataleon Goliath Snowboard: £540 from Snowboard Asylum
Burton Custom Camber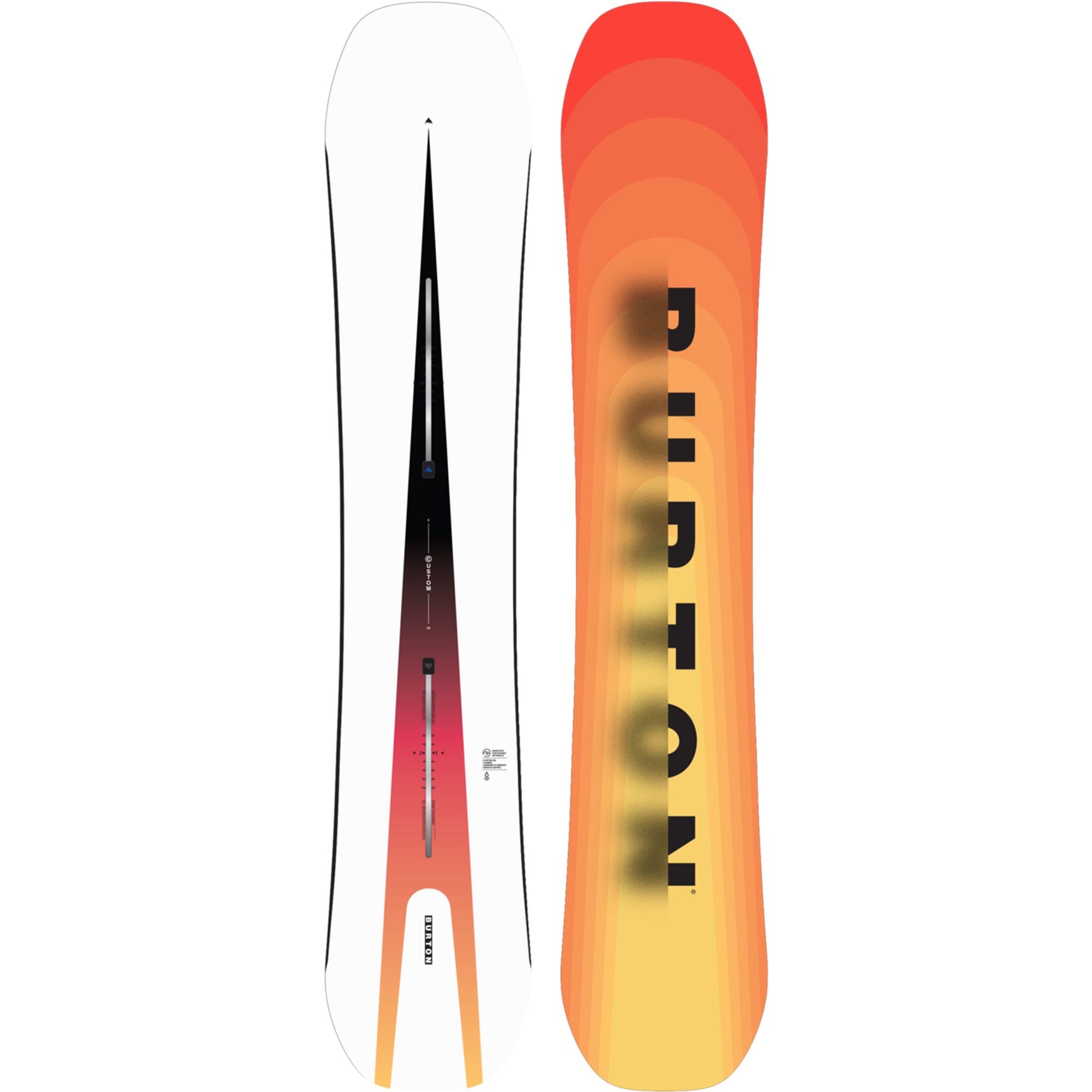 Yes, this snowboard errs on the pricier side but if you're an intermediate to expert rider with a love of all mountain riding, the Custom Camber is hard to beat. It's the latest take on the Custom—the legendarily versatile board which invented the whole category of all mountain snowboards. There are now two versions: the Burton Custom Flying V, and this beauty, the Custom Camber.

This is the ideal snowboard for advanced riders who crave both stability and precision when hitting the mountain hard. It's an aggressive all mountain board, with a generous camber which means there's plenty of pop. Despite the elongated nose, it's not the floatiest of rides, but it comes into its own on steeps – it carves quickly and smoothly and retains great manoeuvrability, even at slow speeds. And then there's the design. No, it won't make you go any faster, but what's not to love about the go faster orange arrow?
Men's board

Flex 7/10

Shape Directional twin

Profile Camber

Best for Riders who love to carve 

Verdict A fun, fast ride for experienced all mountain riders, backed up by the tried-and-tested technicality of Burton's bestselling model.

Overall rating 9/10

RRP £630
Buy Burton Custom Camber Snowboard: £630 at Burton.com
Burton Process Flying V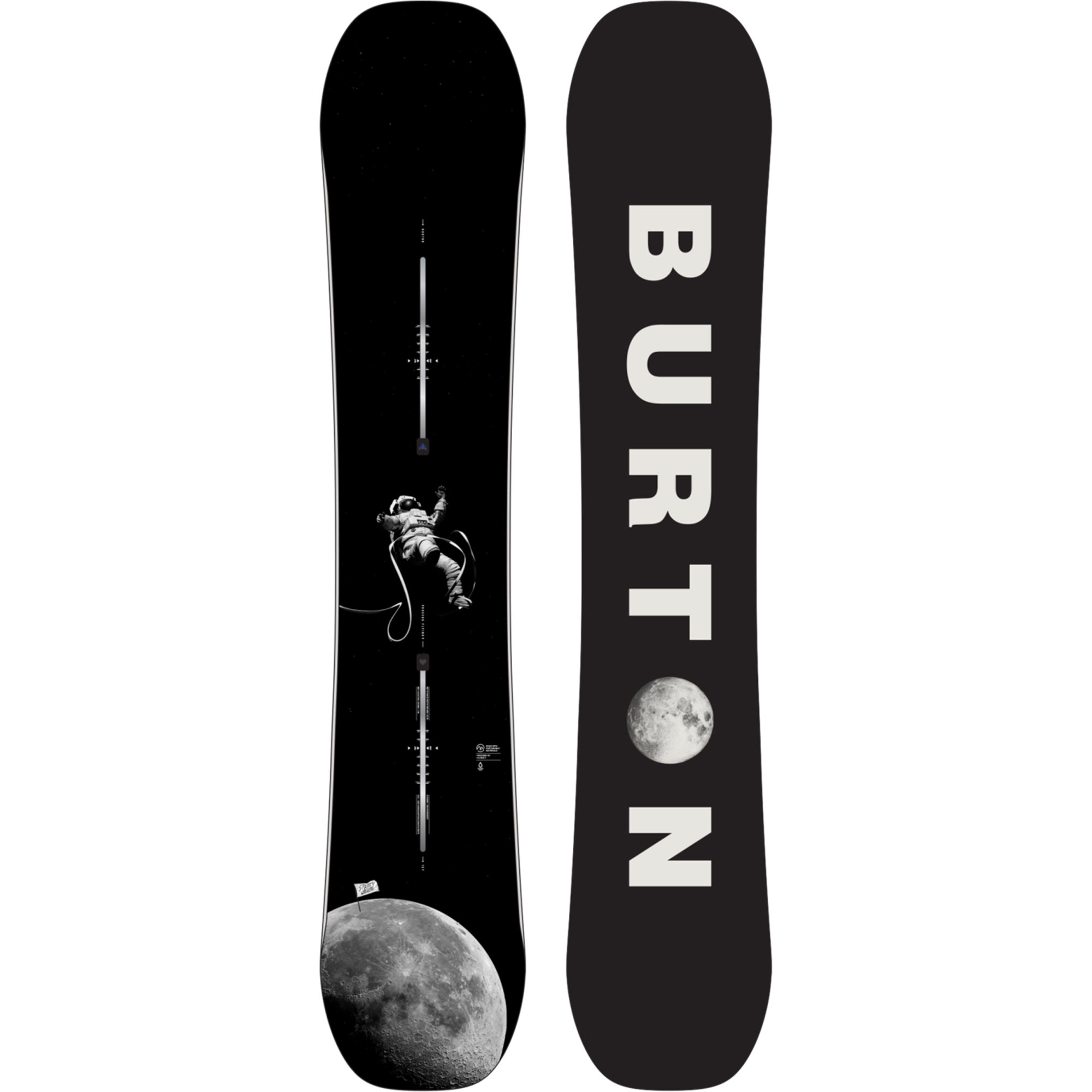 This lightweight true twin is another all mountain snowboard which pairs playfulness with all-terrain reliability. Burton's legendary Super Fly II Core keeps the weight low (and makes busting out impromptu ollies a breeze, even at low speeds) and the strategic profile of the core transfers the energy to both the nose and the tail for supersized snap. Dualzone EGD engineered wood grain – placed along the toe and heel edges in two continuous zones perpendicular to the core – act as fantastic stabilisers improving the edge hold.

Like the Burton Custom Flying V (the rocker version of the board above) this features rocker zones between the feet and towards the tip and tail. This makes the board feel more forgiving and easier to turn on, so its better suited to less advanced all mountain riders.
Men's board

Flex 4/10

Shape True twin

Profile Hybrid camber

Best for All mountain riders who are still learning, or looking for a more playful ride

Verdict A fantastic all mountain snowboard for all kinds of conditions

Overall rating 8/10

RRP £520
Buy Burton Process Flying V Snowboard: £519.95 at Absolute Snow
Capita D.O.A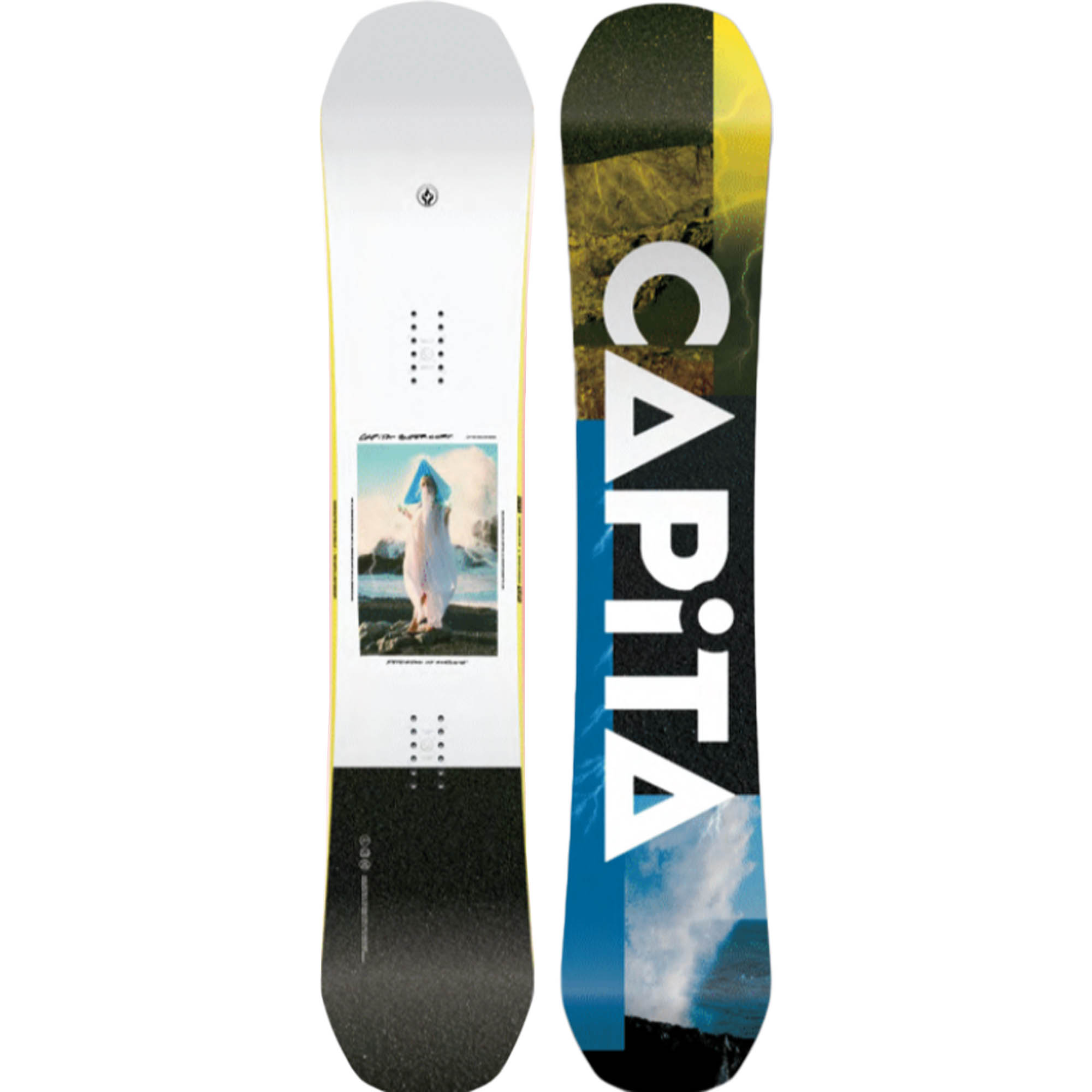 Capita's bestselling snowboard is a go-anywhere deck which uses a hybrid camber design to deliver maximum pop, without sacrificing the easy turn initiation associated with rocker boards. The true twin shape makes this a great all mountain freestyle snowboard, but it handles powder pretty well too.
Capita's P2 Superlight Core does a brilliant job of keeping the weight low without sacrificing impact resistance, and high-end features such as the Fortress Kevlar Bound Sidewalls and super fast, Quantum Drive sintered base mean the D.O.A offers brilliant value for money, too. This year's board features a fresh new graphic that's sort of the white knight to last year's black model. D.O.A. by the way, stands for Defenders of Awesome, a phrase that's become Capita's motto since this board was introduced—not dead on arrival.
Men's board

Flex 6/10

Shape True twin

Profile Hybrid camber

Best for All mountain riders with a passion for freestyle, and a need for speed 

Verdict Given the stable of fantastic features, this snowboard offers brilliant value for money.

Overall rating 9/10

RRP £500
Buy Capita D.O.A Snowboard: £345.00 at Snow + Rock <SALE DEAL>
Jones Twin Sister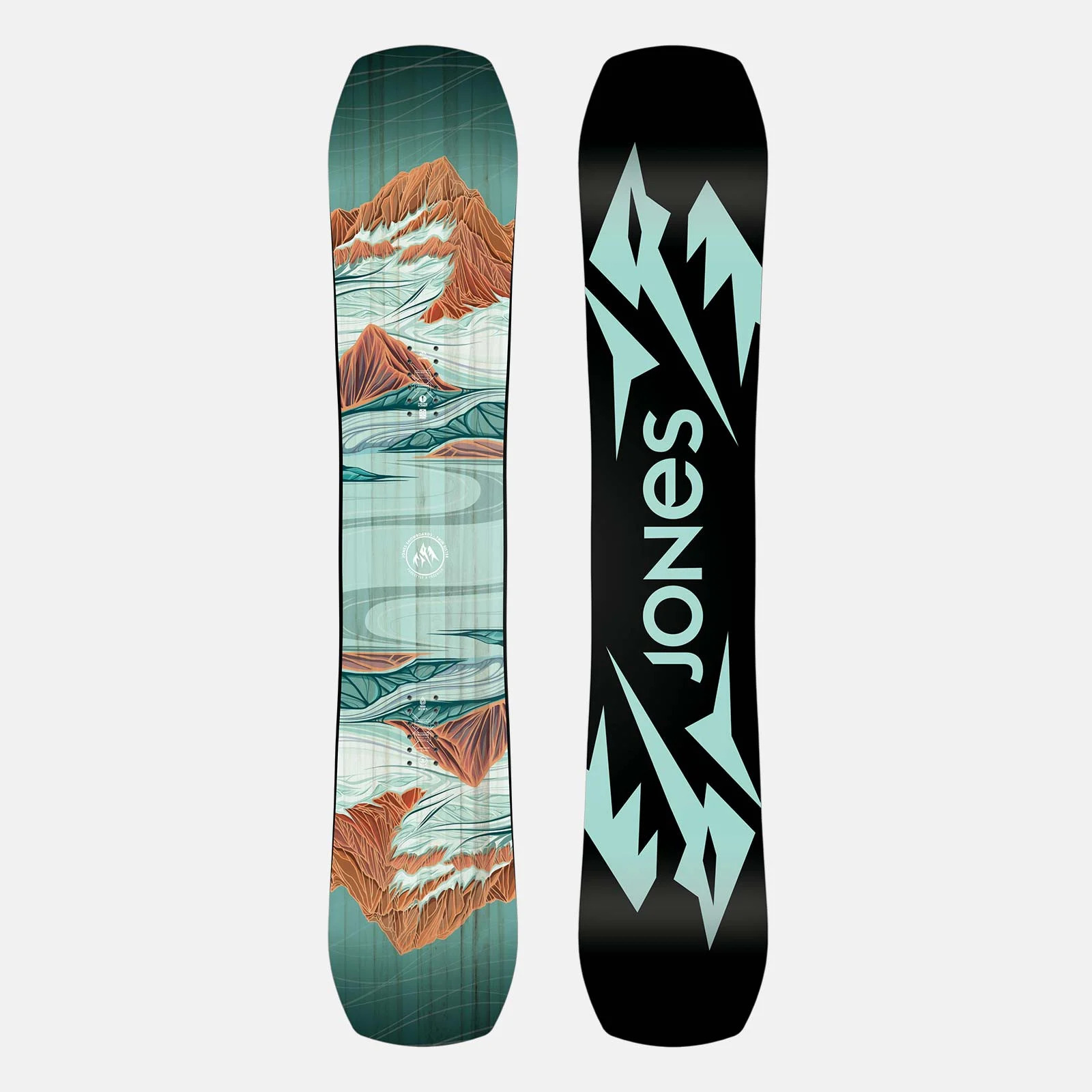 Jones might be best known for their big mountain guns, but this—the women's specific equivalent of the much-loved Jones Mountain Twin men's snowboard—is an out and out all mountain board. It was redesigned extensively last winter, with a slightly blunter nose and tail shape, and a 3D contoured base. The latter, now included on all Jones models (including the Jones Mountain Twin) means the base is curved, which makes the edges harder to catch on hardpack.

As the name suggests, this is a true twin, with a centred stance which lets you ride switch easily. However, while you can ride the snow park with this, it's not really a rail board. Instead, like most Jones boards it is most at home in the backcountry.  If you want a women's all mountain snowboard with a bit of a powder bias, they don't come much better.
Women's board

Flex 6/10

Shape True twin

Profile Hybrid

Best for Ripping around the whole mountain.

Verdict Pure Jones class packaged up for women who love mixing piste cruising with powder. 

Overall rating 8/10

RRP £520
Buy Jones Twin Sister Snowboard: £479.95 at Jones Snowboards
K2 Antidote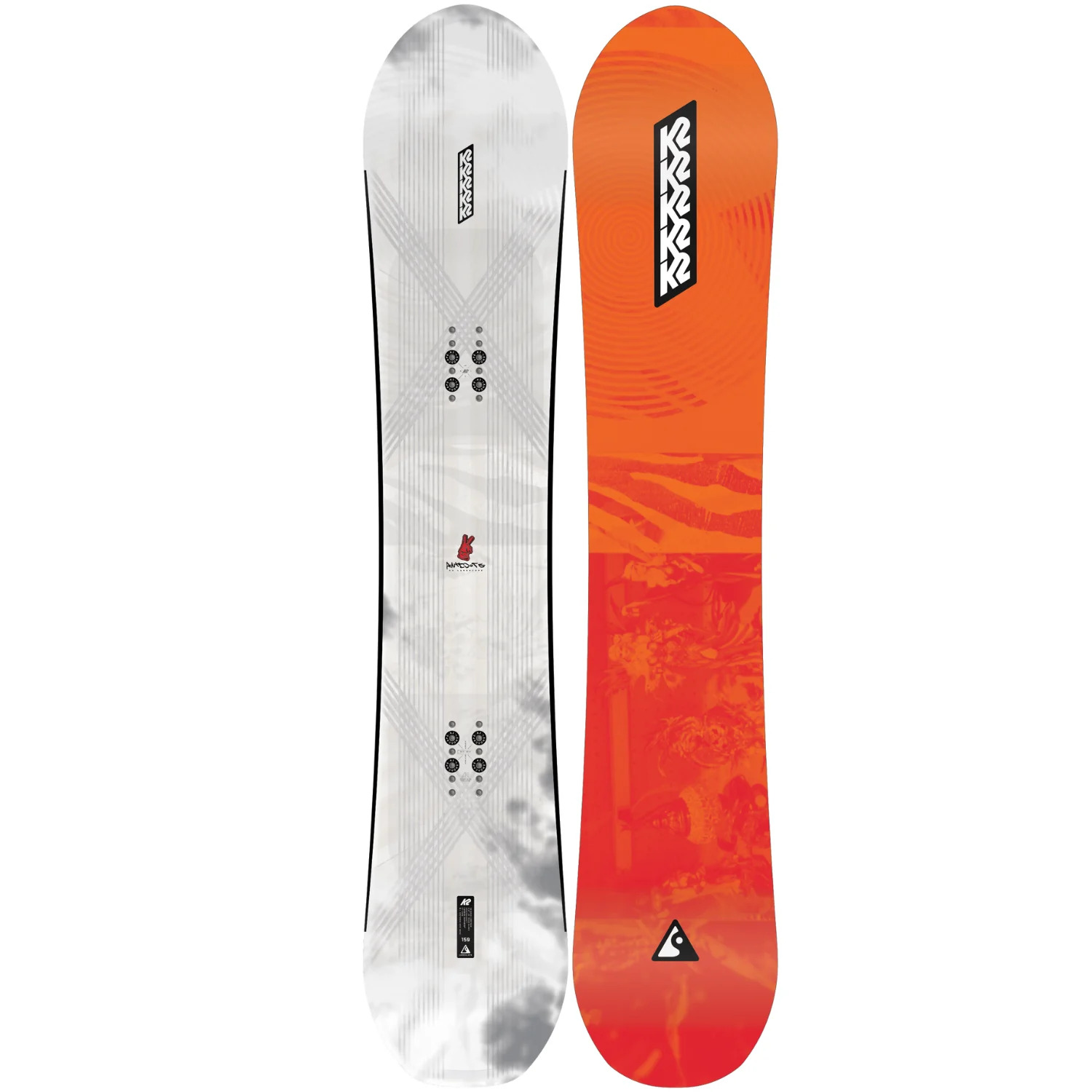 Introduced as a brand new model last year, the K2 Antidote provides the cure to all your indecisiveness when buying. Can't choose between a powder board and a freestyle board? Don't! While the squared off tail, might make this look like a more freeride focussed model, it's more than capable of carving up the whole mountain. In fact, riding switch couldn't be easier, and its stiffer flex makes it a great board if you're into riding halfpipe or the terrain park.

The 2024 model boasts a brand new A1 core, made from three renewable species of timber: bamboo, aspen, and paulownia. This provides exceptional snap, making ollies a breeze, and giving the board a balanced feel in the air. At the same time, the setback stance and twin camber profile allow you to keep your nose up in deep snow without suffering from back leg burn. Available in smaller, female-friendly sizes, this is a an excellent, unisex, all rounder for under £600.
Unisex board

Flex 8/10

Shape Directional

Profile Hybrid

Best for All mountain charging, and big jumps

Verdict Solid edge hold makes this a dream on piste. It cuts through uneven off piste with ease, yet still makes a great terrain park board.

Overall rating 8/10

RRP £590
Buy K2 Antidote Snowboard: £536.36 at Three Zero
Nidecker Escape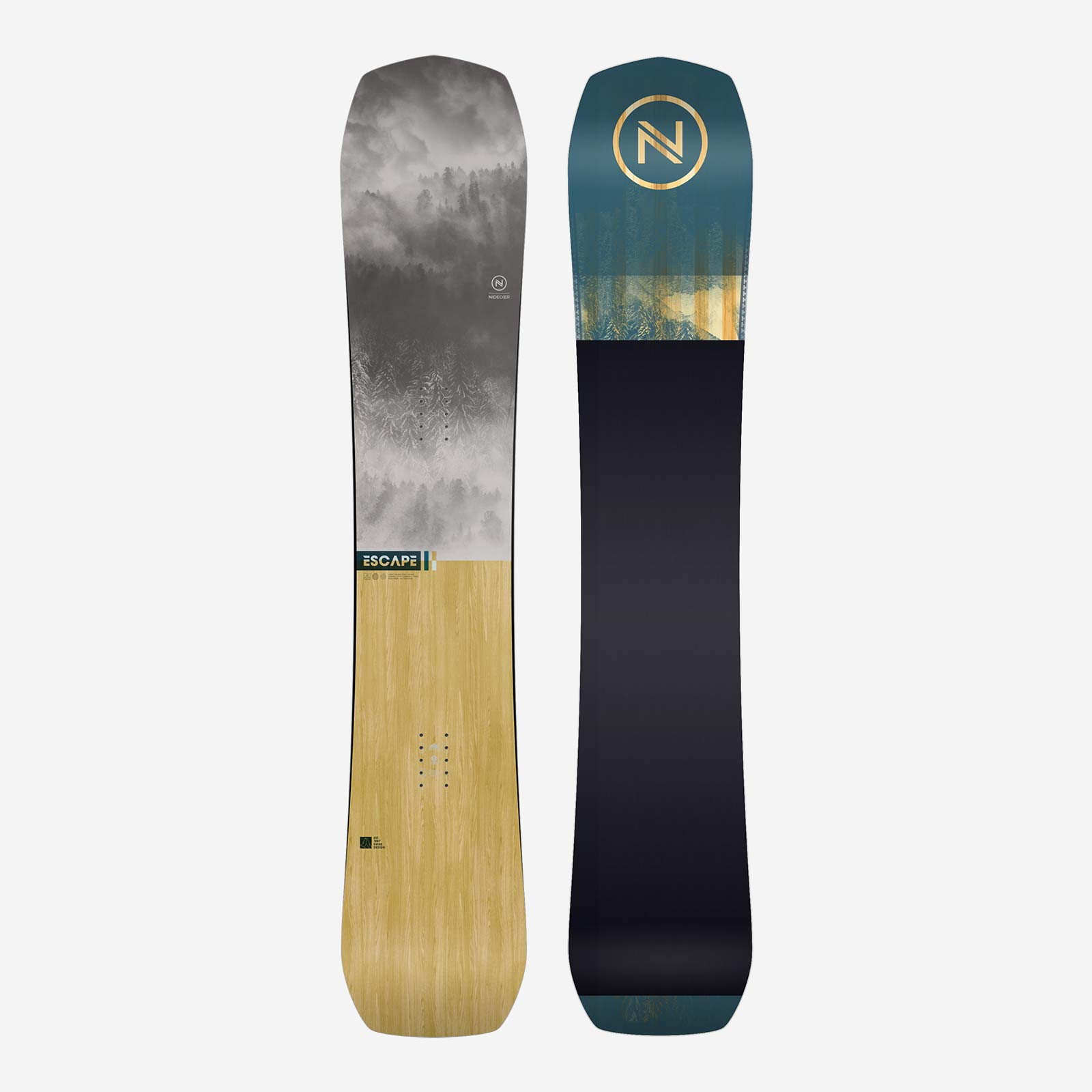 Nidecker is the oldest company still making snowboards today, with a history that stretches back to the 19th Century. OK, they were making cartwheels back then, rather than shred sticks, but the Swiss business, which is still family owned and operated, has been building boards since the 80s too. In recent years, their funky-shaped freeride collection has turned a lot of heads, but they're pretty good at making all mountain boards too, as the latest version of their flagship Nidecker Escape proves.

The blunt tail, diamond shaped nose and directional shape mean this is great in deep powder, but it's no slouch in the park either. It has a core which combines four wood species giving it excellent pop, and they've added carbon to the nose and tail, to keep it stable at high speeds, or on the landing of big jumps. Best of all is the price—finding a board of this quality for under £500 is rare.
Men's board

Flex 7/10

Shape Directional

Profile Hybrid

Best for Park, powder, pistes, this board does it all.

Verdict A genuine all mountain board at a really competitive price, this is an excellent update from Nidecker

Overall rating 8/10

RRP £450
Buy Ndecker Escape Snowboard: £450 at Snow + Rock
Nitro Team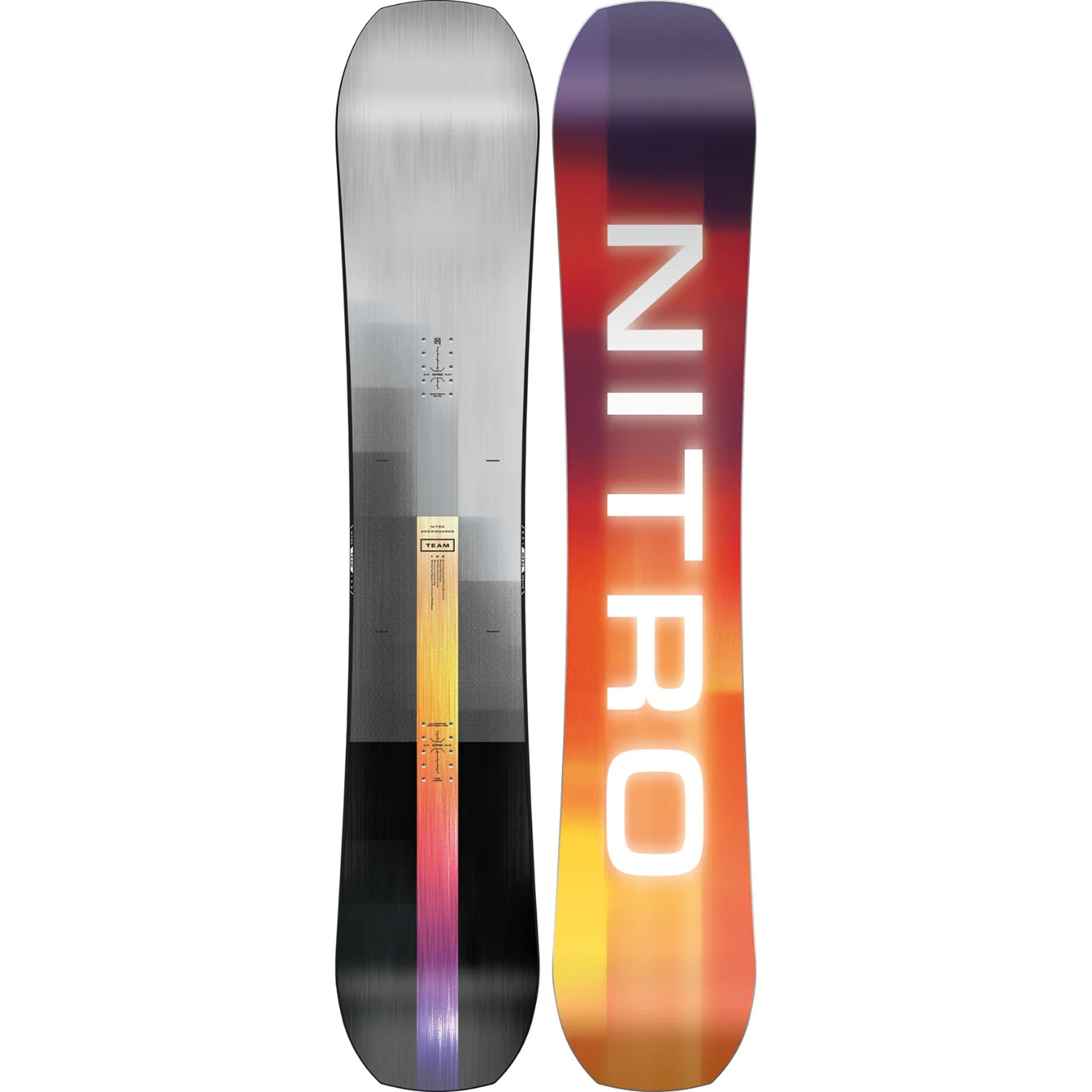 US brand Nitro has been providing boards for some of the world's best riders for decades—from Finland's Eero Ettala, to Germany's Elias Elhardt, to the Norwegian prodigy-turned-world beater, Markus Kleveland. At one time or another, all of these riders has taken a turn on the Nitro Team, the brand's best all mountain snowboard.
The brand has made one really significant tweak to the 2024 Nitro Team, aside from the graphic, by introducing an all-new tip and tail shape. The wider, flatter ends helping add extra float in deep powder. Elsewhere, all the elements that have made this board so popular down the years are still in place, from the camber profile, to the mid-stiff flex. Traditionally, this has always been viewed as an all mountain freestyle board, but with that new tweak, it's definitely become more of an all rounder. Incredibly versatile, and enduringly popular, the Team will undoubtedly earn itself a whole load of new fans this winter.
Men's board

Flex 7/10

Shape Directional twin

Profile Camber

Best for Big burly freestyle riding, whether that's in the terrain park or in the backcountry

Verdict A freestyle all mountain board that nonetheless handles fresh powder really well.

Overall rating 8/10

RRP £500
Buy Nitro Team Snowboard: £499,94 at Absolute Snow
Ride Warpig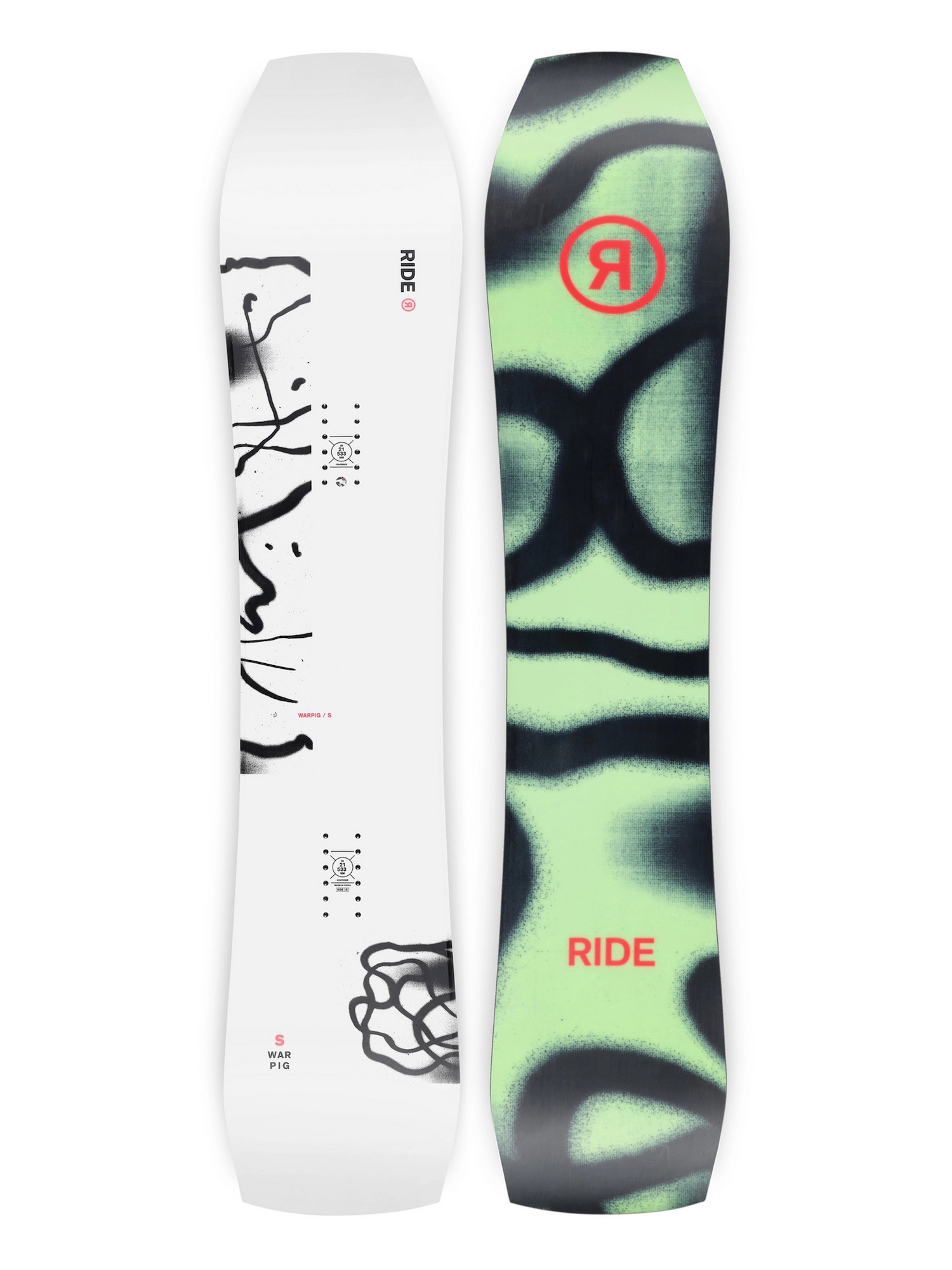 Ride's Warpig was one of the first short, fat all mountain boards released by a major brand, and as such was initially seen as something of a gamble—but it's a gamble that's paid off, and then some. This is now one of the company's most popular models, and has spawned a whole series of offshoots, including the Twinpig and the Superpig.
As well as its distinctive wider waist, and shorter length, this boasts a forgiving rocker profile, and a mid-stiff flex which makes it able to handle pretty much anything you'll throw it at. It's a quiver of one board that doesn't look like a quiver of one. 
Men's board

Flex 5/10

Shape Directional

Profile Camber

Best for Charging hard, and fast, over all kinds of terrain.

Verdict There aren't many weaknesses in the Warpig's armour. This is fast becoming a classic.

Overall rating 8/10

RRP £515
Buy Ride Warpig Snowboard: From £485.45 at Amazon <SALE DEAL>
Salomon Assassin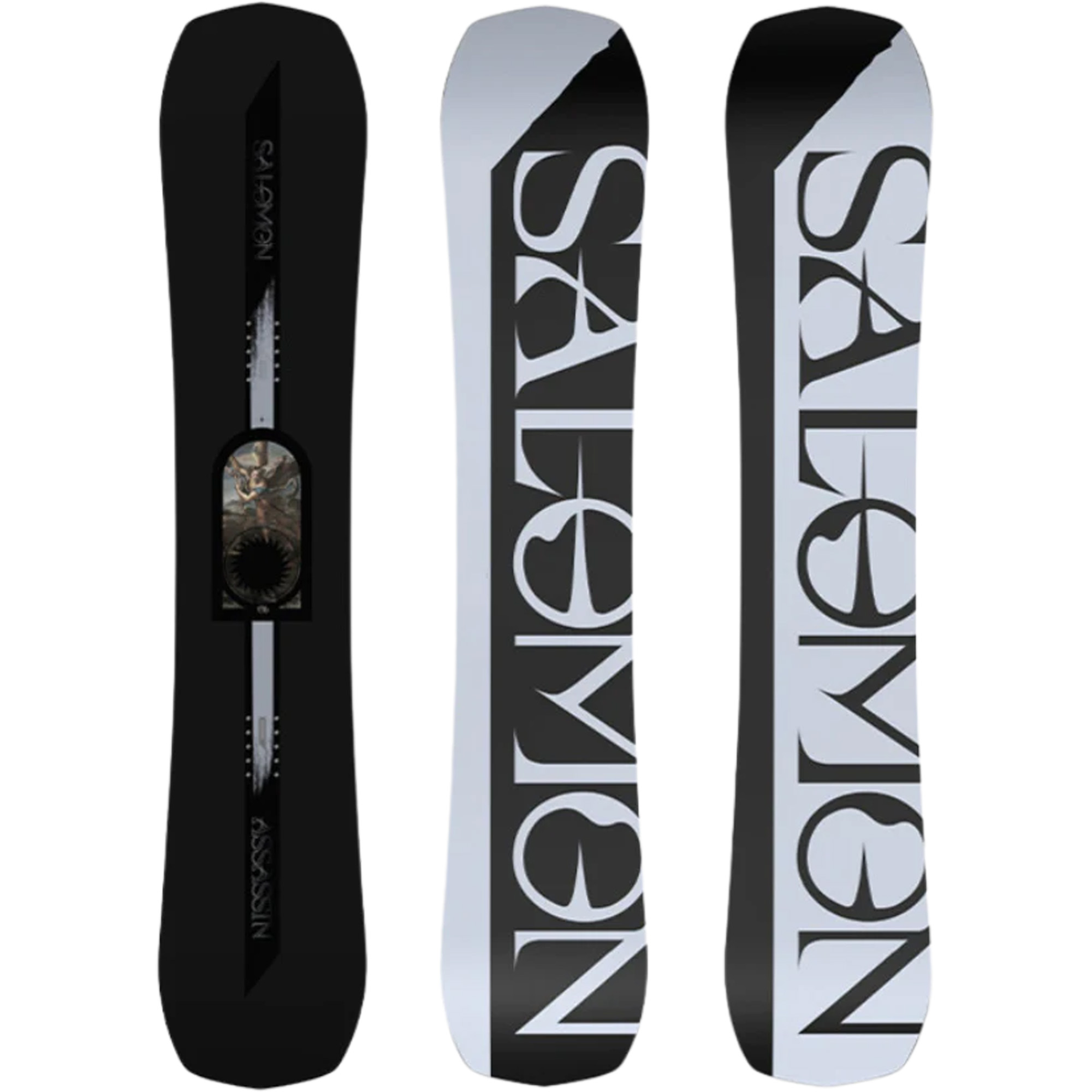 This medium-flex snowboard is a fantastic option for freestylers who love to crank up the fun by leaving no corner of the mountain unexplored. The Assassin combines brilliant versatility with reliability. The camber features a flat section between the bindings for stability, but is cambered nearer to the feet for added response. The bamboo and carbon used in the core give this a lot of pop and the deep sidecut is great for tight, sharp turns in tricky conditions.

This is definitely an all mountain freestyle snowboard, rather than one for properly deep powder, but it will handle pretty much everything well. We also love the sustainability credentials – this board's heavy reliance on structural wood veneers (something known as an ABC Wrapper) means less fibreglass and resin, and the wood is sourced entirely from FSC-certified forests.
Men's board

Flex 5/10

Shape Directional twin

Profile Hybrid

Best for Freestylers who love to make the entire mountain their playground 

Verdict This is a snowboard which thoroughly busts the myth that freestyle snowboards can't be fantastic all mountain ones, too – although there's no denying the Assassin is most at home in the park.

Overall rating 8/10

RRP £389
Buy Salomon Assassin Snowboard: £350 at Snow & Rock <SALE DEAL>
Salomon Dancehaul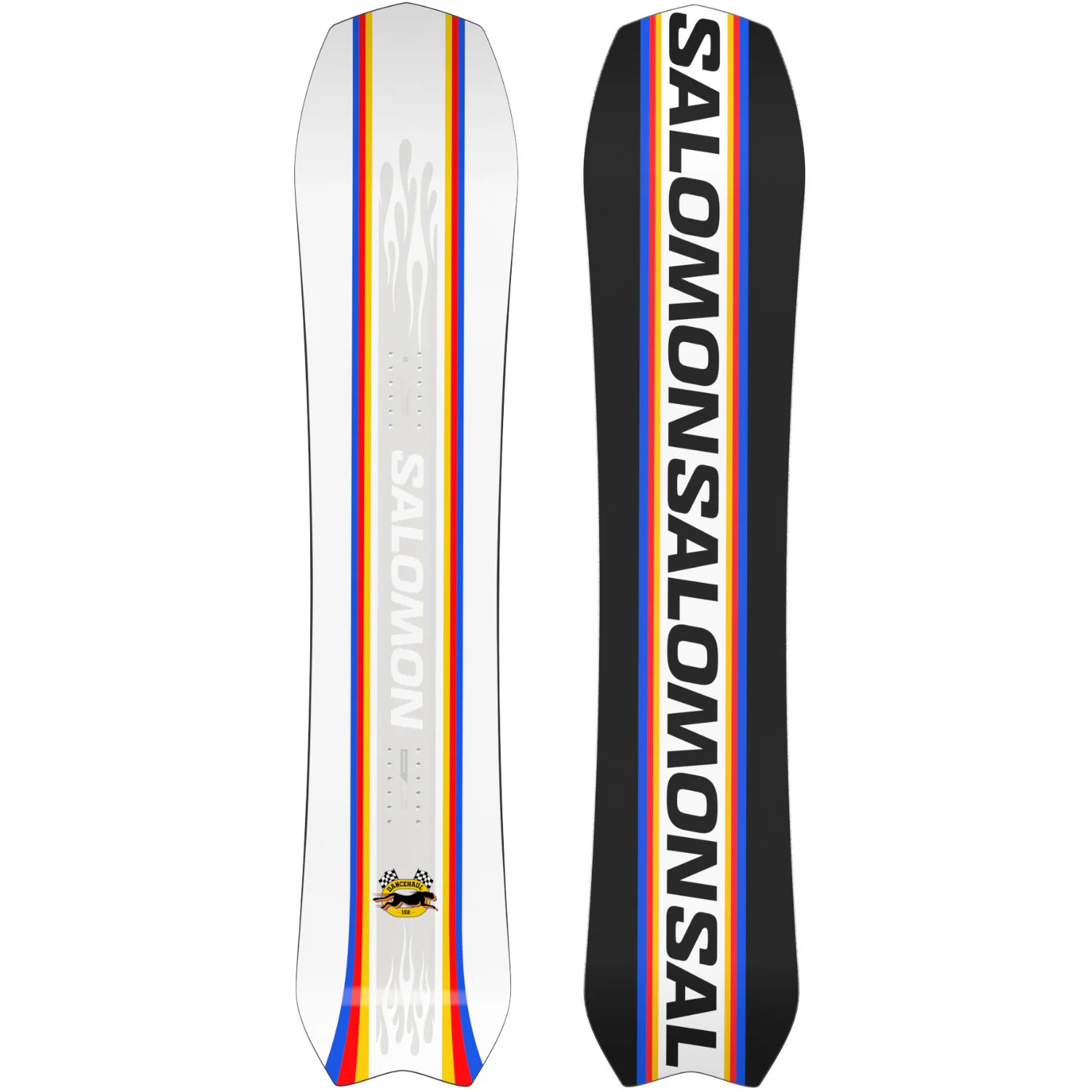 The Salomon Dancehaul is the brand's answer to the Ride Warpig, or perhaps the Lib Tech Orca. It's got a wider waist width than a regular board, and as such you can ride a slightly shorter length. The advantage of this is that it turns quickly, while still floating impressively well in deep snow.
But the Dancehaul is far from just a powder board - with its soft flex, and centred stance, this handles brilliantly in the park, particularly over kickers. It might not look like it's easy to ride switch, but this is actually a great all-rounder.  
Men's board

Flex 3/10

Shape Directional

Profile Hybrid

Best for Riders who want to try something new

Verdict With its retro, disco styling and killer performance, this is already a firm favourite. 

Overall rating 9/10

RRP £430
Buy Salomon Dancehaul Snowboard: £429.95 at Absolute Snow
Salomon Rumble Fish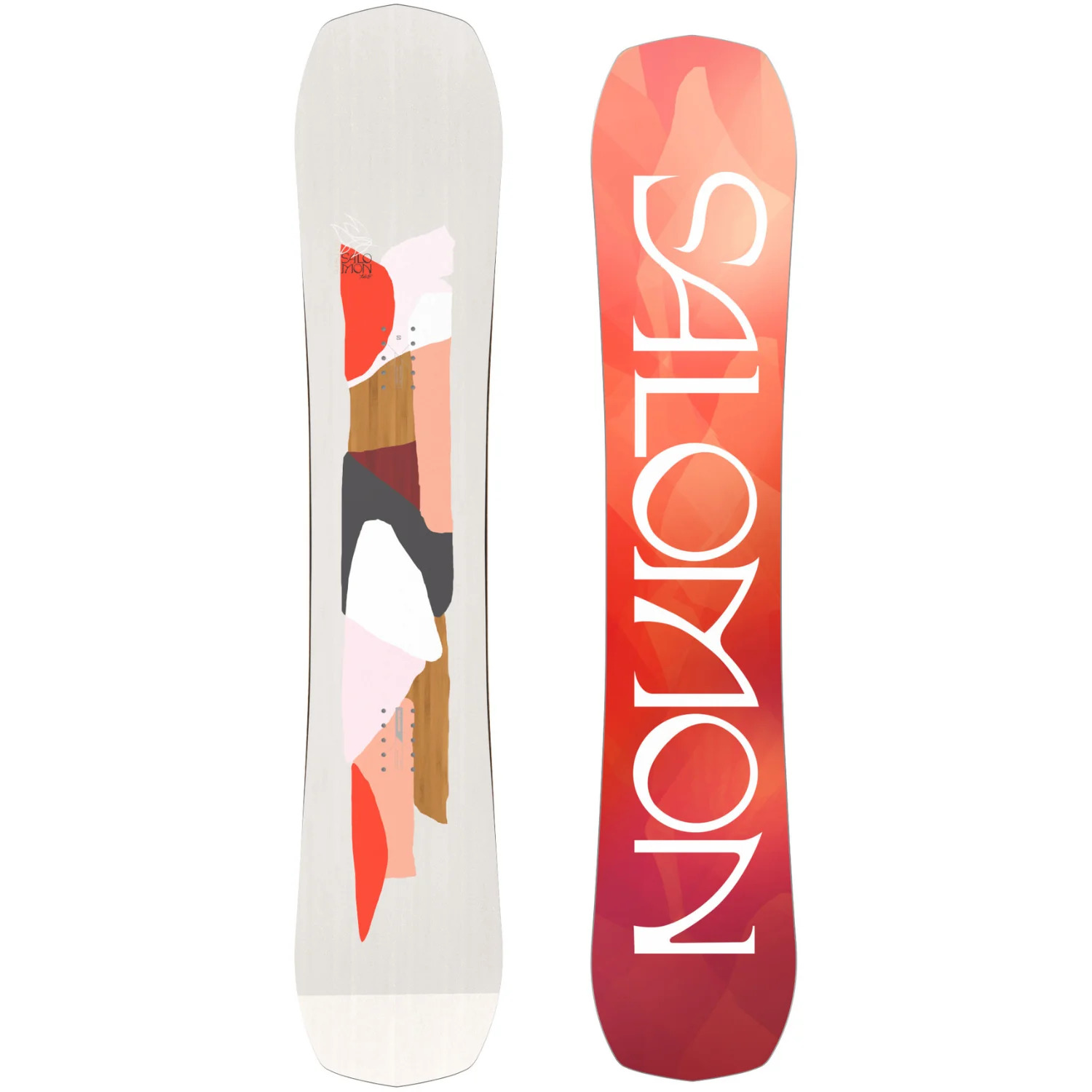 A snowboard which is equally at home in the park or on powder-blanketed steeps, Salomon's Rumble Fish is a technical, stiff board best suited to intermediate and advanced riders. That said, it turns surprisingly easy and still packs plenty of float in powder, thanks to the presence of Salomon's Rock Out camber.
Love your air time? You're in luck – Popster Booster uses carbon to boost energy load in the tip and tail without losing underfoot flex. The Rumble Fish is definitely one of Salomon's most agile boards, largely thanks to the Quadralizer side cut, designed to help you nail tight turns on everything from ice through to slush. For precise edge-to-edge turns, this snowboard is hard to beat. 
Women's board

Flex 3/10

Shape Directional twin

Profile Hybrid

Best for Advanced all mountain riders 

Verdict this is a brilliant female-focussed freestyle snowboard, but it's a fantastic all-rounder too. It ticks both boxes exceptionally well, although it's definitely one best suited to advanced riders.

Overall rating 9/10

RRP £500
Buy Salomon Rumble Fish Snowboard: £499.95 at Absolute Snow
Yes Hel Yes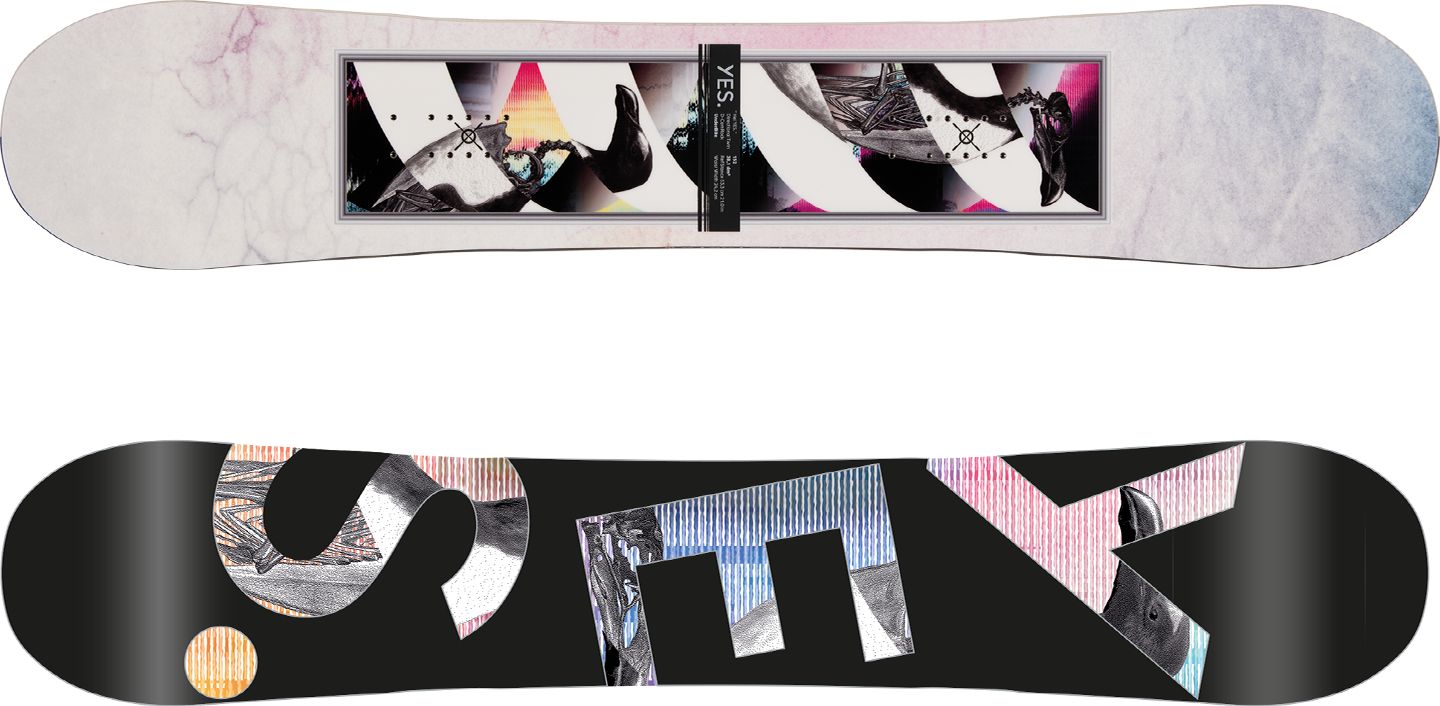 The Hel Yes fuses everything that's great about all mountain riding into a quiver-of-one snowboard. Designed by Yes team rider Helen Schettini, this has become one of the most popular women's boards in the brand's line. It's a slightly aggressive board to ride despite being mid flex, so is best suited to intermediate to advanced riders who will be able to get the best out of it.
A CamRock profile places camber between the inserts and a little early rise rocker at the nose and tail - a great blend of control, playfulness and float which is helped with the Slamback inserts, allowing you to set your stance right back on the board. Super quick edge to edge and stable through chopped up snow, the Yes Hel Yes is a really great board for someone who's likely to encounter changeable conditions.
Women's board

Flex 7/10

Shape Directional twin

Profile Hybrid

Best for Riders who love shredding the whole mountain

Verdict Blends the best of all mountain into one board, with very few compromises.

Overall rating 9/10

RRP £520
 Buy Yes Hel Yes Snowboard: £484.95 at Outdoor XL
Yes Hello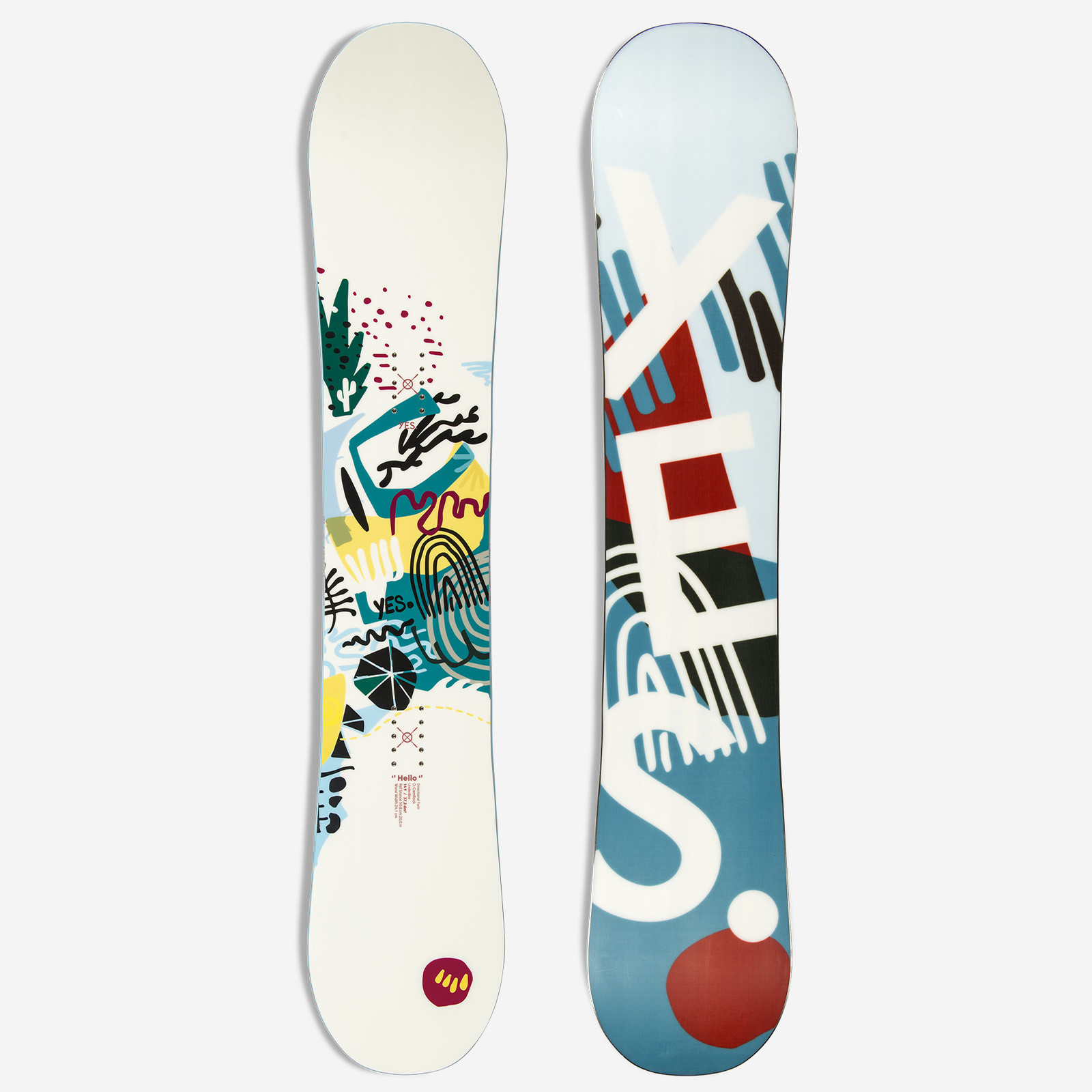 Yes Hello, a little bit like the Standard board listed below. It doesn't try and dazzle with endless features or flash new tech. Rather, it takes a tried and tested formula and executes it perfectly.
A directional twin, with a centred stance and a medium flex, this is great in the park, easy to turn on the piste, and more than capable of holding its own in powder. For a true all-rounder, its relatively inexpensive, too, and there's nothing it can't do. If you're looking for one board to rule them all, check this out. You might find Yes have you at Hello.
Women's board

Flex 6/10

Shape Directional twin

Profile Hybrid

Best for All-rounders and advanced intermediates who don't want to break the bank.

Verdict If it ain't broke, why fix it? A tried and tested formula, done better than any of the rest. 

Overall rating 8/10

RRP £480
Buy Yes Hello Snowboard: £326.85 at Snowcountry <SALE DEAL>
Yes Standard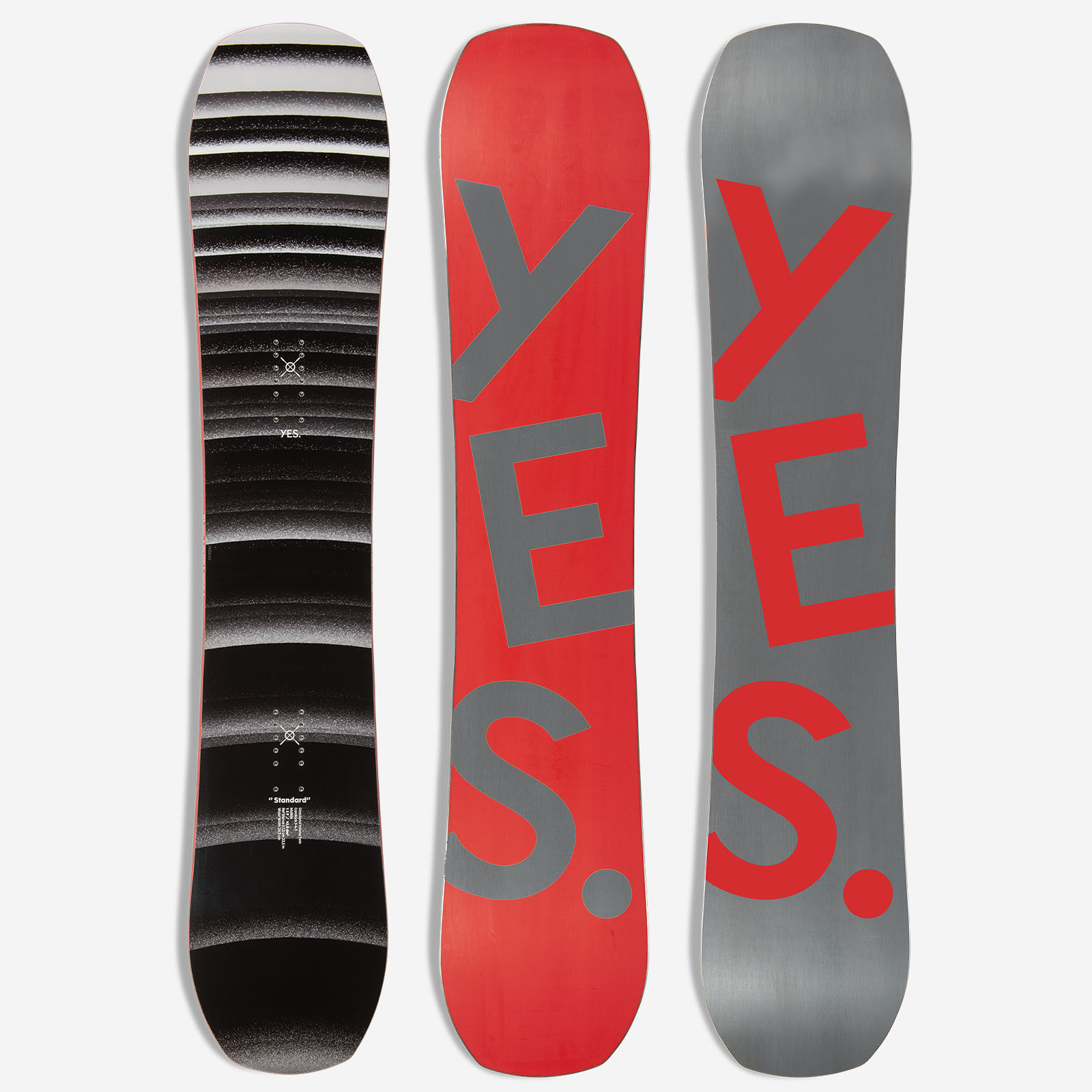 This is consistently the best-selling board in the Yes range, apparently - spend any length of time riding it, and it's easy to see why. There's really nothing that the Yes Standard can't do. Its directional twin shape makes turn initiation easy, but it's still very easy to ride switch.
The 'CamRock' profile offers you the best of both worlds, with camber between the bindings and rocker towards the tip and tail. The flex is relatively stiff, but not ridiculous, making this feel snappy and responsive, without making it impossible to butter or press. Great on kickers, in powder and for on the piste.
Men's board

Flex 7/10

Shape Directional twin

Profile Hybrid

Best for All-rounders with a penchant for the park.

Verdict It's called The Standard - not because it's average, but because it sets the standard. 

Overall rating 8/10

RRP £530
Buy Yes Standard Snowboard: £422.18 at Snowcountry
All Mountain Snowboard Buyer's Guide
When it comes to choosing the right all mountain snowboard to suit your needs there are a few basic things to keep in mind.
What flex should I go for?
Getting this part right is vital. Manufacturers usually rate the flex of their boards between 1 (soft) and 10 (stiff). Generally, the stiffer the snowboard the more aggressive your riding style will need to be to get the most out of it, but it will pay you back with speed, control and precision. Softer snowboards tend to be more playful, anything from a six flex and below will likely be better for buttering and jibbing and will be more forgiving of lazy riding but won't have the precision and control of a stiffer board and might start to get chattery at speed.
What shape should I chose? Directional, twin, or directional twin?
Directional, directional twin or twin are your three main shape options when it comes to snowboards and you'll find all of these in the all mountain category. A directional snowboard usually has a longer nose than tail and a set back stance as well as a varied sidecut down the length. This is designed for great carving and potentially easier float in powder but is going to be less versatile as it essentially prefers going forwards in the direction intended. Freeride orientated all mountain snowboards also use taper - with a wider nose than tail helping the nose float up in powder.
A directional twin will, somewhat confusingly have most of the elements of a twin but one or two things that aren't true twin. Usually they will either have a twin shape but asymmetrical flex pattern i.e. stiffer tail than nose OR a directional shape and symmetrical flex pattern i.e. the same flex in the nose as the tail. The style of the directional twin will often be dictated by what the snowboard is designed to favour - park or carving and powder.
Brands like Bataleon have also started introducing 99 percent twins where everything is twin apart from a very slightly longer nose.
What profile should I chose? Rocker, camber or hybrid?
A snowboard's profile (its shape when viewed side on) can make a huge difference to how it rides. Generally rocker (a convex shape when you look at the snowboard side on) is known for being playful, forgiving and catch free as well as offering massive float in powder. Camber (a concave shape as you look at the snowboard side on) is known for having lots of pop and energy between turns and for jumps, great edge hold for carving and a precise, stable feel.

These days, very few true rocker boards still exist, with most having some element of hybrid - mixing rocker and camber across the profile of the snowboard. The places that have rocker and those that have camber (and sometimes flat) are tuned by the manufacturer to offer a certain type of ride - whether that's catch free and playful or hard charging and precise.
One of the most versatile and popular profiles for an all mountain snowboard is what Yes Snowboards call CamRock, and Capita snowboards call Hybrid Camber (each manufacturer has their own name for it) which places camber in the middle section of the snowboard for energy and stability and rocker towards the tips for catch free riding and float in the deep stuff.
How much difference do materials make?
The materials a board is made from—mostly wood, fibreglass, and p-tex—tend to dictate things like its flex, and how it feels to ride. But each manufacturer has different names for different material combos, so it can all get really confusing. The reality is, you don't need to get too nerdy about the exact materials used—if the flex rating is right, the shape suits you, and you've got a profile which works for your riding style, the board will probably feel good.

Where materials make a real difference is in the base—extruded p-tex bases are slower, but cheaper to make, sintered p-tex bases are quicker, but pricier—and on the price. If you're prepared to pay more, you're likely to get a board that's lighter. (This doesn't really matter for all mountain boards, but makes a huge difference when it comes to splitboards, for example) and also, potentially, produced to higher environmental standards.
To date, there's still no way of making a carbon neutral snowboard. But various brands, including Lib Tech, Gnu, Jones and (in their top end range) Burton, all produce models which aim to have a smaller carbon footprint.