An all mountain snowboard is a perfect choice for tearing up the whole mountain, from park, to powder, to pistes.
If you're just starting out on your snowboard journey, we've got a handy all mountain snowboard buyer's guide which will help you get educated on the basics involved in buying a snowboard, otherwise here's our pick of the best all mountain snowboards for the 2023 season.
Best all mountain snowboards 2023
Burton Custom Camber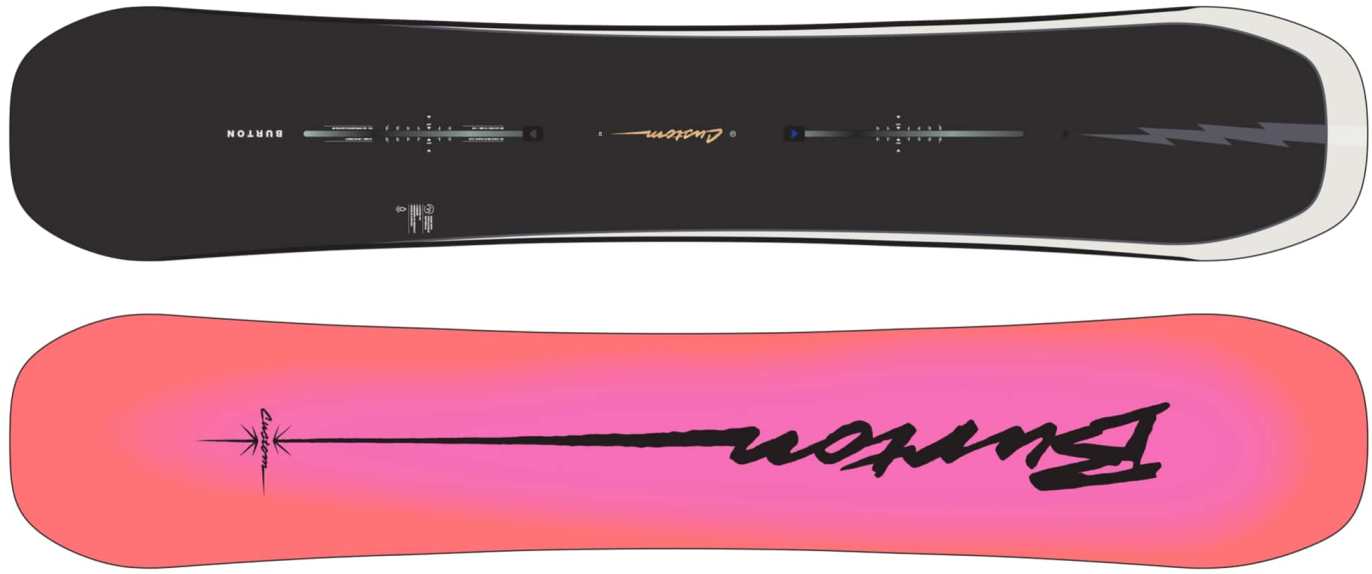 Yes, this snowboard errs on the pricier side but if you're an intermediate/expert rider with a love of all mountain riding, the Custom Camber is hard to beat. It's the latest take on the Custom – a legendary board reinvented by Burton countless times. There are now two versions: the Custom Flying V (more of which later), and this beauty – the Custom Camber. This is the ideal snowboard for riders who crave both stability and precision when hitting the mountain hard – it's an aggressive all mountain board, although its generous camber means there's still plenty of pop. Despite the elongated nose, it's not the floatiest of rides, but one which comes into its own on steeps – it carves quickly and smoothly and retains great manoeuvrability, even at slow speeds. And then there's the design. No, it won't make you go any faster, but what's not to love about this hot pink tribute to eighties style?
Best for Expert riders who love to carve
Verdict A fun, fast ride for experienced all mountain riders, backed up by the tried-and-tested technicality of Burton's bestselling model.
Overall rating 8/10
RRP £590
Buy Burton Custom Camber Snowboard: £590 at Snow & Rock
Burton Process Flying V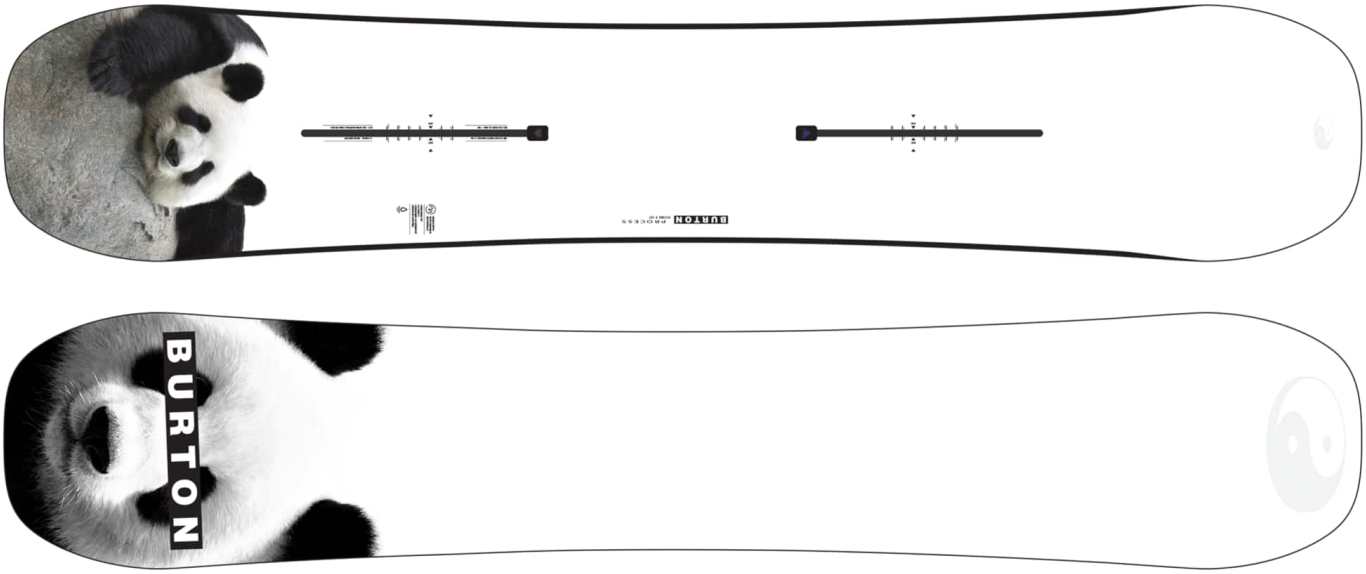 This lightweight twin is another snowboard which pairs playfulness with all-terrain reliability. Burton's legendary Super Fly II Core keeps the weight low (and makes busting out impromptu ollies a breeze, even at low speeds) and the strategic profile of the core transfers the energy to both the nose and the tail for supersized snap. Rocker zones between, and on either side of the feet crank up the fun factor even more, while Dualzone EGD engineered wood grain – placed along the toe and heel edges in two continuous zones perpendicular to the core – act as fantastic stabilisers and allow for brilliant edge hold, even on the toughest terrain.
Best for All mountain riders seeking a playful but stable ride
Verdict A fantastic snowboard which doesn't take itself too seriously, but which won't let you down in challenging conditions
Overall rating 8/10
RRP £470
Buy Burton Process Flying V Snowboard: £470 at Snow & Rock
Yes Snowboards Basic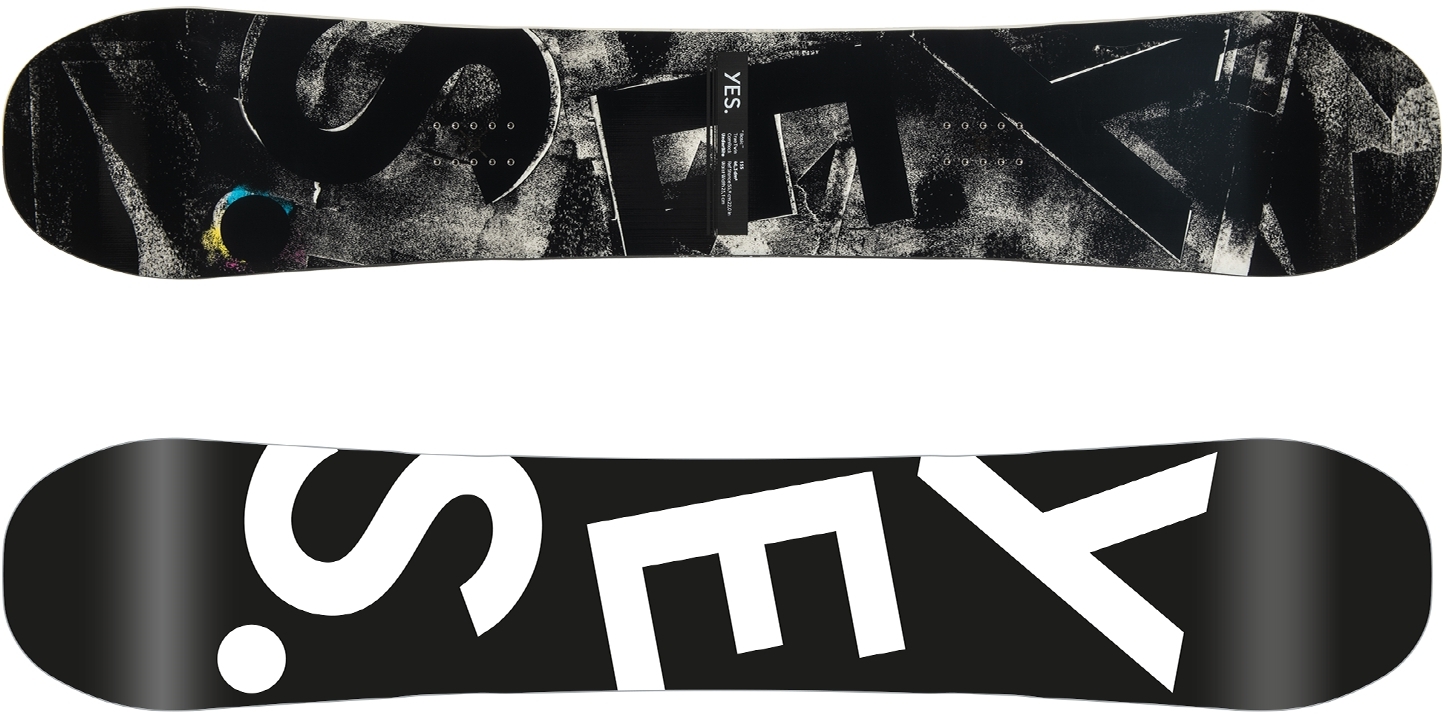 We're not sure why Yes called this snowboard the Basic, because in reality, it's anything but. That said, this is definitely a do-it-all deck, albeit one which snowboarders of all abilities will love to ride. Its waisted profile, paired with the presence of Yes's so-called UnderBite edges, does a great job of distributing rider weight in a way which enhances edge hold, even on icy hardpack. The extruded base errs on the softer side, although this isn't necessarily a bad thing – it ramps up the rideability and when waxed correctly it will pick up speed in less time than most boards. Another advantage? It's ultra-porous, which has two key advantages: it retains wax better, and minor scratches can be quickly fixed with a P-Tex stick.
Best for Beginner to intermediate riders
Verdict A lightweight fun ride which is both wallet-friendly and packed with features designed to help you conquer all corners of the mountain
Overall rating 9/10
RRP £345
Buy Yes Snowboards Basic Snowboard: £517.99 at Amazon
Buy Yes Snowboards Basic Snowboard: £380.91 at Blue Tomato <<Best Deal>>
Salomon Assassin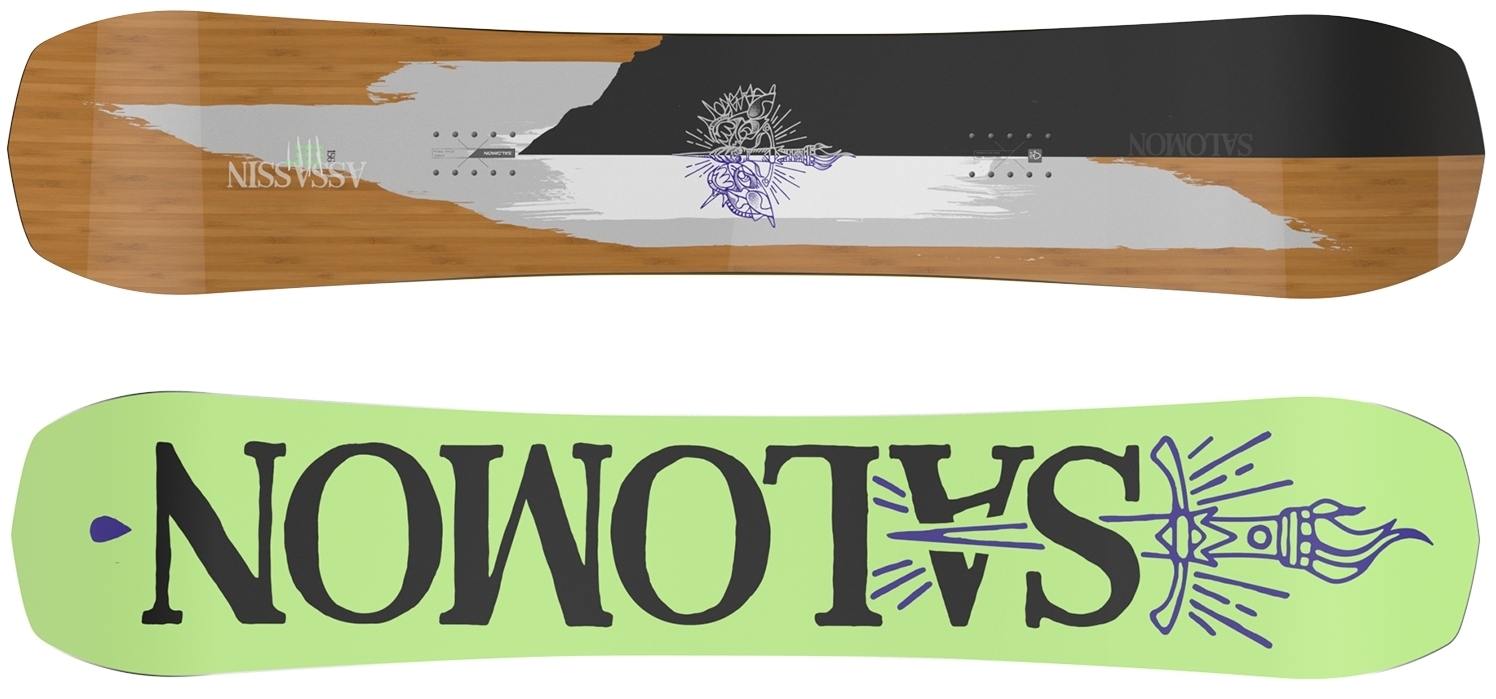 This medium-flex snowboard is a fantastic option for freestylers who love to crank up the fun by leaving no corner of the mountain unexplored. The Assassin combines brilliant versatility with reliability, whether it's in the camber (flat between the bindings for stability, but cambered nearer to the feet for added response), the bamboo and carbon, used for maximum snap, or the deep sidecut for stable, sharp turns in tricky conditions. We also love the sustainability credentials – this board's heavy reliance on structural wood veneers (something known as an ABC Wrapper) means less fibreglass and resin, and the wood is sourced entirely from FSC-certified forests.
Best for Freestylers who love to make the entire mountain their playground
Verdict This is a snowboard which thoroughly busts the myth that freestyle boards can't be fantastic all mountain ones, too – although there's no denying the Assassin is most at home in the park.
Overall rating 8/10
RRP £389
Buy Salomon Assassin Snowboard: £500 at Snow & Rock
Salomon Rumble Fish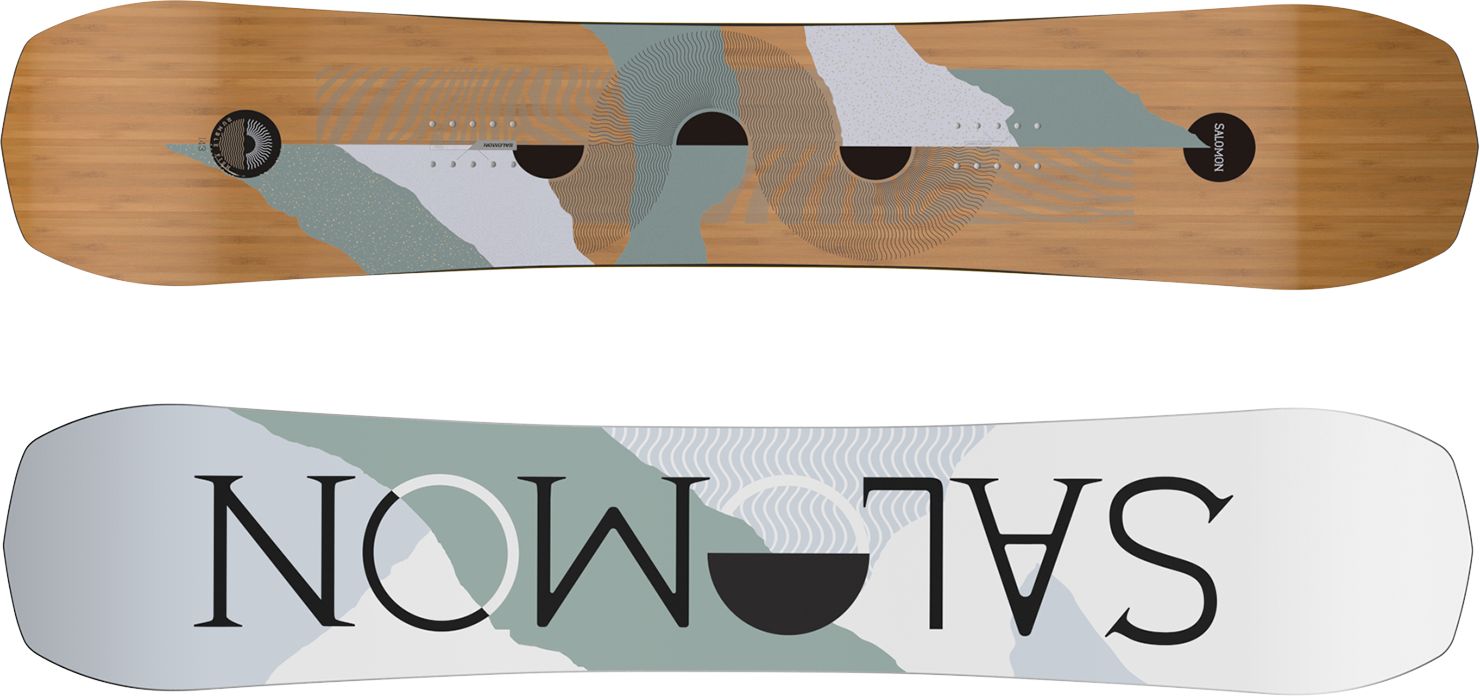 A snowboard which is equally at home in the park or on powder-blanketed steeps, Salomon's Rumble Fish is a technical, stiff board best suited to intermediate and advanced riders. That said, it turns surprisingly easy and still packs plenty of float in powder, thanks to the presence of Salomon's Rock Out camber. Love your air time? You're in luck – Popster Booster uses carbon to boost energy load in the tip and tail without losing underfoot flex. The Rumble Fish is definitely one of Salomon's most agile boards, largely thanks to the Quadralizer side cut, designed to help you nail tight turns on everything from ice through to slush. For precise edge-to-edge turns, this snowboard is hard to beat.
Best for Advanced all mountain riders
Verdict this is a brilliant freestyle snowboard, but it's a fantastic all-rounder too. It ticks both boxes exceptionally well, although it's definitely one best suited to advanced riders.
Overall rating 9/10
RRP £432
Buy Salomon Rumble Fish Snowboard: £455.43 at Amazon <<Best Deal>>
Buy Salomon Rumble Fish Snowboard: £487.23 at Blue Tomato
Capita D.O.A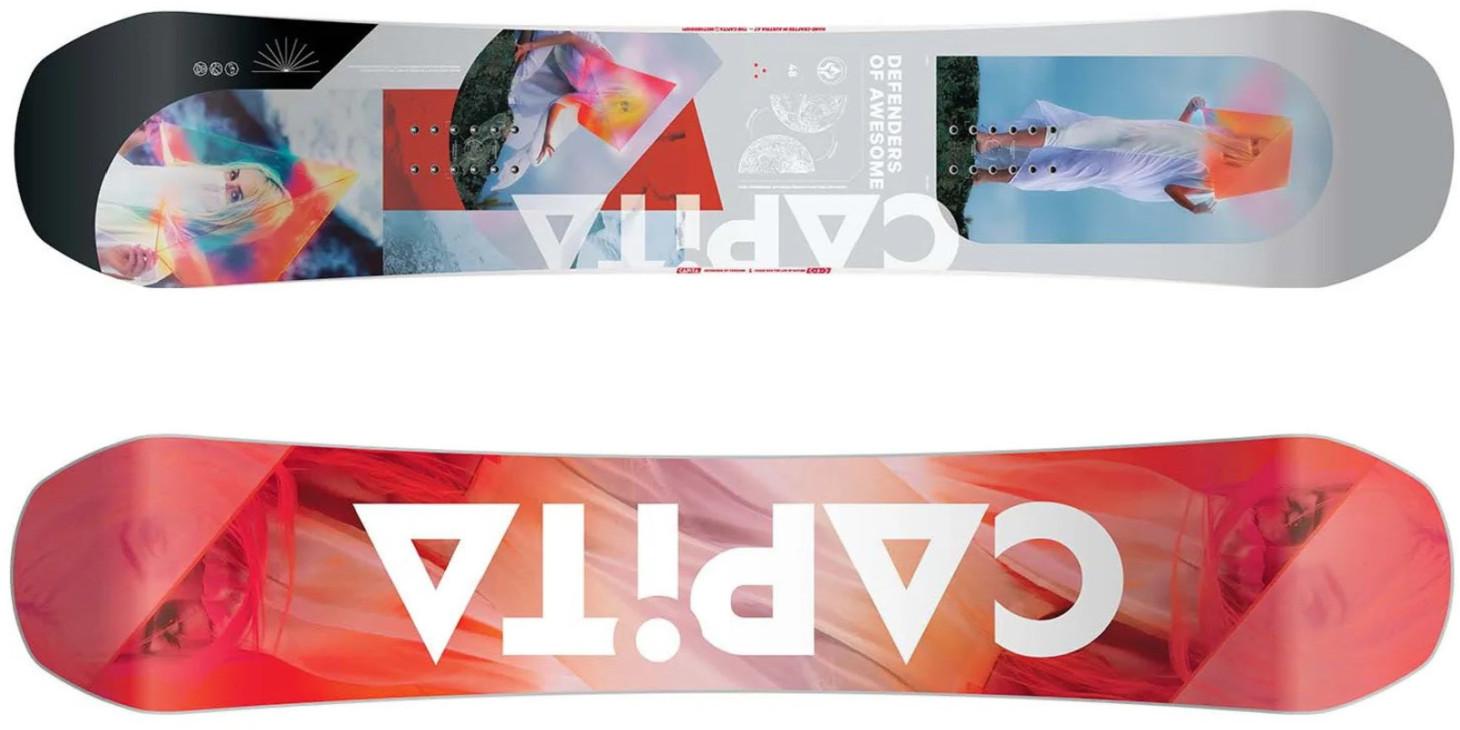 Capita's bestselling snowboard (ever) is a go-anywhere deck which uses a hybrid camber design to deliver maximum pop, with the unexpected bonus of the reliability typically associated with reverse cambers. Capita's P2 Superlight Core does a brilliant job of keeping the weight low without sacrificing impact resistance, and high-end features such as the Fortress Kevlar Bound Sidewalls and Quantum Drive base (great for riders with a love of speed) mean the D.O.A offers brilliant value for money, too.
Best for All mountain riders with a need for speed
Verdict Given the stable of fantastic features, this snowboard offers brilliant value for money, but that's not the only reason we love it. Whether it's the next generation design or the wide range of sizes (new sizes were added in 2023), this is a board we simply can't find fault with.
Overall rating 10/10
RRP £432
Buy Capita D.O.A Snowboard: £502.94 at Amazon
Buy Capita D.O.A Snowboard: £460 at Snow & Rock <<Best Deal>>
Bataleon Goliath

This is a seriously sophisticated all mountain snowboard perfect for snowboarders with a weakness for high-speed slashing. Nobody likes a bail, and they're significantly less likely on the Goliath, thanks to the use of Dual Radial Super Tubes (hollow carbon tubes which run parallel to the edges of the board to give it better response). Along with the 3BT™ uplifted sidebases, these don't just supercharge the float but ensure you stay upright when landing the gnarliest of tricks. The Goliath's SideKick Tips – which increase sidebase uplift at the widest points of the nose and tail - are a genius addition which makes for smooth turn initiation and easy handling whether on ice, slush or hardpack.
Best for Intermediate and advanced all mountain riders
Verdict A fast, fun ride loaded with technical features to justify the slightly higher price tag.
Overall rating 9/10
RRP £519
Buy Bataleon Goliath Snowboard: From £528.62 at Amazon <<Best Deal>>
Buy Bataleon Goliath Snowboard: £531.53 at Blue Tomato
Sims Distortion

The legendary snowboard brand, founded by Tom Sims at the tail end of the 1970s, invented many of the features we now consider as standard. Enjoy the grip your metal edges give you, the control you get from a solid highback, or the rounded tails that allow you to ride switch? You can thank Tom Sims for all of those. After those early successes the company ran into trouble a few times, and with the great man's passing in 2012, it wound down. But new investment, a new team which includes the dreadlocked destroyer, John Jackson, and a new line of boards mean the brand, like Take That, is now back for good. The Distortion, is a rock solid all-rounder, with a true twin shape, and a mid-stiff flex, is our favourite all mountain board of the year.
Best for Riders who like to do a bit of everything on the mountain.
Verdict Unfussy, and solid, this is a true all mountain board, with an impeccable pedigree.
Overall rating 9/10
RRP £420
Yes Standard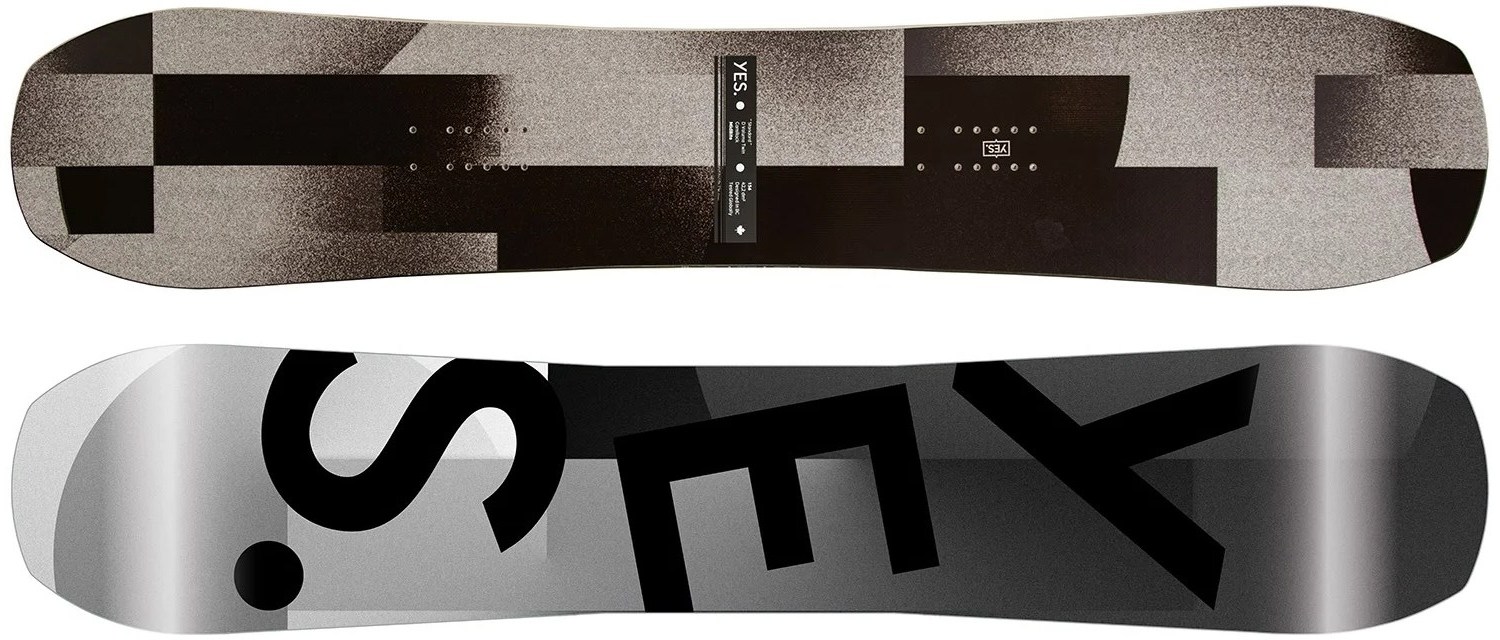 This is consistently the best-selling board in the Yes range, apparently - spend any length of time riding it, and it's easy to see why. There's really nothing that the Yes Standard can't do. Its directional twin shape makes turn initiation easy, but it's still very easy to ride switch. The 'CamRock' profile offers you the best of both worlds, with camber between the bindings and rocker towards the tip and tail. The flex is relatively stiff, but not ridiculous, making this feel snappy and responsive, without making it impossible to butter or press. Great on kickers, in powder and for on the piste.
Best for All-rounders with a penchant for the park.
Verdict It's called The Standard - not because it's average, but because it sets the standard.
Overall rating 8/10
RRP £430
Buy Yes Standard Snowboard: £713.99 at Amazon
Jones Twin Sister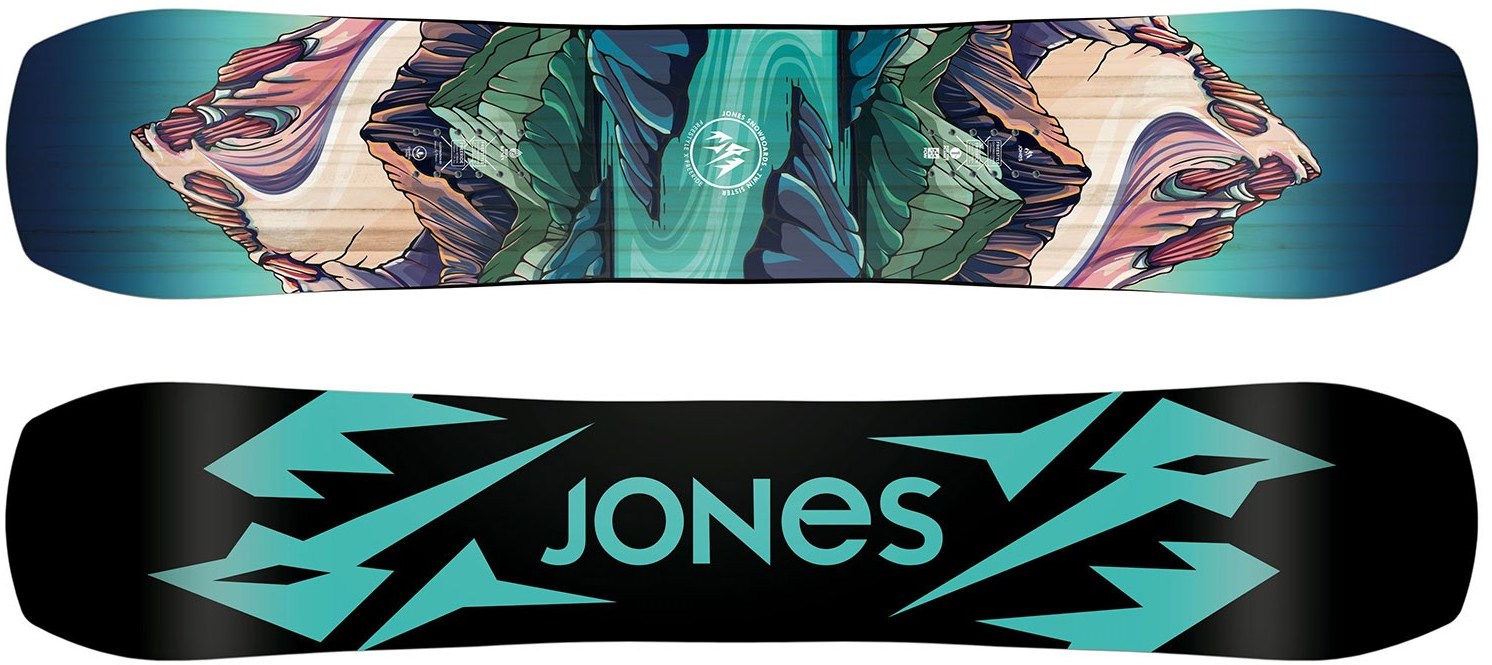 Jones might be best known for their big mountain guns, but this is an out and out all mountain board. Redesigned for this winter, with a slightly blunter nose and tail shape and a 3D contoured base, this feels better than ever on the pistes, with a vice-like grip on icy snow, and a relatively stiff flex that helps it power through any bumps. The centred stance lets you ride switch easily, but while you can ride the park with this, it's not really a rail board. Instead, like most Jones boards it's most at home in the backcountry. If you want an all mountain stick with a bit of a powder bias, they don't come much better.
Best for Ripping around the whole mountain.
Verdict Pure Jones class packaged up for women who love mixing piste cruising with powder.
Overall rating 8/10
RRP £440
Buy Jones Twin Sister Snowboard: £458.08 at Amazon
Yes Hello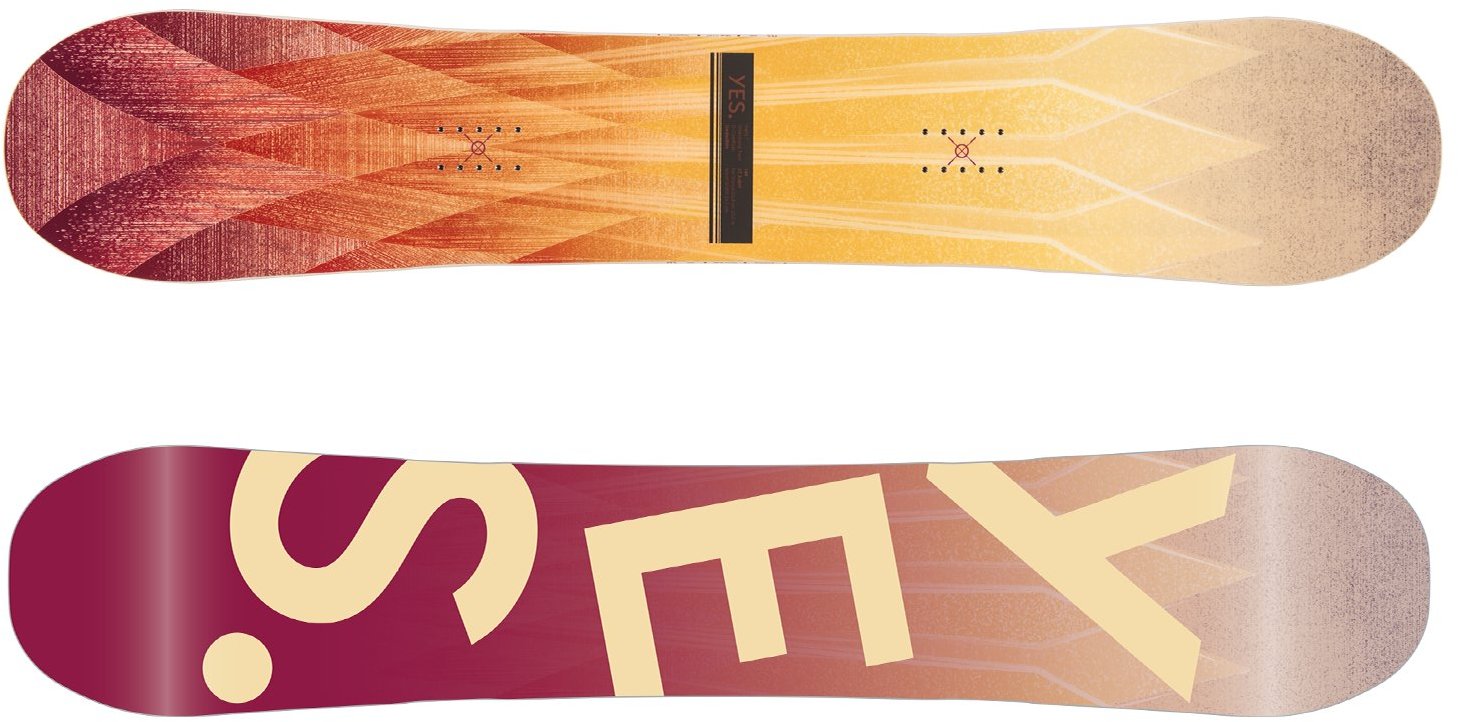 Yes' Hello, a little bit like the Standard board listed earlier on these pages, doesn't try and dazzle with endless features or flash new tech. Rather, it takes a tried and tested formula and executes it perfectly. A directional twin, with a centred stance and a medium flex, this is great in the park, easy to turn on the piste, and more than capable of holding its own in powder. For a true all-rounder, its relatively inexpensive, too, but there's nothing it can't do. If you're looking for one board to rule them all, check this out. You might find Yes have you at Hello.
Best for All-rounders and advanced intermediates who don't want to break the bank.
Verdict If it ain't broke, why fix it? A tried and tested formula, done better than any of the rest.
Overall rating 9/10
RRP £395
Salomon Dancehaul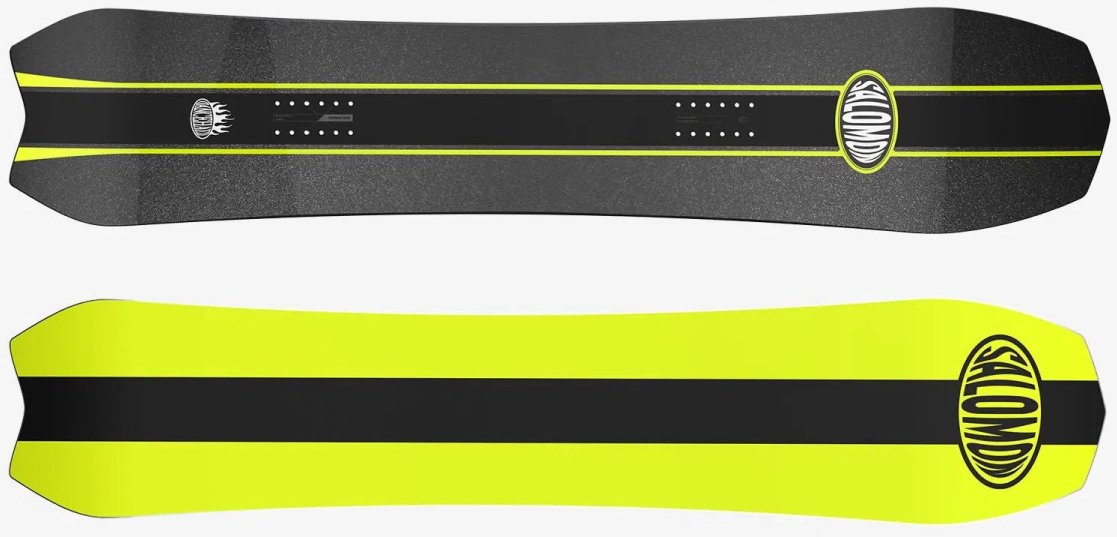 The Salomon Dancehaul is the brand's answer to the Ride Warpig, or perhaps even the Lib Tech Orca. It's got a wider waist width than a regular board, and as such you can ride a slightly shorter length. The advantage of this is that it turns quickly, while still floating impressively well in deep snow. But the Dancehaul is far from just a powder board - with its mid-stiff flex, and centred stance, this handles brilliantly in the park, particularly over kickers. It might not look like it's easy to ride switch, but this is actually a great all-rounder.
Best for Riders who want to try something new
Verdict With its retro, disco styling and killer performance, this is already a firm favourite.
Overall rating 9/10
RRP £400
Buy Salomon Dancehaul Snowboard: £425.21 at Blue Tomato
Ride Warpig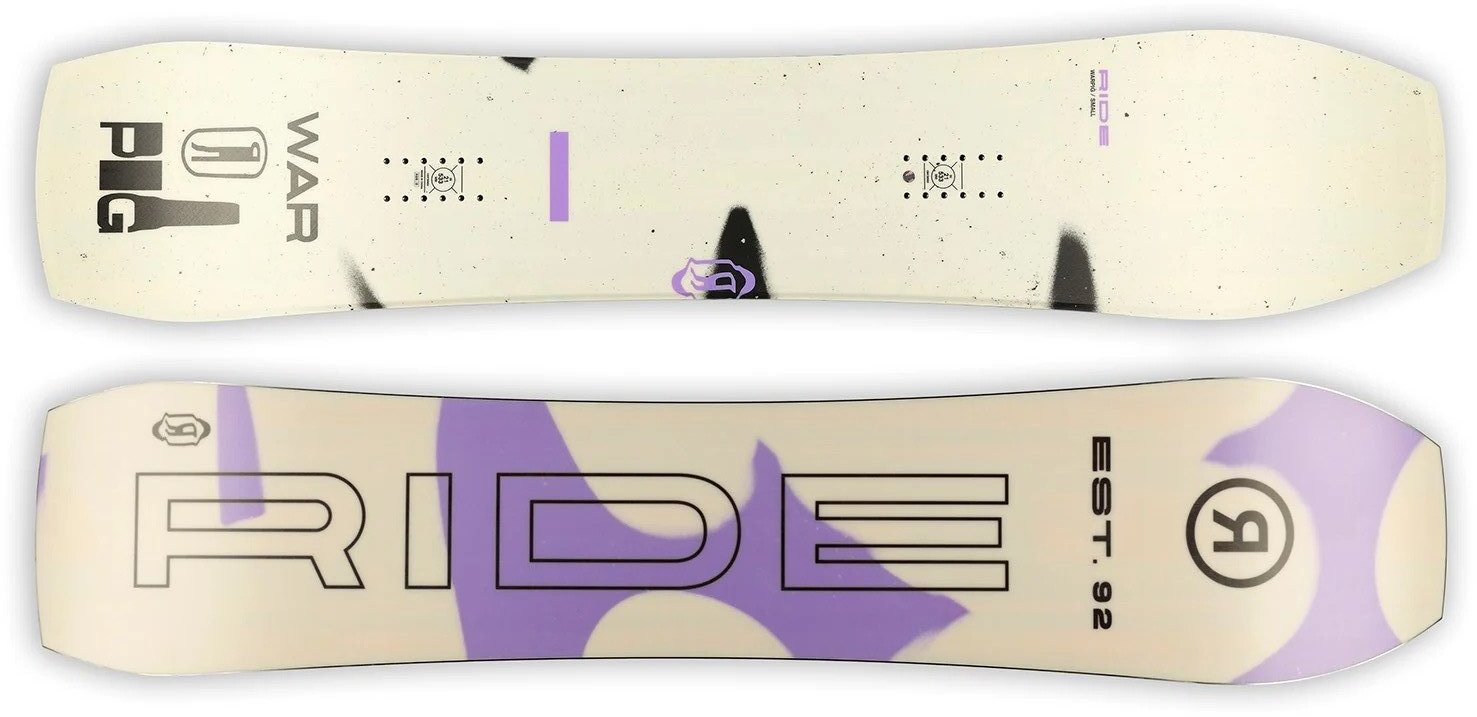 Ride's Warpig was one of the first short, fat all mountain boards released by a major brand, and as such was initially seen as something of a gamble - but it's a gamble that's paid off, and some. This is now one of the company's most popular models, and has spawned a whole series of offshoots, including the Twinpig and the Superpig. As well as its distinctive wider waist, and shorter length, this original boasts a forgiving rocker profile, and a mid-stiff flex which makes it able to handle pretty much anything you'll throw it at. It's a quiver of one board that doesn't look like a quiver of one.
Best for Charging hard, and fast, over all kinds of terrain.
Verdict There aren't many weaknesses in the Warpig's armour.
Fast becoming a classic.
Overall rating 8/10
RRP £425
Buy Ride Warpig Snowboard: From £487.57 at Amazon
Buy Ride Warpig Snowboard: £478.37 at Blue Tomato <<Best Deal>>
Yes Hel Yes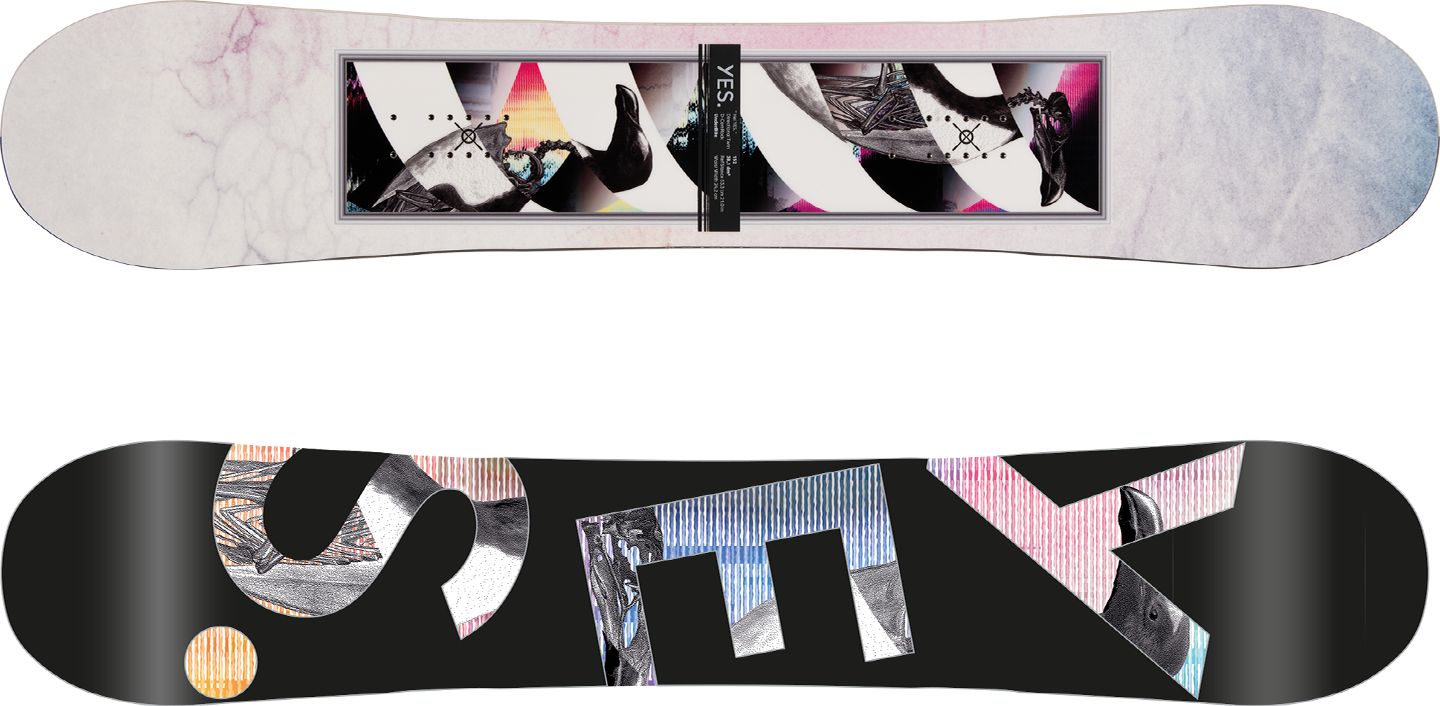 The Hel Yes fuses everything that's great about all mountain riding into a quiver-of-one snowboard. It's a slightly aggressive board to ride despite being mid flex, so is best suited to intermediate to advanced riders who will be able to get the best out of it. A CamRock profile places camber between the inserts and a little early rise rocker at the nose and tail - a great blend of control, playfulness and float which is helped with the Slambacks, allowing you to set your stance right back on the board. Super quick edge to edge and stable through chopped up snow, the Yes Hel Yes is a really great board for someone who's likely to encounter changeable conditions.
Best for Not limiting or pidgeonholing your riding
Verdict Blends the best of all mountain into one board, with very few compromises.
Overall rating 9/10
RRP £439
West la Hache

Premium Swiss brand West are back for another year with their bestseller, the La Hache. They've stuck to their solid all mountain principles, with a twin tip design and directional flex for easy switch riding. Camber underfoot allows for good drive through and pop out of the turn. Carbon stringers add to the pop factor and a mid-stiff flex makes for a very stable board in all conditions that is also quick edge to edge. We didn't experience any washing out no matter how hard we pushed the La Hache or how bad the conditions were, and if you want to slow things down it's also pretty playful.
Best for Those looking for great all-round performance
Verdict A solid, stable and capable all mountain intermediate snowboard.
Overall rating 9/10
RRP £599
All mountain snowboard buyer's guide
When it comes to choosing the right all mountain snowboard to suit your needs there are a few basic things to keep in mind.......
What flex should I go for?
Getting this part right is vital. Generally the stiffer the snowboard the more aggressive your riding style will need to be to get the most out of it, but it will pay you back with speed, control and precision. Softer snowboards tend to be more playful, anything from a 6 flex and below will likely be better for buttering and jibbing and will be more forgiving of lazy riding but won't have the precision and control of a stiffer board and might start to get chattery at speed.
Directional, directional twin or twin?
Directional, directional twin or twin are your three main shape options when it comes to snowboards and you'll find all of these in the all mountain category. A directional snowboard usually has a longer nose than tail and a set back stance as well as a varied sidecut down the length, this is designed for great carving and potentially easier float in powder but is going to be less versatile as it essentially prefers going forwards in the direction intended. Freeride orientated all mountain snowboards also use taper - with a wider nose than tail helping the nose float up in powder.
A directional twin will, somewhat confusingly have most of the elements of a twin but one or two things that aren't true twin. Usually they will either have a twin shape but asymetrical flex pattern i.e. stiffer tail than nose OR a directional shape and symetrical flex pattern i.e. the same flex in the nose as the tail. The style of the directional twin will often be dictated by what the snowboard is designed to favour - park or carving and powder.
Brands like Bataleon have also started introducing 99% twins where everything is twin apart from a very slightly longer nose.
Rocker, camber or hybrid?
Very few true camber or true rocker boards still exist, with most having some element of hybrid - mixing rocker and camber across the profile of the snowboard. The places that have rocker and those that have camber (and sometimes flat) are tuned by the manufacturer to offer a certain type of ride - whether that's catch free and playful or hard charging and precise. Generally rocker (a convex shape when you look at the snowboard side on) is known for being playful, forgiving and catch free as well as offering massive float in powder. Camber (a concave shape as you look at the snowboard side on) is known for having lots of pop and energy between turns and for jumps, great edge hold for carving and a precise, stable feel.
One of the most versatile and popular profiles for an all mountain snowboard is CamRock which places camber in the middle section of the snowboard for energy and stability and rocker towards the tips for catch free riding and float in the deep stuff.
Erm, I'm confused
To be fair, so are we. Snowboard manufacturers are constantly evolving designs and changing the goalposts and buying a snowboard is no longer as simple as deciding between rocker and camber. This makes it even more important to carefully read the manufacturer's description and if at all possible go to a demo day and test some of the snowboards for yourself to see which works for your riding style.
Learning the differences between shapes and profiles and how they affect the ride is also a great way to understand what kind of snowboard might suit your particular flavour of shred.