A good pair of ski pants is massively important to your overall skiing experience. You need to be comfortable, dry, and warm so that you can focus on shredding the mountain, not worrying about whether your clothing will stand up to the elements.
The Best SKi Pants 2023
Helly Hansen Legendary Insulated Pants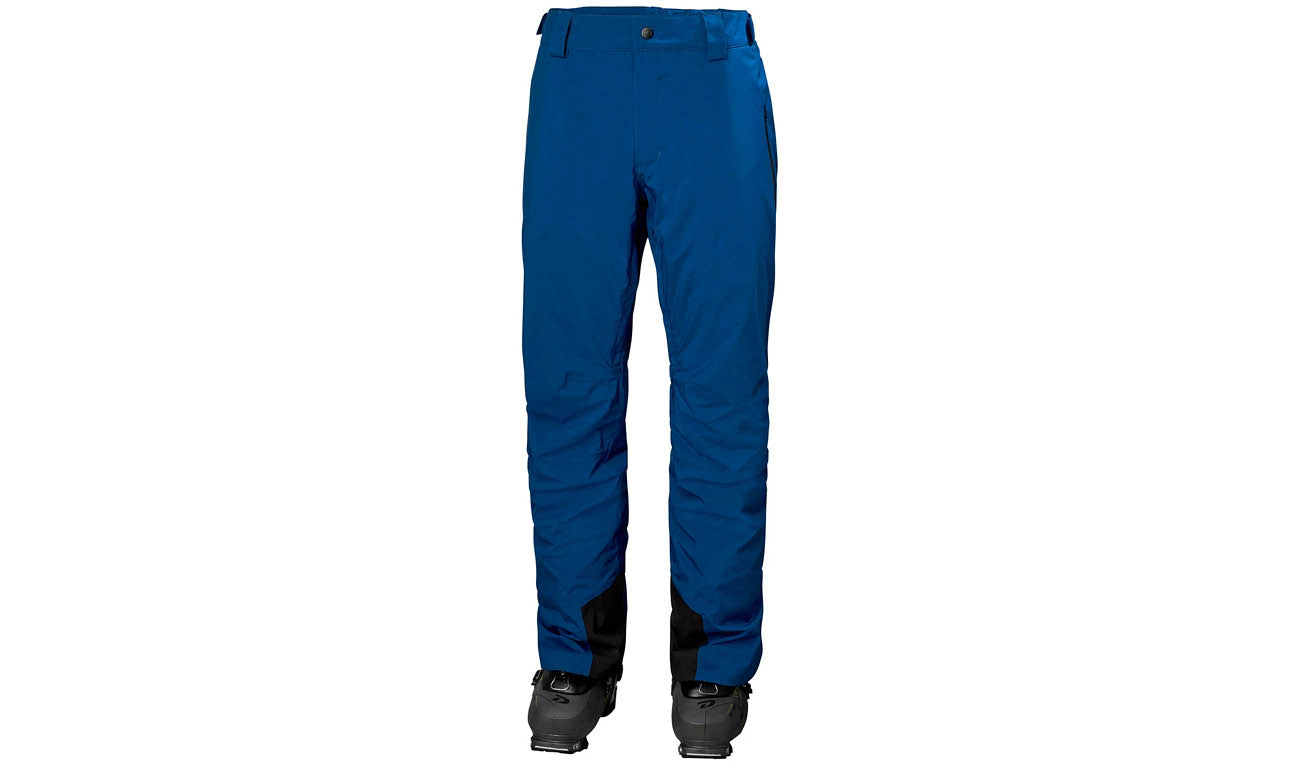 RRP: £180
Best for: High performance resort skiing
We always appreciate Helly Hansen for offering excellent value, high-performance, long-lasting ski clothing. Although the Legendary Pants are somewhat unremarkable, what they do, they do well. The fit and specs make these ideal ski resort pants, with a tidy rather than baggy silhouette that will appeal to some more than others. They are very well put together, with articulation in all the right places so you feel free when you ski. The waistband is soft and Velcro adjustable with a popper closure and belt loops giving you the option to accessorise. The Legendary Pants are Helly Tech equipped, this is a higher waterproof and breathable material ideal for skiing, and the Primaloft insulation keeps your legs warm on particularly cold days. The hand pockets are zipped to keep your kit safe and there's an additional back pocket should you need it.
Buy Helly Hansen Legendary Insulated Pants: From £88 at Amazon (UK) <<Best Deal>>
Buy Helly Hansen Legendary Insulated Pants: From £139.94 at Amazon (US)
Buy Helly Hansen Legendary Insulated Pants: £180 at Cotswold Outdoor
The North Face Chakal Insulated Pants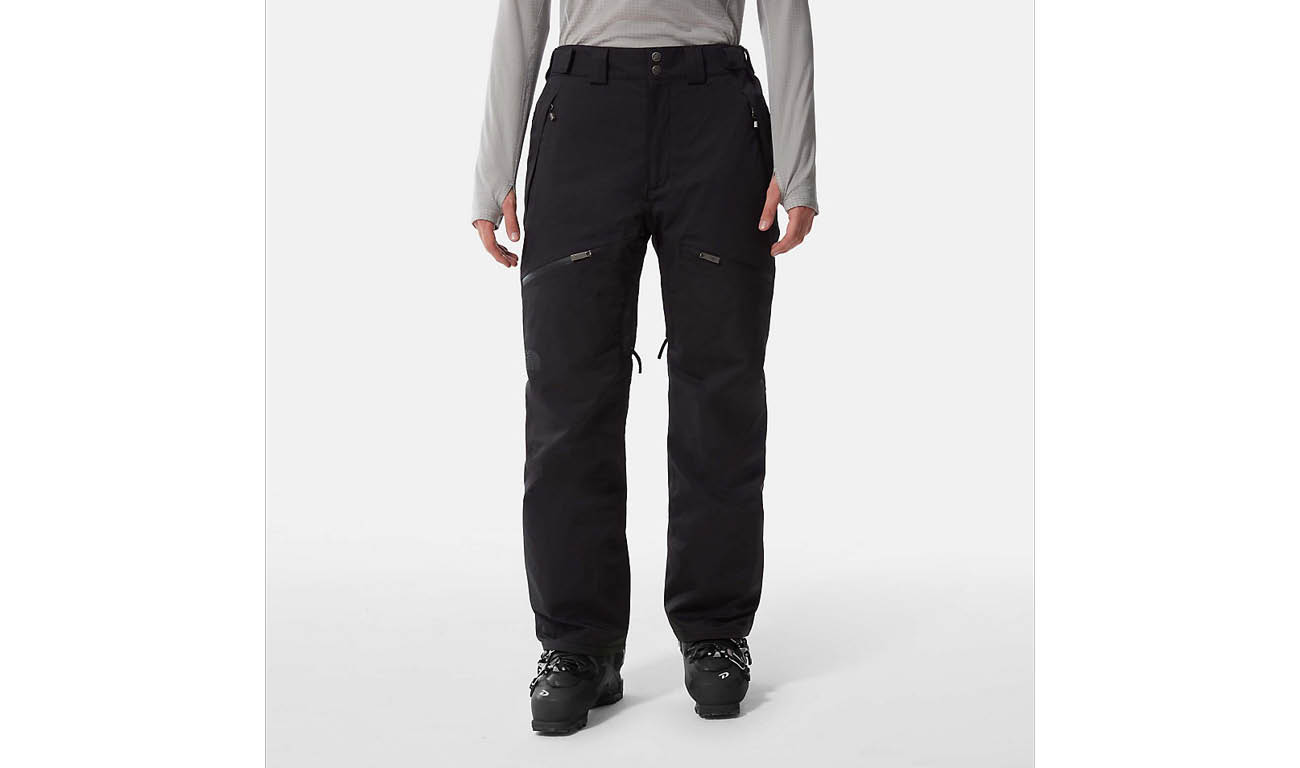 RRP: £220
Best for: All mountain skiing with a resort focus
These are some of the most popular The North Face ski pants because they tick a lot of boxes for the demanding resort skier. The Chakal pants offer The North Face quality at a reasonable price, not budget, but less expensive than the exotic Futurelight range. Featuring The North Face 2L Dryvent material the Chakal pants perform impeccably on the slopes, remaining highly waterproof and breathable no matter the conditions. If you're going to get insulated ski pants, make sure it's a thin layer so you don't overheat. The Chakal pants have the perfect amount, at 40g of Heatseeker Eco insulation which takes the edge off chilly mornings without getting clammy. Inner leg vents allow you to dump excess heat and there are two hand, and two thigh pockets to stash your kit in. The comfortable waistband features double popper fasteners and adjustability via elasticated Velcro. The cut allows for freedom of movement and these are on the baggier side of resort pants making them a good buy if you like a looser cut without resorting to freeride or park stylings. 
Buy The North Face Chakal Insulated Pants: £210 at Cotswold Outdoor
Quiksilver Utility Snowboard Pants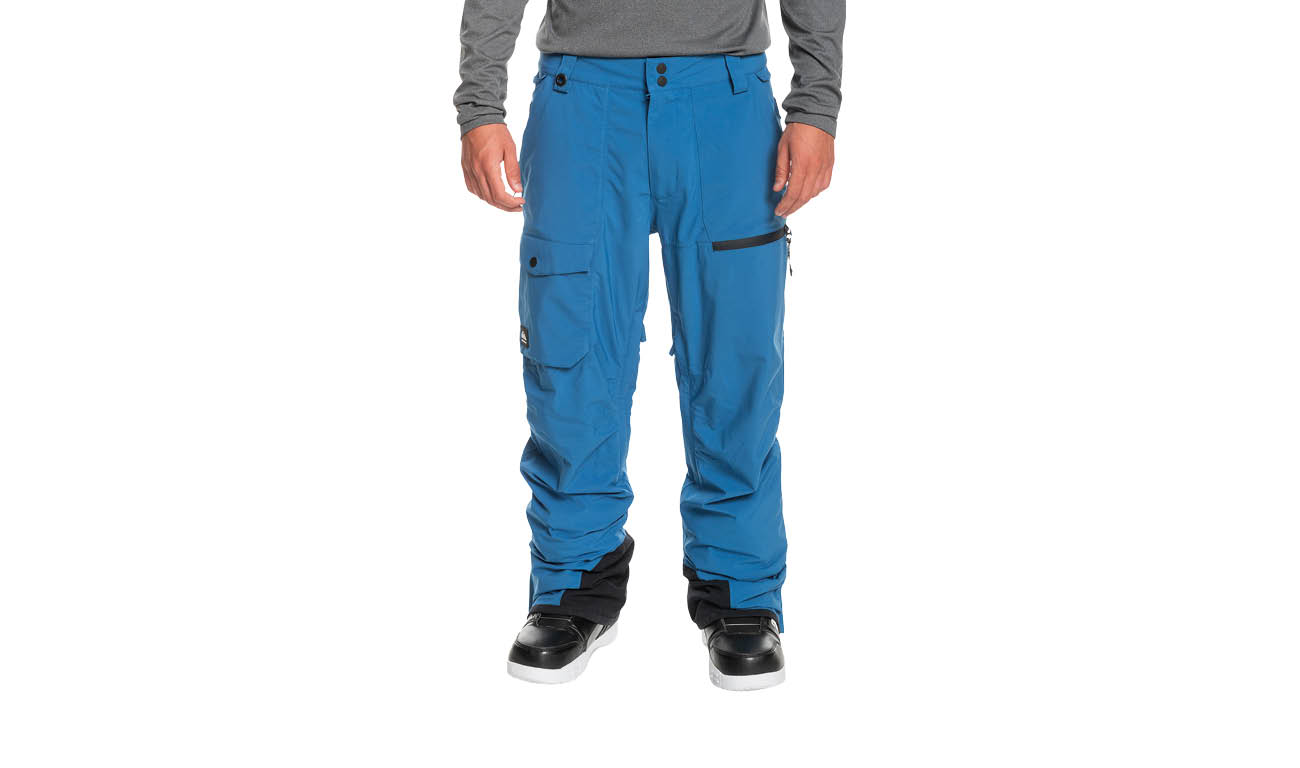 RRP: £180
Best for: Snowboarders looking for practical, well-priced pants
Sitting about the middle of Quiksilver's range, the Utility Pant offers no-nonsense performance at a sensible price. We love the recycled Repreve 4-way stretch fabric, which provides excellent comfort and 20k waterproofing and fully sealed seams. The baggy fit is perfect for articulation on the slopes and the silhouette pairs well with snowboard boots. Although these have a shell construction, a super soft, lightweight tricot-style lining adds a touch of warmth.
Buy Quiksilver Utility Snowboard Pants: From $199.95 at Amazon (US)
Buy Quiksilver Utility Snowboard Pants: £175.16 at Blue Tomato <<Best Deal>>
Schoffel Weissach L Ski Pants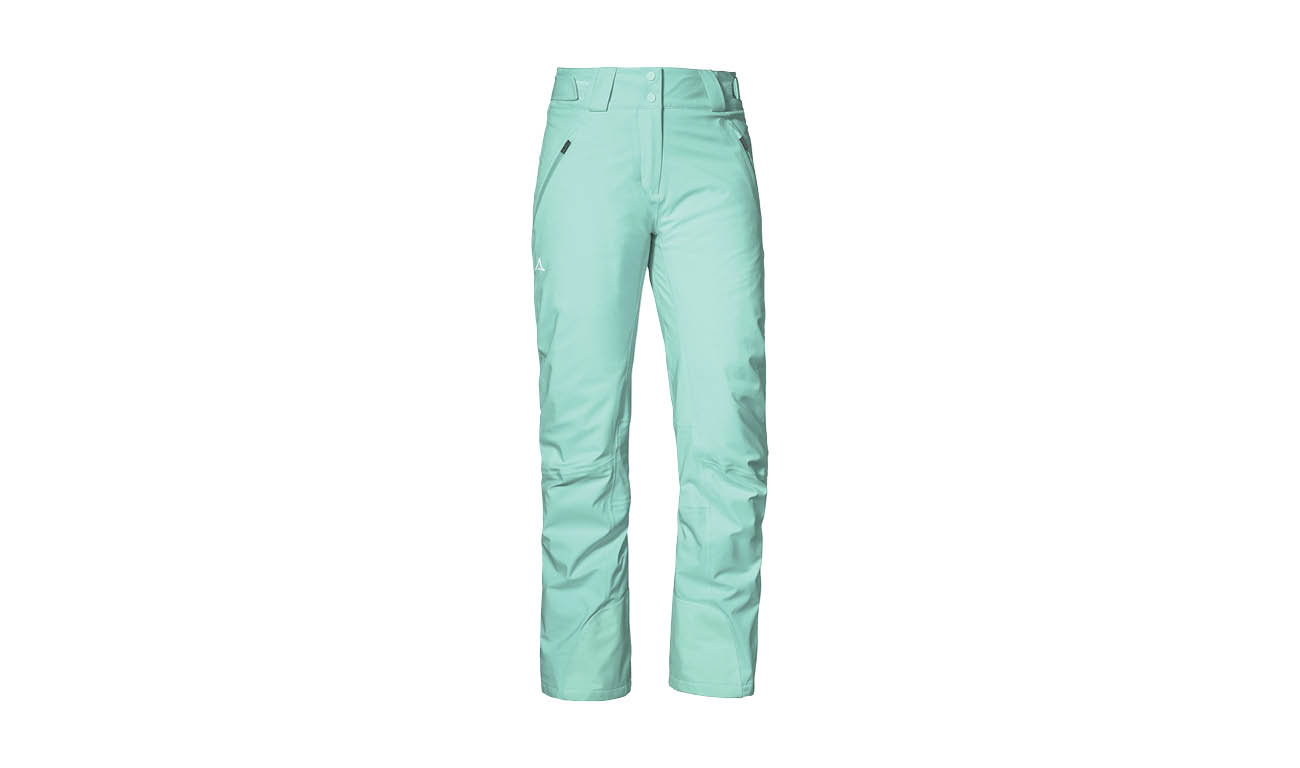 RRP: £200
Best for: Casual piste skiing in comfort
10k/10k waterproofing and breathability are impressive specs considering the softness of the Weissach pants. Add a slender 60g of insulation which adds warmth without bulk, and you've got a seriously comfortable pair of ski pants.
You'll find a zip at the ankles to get the trousers over your boots and an elasticated gaiter to keep them there. A small area of low-profile reinforced material protects against abrasion.
Buy Schoffel Weissach L Ski Pants: From £122.62 at Amazon (UK) <<Best Deal>>
Buy Schoffel Weissach L Ski Pants: £199.99 at Ellis Brigham
Columbia Platinum Peak 3L Ski Pants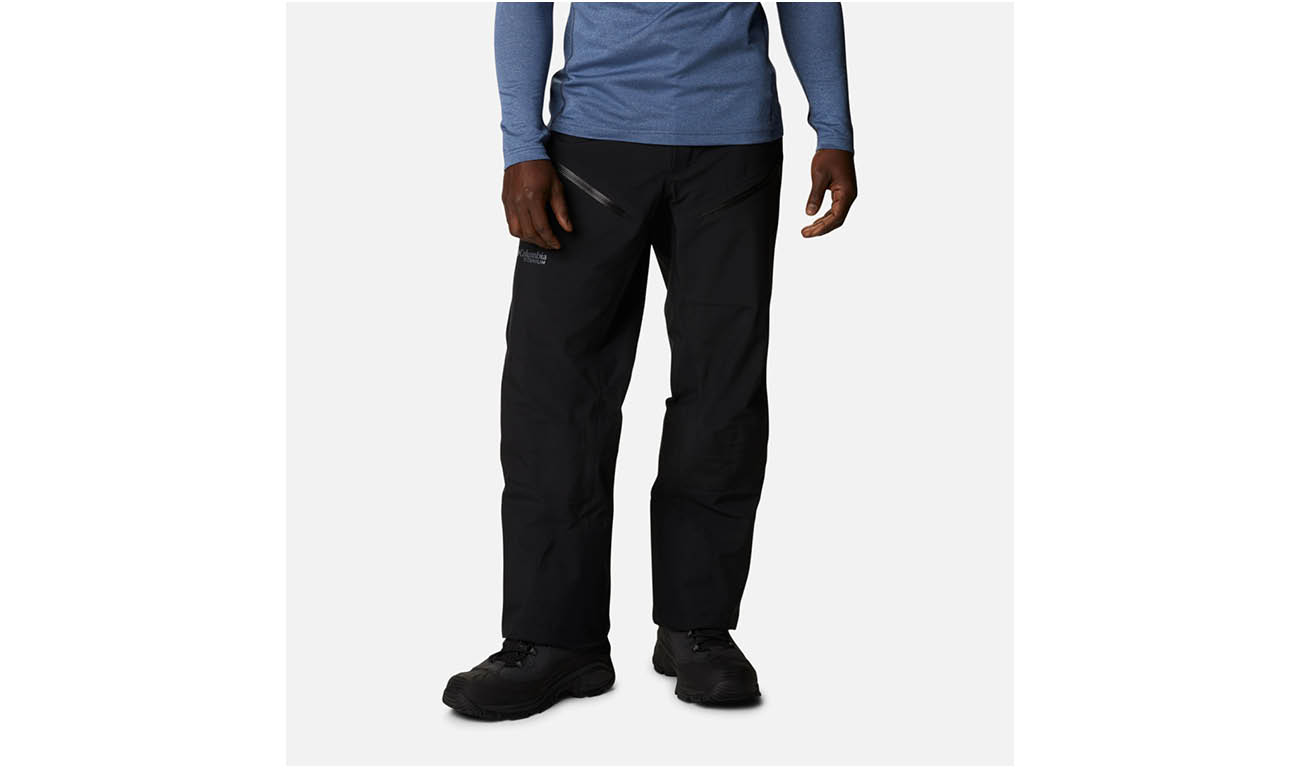 RRP: £270
Best for: Demanding piste skiers
Immediately technical looking, these 3L ski pants can be trusted to keep you dry in the worst conditions. Columbia's Omni-Tech fabric is highly waterproof and breathable and all the seams on these ski pants are sealed. In addition you'll find a PU coating on all zips to make them waterproof for overall total weather sealing. Despite the high specs, Columbia has managed to make the Platinum Peak pants fairly soft to the touch, so they're comfortable to wear skiing all day. They're a mid fit, with just enough room for decent articulation, especially around the knees but these aren't baggy by any stretch. The waistband seals with a single popper, an additional hook and loop would be welcome, and there are velcro adjusters on both sides to secure the pants without using a belt. Leg vents help dump excess heat and there are two hand pockets, although these are placed in a strange location halfway down the thighs. 
The North Face Dragline Bib Printed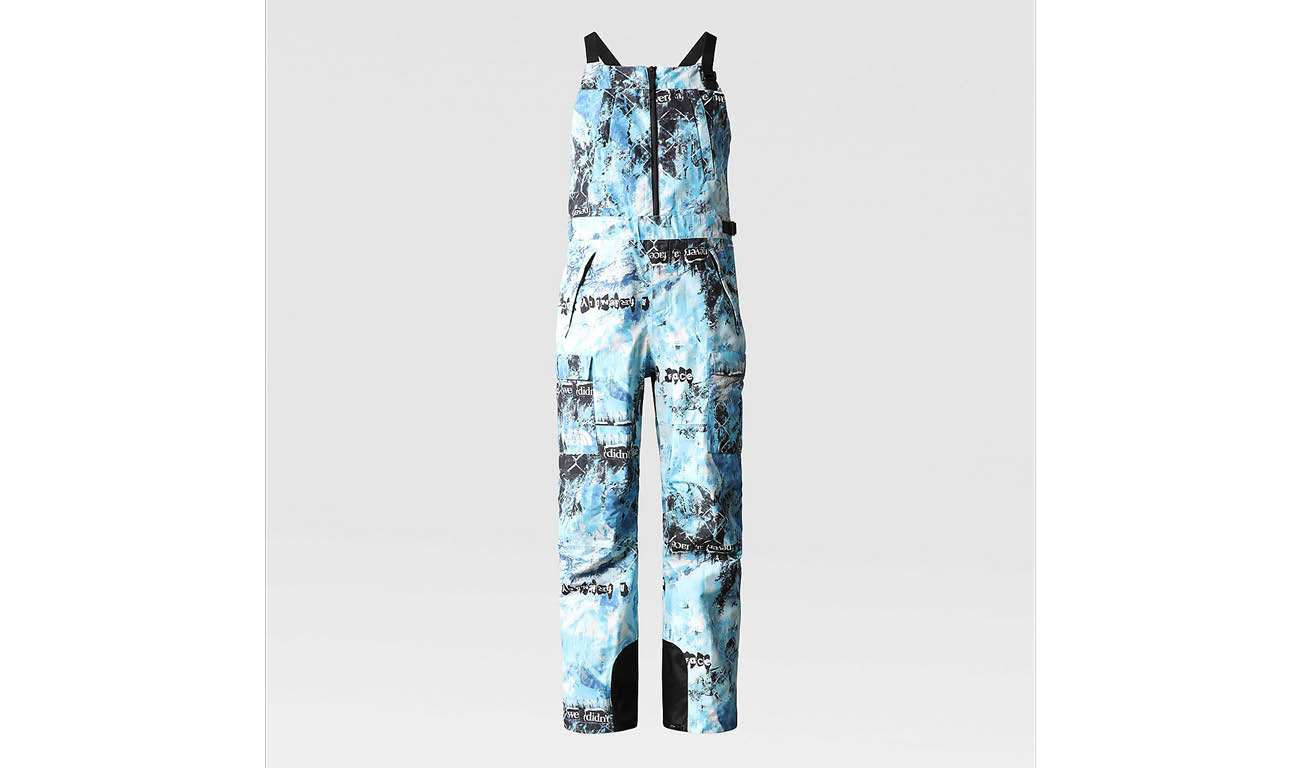 RRP: £300
Best for: All mountain chargers.
It's fair to say you would have to be quite brave to wear these on the ski slopes, but if you have the minerals we salute you. Look beyond the bold printed pattern though and you have an absolutely stonking pair of bib pants. The North Face DryVent 3L fabric keeps the worst weather at bay, performing perfectly in everything from storms to sweaty spring skiing days. The bib is held in place perfectly by elasticated suspenders and unzips conveniently low (for toilet breaks) from the front centre. Although there are two chest, two hand, and two cargo pockets these are quite low profile so you don't look like a tradesman out for a quick ski on your lunch break. 
Buy The North Face Dragline Bib Printed: £293.42 at Blue Tomato
Eider Rocker Ski Pants
RRP: £220
Best for: The Rocker Pant is a good value buy if you're looking for classic styling and dependable reliability. 
The Rocker Pant is a fuss-free piste skiing option with little not to like. The four-way stretch fabric is soft and very comfortable - couple this with a mid-loose cut, decent articulation and great quality, durable fabric and you've got a pair of ski pants that won't ever hold you back on the slopes. Fully taped seams and good breathability combine to ensure that you're dry and not overly sweaty. There are only two hand pockets and one zipped pocket on the rear of the Rocker Pants, but this is in line with the muted styling, and is still plenty of room for your phone and wallet.
READ NEXT: EIDER ROCKER FULL REVIEW
Buy Eider Rocker Ski Pants: £125.99 at Amazon (UK)
Picture U77 Bib Pants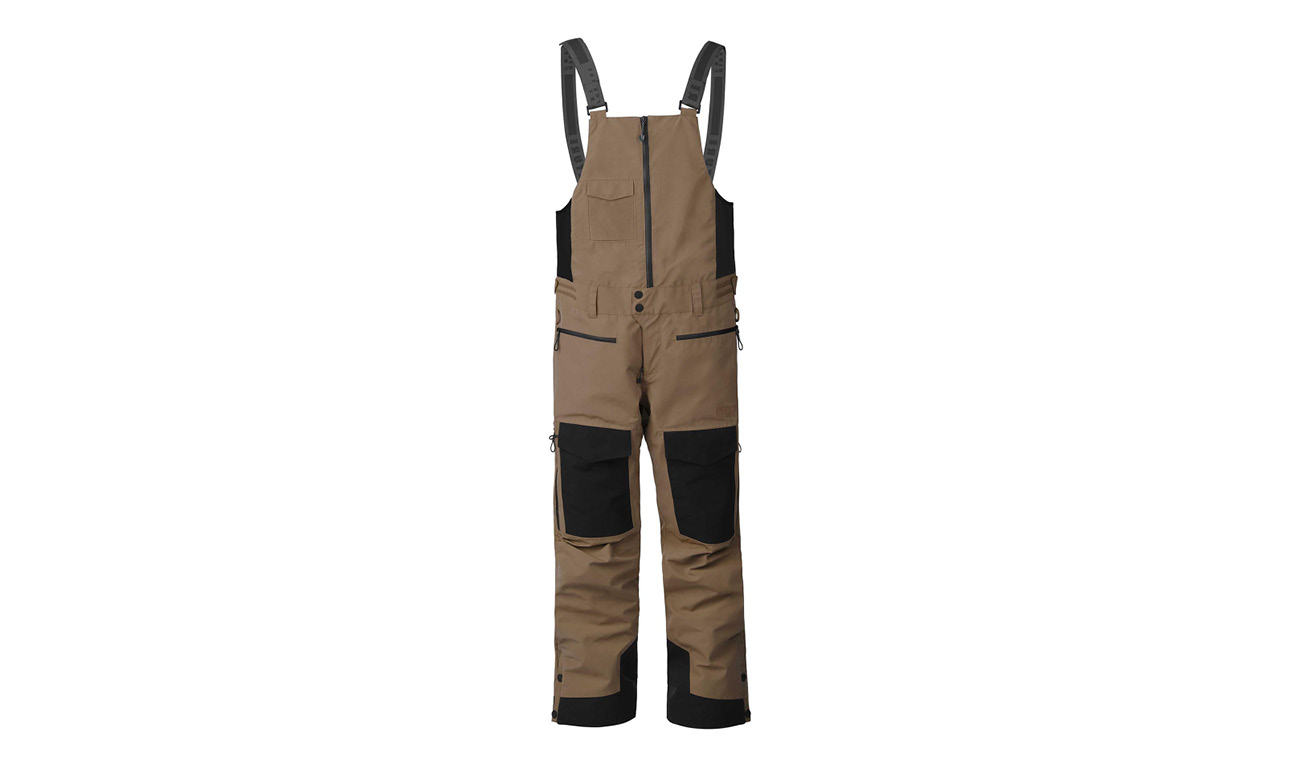 RRP: £260
Best for: Bargain loving hard-charging skiers who demand the best performance from their gear.
Picture are masters of good value, high-quality ski gear that appeals to the slightly cooler end of the ski and snowboard spectrum. the U77 bib pants fit well into that mold, the design and aesthetics are excellent, but the technical features are also on point. They have a freeride-friendly look, but with impeccable attention to detail in the practical design elements.
The high bib has adjustable suspenders and a neat little chest pocket. The two-way water-resistant front zip is perfectly designed, with a dual popper closure over the waist and a zip that can be zipped up from the bottom. The waist is adjustable via Velcro straps, the same principle as the adjustment in the suspenders. These work surprisingly well in the snow, but webbing strap adjusters would feel more secure.
We found the hand and patch pockets to be a tad small but still functional. They're both zipped with water-resistant zips complete with chunky pullers and the patch pockets have additional popper secured storm flaps.
Venting is available via zipped openings on the outside of the legs, these are mesh lined to stop snow ingress. The hem has a gaiter, boot lace hook, and dual popper bellows opening to easily get them on over ski or snowboard boots.
The material is soft and smooth, unlike other ski pants and it's made from sugarcane waste that is converted into bio-based polyester, so it's fairly eco-friendly.
The Dryplay membrane offers up 20k/20k waterproofing and breathability which is a good level considering the relatively low cost of the U77 pants. All seams are fully-taped to make sure absolutely no water gets through from the outside.
Overall, we feel these are a better option than North Face's more expensive Bellion bib pants. They have some of the same aesthetics but with a higher spec and generally better thought out design.
Buy Picture U77 Bib Pants: £270 at Snow & Rock
Helly Hansen Powderqueen Bib Pants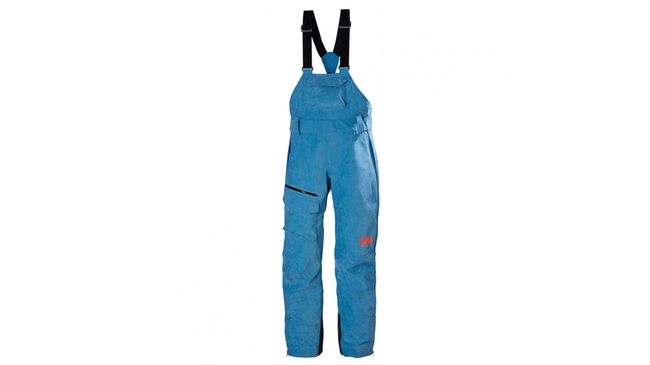 RRP: £260
Best for: These eye-catching, flattering pants will take you all over the mountain. 
Bright blue corduroy bib pants anyone? The Powderqueen Bib Pants are certainly eye-catching, and we were also really impressed by the fit. They're very comfortable to wear, with a nice fleece lining for some added warmth. Despite the soft look and feel of the outer fabric, the material still provides good waterproofing. The shoulder straps are comfortable, and there are plentiful pockets.
READ NEXT: HELLY HANSEN POWDERQUEEN FULL REVIEW
Buy Helly Hansen Powderqueen Bib Pants: From £226.80 at Amazon (UK)
Buy Helly Hansen Powderqueen Bib Pants: £260 at Helly Hansen <<Best Deal>>
Protest Miikka Ski Pants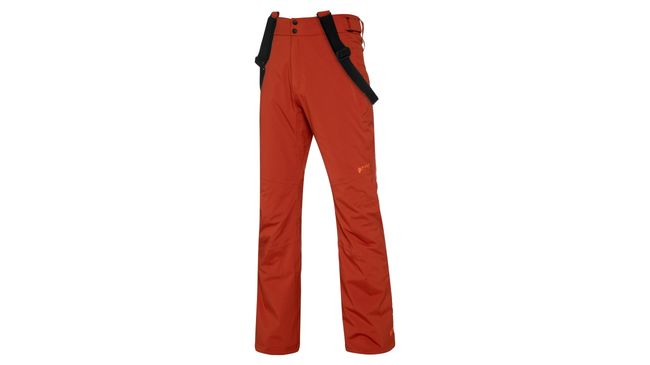 RRP: £140
Best for: Overall, the Miikka pants are superb value for money for a decent all-rounder of a ski pant.
Protest's Miikka pants tick all our tech boxes, offering 20,000mm of waterproofing, fully taped seams, and decent breathability. This combo means they're dependably weatherproof out on the slopes, keeping you fully dry no matter how bad the conditions, and we also found them very breathable when working up a sweat. Insulation is effective, if a tad on the thin side, making them best suited to warmer days. The detachable straps are comfortable and adjustable. At £130, these are great ski pants for a fair price.  
READ NEXT: PROTEST MIIKKA FULL REVIEW
Buy Protest Miikka Ski Pants: From £76.94 at Amazon (UK) <<Best Deal>>
Buy Protest Miikka Ski Pants: £136.95 at Alpinetrek
READ NEXT: THE BEST SKI JACKETS
Ski pants buyer's guide: What to look for in ski pants
Before buying ski pants ask yourself these questions.....
Are the pants fully waterproof and how do I tell?
Get the basics right first, make sure your ski pants are fully waterproof. We would suggest a minimum level for skiing and snowboarding of a 10,000mm hydrostatic head, this information can be found on the tag of the jacket or on the manufacturer's web page. If you're putting the pants through their paces then you should aim for a higher level of 20,000mm or above.
What are taped seams and do I need them?
Taped seams are important to stop the gradual creep of moisture past small holes created when the various panels of the pants are sewn together. It's rare to find ski pants without fully taped seams i.e. every seam has a layer of waterproof tape bonded over the top of it, but some more freestyle orientated options or those on the very edge of the budget end of the scale might only have critically taped seams.
Are the zips waterproof?
Any zips will need to either have storm flaps - a flap of material over the top of the zip - or preferably be watertight. If they don't have either eventually moisture will creep through. You can tell if a zip is watertight by looking at the area on either side of the teeth, if it has a rubbery-looking coating then you're good to go. Also, ensure that all zips run smoothly and have chunky pullers so you can easily use them with gloves or simply with cold hands.
How many pockets do I need and do I need vents?
We don't recommend keeping too much stuff in your ski pants but it's useful to have at least a couple of hand pockets - one for your phone and another for a wallet. If you're going to be doing a lot of high-intensity skiing or ski touring then thigh zips are a must for ventilation through the legs.
Do I need insulated ski pants?
Whether you go for shell or insulated depends on the conditions you're going to be skiing in and whether you like to wear baselayers or not. We generally recommend pants with at least a little insulation for most skiers and snowboarders, as unlike shell pants you can't easily put extra layers on underneath if it gets cold.
Is down any good for skiing?
As a general rule synthetic insulation is better than down for ski clothing as it retains most of its insulating properties when wet. Be careful not to buy overly insulated pants as you'll quickly get hot and clammy when skiing or hiking.
Do I need bib pants?
Bib pants offer extra protection with a raised bib at the front and back held up by suspenders. This stops cold wet snow sneaking in between your jacket and pants so is a definite bonus, especially for freeriders sending powder snow up, behind, and around them. If your skiing is much more sedate and mainly on the piste then a bib is probably overkill as there's little chance of the hardpack snow making its way into that area.
Other features
Make sure your ski pants have boot gaiters. These sit below the outer material and are elasticated to hug your boots, stopping snow from getting in and keeping your pants in place. If you're worried about abrasion from boots, bindings, and ski touring kit then look for reinforced insteps - patches of sturdier material on the lower legs.