Just like jackets, a good pair of ski pants is massively important to your overall skiing experience. You need to be comfortable, dry and warm so that you can focus on shredding the mountain rather than worrying about being cold, wet, and uncomfortable.
We've skied or snowboarded in all of these to work out what makes one pair great and another simply average. Our reviews cover the strengths and weaknesses of each so that ultimately you can make a sound buying decision.
Best in test:

Spyder Solitaire GTX Pro Shell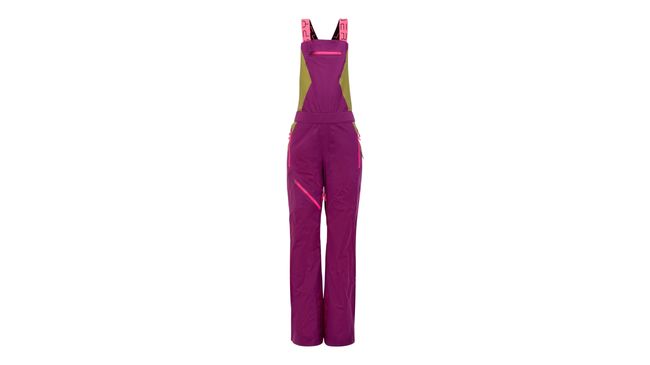 As soon as we unpacked the Solitaire GTX Pro Shell Bib, we got excited. Aside from the striking bright looks, the quality of the materials and construction is instantly apparent. The Solitaire is comprised of a GORE-TEX Pro laminate material that offers maximum protection on the mountain - expect guaranteed waterproofing, tough nylon ripstop material and great windproofing and breathablility. The Solitaire is a shell pant, so layer up beneath it.
Verdict If you don't mind parting with the cash to get maximum protection, give the the excellent Solitaire a go.
Overall rating 10/10
RRP £513
Helly Hansen Powderqueen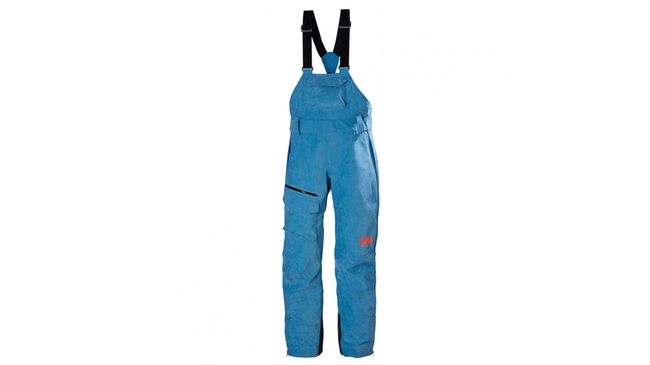 Bright blue corduroy bib pants anyone? The Powderqueens are certainly eye-catching, and we were also really impressed by the fit. They're very comfortable to wear, with a nice fleece lining for some added warmth. Despite the soft look and feel of the outer fabric, the material still provides good waterproofing. The shoulder straps are comfortable, and there are plentiful pockets.
Verdict These eye-catching, flattering and tech-savvy pants will take you all over the mountain.
Overall rating 9/10
RRP £240
Salomon Iceglory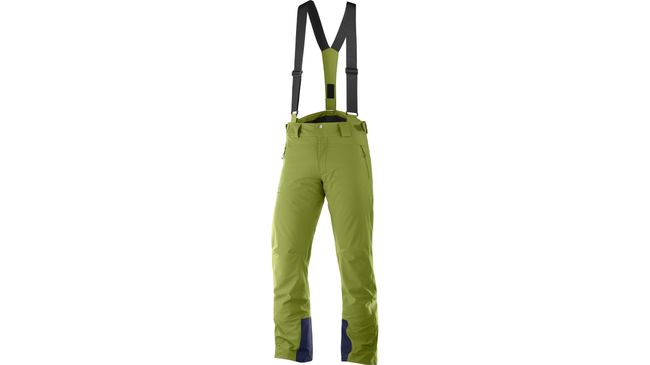 The Iceglory offers excellent waterproofing, and a great four-way stretch and articulated cut means it feels comfortable and flexible to wear. The Iceglory is so highly insulated, however, that the pant is only really useful for resort skiing on the coldest days, although decent vents on the inside leg do help a bit if you overheat. Looks wise, the Iceglory is pretty stylish, with a nice soft drape to the fabric, which combined with their cosiness makes them very comfy indeed. The Iceglory has the great, durable quality we've come to expect from Salomon, and the cut is nice and relaxed, too.
Verdict Great quality and cut, the warmest pants we tested are best suited for very cold weather use.
Overall rating 8/10
RRP £190
Eider Rocker
The Rocker Pant is a fuss-free piste skiing option with little not to like. The four-way stretch fabric is soft and very comfortable - couple this with a mid-loose cut, decent articulation and great quality, durable fabric and you've got a pair of ski pants that won't ever hold you back on the slopes. Fully taped seams and good breathability combine to ensure that you're dry and not overly sweaty. There are only two hand pockets and one zipped pocket on the rear of the Rocker Pants, but this is in line with the muted styling, and is still plenty of room for your phone and wallet.
Verdict The Rocker Pant is a good value buy if you're looking for classic styling and dependable reliability.
Overall rating 9/10
RRP £220
Picture Under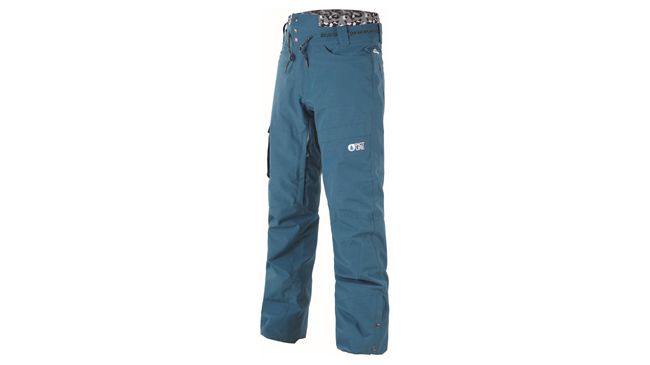 The Under pant favours great looks over out-and-out tech. As an example, all the pockets use storm flaps rather than waterproof zips, and there are four 'faux' pockets hinting at styling rather than pure function. But if looks are high on your list of priorities then you'll do all right with the comfortable Under pant - the soft and supple Dryplay fabric and baggy cut make them easy to wear all day, and 10,000mm of waterproofing is not to be sniffed at. There's a good bib-like waist, and Picture gets eco points for using recycled materials to make their snow gear.
Verdict A good value option for people who go for looks as much as performance in their ski gear.
Overall rating 8/10
RRP £190
Best value:

Protest Miikka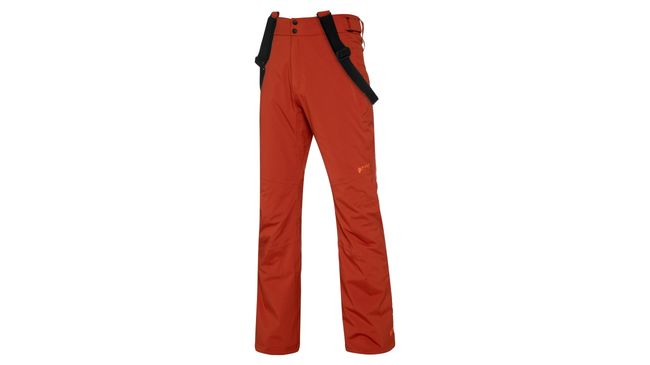 Protest's Miikka pants tick all our tech boxes, offering 20,000mm of waterproofing, fully taped seams and decent breathability. This combo means they're dependably weatherproof out on the slopes, keeping you fully dry no matter how bad the conditions, and we also found them very breathable when working up a sweat. Insulation is effective, if a tad on the thin side, making them best suited to warmer days. The detachable straps are comfortable and adjustable. At £130, these are great ski pants for a fair price.
Verdict

Overall, the Miikka pants are superb value for money for a decent all-rounder of a ski pant.

Overall rating 8/10
RRP £130
Ski pants buyer's guide: What to look for in ski pants
Before buying ski pants ask yourself these questions.....
Are the pants fully waterproof and how do I tell?
Get the basics right first, make sure your ski pants are fully waterproof. We would suggest a minimum level for skiing and snowboarding of a 10,000mm hydrostatic head, this information can be found on the tag of the jacket or on the manufacturers web page. If you're really putting the pants through their paces then you should aim for a higher level of 20,000mm or above.
What are taped seams and do I need them?
Taped seams are important to stop the gradual creep of moisture past small holes created when the various panels of the pants are sewn together. It's rare to find ski pants without fully taped seams i.e. every seam has a layer of waterproof tape bonded over the top of it, but some more freestyle orientated options or those on the very edge of the budget end of the scale might only have critically taped seams.
Are the zips waterproof?
Any zips will need to either have storm flaps - a flap of material over the top of the zip - or preferably be water tight. If they don't have either eventually moisture will creep through. You can tell if a zip is watertight by looking at the area either side of the teeth, if it has a rubbery looking coating then you're good to go. Also make sure that all zips run smoothly and have chunky pullers so you can easily use them with gloves on or simply with cold hands.
How many pockets do I need and do I need vents?
We don't recommend keeping too much stuff in your ski pants but it's useful to have at least a couple of hand pockets - one for your phone and another for a wallet. If you're going to be doing a lot of high intensity skiing or ski touring then thigh zips are a must for ventilation through the legs.
Do I need an insulated ski jacket?
Whether you go for shell or insulated depends on the conditions you're going to be skiing in and whether you like to wear baselayers or not. We generally recommend pants with at least a little insulation for most skiers and snowboarders, as unlike shell jackets you can't easily put extra layers on underneath if it gets cold.
Is down any good for skiing?
As a general rule synthetic insulation is better than down for ski clothing as it retains most of its insulating properties when wet. Be careful not to buy overly insulated pants as you'll quickly find yourself getting hot and clammy when you're skiing or hiking.
Do I need bib pants?
Bib pants offer extra protection with a raised bib at the front and back held up by suspenders. This stops cold wet snow sneaking in between your jacket and pants so is a definite bonus, especially for freeriders sending powder snow up, behind and around them. If your skiing is much more sedate and mainly on piste then a bib is probably overkill as there's little chance of the hardpack snow making it's way into that area.
Other features
Make sure your ski pants have boot gaiters. These sit below the outer material and are elasticated to hug your boots, stopping snow getting in and keeping your pants in place. If you're worried about abrasion from boots, bindings and ski touring kit then look for reinforced insteps - patches of sturdier material on the lower legs.