A good snowboard jacket is one of the most important pieces of snowboarding gear you can buy. You need something that will keep you warm and help you stay dry in cold, harsh environments.
Plus, of course, a decent snowboard jacket needs to be stylish, because as legendary snowboarder JP Walker once explained: "when you look good, you feel good. and when you feel good, you ride good".
Here, SNOW's gear experts have compiled a list of what we believe to be the best men's and women's snowboard jackets on the market this winter. We've selected a mixture, from high-end Gore-Tex jackets designed for the backcountry and splitboarding, to pullover style jackets built for the snow park. The prices range widely, reflecting each jackets' features and fabric.
At the bottom, you'll find a guide to what to look for in a snowboard jacket, which also explains some of the jargon. Happy browsing!

Burton AK Gore-Tex Cyclic Men's Snowboard Jacket, £420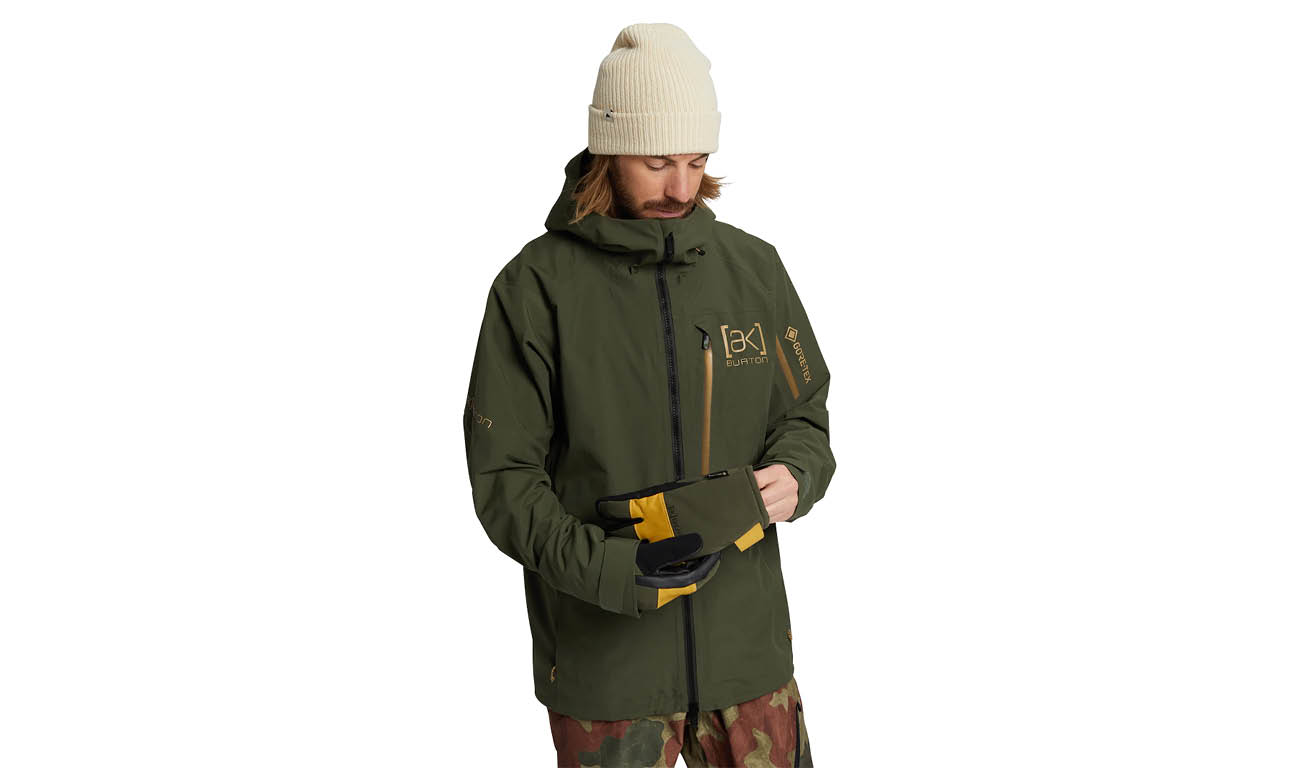 Founded in 1977, Burton is the biggest name in snowboarding, and this, from their high-end AK collection, is one of their absolute, top of the range models. It's built for spending long days in the backcountry, and it's packed with features that will keep you warm and dry, whether you're hiking, heli-skiing, splitboarding, or simply bombing lines off the lifts.
The outer fabric is Gore-Tex, which comes with a waterproof guarantee (and an effective water column of 30,000mm) and is highly breathable. It's also BlueSign approved, meaning it meets stringent sustainability standards. SNOW has been riding in this jacket for around a month now, testing it thoroughly by taking it out splitboarding and resort riding in a range of different temperatures and conditions. We've never once felt sweaty or wet, even when skinning up in blazing sunshine.
It's packed full of features, with fleece-lined hand warmer pockets, an insulated pocket to keep your phone warm (and prolong its battery life), and a lift pass pocket on the left arm. The zips and seams are fully taped, and the hood is easily adjustable. If you're after a stylish, top-end snowboard jacket, they don't come much better than this.
Buy Burton AK Gore-Tex Cyclic Men's Snowboard Jacket: £786.54 at Amazon (UK)
Buy Burton AK Gore-Tex Cyclic Men's Snowboard Jacket: £420 at The Snowboard Asylum <<Best Deal>>

The North Face Summit Series Verbier Futurelight Men's Snowboard Jacket, £585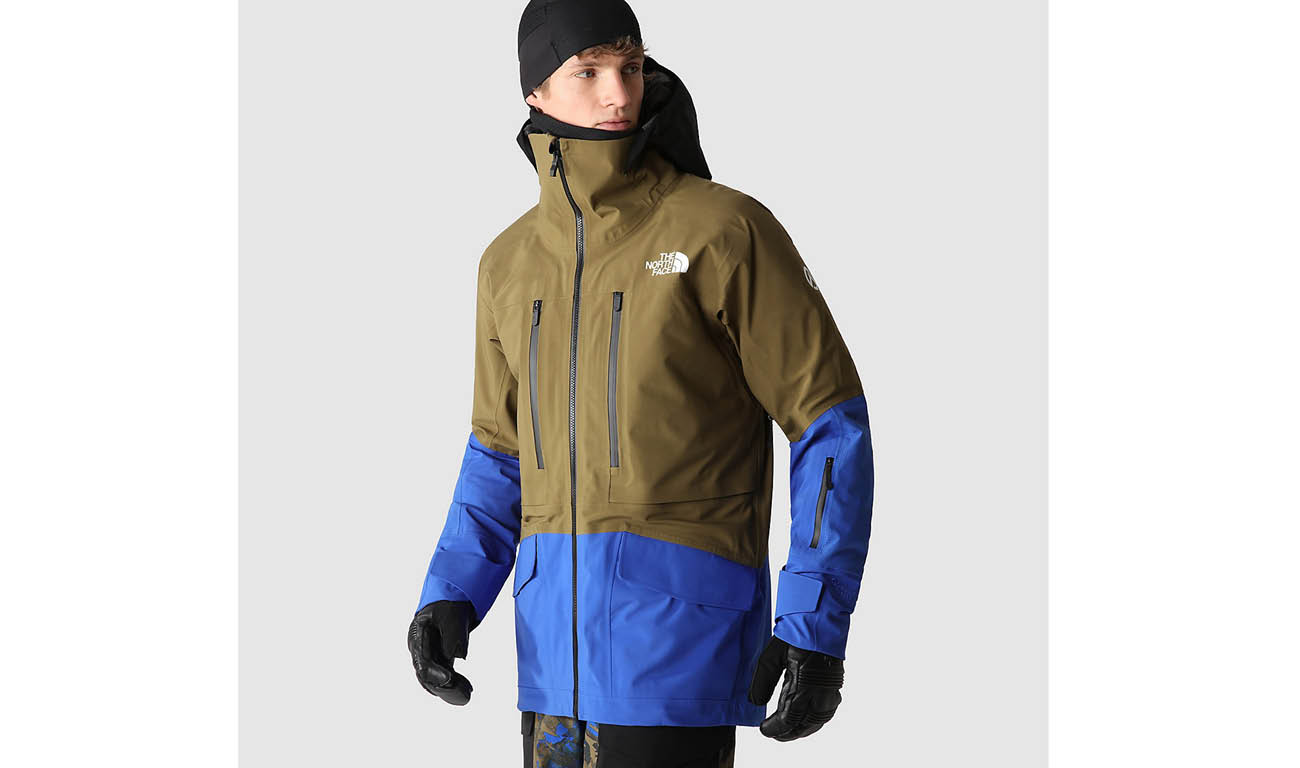 The price tag might make some people wince, but if you've got the dough and you're after a jacket that will last for years, no matter what you throw at it, The North Face's Verbier is worth the investment. You can camp out in the backcountry and splitboard up some of the biggest lines in Alaska wearing this—just ask Victor de le Rue, who does exactly that in his crazy new film Free Rider.
The outer layer is made of FutureLight, The North Face's answer to Gore-Tex, that's waterproof, highly breathable, and tough. The main section of the back is made with 100 percent recycled polyester, and vulnerable areas like the elbow panels and hem are reinforced further with a material called Spectra. The ventilation system consists of two lengthy underarm vents with zips at both ends, so you can adjust the opening as you like.
Fully taped seams, waterproof zips, a ton of pockets, and even a built in goggle wipe in the lift pass pocket — this jacket really does have it all. Here at SNOW, we've extensively tested the precursor to this model (which was made of Gore-Tex), wearing it for two full seasons in a row. We've separately tested various other jackets made of the FutureLight fabric. All of them excelled, and we can safely say this one will too.
Buy The North Face Summit Series Verbier Futurelight Men's Snowboard Jacket: £585 at Ellis Brigham

Patagonia Powder Town Women's Snowboard Jacket, £320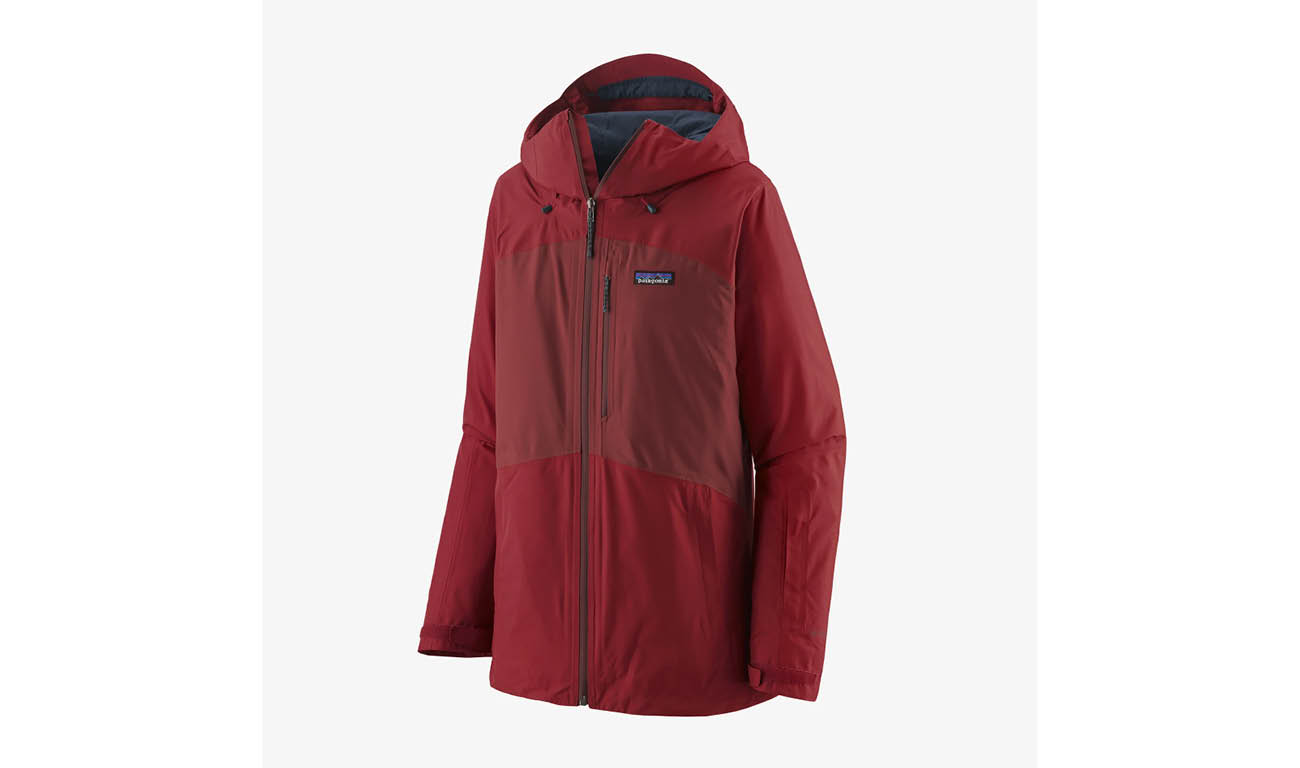 Patagonia are probably the most environmentally friendly clothing brand on the planet. In a dramatic move last year, their founder announced that he would give up control of the company [https://www.active-traveller.com/news/patagonias-owner-has-given-away-his-billion-pound-company-to-fight-climate-change] and ensure that all future profits were ploughed into fighting the climate crisis. If sustainability is big on your check list of selling points, Patagonia kit should be top of your list.
This is one of the brand's flagship ski and snowboard jackets, available in both men's and women's sizes and cuts, as well as a wide range of different colours. The brand's H2NO material is highly waterproof and breathable, but contains no planet harming PFC chemicals. The jacket is certified Fair Trade Certified sewn, and the outer layer that's made using 100 percent recycled polyester.
Patagonia don't just make more eco-friendly garments, however—this is a high performance bit of kit, that's packed with features including a helmet compatible hood, powder skirt and a whole rake of pockets. The style is deliberately timeless too—Patagonia make a point of choosing colours that will never go out of fashion, because their garments are built to last.
Buy Patagonia Powder Town Women's Snowboard Jacket: £320 at Snow and Rock
Roxy Chloe Kim Women's Snowboard Jacket, £330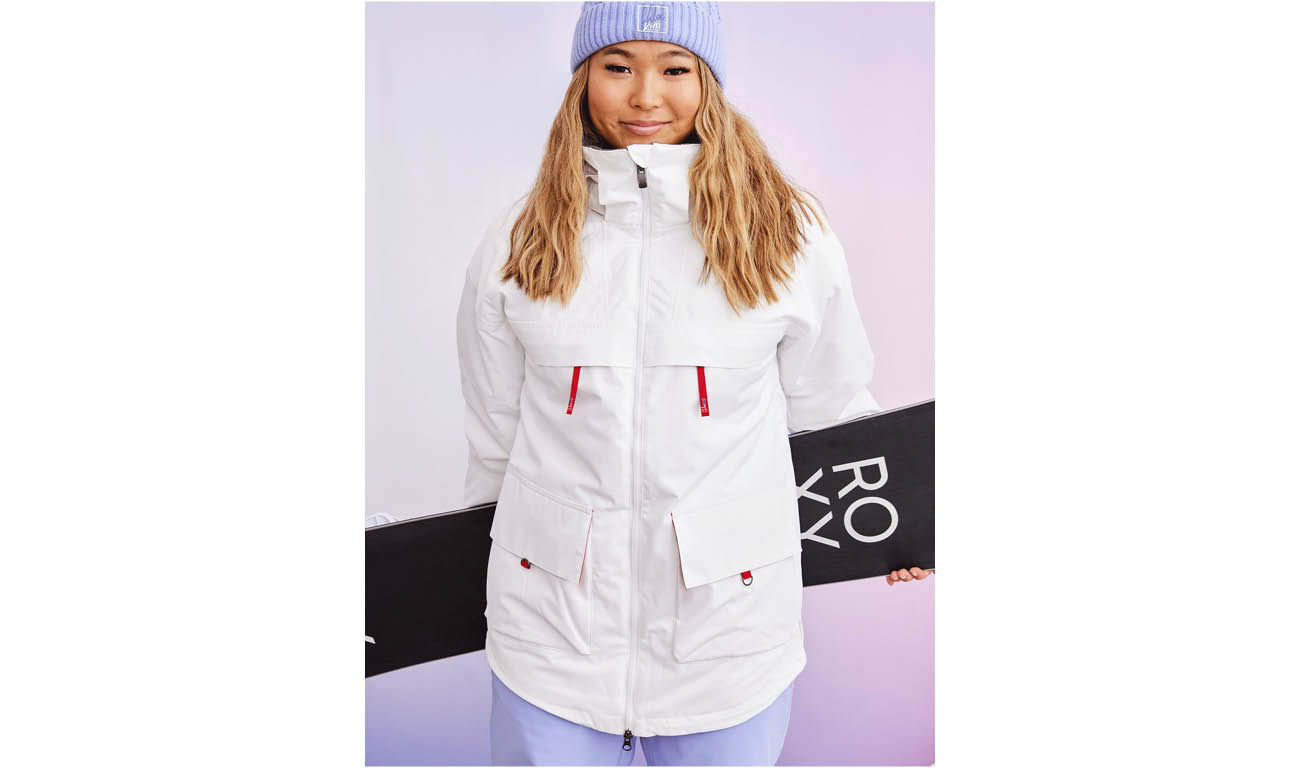 Despite being a diminutive 5'3", US halfpipe rider Chloe Kim stands head and shoulders above the rest of the field in her chosen discipline. She won her first Olympic gold medal at just 16, added a second in Beijing last year, and regularly cleans up at every contest she enters. This is the jacket she's currently rocking on her path to global domination.
The outer fabric isn't as tech as on some of the shell jackets listed above on this page, but it doesn't need to be. That 10k/10k waterproof and breathability rating is more than enough for any kind of resort riding, and this is packed with features designed to make forays into the snowpark more comfy, including the high tech 100g PrimaLoft Black insulation. There are pockets galore (including a dedicated media pocket for your phone) and the hood is removable, in case you feel more comfortable wearing your helmet without it.
Most of all, it looks amazing—available in two different colours, the white shown here and a pastel blue, this will make you feel like the Queen Chloe Kim is, even if you can't ride as well as her just yet...
Buy Roxy Chloe Kim Women's Snowboard Jacket: £240 at Snow and Rock
Picture Tanya Women's Snowboard Jacket, £260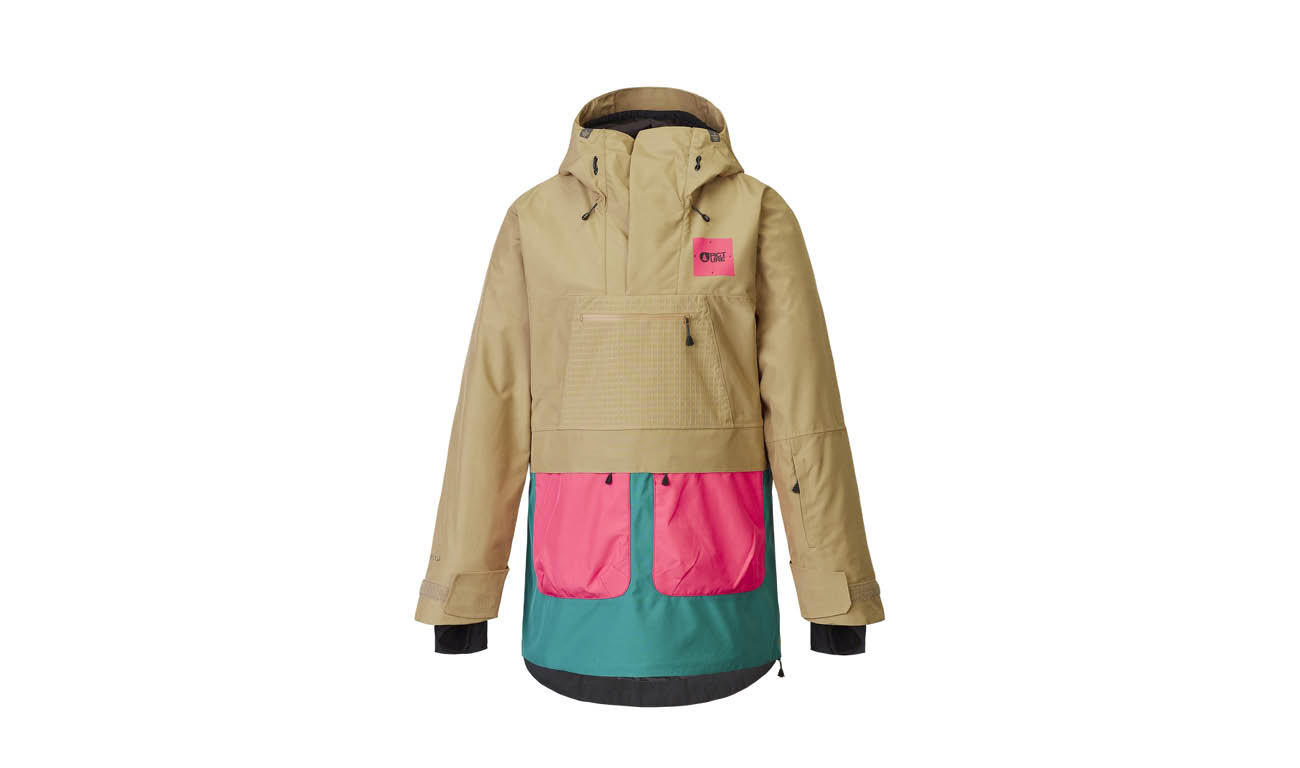 French brand Picture Clothing exploded onto the scene a decade and a half ago and quickly became a favourite among freestyle focussed skiers and snowboarders. Their gear is affordably priced, with a focus on style, but it doesn't scrimp on tech or features either.
This women's jacket is a case in point. It's a half zip pullover design, which allows Picture to add a 90s-style stash pocket on the chest for that "so hot right now" retro look. The panels of different colours help and the long, slim, parka-style cut help add to the 90s vibe.
But this isn't just about style or colours, however. It's made of DryPLay Weather Defense fabric, which has a 20k/20k waterpoof and breathability rating. Features like fully-taped seams, mean that it can handle all kinds of horrible weather on the hill too. In short, if you're looking for a an all mountain ripper for resort riding, this is a great option.
Buy Picture Tanya Women's Snowboard Jacket: £260 at The Snowboard Asylum

Volcom Longo Men's Snowboard Jacket, £210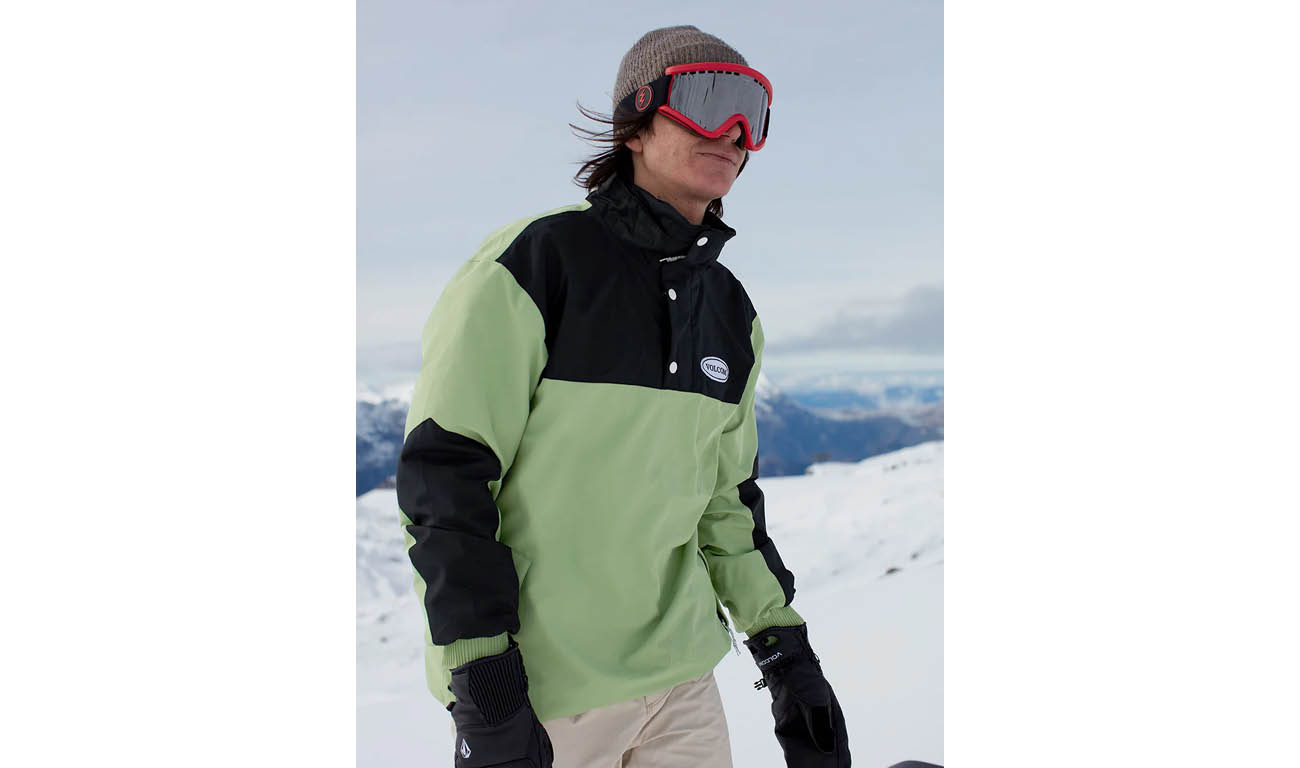 Founded by a bunch of skaters and surfers on the West Coast of the US in the early 90s, Volcom is a brand with serious board riding pedigree. Many of the best snowboarders ever to strap in have rocked their kit, including Jamie Lynn, Bryan Iguchi, Terje Haakonsen and, more recently, France's Arthur Longo (if you've not seen Longo's riding, Google "Side Hits Euphoria" now for an instant injection of stoke).
In keeping with the recent 90s revival, Volcom have gone back to their roots with their recent designs. For Longo's signature jacket, they've resurrected their old, oval-shaped logo, and chosen a range of different colours that wouldn't look out of place in a snowboard mag from 1998. The pullover design is likewise a throwback, and the hood is removable for that full 90s bomber jacket look.
The tech, however, is totally 21st century, with a pocket specifically designed for your phone, for example. The outer fabric is Volcom's own V Science 2L Stretch Repreve, which has a 10k/10k waterproof rating — more than enough for freestyle riding around the resort. If you're looking for style on the slopes, it doesn't get much better than this.
Buy Volcom Longo Men's Snowboard Jacket: £210 at The Snowboard Asylum
What should you look for in a snowboard jacket?
What makes a good snowboard jacket? Well, there are lots of different things to look out for, but here at SNOW, we believe there are four main things you should consider when choosing a men's or women's snowboarding jacket. Each of these four factors will also effect the jacket's price.
1) Waterproof & Breathability Ratings:
Snowboard jackets need to be waterproof, for obvious reasons. But they also need to be breathable—i.e. they need to let your body breathe by allowing sweat to pass out through the fabric. If they don't, as soon as you start moving, moisture will accumulate inside, leaving you feeling cold and clammy.
Try snowboarding (or even worse, splitboarding) in one of those free plastic ponchos they hand out at music festivals and you'll see what we mean. Sure, the plastic might be waterproof, but you won't stay dry inside for long!
Every decent snowboard jacket should have a waterproof and breathability rating on the label, usually written as something like 10,000/10,000, or even just 10k/10k.
Waterproof & breathability ratings explained:
The first number is the waterproof rating. It's calculated by placing an open ended plastic pipe on the exterior fabric, and filling it up with water until droplets start to appear on the inside. The more millimetres of water the column holds, the more water pressure the fabric can handle, and so the more effective it is at keeping out snow, rain, or spilt beer.
Breathability is measured in grams/metre square/24hrs — i.e. the weight of moisture that will pass through a metre square patch of fabric over a 24 hour period. The higher the rating, the more effective a jacket's fabric will be at "wicking", or allowing sweat to escape away from your body, so the more breathable it is.
What waterproof or breathability rating do you need?
Snowboard jackets built primarily for piste or park riding are often made of fabrics that will resist a water column of 5,000mm - 10,000mm, and they'll usually have a similar breathability rating. This helps keep the price down, and you don't really need much more if you're never far from a café or a lift station in which to warm up or dry out.
Where you'll find higher waterproof and breathability ratings is on jackets built for the backcountry, and especially for splitboarding, where you'd expect to work up a sweat. These tend to be more expensive.
It's worth noting that some of the most waterproof and breathable fabrics, like Gore-Tex (used on the Burton jacket above), Patagonia's H2NO material, or the Futurelight fabric patented by The North Face, don't always come with waterproof and breathability ratings listed. All three however, are usually well above 30,000 (depending on what kind of Gore-Tex or Futurelight that's used).
2) Insulated or Shell:
Insulation obviously helps keep you warm, but you'll find that many higher-end, backcountry focussed jackets actually don't contain insulation. This is because snowboarders heading into the backcountry often prefer the added control of being able to layer up underneath their jacket, rather than having the insulation built in.
Jackets without insulation are known as shell jackets. Those with, are called insulated jackets.
3) Features:
A decent snowboard jacket will have a whole range of different features, many of which you won't find on a regular waterproof jacket. Things to look out for include:
A powder skirt: This links to your snowboard trousers and prevents you getting snow up your back or down your pants.
Zip pockets: Which prevent you losing your phone, wallet or whatever else you put in them. The more, the merrier, unless you're looking to keep your jacket weight down.
Waterproof seams & zippers: Usually seen on higher end, backcountry jackets, these stop the tiny bits of moisture that might seep in through seams or zips.
Adjustable hood: A hood that you can fit snugly around your face, which can be handy if the weather turns really bad.

4) Fit:
Perhaps the most important factor of all is whether a snowboard jacket fits you properly. Most brands now publish size guides on their websites, and it's worth making sure that you check these out before you make a purchase.
After all, there's no point on shelling out on an amazing new jacket if it's going to be too tight or too big!