Snowboard bindings are the essential link between you and your board. They're often overlooked when people are picking a new snowboard set up. Browsing for boards—whether you're looking for a ride-anything all mountain snowboard, a freestyle model or a specialist freeride board—and snowboard boots can feel more exciting. But getting the right bindings is still a vital part of the process.
What to look for when you buy snowboard bindings
These days, there are a huge range of different binding types available on the market—so many, in fact, that choosing the right ones sometimes feels like battling through an impenetrable jungle of jargon. But choosing the right ones for you isn't actually that complicated—broadly speaking, there are three main factors you have to consider.
Fit
This is fairly self-explanatory—you need to get a pair of bindings that will fit your snowboard boots. Most bindings are sold in small, medium or large sizes, or sometimes combinations of the two (S/M and M/L for example). Make sure you check the manufacturer's website to be sure what size binding your boots need.

Also, check whether the bindings you're looking at are men's snowboard bindings or women's specific models, because obviously a small women's snowboard binding is designed to take different-sized boots from a small men's. If you really want to be sure, take your boots down to a shop and double check they work with your chosen snowboard bindings before you buy 'em.
Flex
Most manufacturers give their snowboard bindings a flex rating between 1 and 10. The higher the number, the stiffer the bindings. Stiff bindings are more responsive, giving you a more immediate transfer of power between your ankle/boot and the board. They're better for riders who need precise, edge-to-edge control for things like carving, halfpipe riding, or hitting really big kickers. But they're harder to turn on, and generally more expensive.
Softer snowboard bindings are more forgiving. They're easier to turn on, and let you get away with mistakes easier—like saving a sketchy landing after a rail trick. For that reason, park riders and rail specialists tend to favour softer bindings. They're also better for beginners, as they're much easier to learn on.
Features
Although manufacturers often mention a bunch of different features on bindings (toe ramps, different binding straps etc.) the main ones you need to think about are the interface with the boot and the interface with the board.
The Burton channel system
Firstly, the board interface: most bindings are universal, but if you have a Burton snowboard, which features their patented channel system, you'll need to buy a pair of channel compatible bindings. Similarly, there's no point buying a pair of specialist splitboard bindings, like the Sparks listed below, and trying to fit them onto a regular snowboard.
Straps or step ins?
Secondly, the boot interface: For years, almost all snowboard bindings had two conventional straps, but in 2017, Burton launched their Step On binding—a modern take on the idea of step-in bindings, which had died out in the 90s when no-one could quite make them work.

Since then, several other brands have launched different step in systems, most notably Nidecker, with their revolutionary 2021 model, the Nidecker Supermatic. While Burton's Step On system only works with compatible Burton boots, Nidecker's model, with a folding highback, allows you to use your existing boots.
Once you've worked out the correct fit, flex and boot-to-binding interface you need, it's time to get browsing. We've chosen six different bindings here, aimed at a range of different riding styles—from easy-flexing beginner models to stiff high end options aimed at pros, and even a splitboard binding. These, our team believe, are the best snowboard bindings on the market this winter.
Best Snowboard Bindings 2023-2024
Burton Freestyle Bindings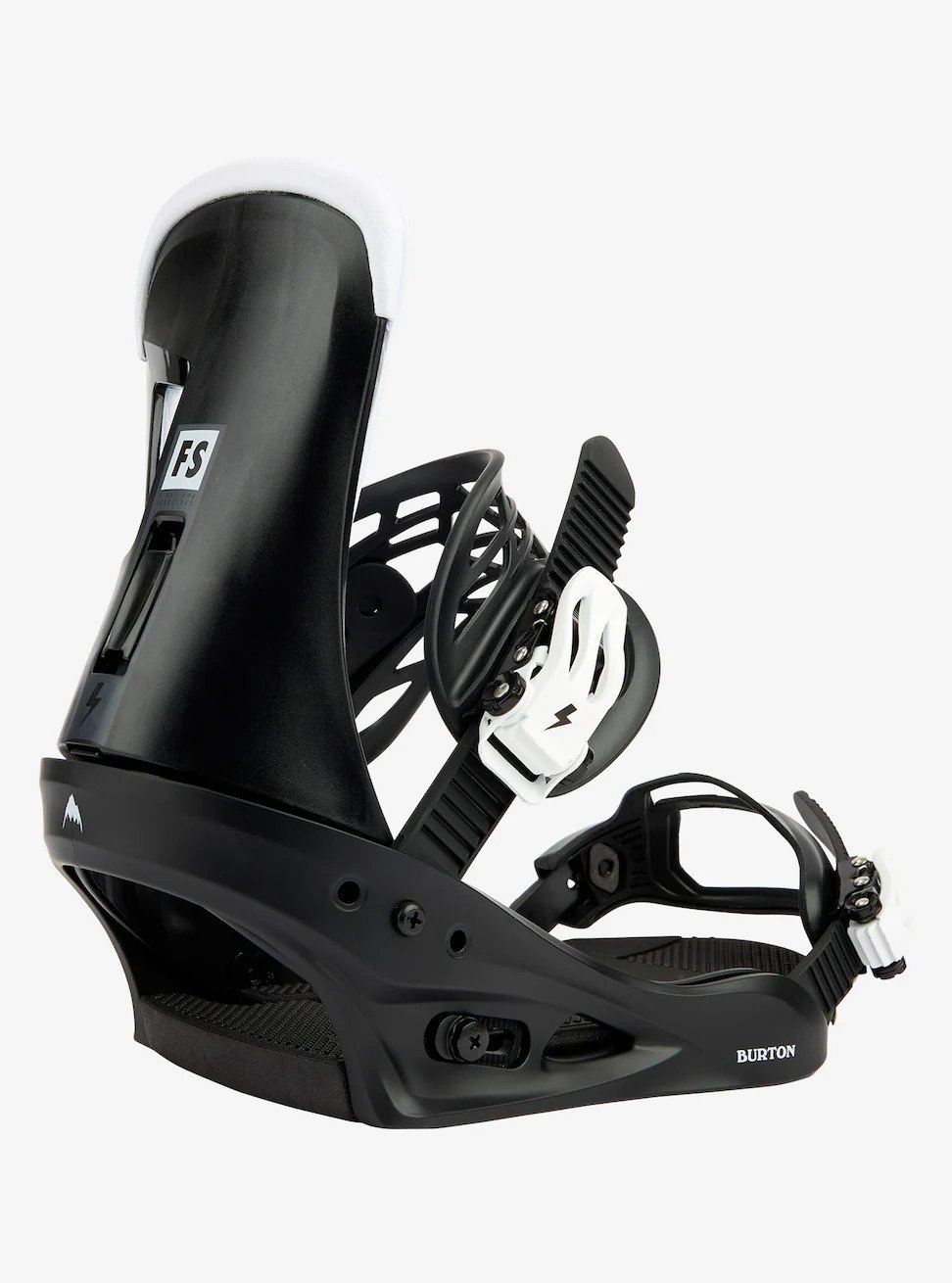 Men's binding
RRP £180
Flex 3
Burton Step On bindings are rightly hyped as the next big thing, but the brand built its reputation with more classic models. They don't come much more classic than the Burton Freestyle binding, which has been in production for more than 20 years.

Today's Burton Freestyles have about as much in common with the 90s originals as an electric Ford Mustang does with an original Cortina, but the target market—freestylers and those buying their first snowboard set up—is the same. Soft flexing, super-versatile and available for every boot size going. There's a reason these have sold so well down the years.
Buy Burton Freestyle Bindings: £174.99 at Amazon
Jones Aurora Bindings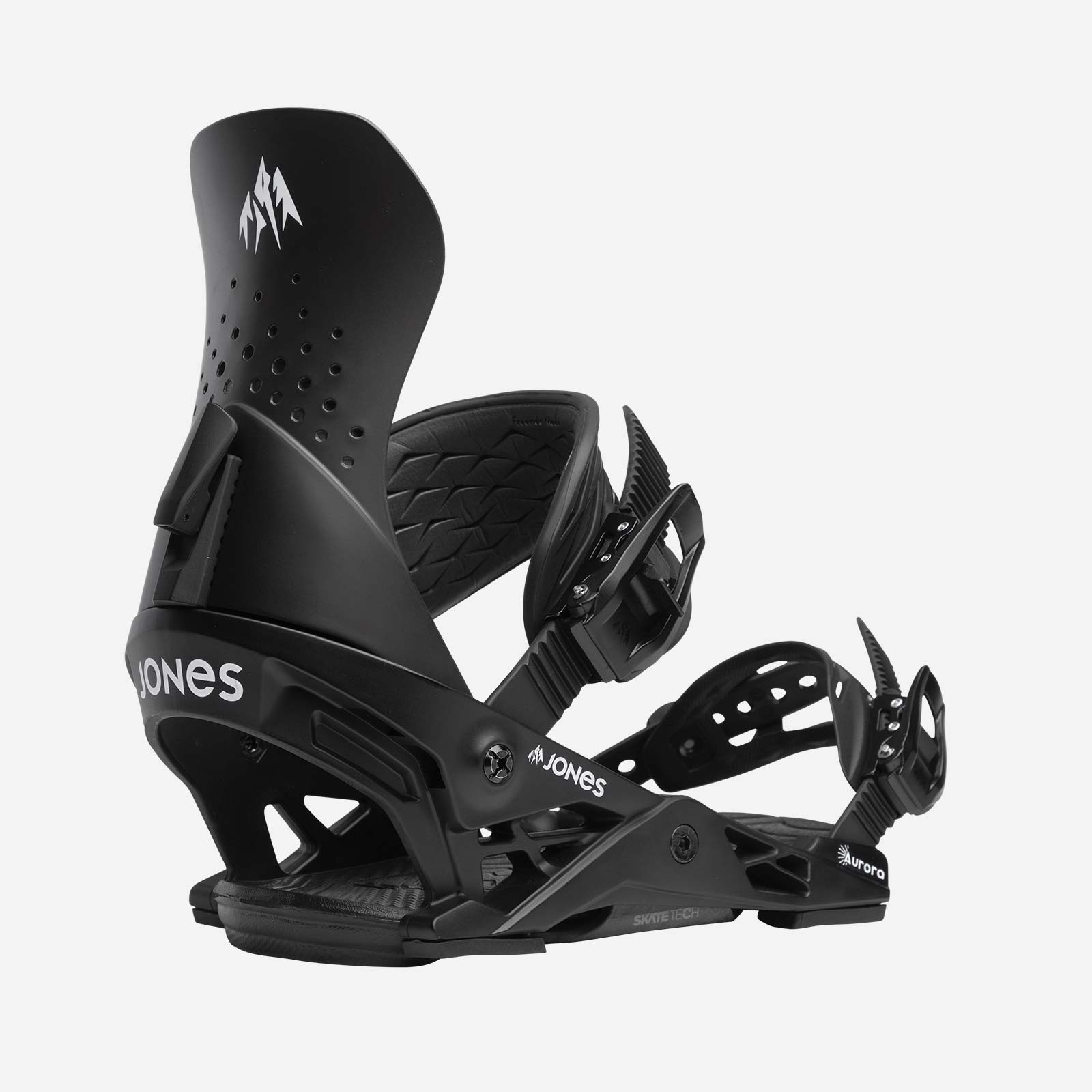 Women's binding
RRP £360
Flex 7 (or 4 in "surf mode")
Jones, the snowboard brand founded by American backcountry legend Jeremy Jones, started making men's snowboard bindings a few seasons back, but 2023-24 is the first year they've launched a women's range. The Aurora is based off the same chassis as their popular men's Orion model, but tweaked for the female foot.

Like Jones' boards, their bindings tend to be stiffer and more freeride focussed. But there's a neat little feature here that means you can alter the flex if you want to ride a couple of slushy park laps. By switching out the 'bushings' beneath the toe and heel for the softer rubber ones (sold with the binding), and inverting the main binding strap, you can change these from "freeride mode" to "surf mode". Shaka.
Buy Jones Aurora Bindings: £293.42 at Snowcountry.eu
K2 Cassette Bindings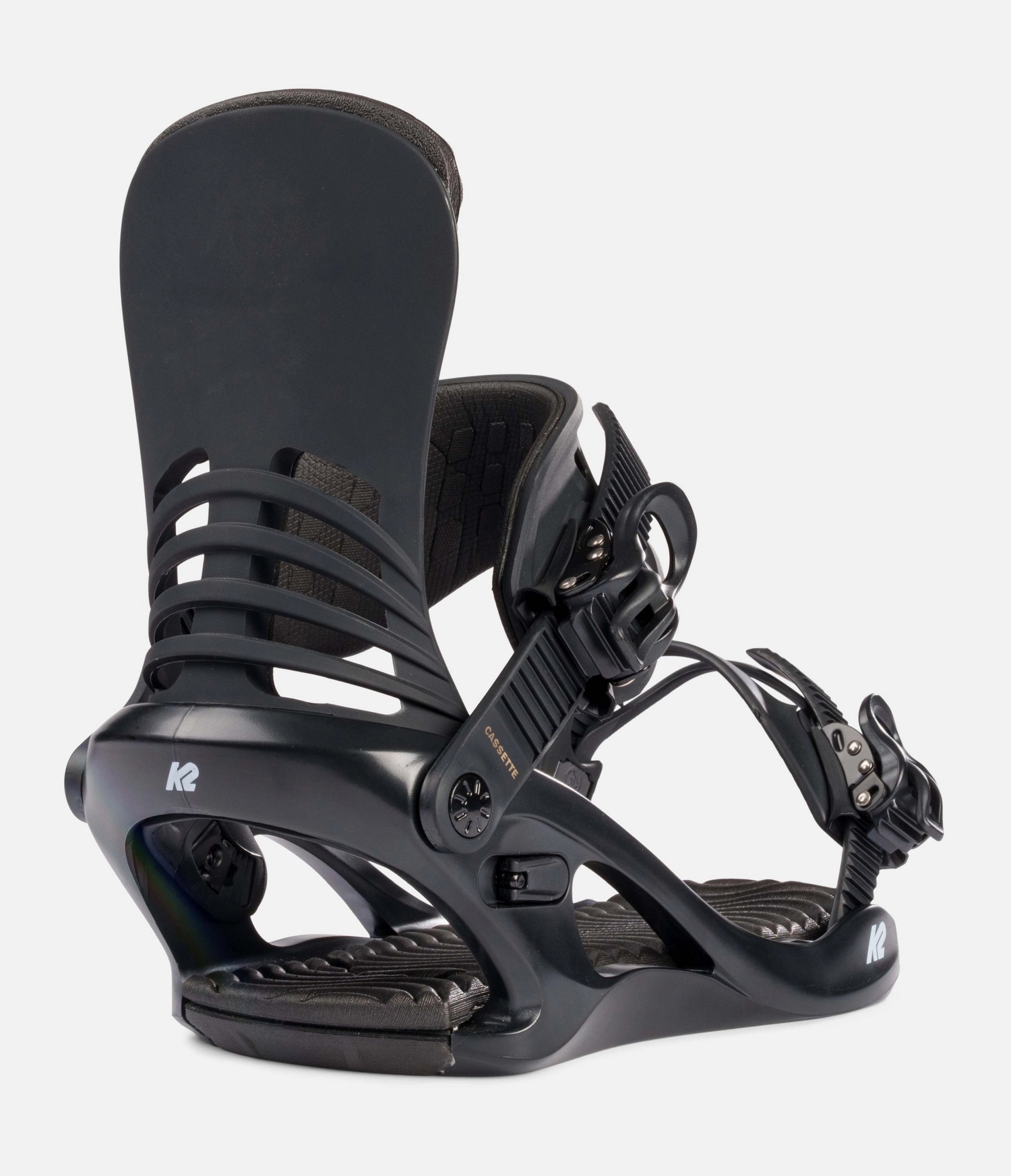 Women's binding
RRP £155
Flex 4
Like the Burton Freestyles, K2 Cassette snowboard bindings are soft-flexing and forgiving, making them perfect for beginners and those buying their first snowboard set up. They're fairly simple, with a conventional strap-based entry system, but they're as well made as you'd expect from K2.

There a couple of neat tech bits which have trickled down from the company's more expensive models and are now featured on the Cassette too, including the 3D canted footbed, which helps your foot sit in a more natural position, and the urethane-infused 'Tweakback' highback. Made from the same material as skateboard wheels, this is designed to be twisted so it can always sit flush behind your boot, allowing for more precise control.
Buy K2 Cassette Bindings: £161.39 at Amazon
Nidecker Supermatic Bindings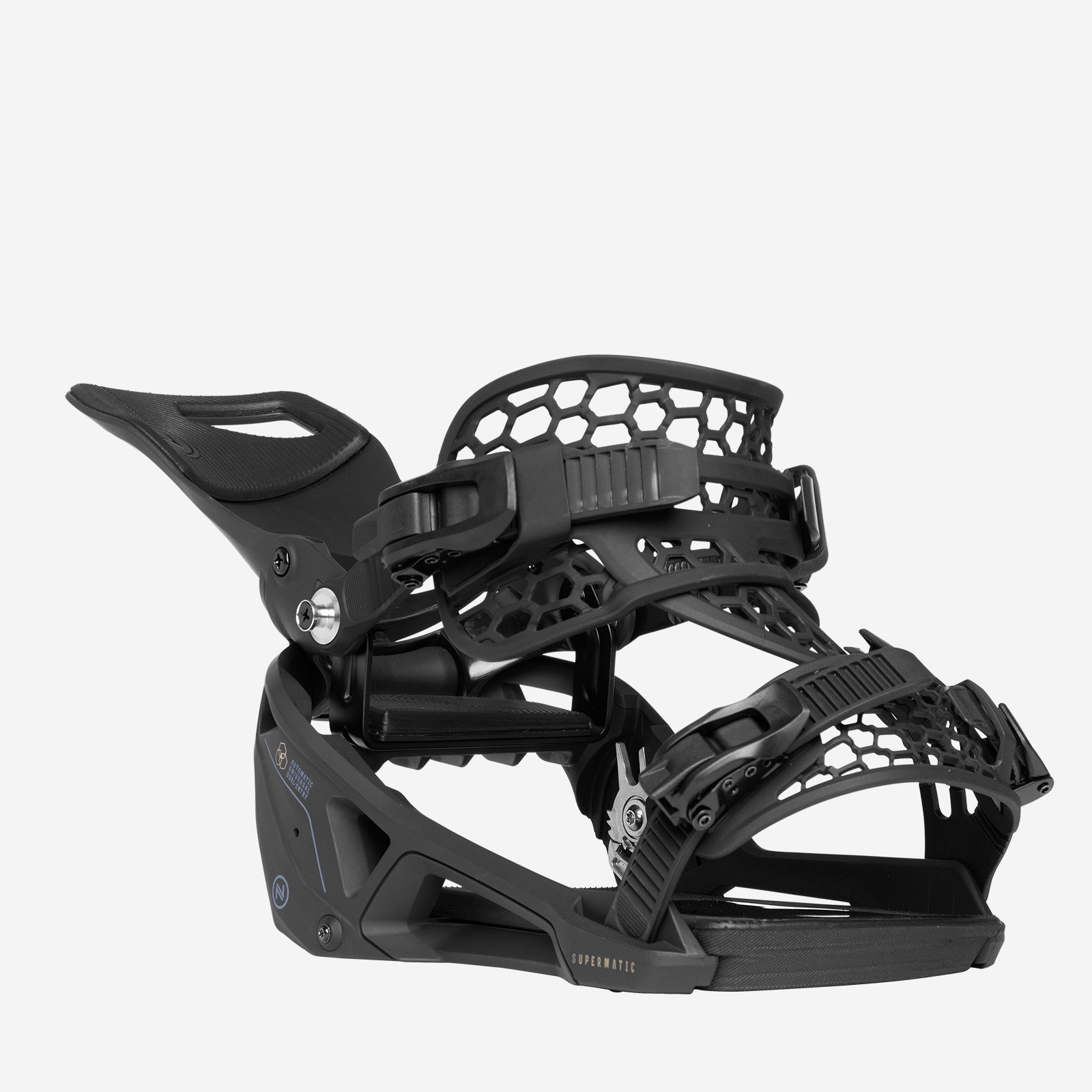 Unisex binding
RRP £399
Flex 6
Launched last year, the Supermatic Bindings have absolutely flown off the shop shelves, proving popular with riders of all stripes. Their USP is that they offer a sophisticated step in entry system that works with any snowboard boot (as opposed to Burton's Step On system, or K2's Clicker X, both of which require special boots). There's a folding highback and a heel pad attached to it. Fold the highback down, kick your boot into place, and the high back clicks back up as you stamp down on the heel.

The brand calls it "Drop In" tech and it's the closest thing to the ease of a ski binding yet invented for snowboarders. If you find yourself on a steep slope, where you'd rather put your board on at an angle, you can use the straps just like you would a conventional binding. These aren't cheap by any means, but they are a genuine game-changer.
Buy Nidecker Supermatic Bindings: £330.10 at Snowcountry.eu
Spark R&D Surge Splitboard Bindings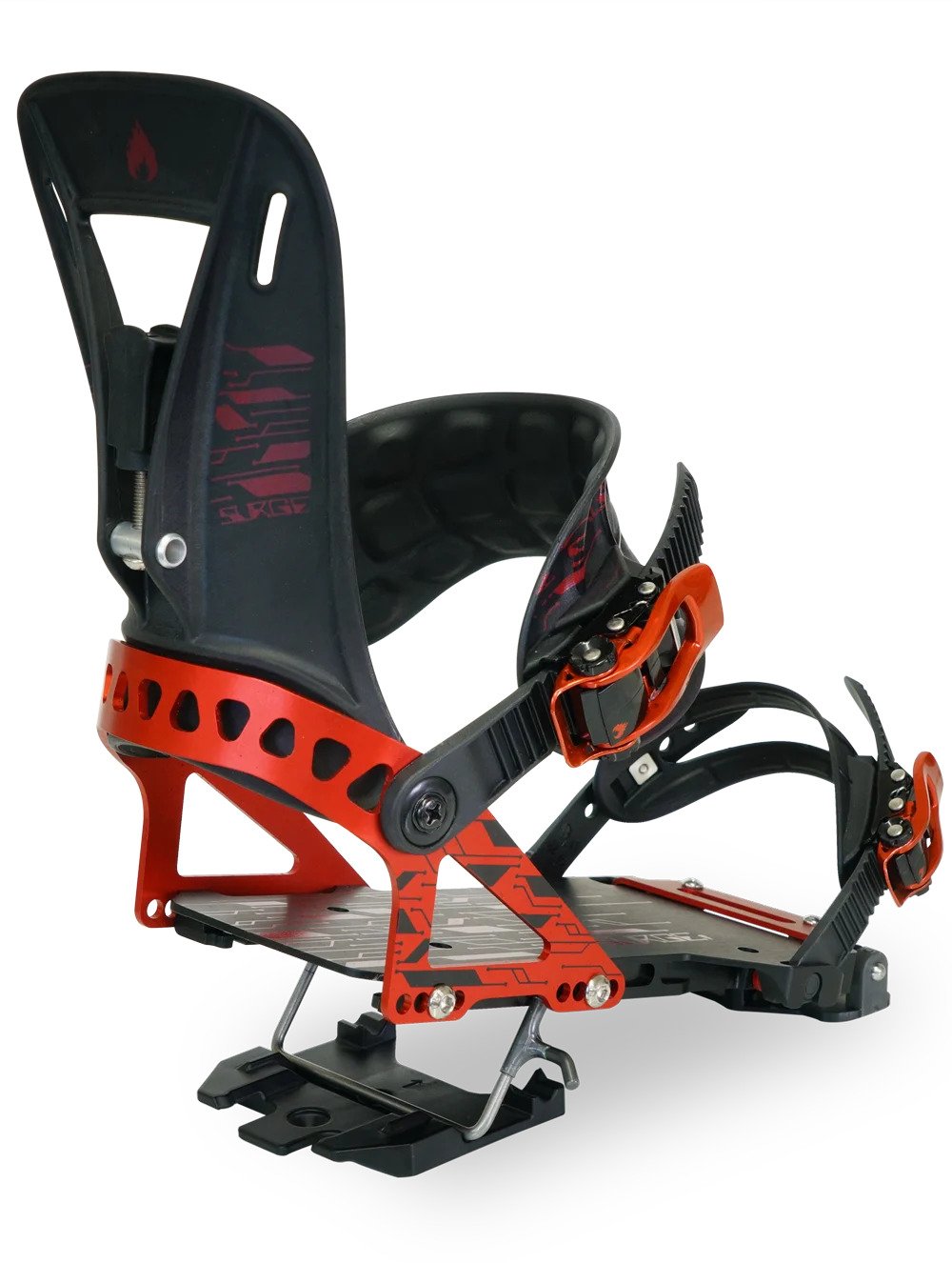 Unisex binding
RRP £450
Flex 8
Splitboards - which can split into two 'skis' with climbing skins on the bottom—allow snowboarders to explore the backcountry much like ski tourers would. There are a whole range of different systems for splitboard bindings, and the technology is developing all the time. But having tried a few, we believe the best currently on the market, in terms of price and ease of use, is the system developed by Montana-based brand Spark.
The key to the design is what they call the Tesla Snap Ramp, a moveable toe piece which makes switching from climb to descend modes super easy. There's no faffing around with fiddly pins, and it works really well in powder, as well as very cold conditions. The Surge are the stiffer Spark model, with a more solid baseplate, designed to take more of a pounding. While they're not cheap when sat next to regular bindings, they're eminently reasonable when you compare them to other splitboard models.

Buy Spark R&D Surge Splitboard Bindings: £418.14 at Snowcountry.eu
Union Force Bindings
Men's binding
RRP £289.99
Flex 6
Italian brand Union Bindings have been making a model called the Force since they first launched in 2005. With a mid-stiff flex, they're designed for all-mountain riders who want to dabble in a bit of everything: powder in the morning, park laps in the afternoon. They're also available in a huge range of colours, to suit any board graphic.

Union pride themselves on their bombproof construction, offering a lifetime guarantee on their baseplates and heelcups. Having owned a pair of Forces for many years, we can confirm they're built tough—there are dings and dents in the heelcup, but nothing that stops them performing their function. If you're after a no nonsense all rounder, at a reasonable price, you could do a lot worse than follow Obi-Wan's sage advice: use the Force.
Buy Union Force Bindings: £289.99 at eu.unionbindingcompany.com