Freeride snowboards are made for powder hounds: riders who love nothing more than the feeling of floating through the lightest, fluffiest snow they can find.
Tuned for maximum flotation in the soft stuff these powder snowboards are fairly specialist beasts - they won't beat a beginners' board, or an all mountain model when it comes to piste cruising. But that's not the point. They're built with one thing in mind: to make powder days—already the best days—the best they possibly can be.

We're selected a range of different powder snowboards here, from wide waisted models designed for quick turns on tree runs, to long, swallowtail beasts built for straight-lining couloirs.

We've also included a few splitboards, because splitboarding (which has become the fastest growing sector of the snowboard gear market in recent years) provides possibly the ultimate access to powder. When everything you can reach from the lifts is tracked out, simply strap your skins on, and head deeper into the backcountry!
Contents
Burton Hometown Hero Splitboard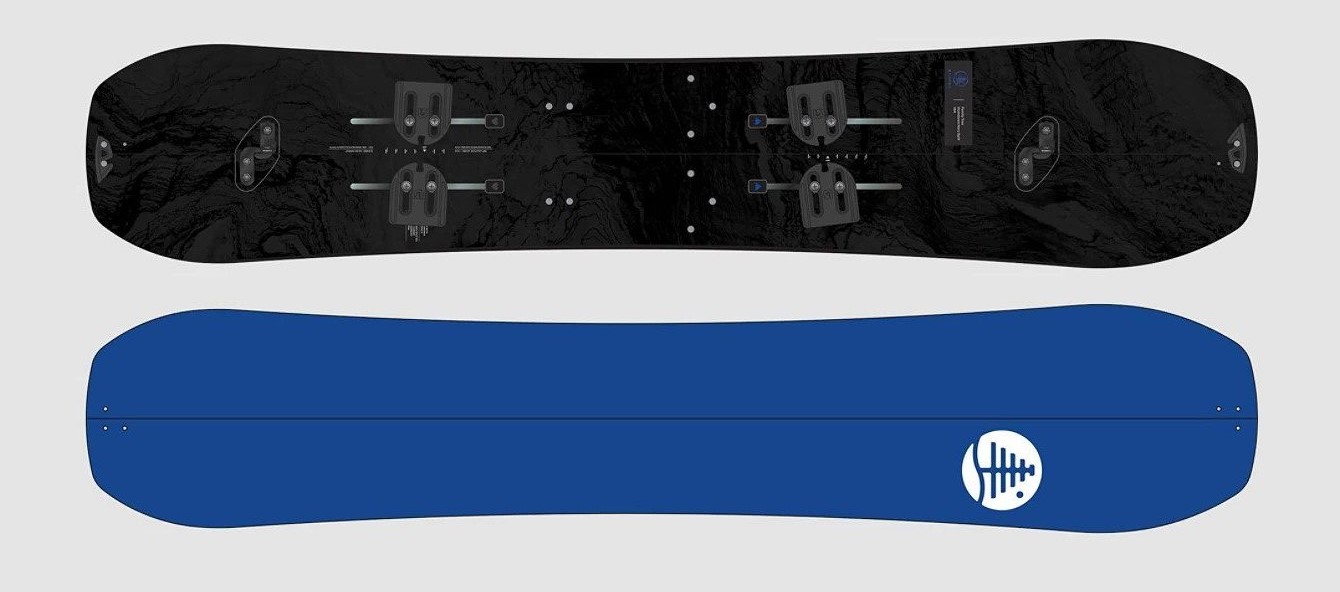 Although it was originally designed for ripping through the tree-lined hills of Vermont, near Burton's home base of Burlington, the brand's testers quickly realised the Hometown Hero was a highly versatile beast. The tapered shape, and wide, spoon like nose helps it float in really deep powder, while the mid-stiff flex (which we'd put at about 7 out of 10 on the stiffness scale) helps it power through chopped up snow and crud like it's nothing.

SNOW has ridden the splitboard version in a variety of different conditions this winter — from bombing high alpine couloirs in France, to cutting between tight trees in the Dolomites —and it's handled everything with aplomb. It climbs well, carves like a dream on hardpack runouts and pistes, and never feels anything less than 100 percent solid underfoot. On at least three separate occasions, we've ridden out of rock drops that we had no right to land, purely because this board is so stable. We've not tried it in the backwoods of Vermont, but we're willing to bet it would rock there too.
Best for Accessing powder, wherever you find it.

Verdict A rock solid beast of a board that will help you power through whatever terrain you find.

Overall rating 9/10
Buy Burton Hometown Hero Splitboard: £796.73 at Blue Tomato
Lib Tech Orca

The Orca is basically a Fish board - a short, fat model with a wide nose built for quick turns in powder. But as the name suggests, it's one that eats most fish for breakfast. It's softer than some freeride boards, making it easier to throw around in the air, and more forgiving to carve. Thanks to Lib Tech's patented 'Magne Traction' serrated edges, however, this grips hardpack and ice like a much stiffer board.

The highly directional shape and the setback stance might suggest this isn't really a freestyle stick, but you can actually ride this switch too. "I thought this was going to be a quiver board," said Travis Rice, who helped to design this strange looking beast, when it first emerged, "but I rode [it] for most of the season". Given that he's arguably the best all-round snowboarder in the world, that's high praise indeed.
Best for Deep days, and British Columbian pillow lines.

Verdict This is now one of Lib Tech's most popular models. One run is all it takes to see why.

Overall rating 9/10
Buy Lib Tech Orca Snowboard: £614.99 at The Snowboard Asylum
Jones Stratos Splitboard

The Stratos was initially built as an experiment. Legendary freerider Jeremy Jones was wondering what might happen if you combined a powder-friendly shape - wide nose, tapered tail, cutaway at the back - with a freestyle flex. What happened, apparently, was that Jones had one of his best ever days on the hill, and immediately ordered a limited production run.

They sold like hotcakes, so unsurprisingly, Jones included it as a proper production model, and soon afterwards, released this splitboard version. One of the most versatile 'freeride' boards out there, this floats like a dream in powder, and carves like a beast on piste. Despite the directional shape, it can even be ridden switch.
Best for Carving, whatever the conditions.

Verdict Powerful without being too stiff, this is an experiment that's paid off in spades.
Overall rating 8/10
Buy Jones Stratos Splitboard: £839.95 at The Snowboard Asylum
Nidecker Megalight

A family-run company founded by Henri Nidecker in Rolle, Switzerland, back in 1887, Nidecker has a long and proud history. Originally, it was cartwheels rather than piste-carving tools coming out of the family workshop, but they started building snowboards as early as the 1980s. In the 90s, they pioneered inventions like asymmetric sidecuts and rocker profiles that remain popular to this day.

The latest generation of Nideckers were raised standing sideways, and have poured lots of time and effort into their range in recent years, resulting in high tech boards like the Megalight. This combines weight-saving features, like the brand's Freeflex 3.0 system, which replaces wood and fibreglass in the nose and tail with lighter materials, with a medium flex and a setback stance. It's super fast, and excels at straight-lining Swiss couloirs. If only Henri senior could see what the Nideckers are up to now!
Best for Straightline speed, and responsive carving.

Verdict Light, fast and fun, this is a high end powder snowboard that nonetheless won't break the bank.

Overall rating 8/10
Buy Nidecker Megalight Snowboard: £625 at The Snowboard Asylum
Amplid Surfari

As the name implies, the Amplid Surfari is a freeride board designed for big, floaty carves. The brand, founded by German ex-pro Peter Bauer, is based in Bavaria, and like its fellow Bavarian companies, BMW and Audi, has developed a reputation for precision engineering. The Amplid Milligram Splitboard has a reasonable claim to be the lightest splitboard in the world.

This freeride board combines a swallow tail, which helps keep your weight back, with a camber profile between the bindings, that makes it feel snappy in and out of turns. The medium flex, a 7 out of 10, is softer than you might find on some powder snowboards, which makes it more forgiving, and easier to ollie. It also makes it surprisingly easy to ride on piste, so while it might look like it's designed purely for deep snow, you can actually surf this stick anywhere on the mountain.
Best for Making massive, sweeping turns on all kinds of snow.

Verdict Not as stiff or stable as some, but the payoff is that this is more fun and versatil than many powder snowboards.

Overall rating 7/10
Buy Amplid Surfari Snowboard: £699 at The Snowboard Asylum
Jones Solution Splitboard

The Solution was the first splitboard in Jones' line, so-called because it was the answer to the problem of how to continue accessing awesome backcountry lines without using helicopters or snowmobiles. Last year, the brand gave it a complete overhaul, adding a greater taper at the tail and their new 3D contoured base. The latter, which makes turn initiation smoother and easier, was introduced on Jones' solid models a few seasons ago, but putting it on splits was trickier, for obvious reasons.

When climbing, the solution is light and well balanced, with the roughly equal nose and tail length making kick turns a doddle. When descending, its Traction Tech 3.0 edges will help you grip on icy surfaces. Whether you're negotiating a tricky pitch between rocks, making tight turns through the trees, or gunning the throttle on an open powder field, this versatile freeride board will make it easier.
Best for A splitboard for all seasons.

Verdict Arguably the most versatile splitboard going. Will handle anything you throw it off.

Overall rating 9/10
Buy Jones Solution Splitboard: £869.95 at The Snowboard Asylum
Weston Japow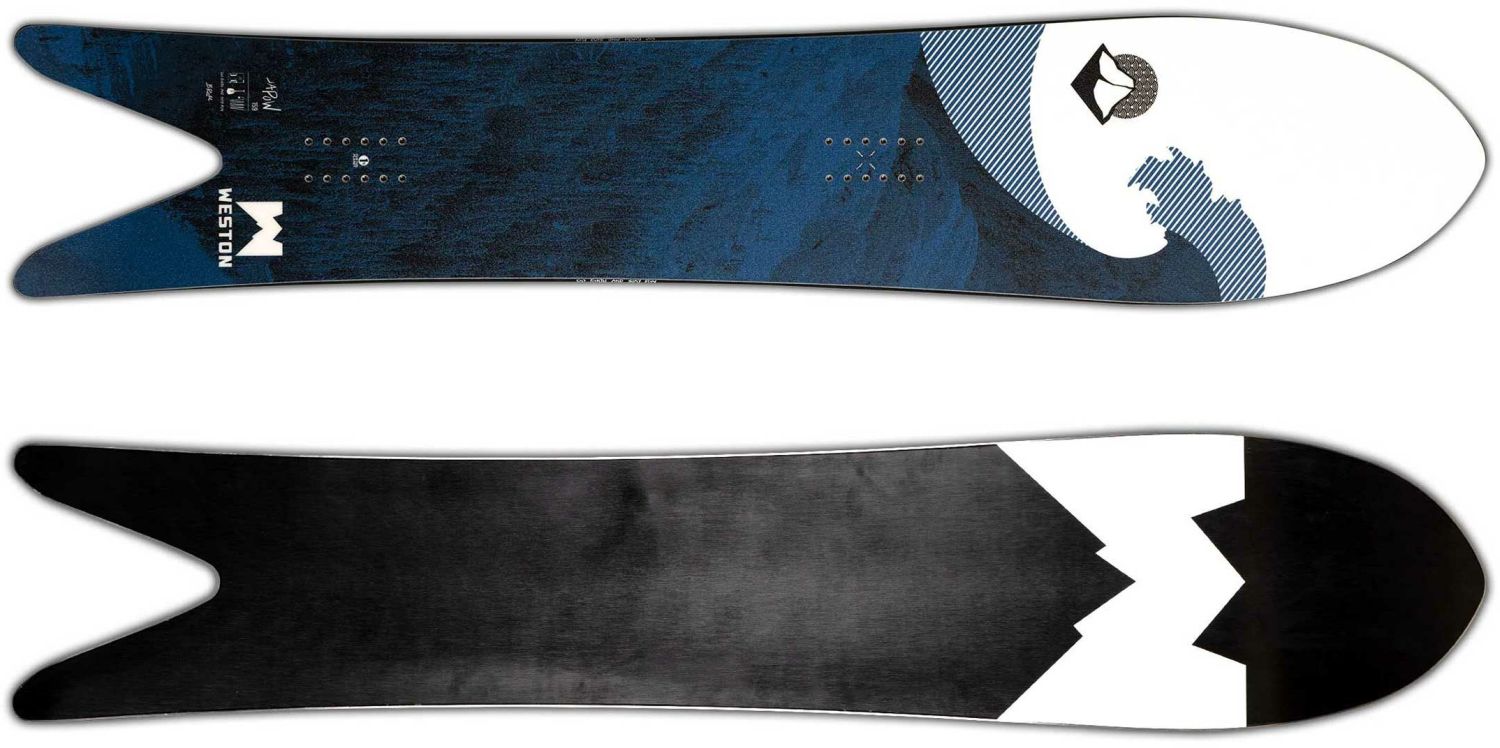 Based in Colorado, Weston are a bespoke brand that only make a small, hyper-specialised range of powder snowboards. Perhaps understandably, these are generally reckoned to be some of the best in the business.
The Japow is the brand's powder gun for truly deep days (or every day, if you're in Niseko). With a massive spoon nose, and one of the deepest swallowtail cutaways you'll see this side of 1989, you'll never have to worry about back leg burn again. Because the brand have worked hard to reduce their emissions, you can feel good about minimising your impact on the planet, and preserving snow for the powder riders of the future when buying this too.
Best for Shredding Niseko-deep powder.

Verdict If deep days beneath the treeline are your thing, this board should be in your quiver.

Overall rating 8/10
Jones Mind Expander

Jones' magical Mind Expander is a powder board made for the deepest powder days. Jeremy Jones worked with the surfboard shaper Chris Christenson on the shape, and it shows. With its swept up nose and stubby tail, it floats with minimal effort, even at the end of the day when your legs are tired and aching. On the 2022 - 23 model, the stance has been moved forward by 20mm, but the shape is seriously directional, and the nose is so wide there's no danger of nosing under.

Other improvements this year include the new surf camber profile, which introduces camber between the bindings for improved edge control and more responsive carving. Traversing hardpack or riding pistes is a surprising amount of fun on this board, helped along by Traction Tech 2.0 edges, which grip better on icy surfaces. If you want a surf-inspired powder board to tear it up wherever you shred, then buy a Jones Mind Expander - it's sick.
Best for Floating through the deepest of powder days with ease.

Verdict One of the most capable and fun freeride snowboards we've ridden.

Overall rating 9/10
Buy Jones Mind Expander Snowboard: £539.95 at The Snowboard Asylum
K2 Party Platter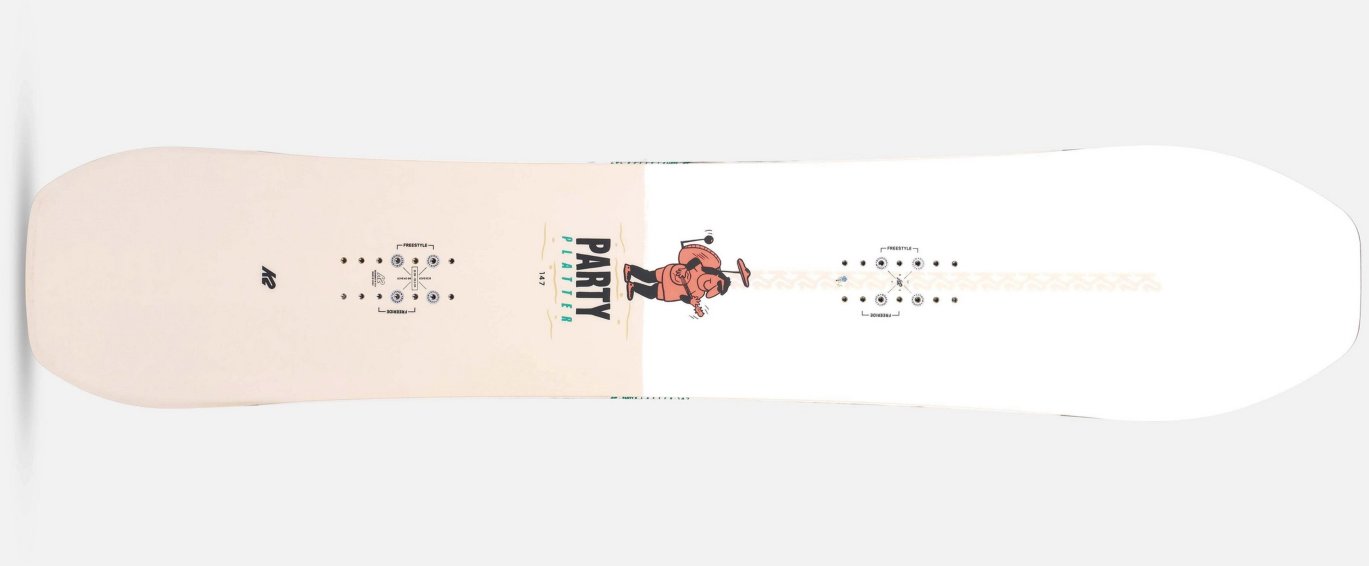 As one of the original Volume Shift boards—powder snowboards that use width, instead of length to increase their float in deep snow—the K2 Party Platter is now an established part of the company's line. The 2022 -23 version features a medium flex, and a profile that includes camber between the bindings and a gently rising rocker front and back.

K2's "ollie bar", a strip of carbon fibre that's inserted into the core between the bindings, makes the board feel snappy without losing its easy-going surfy feel. Here at SNOW, we've used this primarily as a powder board in the past, but it's also brilliant fun on piste, where the ultra wide shape makes for fun carves, and the pop helps you launch off side hits. In their own description, K2 say: "Many shaped built to zero in on one specific riding style - this is NOT one of those snowboards." Rather, this is a versatile beast that will prove popular whatever party you take it to.
Best for Maximum riding fun without the hang-ups.

Verdict For maximum grin-inducing fun, the Party Platter is very hard to beat.

Overall rating 9/10
Burton Flight Attendant Splitboard

The Flight Attendant is not as stiff as your average splitboard, making it more versatile and freestyle focussed than some of the powder snowboards out there. Although the nose is longer, the sidecut is centred on the inserts, which makes the board ride more like a twin, and you'll find riding switch surprisingly easy for a board with this amount of taper.

Make no mistake though, this is still a powder board first and foremost, and still ticks all the boxes you'd expect from great powder-hunting machine. The directional camber provides edge hold and stability between the feet, while an early-rise rocker helps the nose lift effortlessly in deep snow. As a split, this climbs well, and the channel system makes binding adjustments easy. If you're looking for a powder snowboard that's slightly more playful, and want the split option so you can head deep into the backcountry, this is a fantastic option.
Best for Freestyle tricks when you're miles away from the snow park.

Verdict It's forgiving and playful, not words that you'd associate with most powder boards.

Overall rating 7/10
Buy Burton Flight Attendant Snowboard: £690.49 at Blue Tomato
Ride Warpig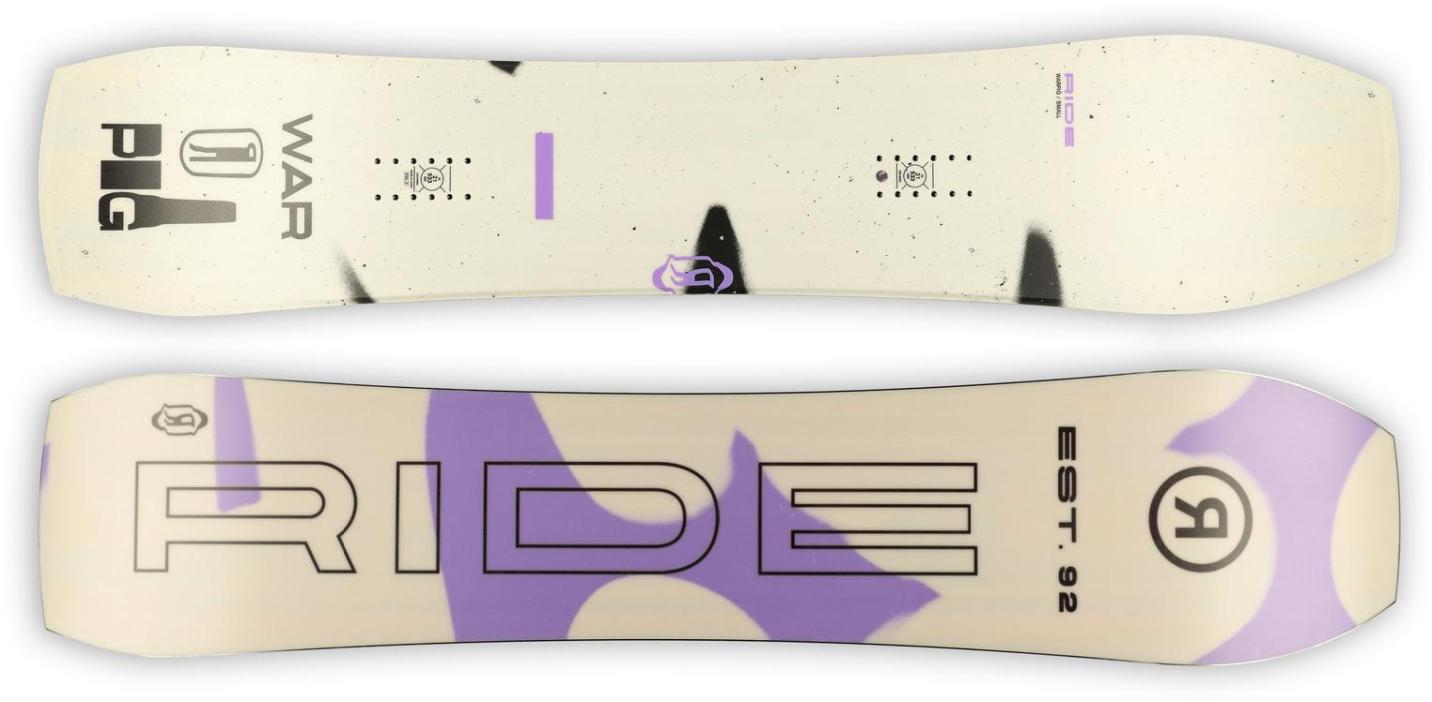 We put the Warpig in our freeride section but could just have easily added it to the all-mountain mix. It's popular for its versatility on piste and even in the park, but make no mistake, just because you can do tricks on this easily, doesn't mean it's not an excellent powder snowboard.

The freeride credentials are plain to see, with a directional shape and rocker profile with slightly early rise, the nose floats nicely in deep snow. The setback stance helps prevent back leg burn too. The stance is centred on sidecut, making it great for carving and giving excellent control on hardpack snow. The sidecut radius is shorter at the front, which initiates turns nicely, while the longer sidecut towards the tail gives stability and drive. The combination of this shape with a medium flex makes this a super fun, versatile ride.
Best for Having as much fun on piste as in the powder.

Verdict A fun, playful snowboard that works well wherever you ride it.

Overall rating 8/10
Buy Ride Warpig Snowboard: £478.02 at Blue Tomato
Buyer's guide: What to look for in a freeride snowboard
What flex should I go for?
Sometimes called big mountain snowboards, powder boards built for charging Alaskan-style lines tend to be quite stiff (7 to 10 out of 10) and have directional flex patterns - usually with a stiffer tail than nose for driving off the back foot and letting the nose float in powder. If your freeriding is a little more sedate than this, with laps through trees and side stashes within resort bounds on the menu then you'll probably want something a little more forgiving and playful.
Should the shape be directional or twin?
For maximum performance off piste, probably directional. Many powder snowboards have tapered tails, and fatter spoon shaped noses which help lift you in powder.
If you like to get more creative off piste then you should be looking at directional twins which encompass a seriously wide spectrum of snowboards. With these you can still reap some of the benefits of a twin snowboard for backcountry freestyle riding while retaining most of the things that make a snowboard float and send rooster tails in powder.
What about volume shift snowboards?
If you haven't already tried one, try one now. These snowboards shift volume from the length to the width so you get the same surface and contact area but a short shape for manoeuvrability and that extra width gives ultimate float. They're often great fun n piste too.
Which freeride snowboard should I choose?
Assess your needs and riding style first and foremost. If you're only interested in powder turns then get the most spoony nosed directional snowboard you can find, probably with a funky swallow tail.

If you also like a bit of versatility for less snowy days you should take inspiration from all mountain snowboards and reign in the directional shape a little. If you love to throw spins and grabs off cliffs (check you out!) then you're going to need a directional twin tuned for powder and freestyle in almost equal measures.