Picking the right pair of snowboard boots is probably the most important choice you can make when buying snowboard kit. Most people will obsess over choosing the perfect board, whether that's a go anywhere, ride anything all mountain snowboard, a freestyle model or a specialist freeride board. But boots are arguably more important. Pick the right pair and you'll probably be able to ride most rental boards pretty comfortably. Pick the wrong pair, and you're potentially opening yourself up to a world of pain, with ill-fitting inners that hurt your feet.
What to look for when you buy snowboard boots
The good news is that, as a rule, snowboard boots are far more comfortable than ski boots, due to their soft-shell outers. They also take less time to break in. However, they can still be rubbish if you buy the wrong types of boots for your foot shape or riding style. There are three main things to consider when choosing: Fit, flex, and features
Fit:
This is pretty obvious—like buying a pair of walking boots or running shoes, you need to make sure you get the right size, so you don't rub blisters.
It's worth remembering that different brands use different 'lasts' (the artificial feet around which boots are moulded) to build their boots. These days, all decent snowboard boots will have heat-mouldable liners, which shape to your feet over time. But some brands' boots will still just fit you better than others. It's an excellent idea to head to your nearest retailer to try a few pairs to get a feel for what works for you, and of course to get some advice from an expert boot fitter. 
Flex:
Manufacturers will give their boots a flex rating, usually between 1 (the softest) and 10 (the stiffest). The more flexible a boot is, the more forgiving it is. As a rule, more flexible boots are easier to manipulate into turns, butters, rail tricks, and lower-speed manoeuvres. But more flexible boots offer less support than stiffer models, and are, by definition, less responsive.
For this reason, most boots aimed at beginners and rail riders tend to be softer, whereas those who are riding faster—whether that's freeriding or hitting bigger park obstacles—will often opt for more responsive, and supportive boots.
Features:
Choosing the best snowboard boots also involves picking a pair with features that will suit you. Arguably the most important of these features is the lacing system, which is a matter of personal preference. Some people swear by the convenience or boa lacing systems, others prefer the infinite adjustability of traditional laces, and then there are those who love Burton's innovative speed zone lacing system.
These days, many boots offer a combination of two different lacing systems. Other features to look out for include the internal heel harness, which holds the inner liner in place, whether the boot has a power strap, and whether it allows you to add tongue stiffeners for extra response.
How we selected the best snowboard boots
Once you've worked out roughly what sort of boots you're after, it's time to start digging around. Here, we've selected a variety of men's snowboard boots and women's snowboard boots to suit a broad range of riding styles.

Obviously with only eight models selected, this list is far from exhaustive. But having tested many different boots down the years, we can safely recommend these as eight of the best snowboard boots on the market this winter.
Best Snowboard Boots 2022-2023
Burton Ruler Boa Boots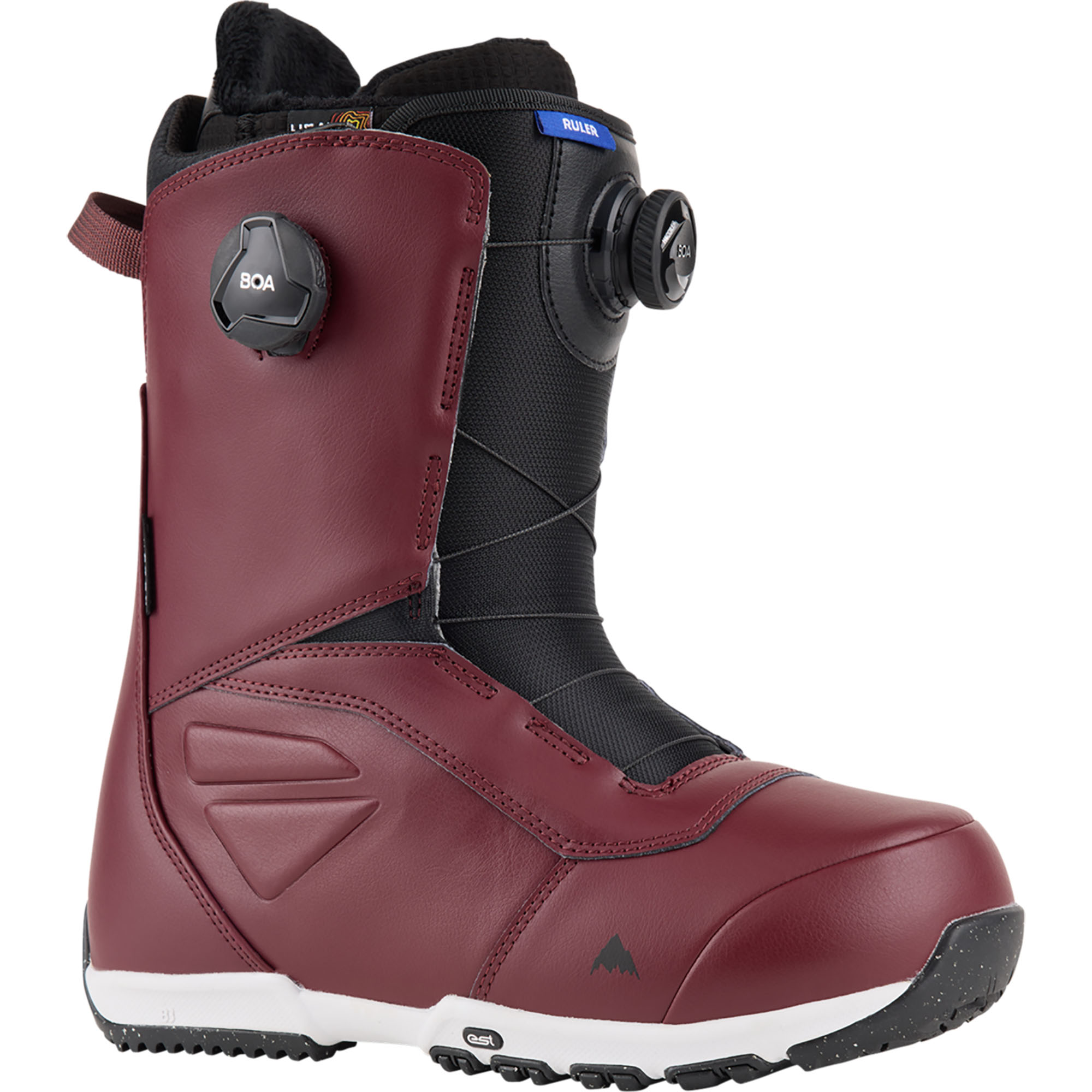 An absolute classic of Burton's men's line, the Ruler has taken countless snowboarders from near-beginner through to bigger and better riding. Available with various different lacing systems, it's been improved once again for this season, utilising Burton's proprietary tech from previous, more expensive models. The dual boa system on the model we've selected here allow for a super a precise, fit and the medium flex will suit all mountain riders. Reliably one of the best snowboard boots on the market every year, the Burton Ruler Boa 2024 doesn't disappoint.
Men's boot
RRP £320
Flex 6
Buy Burton Ruler Boots: £320 from Burton.com
DC Phase Boots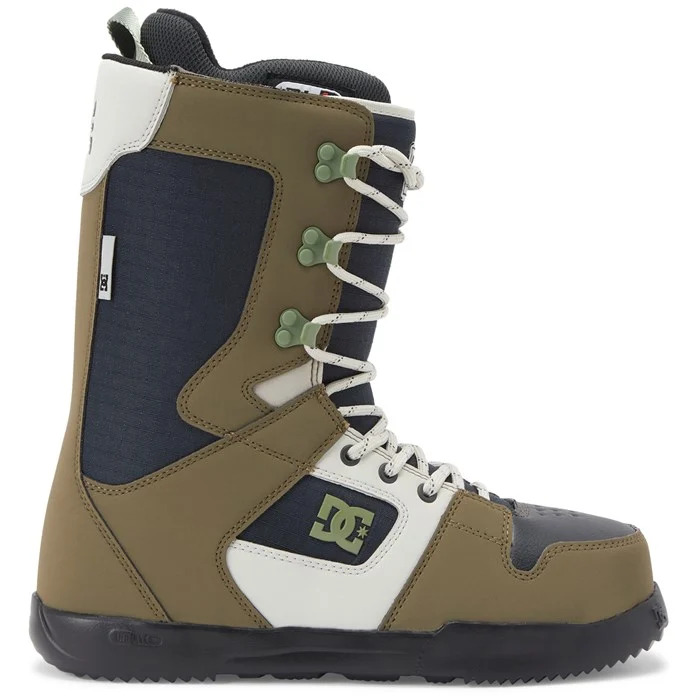 With a simple design, DC's Phase are old school, lace up boots without a Boa in sight. They're built to a budget but perform well for the price, still offering decent comfort, fit, and performance from a memory foam liner and impact resistant sole. They're soft flexing, which is perfect for both beginners and more playful freestyle riders, and they're available in a range of unisex sizes and colourways. They also have the durability to stand up to hard abuse.
Unisex boot
RRP £220 
Flex 5
K2 Contour Boots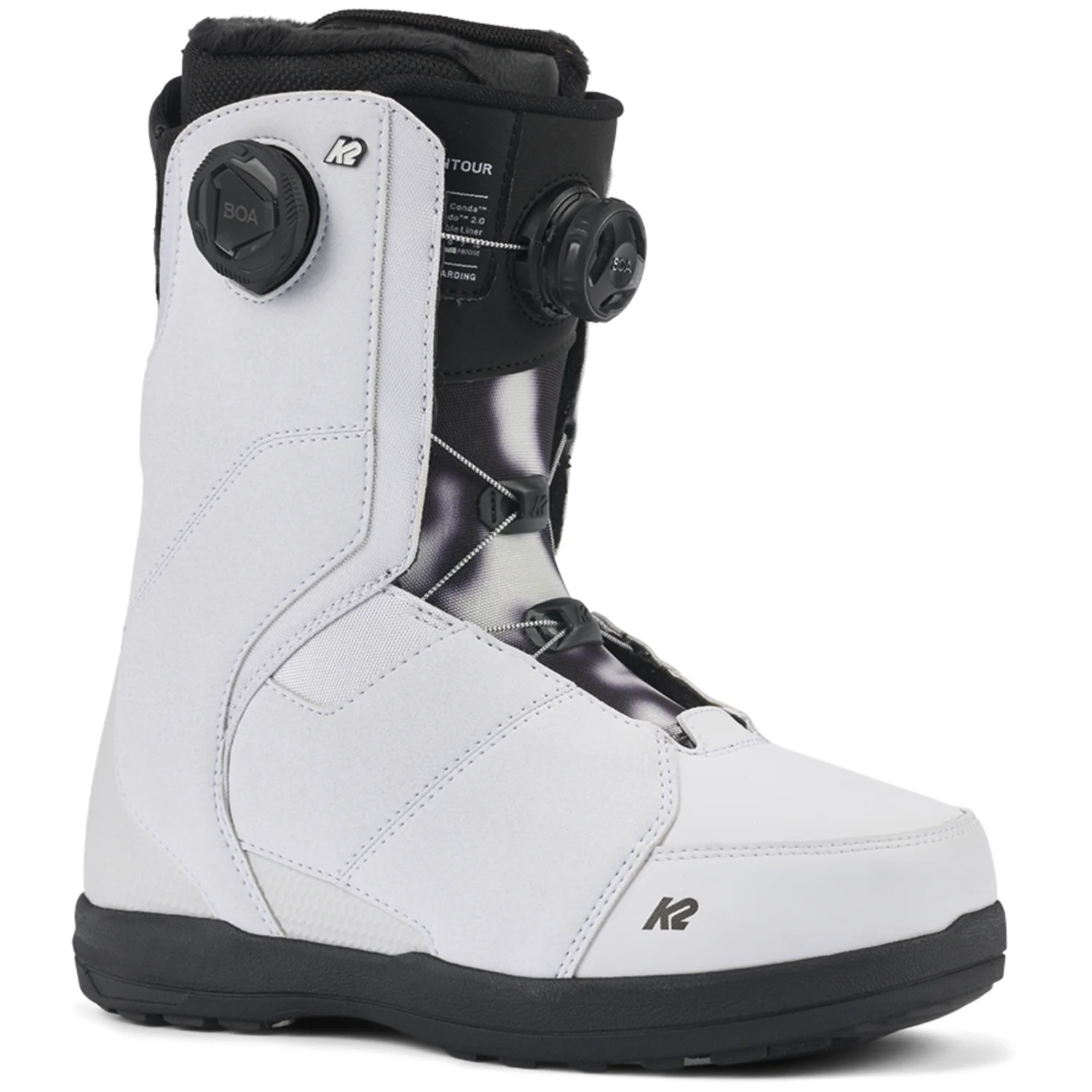 Stiff, and designed primarily with hard-charging female riders in mind, the K2 Contour is nonetheless incredibly comfortable. There's a dual boa lacing system on the outer, and the boa conda liner lacing system inside too, allowing you to adjust the fit very precisely. The relatively rigid flex means these will help you with high speed edge to edge carving, and they offer an incredible amount of support to help you power through chopped up snow, or land heavy jumps. If you're an advanced rider looking to take the next step up, the K2 Contours are a great option.
Women's boot
RRP £300
Flex 8
Buy K2 Contour Boots: £240 at Snowfit <SALE DEAL>
Ride Lasso Pro Boots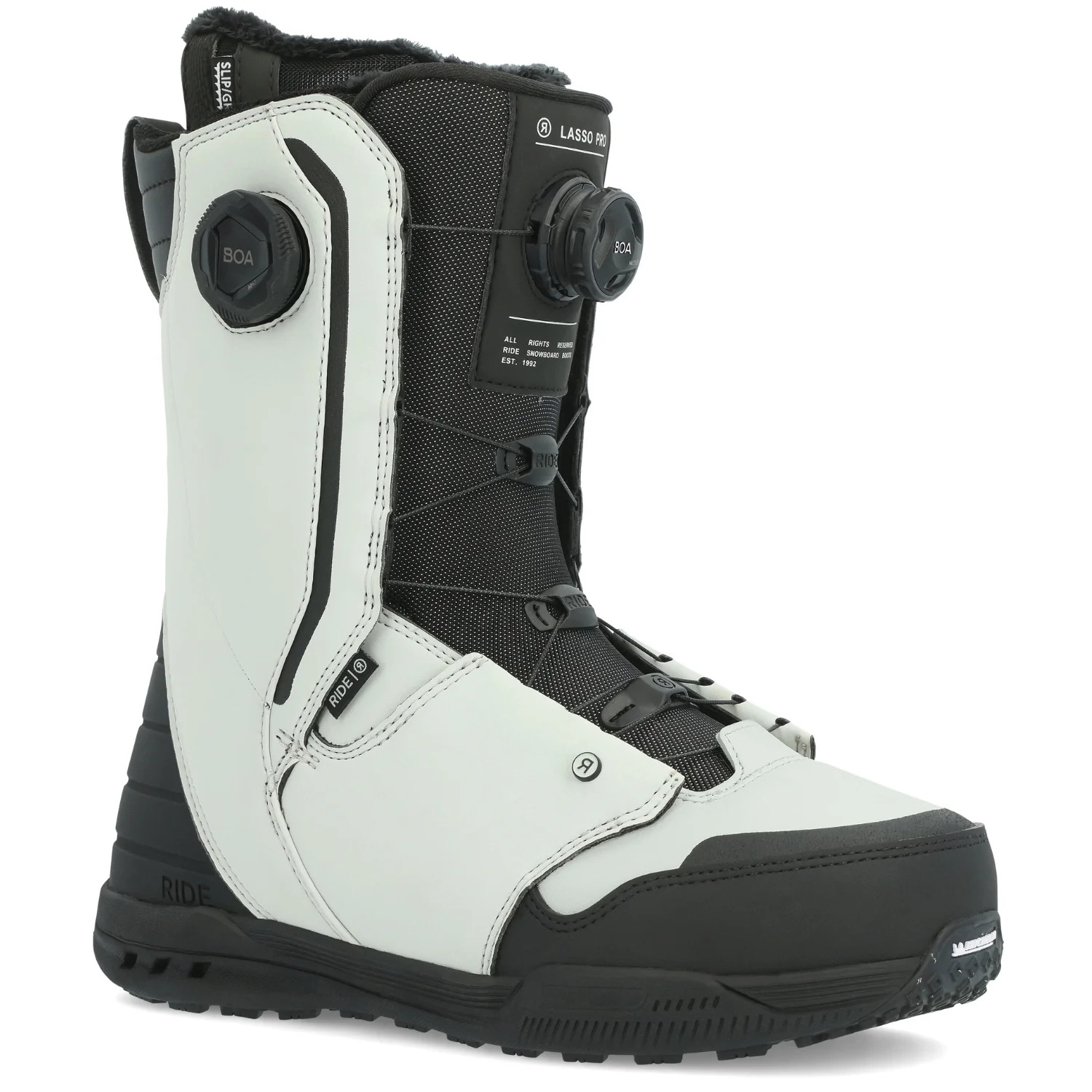 Designed to hold your foot with even pressure across its surface, Ride's Lasso Pro—available in both men's and women's sizes—is stiff and responsive, but puts comfort at the fore. A cushy sole absorbs impact and gives plenty of bounce back, and Michelin rubber provides excellent traction on all surfaces. The bamboo charcoal-infused liner eliminates pongs and a heat reflective foil under the foot keeps your toes toasty on cold days. These are ideal for advanced riders.
Unisex boot
RRP £385
Flex 8
Buy Ride Lasso Pro Boots: £385 at Blue Tomato
Salomon Dialogue Boots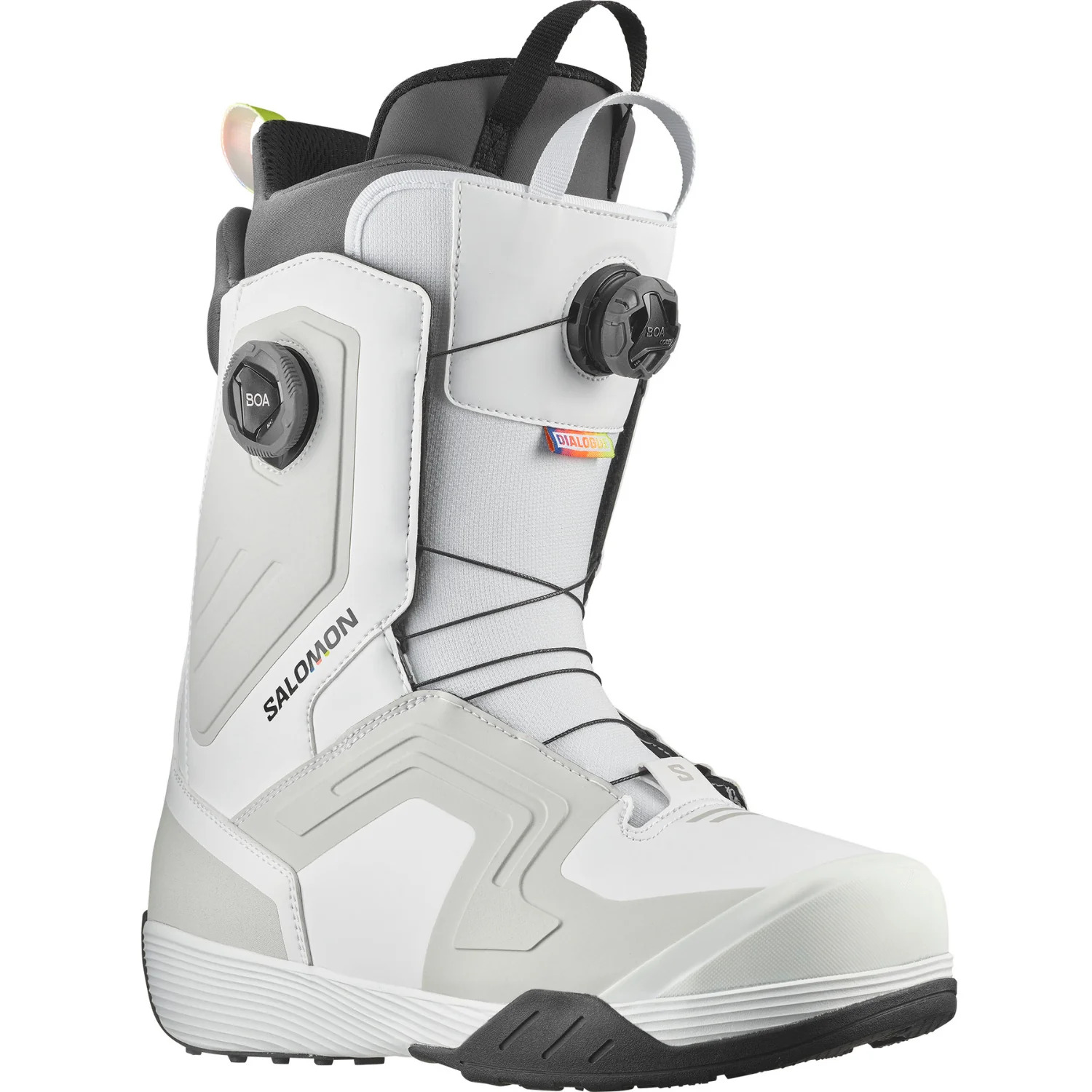 Combining the aesthetics of traditional lace with the performance of boa, the Dialogue is a men's model that will appeal to freestylers and those that prefer a softer, more playful boot. Internally, a lace shell with speed lace system wraps neatly around the foot while the STR8JKT boa, exclusive to Salomon, locks in the heel. Lacing on the outer gives the look, while being easier to replace and tweak than boa 
Men's boot
RRP £350 
Flex 6
Buy Salomon Dialogue Boots: £350 from Salomon.com
ThirtyTwo Lashed Double Boa Boots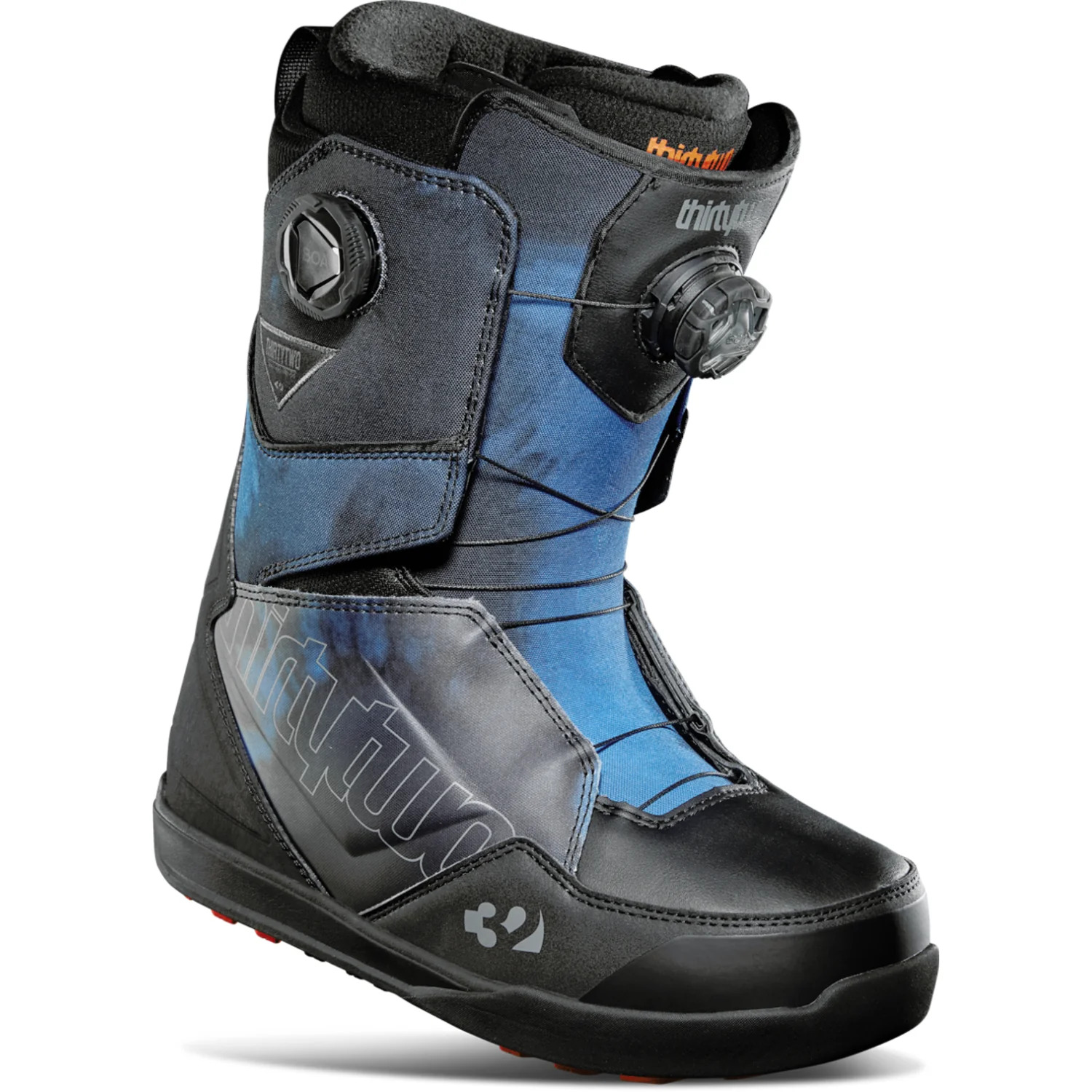 The Lashed is an absolute classic in the ThirtyTwo line, having won many awards down the years. The dual boa system on this version of enables zoned control across the foot for genuine all mountain riding performance. ThirtyTwo offer true half sizing, which essentially means the shell is sized as well as the liner, so you should be able to get the ideal fit too. The Lashed is available in men's and women's colourways and with different lacing systems too. Down the years, it's developed a reputation for comfort, and its all-rounder, mid-stiff flex, reflects this.

Unisex boot
RRP £330 
Flex 7
Buy ThirtyTwo Lashed Double Boa W Boots: £337.86 at Amazon (UK)
Vans Aura OG Boa Boots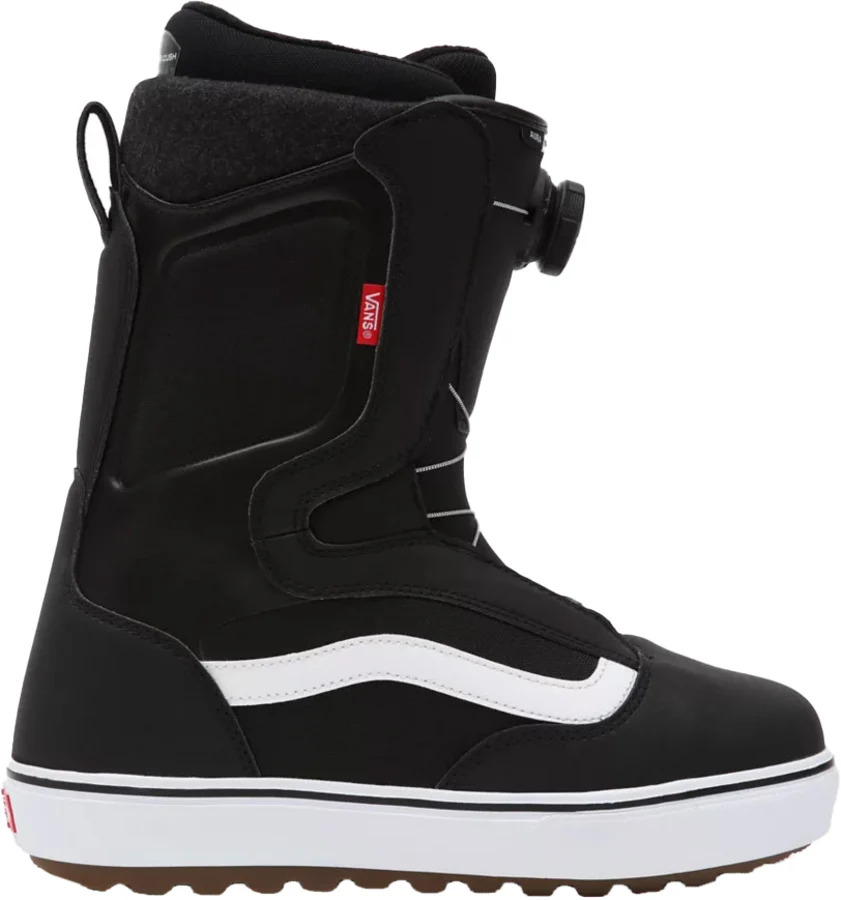 Vans' signature look is strong on the men's Aura OG, even in the liner, which sports a retro black and white check pattern. A soft-flexing, freestyle-focussed boot, the Aura offers a precise fit thanks to a full boa system and speed lacing in the shell. Vans' Popcush midsole is tuned for cushioning and impact protection, and the All-Trac rubber compound on the waffle outsole delivers excellent all weather grip.
Men's boot
Price £235 
Flex 5
Buy Vans Aura OG Boa Boots: £234.95 at Absolute Snow
Vans Infuse Boa Boots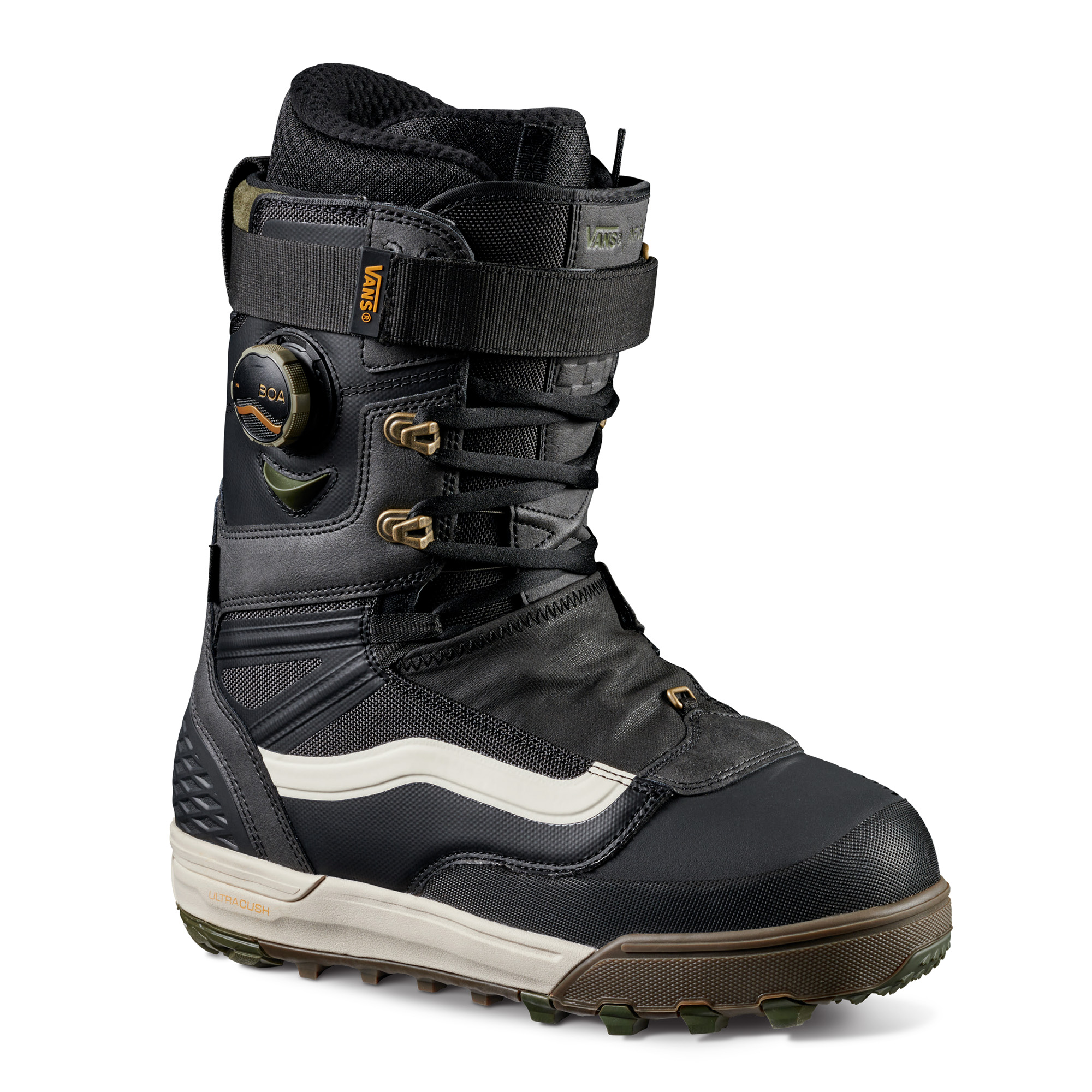 At the other end of the Vans line from the easy-flexing Aura OGs, the Vans Infuse are super-stiff and super-responsive. They're designed for freeriders who need that precision edge control when operating in sketchy, exposed situations. They'd also be ideal if you wanted to drop cliffs, or hit the biggest kicker lines in the snow park offering tons of support to help you hold onto bumpy landings. You can add optional stiffeners into the tongue (these come supplied) to adjust the flex to the terrain you're riding—a nice touch which makes these multi-functional. They're not cheap, but if you're after high-perforance, these are highly recommended.

Snow's editor has been wearing the 2019 model of the Infuse Boa for three years, and tested them extensively—including when splitboarding on the 6-day hut-to-hut ski-mountaineering itinerary known as the Haute Route. They've passed every test with flying colours.
Men's boot
Price £415 
Flex 9
Buy Vans Infuse Boa Boots: £414.95 at Absolute Snow