Gone are the days of having to put up with uncomfortable and painful ski boots and now is the time to invest in a decent pair of boots that will work with you to take your skiing to the next level. Choosing the right pair of ski boots isn't like buying a normal pair of shoes take some time to talk to a specialist boot fitter and don't be shy to try a few pairs before deciding what works for you. Heat moulding technology is constantly evolving so explore how ski boots can be tailored to meet your needs be it narrow or wide feet to large calves or slender legs.
Check out our comprehensive guide on how to buy ski boots below.
The Best Ski Boots 2023
Atomic Hawx Ultra 110
Best men's all mountain ski boot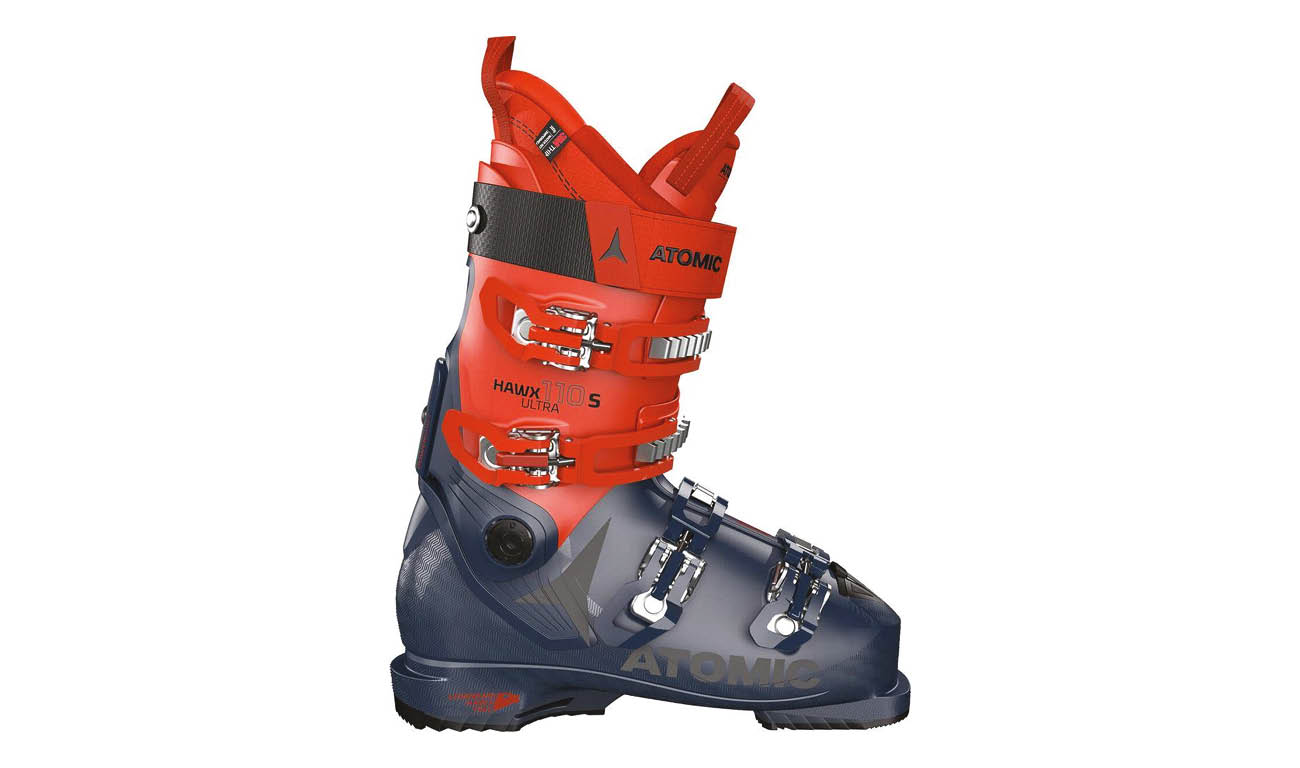 Fit: Narrow
Price: £330
Weight: 1700g
Flex: 110
The workhorse Hawx platform was revamped back in 2021 into a fantastic choice for the narrow of foot but advanced of skill. Impressively lightweight, the Power Shift function adjusts forward lean so you can tailor your attack to the terrain, while the Energy Backbone combined with Prolite construction keeps that weight low, but promotes stiffness for control and power. The Memory Fit shell and Memory Fit 3D Gold Liner combine to allow a custom fit to a variety of foot shapes.
Buy Atomic Hawx Ultra 110: £198.00 at Ellis Brigham <SALE DEAL>
K2 Recon 120
Best men's all mountain ski boot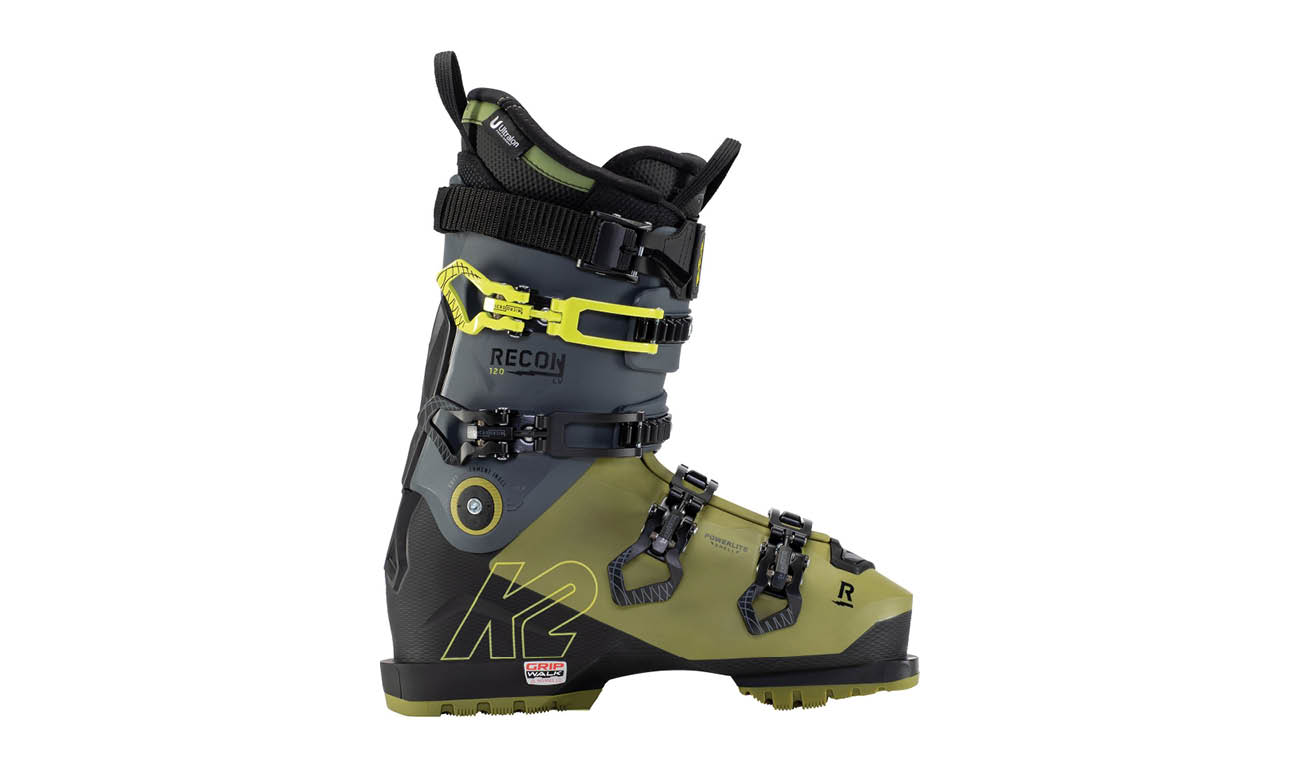 Fit: Medium
Price: £400
Weight: 1650g
Flex: 120
Another lightweight - very much not in performance terms - boot, the K2 Recon 120 delivers control and precision as well as the lowest possible weight. This is thanks to ingenious machinations involving varying wall thicknesses and no less than four different stiffness of TPU in the shell. The result is not only a great piste boot, but one with enough flex to enjoy the less groomed paths through soft snow and more varied terrain. Both the shell and the liner can be custom moulded to get a bespoke, premium fit.
Buy K2 Recon 120: £376.49 at Amazon.co.uk
Atomic Hawx Ultra 95
Best women's all mountain ski boot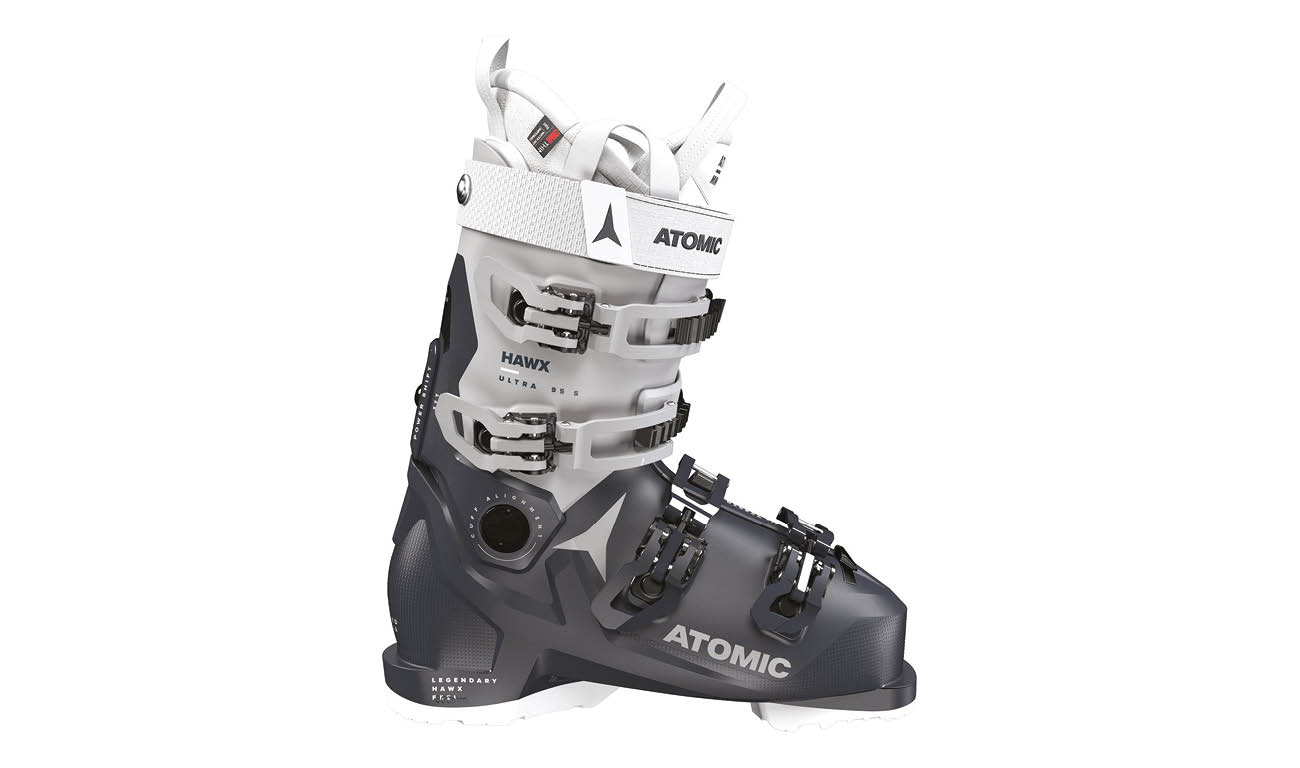 Fit: Narrow
Price: £320
Weight: 1510g
Flex: 95
Atomic claims these are their 'lightest alpine ski boot ever', and with less aggressive flex they're perfect for stronger intermediate to advanced skiers keen on technical all mountain skiing adventures. That light weight is down to Prolite technology, which carefully distributes material thickness to maximise strength without unnecessary weight - a 25% reduction over more traditional methods, according to Atomic. As with others in the extensive Hawx range, the shell and liner can be heat moulded, and the overall medium to low volume design is specifically designed for the female anatomy for a better fit and all-day comfort.
Buy Atomic Hawx Ultra 95: £380 at Ellis Brigham
K2 Anthem 85 W
Best women's all mountain ski boot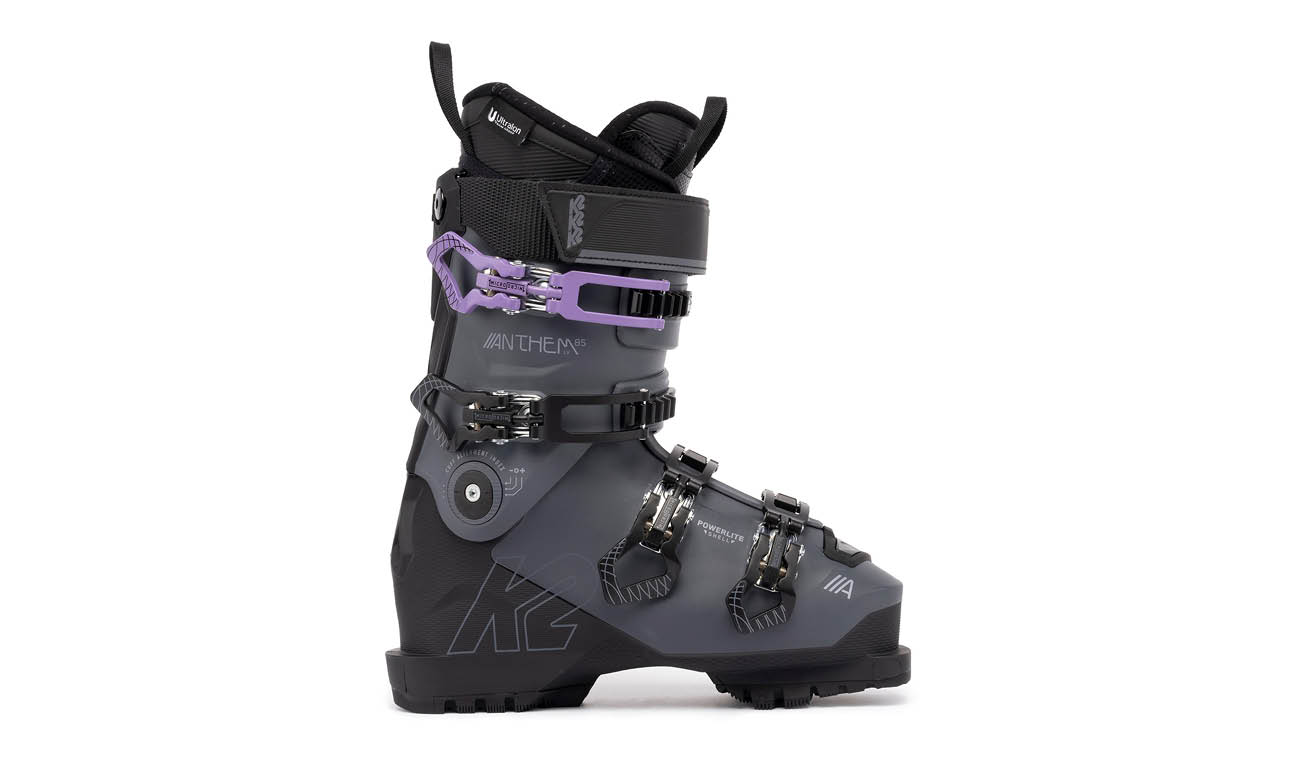 Fit: Medium
Price: £265
Weight: 1560g
Flex: 85
A smashing choice for the non-expert lady who still wants cutting edge tech without the discomfort, the K2 Anthem offers dialled-back stiffness but with all the bells and whistles - including a co-injected 'Y' shaped support - more common in men's boots. A Prolite shell keeps weight low and is custom moldable, while the heat-moldable liner is slightly softer than more technical boots, which means better comfort levels and fewer niggling pressure points and hotspots. In another nod to comfort, the instep area of the boot is softened, enabling easy donning (and doffing), while the ladies specific cuff is designed for women's calf shapes too.
Buy K2 Anthem 85 W: £300 at Ellis Brigham
Salomon S/Pro 80 W
Best beginners' ski boot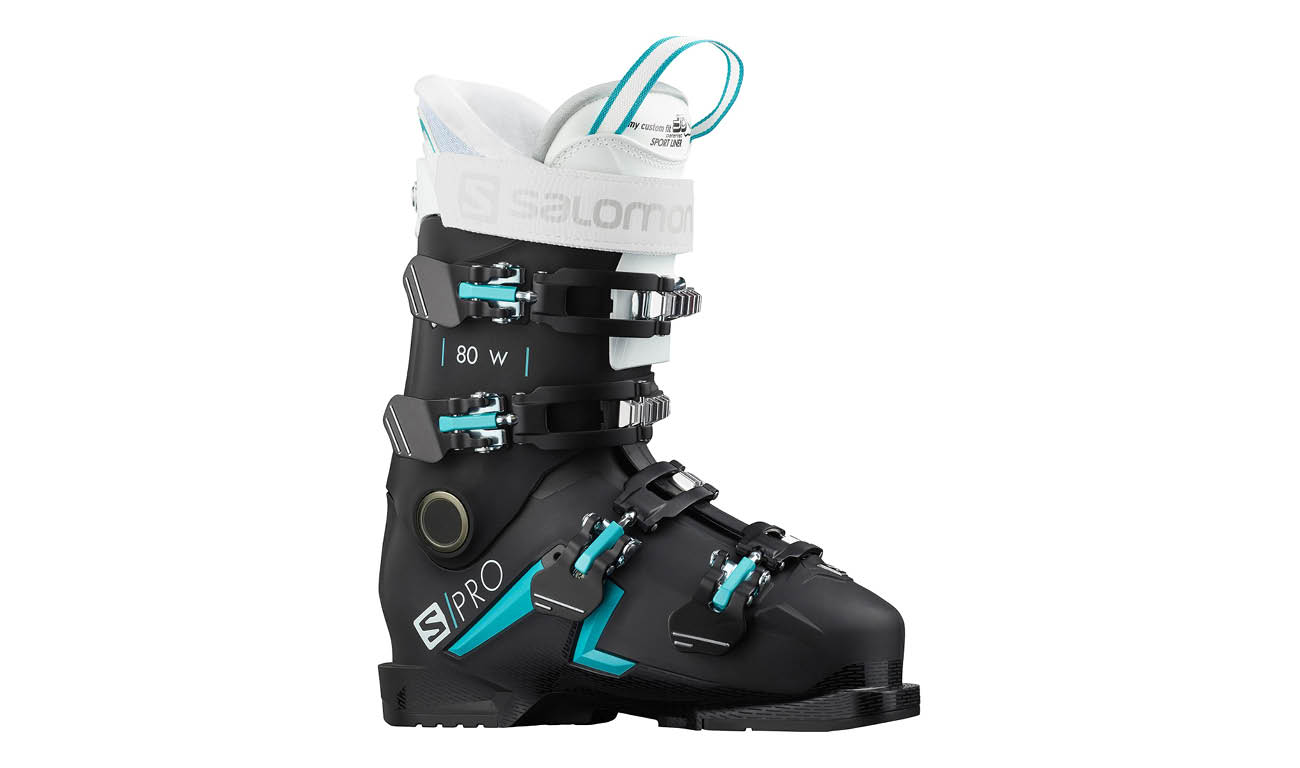 Fit: Women Medium
Price: £270
Weight: 1620g
Flex: 80
For women seeking a comfortable boot that won't disappoint for long days of fun around the resort, the well-regarded Salomon S/Pro 80 is well worth considering. Technically accessible but no slouch, they're an ideal model for holidays and for perfecting technique in comfort. Salomon's years of ski-boot expertise have been poured into the headline technologies here, fibreglass Core Frame and Sense Amplifier, which combine to give excellent edge to edge transfer and good responsiveness to boot. The liner is custom-moldable as usual, and is entirely seamless to minimise troublesome hotspots.
Buy Salomon S/Pro 80 W: £270 at Snow and Rock
Rossignol Evo 70
Best beginners' ski boot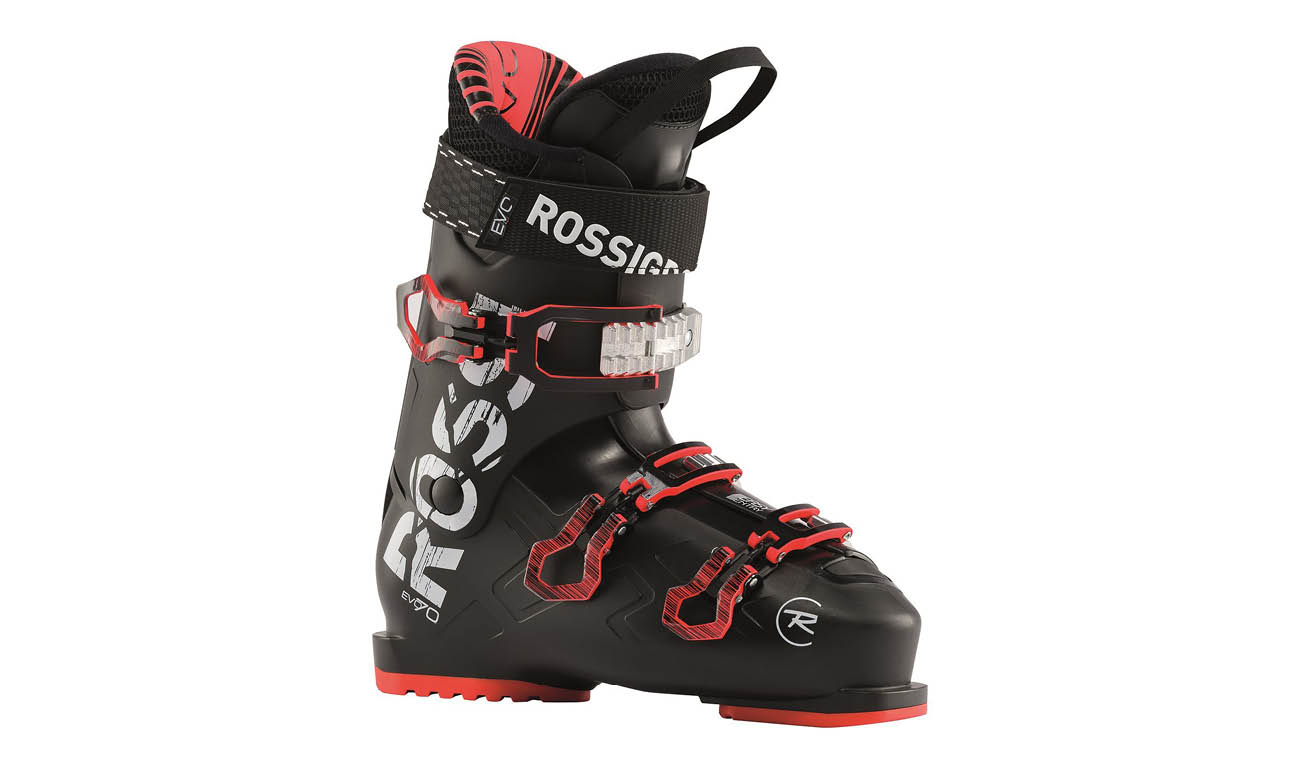 Fit: Men/Relaxed
Price: £170
Weight: 1670g
Flex: 70
The Rossignol Evo 70 has a straightforward proposal - it does the basics, it does them well, and it does them extremely economically. It claims to be Rossignol's softest flex and widest last (a generous 104mm), the former highlighted by the three-buckle design. The roomy fit should promote warm toes (thanks to better circulation), and the T4 liners allow for some fit customisation, although not to the level of a more pricey thermo-moldable liner. A starter boot at a wallet-friendly price.
Buy Rossignol Evo 70: £184.52 at Amazon.co.uk
Atomic Hawx Prime XTD 120
Best for backcountry ski touring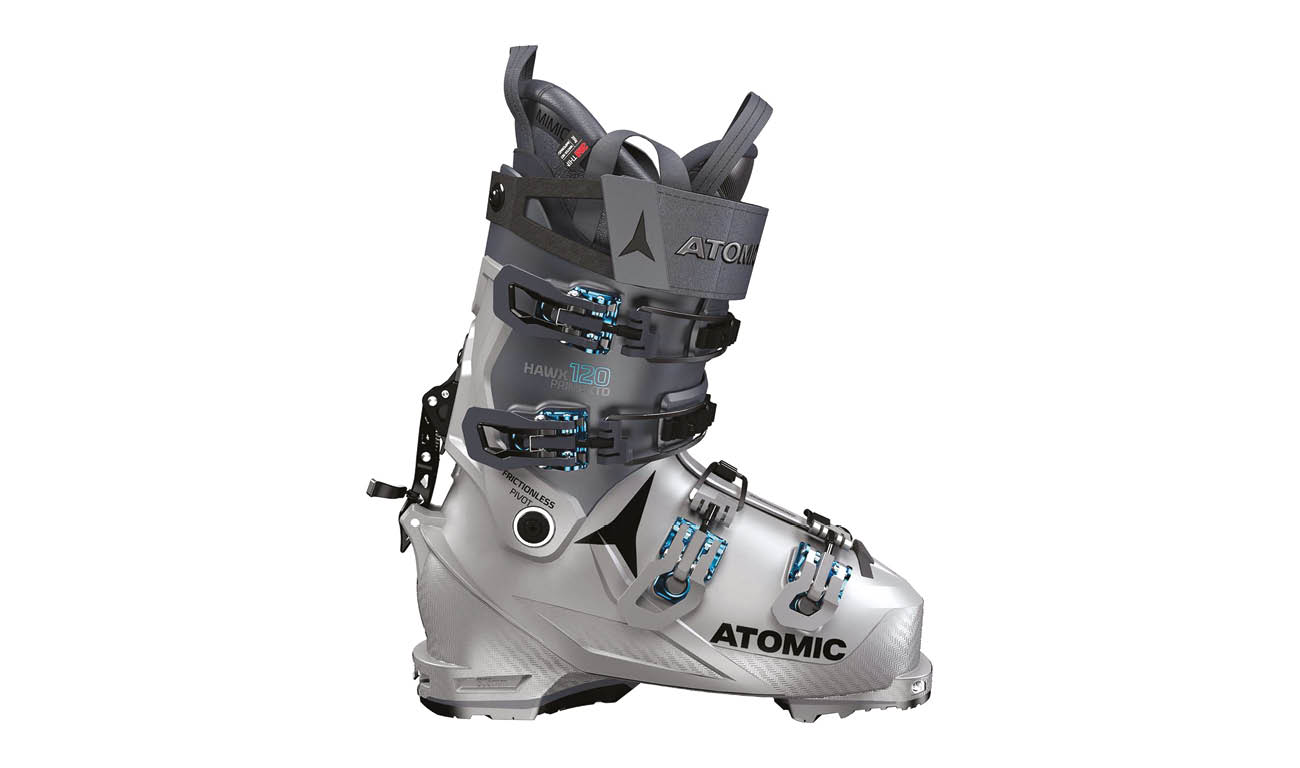 Fit: Medium
Price: £500
Weight: 1,873g
Flex: 120
The Atomic Hawx Prime XTD chassis has been winning awards since their release in 17/18, and unsurprisingly the range has continued growing to the present day. The Atomic Hawx Prime XTD 120 is based on the Ultra XTD, and welds together the all-mountain capability of Hawx with the touring ability of the Backland Free/Lock 4.0 ski-to-walk mechanism - essentially a Hawx with walk mode. This gives you excellent downhill performance without too much compromise on the way up.
Buy Atomic Hawx Prime XTD 120: £300 at Ellis Brigham <SALE DEAL>
Head Edge Lyt 110
Best ski boots for wide feet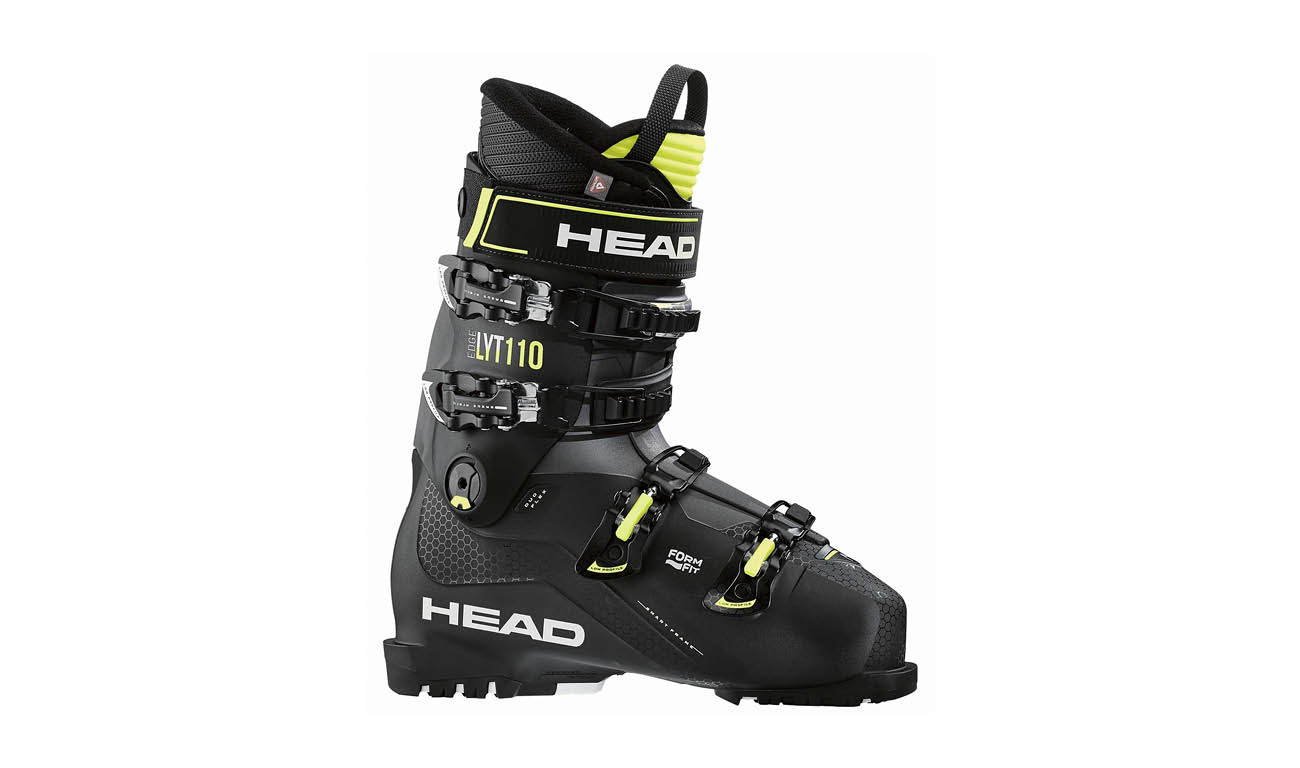 Fit: Relaxed
Price: £300
Weight: 1781g
Flex: 110
The Edge LYT established itself several seasons ago as being a generous fitting boot for intermediate to advanced skiers, and saw a complete revamp last season. The Hi-Top Tech creates direct contact between the boot's tongue and shell which allows for immediate energy and power transfer from the skier to the ski, while the Smart Frame shell is lightweight, but also improves dynamic rebound. The liner has been upgraded to a Liquid Fit liner, which ensures a perfect fit in the critical areas of ankle and heel pocket.
Buy Head Edge Lyt 110: £299.99 at Decathlon.co.uk
Best of the rest
Tecnica Cochise 110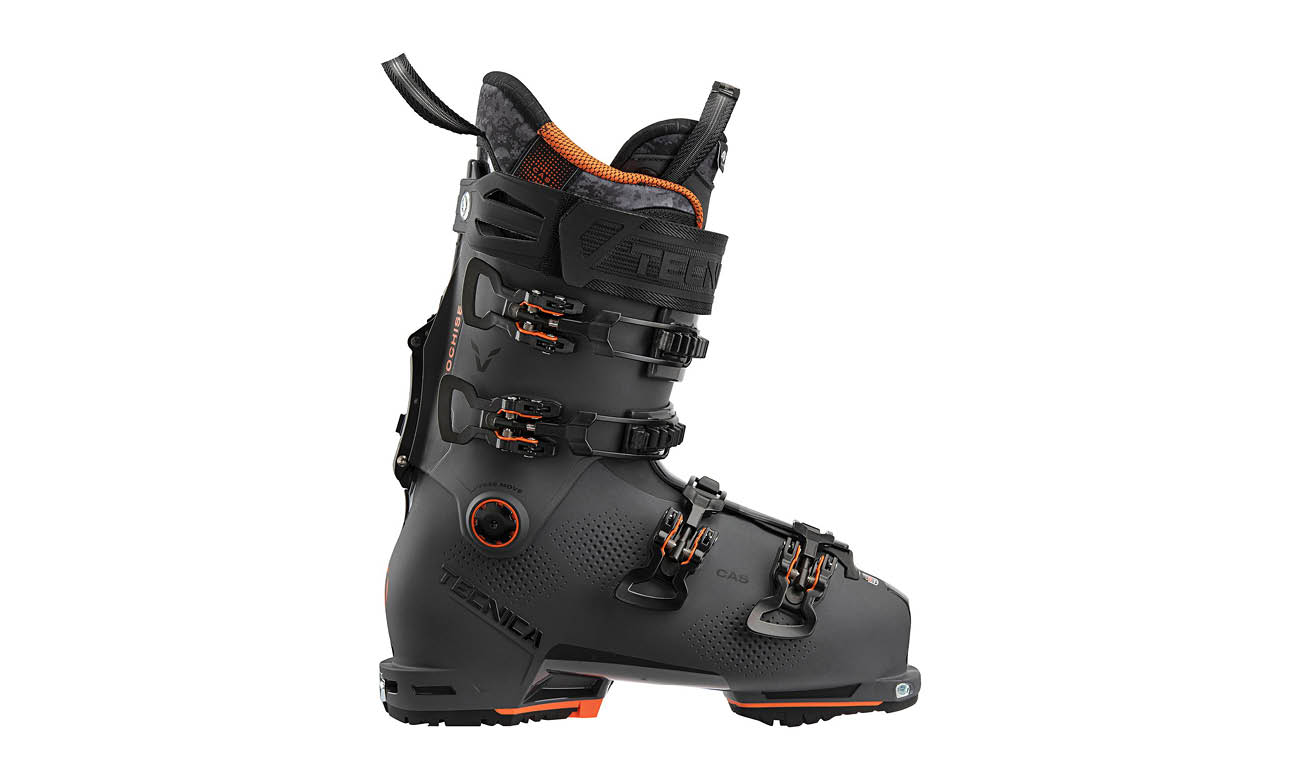 Fit: Men/Medium
Price: £480
Weight: 1750g
Flex: 110
A familiar sight in the hybrid ski boot category (thanks to a decade of iteration), the men's Cochise delivers all-round value in a lightweight and medium-stiff boot that's well-balanced in terms of on and off-piste performance. The T-Ride walk mechanism does a solid job of bridging the gap between resort and backcountry, offering a 75° range of motion. The light weight (1750g) is noticeable on the hill, especially on ascent, that lack of heft being aided by the Carbon Co-injected Back Spine construction.
TECNICA COCHISE 110 FULL REVIEW
Buy Tecnica Cochise 110: £265.00 at Snow and Rock
Dalbello Panterra 75 W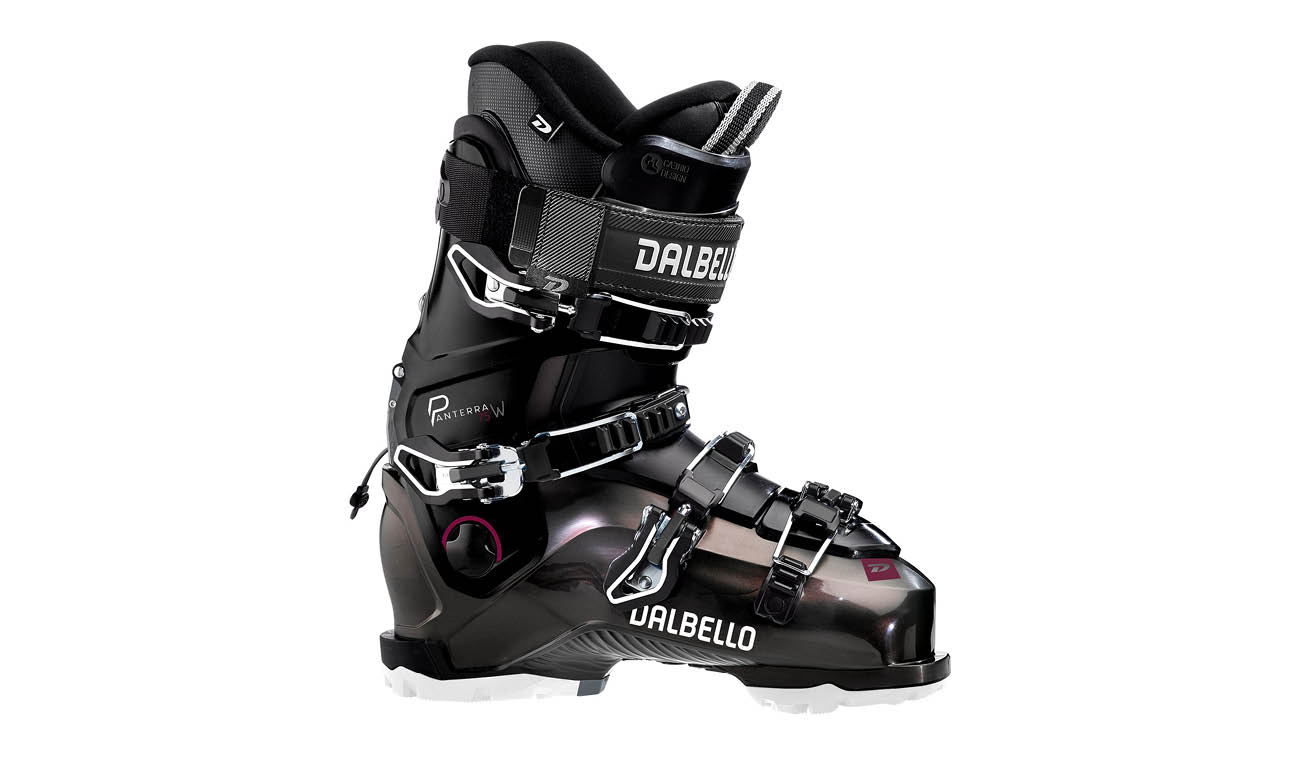 Fit: Women/Medium
Price: £295
Weight: 1840g
Flex: 75
This female-specific boot majors in comfort and flex, but also wraps in good support - thanks to the three-piece cabrio design. A soft flex rating is no bad thing at this end of the market, and the light DB Hyperlite construction emphasises day-long comfort rather than any aspirations to aggressive riding. The Ski & Hike mechanism gives a decent 33 degrees of motion, and Gripwalk soles keep you upright on icy walks. Both liner and shell can be thermo customised if needed, as you'd expect.
DALBELLO PANTERRA 75 FULL REVIEW
Buy Dalbello Panterra 75 W: £221.25 at Snow and Rock <SALE DEAL>
Scarpa F1 LT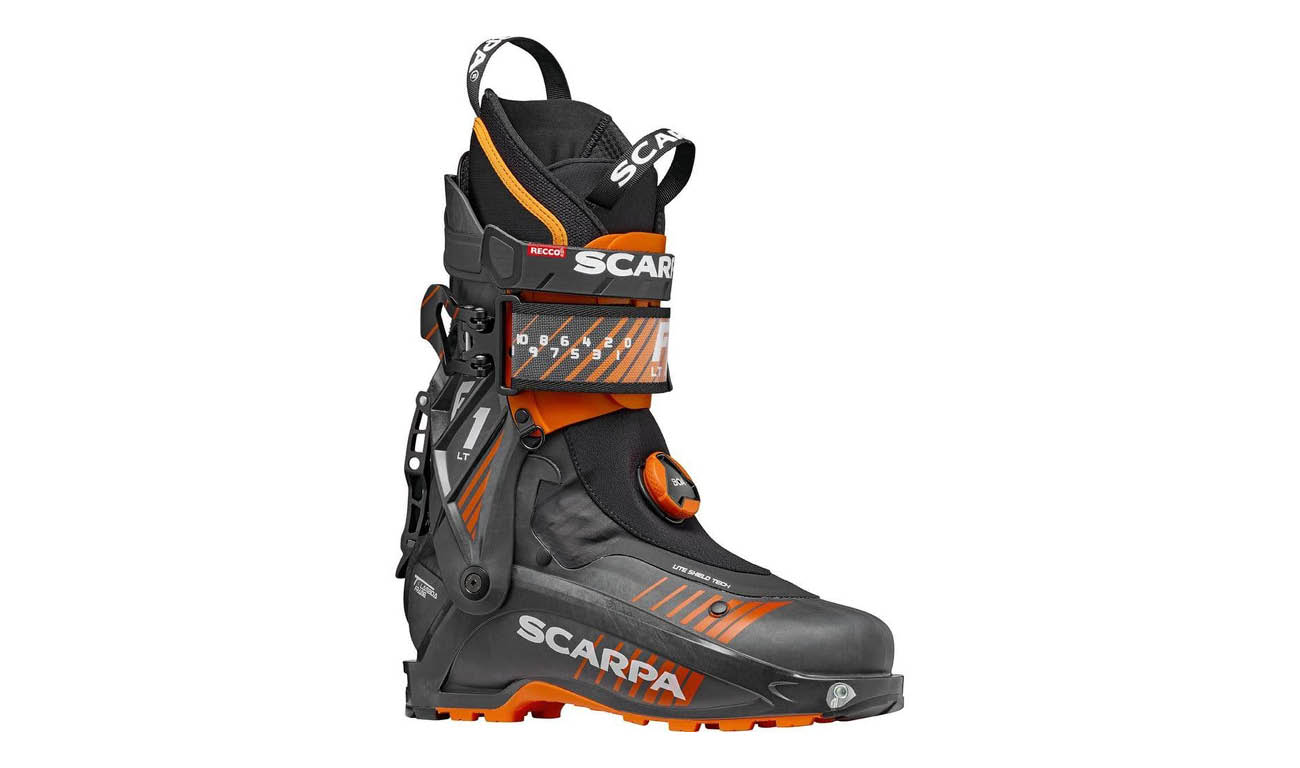 Fit: Men/Relaxed
Price: £560
Weight: 990g
Flex: 70
Sometimes light is right, and lighter is righter - never more so than when considering ski mountaineering boots. If you want minimal pain while climbing, this is the boot for you, thanks to the feather-light weight, although fit can be an issue (the F1 LT is fairly 'high volume'. There's vast amounts of ankle movement on offer, due to the softened "flex zone" behind your achilles, and although downhill performance isn't quite up to a resort boot, it's pretty good considering the package. That said, this is a specialist, technical tool for experienced ski mountaineers, and an award-winning one at that.
Ski boot buyer's guide
There are many styles of boot on the market that have features to suit what type of skier you are and to help you get the most out of your skis and the mountain. These are the key features to think about when choosing the right ski boots for you.
Best Ski Boots 2023 sizing and fitting
Mondo, or mondopoint sizes are a universal measuring system for ski boots, originally intended to ease confusion. Very simply, it's the length of your foot in centimeters. With your mondo size in hand, picking a boot should be child's play - but there's a couple of things to bear in mind.
Firstly, your skill level will dictate just how tight you want your boots - bigger and looser for annual holidays at a resort, through to very snug for high-performance experts where fine control is all-important. The latter is much more likely to be less comfortable for long periods thanks to pressure points and hotspots, so there's a balance to be struck here.
Ski boots will rarely fit straight out of the box, although it's a good sign if they're generally comfortable to begin with, and can be tweaked in a myriad of ways by experienced fitters.
The most common tweaks are to the liners, traditionally cork, but now all manner of technological marvel-materials, that can be heat molded to the exact shape of your feet. Heat-formable liners are offered by many of the more premium boots as standard, and a concept that has spurred a huge aftermarket in third-party custom moldable liners too.
Modifying the shell of the boot without compromising its structural integrity is often done with infrared heat and suction, but can also include grinding, punching, shaping and stretching. Overall, it's vital to pick an experienced fitter to take this process on, not only to get a good fit in the first place, but also to have an expert on hand for future tweaks as the boots (and your feet) bed in and change through use - boots will 'pack out' (expand in size) to a certain extent after a few runs. Most resorts will have boot fitting experts on hand, and closer to home larger UK retailers such as Snow and Rock and Ellis Brigham's SureFit programme, or specialists such as ProFeet are all good choices.
Best Ski Boots 2023 ski boot types
Alpine ski boots are usually your starting point if you've learned to ski on a piste. They're essentially stiff outer shells with comfortable liners, designed for optimum control and performance when skiing downhill. There's a fixed spine at the back of the boot, which puts you neatly into a skiing position, but the stiffness and posture isn't ideal for walking or skinning.
Alpine ski boots can be divided into five main categories:
Piste ski boots cover the broad ground between beginner hire boots and more technical, stiff performance boots that incorporate various race-style technologies. They tend to focus on comfort and styling, ideal for ski holidays and (in reality) the majority of skiers.
Race ski boots take the piste boot one step further, discarding comfort and warmth in favour of stiffness and control. This often makes them very techni-cool, but also uncomfortable to wear all day, being both tight-fitting and downright cold.
Freestyle ski boots are built for jumps and rails, so can not only take a beating, but have a fair amount of flex in them to soak up the impacts.
Freeride ski boots set out to tackle all kinds of mixed terrain, so have some 'give' to deal with sudden changes in snow conditions, but a stiff lateral flex to keep control levels up. Weight here can be an issue, especially if boot packing or skinning, so freeride boots tend to be on the lighter side too.
Alpine touring (AT) ski boots are a broad church, designed to maintain Alpine-style downhill abilities with the ability to unlock the ankle and tour as well. Increasingly sophisticated, there are many shades of AT boot, with features such as different binding compatibility, greater or lesser ankle movement, and varying weights to trade stiffness for lightness. The heart of the conundrum is to be honest with yourself about the time you're likely to spend skinning uphill vs downhill - a personal decision, and one you'll be able to ponder for some time in the future, just less comfortably if you choose unwisely.
Ski touring boots
Touring boots take that 'all mountain' concept one step further, building in a switch or lock that lets you choose ski mode (stiff, ankle cuff locked), or touring, where the cuff of the boot can move, allowing much easier movement, especially when skinning uphill. As you'll quickly discover or already know, weight makes a big difference when you're carrying it uphill, so touring boots tend to be lightweight, and full of exotic materials at the pricier end of the scale.
Touring boots used to be a balancing act between uphill performance and downhill ability, with the latter traditionally losing out, but that's much less the case these days, with considerable blurring of the lines between AT, ski touring and ski mountaineering going on.
How to choose your ski boots: Flex
Ski boots are given a flex number between 60 and 130 and this indicates how much give the boot has. The lower the flex number the softer the boot and the suppler it is. Think about it in this way the more a boot bends forwards the easier it is to control your skis and maintain a slow and steady speed. Freestyle and All Mountain boots tend to have a lower flex as they are more forgiving and give you the ability to work with your skis better.The harder and stiffer the boot the harder you need to work and the more your energy gets pushed into skis and bindings to give you more efficiency and the ability to be fast and aggressive, hence the very high flex on racing boots to give you the ability to get speed into your skis. Touring boots are almost a hybrid of flexes which is controlled by using the walk /ski mode to give best of both worlds. The mechanism makes the boot more flexible for walking uphill but stiffer to give you the rush of speeding down the mountain.
How to choose your ski boots: Last
Knowing the width of your foot can mean the difference between a comfortable ski boot and a blister burning painful boot. Wearing a sock, measure the width of the outline of your foot at its widest point in millimetres. This will tell you whether you need a narrow boot or a wide one. Generally, anything below 100 mm is considered narrow while anything above 104 mm is considered wide. Ski boot brands tend to veer towards one or the other, so it is vital you go for a boot that encapsulates your foot comfortably.
We have tried and tested this year's new boots on the block and have whittled them down to this cross section of winning styles.