Gone are the days of having to put up with uncomfortable and painful ski boots and now is the time to invest in a decent pair of boots that will work with you to take your skiing to the next level. Choosing the right pair of ski boots isn't like buying a normal pair of shoes take some time to talk to a specialist boot fitter and don't be shy to try a few pairs before deciding what works for you. Heat moulding technology is constantly evolving so explore how ski boots can be tailored to meet your needs be it narrow or wide feet to large calves or slender legs.
There are many styles of boot on the market that have features to suit what type of skier you are and to help you get the most out of your skis and the mountain. These are the key features to think about when choosing the right ski boots for you.
Flex
Ski boots are given a flex number between 60 and 130 and this indicates how much give the boot has. The lower the flex number the softer the boot and the suppler it is. Think about it in this way the more a boot bends forwards the easier it is to control your skis and maintain a slow and steady speed. Freestyle and All Mountain boots tend to have a lower flex as they are more forgiving and give you the ability to work with your skis better.The harder and stiffer the boot the harder you need to work and the more your energy gets pushed into skis and bindings to give you more efficiency and the ability to be fast and aggressive, hence the very high flex on racing boots to give you the ability to get speed into your skis. Touring boots are almost a hybrid of flexes which is controlled by using the walk /ski mode to give best of both worlds. The mechanism makes the boot more flexible for walking uphill but stiffer to give you the rush of speeding down the mountain.
Last
Knowing the width of your foot can mean the difference between a comfortable ski boot and a blister burning painful boot. Wearing a sock, measure the width of the outline of your foot at its widest point in millimetres. This will tell you whether you need a narrow boot or a wide one. Generally, anything below 100 mm is considered narrow while anything above 104 mm is considered wide. Ski boot brands tend to veer towards one or the other, so it is vital you go for a boot that encapsulates your foot comfortably.
We have tried and tested this year's new boots on the block and have whittled them down to this cross section of winning styles.
Salomon S Max 110 | £400 (M)
BEST FOR Men's all mountain
The S Max is back this season with a revamped construction, optimised liner for skiers with sensitive feet and a new mixture of heat mouldable plastic that allows fast moulding to your feet. The S Max is designed for all-mountain skiing and is a good option for an intermediate skier with a narrow foot and shin. The oversized pivot adds a tough connection between the cuff and shell, which has been reinforced with fiberglass to give you feedback from the terrain and send power to your skis.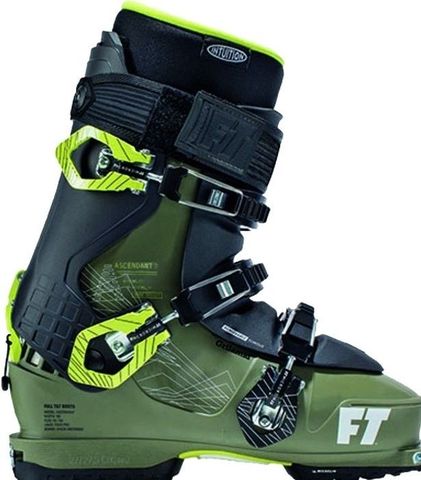 Full Tilt Ascendant | £450 (M)
BEST FOR Touring
Yes, you read it right. Full Tilt, known for their ski boots with infinite flex, have launched their first touring boot after three years in the making. The Ascendant ski boots take the popular tech of Full Tilt to the next level. The removable cuffs offer up to 60 degrees of movement with an easy to use ski/walk system, the new liner has its own lacing system to give great structure, support and stiffness and the rubber soles are a Michelin collaboration and come with an extra pair for Alpine skiing.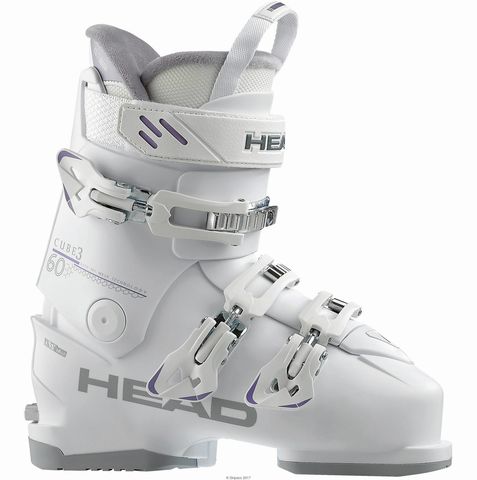 Head Cube3 60 | £175 (W)
BEST FOR Beginners on a budget
Buying your first pair of ski boots? The Head Cube3 60 ticks the boxes for both budget and comfort. This flexible and forgiving boot is ideal for those learning to ski and keen to progress. The adjustable Velcro strap can be used to stiffen or soften the flex and the rear entry system lets you get the boots off effortlessly. The icing on the cake is the extra wide fit, suiting larger feet, and the wider instep and ankle zones, which will prevent those dreaded pressure points.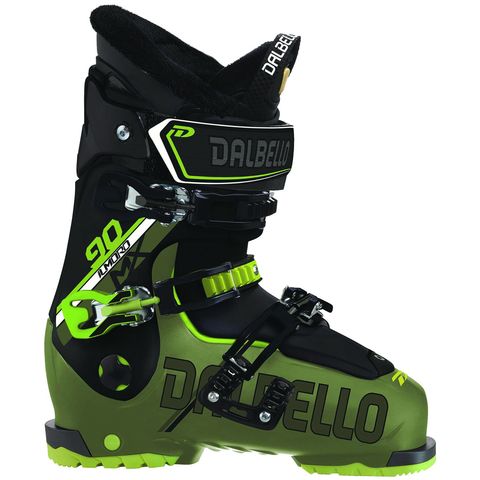 Dalbello IL Moro MX90 | £250 (M)
BEST FOR Freestyle
The IL Moro MX90 is Dalbello's new boot on the block, taking over from the successful Voodoo. The new incarnation uses TLG (Total Landing Gear) technology, a unique system of shock absorbing XRD material able to take the impact of hard landings effortlessly. The 103mm last is not only designed for wider feet but also for comfort, and coupled with the 90 flex rating you have a softer boot that is forgiving on the shins. Ideal for dedicated park rats.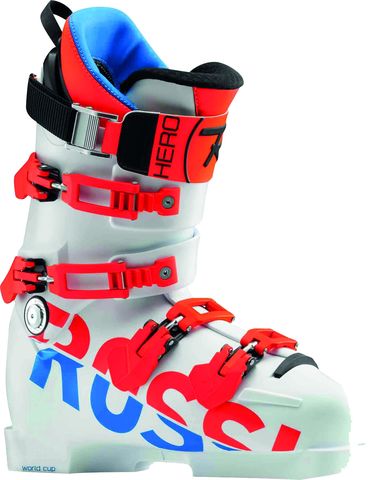 Rossignol Hero World Cup ZB | £550 (M)
BEST FOR Racers
The sporty-looking Rossignol Hero gives high performance for expert skiers who seek precision for racing plus comfort for all-day wear. Patented Sensor Inside technology increases power, control and sensation and the hull bottom sole brings an optimal energy transmission from the hard sole. The wide last and soft flex makes this an accessible racing boot, and less powerful skiers with good technical skills will also benefit from its security and cosiness.
Nordica Speedmachine 85 | £250 (W)
BEST FOR Women's all mountain
Nordica's award-winning Speedmachine 85 is an all-terrain ski boot full of features designed to give more power to your skiing. Great for those with a medium to narrow foot and calf, as the shell can be easily customised for a true fit. The precision fit liner coupled with Primaloft insulation gives a soft and toasty feel to your feet. Nordica's Tri-Force Construction uses a stiffer plastic across the sole and spine of the shell to improve the power and responsiveness of your skis.