Independently researched and written by the Snow Magazine team, sponsored by the family ski experts, Esprit Ski.
Esprit Ski is one of the UK's leading family ski holidays specialists with a range of childcare in family friendly chalets and hotels in France and Italy. Find out more at espritski.com

Planning a family ski holiday? Finding the best resorts to cater to multiple generations isn't exactly child's play—you'll inevitably want a resort with great ski schools, a range of ski-in, ski-out accommodation for easy access to the slopes, and plenty of non-skiing activities, whether that's scenic dog sledding sessions or afternoons at a water slide-filled indoor pool. After all, there's nothing worse than the kids getting bored.
At the same time, however, this is your holiday too—perhaps the one time a year you get to indulge your passion for the sport we all love. So you'll want to head somewhere with a large-enough network of pistes, a big-enough park, or extensive-enough backcountry to keep yourself happy while the kids have their lessons. Luckily, we've scoured the world's best family ski resorts to find the ones which tick all the boxes, whether you're considering a week-long family skiing holiday in Europe, or a longer trip across the pond to one of America's many fine family ski resorts.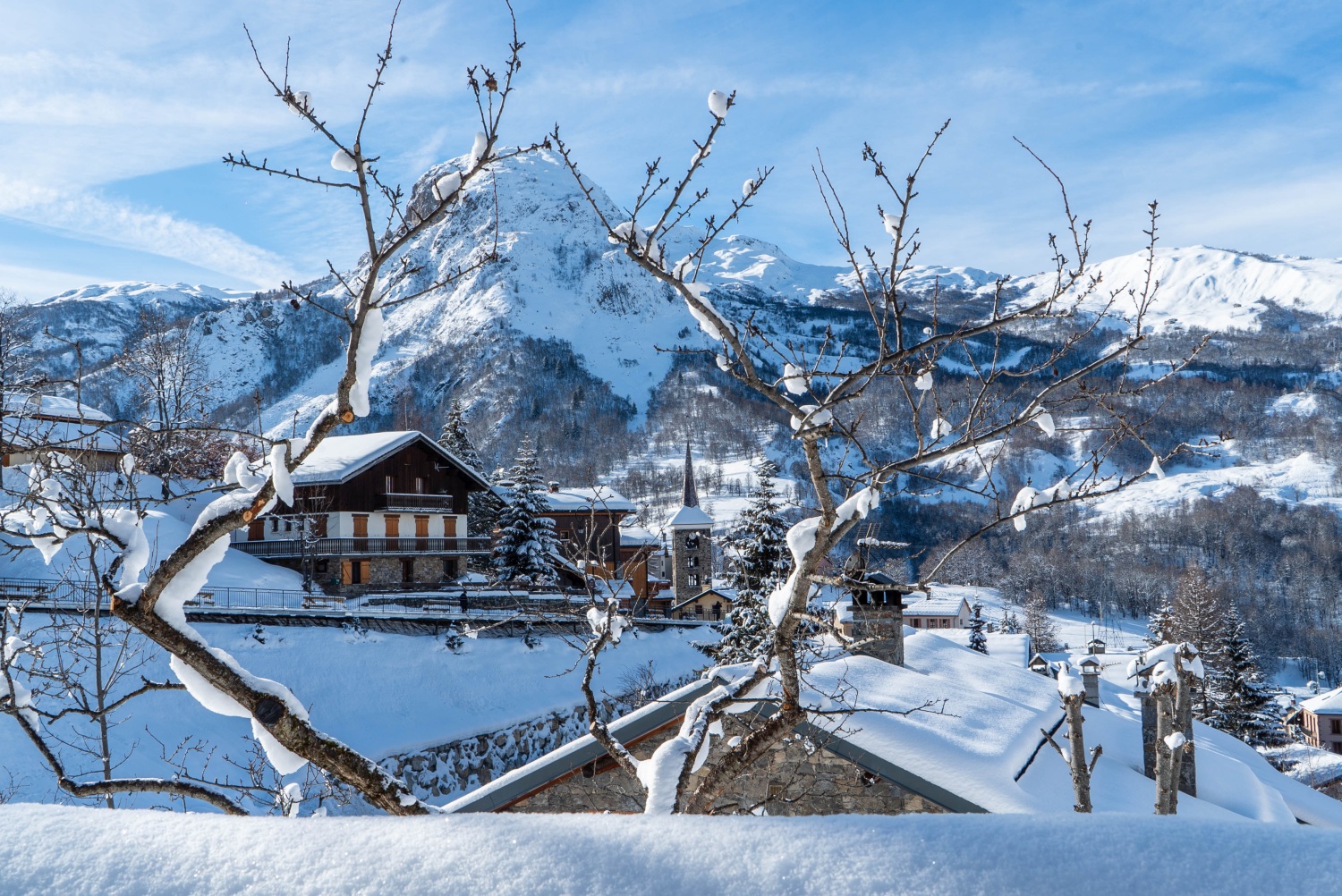 Saint-Martin-de-Belleville, France
One of the most family-friendly ski resorts in the Three Valleys, Saint Martin de Belleville feels more like a traditional alpine village than a ski resort, and reminders of its origins as a farming community are everywhere—whether it's the restaurants tucked into refurbished barns, or the ancient wooden bachals (troughs) in the village's centre. An eight-seater gondola and six-seater chairlift provide easy access to the Three Valleys' best slopes, and there's a beginners' area (with both a drag lift and a magic carpet) in the centre of the village. 
When it comes to accommodation, you'll find plenty of family friendly chalet hotels and self-catering apartments, although we'd also recommend the four-star Hotel Lodji, which opened in 2021. Perched at the bottom of the village's nursery slopes, a convenient distance from the nearest ski hire shop and the morning meeting point for ski lessons, the hotel has a combination of family rooms and self-catering apartments. Its facilities include a swimming pool, steam room, and fitness room.
Read our full Saint-Martin-de-Belleville ski resort guide for more info.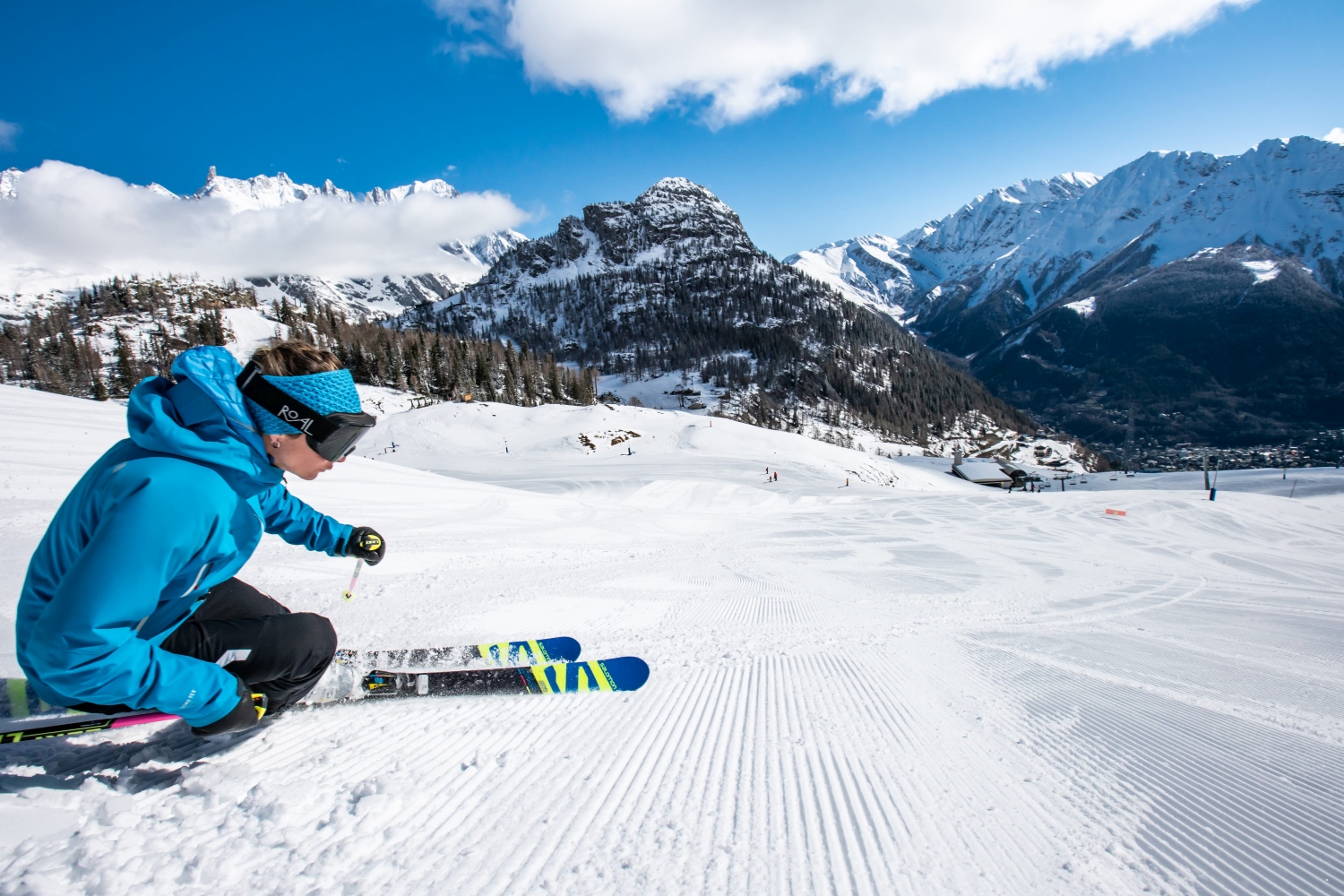 Courmayeur, Italy
Courmayeur, in the shadow of Mont Blanc, is a stunning ski resort known for its snow sure pistes and family friendly vibe. Its regarded as one of the best resorts in Italy for families, who come here for the easy access to the ski area, 80 per cent of which is covered by ski cannons (hence its snow sure reputation) and the pretty, traffic-free village centre, filled with cafés and boutiques. The majority of the resort's 41 kilometres of slopes  – known collectively as the Plan Chécrouit ski area - are suited to beginners and intermediate skiers.
Although there's no ski-in ski-out access, a slick, fast gondola whisks skiers from the village directly to the slopes, which start at 1,205m and top out at 2,755m. There are plenty of fun activities to try away from the slopes too, including guided snowshoeing walks and ice climbing on the frozen waterfalls. Kids will also love the fantastic Comic Museum in Morgex, just a 15-minute drive from Courmayeur.
Take a look at our full Courmayeur ski resort guide for more info.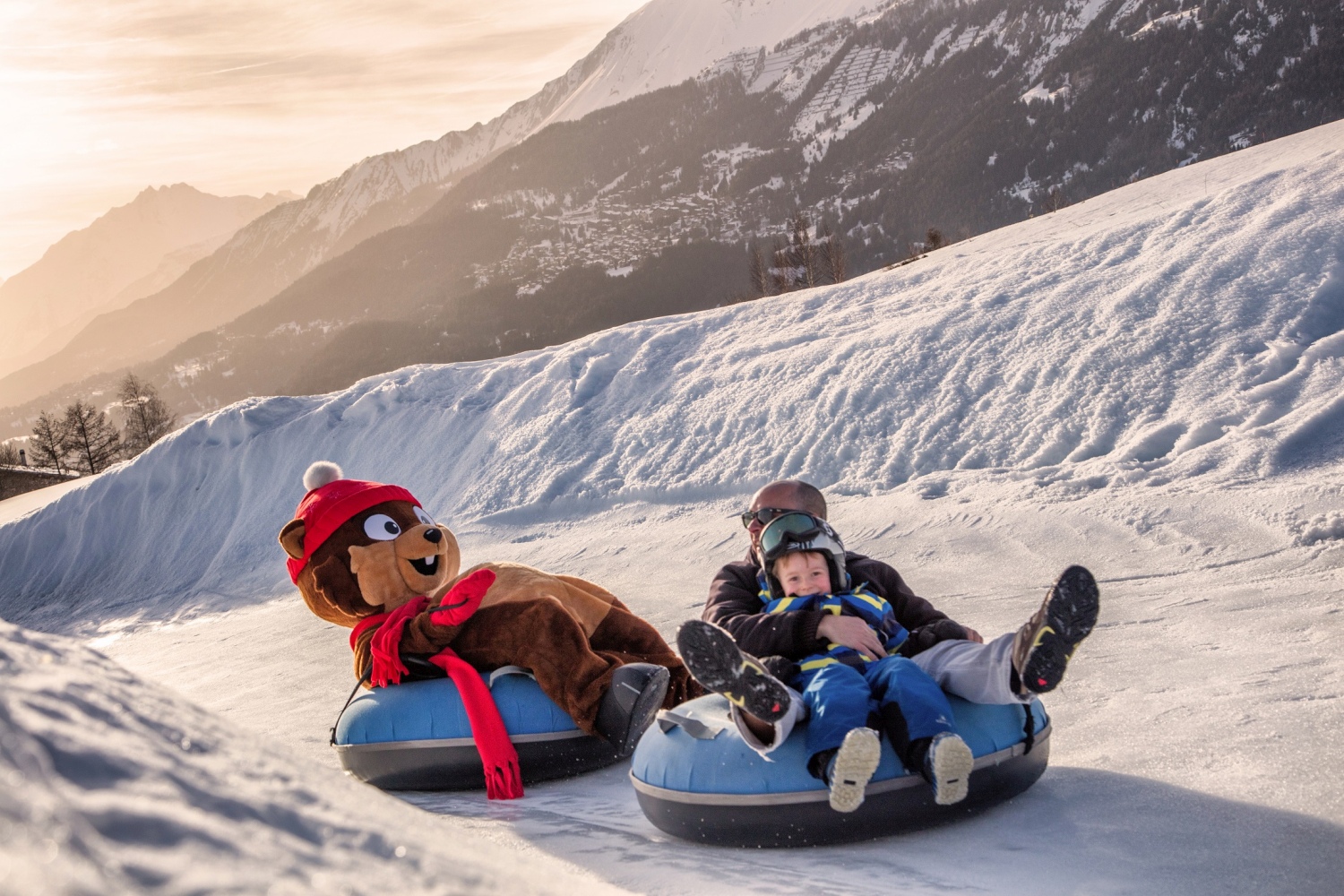 Crans-Montana, Switzerland
This beautiful ski resort has always been popular with British families heading to Switzerland's slopes. Its brilliant kids clubs, childcare facilities and great range of sunny, south-facing slopes are the reason it's been awarded the Swiss Tourism Federation's Family Destination award, and there's a packed calendar of family-friendly events too: our favourite of which is the annual fairy-themed Bella Lui winter festival. 
Highlights of its 140-kilometre network of slopes include the enormous fun park, several FIS-certified pistes, the family-friendly Igloo Village at the top of the Plaine Morte glacier, and the eight-kilometre slope which streaks from the top of the glacier down to the resort. 20 slope-side restaurants ensure there are plenty of opportunities to rest weary legs and feed hungry mouths.
Another reason to choose Crans Montana for your family ski holiday? The surprisingly short lift queues – barring the queues for the Plaine Morte Funitel, which leads to the glacier, there are rarely any queues here, even in peak family holiday weeks like half-term, Christmas and Easter. The lift pass is also great value too, especially if you buy it online, where you can make further savings.
Take a look at our full Crans Montana ski resort guide for more details.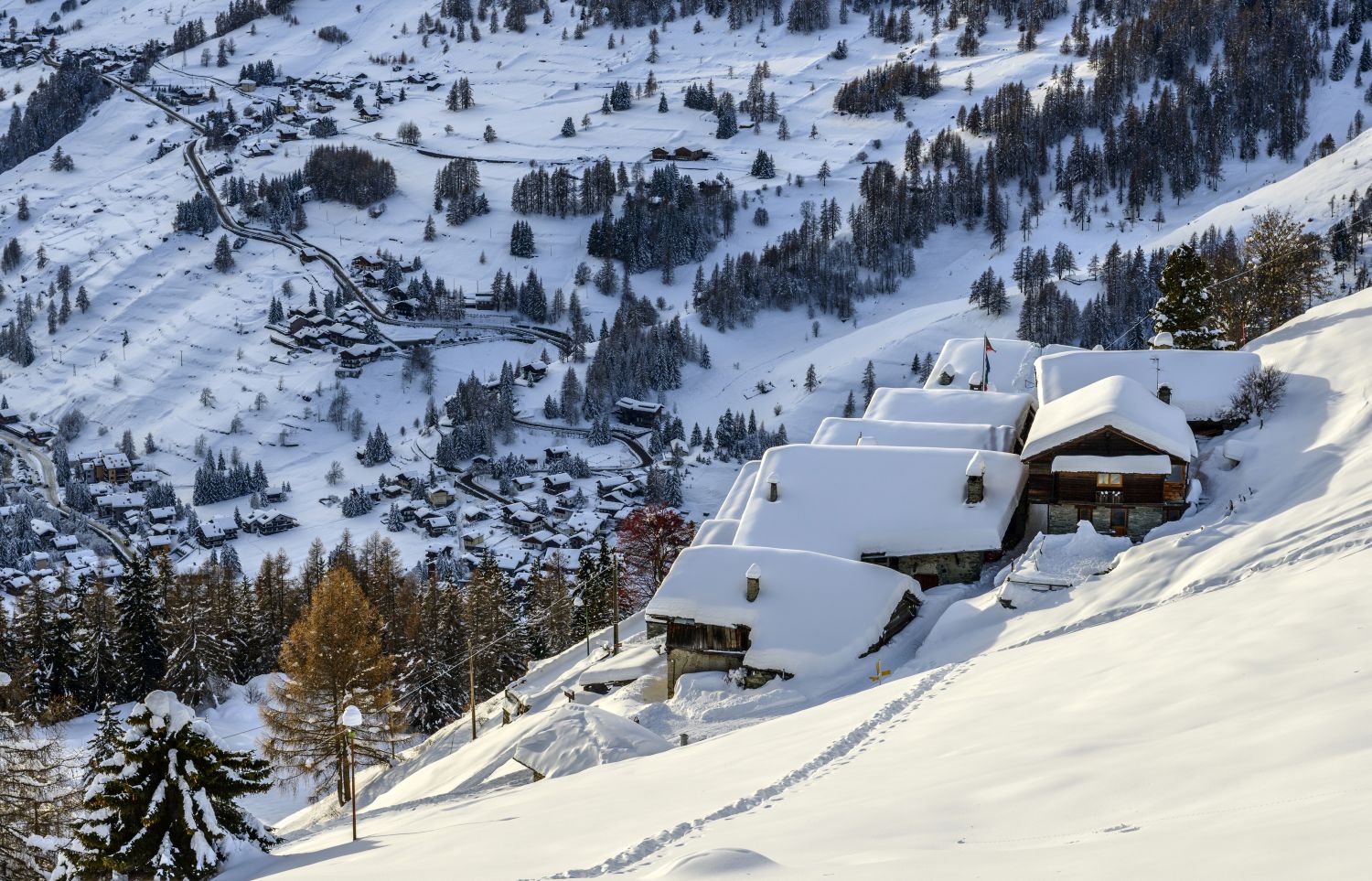 Champoluc, Italy
Champoluc is like Italy's answer to Les Menuires, or La Tania, in that it's a small, traditional-looking resort on one side of a vast, lift-linked ski area. But while its French equivalents are often quite pricey these days, especially in peak, school holiday weeks, Champoluc is refreshingly budget-friendly. Combine this with excellent beginner slopes, a great local ski school and plenty of activities for younger kids, and it becomes ideal for family ski holidays.
It's part of the Monterosa ski area, which links three valleys together, and includes the villages of Frachey (further up the valley from Champoluc) Gressony-La-Trinité, Stafal and Alagna. This means that there's a huge amount to explore while the kids are in ski school, with 132km of groomed piste, and the "freeride paradise" of Alagna. The mountains are high, and snow-sure, with the top lift taking you to 3,275m — a shade higher than the highest lift in France's Trois Vallées.
There's plenty to do if the kids don't want to ski too. The Monterosa Public Baths have a network of indoor and outdoor pools and hot tubs, there's a Go Ape style adventure park that stays open in winter, and of course, Italian ice creams are second-to-none.
Read our guide to the full Monterosa ski area to find out more.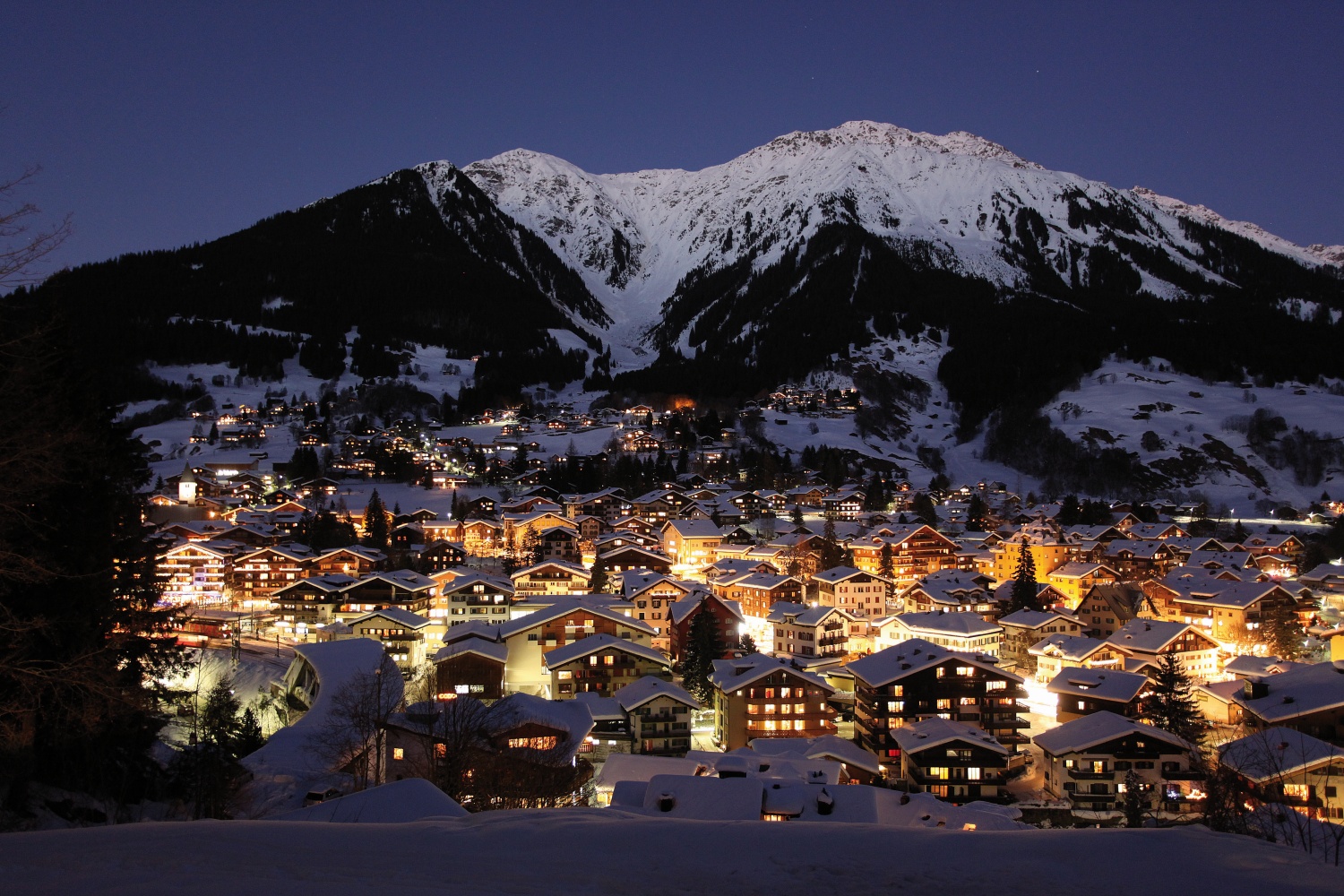 Davos, Switzerland
British skiers – especially those with kids in tow - have been flocking to Davos for family skiing holidays for decades. It's a wonderful resort for those with young ones, with a fantastic range of activities for non-skiers—whether it's horse drawn sleigh rides through the Sertig and Dischma valleys, sessions at the resort's bowling alley, visits to one of the resort's five museums, ringside thrills at an ice hockey game (the Hockey Club Davos celebrated its sixtieth anniversary in 2021) or ice skating sessions at the Eisstadion Davos ice rink. 
There are two brilliant children's ski areas, although our favourite is the Madrisa Land area, where parents can watch their little darlings ride the four magic carpets from the comfort of slope-side sun loungers. More experienced skiers will love the easy access to the wider Davos Klosters area, which covers six resorts and 300 kilometres of slopes, 80 per cent of which are over 2,000 metres above sea level – hence its snow sure reputation. 
Davos has a large number of ski schools, although our favourite is the Davos Ski School, which offers courses aimed at everyone from beginners to experts, alongside masterclasses in more specialist disciplines, such as freestyle snowboarding.
The fun doesn't stop once the sun goes down, either – in Davos, it's not just a handful of slopes which are floodlit, but ice rinks, toboggan runs and cross-country skiing courses, too. For the ultimate after-dark adrenaline fix, head to the Davos-Schatzalp toboggan run – during the winter season, it's illuminated every night until 11pm.
Read our full Davos ski resort guide for more info.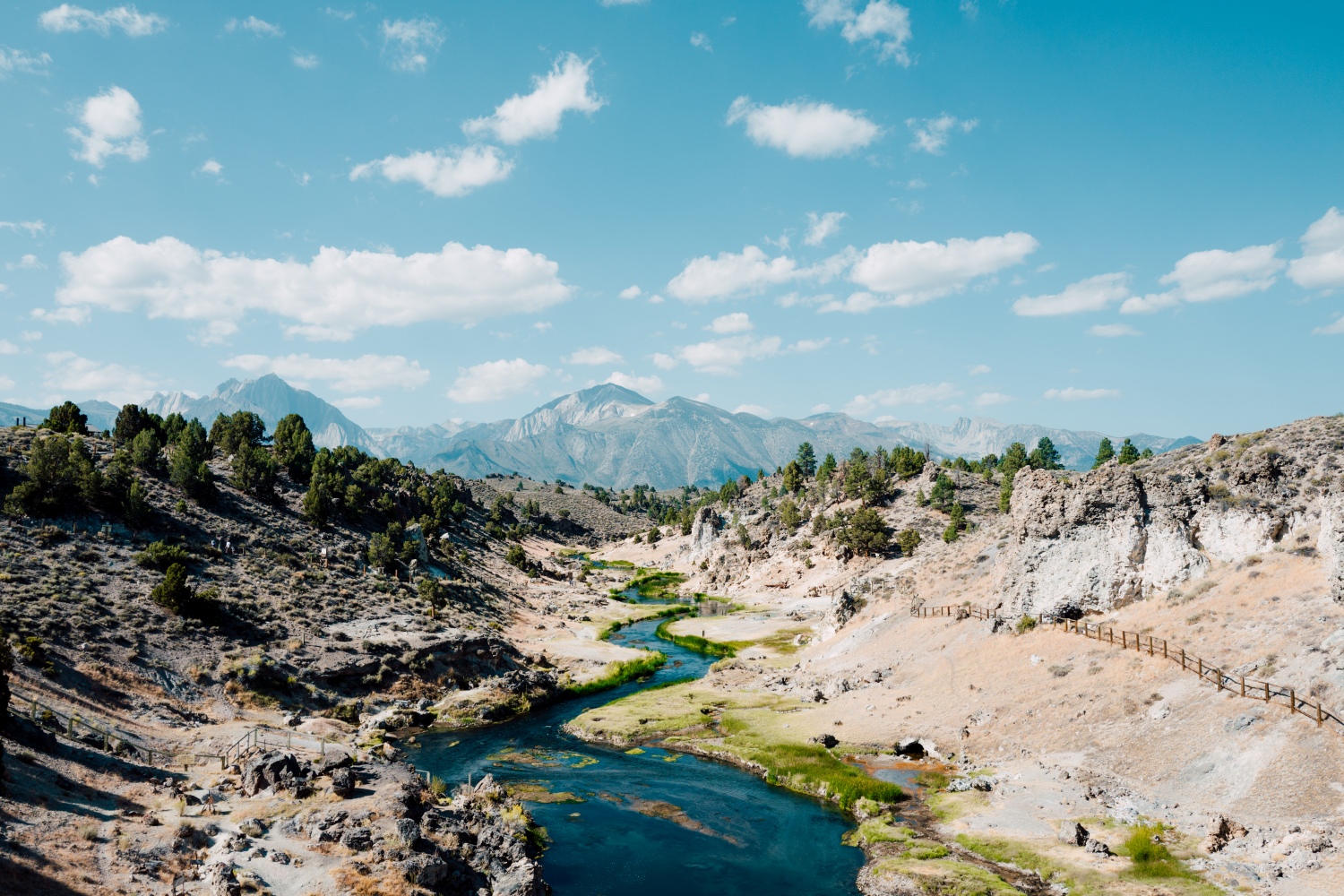 Mammoth Mountain, USA
For some super-sized fun and some of the best opportunities for some family skiing in the US, head to Mammoth, where 3,500 acres of skiable terrain are blanketed with 400 inches of snow every winter. Winters are sunny and long at this California resort, where slopes often stay open into early July. 
There are exciting things in store, too, namely the unveiling of a new Main Lodge in 2023 (expect luxury lodging, fantastic restaurants and more clothing boutiques than you can shake a ski stick at) and the new Mammoth Lakes Community Recreation Center. Due to open in early 2022, this enormous leisure complex will have plenty of amenities to keep the kids entertained, including an Olympic-sized ice skating rink, tennis courts and children's play areas. 
Mammoth is also known for its great value – children under the age of four can ski for free (they'll just need to pay a $25 processing lift pass processing fee at the start of their ski holiday) and the sheer size of the area covered by standard lift passes means you're unlikely to run out of fresh terrain. Adrenaline junkies will be in heaven here-  the resort has 11 parks, three half pipes and an Olympic-sized super pipe.
Take a look at our full Mammoth Mountain ski resort guide for more info.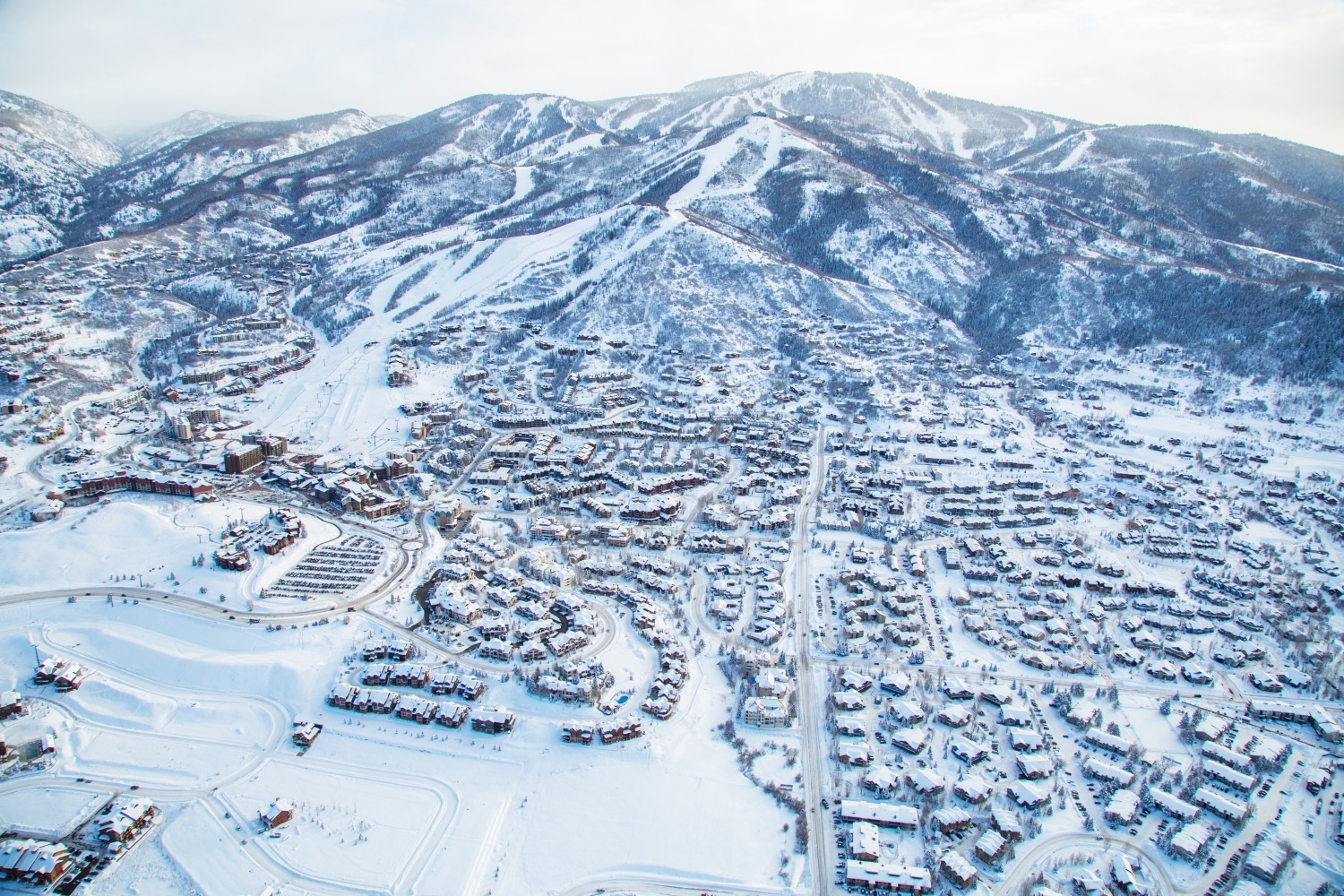 Steamboat, USA
Steamboat Colorado is a beautiful family ski resort which offers the best of both worlds: it's got a family-friendly vibe but still packs a punch when it comes to the terrain, with 169 slopes offering a vertical drop of 3,668 feet, which perhaps explains why Steamboat has produced more winter Olympians (98) than any other ski town in North America. 
It's another resort on the verge of a major transformation, thanks to a $135m overhaul of the town centre (the first phase is due to be completed by 2023) and a new 650-acre ski area over at Pioneer Ridge, which will have a new teaching area and a new gondola by the end of 2022.
Steamboat offers great value too, thanks to free lift passes for kids aged 12 and under, and free use of the resort's famous Little Red Wagons (picture sledges for your ski gear), which can be picked up from either One Steamboat Place or the resort's Kid's Vacation Centre. 
There's also a packed calendar of family-friendly events, including regular torchlight parades, firework displays and an annual Winter Carnival.
Read our full Steamboat ski resort guide for more info.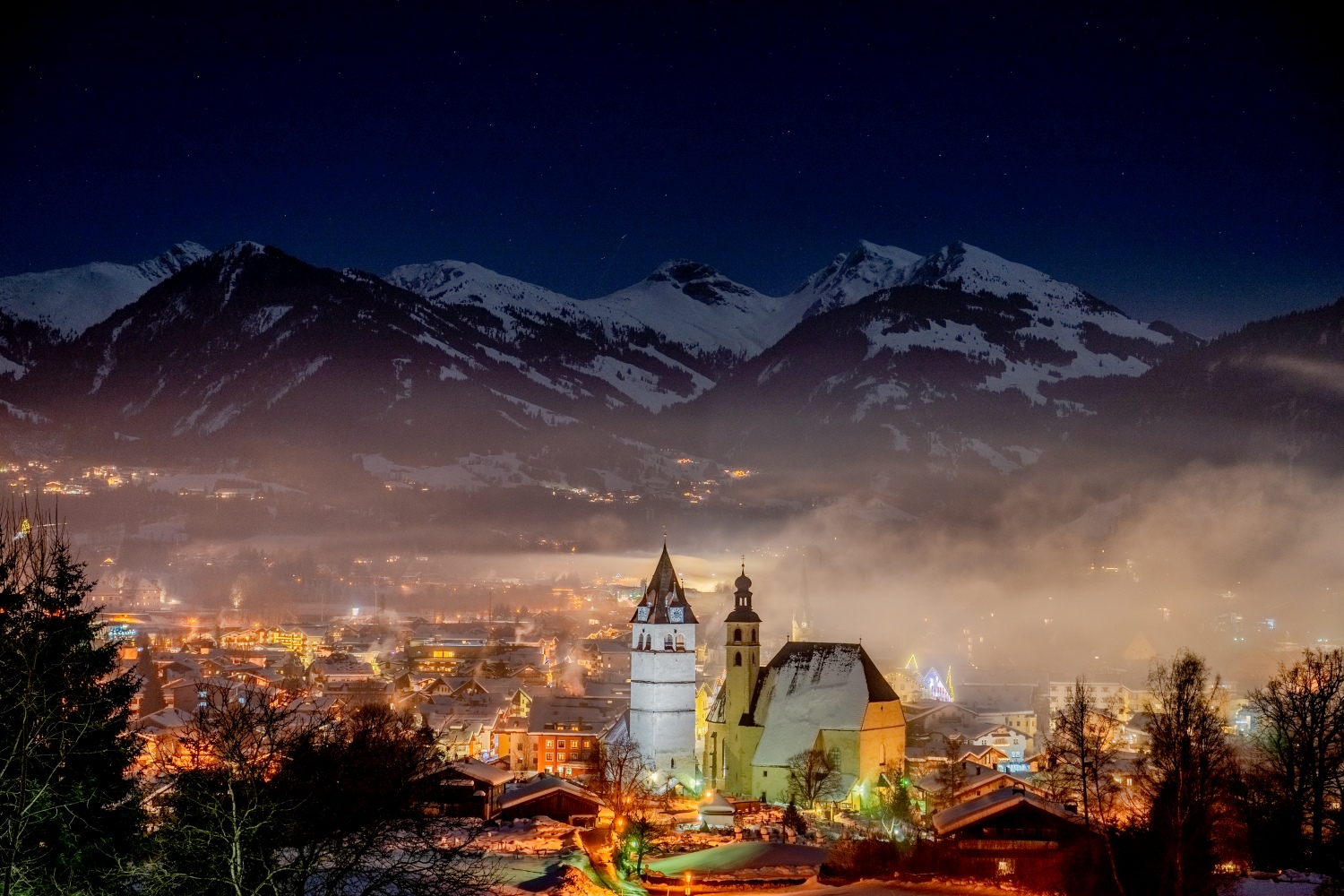 Kitzbühel, Austria
It's a well known fact that kids hate long drives and complicated transfers, which is why we love Kitzbühel's easy accessibility from Innsbruck or Salzburg in Austria and Munich in Germany, with direct flights available from London, Birmingham, Edinburgh, Cardiff and Manchester airports. With a ski area which starts at 800 metres above sea level and extends to 2,000 metres, Kitzbühel is a resort which squeezes in an abundance of terrain for all skill levels, and where the fun starts early – the ski season typically lasts between October and late April here. 
It's considered one of the best ski resorts for families - and with good reason. The 185 kilometres of pistes covers three mountains, including the Jochberg beginners' area with its obstacle courses and miniature slalom. More advanced skiers can take on the Strief, the fearsome competition slope which streaks down the side of the Hahnenkamm. 
The resort's close proximity to Mayrhofen - it takes just an hour to drive from one resort to the other - makes it a great option for those keen to squeeze multiple resorts into one trip. If you squeeze in a visit, make sure you check out the White Lounge Igloo Village, where you can sleep in an ice igloo on the side of Mount Ahorn.
Read our full Kitzbühel ski resort guide for more details.
La Rosière, France
The Tarantaise valley in the French Alps is home to some of the world's most famous resorts—Val d'Isère, Tignes, Les Arcs and La Plagne. Given the outsized reputations of some of these neighbours, it would be overlook La Rosière. But to do so would be a mistake, especially if you're looking for a place to take the whole family on a ski holiday.
Built on slopes that predominantly face southwest, La Rosière is something of a sun trap—making it perfect for late season, spring time trips when the days are warm and you don't have to worry too much about the kids freezing their fingers off. Buy a full area pass, and the ski lifts will take you across the border to La Thuile, in Italy—a route that you can drive in summer, over the Petit Saint Bernard pass.
The village—arranged over multiple levels with elevators linking them—is functional, rather than chocolate-box pretty. But it has everything you need to keep kids entertained off the slopes: a cinema, an ice rink, a bowling alley, sledging areas, and an "xtreme luge" — a sort of sled on monorails, which runs all year-round. Best of all, accommodation costs less, as a rule, than it does in some of the resort's famous neighbours. What's not to like?
Read our full review of La Rosière to find out more.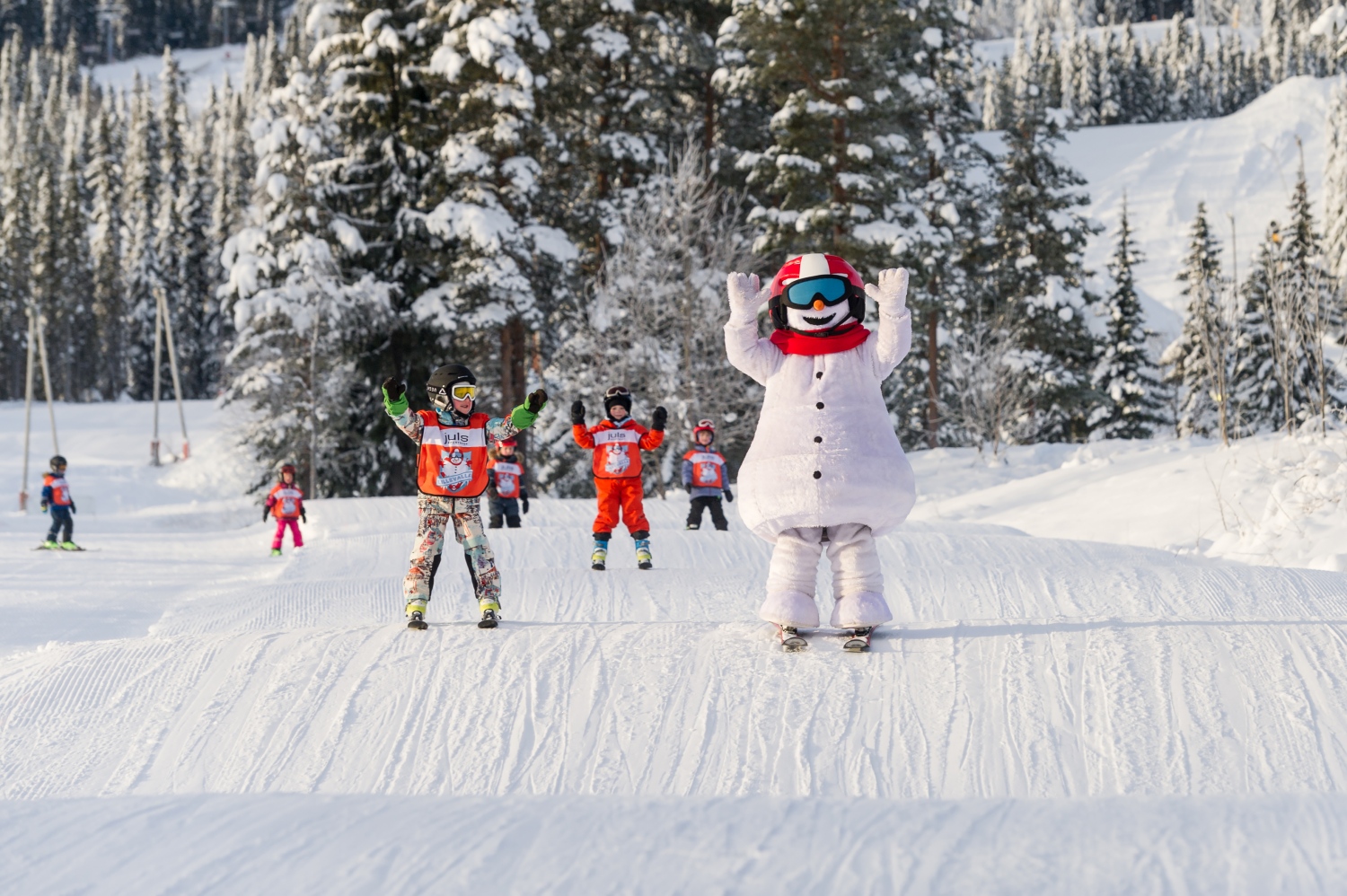 Åre, Sweden
If you're after a family ski holiday with plenty of opportunities for family fun once the ski boots have been pulled off, consider Scandinavia's largest ski resort. In Åre, off slope activities include everything from opportunities to admire the northern lights to reindeer safaris and husky sledding sessions. 
Although advanced skiers will quickly cover the majority of the terrain in Åre, there is a huge network of beginner and intermediate-friendly slopes young children on their first or second ski holidays, and the entire area is easy to explore. Lift queues are few and far between here - even during the school holidays. The fantastic range of restaurants and bars will satisfy the fussiest of eaters (we recommend Åre Crêperie & Logi for the famous pancakes). 
The resort covers three areas: Åre Björnen, Duved and Tegefjäll.  Åre Björnen is the best option for families and beginners – most of the hotels and self-catering cabins are metres from the ski school meeting point (look out for Valle, the resort's lovable snowman mascot) and kid-friendly areas include Björnlandet, a bear-themed beginners' area next to the  Järvenliften lift, and  Valles Torg, where there are several magic carpets and (gentle) drag lifts to provide easy, direct access to short, gentle slopes perfect for beginners on their first family ski holidays.
Take a look at our full Åre ski resort guide for more info.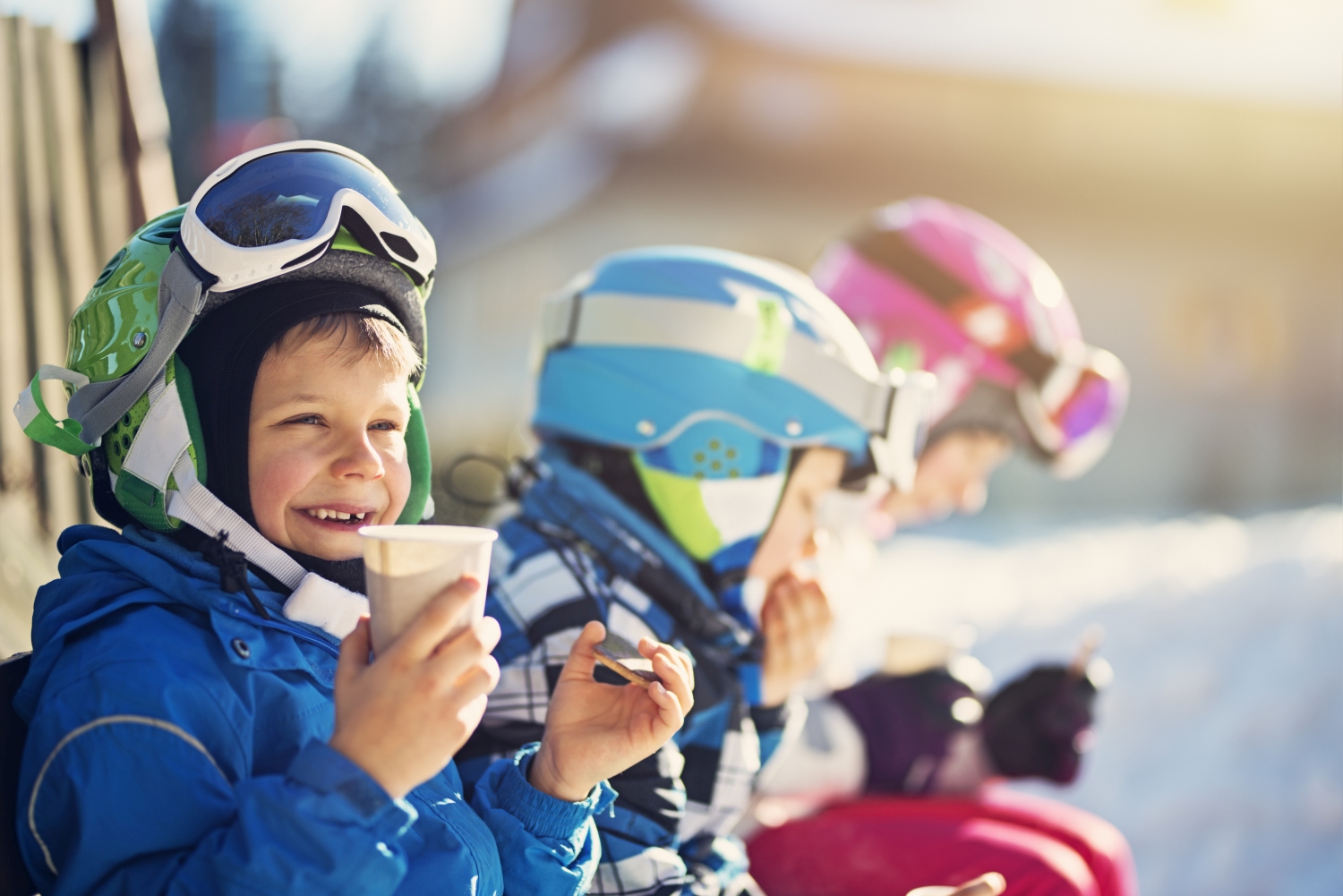 Andalo, Italy
The definition of a hidden gem, Andalo sits in a fairytale-pretty location, at the base of the Dolomiti di Brenta—the westernmost of the nine mountainous areas that make up the Dolomites UNESCO World Heritage site. The resort isn't massive, with only a dozen or so lifts accessing 50km of pistes, but the runs—and in fact the entire resort—has been laid out with families in mind. A series of cruisey blues and reds feed skiers back towards three main plateaus that serve as convenient meeting places—each with its own mountain restaurant, beginners area, ski school meeting point, and kids' playground. If the kids are slightly older and more independent, the layout of the slopes means it's easy to send them off by themselves, safe in the knowledge that you'll cross paths with them regularly.
Down in town, many of the hotels are specifically set up for families too, with kids' clubs, flexible meal times, and babysitters available. Off-slope facilities include an aqua park, an ice skating rink, a horse riding school, and indoor and outdoor climbing walls—climbing culture is particularly strong here, with the sport climbing Mecca of Arco just a 45 minute drive away.  As a rule, Italian hotel prices tend to compare favourably to those in French ski resorts and their Austrian counterparts too, making Italy a perfect family ski holiday destination for anyone feeling the pinch of the cost of living crisis.
This part of the country boasts an enviable record of sunny, cloudless days, even in January and February, and the views from the top of the mountain, down over the nearby city of Trento, south towards Lake Garda, and west to the jagged peaks of the Brenta range, truly breathtaking. Plus, of course, this being Italy, the food is unfailingly excellent—a family meal on the viewing terrace of the mountain top restaurant, La Roda, is something you won't forget in a hurry.
Learn more about Andalo on the official Dolomiti Paganella website.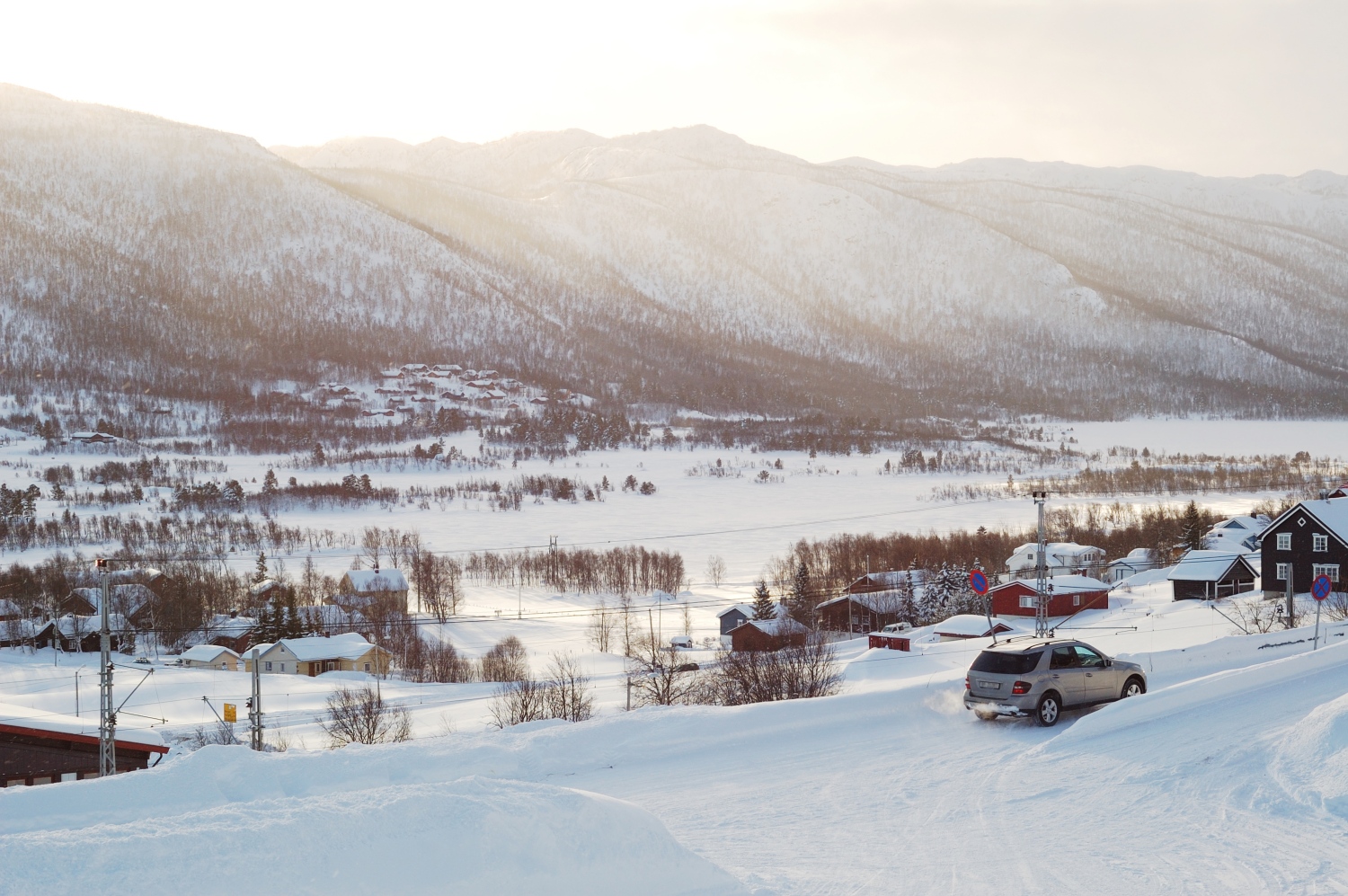 Geilo, Norway
Tucked away in the mountains halfway between Oslo and Bergen, Geilo isn't Norway's most famous resort—that title would probably belong to nearby Hemsedal or to Lillehammer, site of the 1994 Winter Olympics. But it's got a good claim to be the most family-friendly. From the well-organised group ski lessons for beginners, to the excellent terrain parks for teenage skiers and snowboarders, there's something for every age group on these slopes.
Because of its northerly latitude, the resort is snow sure, including in those crucial family ski trip periods at the beginning and end of each season—Christmas and New Year weeks, and the Easter holidays. But unlike the most snow sure resorts in the Alps, these mountains aren't hugely high, nor the terrain particularly gnarly. That means you can happily let the kids roam free, without worrying that they'll get themselves into trouble. The layout of the resort—largely single-length lifts with blues and reds snaking down towards a few central hubs—makes it hard to get lost, and easy for scattered groups to meet for lunch.
If you or the kids fancy a day off, there are loads of non-skiing options, from snowshoe and dog sled excursions, to sledging in the Dagali Fjellpark, to spending a relaxing day in one of the resorts' many spas. If you fancy trying a true nordic experience, there are a ton of well-marked cross country ski trails too.
Booking family skiing holidays often involves shopping around for budget options, and there's no getting around the fact that ski holidays in Norway can be on the pricey side. But there's something about the Scandinavian approach to family life outdoors that's uniquely appealing, and if you're looking for a family skiing experience that's slightly different from the Alps, Norway is an incredible option.
Snow Magazine's guide to family ski holidays
Booking a family ski holiday? Top of your to-do list should be a look at our comprehensive guide to planning a family ski holiday.  
We've covered all bases - whether it's how to work out if a self catering apartment or a chalet hotel is the best option for your clan, the lowdown on the destinations we rate as our favourite family ski resorts, or advice about how to reduce the inevitable stresses which are part and parcel of planning your next family ski holiday.