Scandinavia has it all: world-renowned cross country skiing, great aurora borealis-spotting opportunities and wonderfully family-friendly accommodation.
The terrain here suits all types of skiers and snowboarders, ranging from beginners on their first ski trip to Scandinavia, to freestylers hoping to catch some air in a terrain park deep inside the Arctic Circle.
If you're looking for steep terrain or really long, alpine descents from your ski resorts, Scandinavia might not be top of your list. But for almost anything else, they've got you covered - and with a long season, lasting well into June in the northern resorts like Åre, it's a great place to head for your late-season kicks. Don't just take our word for it though – check out our guide to the 10 Scandinavian ski meccas which should be on your radar.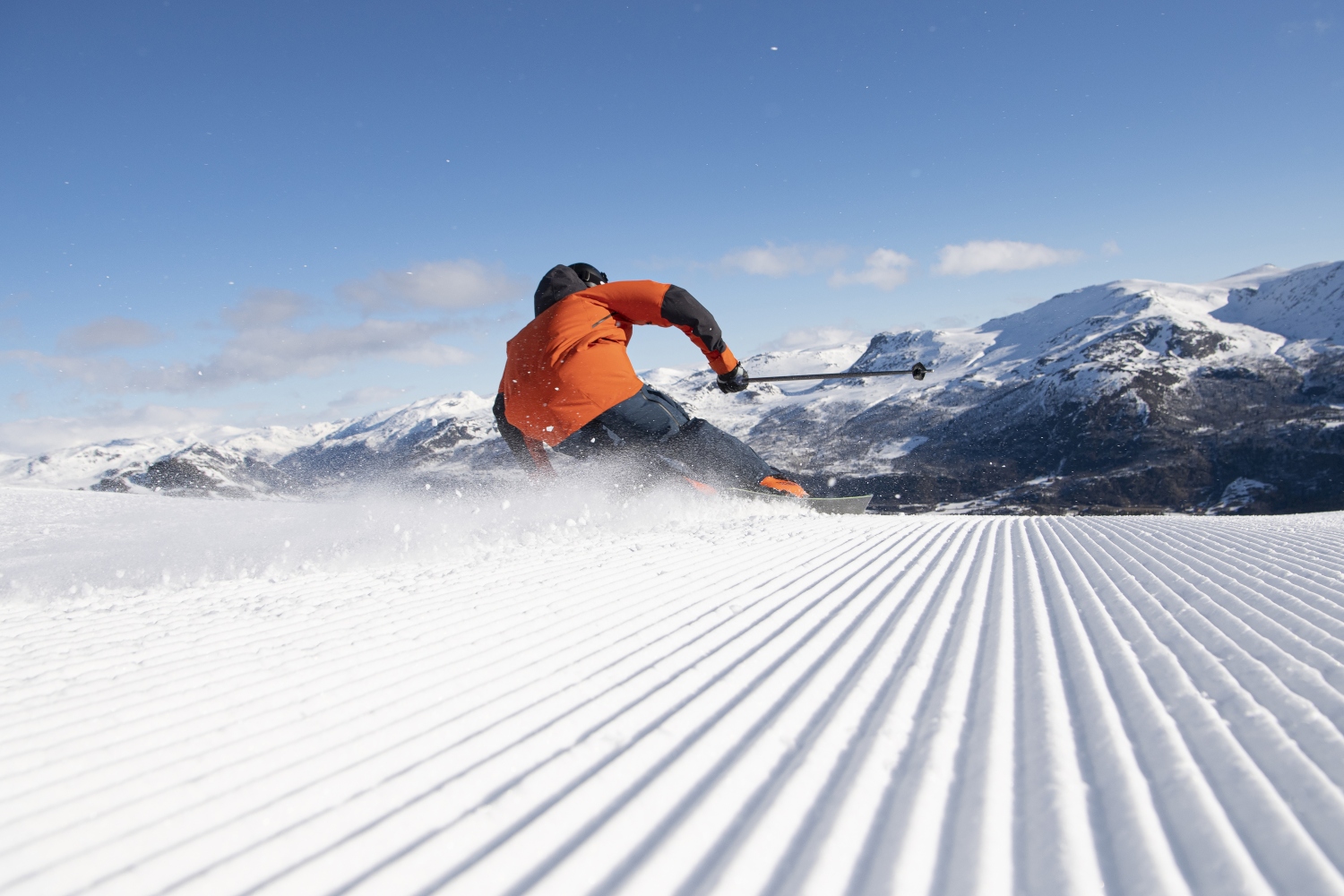 Hemsedal, Norway
A genuinely world famous Scandinavian ski resort, Hemsedal, a three-hour drive from Oslo, is a family friendly ski destination famous for the variety of its terrain and long, winding runs, our favourite of which is the green-rated Solløypa, which stretches from the resort's highest point (the 1,497m Totten summit) to the main resort.
Hemsedal is a great spot for anyone trying off piste skiing for the first time – the terrain is extremely forgiving, and the majority of off piste areas are close to groomed runs.
Fancy something a little more challenging? There's a brilliant selection of four snow parks for skiers and snowboarders to choose from, including the Panorama Park (find it next to the Hollvin Express), with its spectacular views over the Northern Hemisphere's prettiest ski region.
Hemsedal has some of the best snow in Norway's Scandinavian Alps (you can ski between late November and early May here) and a free bus provides easy access to the nearby resort of Solheisen. There are plenty of activities for non-skiers too, including everything from dog sledding experiences and ice climbing lessons to toboggan tours and snowmobile sessions.
It's a ski destination with a brilliant range of accommodation – you can bed down in everything from luxury hotels and self-catering apartments to slopeside cabins – and a lively après ski scene which puts the French Alps to shame. Prone to dancing on the table in your ski boots? You'll be in good company in Hemsedal.
Find out more details on our Hemsedal resort guide.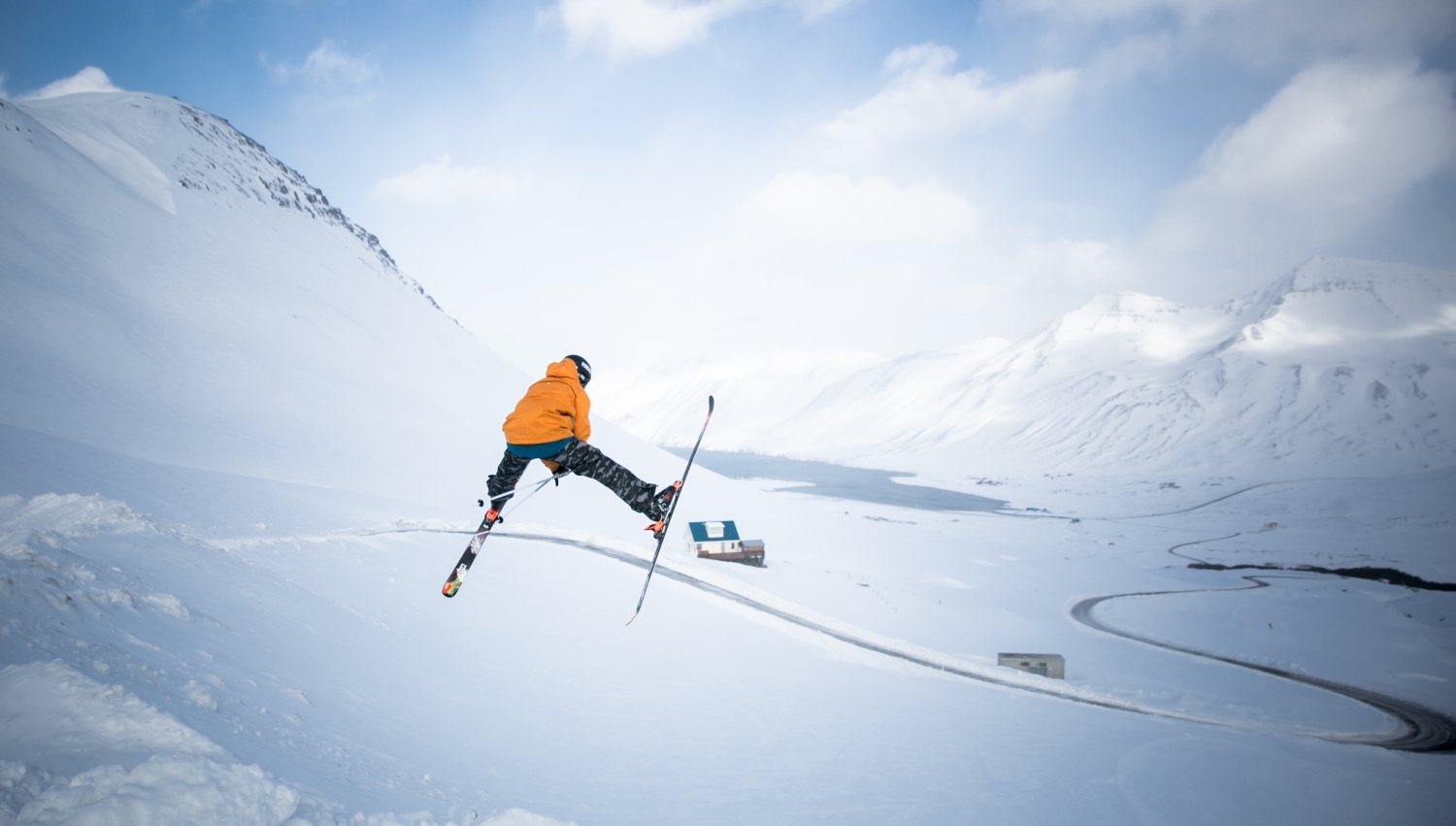 The Troll Peninsula, Iceland
Full disclosure: skiing and snowboarding on the Troll Peninsula isn't about fun parks and pisted perfection – it's about heading off the beaten path, ideally with the help of a helicopter.
Although North Iceland has a handful of great ski resorts which open from November to May, daredevils typically make a beeline for this wonderfully wild landscape, which is perfectly suited to cross country skiing, ski touring and heli-skiing holidays.
It's a region threaded with some of the world's best cross country tracks, and it's a firm favourite with skiers keen to connect with nature – get your timing right and you'll enjoy breath-taking views of the aurora borealis, and the chance to ski down crowd-free slopes which end at sea level, right on the edge of the Atlantic Ocean.
A holiday here admittedly takes a little more planning – most visitors stay in guesthouses and small lodges such as the ones in villages such as Dalvík, which is where you'll find some of Iceland's top heliskiing operators.
Find out more about the Troll Peninsula.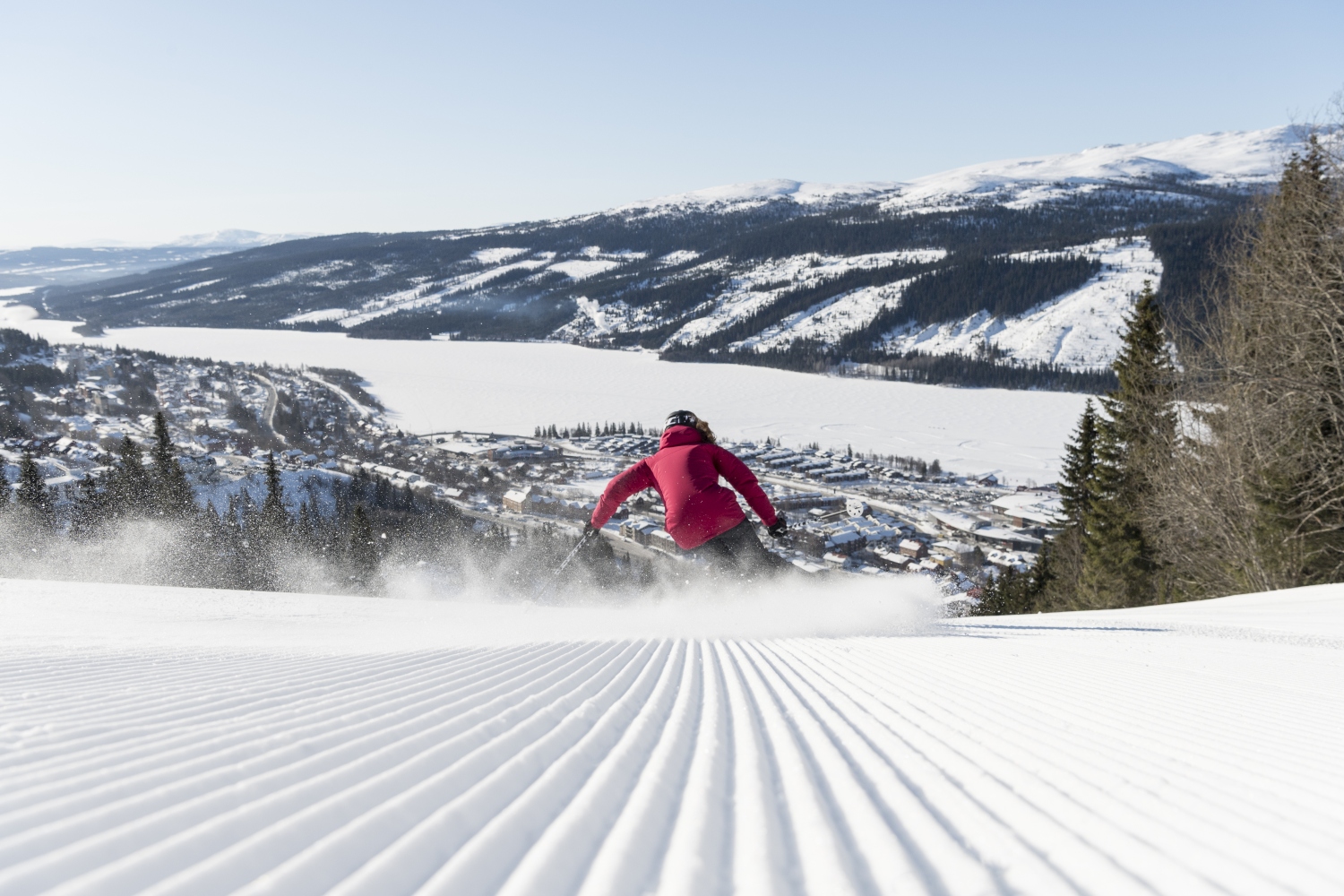 Åre, Sweden
Sweden's most famous ski resort attracts every type of skier and snowboarder, ranging from beginners who've dreamed of taking their first winter holiday in one of Scandinavia's best ski resorts, through to more experienced skiers drawn to the region's endless cross country tracks and wonderfully reliable snow conditions.
The resort's slopes (there are around 100) are serviced by fast, modern lifts, and the majority of the terrain is best-suited to beginner and intermediate skiers - although the mogul-dotted Hummelbranten, one of the resort's seven black runs, will more than satisfy daredevils with a need for speed. There's a great selection of activities for non-skiers, who can sign up for everything from husky rides to tobogganing sessions.
Åre has three main ski areas: Åre Village, which is where you'll find some of the best après ski in Sweden and brilliant accommodation, Åre Björnen, which is brilliant for families and beginners, and has easy access to some of the resort's best green and blue runs, and Duved, which feels more remote and is known for its tangle of long, wide runs perfect for beginners and intermediates. Accommodation is mostly self-catering in Duved, although a regular free bus service to central Åre means it's easy to stock up on supplies.
Take a look at our full Åre resort guide here.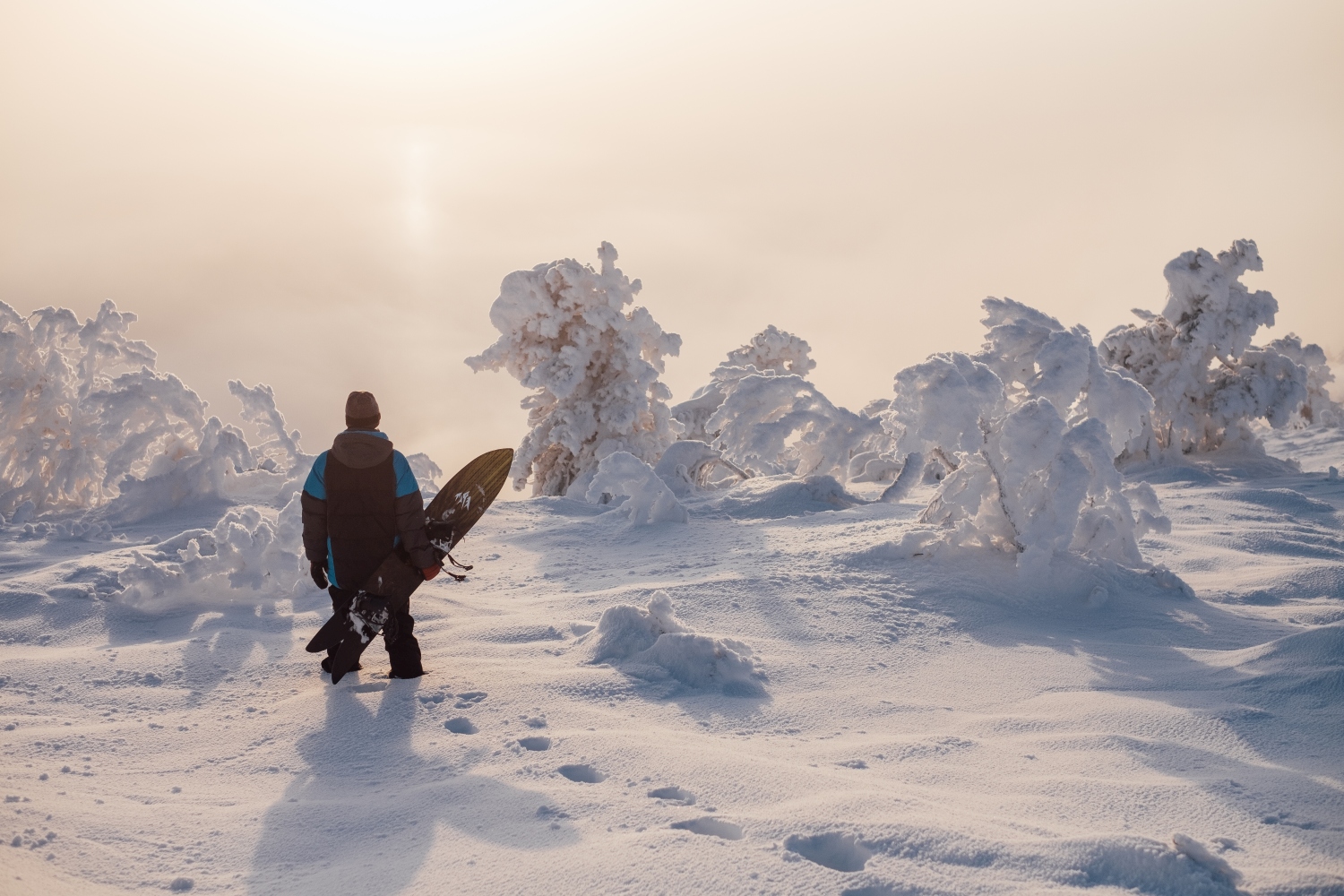 Pyhä, Finland
This family friendly ski resort, deep inside the Arctic Circle region, has always been a leader in the sustainability stakes – since 2011, a reliance on renewable resources has allowed Pyhä to reduce its emissions by approximately 80 per cent, so it's perhaps hardly surprising that it was recently awarded Best Ski Resort in Finland at the International World Ski Awards.
It's a snow-sure resort especially popular with freeriders, thanks to vast expanses of easily accessible off piste terrain in the shadow of some of Finland's most dramatic mountains.
Although the majority of its pisted slopes are best suited to beginner and intermediate skiers, there are some brilliant runs for more advanced skiers, including the black-rated Huttu Ukko and Palander pistes.
It's also a great holiday resort for ski touring, cross country skiing and snow shoeing, and there's an extensive network of well-maintained hiking tracks.
For the best views, tackle the ones which lead to the summits of Laakakero hill and Peurakero hill. The resort's best runs will soon be more accessible, too, with a new slope-side hotel and a new chairlift due to be unveiled by early 2022.
Get more information about the resort with our full Pyhä resort guide.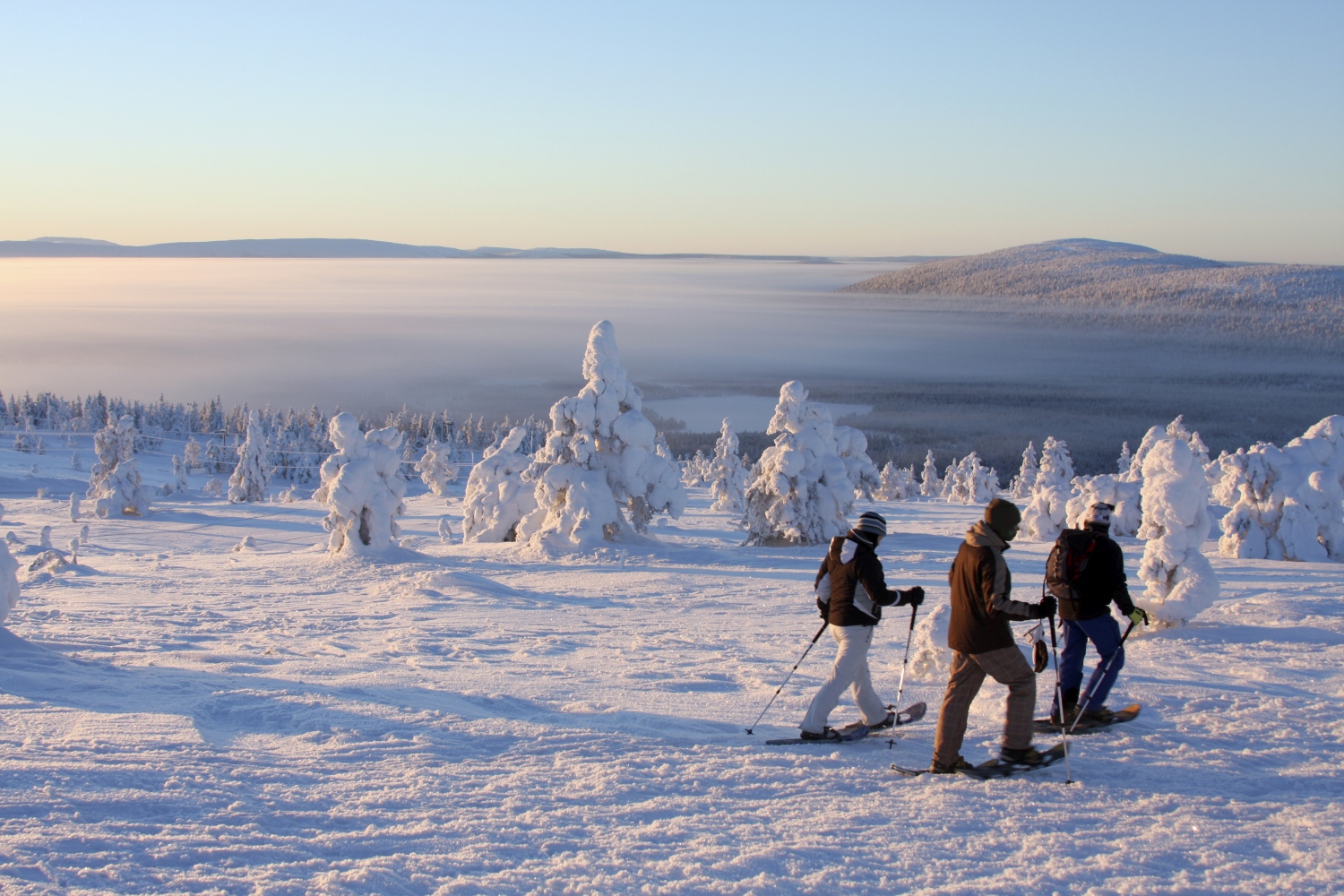 Levi, Finland
This is another incredibly snow-sure resort, proof of which is the recent decision to extend Levi's winter season, which will now last from October until May.
It's one of the best skiing resorts in Scandinavia for expert skiers, hence the FIS's decision to hold the Finnish leg of the women's Ski Federation Alpine Ski World Cup there in November 2020.
In recent years several new ski lifts have popped up, and there's now a brilliant choice of accommodation – the Design Hotel Levi, Levi Black apartment hotel, Northern Lights Village (with its 40 Aurora Cabins) and Aurora Pyramids have all opened since 2019.
The expansion is part of the £25m Levi West project, which will involve the construction of several new restaurants and slope-side hotels on Levi's western side.
If you hadn't guessed from the latter list of aurora borealis-friendly accommodation, Levi is a great place to sport the Northern Lights, and there's a wide range of activities – including night-time snowmobile safaris and husky rides – for those keen to admire the phenomena from the resort's most remote corners.
Have a read of our Levi resort guide for more info.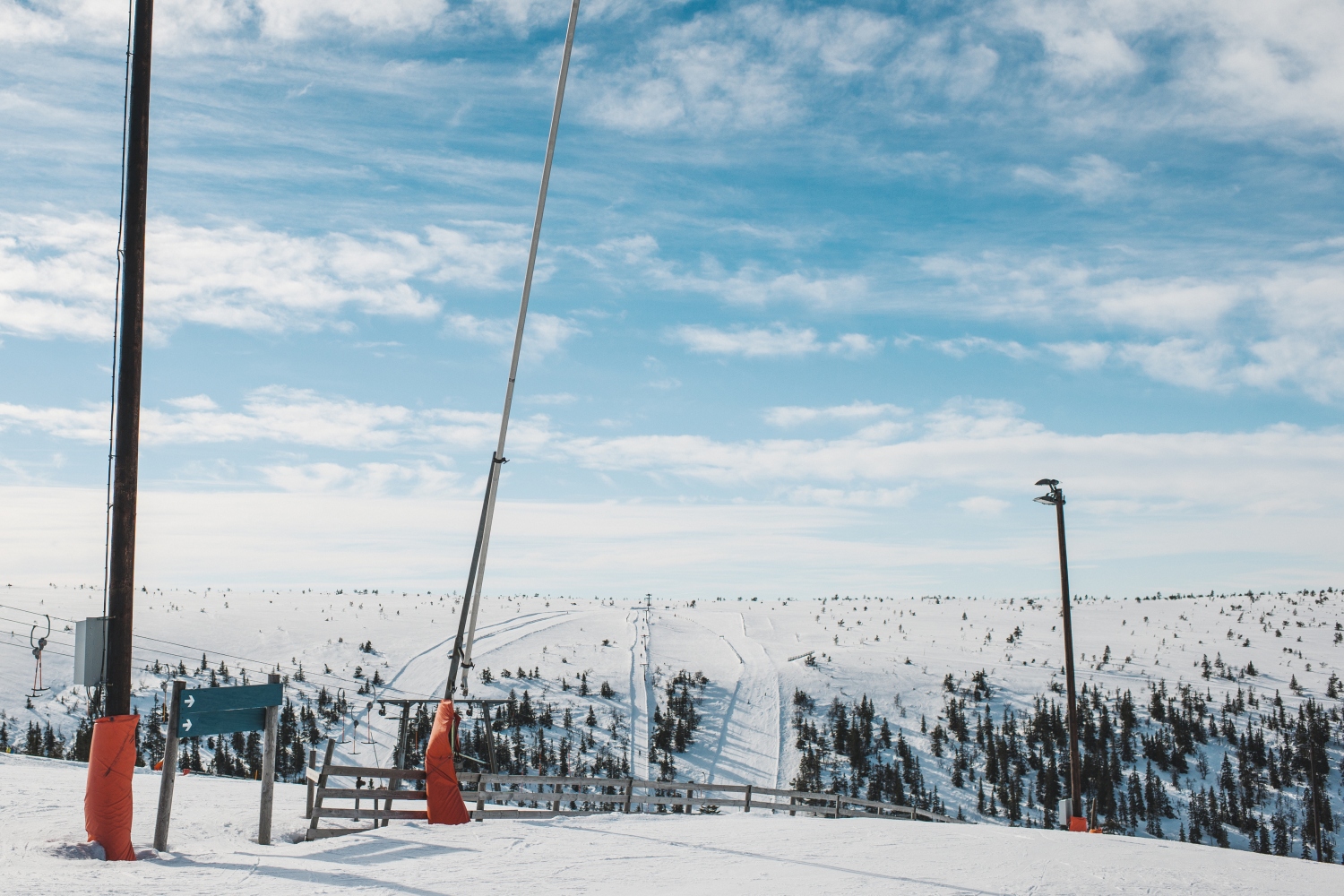 Sälen, Sweden
If you like a ski holiday with short transfers, consider Sälen, one of the prettiest resorts in Northern Europe. The December 2019 opening of the Scandinavian Mountains Airport, served by flights from Sweden's biggest cities, means much less time in the car – it takes just 10 minutes to get from the airport to this winter wonderland.
Sälen is a base resort for four ski areas, and it's ideal for beginner and intermediates. Skiers don't come here for Burton-branded fun parks or record-breaking vertical drop, but for the endless wide open slopes (including some of the prettiest tree runs in the northern hemisphere) and access to a huge network of cross country skiing trails. There's a wide range of accommodation, and in December 2021 the 153-room SkiStar Lodge Hundfjället will open.
It's one of several new additions for Sälen, which is just a few miles from Sweden's border with Norway. Since 2018 £8m has been spent upgrading the resort, which now has one of the best ski lifts in Scandinavia – the eight-person West Express Hundfjället chairlift. Other improvements include a newly-expanded ski area and enhanced snowmaking facilities.
For more info and to book your getaway to Sälen, go to skistar.com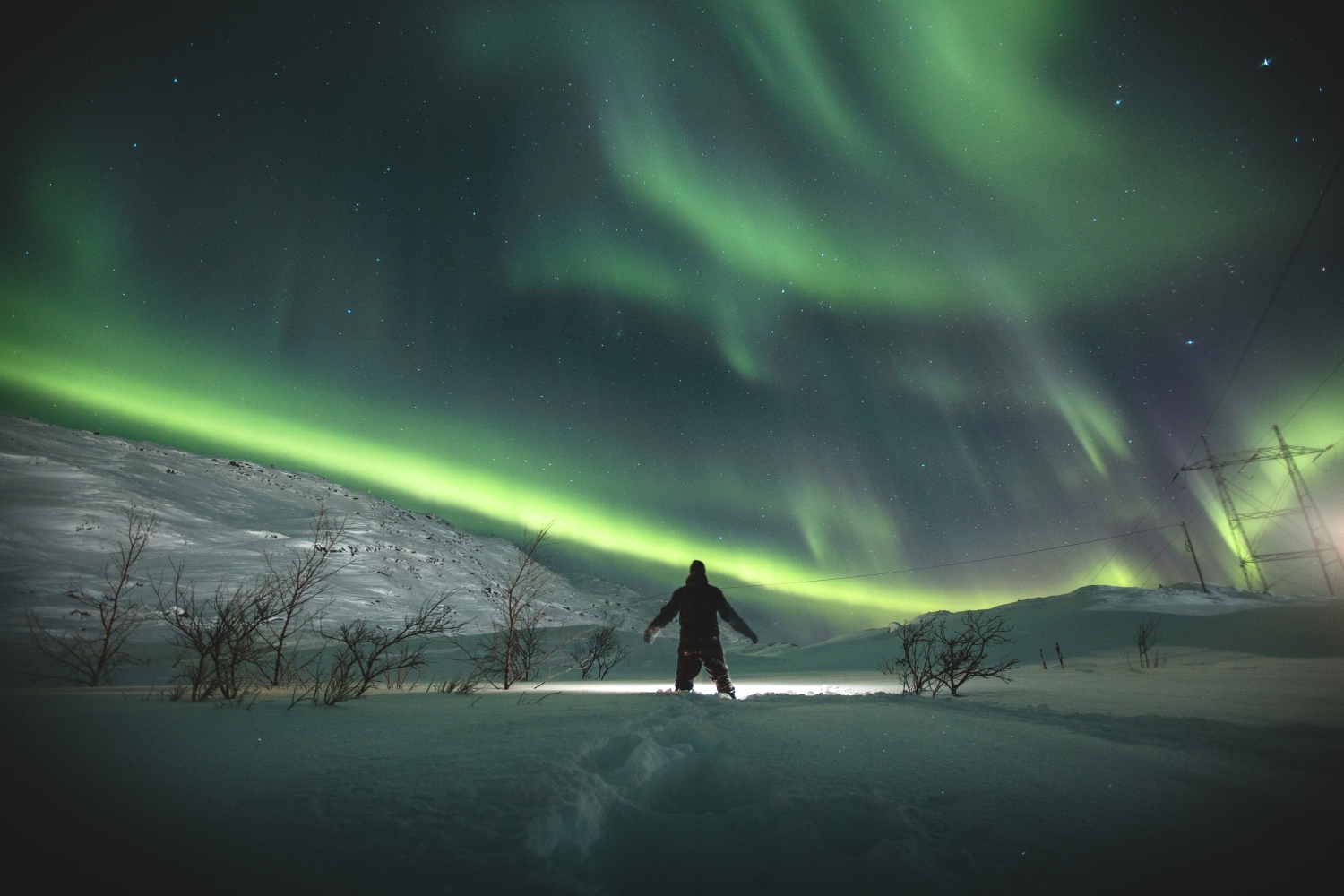 Riksgränsen, Sweden
Sweden's northernmost resort is a brilliant option for families as well as anyone keen to visit multiple ski resorts into one holiday – the resort is just a few kilometres from the border with Norway.
It's one of Sweden's top heli-skiing destinations, and those who hop in a heli will have access to more remote areas such as Mårma and Kebnekaise, where thrill-seekers can fly down powder-blanketed steeps which offer 1,500 metres of vertical drop.
The resort's 15 slopes range from green to black, and there are some fantastic runs for more advanced skiers, including Uffe's Wall, Rimfors and Sheriffen, which offer stunning views over northern Scandinavia. Hotell Riksgränsen is the resort's largest hotel, although there are two smaller ski lodges, a hostel and a block of self-catering apartments, too.
Fancy a day off the skis? Take a ride on the historic Ofoten Line train, which connects Narvik to Kiruna, via Riksgränsen. Alternatively, consider spending a night at the 10-room Låktatjåkko Mountain Station, which was built in 1939. At 1,228 metres above sea level, it's Sweden's highest mountain lodge, and located in a dramatic mountain pass. During winter, most people get there on snowmobiles or cross country skis.
Find out more about this resort with our Riksgränsen resort guide.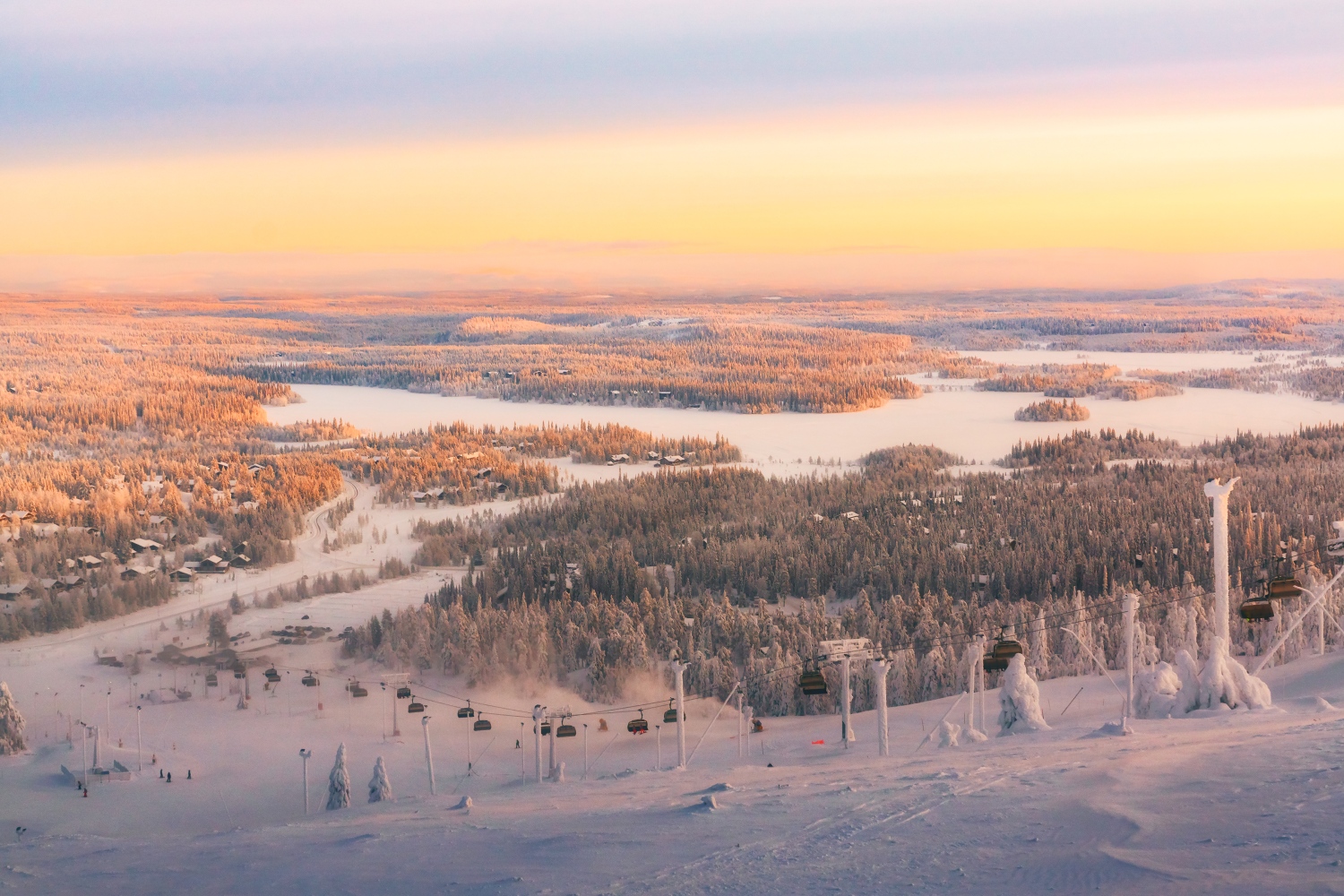 Ruka, Finland
Families and beginners will love Ruka, which offers 200 skiing days a year and has 35 slopes served by 22 lifts. Although it's a resort best suited to beginners, there are some great intermediate runs, most of which can be found on the so-called Front Slopes in front of Ruka village.
This area is also where you'll find the fearsome Battery Run piste, which has been used for various FIS events.  The resort has the largest beginners' ski area in Finland, as well as plenty of off-piste activities, ranging from reindeer herding masterclasses and sleigh rides to ice fishing and snowshoe lessons.
Kids will love the accommodation – there are dozens of quaint cabins dotted around this pedestrianised ski village, although there are a handful of self-catering apartments, too. Snow conditions are famously reliable, thanks to the resort's location in Northern Finland, and Ruka's ski season was recently extended to run from October until mid-May. There are new lifts, too; the Village-2-Valley gondola and the VillageExpress-chairlift have both opened since late 2018.
Discover more about the resort with our Ruka resort guide.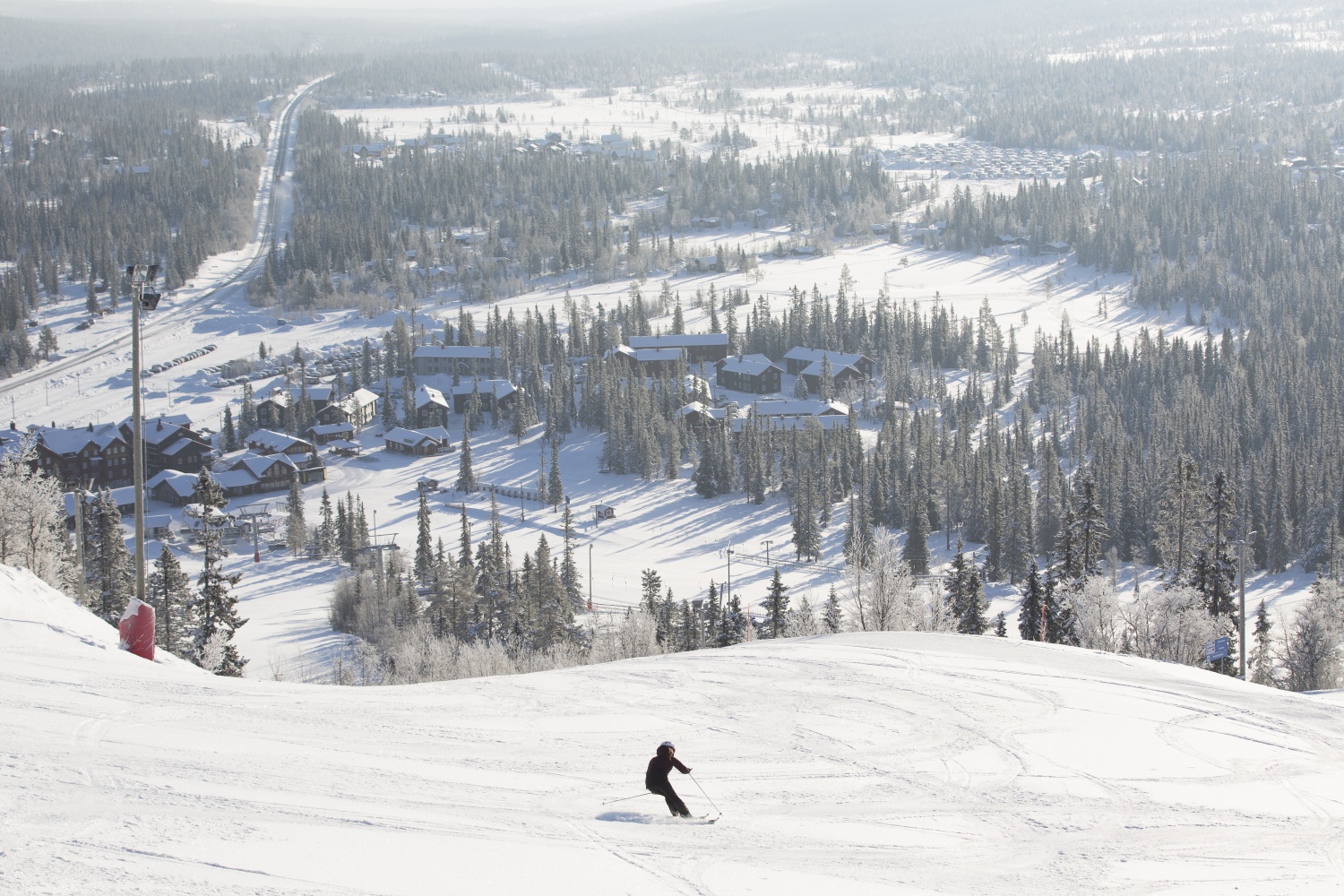 Vemdalen, Sweden
For the ultimate snowy adventure, head to Vemdalen, where you'll find a hat trick of three stunning ski areas (Vemdalsskalet, Klövsjö/Storhogna and Björnrike) all of which can be accessed using one ski pass. The resort, which is in mid-western Sweden and a two-hour drive from Åre Östersund international airport, is operated by SkiStar, which has invested heavily in Vemdalen, opening six new six-seater express chairlifts and adding several new slopes in recent years. 
There's a smattering of runs for advanced skiers, although it's a resort which is best suited to intermediates, who can glide down well-maintained slopes both below and above the tree line. There's plenty of fun to be had once the lifts close, too.
We suggest hopping over to Björnrike to meet some reindeer and learn about the local Sami people while enjoying a fika (the coffee-and-cake fix beloved by Swedes) in a traditional Sami dwelling. Accommodation options vary, with four hotels to choose from (our favourite of which is the Hovde Hotell, just 50 metres from the nearest ski lift) along with several hostels and self-catering apartments.
Want more? Take a look at our Vemdalen resort guide.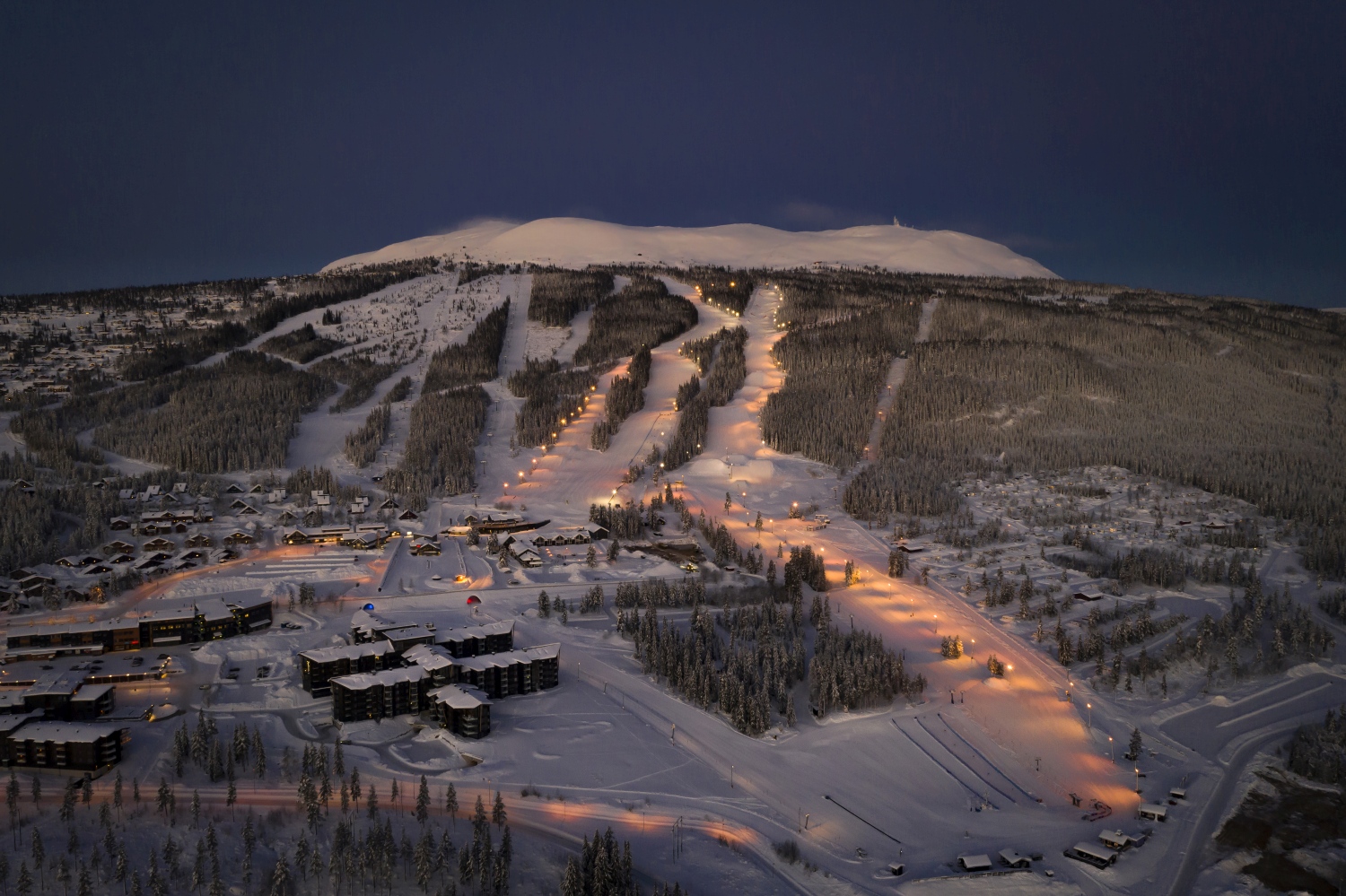 Trysil, Norway
You'll find Norway's largest ski resort just a three-hour drive from Oslo, and just a 45-minute drive from the Scandinavian Mountains Airport, which opened in 2019.
The resort has over 70 runs, and although it's a great option for beginners and families, it's also one of Norway's top resorts for intermediate and advanced skiers, who can cruise around Trysil's off-piste areas, glide through the runs which weave through Vihammerskogen forest, catch some air in one of the resort's snow parks or tackle steep, fast descents such as Piste 75, which has an angle of 45 degrees on the steeper sections.
The resort is also known for its regular night skiing sessions (we recommend the floodlit runs near Trysil Hoyfellsenter). And then there's the après-ski. You'll find everything from cosy pubs to cocktail bars and nightclubs here.
Our personal favourites include Kveik, a homely brewpub which also serves up some delicious Nordic cuisine, and the Radisson Blu's sleek Lobby Bar, where the centrepiece is a beautiful indoor firepit.
Read our Trysil resort guide for more information about the resort. 
Independently researched and written by the Snow Magazine team, sponsored by the experts at Crystal Ski Holidays.