Independently researched and written by the Snow Magazine team, sponsored by the experts at Crystal Ski Holidays.

Canada's got some of the best powder in the world, along with some of the best ski resorts, whether you're a free-rider with a weakness for heli-skiing or an intermediate skier keen to hone your skills while enjoying a backdrop of North America's most spectacular mountains. Here are 10 Canadian resorts to consider for your next ski holiday.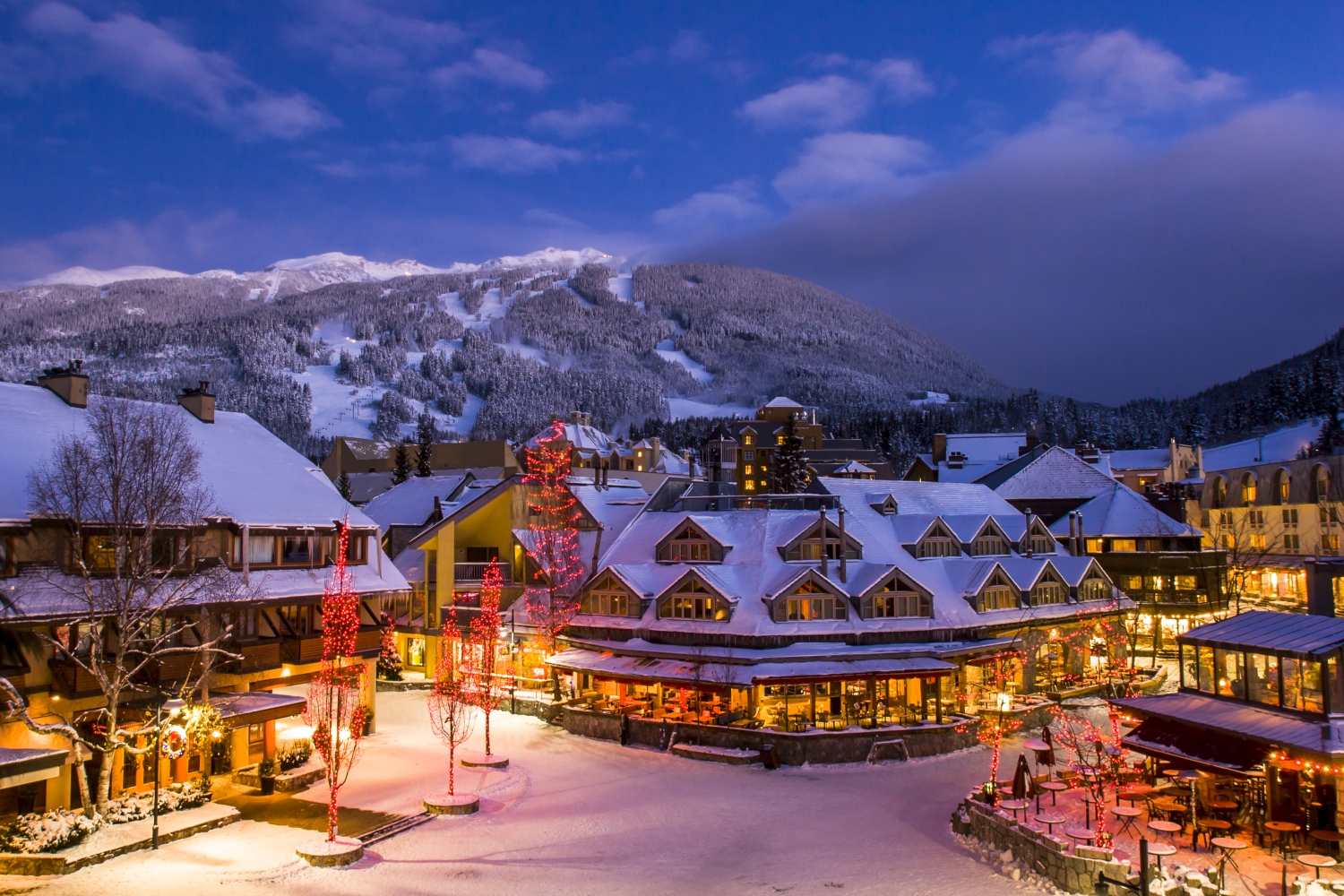 Whistler, British Columbia
Getting from Vancouver to Whistler, one of our favourite Canadian ski resorts, involves just a two-hour drive, and a spectacular one at that – you'll cruise along the Sea to Sky highway, famous for its awe-inspiring views. It's a supersized resort with terrain to suit skiers and snowboarders of all abilities, whether it's adrenaline junkies keen to carve up the 16 alpine bowls and fun parks, or intermediates dreaming of honing their skills on the 200 trails, spread over 8,100 acres. 
The Peak 2 Peak gondola, which opened in 2007, means it's easy to whiz between the Blackcomb and Whistler ski areas, and if you get your timing right you'll enjoy a ride in the glass-bottomed gondola. Fancy a spot of heli-skiing? You've come to the right place – the resort offers a number of packages although this isn't an activity which comes cheap - expect to pay around £5,000 for six runs. The good news? Sticking to the pistes is just as fun, thanks largely to the resort's snow sure reputation – on average, Whistler gets 11.7 metres (38.4 feet) of snow every year. 
Make sure you take the time to check our Whistler Village too. A brilliant base for those who are keen on easy access to the slopes but also love a bit of après-ski, it's where you'll find the resort's best luxury hotels and restaurants, along with some fantastic galleries and museums.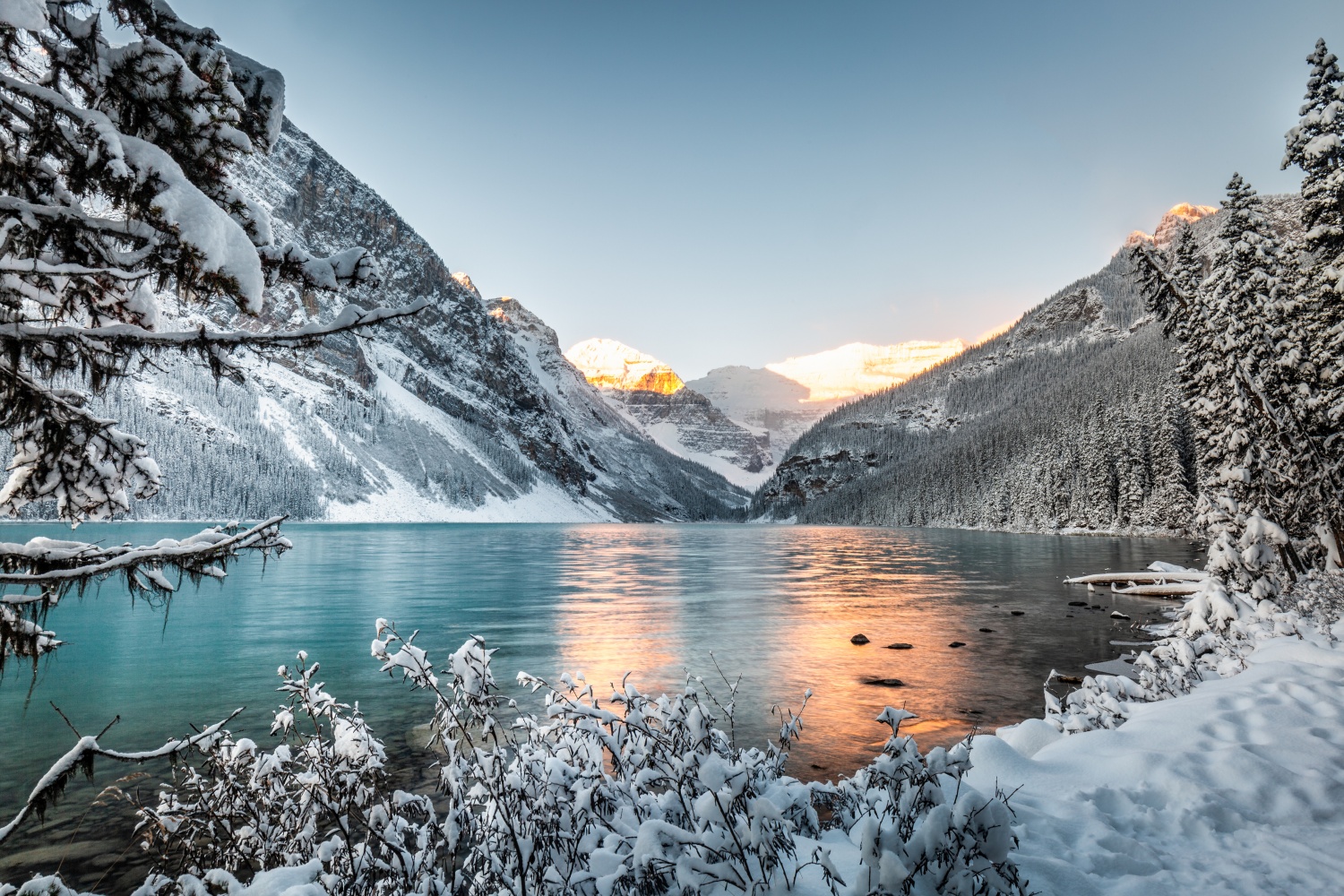 Lake Louise, Alberta
Comprising a 4,000-acre ski area, Lake Louise is a beautiful resort known for its varied terrain. Head here for your ski holiday and you'll find everything from terrifyingly steep couloirs and remote bowls to easy-going tree skiing and fun parks here. In 2021 it will also undergo an expansion, thanks to the addition of 480 acres of terrain in the West Bowl area, beneath the spectacular summit of Whitehorn Mountain. This is also where you'll find the new Summit chairlift – the resort's first Doppelmayr ski lift.
Lake Louise is one of the best resorts in Canada when it comes to spectacular backdrops  – ski here and you'll enjoy uninterrupted views of glaciers, forests and some of the country's tallest peaks. It's also the largest ski resort in Banff National Park, with 145 pistes and plenty of options for all skill levels, although intermediate and advanced skiers are especially well catered for.  
It's also a great resort for anyone who wants to combine multiple destinations, because if you opt for the SkiBig3 Season Pass, you'll get access to the Sunshine and Mt Norquay ski areas, too. You'll be spoiled for choice when it comes to accommodation but it's hard to beat the Fairmont Chateau Lake Louise. Stay at this legendary lakeside hotel – which started life as a single-storey log cabin owned by the Canadian Pacific Railway - and you'll enjoy spectacular views of the Victoria Glacier, the best views of which are from the ridiculously cosy Walliser Stube restaurant.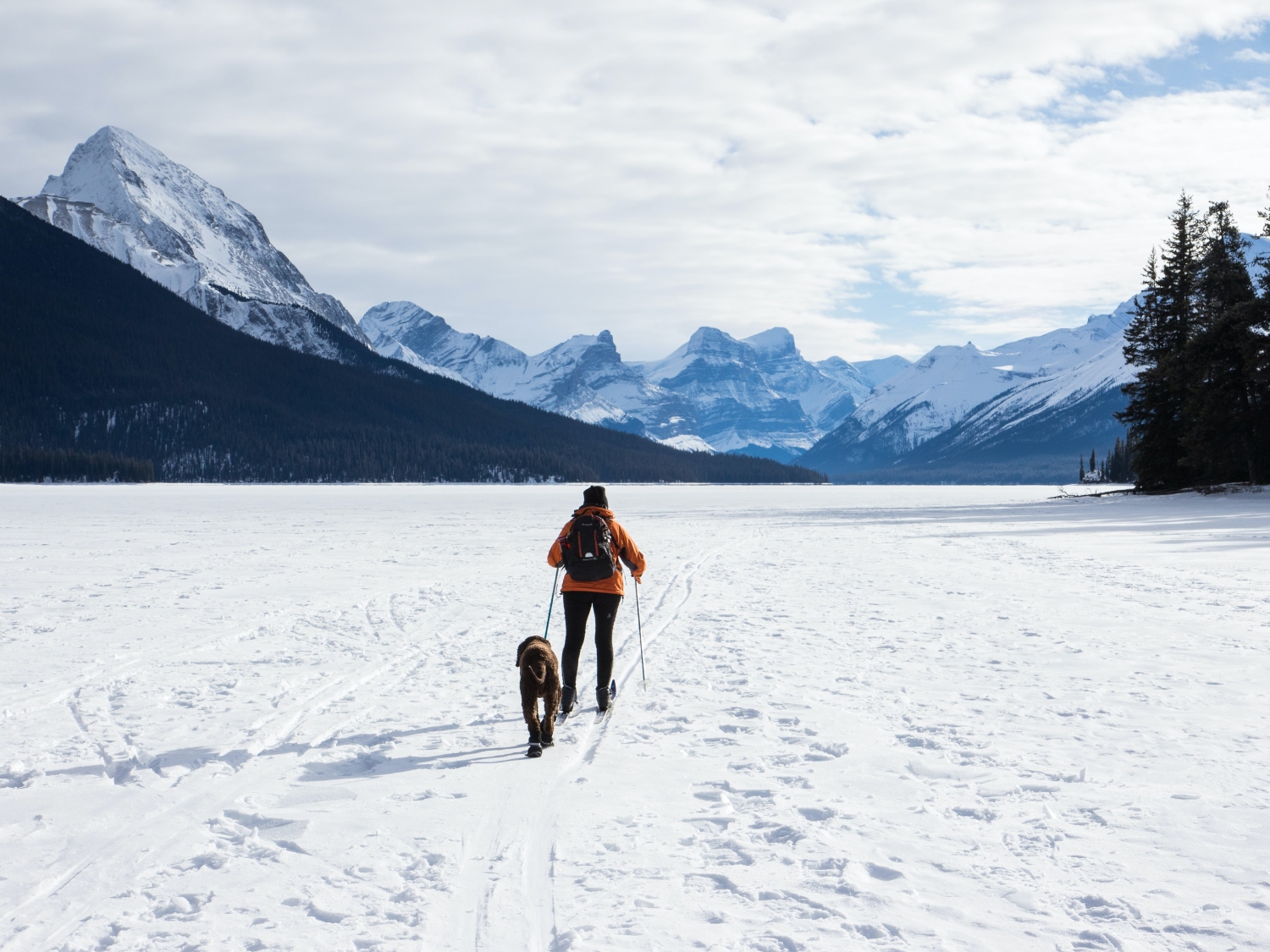 Marmot Basin, Alberta
Marmot Basin, in the heart of Jasper National Park (which is part of the UNESCO Canadian Rockies World Heritage site) often slips under the radar of those heading to Canada for their ski holiday, despite its fantastic terrain and legendary snow cover, which comes courtesy of its high altitude – at 1,698 metres above sea level it's got the highest base elevation of any Canadian ski resort. 
Its 86 runs cater to all skill levels, and its super slick network of lifts (which includes the Canadian Rockies Express high speed quad chair, the longest in the Rockies) makes exploring the terrain a breeze. It's another resort which has recently been expanded – winter 2021 saw the unveiling of a number of groomed trails to the right of Marmot Peak. The resort is a great option for skiers on a budget, with lower prices than nearby Mt. Norquay, Sunshine and Lake Louise, and a snow sure reputation which means you'll still get great coverage during off-peak periods. 
Our top tip? Make sure you check out some of the resort's fantastic tree runs. One of our favourites is Sunset Boulevard, accessed via the Eagle Ridge chairlift. This particular run is known for having fantastic snow coverage, and it's easy to combine with the popular Diamond Glades area, too. Visitors to this resort typically stay in Jasper, which is just a 20-minute drive away.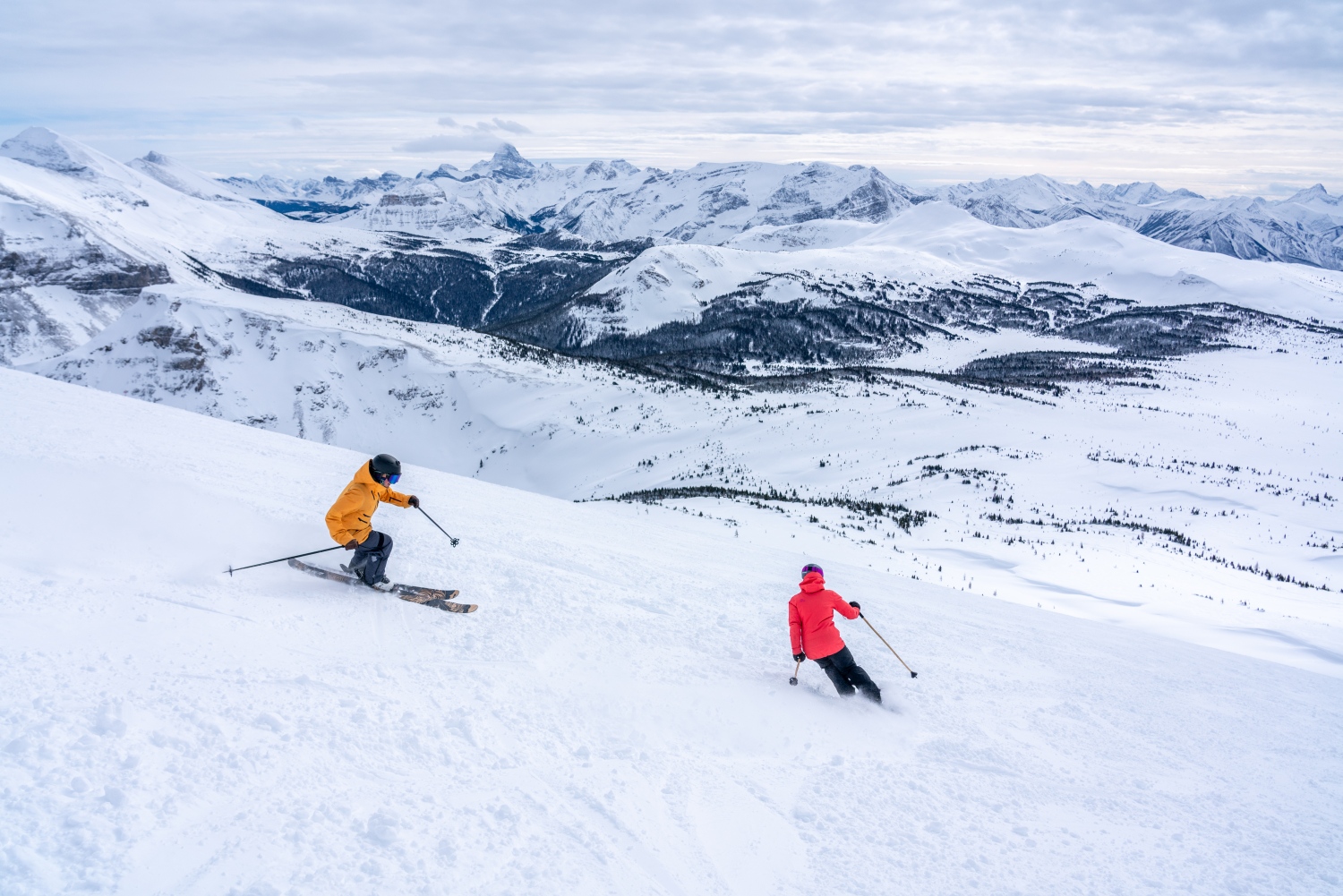 Sunshine Village, Alberta
A pretty ski resort perched on the Continental Divide in the centre of Banff National Park, Sunshine Village covers three mountains and is a brilliant option for crowd-free skiing. Its famously long seven-month ski season stretches from November until May, which is the longest non-glacial ski season of any resort in Canada. It's a brilliant option for families, with plenty of light dry snow and 3,300 acres of  terrain, ranging from gentle slopes for beginners to terrifyingly steep black runs clinging to the side of Banff's mountains. 
There's plenty of terrain for fans of off piste too, including the legendary Delirium Dive, regarded as one of the of the world's best off-piste destinations. There are lots of exciting developments in store, too. These include new ski lifts in the Goat's Eye area (one of  the three mountainsides covered by the resort), a new mountain lodge at the top of the Wolverine and Jackrabbit chairlifts and increased chair capacity on the TeePee Town chairlift. 
Skiers visiting Sunshine Village tend to combine the resort with others, and will often stay in Banff. However, if you'll be spending most of your time on Sunshine Village's slopes, consider the Sunshine Mountain Lodge, a beautiful three-star boutique hotel with unbeatable views over the Canadian Rockies.
Sunshine Village ski resort guide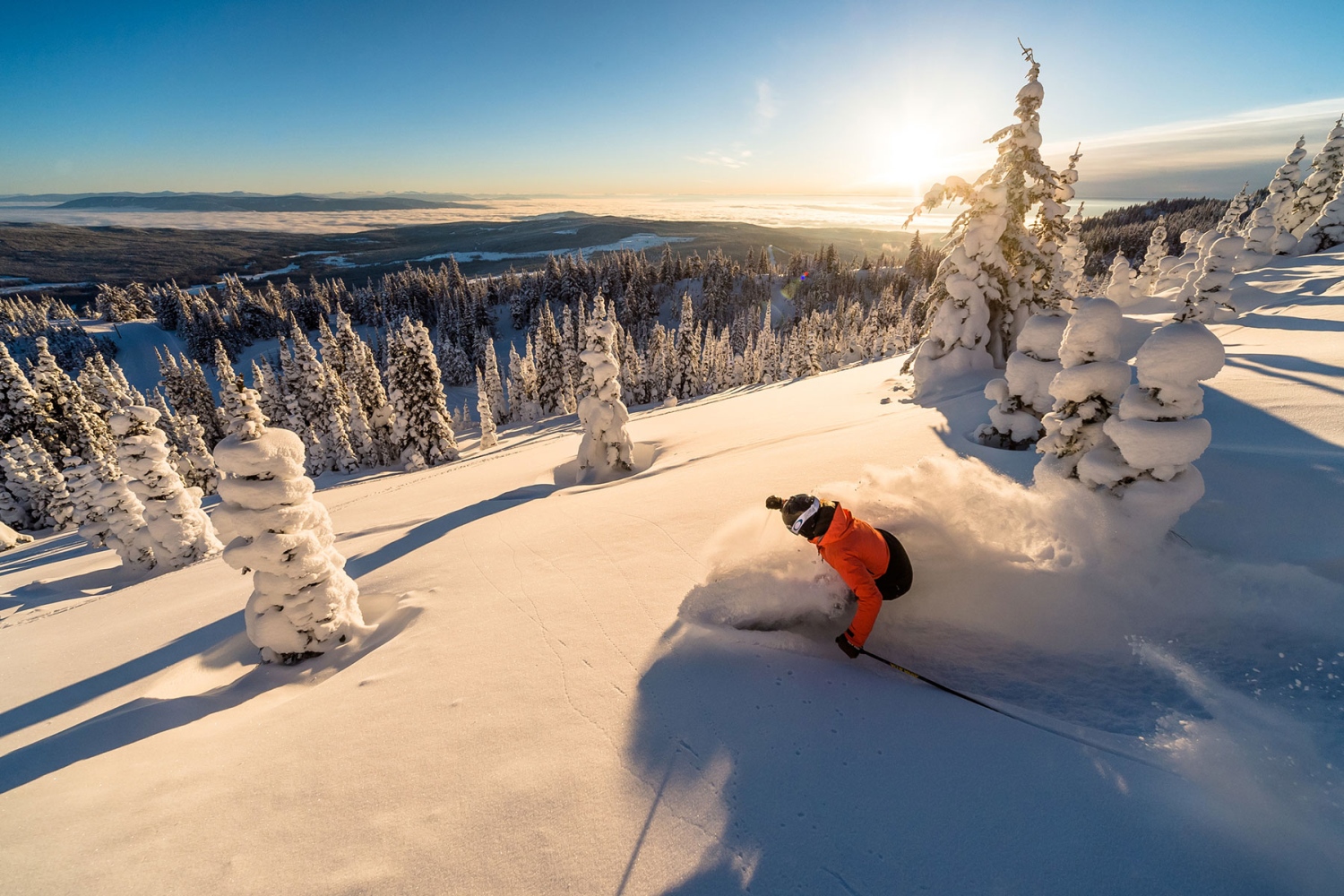 Sun Peaks, British Columbia
A small but perfectly formed resort which is incredibly popular with beginners and intermediates, Sun Peaks - to the north of the British Columbia city of Kamloops - offers an easy-going mix of wide open bowls, glades and thrilling steeps in the shadow of Tod Mountain. It's a small resort which has recently undergone several enhancements, including the addition of 522 acres in the so-called Gils area, and a new chairlift to cement the ski in, ski out status of the resort's East Village area. 
One of our favourite areas (due to its fantastic powder skiing opportunities) is the Crystal Bowl, accessed via the chairlift of the same name. The resort's vibe is both laidback and incredibly welcoming – there are complimentary ski tours offered by locals (get lucky and you'll be able to join one hosted by Olympic skier Nancy Greene) and a range of ski camps for skiers of all abilities. 
Off piste activities include snow cat rides, first tracks breakfasts, snowshoe tours, dog sledding and snowmobiling, and you'll also be able to check out an ice hockey game or two (getting to the rink is easy, thanks to the Kamloops Blazers Hockey shuttle). The resort's modern centre has plenty of accommodation, ranging from hotels and chalets to rentable condos. For unbeatable access to the slopes, consider the Coast Sundance Lodge, next to the Sundance Express chairlift. 
Sun Peaks Village ski resort guide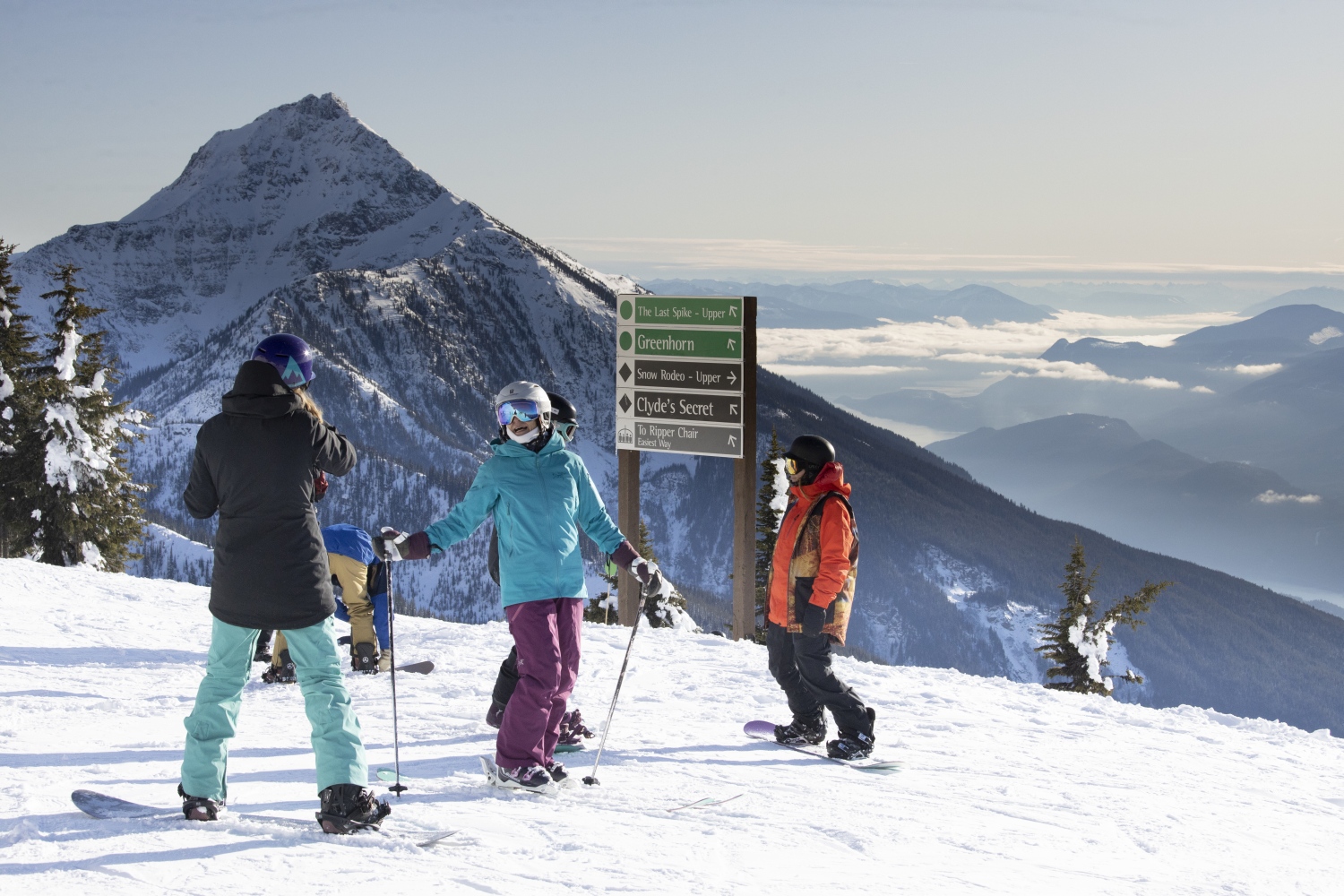 Revelstoke, British Columbia
Famous for its big mountain terrain but equally well known for its beginner and intermediate-friendly slopes, Revelstoke, which is a two-hour drive from southern BC's Kelowna airport, was once a hangout for the super rich, who came here to heli-ski and pootle down the resort's slopes (served by a single lift). The construction of a new gondola and new chairlifts kick-started a transformation which turned it into one of Canada's top resorts, and one which boasts the biggest vertical drop in Canada (1,713 metres, to be precise). 
The best terrain for beginners and intermediates is accessed via the Stellar chairlift, although this is still a resort best suited to those with a love of off-piste – much of the terrain is deliberately left ungroomed, and heli-skiing is still one of the resort's most popular activities. Although there's a wide range of accommodation (almost all of which offers great views of either Mt. Begbie, Mt. Revelstoke or the Selkirk or Monashee mountain ranges), the Sutton Place Hotel is the resort's only ski in, ski out property, so book early if easy access to the slopes is a priority. Further afield, there's a great range of accommodation in Revelstoke town itself, ranging from boutique hotels to condos. 
Make sure you take time to do some exploring – Revelstoke is a fantastic town with plenty to offer, including the BC Interior Forestry Museum, a number of art galleries and several craft breweries.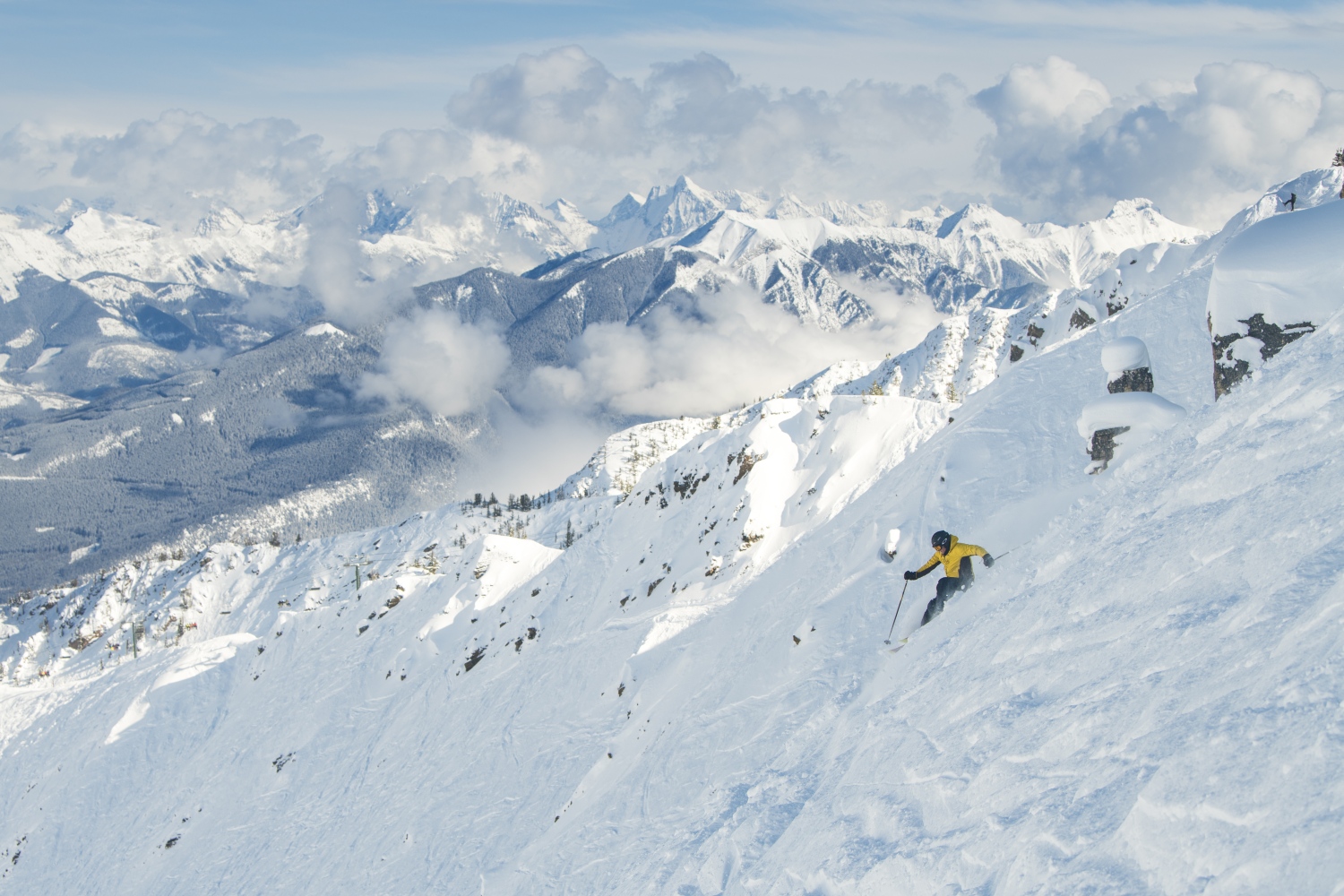 Kicking Horse, British Columbia
Love steep descents? Kicking Horse's 3,500 acres of skiable terrain includes the fifth-biggest vertical drop of any North American ski resort. Known for its dry, light powder (it's often referred to as Canada's champagne powder capital) Kicking Horse is one of Canada's best resorts for extreme skiers – 44 per cent of its runs are black. Generally, the easiest runs are in the heart of the ski area, whole the tougher ones are nearer the edges. 
Some of its most famous runs are ungroomed and require a serious hike. One example is Ozone, an exposed slope previously used by Freeride World Tour competitors. We're also huge fans of Rudi's Bowl, to the side of Ozone. You'll fly down this powder-blanketed steep in the shadow of the resort's most spectacular rock formations, and the area's ability to hold snow for months on end means it's doable throughout the season. 
Accommodation-wise, there are two large lodges – Glacier Mountain Lodge, which is the in heart of the resort, and Palliser Lodge, which is a little further out but still offers ski in, ski out access – and plenty of condos to rent. A fun fact? Almost all of the condos have their own hot tubs.
Kicking Horse ski resort guide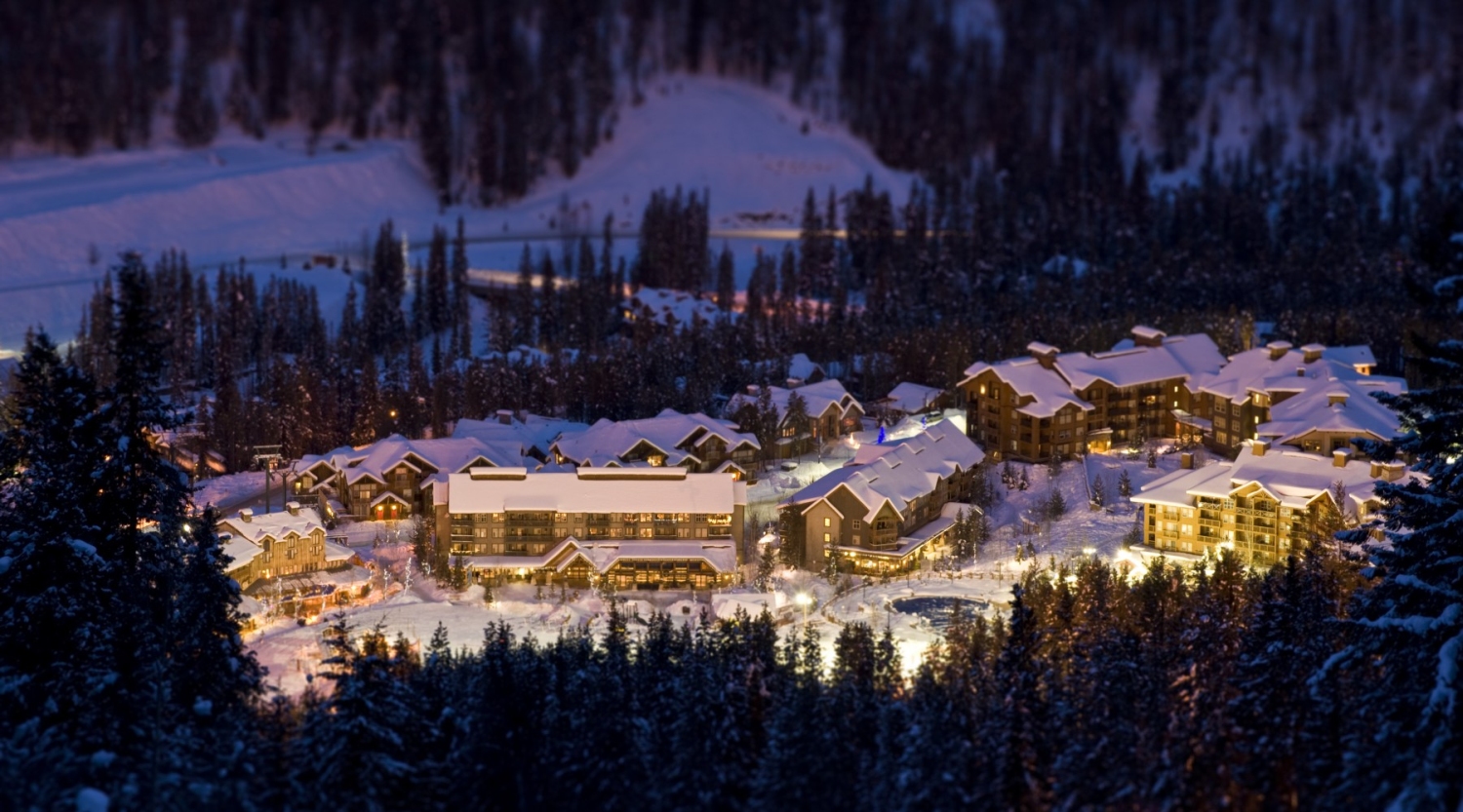 Panorama, British Columbia
One of Canada's best resorts for beginners and intermediates, Panorama has 2,975 skiable acres and plenty of powder. It's a small resort perfect for anyone taking to the slopes for the first time, with a brilliant beginners' area just a few metres from ski in, ski out accommodation.  Intermediates will find the best runs off the Champagne Express, Sunbird and Summit Quad lifts, although freeriders with a love of deep power should also consider checking out the Sun Bowl and Founder's Ridge.  
Although it's probably not the best resort for expert skiers, there's some seriously challenging off piste here. The legendary Taynton Bowl has 750 acres of off piste tree runs, chutes and cliffs, and the energy you'll need to exert to get there (you'll need to hike or heli-ski) will definitely be worth it. You'll also be able to end a session there with a 10-kilometre run straight back down the mountain to the resort. 
The majority of visitors fly into Calgary International Airport, although the Canadian Rockies International Airport, in the city of Cranbrook, is another option, and just a two-hour drive from the resort.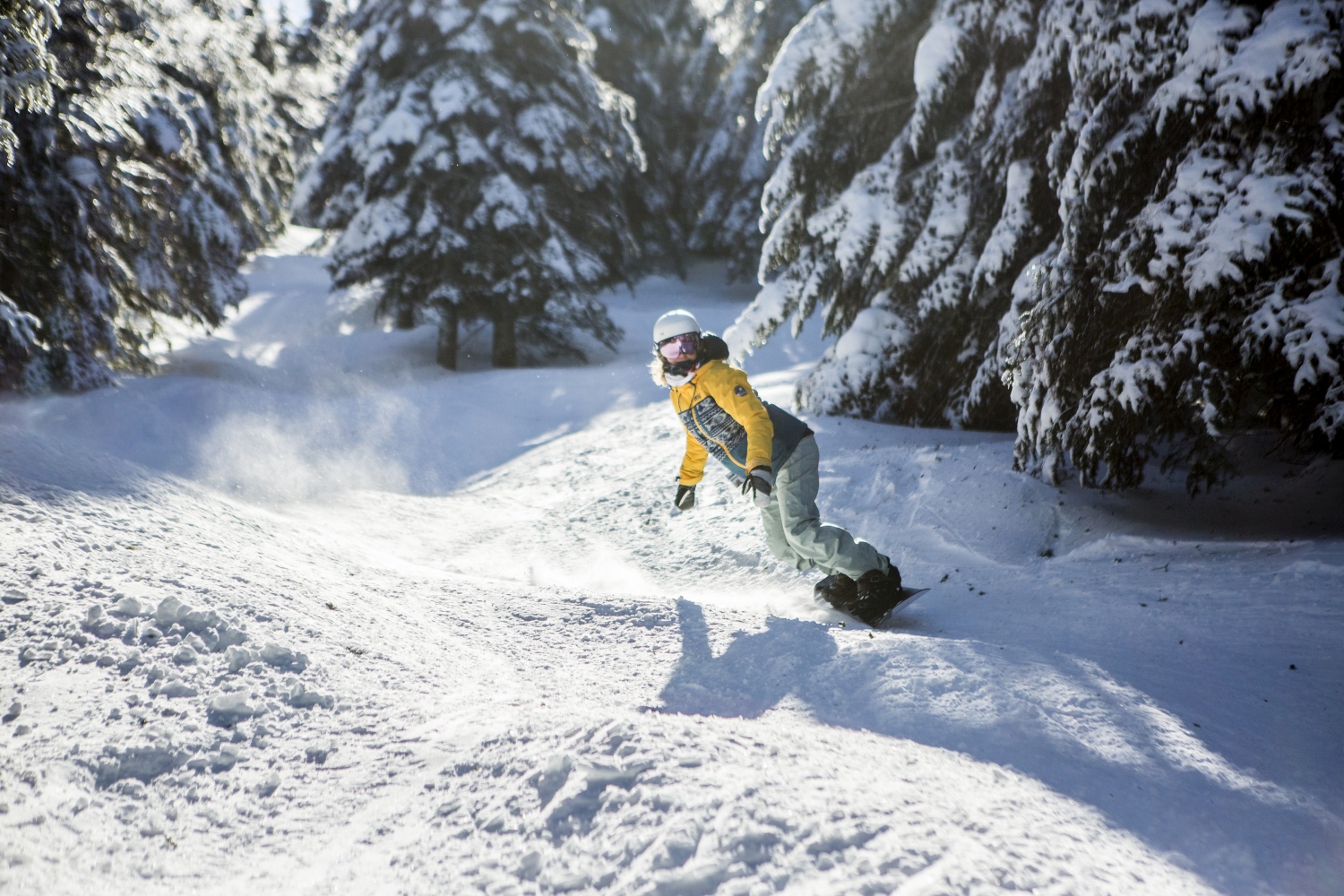 Mont-Sainte-Anne, Quebec
Tremblant often hogs the limelight when it comes to Quebec, but there's a lot to be said for this pint-sized resort in the Laurentian Mountains. To start with, it's ridiculously easily accessible, and under an hour's drive from Quebec City. It's famous for its spectacular scenery, cruising tree runs and the brilliant range of activities for non-skiers, who sign up for everything from fat biking sessions to snowmobile safaris. Its 70 slopes are spread over 2,145 acres, and the resort offers something for skiers of all abilities, with 46 per cent of terrain suitable for beginners and intermediates and the remainder perfectly suited to intermediate and advanced skiers. 
A combination of great snow cannon coverage (80 per cent of the resort) and high snowfall (190 inches every year, on average) means there's rarely a shortage of the white stuff, either. Away from the pistes, it's one of Canada's top cross country skiing spots, and snowshoeing, fat-biking and ice-climbing sessions are also on offer. Because of its close proximity to Quebec City, many skiers base themselves there, which means there's no shortage of slope-side rooms. We recommend the Hebergement Mont-Sainte-Anne condos and the Chateau Mont Sainte Anne, with its alpine-inspired décor and beautiful Nordic spa.
Mont-Sainte-Anne ski resort guide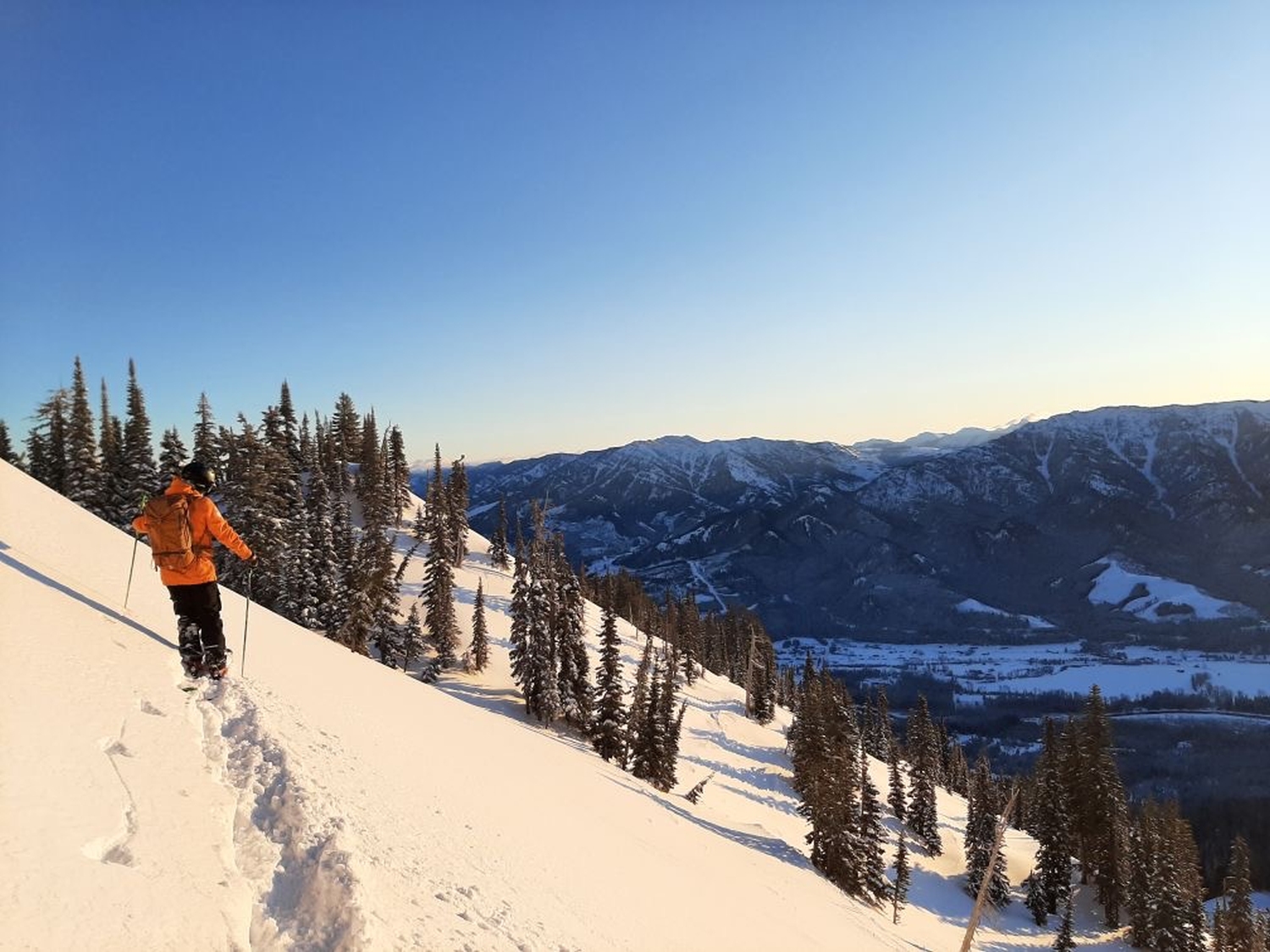 Fernie, British Columbia
With a long ski season (typically you'll be able to ski from early December to mid-April here), this stunning resort, wedged into British Columbia's south-eastern corner, has a famously snow-status (on average 37 feet of snow falls on the resort every year) and diverse terrain, covering everything from powder-filled bowls (it's got five bowls, which is the most you'll find in any Canadian ski resort) to twisting tree runs. 10 ski lifts serve the resort's ski area, which has runs for all skill levels – 30 per cent of the runs are best suited to beginners, 40 per cent to intermediates and 30 to advanced skiers.
Another great thing about Fernie? The weather. Expect regular (huge) snow dumps, while the temperature hovers just below zero – the sweet spot when it comes to keeping snow soft while preventing icy patches from forming. The town itself – a 10-minute drive from the slopes - is fabulously cool, but not in a pretentious way. Once referred to by Rolling Stone magazine the "coolest town in the world", it's a ridiculously friendly ski town with a brilliant nightlife. 
The après ski is pretty famous, too. Make sure you check out the legendary Griz Bar, which opened in 1962. We suggest ordering the Mogul Smoker - a blend of Appleton's Estate VX rum, Kahlua, coffee and hot chocolate topped with whipped cream. Drink it on the decking, soaking up the view of the slopes and soaking up the alcohol with a plate of the bar's famous nachos.