Big White
Sitting in the heart of British Columbia, Big White is a must for those who like to ski or snowboard on rolling pistes through dense forest.
This car-free and purpose built village offers some top rate ski-in, ski-out accommodation and is very family-friendly. As with many such on-mountain villages, it lacks a little charm, but it makes up for that with excellent facilities. Big White's Tot Town Day Care will keep your little non-skiers happy and there's even a kids-only shop, full of little ski clothing and sweets.
Ski area
Rolling would best describe this mountain. There are some very testing areas, but it's mainly rolling pistes which run through the trees, making Big White a truly fantastic mountain for beginners and intermediates. There are some perfect beginner slopes, and mile upon mile of expertly groomed pistes to progress onto. Advanced skiers and snowboarders should not be put off though, especially those that like getting air, as the terrain park is world class. The board/skicross course is first rate too, and often hosts World Cup races.
Off the slopes
Snowshoe Sam's is the best bet for a couple of beers post-ski, with live music and pretty good food. The Moose Lounge, in the Happy Valley Lodge, has an almost joyful happy hour and if you're not too ashamed to return after that, its breakfast is good too. For Italian, try 6 Degrees Bistro.
Resort: 1755m Summit: 2319m Vertical: 777m Ski Area: 2719ac Parks: 1
Beginners: 18% Intermediate: 54% Expert 28%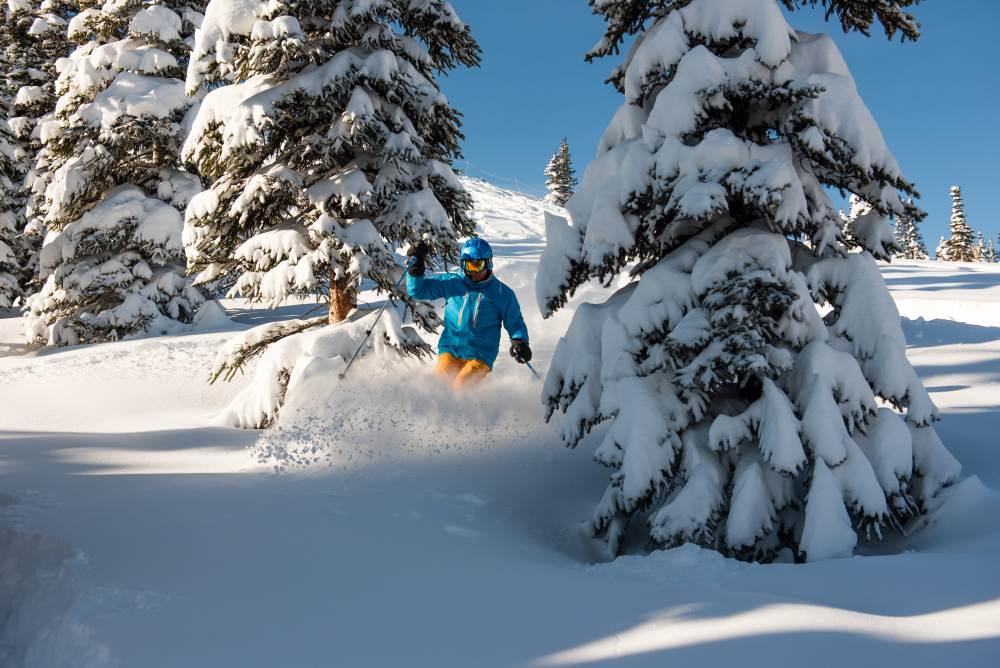 Photo credit: Marmot Basin
Marmot Basin
Nestled in the heart of the beautiful Jasper National Park, Marmot Basin is heaven on earth for lovers of unpretentious, untamed skiing.
Marmot Basin is known as 'The Big Friendly' and it lives up to its reputation for being a family-friendly resort with an easy, laid-back atmosphere and some of the best glade skiing the Rockies have to offer. The ski area is not vast, though, and we recommend a two-centre stay with resorts further west or with the Banff resorts at the other end of the jaw-droppingly spectacular Icefields Parkway.
Ski area
Tree-lined trails, wide open bowls, long gentle runs, steep expert chutes and high alpine snowfields make up this diverse ski area. There is a friendly, uncommercialised, atmosphere. As well as the lift-served terrain, several areas (including the resort's high point)can be reached via a short hike which opens up untracked powder-filled bowls and gullies. Charlies Bowl and Dupres Chutes are two areas most favoured by local powder hounds. Eagle East has most of the steep and deep terrain and a nice remote, wilderness feel.
Off the slopes
Marmot kicks everyone out at close of play, so for après it's back to Jasper town, about 20mins away. It's not a rowdy scene but we especially enjoyed a few Kokanee beers and a signature burger at the Dead Dog Saloon in the Astoria Hotel.
Resort: 1698m Summit: 2612m Vertical: 914m Ski Area: 1675ac Parks: 2
Beginners: 30% Intermediate: 30% Expert: 40%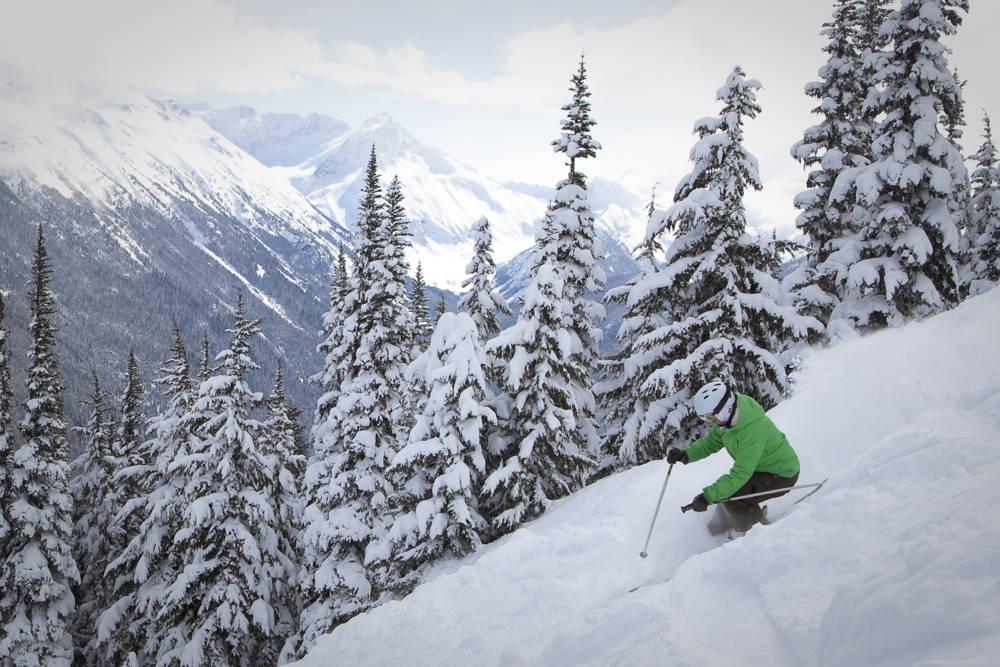 Whistler Blackcomb
We say: North America's biggest, most diverse resort
Whistler Blackcomb, in British Columbia, is regularly ranked as the top ski resort in North America. Famed for its epic terrain, it's one of those places that looms large in ski mythology.
The lure of the twin peaks Whistler and Blackcomb is hard to resist. One mile of vertical; over 8,000 acres of incredibly varied terrain, from green groomers to blue cruisers, alpine bowls, chutes, glades and steeps; snow measured in metres and a car-free village. The 2010 Winter Olympics host has been hyped to the hilt but still delivers.
Ski area
Access to the mountain is from three points: Whistler Village, Whistler Creekside and the Upper Village which just serves Blackcomb. And so much is accessible to pretty much anyone – even the highest point of Whistler mountain, the 2182m Peak Lookout. While experts can play in the steep powder runs of Whistler Bowl, one of the world's longest blue runs, the Peak to Creek, winds all the way down from here to Creekside for intermediates.
Even on Blackcomb glacier, an easy blue, Glacier Road, enables all but the most nervous to enjoy the tranquillity of this wilder area. Green runs also allow access to the high terrain of 7th Heaven on Blackcomb and the Symphony area on Whistler. At the other extreme, experts have the Horstmann and Blackcomb glaciers plus cat-skiing, heli-skiing and backcountry. If Whistler has an Achilles heel it's the low base elevation. It can be dumping snow up high, but at village level – and on the lowest home runs – it rains a lot.
Off the slopes
We still treasure our certificate from the Olympic bobsleigh course; just one of many exciting non-ski activities. There are excellent village restaurants, and the après is lively. We enjoyed the Garibaldi Lift Company bar, and Dusty's at Creekside is good if you're on that side of the mountain.
Resort: 675m Summit: 2284m Vertical: 1631m Ski Area: 8171ac Parks: 7
Beginners: 18% Intermediate: 55% Expert: 27%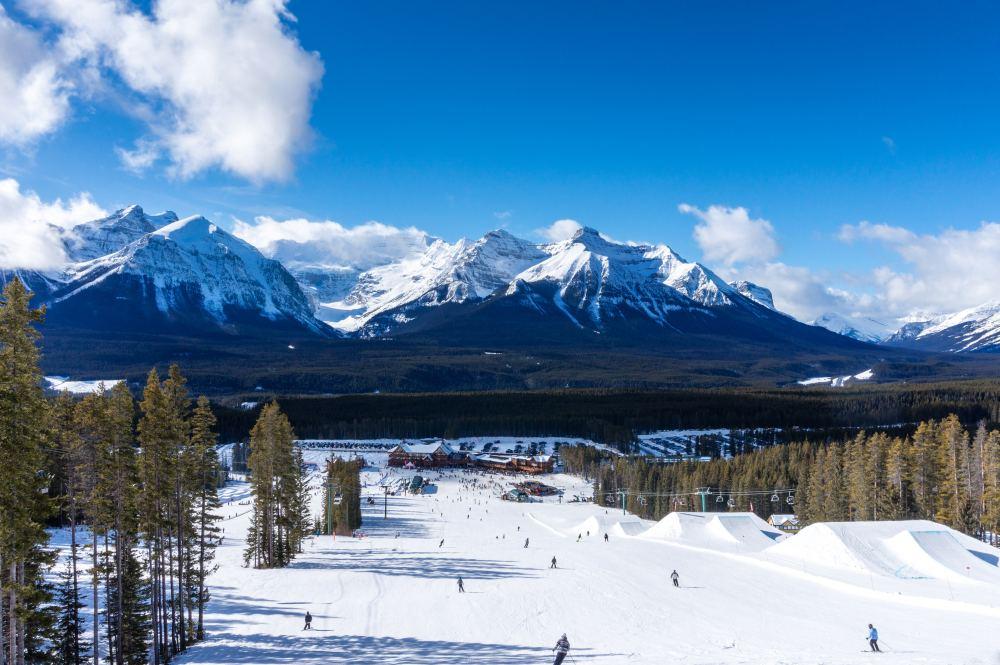 Lake Louise
Pretty much everyone can find something to love at Lake Louise – from glacier views at the chateau, to stacks of steep and deep terrain and satisfyingly long runs for beginners.
Situated 60km north-west of the regional resort town of Banff, Lake Louise is the largest of the three 'Tri-Area' ski resorts in Banff National Park (Sunshine Village and Mt Norquay are the others) and is one of the leading year-round tourist destinations in the Canadian Rockies.
Ski Area
The layout of the lifts and slopes has been designed to provide at least one run of each classification (novice, intermediate, and advanced) from every major lift, so mixed ability groups can explore together.
The ski area is spread over three linked principal sectors: the Front-Side South Face directly above the base area, on the slopes of Mt Whitehorn and Saddleback; the challenging Back-Side Powder Bowls; plus the pretty Larch Area on a spur to the south-east. Over two-thirds of the slopes are forested and there are over 100 named runs, plus acres of ungroomed in-bounds and off-piste terrain.
Lake Louise also boasts the largest terrain park in North America, in Juniper Jungle near the base area, featuring a wide range of boxes, rails, jumps, hips, spines, logs, and a wall ride.
The resort has an excellent beginners' zone and a dedicated children's area, with easy access to wide & gentle progression pistes on the sheltered wooded slopes closest to the base area.
Off the Slopes
It's fun to go snowshoeing around the lake, but nightlife is low key. The base-area Kokanee Kabin is the place for a couple of beers when the slopes close; and you might catch a live band at the Glacier Saloon at the Chateau Lake Louise.
Resort: 1645m Summit: 2637m Vertical: 991m Ski Area: 4200ac Parks: 1
Beginners: 25% Intermediate: 45% Expert: 30%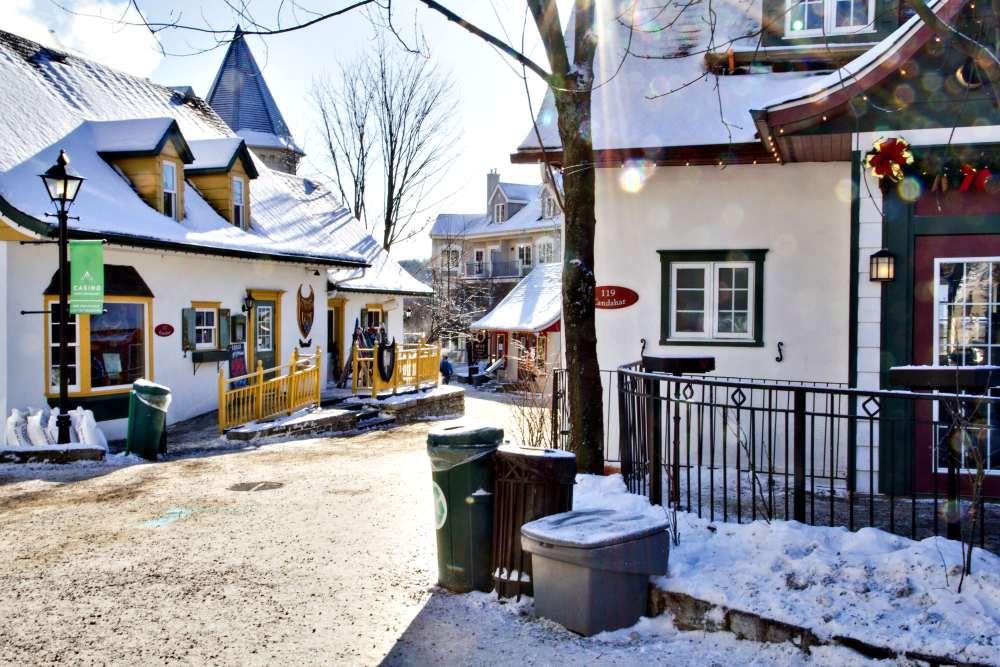 Photo credit: Artur Staszewski
Tremblant
Tucked away in the Laurentian Mountains north-west of Montreal, Disneyesque Tremblant is Eastern Canada's leading ski resort. The pedestrian village has been purpose-built in an attractive Quebecois style, with multi-coloured low-rise buildings set out in a cluster of quaint streets, filled with chic shops, cafés, bars, restaurants, and quality hotels.
It might feel a bit theme park, but Tremblant's shorter flying time from the UK makes it a good choice for British visitors – especially beginners and families, though it does get cold in midwinter.
Once on the slopes, the skiing is varied from easy greens to a few double black diamond
Resort: 265m Summit: 875m Vertical: 645m Ski Area: 662ac Parks: 3
Beginners: 21% Intermediate: 32% Expert: 47%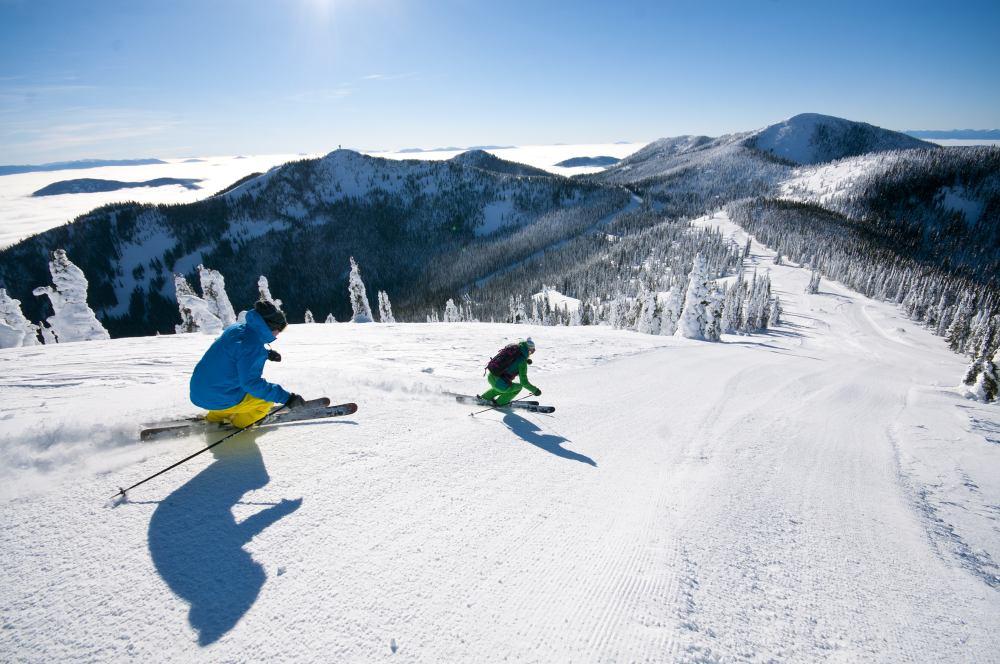 Photo credit: Marseille
Red Mountain
Hardcore cult British Columbia resort with a reputation for steeps, trees and cliff drops – it's where you go to 'man up' on your skis!
While not big by European standards, Red Mountain is getting bigger! The 'Powder Highway' resort has expanded a lot, yet remains uncrowded and unassuming, despite a string of 'Best for' awards from North American ski mags. There are luxury condos at the base, but most mortals stay in the nearby old mining town of Rossland.
Ski area
A new quad chair up Grey Mountain, alongside its existing Granite Mountain (the resort's main peak, despite the name) has added new intermediate runs, but it's still the back and double black diamonds that are the expert's best friend here. The cat-skiing on Mt Kirkup is excellent, too.
On the lower slopes of Granite a selection of greens and blues offer gentle slopes snaking between glades of tall, aromatic pines, including a 5k green run which loops gently around the mountain and back to the base lodge, providing fantastic views of Rossland and the Columbia River Valley in the far distance.
Off the Slopes
Après is low-key, but you'll earn your beer at the famous Rafters Lodge. And we put sushi restaurant 'Drift' in downhome Rossland high on our list of favourite places to eat.
Resort: 1185m Summit: 2075m Vertical: 890m Ski Area: 4200ac Parks: 1
Beginners: 18% Intermediate: 31% Expert: 51%

Photo credit: Adam Stein
Sun Peaks
Attractive purpose-built BC resort, that offers a feast of skiing for families and intermediates and some of the fluffiest powder anywhere!
From its early days as Tod Mountain, Sun Peaks has matured into one of the best and most underrated ski domains in Canada. Recent expansion has made it the country's second largest ski area behind Whistler. It has a small car-free heart and plenty of off-slope fun, making it perfect for families.
Ski area
Sun Peaks' skiable terrain is spread across three mountains – Tod, Sundance and Morrisey – and being further inland is mostly blessed with light, fluffy powder. Beginners can quickly progress from gentle beginner slopes, to a couple of friendly runs off the Sunburst chair, and the resort has miles of groomed cruisers – including the signature Five Mile run which takes even novices from the top of Tod back to base. Morrisey is blessed with some enjoyable tree runs, giving even gentle skiers a taste of gladed skiing. For experts, there are a few steeps, powder bowls, mogul runs, and even a bit of off-piste.
Off the slopes
Grab the kids and go tobogganing, skating, tubing, snowmobiling, dog-sledding or snowshoeing. Après is quiet, but for a beer try Morrisey's in the Sun Peaks Grand, and grab a burger at Cahilty's, the hotel owned by former Canadian ski champ (and Sun Peaks icon) Nancy Greene.
Resort: 1255m Summit: 2152m Vertical: 882m Ski Area: 4270ac Parks: 1
Beginners: 10% Intermediate: 58% Expert: 32%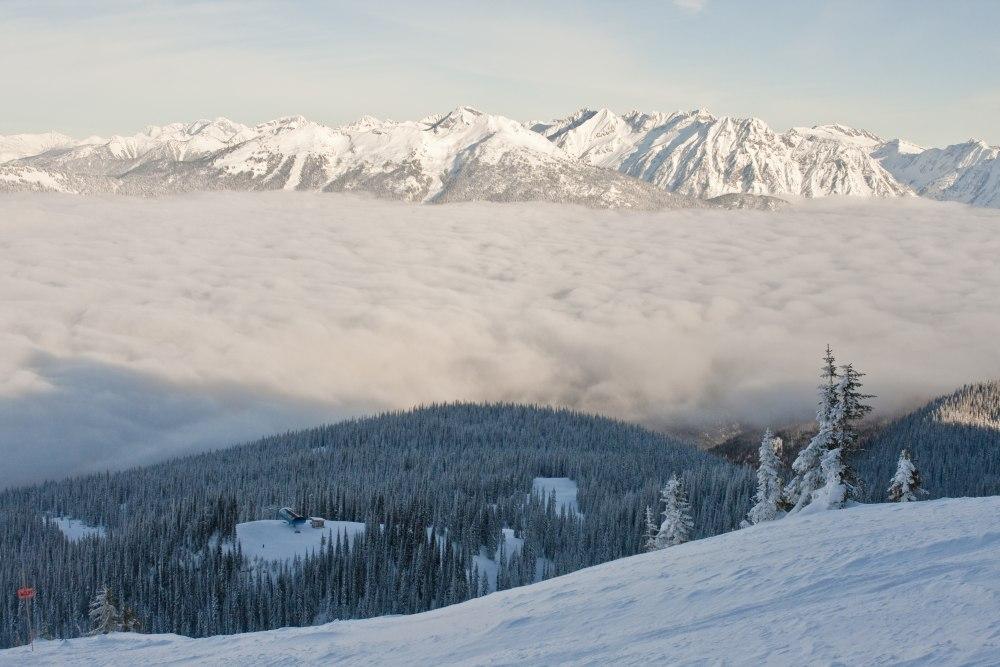 Revelstoke
What could be better than a huge mountain with a phenomenal snow record? Try one which is uncrowded and has a massive vertical as well!
Lying deep within British Columbia's interior, Revelstoke delivers on all the things that make an ideal ski hill. It's always been a great mountain to ski – if you had a helicopter, or didn't mind hiking – but after much investment, Revelstoke re-opened its ever so snowed-on doors for the 2007/8 season as a 'proper' resort.
Ski area
Revelstoke has the longest vertical in North America and it's all about the off-piste. The piste skiing here is aimed at strong intermediates and experts. Beginners have some well-groomed blues, but only 7% of the mountain is graded as beginner.
Revelstoke is the place to come if you love trees. The tree skiing here is truly world class: if you've never skied in trees then take one of the cat-ski or heli-ski prep days.
A large bowl is set aside for the exclusive use of Revelstoke's cat skiing operation, which we say is probably the best on the planet. And if that isn't hard-core enough, let the helicopters of Selkirk Tangiers whisk you up for an epic day of powder adventure.
Off the slopes
It's all about chilling out – with so much skiing to do, no-one wants a hangover. We hung out at the Old Saloon and nailed the sausage and mash at the Last Drop Pub.
Resort: 512m Summit: 2225m Vertical: 1713m Ski Area: 3121ac Parks: 0
Beginners: 7% Intermediate: 46% Expert: 47%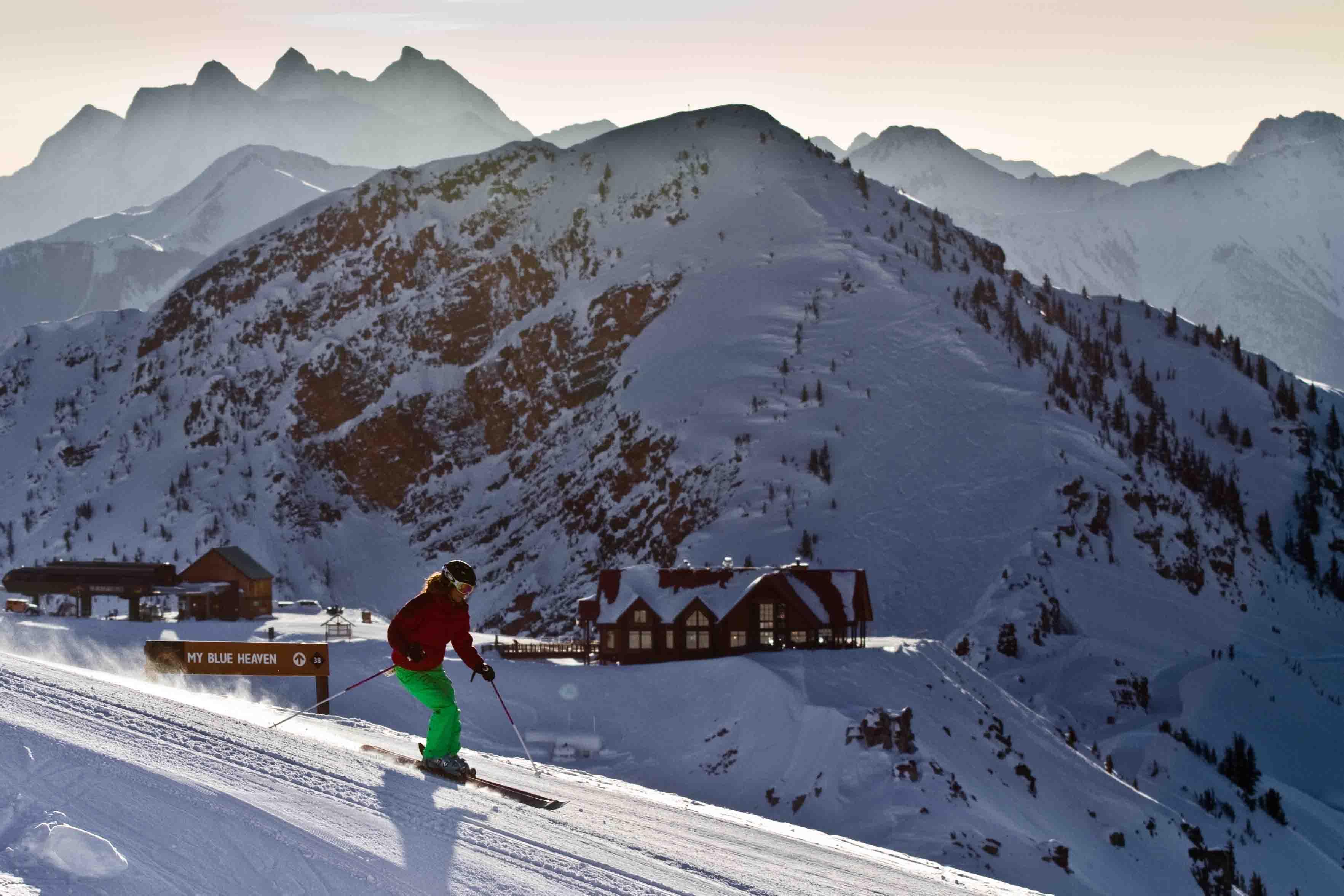 Kicking Horse
BC resort is loved equally by powder hounds – for its gnarly chutes – and by foodies, for Canada's highest on-mountain restaurant.
You will probably drive past many well-known, and excellent, resorts to get here, but that just makes it all the more special for those who put in the effort to drive that bit further (3 hours plus from Calgary). The resort's base has a bar, a few tall condo units and some smaller private chalets. But it's not the resort's base you come here for; it's the excellent and varied terrain and the legendary BC snow.
Ski area
Kicking Horse consists of four huge bowls, divided by long, spine-like ridges, and above an expanse of tree runs. But good as the piste skiing is, it's not really why you would choose Kicking Horse over, say, Lake Louise, which you pass en route. But if you like to ski uncrowded powder, Kicking Horse will be right up your street. We recommend skiing along CPR or Redemption ridge and dropping into one of the legendary chutes. Once in, they're steep but it's never too long before you're into wide-open powder.
Off the slopes
On mountain, the Whitetooth Grill is the best place to catch a beer post ski. If you're looking for something a little more stylish, then at the very top of the mountain is the Eagle's Eye Restaurant, which is simply fantastic. We suggest staying in Golden for the full frontier-town vibe.
Resort: 1190m Summit: 2450m Vertical: 1260m Ski Area: 2800ac Parks: 0
Beginners: 20% Intermediate: 20% Expert: 60%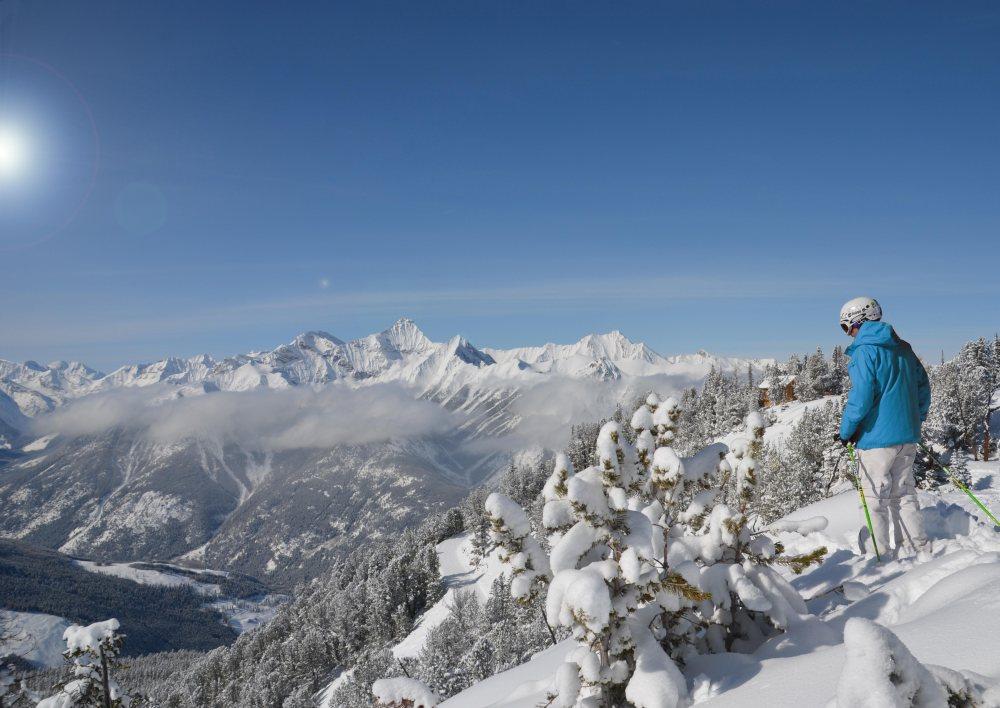 Panorama
BC's Panorama is awesome. It's got tremendous piste and tree skiing plus loads of cool things for kids to do, all wrapped up in a hassle-free, ski-in, ski-out village
A large mountain, with a lot of accommodation, Panorama Mountain Village – to give it its full name – is as purpose-built as you can get. But it's all tastefully done. Yes, there are many high-rise condos,
but they are mostly wood-clad with alpine-style balconies.
Ski area
The modern lift system is excellent and fast quad chairs open up a huge mountain. For experts, Taynton Bowl is the place to go. This is a large bowl which, while monitored, isn't pisted – offering some steep powder descents.
Most of the best tree skiing and black diamond pistes are off the Summit chair, but this doesn't exclude beginners from heading for the top, as there's a blue aptly called 'Get Me Down', which then leads to the Sun Bowl area, which is a great sunny spot to learn a few turns.
The Rockstar Terrain Park is a well- designed mix of jumps, spines, rails, boxes and freestyle moguls with lines for all abilities. The boarder cross track is a real blast where you can show the kids that you can still beat them down the slopes.
One thing we especially love here is the fact that there are many choices off each chair, so mixed ability groups can ride the same lift, ski down their run of choice and regroup at the bottom. They have night skiing, and heli-skiing too.
Off the slopes
Panorama doesn't have a kicking nightlife, but hosts great après fun for kids, such as pizza-making, treasure hunts and an open-air hot-springs pool. Grab a beer at the T-Bar and Grill, get a pizza from Mile High Pizza, or for a more refined meal head to the Wildfire Rustic Grill.
Resort: 1150m Summit: 2375m Vertical: 1225m Ski Area: 2847ac Parks: 2
Beginners: 20% Intermediate: 55% Expert: 25%