The Pyrenees offer authentic traditional resorts that have everything available to give you a true flavour of French and Spanish ski life and at a more affordable price. From family favourites such as Font Romeu and Peyragudes to the thermal spring hotpsots of Cauteret and Ax-les-Thermes; from the off piste paradise of Grand Tourmalet and Formigal to the ski in and out beauty of Piau Engaly. And if it is a quick break you are after then the La Molina is just a short hop from Barcelona.
Grand Tourmalet
Tourmalet is the biggest ski area in the French Pyrenees and links to the villages of Bareges and La Mongie. Together they share 120km of piste with 50 lifts and ideal for intermediates with an abundance of tree lined slopes above the towns.
The piste de la reistance (get it?) is the Pic du Midi observatory at 2,877m. Looking like it has been transported from a James Bond movie you can spend the night here star gazing over a delicious dinner before setting off at sunrise with a guide to find those first tracks and descend the 1,700m back to the resort.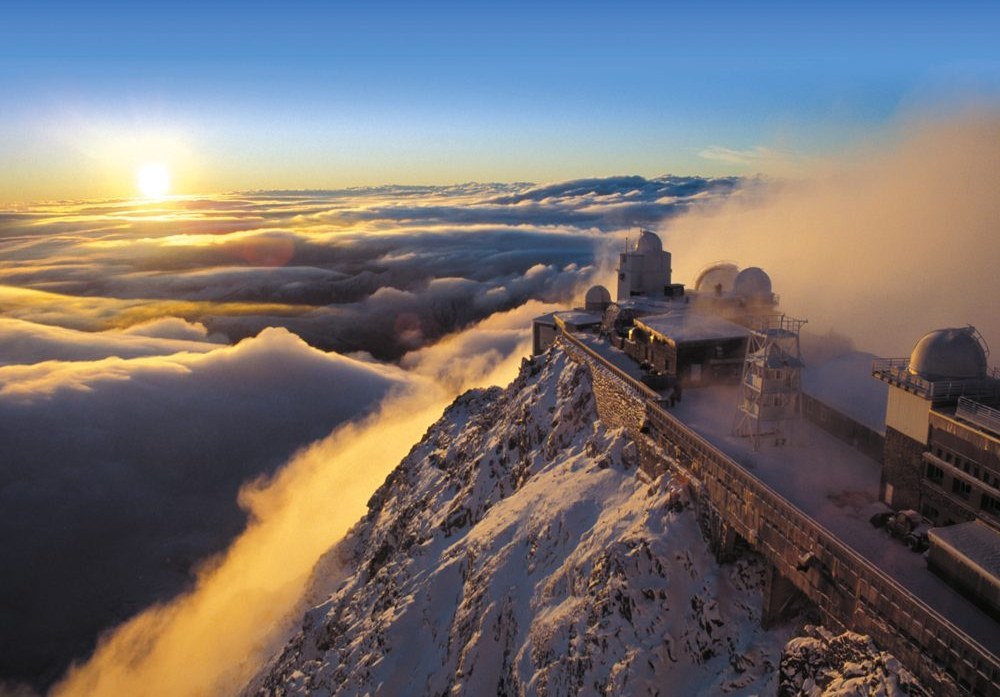 Cauterets
Perhaps the most snow sure resort in the Pyrenees, Cauterets boasted the highest snowfall in the world in 2013. Nestled within the huge horseshoe ridge known as the Cirque de Lys the terrain is perfectly groomed to allow you hours of blitzing around the mountain. If you would like a bit more of a challenge, then the Oakley Freestyle Park has some tricks for you including a ride-able chalet roof and custom-made kickers.
If all this is just too much, then the one thing that Cauteret is famous for is its spas. So, end your day in one of the outdoor lagoons heated by thermal springs.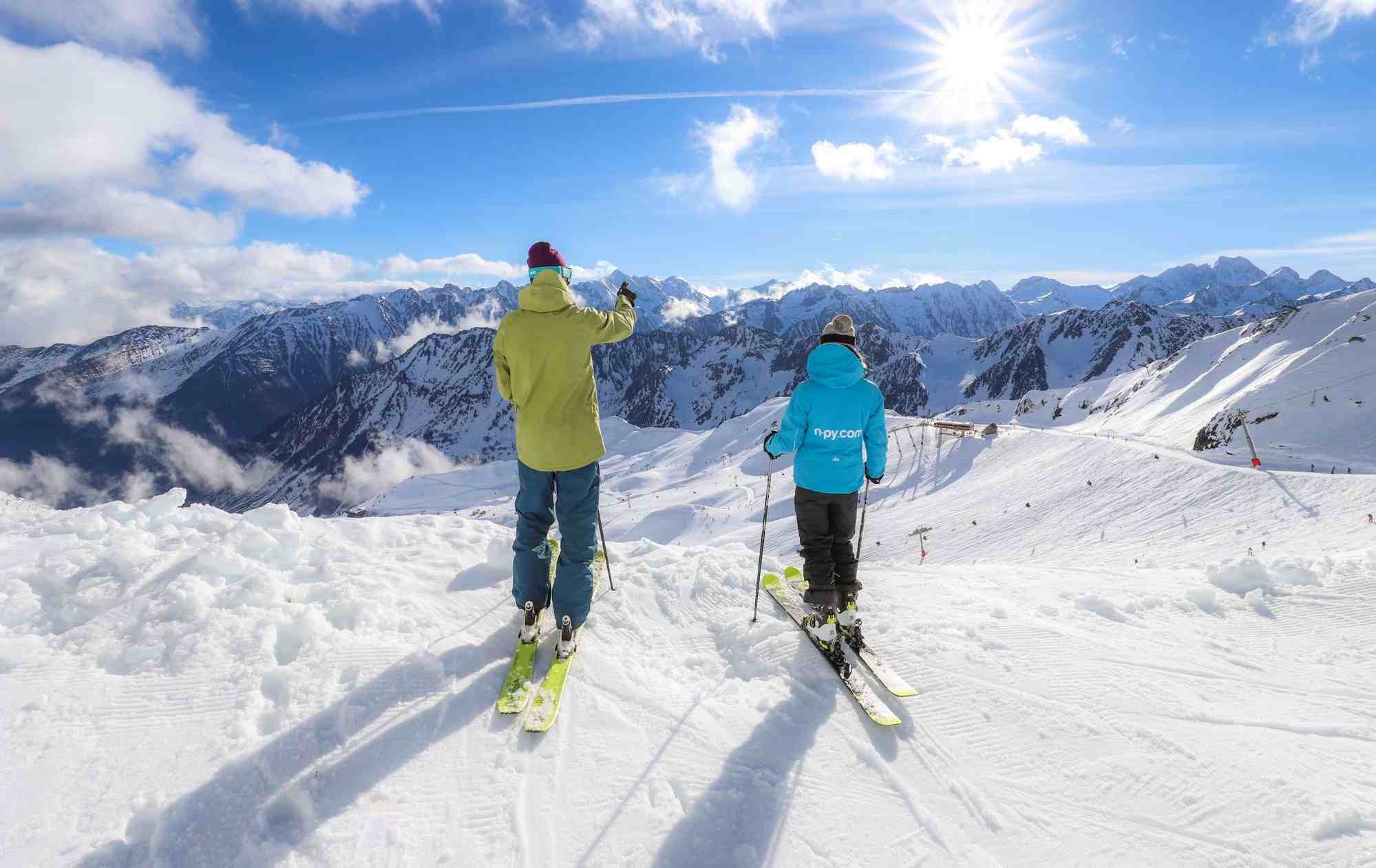 Saint - Lary
This resort blends the beauty of ski with the beauty of the mountains. The 100km of terrain is perfectly mixed for beginners right up to those more advanced. The renowned Col du Portet Snowpark was created by snowboard legend and local resident Xavier De Le Rue so a great option if you want to try bordercross or half pipe.
But if you like to take in your surroundings then a run (or chair lift) through the pristine forest to the Lac d'Oule is essential. The run brings you to a magical secluded spot overlooking the dammed lake where you can sit back and enjoy authentic Pyrenean food.
saintlary.com/winter/skiing/the-ski-resort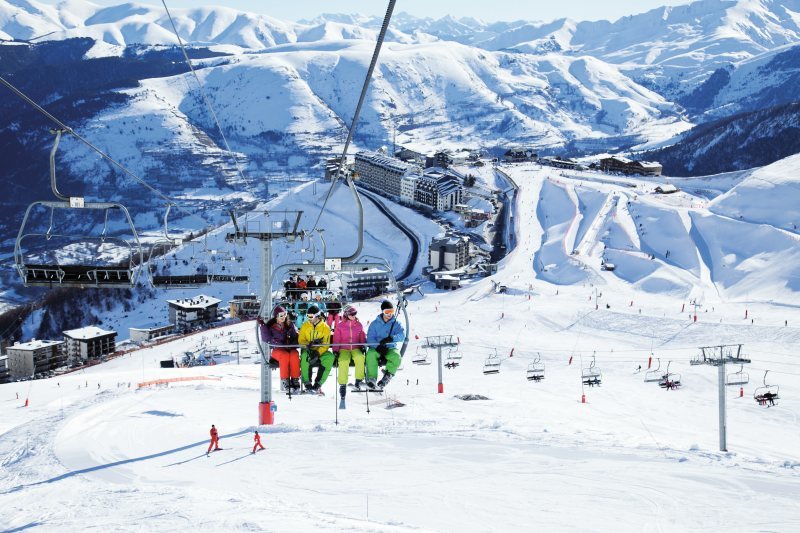 Peyragudes
If you are more interested in the quality of the ski area rather than quantity, then Peyragudes is the resort for you. Straddled between the villages of Peyresourde and Les Agudes (hence the name) there are always pistes in the sun. Variety is key here with 60km of runs that go from wide motorway pistes to the 6km off piste Vallee Blanche run and from a choice of two snowparks to reds speckled with huge rollers.
All this serviced by state of the art lift systems including high speed chair lifts and magic carpets. There are even lifts from the car park to the slopes, a resort that finally understands the perils of ski boots!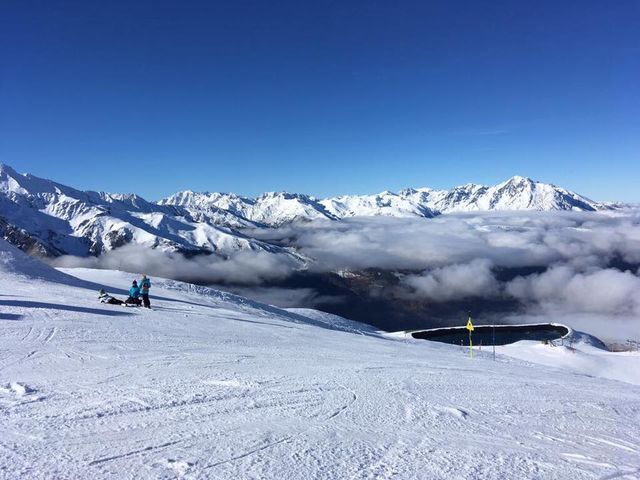 Baqueira - Beret
One of the largest Spanish ski resorts, Baqueria (think Shakira) can be found in the Catalan Pyrenees and its location provides a unique Atlantic climate guaranteeing high quality snow, just the right amount of sunshine and, due to its southerly latitude, an hour's more daylight than the Alps.
Skiing is spread over three main areas, each with a mix of highly demanding runs for experienced skiers, but also large areas and pistes ideal for beginners and snowparks for the kids. Apre is lively here but fear not, a tractor pulling seats will take you the short distance from the village to the lifts if the morning after is proving a little too tiring.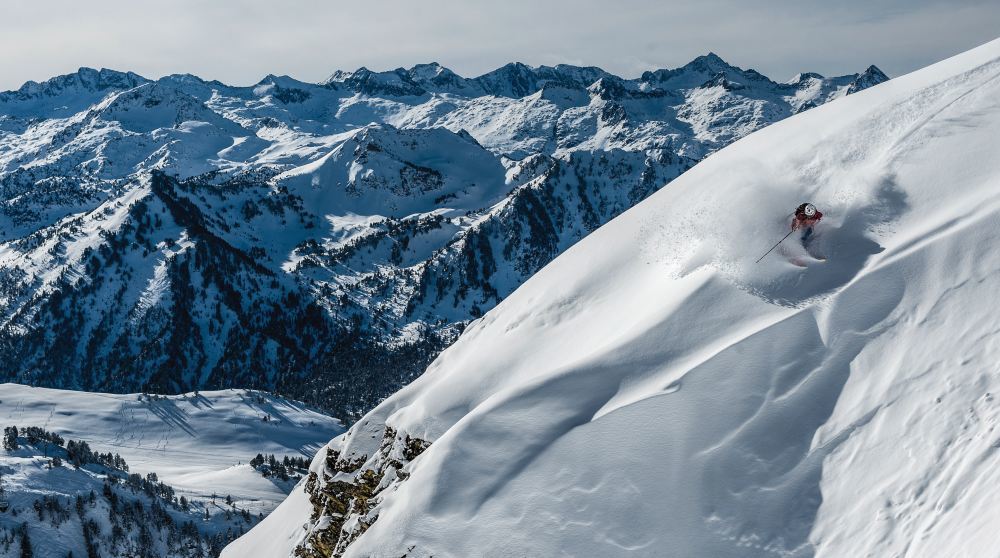 La Molina
If you enjoy a quieter break, then the twin resorts of La Molina and Masella offer more of a peaceful atmosphere. La Molina is Spain's oldest ski resort and features more easy runs that are perfect for beginners and a large terrain park that is great for boarders. Masella is slightly higher and more popular with advanced skiers, offering many zigzagging downhill runs including a 7km non stop descent to Masella from la Tosa.
A big attraction is that it is an easy 90-minute drive from Barcelona, so a great weekend choice from the UK as well a good option for a multi-centre holiday.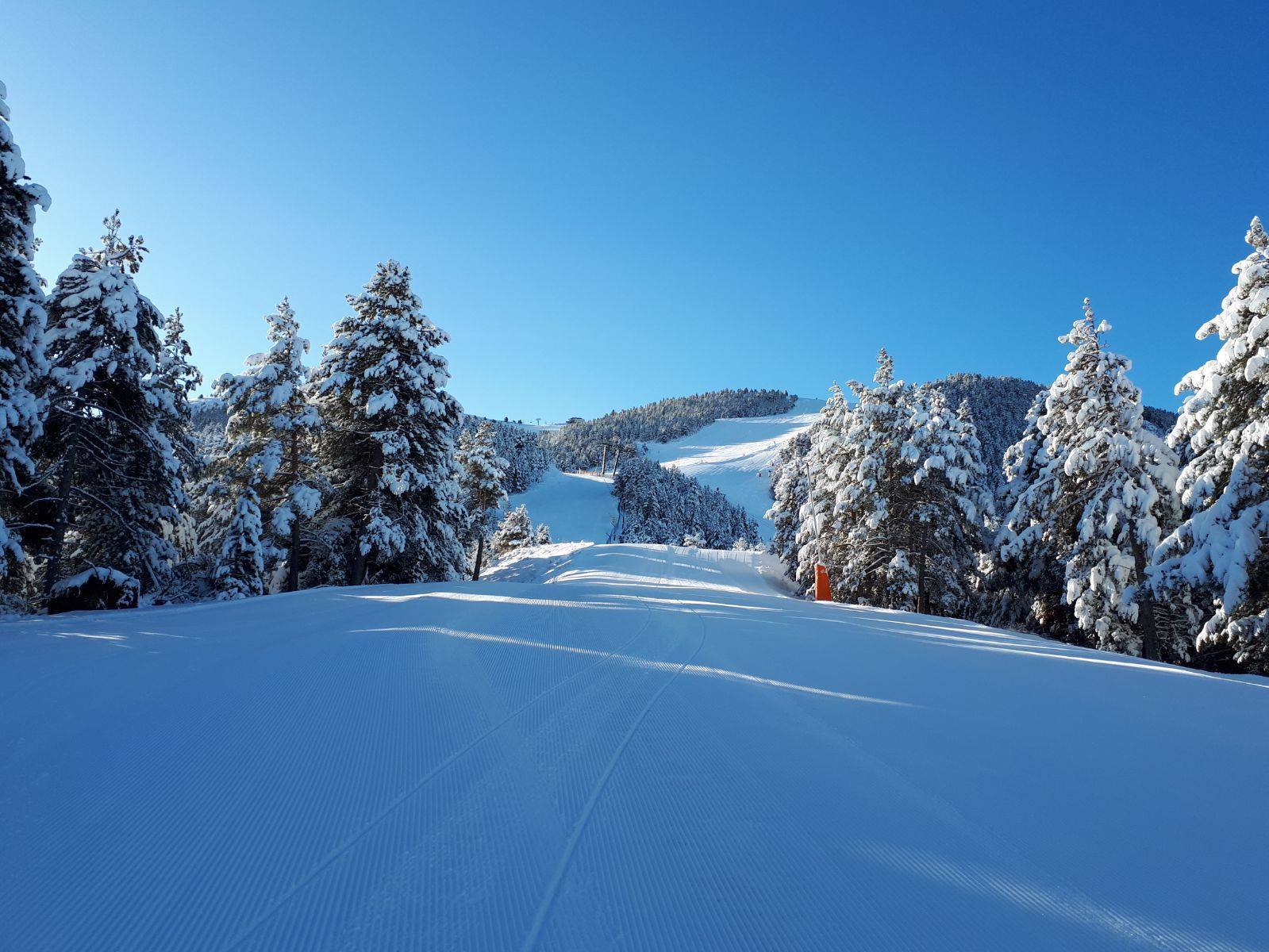 Formigal
Formigal offers skiers four different valleys complete with modern facilities to offer some of the best skiing in the Aragon Pyrenees. The stylish purpose-built resort has introduced state of the art detachable lifts as well as Spain's first ever eight-seater chairlift and a hands-free lift pass system which prevents inadvertent access to slopes beyond the abilities of the skier. With over 200 snow cannons in action the resort in recent seasons has been the first in the area to open and has been able to offer skiing through to the start of May.
Almost all the runs are wide cruising trails that lead towards a snowbowl linked to 500m of blue runs. Above this you will find three kilometre long blacks and some extensive off-piste opportunities to discover with a guide.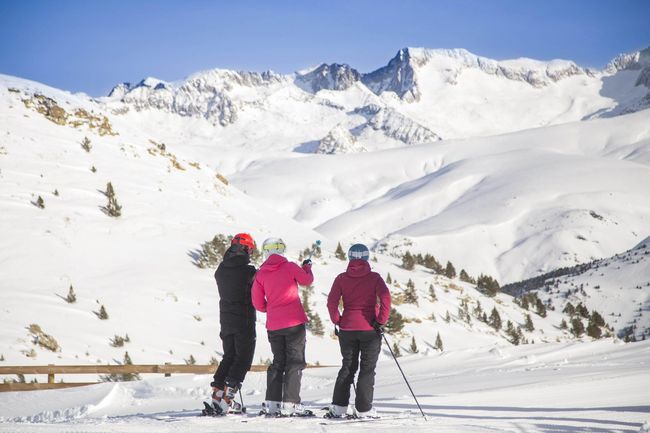 Piau Engaly
Piau Engaly is one of the highest altitude ski resorts in the Pyernees that has a wild beauty about it which attracts a lot of cross-border skiers from the Spanish resorts seeking the better north facing snow.
Terrain-wise, there's something for most levels from accessible novice areas to a well-equipped snowpark, plus accompanied off-piste and freeride sessions. The natural setting is the tightly-protected landscape of the Parc National des Pyrénées so expect to see a marmot or three as you cruise down the slopes. With a mid-mountain setting you will have the ability to ski in / out of your accommodation and have nature right on your doorstep.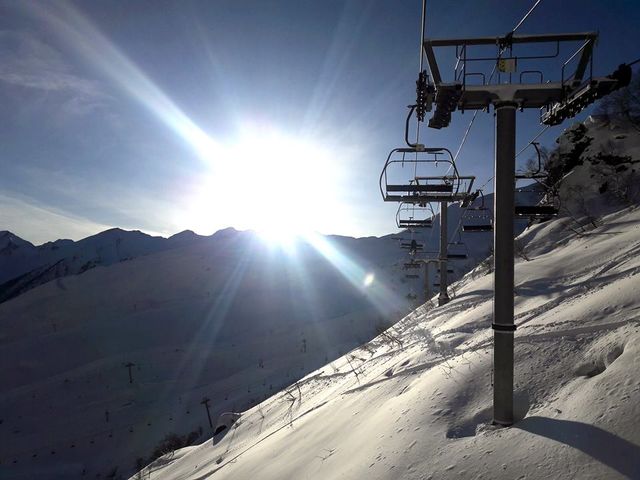 Font Romeu
Font Romeu, is a mini-paradise for beginners with an extraordinary, extensive matrix of gentle green runs that are perfect for nervous beginners or children as there is plenty of room to relax and enjoy the piste.
Situated in the Pyrenees- Orientales this family friendly resort benefits from the sunny Mediterranean climate and the extensive snow cannon operation that covers 50% of the slopes. The 43km ski area is set on a plateau with 500 metres of vertical and a good mix of blues, reds and twisting black runs as well as a sunny snowpark to keep the more intermediate skier entertained.
en.france-montagnes.com/resort/font-romeu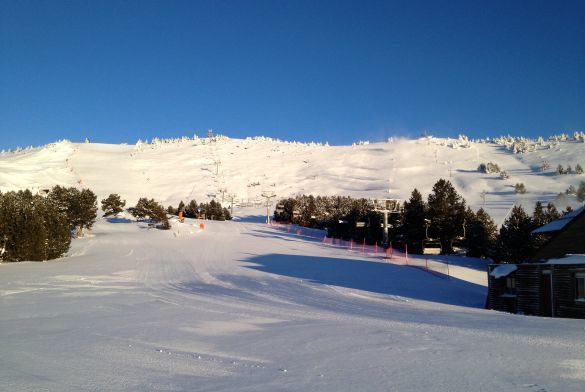 Ax-les-Thermes
The unassuming old town of Ax-les-Thermes is famous for its thermal water that fills the huge local public spa and streams along the streets bubbling with goodness.
Look above the town and there are three hidden areas waiting to be discovered by snow lovers. Bonascre, Saquet and Campels can be accessed by a gondola from the town and are filled with rolling reds to blast down, tree lined blues and a feature filled snowpark, all mostly very quiet so it feels like you have the mountain to yourself. After a hard day at it you can retreat back to town to enjoy a hot spring to sooth aching muscles and revive you for another day on the slopes.