Independently researched and written by the Snow Magazine team, sponsored by the experts at Crystal Ski Holidays.

We love ski holidays in Switzerland. We love the food, the endless slopes, the ridiculously beautiful resorts and the seamless way skiers can glide from its many airports straight to the slopes—in many cases via spectacular mountain railways.
Skiing in Switzerland might be more expensive than visiting French, Austrian or Italian ski resorts, but the country has considerable upsides too. There's its rich winter sports history, the prevalence of 4,000m peaks, meaning lots of options for high altitude, snow sure skiing, and just the fact that everything in Switzerland runs like clockwork.
So whether you're considering a Swiss ski holiday for the first time or you've been heading to famous Swiss ski resort such as Zermatt or Verbier for years, we've got the lowdown on the best ski resorts in Switzerland to put at the top of your hit list this winter.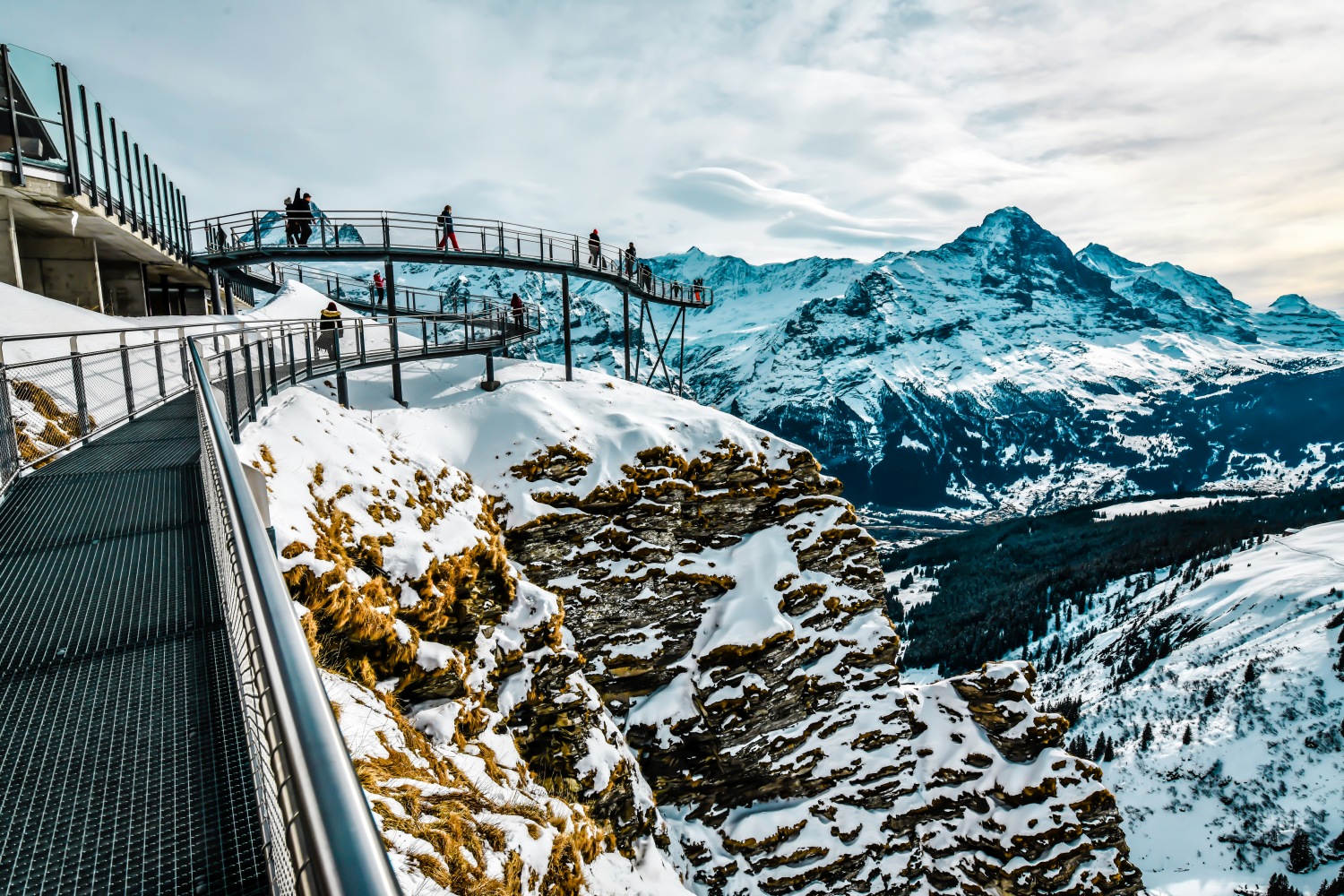 Grindelwald
This is a resort which has it all – easy access (via mountain trail or gondola) to the enormous Jungfrau region (where the fantastic lift network means you can tackle the FIS-certified Lauberhorn pistes and still make it home in time for tea), a beautiful resort centre filled with some of the region's quaintest cafés and boutiques, and easy access from Zurich, Geneva or Basel (a major perk for anyone keen to combine a visit to Grindelwald with other ski resorts in Europe).
The area's 160 kilometres of pistes top out at 2,971 metres, and there are 80 kilometres of immaculately groomed winter walking trails, too. The best bit? You'll be able to fly down 60 kilometres of toboggan trails, our favourite of which is the 15-kilometre course (Europe's longest) which streaks down the side of the Bernese Alps' Faulhorn mountain.
The Eiger looms somewhat menacingly over this pretty ski resort, but don't be put off – the terrain is incredibly diverse, although the majority of runs are blue and red. Keep an eye out for chamois dashing between the wildlife reserves (out of bounds to skiers) dotted throughout the ski area. For the best views or surrounding peaks, hop on the Eiger Express, which opened in late 2020. The 26-seat gondola will whisk you from Grindelwald to the Eiger Glacier station in just 15 minutes (previously this journey took 47 minutes).
Take a look at our Grindelwald ski resort guide for more info.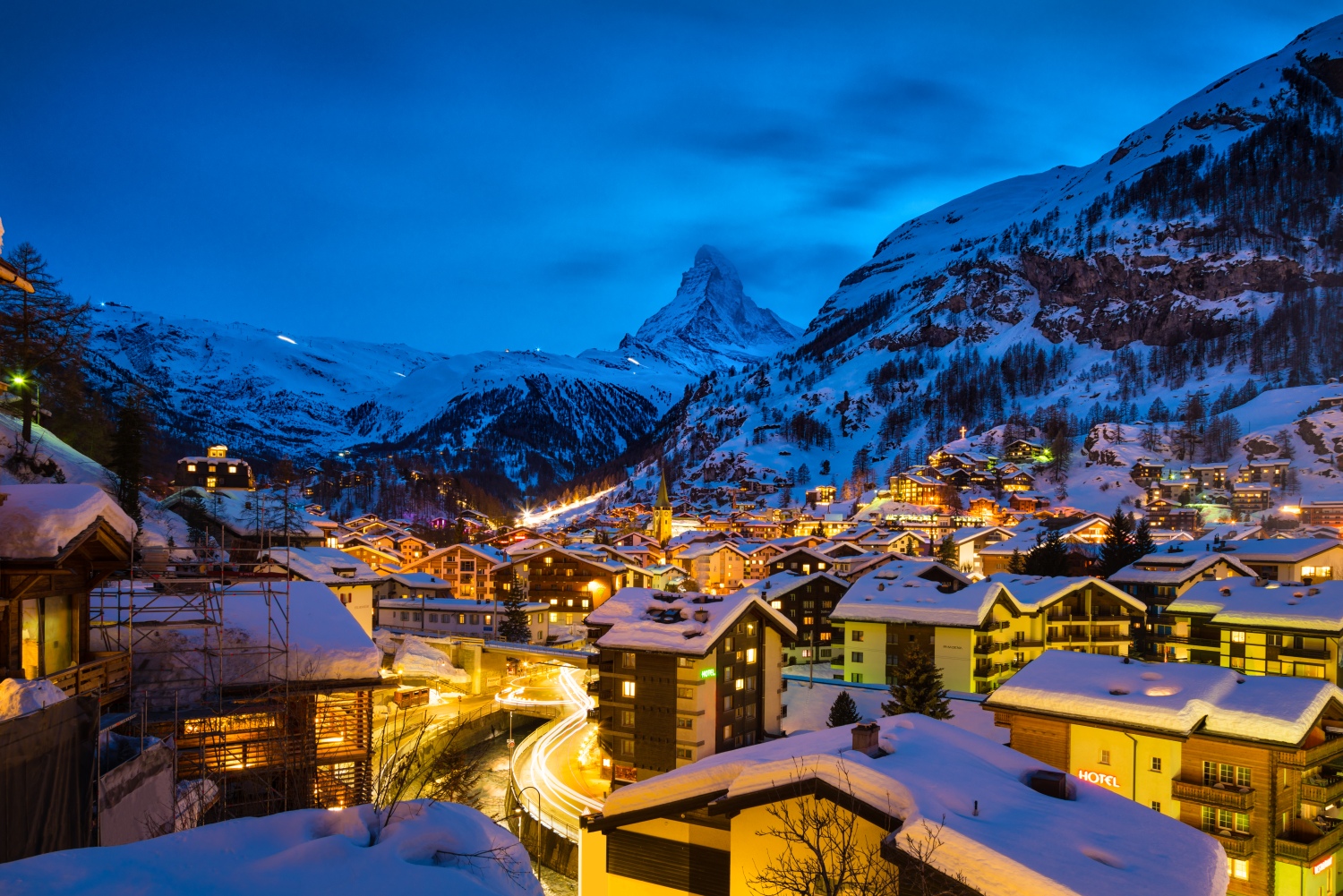 Zermatt
Another ski resort in a spectacular setting (in this case, thanks to the looming backdrop of the Matterhorn), Zermatt, in the heart of the Valais region, is a high-altitude playground which is connected to Breuil-Cervinia in Italy, a power-blanketed paradise with 360 kilometres of pistes, most of which are blue and red (there are a whopping 227 kilometres of red runs).  
Don't miss the opportunity to jump on Zermatt's Gornergrat mountain railway, which whisks you up to 3,089 meters above sea level, from where you'll be able to soak up superb views over the Gorner glacier. From here, you can ski over to the Italian resort of Cervinia (you'll need the so-called International ski pass to do so). 
Zermatt's après ski is incredibly diverse – visit in winter and you'll find everything from slope-side champagne bars such as the Champagner Bar Teehäuschen Flora to cosy retreats like the Papperla Pub, where you can wash down pizza-like Flammkuchen with local Swiss beers. Equally diverse is the range of accommodation.
Zermatt has plenty of catered chalets and self-catering apartments perfect for those on  family ski holidays, and the resort has one of the most diverse selections of hotels in the Swiss Alps, with everything from boutique hotels such as the Hotel Walliserhof to the five-star Mont Cervin Palace. Regarded by many as not just the best hotel in Zermatt but the Swiss Alps, it's got three restaurants and an enormous spa.
Take a look at our Zermatt ski resort guide for more details.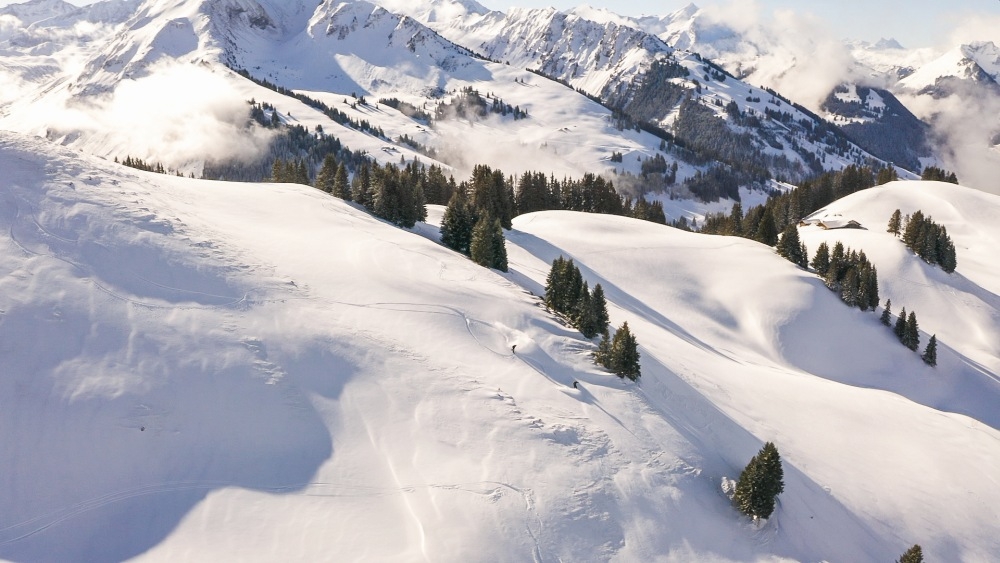 Gstaad
If you need additional reasons to head to this resort for your next ski holiday, look no further than the palatial Gstaad Palace, with its famous spa (named the world's best hotel spa at the World Spa Awards 2020) and five restaurants. For the ultimate indulgence, book the Champagne & truffle fondue, served in the hotel's underground La Fromagerie. 
Comprising a cluster of villages (many of which date back to the 1500s) between 1,000 and 1,400 metres above sea level, Gstaad is a brilliant resort for skiers who are either just starting out or keen to improve - 80 per cent of the slopes are suitable for either beginners or intermediates. Although advanced skiers aren't quite as well catered for, there's still a decent number of seriously steep runs, including the Tiger Run, which has an average gradient of 45 degrees.
It's one of the best resorts for cross country skiing in Europe – Gstaad has the country's first permanent cross country skiing trail, which is part of a network of 180 kilometres of trails covering six areas. Don't forget to take a ride on a mountain railway, either – the wider Bernese Oberland area has 41 of them, and in Gstaad, they provide easy access to the resort's six toboggan runs.
Make sure you check out the new Eggli gondola, too. This is one of Switzerland's most modern lifts - a 10-person Porsche-designed ski lift, which opened in December 2019 and speeds skiers to the top of Mount Eggli in record time.
Our full Gstaad ski resort guide has more details on this great resort.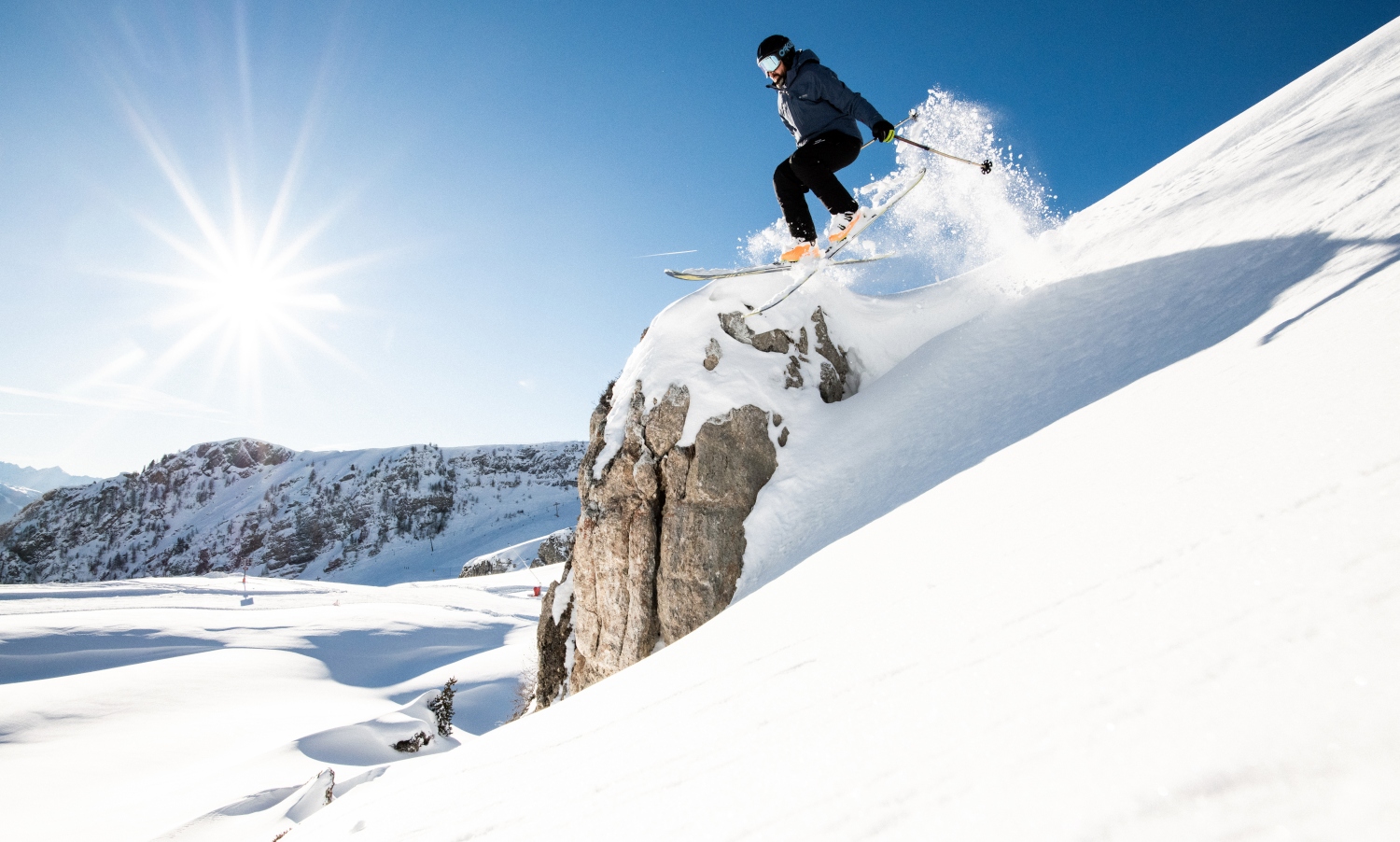 Crans-Montana
This French-speaking ski resort has terrain for every type of skier and snowboarder, although it's particularly well suited to intermediate and advanced alpine skiing, and people who can tackle the FIS Ski World Cup downhill course, throw themselves into the second largest snow park in Switzerland (the highlight of which is the Olympic-sized half pipe) and fly along 140 kilometres of ski runs at a height of between 1,500 and 3,000 metres altitude.  
Love a spot of ski touring? Since 2018 the resort's rolled out a network of 15 ski trails set aside exclusively for touring, and to access them you'll simply need a £4 ski touring pass which covers the cost of rescue (should you need it, which you won't, obviously). One of the resort's newest additions is the Alaïa Chalet, which opened in 2018. Head to this enormous indoor/outdoor sports complex to sign up for lessons in everything from skateboarding to parkour. Crans-Montana's après ski, accommodation (most of which has between three and five stars) and restaurants (all 90 of them) are incredibly varied – you'll never go hungry in Crans-Montana, where you'll find restaurants specialising in Thai, Argentinian and Italian cuisine, and where two restaurants have already bagged Michelin stars. 
One of our favourite accommodation options is the cosy, three-star Colorado Riders Lodge, which opened in March 2021, although we're incredibly excited about the five-star Six Senses which will open there in early 2022, and which will be the luxury hotel brand's first property in Switzerland. A warning for anyone who prefers to take a budget approach to their ski holiday: this will be one of the swankiest Swiss ski hotels, so be prepared for some sky-high room rates. 
Give our full Crans-Montana ski resort guide a read more more info.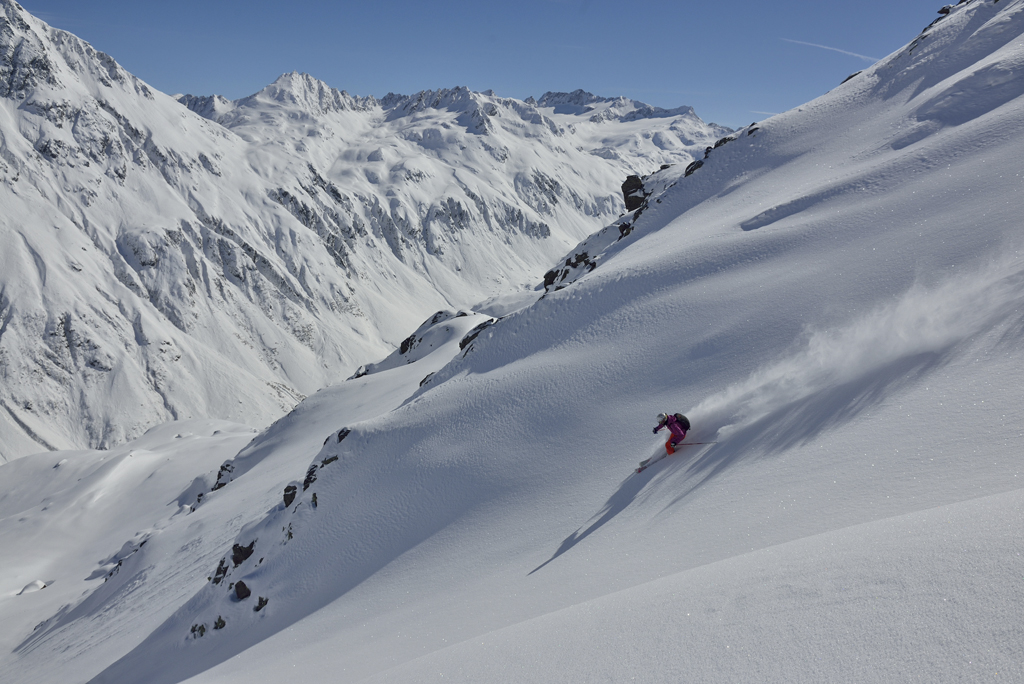 Andermatt
A snow-sure resort just two hours from Zurich, Andermatt is a modern resort which has recently benefited from a £1.4 billion investment, much of which has been spent on slope expansions and improvement. These enhancements don't just mean it's easier to get to the nearby beginner-friendly ski resorts of nearby Sedrun and Disentis, but mean there's more to roam in Andermatt itself, which now has 180 kilometres of pistes reaching up to 3,000 metres above sea level. 
The ski area is divided into halves: Gemsstock, where the high, north-facing ski runs get some of the best snow cover in the Swiss Alps and are popular with advanced skiers, and Nätschen, which is more suited to learners and has some of the best beginner slopes in Europe.
If you're planning on spending the majority of your time in Nätschen, consider staying at the five-star Chedi Andermatt. The hotel has nine restaurants and après ski bars, including a brilliant Japanese restaurant, where you can chow down on delicious Asian cuisine while taking in the spectacular views of the surrounding peaks, along with the Oberalp pass and the Ursern Valley.
Read our Andermatt ski resort guide or more details.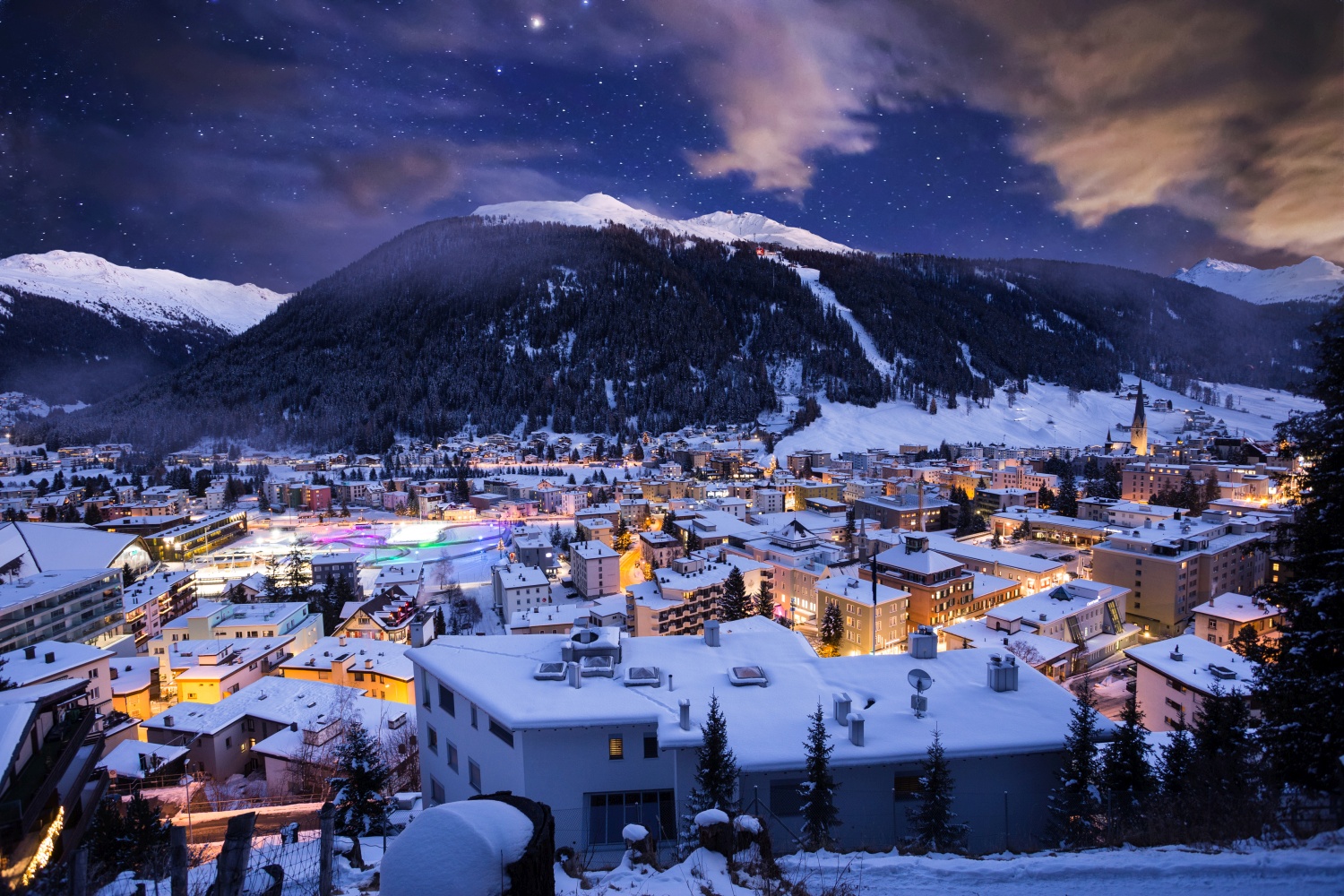 Davos
Our favourite thing about Davos? You'll never run out of things to do – the resort's amenities include five museums, a cinema and an ice hockey stadium. Although it's not the highest of Swiss resorts, its position, 1,560 metres above sea level, means the white stuff is rarely in short supply, and the skiing terrain extends to an altitude of 2,844 metres. 
Davos's six ski areas cater to all types of skier, although our three favourites are Parsenn (reached via the Gotschna cable car), which is great for intermediate skiers and has one of the longest slopes in Switzerland (with 2,000 metres of vertical drop over 12 kilometres), Jakobshorn, which is popular with freeskiers and snowboarders and has brilliant après ski, and Madrisa, which is perfect for families and sits below some beginner-friendly wide runs.
The resort itself is divided into two halves, so you'll need to decide whether you want to base yourself in Davos Platz or Davos Dorf. Platz is where you'll find the highest concentration of hotels and shops, but Dorf is great for slope access, making it a brilliant option for family ski holidays. A fast, regular shuttle bus service links the two areas.
Our Davos ski resort guide has more information.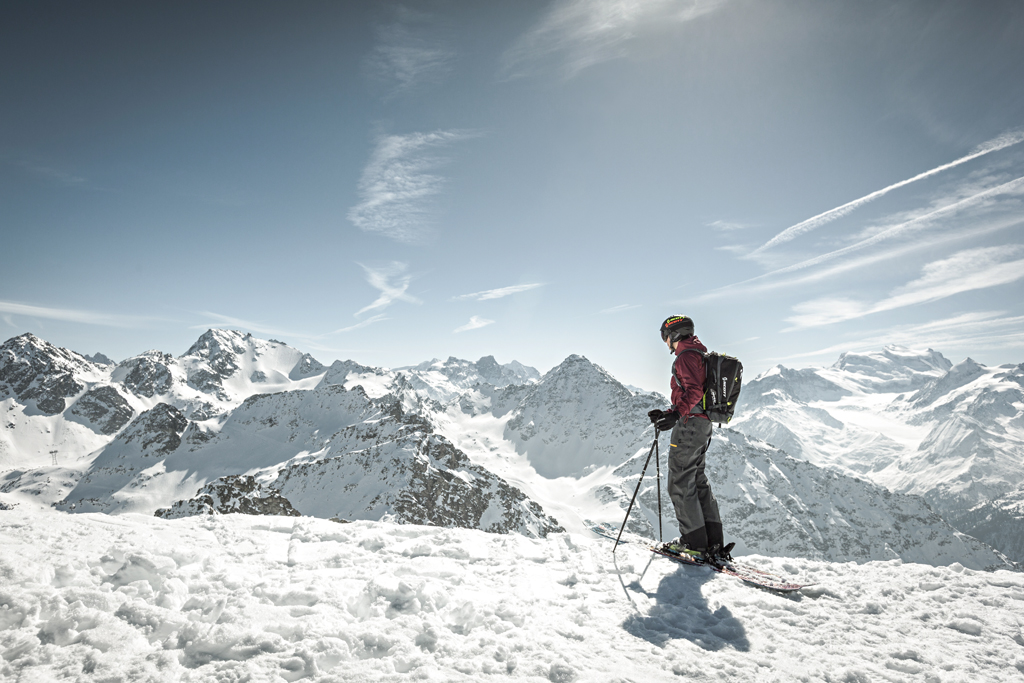 Verbier
Historically seen as a playground for the rich and famous (and let's face it, there's still a certain amount of truth in this, proof of which is the fact the resort named a ski lift named after regular visitor James Blunt), Verbier is a popular ski holiday destination which has always attracted skiers of all skill levels, who can explore the enormous 4 Valleys ski area while also enjoying easy lift access to other ski resorts such as Thyon, Nendaz, La Tzoumaz and Veysonnaz.
The majority of Verbier's runs are blue and red, with just a handful black runs (including the famous, mogul-dotted Mont Fort slope for those keen to put their skis to the ultimate test). It's also one of the most modern Swiss ski resorts, and has hosted some of the world's most important skiing and snowboarding competitions, including the Freeride World Tour.
Non skiers are especially well catered for, because the range of activities available away from the slopes is staggering – skydiving, ice climbing, paragliding, horse riding and dog sledding are all on offer here. Despite its pricey reputation, the huge range of accommodation means finding a bed doesn't mean breaking the bank. Luxury crash pads include the five-star La Cordée des Alpes (a member of the Small Luxury Hotels of the World group) and the ridiculously swanky Chalet Truffe Blanche, where amenities include a cocktail bar, library, cinema room, private nightclub and swimming pool.
However, there are plenty of options for travellers on a budget, too. We recommend the MAP Verbier-Village hostel  for larger groups, while couples should consider one of the resort's bed-and-breakfasts (Les Sapins Bleus, where there's a focus on local produce, is one of our favourites).
Read our full Verbier ski resort guide for everything else you need to know.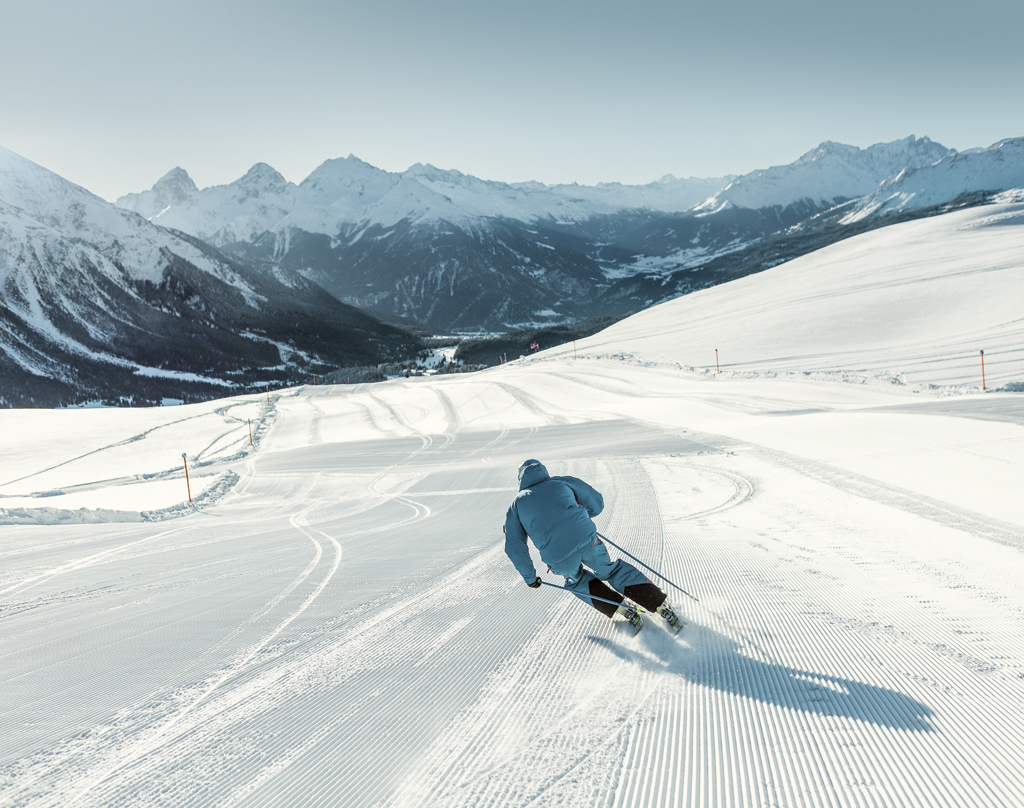 Arosa Lenzerheide
Come here for your ski holidays and you won't just have Arosa's slopes on your doorstep, but the ones in nearby Lenzerheide, too – the two ski resorts are connected by the magnificent Urdenbahn gondola, which zips from one resort to the other in under five minutes. The huge network of slopes, which covers 225 kilometres, will satisfy skiers of all abilities, although the majority of the runs are blue and red.
There's some fantastic freeriding here too, including the off piste skiing areas accessed from the recently unveiled, six-person Brüggerhorn chairlift. The resort is just a two-hour drive from Zurich and three-hour drive from Basel. Accommodation is surprisingly varied for a resort of this size, and in recent years a number of ultra-modern, ultra-sustainable hotels have opened.
One example is the Valsana Hotel and Apartments, a carbon-free property which has removed all PET packaging and where the swimming pool is cleaned using a sand filter, and a combination of an ice battery and geothermal probes heats the hotel.
Take a look at our Arosa ski resort guide for more details.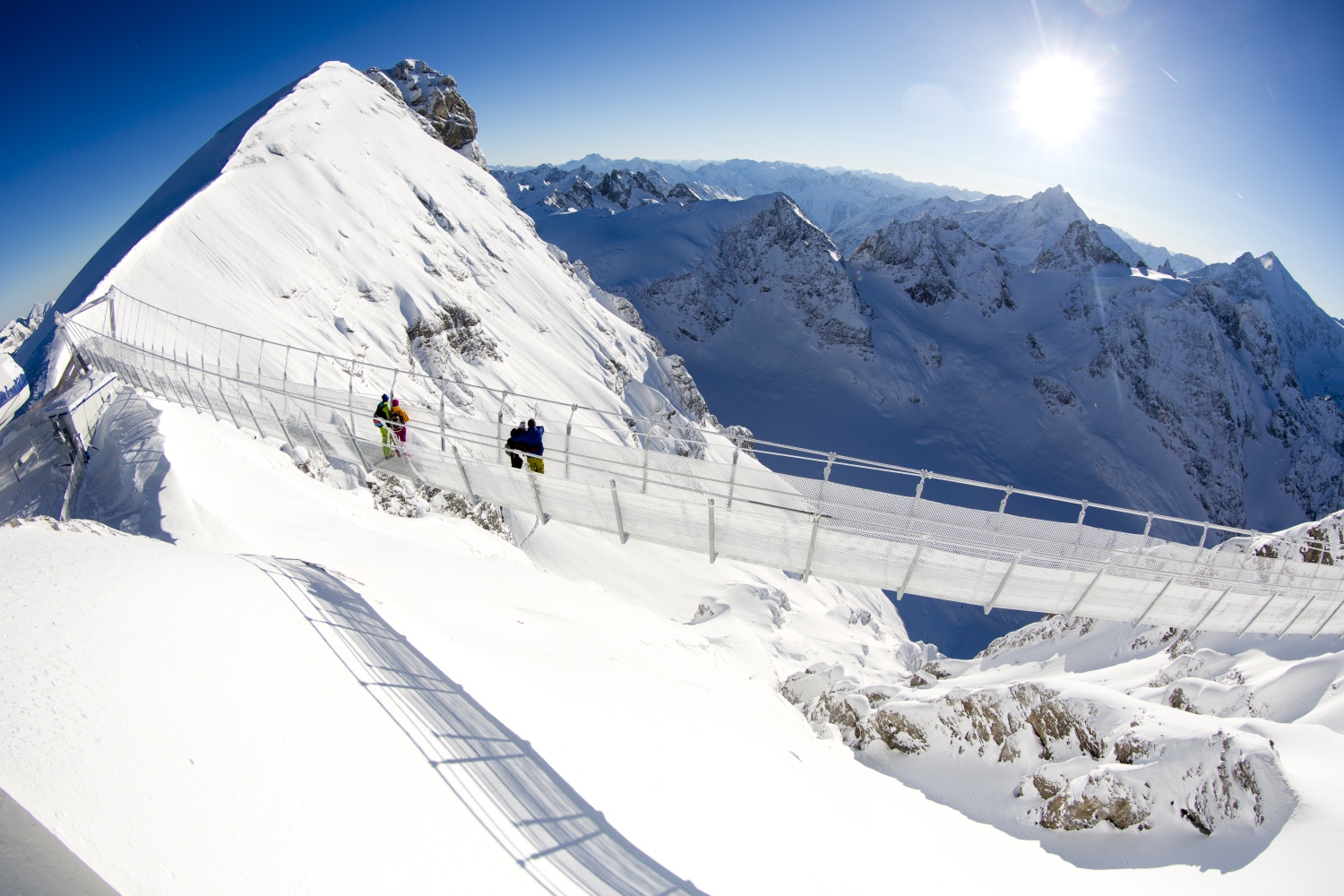 Engelberg
Need a reason to visit this pretty, family friendly Swiss ski resort, which is just a one-hour drive from Zurich? We've got loads, but we'll start with the fact that this Swiss ski town has the world's first revolving cable car, followed by the brilliance of its lift pass, which doesn't just cover its ski lifts but provides access to its glacier grotto and cliff walk.
Then there's the long winter season, which typically lasts from October to May, and the brilliant facilities for beginners, which includes nursery areas in the Klostermatte, Gerschnialp and Ristis areas, and several award-winning ski schools. The 82 kilometres of slopes also include a huge number of reds and blacks, which is why Engelberg is regarded as one of the best Swiss ski resorts for advanced skiers.
Read our Engelberg ski resort guide for more info.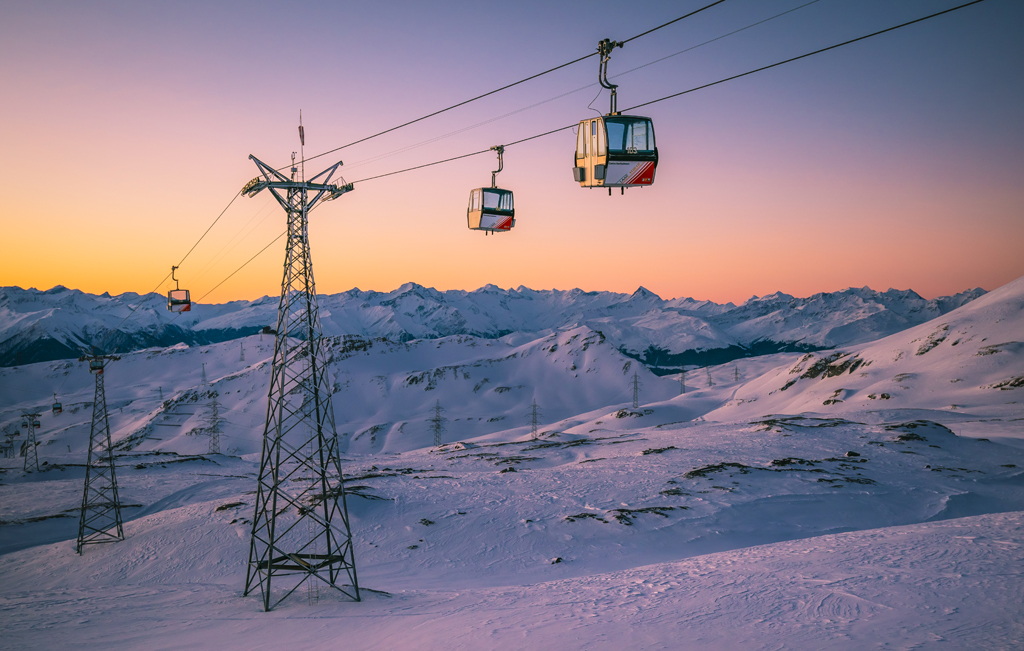 Laax
Framed by spectacular mountains and home to four snow parks, 28 ski lifts and 224 kilometres of ski slopes (70 per cent of which are wedged between a sky-scraping 2,000 and 3,000 metres above sea level), Laax is a resort which has endless appeal for all levels of skier. Everything is supercharged here, whether it's the night skiing, the highlight of which is the six-kilometre slope which stretches from Curnius to Laax Murschetg, or the food scene, which includes not only 30 restaurants (including some of the best mountain restaurants you'll find in Swiss resorts) but dedicated culinary trails. 
Everything about Laax – both on the slopes and off – is top notch, largely because the resort regularly hosts some of the world's biggest ski and snowboard competitions and its slopes attract some of the world's most famous skiers and snowboarders (its Freestyle Academy is Switzerland's only Olympic freestyle training base). We're also huge fans of the resort's dedicated app (Inside Laax), which does a great job of taking the hassle out of ski holidays. Download it and you can research the après ski, use the map to navigate the various ski areas, request the Laax shuttle, check out which lifts are open and monitor your kids' progress at ski school.
Check out our full Laax ski resort guide for all the details.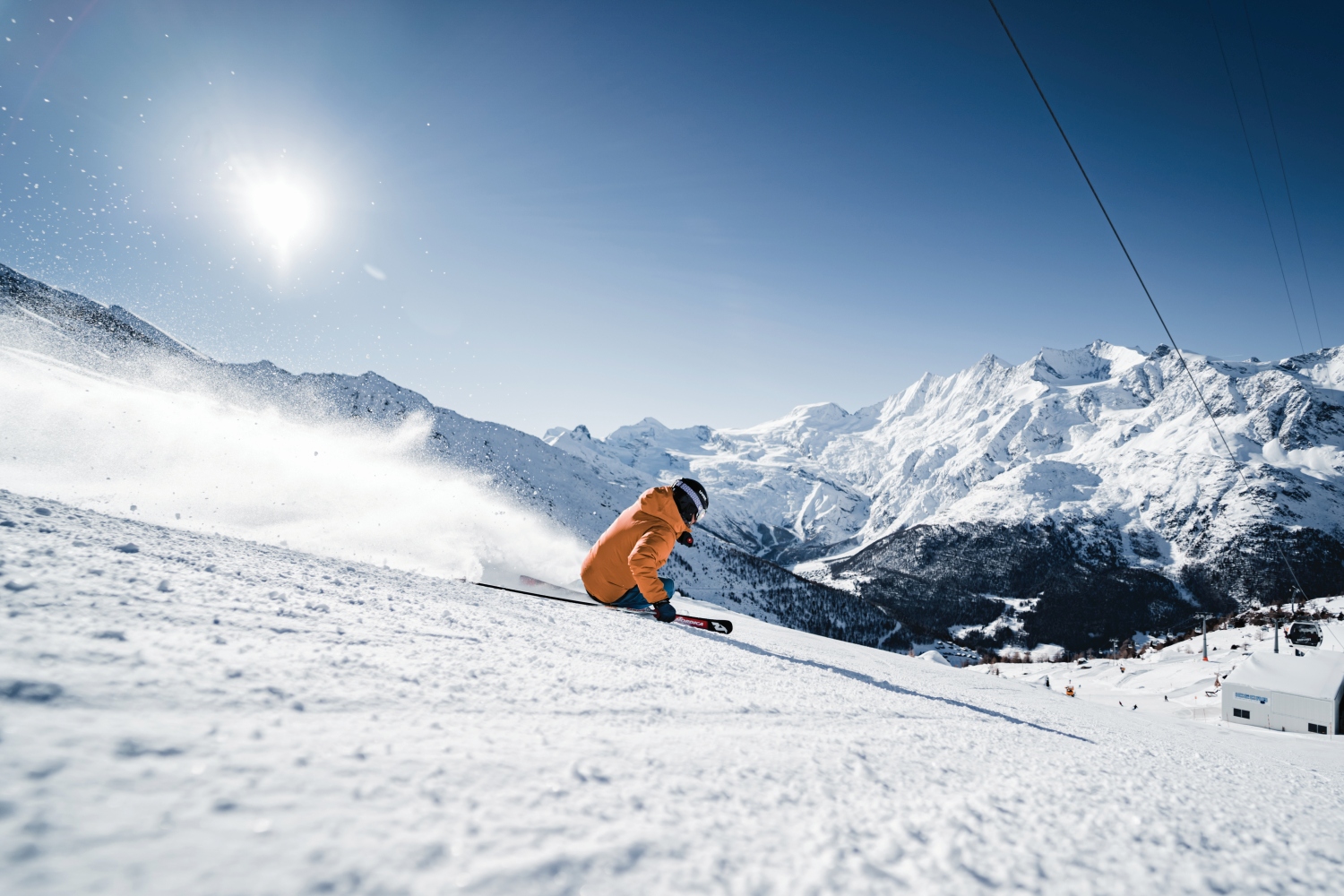 Saas Fee
Dubbed "the pearl of the Alps" Saas Fee is a ski resort which combines serious, high alpine terrain with a family-friendly village. Surrounded by no fewer than 13 4,000m peaks, the village was one of the first in the Alps to go car-free, and takes its commitment to sustainability very seriously. In fact, it's one of the most eco-friendly ski resorts in Europe.

This response to the climate crisis is perhaps not surprising, given Saas Fee's terrain. The ski area is split between three main zones—Saas Fee, Saas Grund and Saas Almagell—two of which boast high slopes scattered with spectacular seracs and crevasses, where the ravages of global heating are all-too visible.

On the plus side, the altitude (lifts top out at 3,500m in Saas Fee and 3,200m in Saas Grund) mean that the ski area is the very definition of snow sure in winter, and you can ski here all year round. The halfpipe is famously one of the few which can stay open during the northern hemisphere summer, making Saas Fee one of the top ski resorts in the world for pro spotting. In winter, the sheer amount of off piste terrain on offer is impressive, offering plenty for backcountry enthusiasts to get stuck into.

While it's not the most easily accessible, with no direct train line from any of the major air transport hubs in Switzerland, the car free village is well worth the extra time it takes to get there. Traditional wooden chalets abound, while a multitude of après ski and dining options means you'll never get bored—as long as your wallet can take the hit.

Read our full ski resort review of Saas Fee here.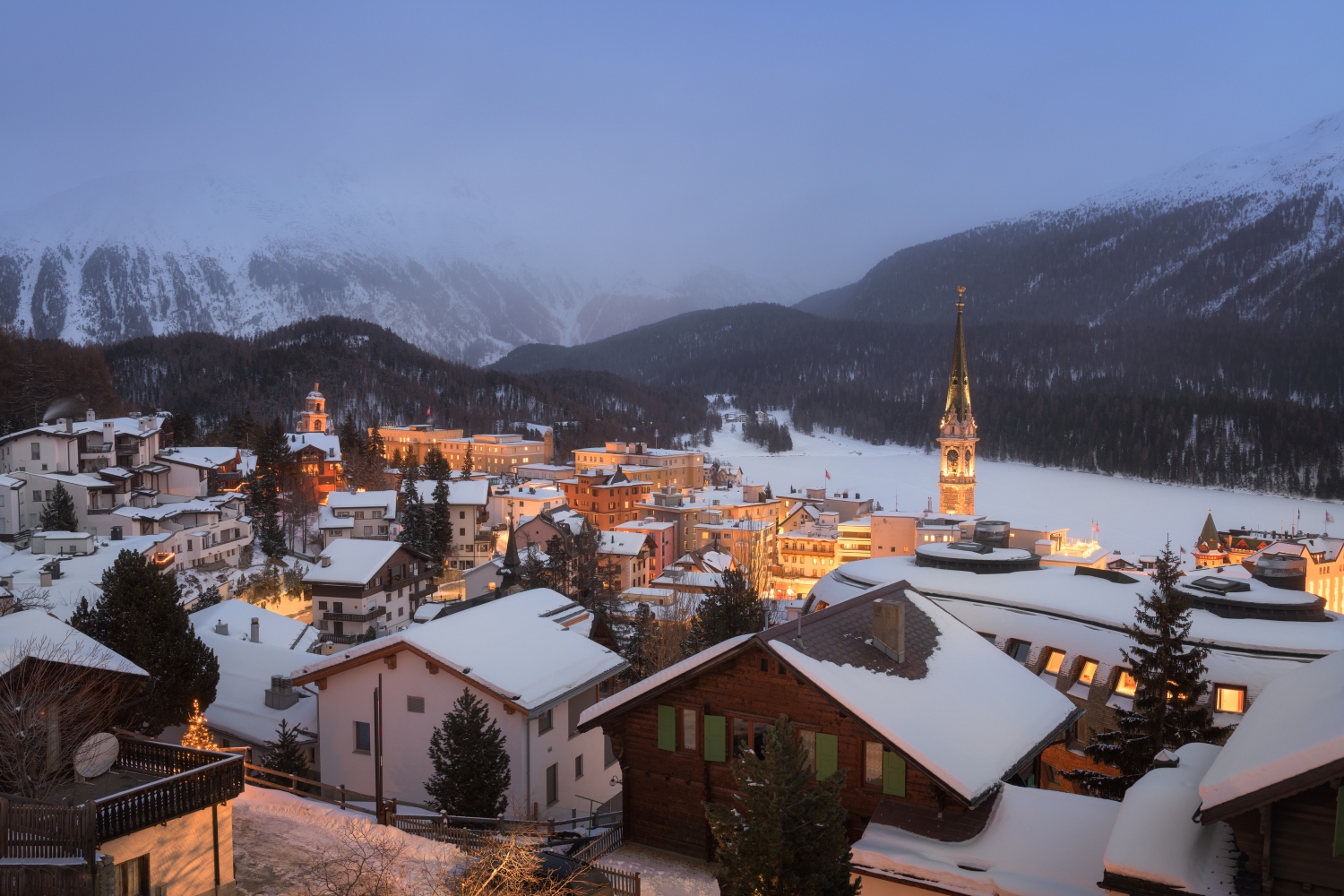 St. Moritz
Winter sports destinations don't come more storied than St. Moritz. Arguably Switzerland's first ski resort, it played an important role in the development of winter tourism as a whole. In 1864, local hotelier Caspar Badrutt made a wager with four of his summer guests, betting that if they returned in winter, they'd find the village equally agreeable. If they didn't, he said he'd pay for their return journey back to the UK.

Of course, they were charmed, and their 'discovery' sparked demand for a new kind of active winter holiday among the British upper classes, with outdoor pursuits like ice skating, and bobsledding (invented here in 1890) fast becoming popular. Ski lifts were installed soon after the invention of alpine skiing in the 1920s, and in 1928, the resort hosted the second ever Winter Olympics.

Today, St. Moritz boasts an extensive lift system, crowned by a top cable car that takes you up to 3,057m above sea level, just below the summit of Piz Nair. The skiing alone would be enough to make this one of the best ski resorts in Switzerland, with the large ski area offering varied terrain including plenty to keep off piste skiers engaged. But the thing that really sets St. Moritz apart is the off-hill activities—from the annual ice polo tournament, to the skating on the frozen lake (which is kept in better condition than many indoor ice skating rinks), to the chance to try your hand at bob sledding, watch the daredevils throwing themselves down the infamous Cresta Run (think skeleton bob, but with more crashes), or try out the network of cross country ski trails.

Badrutt's original hotel is still open too, and is well worth a visit—although unless you're feeling flush, we'd recommend just popping in for high tea. Otherwise the rooms start from over 1,200 Swiss Francs (£1,000) per night.

Read our St. Moritz ski resort review for the full lowdown.