Nendaz is a large, modern ski resort in the heart of the Swiss Valais region, with unparallelled access to some of Europe's best slopes in The 4 Valleys, some fantastic freeride, guaranteed snowfall, and skiing up to 3,330m.
While lift-linked to its popular and swankier neighbour Verbier, Nendaz is laid-back rather than loud and lively. This makes it a good choice for families, being one of a couple of dozen resorts in Switzerland to have been accorded 'Families Welcome' status by the Swiss Tourist Board.
It's altogether more 'grounded' as well, with everything from accommodation to restaurants being far more reasonably priced than Verbier. And you get to ski the same slopes.
Nendaz sits between Verbier and Veysonnaz, and is 8km down the mountain from Siviez and Thyon. The modern resort centre - a mix of mainly chalets, apartments and small hotels - is just up the road from Haute Nendaz, a rustic hamlet of old buildings and a lovely baroque chapel.
The views, overlooking the Rhône Valley, are stunning and ample reward for those who take the time and trouble to find this lesser-known corner of the region. Access is pretty good, too, with the Swiss Railway a great way to get around. Although there is an airport at Sion just 20 minutes away, it's much easier to fly in and out of Geneva and take the train to Sion.
Nendaz - Ski Map & Pistes:
Nendaz has two distinct ski-pass offers. Families and beginners might very well be tempted to stick with the Printze Sector, which covers Nendaz, Veysonnaz, Thyon/Les Collons and Siviez (minus the Mon-Fort glacier). At 220km it's big enough, and this sector is invariably quieter than the Verbier side as Verbier-philes are less inclined to ski over to this side. There are 50 lifts in the Printze Sector alone.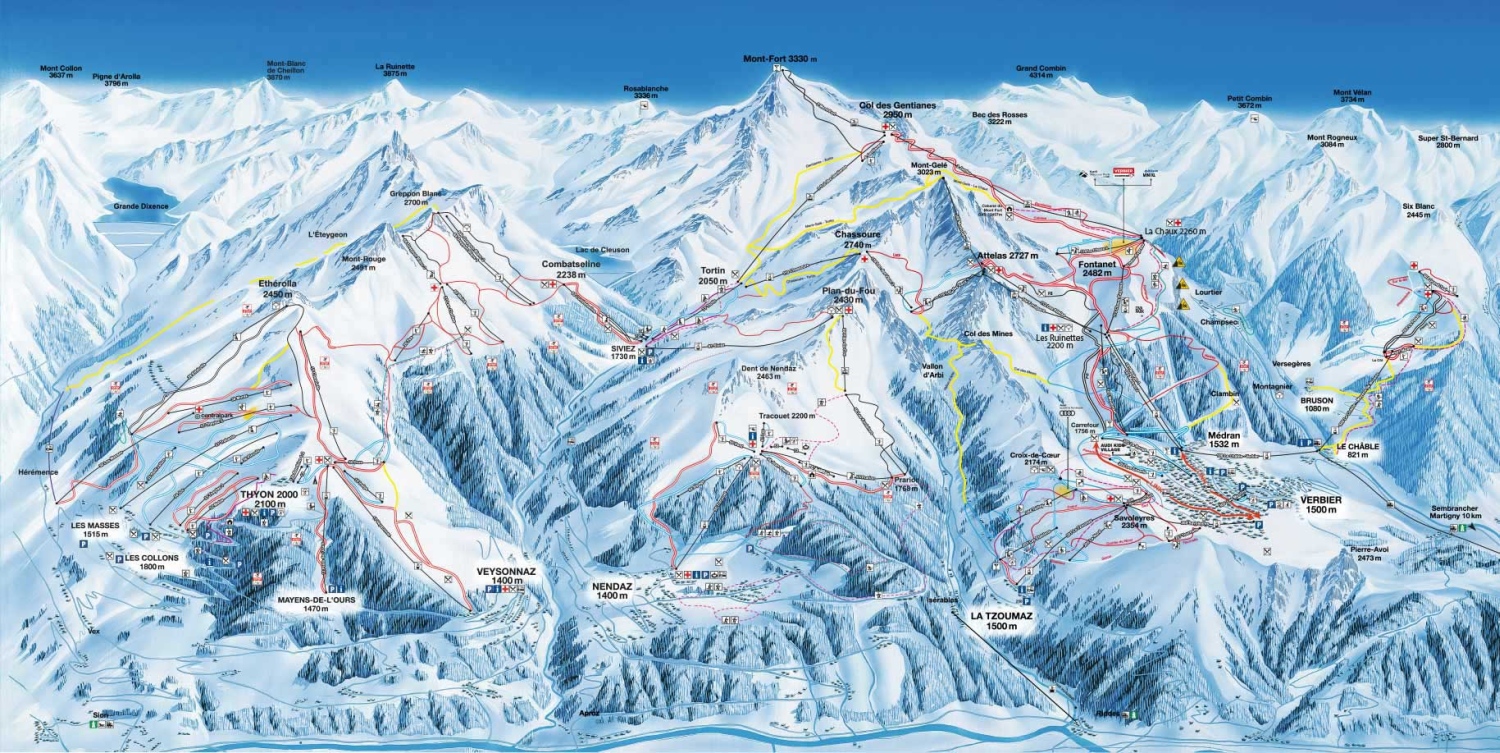 A 12-person gondola from the centre of the town climbs up to Tracouet (2,200m), from where intermediates, after perhaps skiing the friendly local runs, can make their way via Plan-du-Fou (2,430m) to the slopes above Siviez, dropping down into that village and up the other side, which leads on to the sector above Thyon and Veysonnaz. Ski the long red run back into Veysonnaz and you've practically completed a loop back to Nendaz - though you can't actually join the dots on skis.
It has to be said, however that much of this sector is not novice terrain, and includes mostly reds and a few black runs. Beginners might be better off getting the bus over to Veysonnaz and crossing over to the Thyon zone where most of the gentler blue runs are located.
The second ski-pass offer, of course, is the full 4 Valleys ticket. This adds in the Mont-Fort glacier (the 3,330m high point of the 4 Valleys), as well as Verbier, La Tzoumaz and Bruson.
Nendaz - Off-Piste, Backcountry & Ski Touring:
Superb. The 4 Valleys has some of the best off-piste in the world. For experts, the big attraction of this area is the seven marked freeride areas, including Eteygeon, Plan-du-Fou, Mont-Fort, Chassoure and Mont-Gele. The front face down from Mont-Fort, especially, is rightly lauded for its intimidating gradients, while backcountry fans will enjoy the deserted valley run down the back of Mont-Fort.
Nendaz - Restaurants, Bars & The Town:
Verbier has all the pizazz, and cash-flashing party animals; Nendaz caters for quieter, more down-to-earth souls. The town is mostly modern and a bit of a sprawl, but there are plenty of bars, shops and restaurants – all of which are considerably easier on the wallet than those in Verbier.
There are some lively bars, including Yetibar, with direct access from the Tortin ski slope, and the Edelweiss bar, at the foot of the Tracouet ski slope, hosts live concerts and, of course, has its not-to-be-missed 'Happy hour'. Add in a couple of nightclubs and 20+ reasonably-priced restaurants serving everything from Swiss specialities to pizza, sushi and Thai.
Families will enjoy the range of non-ski activities, including tobogganing, dog sled rides, an ice rink, fitness centre, climbing wall and 130km of winter walks.
Nendaz - Ski Hire:
Plenty of good options for ski hire in Nendaz, including a couple of branches of Neige Adventure, who also offer lessons, Mariethoz Sports and Gaby Sports in Haute-Nendaz.
Nendaz - Ski School:
When it comes to learning to ski in Nendaz, the Nendaz branch of the Swiss Ski School is an obvious choice. Alternatives include the Nendaz branch of the European Snowsport School, Alpine Mojo and Montagne Maqique.
// HIGHLIGHTS //
Altitude range
1,400-3,330m
Airport
Sion (25 mins) Geneva (2hrs)
Train station
Sion (25 mins)
beginner
intermediate
expert
// USEFUL LINKS //
Tourism and Ski Area