With its sunny slopes, devastating scenery, exciting skiing and lively après ski, Verbier, Switzerland, is rightly lauded as one of the must-visit resorts in the world - even having been awarded the title of the World's Best Ski Resort by the World Ski Awards for the second year in a row.
Its proximity to Geneva makes it a fashionable destination for well-heeled weekenders from the city as well as affluent international visitors who come as much for the buzz as for the superb and challenging ski area.
Verbier is the principal resort in Switzerland's extensive 4 Valleys (4 Vallées) ski domain, which stretches from the ski area of Bruson, just south of Verbier, all the way to the slopes of Thyon-Les-Collons above the town of Sion, capital of the south-western Swiss canton of Valais in which this area lies; describing a 90-degree arc around the glacial summit of Mont Fort (3,328m) that lies to the east of Verbier and marks the summit of the domain.
From its big natural terrace on a south-facing plateau above the Val de Bagnes, Verbier has a fabulous panorama of the impressively gnarly Combin Massif; from the highest points in the ski area the views also take in Mont Blanc on the French-Italian border to the south-west and the Matterhorn on the Swiss-Italian border to the south-east.
There is also something new to look forward to this winter - Opening for the 2022-2023 winter season, the construction of a safe panoramic platform on the summit of Mont-Fort at an altitude of 3,330m began in summer 2022. Visitors can now enjoy an exceptional 360-degree panorama of the entire Alpine range from Mont Blanc to the Matterhorn. This new infrastructure will complete a package of already available attractions in the vicinity, including a Via Cordata, Via Ferrata and the Mont4Zipline.
Verbier is best suited to advanced skiers and snowboarders and is renowned for its outstanding lift-served off-piste and freeride terrain, although seasoned intermediates coming to ski Verbier will also find plenty to entertain and challenge them.
-- Great hotels and chalets at the best prices - Browse Verbier deals now or take a look at their online booking portal.
Verbier - Ski Map & Pistes:
The vast majority of Verbier's ski area is comprised of high-altitude terrain well above the tree line. This is a serious high-mountain ski area where the focus is on off-piste and freeriding, with many marked routes left ungroomed to preserve the powder lines and to allow mogul fields to develop.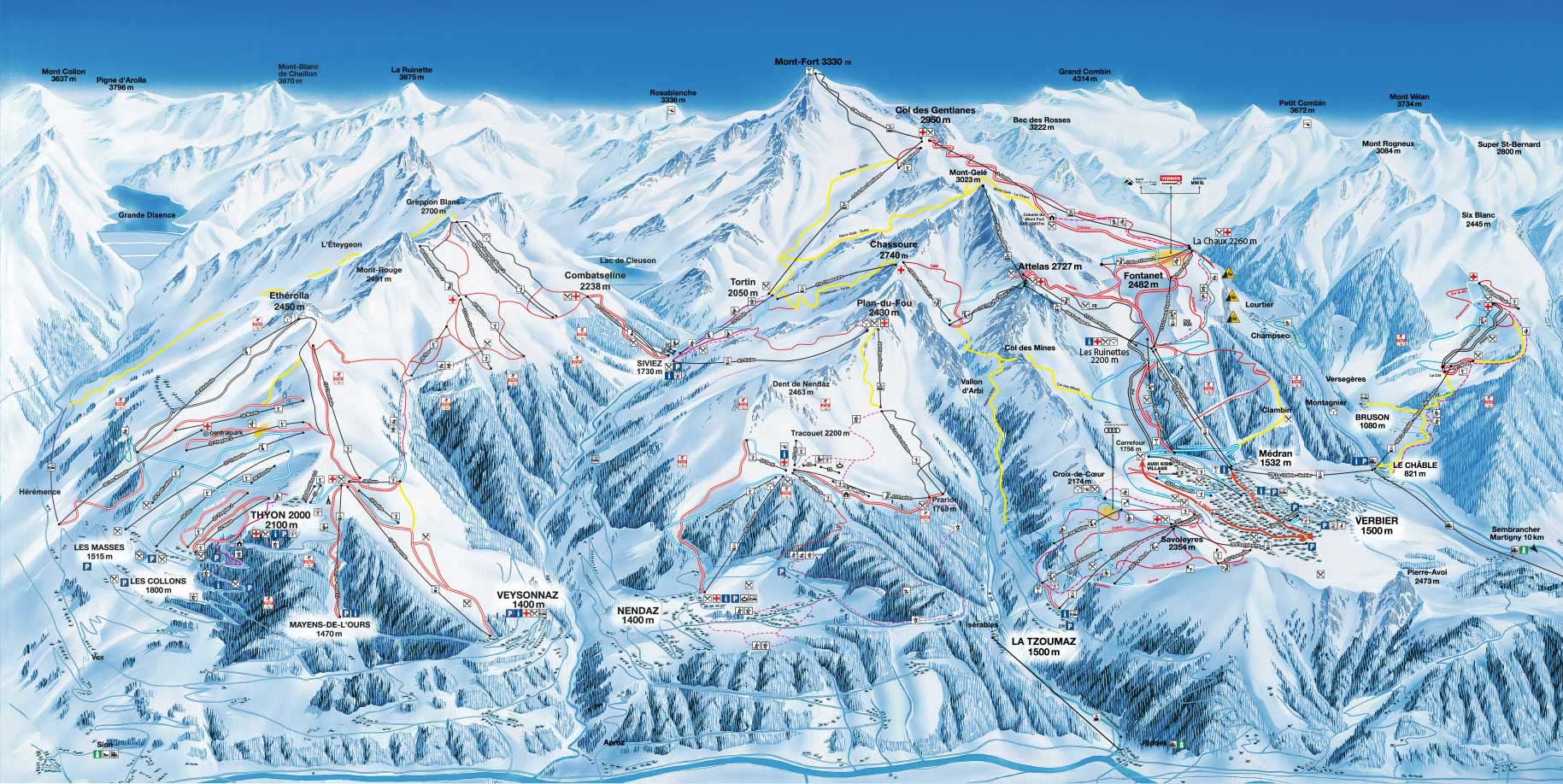 Although Verbier isn't a good choice for beginners, it does have two perfectly adequate nursery areas and a children's snow garden, conveniently sited near the centre of the resort. Progression routes for novices can be found on the nearby Les Esserts slopes and Savoleyres sector, the latter shared with the neighbouring resort of La Tzoumaz.
The Savoleyres area is a great area for families, as it has recently been updated with areas specifically for kids. The Copperfield School Funslope offers the chance for children to learn the basics of freeride with jumps and obstacles to master. The Race Experience is also a particular favourite, where the whole family can try their hand at an 11-gate slalom and compete for the fastest time.
The often quieter satellite ski area at Bruson, facing Verbier from the opposite side of the Bagnes Valley and connected via a two-stage gondola link and has fantastic pistes as well as some lovely glades amongst the trees that hold stashes of deep powder for days after fresh snowfalls, making this a great area for mixed ability groups who wish to spend time together.
Serving one of the more picturesque slopes in the Verbier 4Vallées area, the Pasay chairlift in Bruson has had a makeover. The four-seater chairlift, installed in 1990, has been replaced by a six-seater chair with bubble, ideal for comfortable skiing in all weathers. And thanks to this brand-new infrastructure, journey time has now been reduced from 11 minutes to less than five, perfect for getting in that extra run!
Another piece of good news is that the Pasay snack bar is also getting a facelift. Completely renovated and expanded, the little buvette has been converted into a traditional mountain restaurant serving local products, with a panoramic terrace perfect for sunny lunch breaks. A picnic room is also available for skiers who simply want to stop and have a quick bite to eat before getting back onto the slopes.
Verbier's key Attelas and La Chaux sectors, beyond the gateway Medran gondolas, offer a good selection of high-end intermediate runs and give access to the principal sectors of the ski area: Mont Gele and Mont Fort. The vast majority of the pistes here are good reds, with a couple of high-end blue-grade alternatives; there are a handful of black pistes too, the prime one being the long and often mogulled front face on Mont Fort.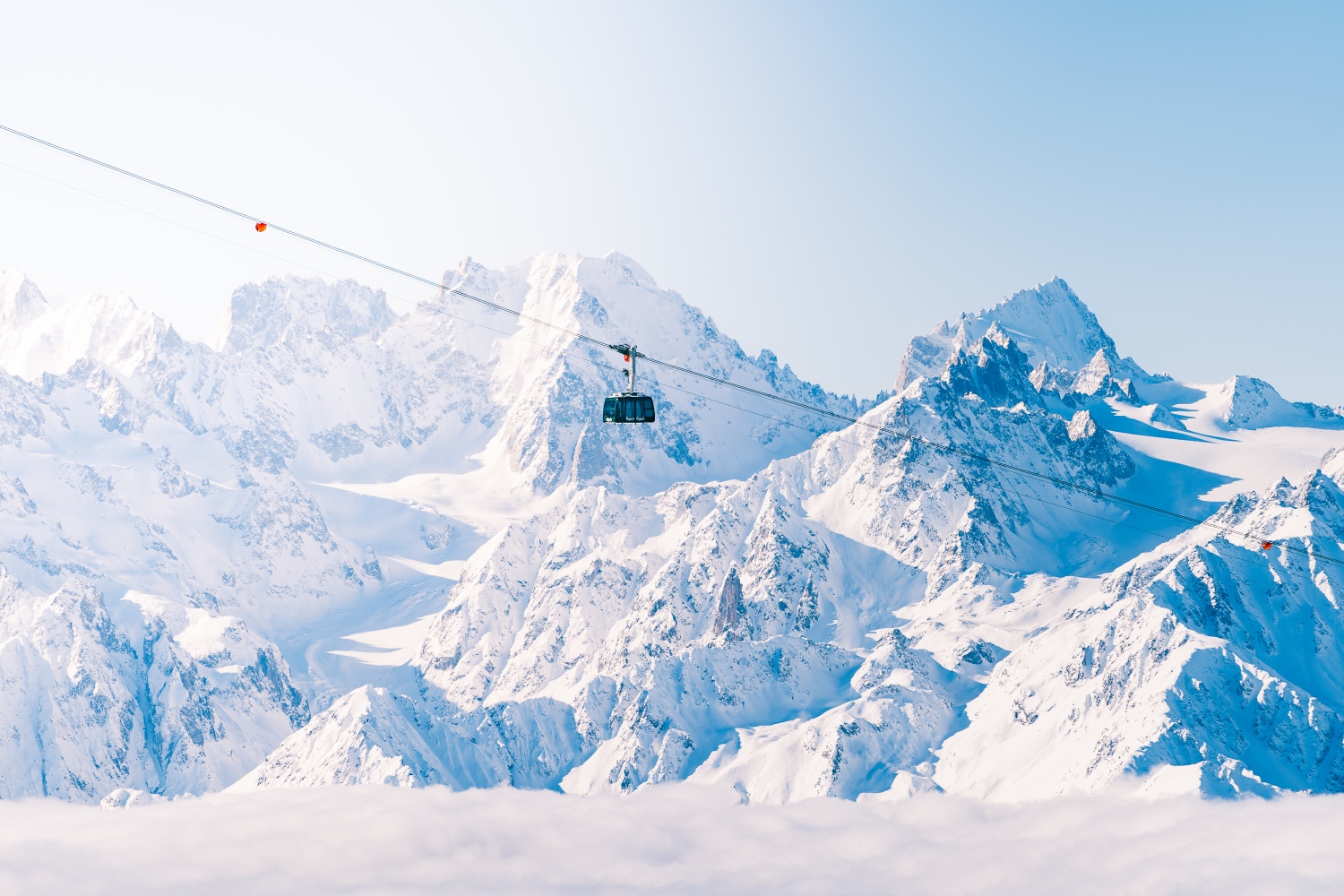 Verbier - Off-Piste, Backcountry & Ski Touring:
Verbier is one of the very few ski resorts in the world to feature a lift-served peak that doesn't have any pisted runs at all; the only routes off the summit of Mont Gele are itineraries, which are way-marked runs that are never groomed.
The back of Mont Fort, all of Mont Gele, and all onward link routes from the Col des Gentianes and Chassoure are either off-piste or designated as itineraries, whose unpisted slopes are generally too tough for unconfident intermediates; only the most competent intermediate and advanced skiers and riders can make the most of the full area.
If you want to go full gnar, then strap your skins on and hire a guide to take you deep into the backcountry, where faces like the legendary Bec de Rosses, the face which hosts the finale of the Freeride World Tour each winter, challenge even the most hardcore of skiers.
Be warned, when it comes to backcountry skiing, Verbier is not for the fainthearted and it is always strongly recommended that you ski with a local guide.
Verbier - Restaurants, Bars & The Town:
The focus for daytime activity in Verbier is very much on snowsports, off-slope activities are strictly second place. Nevertheless, the resort does have a good sports centre: with a multi-sports hall, a 600m2 indoor climbing wall, two squash courts, and indoor and outdoor tennis courts.
A new outdoor ice rink also offers fun for the whole family. Located at the Parc de Loisirs, it features a 3-metre-tall ice slide, magical ice path, and a food truck for drinks or hot snacks.
Other activity options include a toboggan run, dog-sled excursions, paragliding, snowshoe treks, scenic walking trails, or you could take on one of the resort's fantastic ski touring itineraries. For a more sedate and relaxing alternative there are also a number of plush spas and beauty salons dotted around the resort.
Après ski is as important as the snowsports in Verbier and has become something of an institution, attracting many big-spending weekend visitors from Geneva and its environs who come to Verbier just for its excellent restaurants and nightlife.
There are a handful of lively slope-side venues up on the mountains that start the ball rolling by mid-afternoon, plus a huge choice of pubs and bars in Verbier itself that are rocking from late afternoon onwards; there are also more bars and nightclubs in Verbier than there are in perhaps all of its top ten rivals put together.
For slope-side mid-afternoon fun head to Bar 1936 or Ice Cube, both of which feature DJs on their snow patios; down in the village, Le Rouge offers more of the same, whilst the award-winning Farinet bar and the legendary Pub Mont Fort are reckoned to offer Verbier's best après ski experience.
For much later on in the night, there's a range of stylish nightclubs to choose from: the Farm is very chic, and South is also very popular.
Verbier - Ski Hire:
Plenty of good options for ski hire in Verbier try Ski Service, Xtreme Sports, Backside, Philippe Roux, Evasion and Mountain air.
Verbier - Ski School:
When it comes to learning to ski in Verbier, the Verbier Ski School is a good place to start. Alternatives include Altitude Ski & Snowboard School Ski & Snowboard School, Element Ski School, Powder Extreme and New Generation.
-- Great hotels and chalets at the best prices - Browse Verbier deals now or take a look at their online booking portal.
-- Want hassle-free car rental? Book now
// HIGHLIGHTS //
Airport
Sion (50 Mins)
Geneva (1hr 50)
Train station
Le Chable (15 mins)
beginner
intermediate
expert
// USEFUL LINKS //
Tourism and Ski Area