They do things differently in Italy – and that goes for its ski resorts too. Forget that urge to be the first on the lift. Instead, make a lunch reservation at that beautiful mountain rifugio.
Italy tends to be cheaper than its main European rivals France, Austria and Switzerland, and its laid-back ambiance makes it a natural for families and anyone who is more interested in just enjoying the snow rather than skiing faster, further and steeper than the next person.

Bormio
We say: Savour the vertical - it's Italy's finest
A top ski'n'spa resort, Bormio is an historic Lombard spa town with bags of character and an uninterrupted summit-to-base run that delivers the greatest vertical drop in Italy. Irresistible.
Bormio offers skiers a compelling blend of traditional town buzz, authentic Italian ambiance, beautiful scenery, and snow-sure slopes; it's spot-on for discerning intermediates who can also enjoy day trips to Livigno and Santa Caterina.
Ski area
Bormio's main ski area is Vallecetta, on the slopes of Cima Bianca, rising from the southern end of town. At the mid-altitude Bormio 2000 hub area, is a bustling plateau housing a couple of small slope-side hotels with welcoming café-bar/restaurant terraces; this level also has a beginners' area and a number of ski-tows serving the surrounding tree-lined slopes, including a much cared for snowpark.
The majority of the slopes are red, including the tough Stelvio piste that hosts World Cup races; we say all are entertaining enough for mid-level intermediates, but our absolute must-ski is the summit-to-base route with the biggest vertical drop in Italy – over a mile. Off-piste is restricted, but there are two designated freeride zones.
The separate small San Colombano ski area to the west of Bormio offers an additional few tree-lined red and blue runs.
Off the slopes
The charming old quarter is filled with historic palatial buildings and peppered with piazzas, fountains, churches and chapels. There are three fabulous spas in and around the town, all fed by naturally hot mineral-rich springs.
Après-ski is lively at the slope-side bars up at Bormio 2000 and at the base terminal BeWhite bar, while nightlife in Bormio town revolves around a handful of trendy bars, plus a couple of small nightclubs.
Resort: 1225m Summit: 3012m Vertical: 1787m Ski Area: 50km Parks: 1
Beginners: 33% Intermediate: 58% Expert 9%

Livigno
This duty-free enclave near the Swiss border is very beginner-friendly and perfect for skiers on
a budget – and now it has heli-skiing as well!
Livigno is colloquially known as 'Picccolo Tibet' (Little Tibet) because it is tucked away in such a high and remote area of Lombardy. The village is actually a community of three original hamlets: Santa Maria, San Antonio, and San Rocco, now rolled into one resort that stretches for around 4 km along the flat valley, with ski areas on either side.
Ski area
There are two separate ski areas, one on either side of the valley: the biggest is Costaccia-Carosello 3000, whose gentle base-area slopes spread out along almost the entire western edge of the resort; the other is the Mottolino area to the east. The majority of Livigno's pistes are middling reds, with a couple of short black runs; the pick of the runs are the long descents from the Carosello sector down to the base area at San Rocco. There are plenty of beginner slopes scattered around the resort and good blues to progress onto. Best news for experts is that Livigno has lifted its off-piste ban and even has heli-skiing now.
Off the slopes
If you can tear yourself away from the duty-free shops, there are some lively bars to choose from, including Daphne's Pub and Helvetia. Eating out is good value – the Bait dal Ghet does a huge pizza for about £5.
Resort: 1815m Summit: 2797m Vertical: 981m Ski Area: 115km Parks: 3
Beginners: 26% Intermediate: 57% Expert 17%
Photo credit: Enrico Gaviglio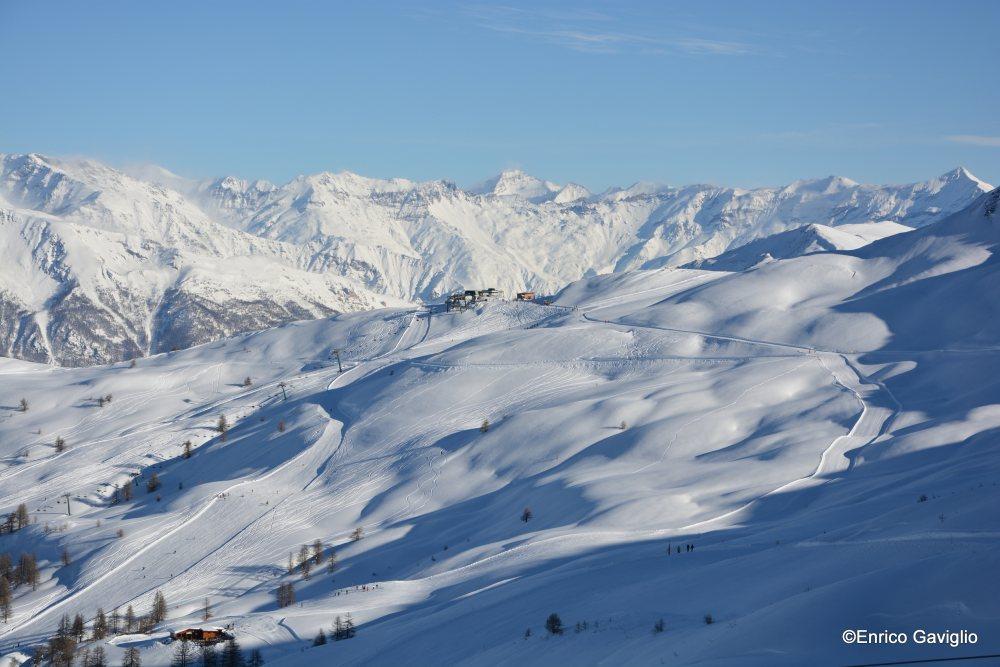 Sestriere
The highest-altitude ski resort in the extensive Milky Way linked ski area, is also a good choice for beginners and intermediates.
Founded in the 1930s, Sestriere was one of the world's very first purpose-designed ski resorts, created by Fiat's Giovanni Agnelli. A leading light in the Milky Way which straddles the Italian-French border and stretches across 400km of lift-linked pistes, Sestriere is still arguably this region's most upmarket resort.
Ski area
Sestriere's local ski area has two distinct linked sectors: Monte Sises, directly overlooking the town, and Monte Motta above the linked village of Borgata to the east. The spacious snowfields at the foot of Monte Sises are mostly for beginners and are served by a number of short ski-tows. Head to the upper slopes of Monte Sises to ski the World Cup and Olympic slalom piste. Head to the upper reaches of Monte Motta to ski long red and black summit-to-valley descents, among them the historic 'Kandahar Banchetta' World Cup and Olympic downhill course. A gondola west of the village links to the Milky Way, via Sauze d'Oulx.
Off the slopes
Weekday evenings are normally very low-key. When Friday comes, so does Turin and things perk up. One of the best early après-ski bars is Pinky's; it's also a great pizzeria, so expect to stay put once you get comfy here.
Resort: 2035m Summit: 2823m Vertical: 1436m Ski Area: 87km Parks: 2
Beginners: 25% Intermediate: 62% Expert 13%

Val Gardena
Val Gardena is the umbrella name given to a group of villages – Ortisei, San Cristina and Selva – strung out along the floor of a beautiful valley in the midst of the Dolomiti Superski mothership.
Although there are slopes to appeal to all abilities, the runs above San Cristina are mostly red and black topped off with the Saslong World Cup downhill. Val Gardena also makes up a sizeable chunk of the Sella Ronda, a 24 km circuit that takes in four valleys around the beautiful Sella Massif. Easily skied in either direction in a day, it's a must-do for any intermediate skier.
Off the slopes
The après is more geared to eating than full partying. Don't neglect lunch on the mountain, either. Try the Emilio Comici, near Passo Sella – gourmet cuisine and a chilled out vibe.
Resort: 1200m Summit: 2518m Vertical: 1282m Ski Area: 175km Parks: 1
Beginners: 30% Intermediate: 60% Expert 10%

Cortina d'Ampezzo
Known as 'The Queen of the Dolomites', Cortina must be among the most beautiful ski resorts on the planet; you'll be hard pressed to find more glorious landscapes to ski in, and the town is one of the oldest and most attractive resorts around.
The ski area is split into a number of ski areas though few are linked. The highest and most spectacular is Tofana, whereas the largest is Pomedes – both accessed by lifts from town. Cortina is superb for first timers: the gently-angled runs of the Socrapes area on Pomedes are ideal. We also love crossing over to Cinque Torri and taking in the stunning Hidden Valley.
Off the slopes
Go window shopping along the cobbled, traffic-free Corso Italia – or hit the Olympic bobsleigh run. For mountain food, try Rifugio Averau, at Cinque Torri.
Resort: 1225m Summit: 2930m Vertical: 1705m Ski Area: 115km Parks: 2
Beginners: 5% Intermediate: 82% Expert 13%

Alta Badia
Alta Badia lies at the north-eastern corner of the Sella Ronda. The resort covers six villages, the biggest of which are Corvara, San Cassiano and La Villa. It has 130 km of its own runs, but makes a good base for exploring the Dolomiti Superski area.
Much of Alta Badia's own skiing is on an undulating plateau and only the runs back down to the villages offer much of a test for good skiers. We come here to enjoy the stunning scenery, soak up the sunshine and linger over the delicious food. Experts will find one black run here – the Gran Risa World Cup descent to La Villa. Getting onto the Sella Ronda is easiest from Corvara, as the ski circuit passes right through it.
Alta Badia's mountain huts offer gourmet food, with Rifugio Bioch a favourite. And start your après at Utia Club Moritzino.
Resort: 1324m Summit: 2750m Vertical: 1425m Ski Area: 130km Parks: 2
Beginners: 54% Intermediate: 45% Expert 6%

Cervinia
Sharing the Matterhorn massif with its Swiss neighbour Zermatt, Cervinia occupies the highest pisted ski area in Europe.
If you're a big-mileage cruiser who loves mountain landscapes, you'll adore Cervinia. Surprisingly, given its rugged high-altitude location, Cervinia's ski area mostly consists of easy to mid-range intermediate runs. The resort contains plenty of cosy café-bars and good restaurants and some good upmarket hotels.
Ski area
Cervinia's slopes are all well above the tree line and some are at glacial heights. The ski area is split into two main sectors: one extending to the Theodulpass ridge that marks the Italian-Swiss border, the other a narrower sector that extends to the glacial Plateau Rosa, shared with Zermatt as the Matterhorn Glacier Paradise ski area – the highest ski slopes in the Alps.
The resort also links into Valtournenche, however the exposed nature at altitude means that the links to both Zermatt and Valtournenche are prone to closure.
Off the slopes
Après is pub based and centred on the village; happy hours just after the lifts close are fun and quite animated, and you can ski to the terraces of a couple of bars in the base area – the stylish bar at the Hotel Principe delle Nevi gets our vote. A number of bars also offer free tapas-style snacks.
Resort: 2050m Summit: 3480m Vertical: 2375m Ski Area: 120km Parks: 1
Beginners: 21% Intermediate: 62% Expert 17%

Courmayer
Classic Alpine resort, set amidst the impressive scenery of Italy's historic Aosta Valley and centred on a charming, authentic old village.
Nestled at the foot of Monte Bianco (Mont Blanc) at the upper end of the Aosta Valley, this well-established mountain town retains much of its traditional character and offers a charming blend of old-world style and modern facilities, all in a stunningly beautiful setting.
Ski area
Most of Courmayeur's runs are on straightforward open terrain above the tree line in the Checrouit sector, linked with the north-west facing forested slopes of the steeper Val Veny sector that offers spectacular views of Mont Blanc and its glaciers. There are no home-run pistes to Courmayeur itself, but there is a good long red down to the gondola base at Dolonne.
There are beginner areas at the top of the main lifts in both sectors, plus one at valley level in Dolonne, but the majority of the slopes are best suited to intermediates.
Experts will inevitably head for the serious big-mountain off-piste terrain, over towards Chamonix, including the Vallée Blanche.
Off the slopes
Après-ski is very civilised and focused on the central quarter of the town, where some of the stylish café-bars and lounge-bars offer complimentary canapés with drinks – the Caffe della Posta is one of the best for this.


Resort: 1224m Summit: 2755m Vertical: 1545m Ski Area: 40km Parks: 1
Beginners: 27% Intermediate: 59% Expert 14%

Monterosa Ski
We say: One of Italy's best-kept ski secrets.
Italy's 'Trois Vallees' – three linked resorts in three adjacent valleys. But these are still charmingly unspoilt and uncrowded, with some glorious skiing on and off piste.
Still largely undiscovered by Brit operators until very recently, Monterosa remains largely unknown and unspoilt. It has three main resort villages – Champoluc, Gressoney-La-Trinité and Alagna – one in each of the three valleys. All share the same network of lifts and all share the same friendly, small-scale, rustic Italian ambiance. Champoluc is the largest and makes the best base; Gressoney, in the middle, is a quiet little village; and Alagna is smaller still and more remote.
Ski Area
It may seem relatively small in the sense that there aren't a lot of pistes, but if you ski all three valleys you'll clock up some decent mileage. Open slopes dominate and intermediates will find plenty to love. More timid skiers will want to avoid the Goat – a steep, narrow and bumpy red descent into Champoluc. Alagna remains a haven for expert skiers, as the village sits beneath the Punta Indren glacier, one of the world's greatest lift-served verticals (1,759m) skiable by many off-piste descents. Heli-skiing is also available.
From Gressoney, lifts stretch up on either side to reach trails back down to Champoluc on one side and Alagna on the other. Runs of all standards descend on either side and back down to the resort.
Beginners have small, but excellent areas above Champoluc and Gressoney.
Off the slopes
The area is blessed with some good value mountain restaurants – try the wild boar at Punta Jolanda above Gressoney. But après-ski is quite mellow: the Bistrot and the Atelier Gourmand near the Champoluc gondola base are cosy. For family fun, Gressoney and Champoluc have ice rinks.
Resort: 1200m Summit: 3275m Vertical: 1759m Ski Area: 73km Parks: 2
Beginners: 21% Intermediate: 67% Expert 12%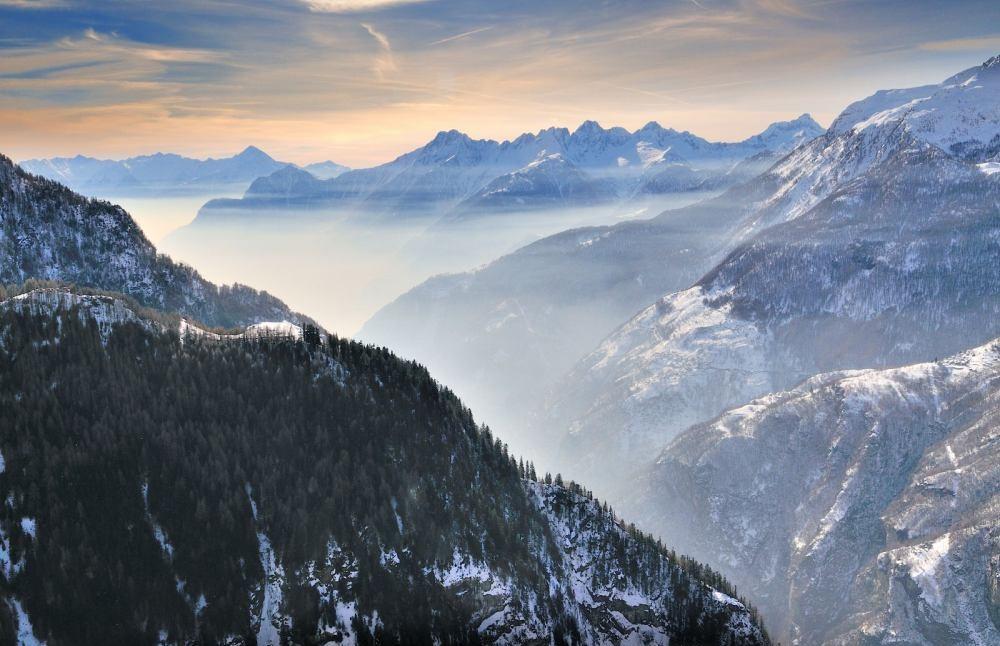 Madesimo
There's one overriding reason to ski this friendly, traditional resort located in a sunny valley on the Swiss border – the famous 3 km Canalone black descent. It's been called 'the most beautiful slope in the Alps', and is definitely one for Alpine completists. It's the longest of four marked blacks, although there are longer red in the resort.
For a special evening out book a table at Dogana Vegia – housed in the former customs house of the Italian-Swiss border dating back to 1600. Lit by paraffin lamps, it has bags of atmosphere. Popular après spots include the Shamrock Pub, and Tender disco bar. Quiet during the week they perk up at the weekends when the crowds descend from Milan.
Resort: 1550m Summit: 2945m Vertical: 1400m Ski Area: 60km Parks: 1
Beginners: 27% Intermediate: 50% Expert 23%