They do things differently in Italy – and that goes for its ski resorts too. Forget that urge to be the first on the lift. Instead, make a lunch reservation at that beautiful mountain rifugio and cruise down the perfectly groomed pistes without having to worry about huge crowds of baying Brits.
Italy tends to be cheaper than its main European rivals France, Austria and Switzerland, and its laid-back ambiance makes it a natural for families and anyone who is more interested in just enjoying the snow rather than skiing faster, further and steeper than the next person.
Having said that, if you do want serious freeride there's plenty to be found in Italy's ski resorts - you just have to know where to head. With that in mind, we've compiled a list of the top 10 ski resorts in Italy - chosen for their combination of variety of pistes, quality of off-pistes and, of course, the food - because, let's face it, that's a huge part of the reason for booking a ski holiday in Italy in the first place.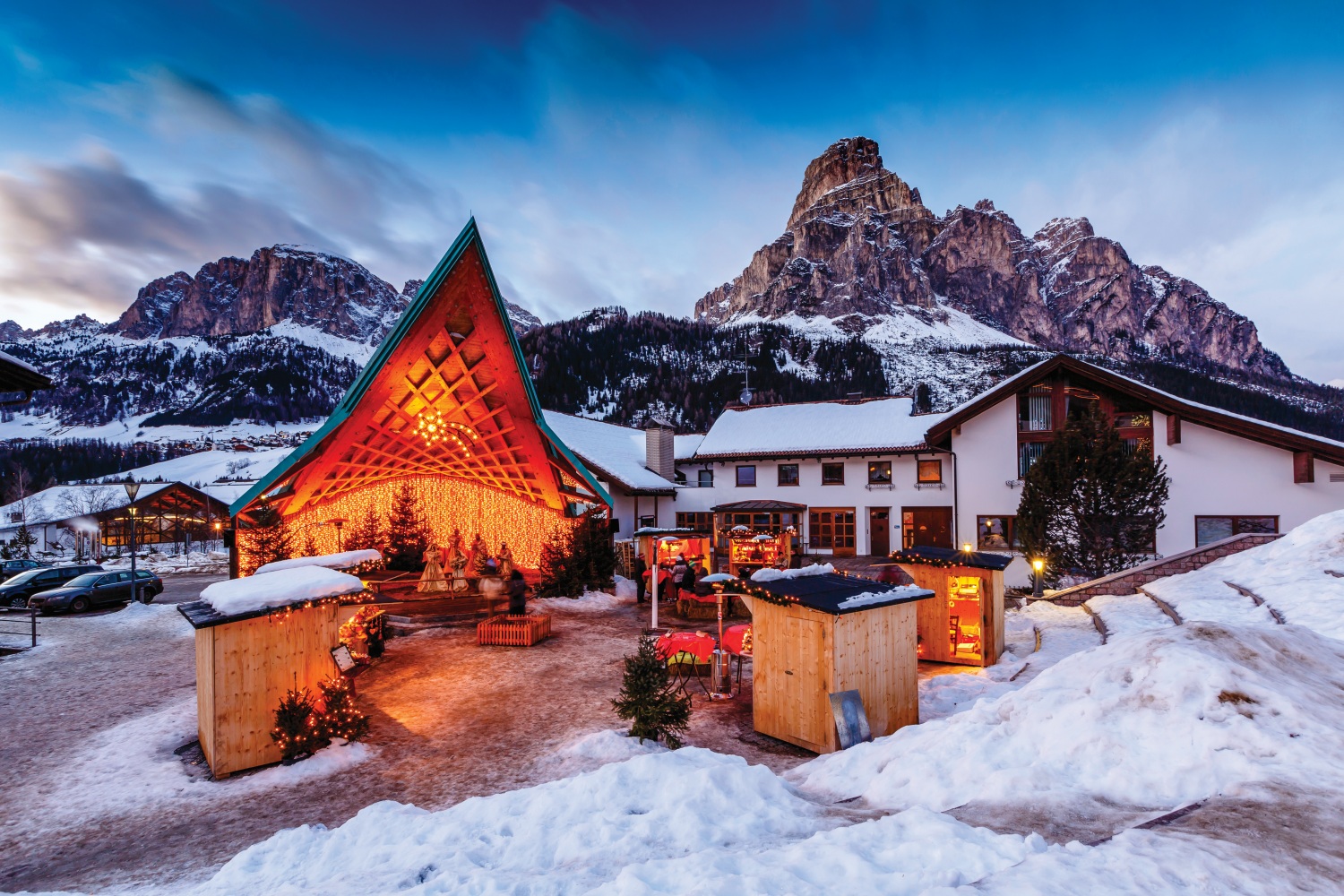 Alta Badia
Alta Badia lies at the north-eastern corner of the Sella Ronda, at the heart of the vast Dolomiti Superski area. The resort covers six villages, the biggest of which are Corvara, San Cassiano and La Villa. It has 130 km of its own runs, but makes a good base for exploring the Dolomiti Superski area.
Much of Alta Badia's own skiing is on an undulating plateau and only the runs back down to the villages offer much of a test for good skiers. Experts will find one black run here – the Gran Risa World Cup descent to La Villa. As you'd expect with such a vast area, there is plenty of off-piste, including the Val Mezdis, known as the "Vallé Blanche of the Dolomites" and the 1,400 metre descent down the Val Setus. What it perhaps lacks in terms of steeps, Alta Badia more than makes up for in terms of scale.
When it comes to Italian food and wine, they don't come Alta Badia - which boasts that "no other valley in the Alps has such a density of highly decorated restaurants in such a small area," including two Michelin-starred restaurants with four stars between them. Even the mountain huts here offer gourmet food, with Rifugio Bioch a favourite. Start your après at Utia Club Moritzino, and go on from there.
Read our full ski resort review of Alta Badia here.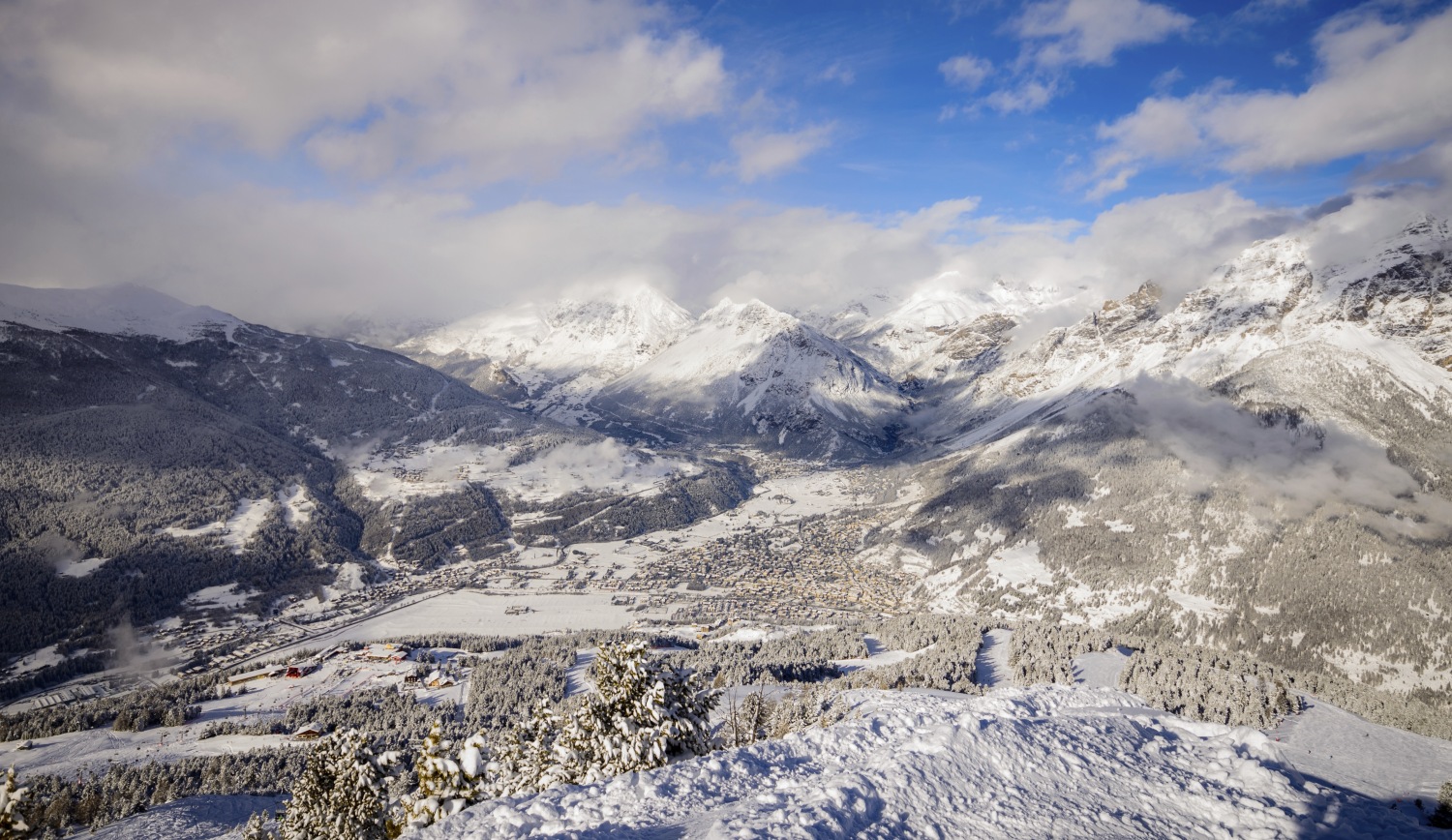 Bormio
A top destination for wellness as well as skiing, Bormio is an historic Lombardia spa town with bags of character and an uninterrupted summit-to-base run that delivers the greatest vertical drop of any ski resort anywhere in Italy. Irresistible.
Bormio's main ski area is Vallecetta, on the slopes of Cima Bianca, rising from the southern end of town. At the mid-altitude Bormio 2000 hub area is a bustling plateau housing a couple of small slope-side hotels with welcoming café-bar/restaurant terraces; this level also has a beginners' area and a number of ski-tows serving the surrounding tree-lined slopes, including a much cared for snowpark.
The majority of the slopes are red, including the tough Stelvio piste that hosts World Cup races. They're all entertaining enough for mid-level intermediates, but our absolute must-ski is the summit-to-base route with the biggest vertical drop in Italy – over a mile. Off-piste is restricted, but there are two designated freeride zones.
The separate small San Colombano ski area to the west of Bormio offers an additional few tree-lined red and blue runs.
Off the slopes, Bormio has a charming old quarter filled with palatial buildings and peppered with piazzas, fountains, churches and chapels. There are three fabulous spas in and around the town, all fed by naturally hot mineral-rich springs.
Après ski is lively at the slope-side bars up at Bormio 2000 and at the base terminal BeWhite bar, while nightlife in Bormio town revolves around a handful of trendy bars, plus a couple of small nightclubs.
Overall, Bormio offers skiers a compelling blend of the traditional town buzz, authentic Italian ambiance, beautiful scenery, and snow-sure slopes. A spot-on combination for discerning intermediates.
Read our full Bormio ski resort review here.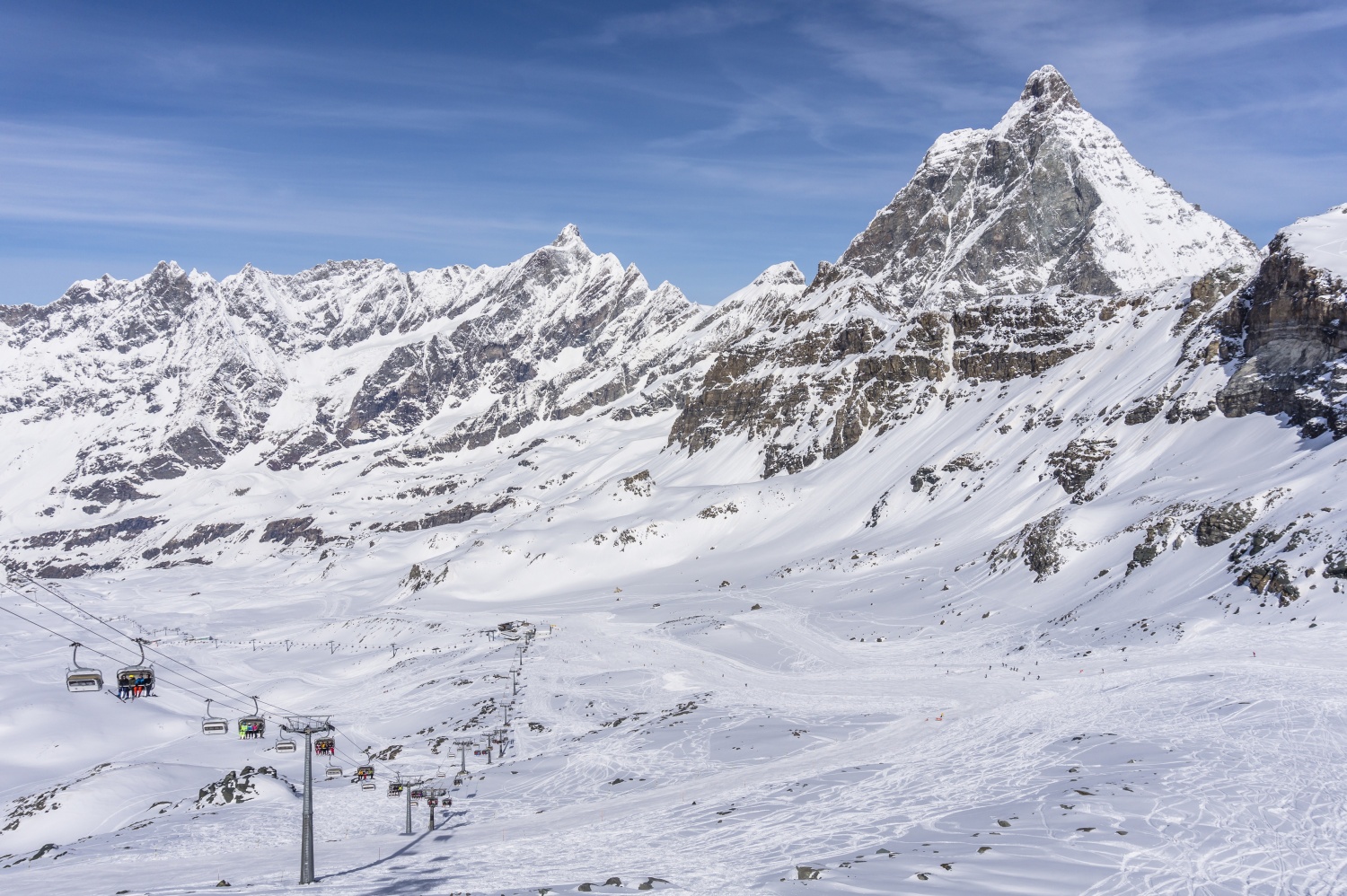 Cervinia
Sharing the Matterhorn massif with its Swiss neighbour Zermatt, Cervinia is home to the highest pisted ski area in Europe, which is reason enough for this to be on your shortlist of the best ski resorts in Italy.
If you're a big-mileage cruiser who loves mountain landscapes, you'll adore Cervinia. Surprisingly, given its rugged high-altitude location, Cervinia's ski area mostly consists of easy to mid-range intermediate runs. The bulk of the slopes are all well above the tree line (some are at glacial heights). The ski area is split into two main sectors: one extending to the Theodulpass ridge that marks the Italian-Swiss border, the other a narrower sector that extends to the glacial Plateau Rosa, shared with Zermatt as the Matterhorn Glacier Paradise ski area.
The resort also links into Valtournenche, however the exposed nature of the lifts at this altitude means that the links to both Zermatt and Valtournenche are prone to closure.
Après ski in Cervinia is pub-based, and centred on the village; happy hours just after the lifts close are fun and quite animated, and you can ski to the terraces of a couple of bars in the base area – the stylish bar at the Hotel Principe delle Nevi gets our vote. A number of bars also offer free tapas-style snacks. The resort contains plenty of cosy café-bars, a plethora of good restaurants and some good upmarket hotels. If you want Zermatt quality skiing but don't have a Swiss bank account or a house you can happily remortgage to pay the crazy Zermatt prices, then Cervinia is the ski resort for you.
Read our full resort guide to Cervinia for all the details.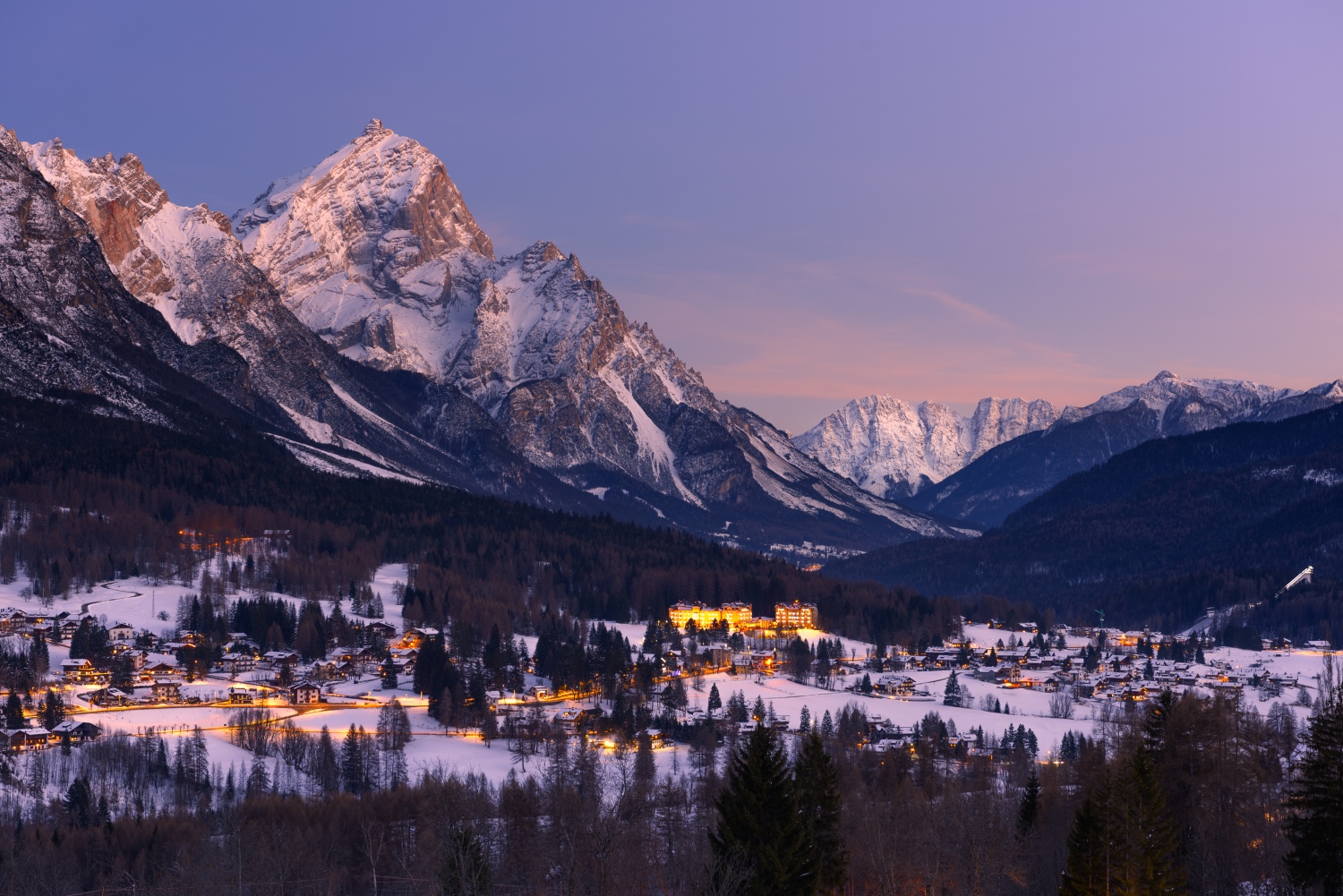 Cortina d'Ampezzo
Known as "The Queen of the Dolomites," Cortina must be among the most beautiful ski resorts on the planet. You'll be hard pressed to find more glorious landscapes to ski in, and the town is not only one of the oldest and most attractive ski resorts in Italy, but anywhere in the world.
The ski resort is split into a number of separate ski areas, some of which aren't linked. The highest and most spectacular is Tofana, and the largest is Pomedes, both easily accessed by lifts up from town. Cortina is superb for first timers: the gently-angled runs of the Socrapes area on Pomedes are ideal. We also love crossing over to Cinque Torri and taking in the stunning Hidden Valley.
Cortina d'Ampezzo has plenty to offer in the way of off-piste skiing. The Val Orita is a lovely wide valley with 1,200m of vertical, while Sci 18 is one of the region's most famous backcountry routes. On Tofana's slopes, the Bus de Tofana is regularly hailed by local mountain guides as one of the best places to ski off-piste in the entire Dolomites range. Cinque Torri has some gentler slopes that are especially lovely after fresh snow - as with the of-piste a lot of Italy, you'll often have these runs to yourself
Down in town, the food is as epic as you'd expect from a traditional Italian mountain village - try Rifugio Averau, at Cinque Torri for a flavour of what we mean. If you need a down day, you can go window shopping along the cobbled, traffic-free Corso Italia – or hit the Olympic bobsleigh run if you're feeling adventurous!
Read our full ski resort review of Cortina d'Ampezzo for the complete lowdown on where to ski.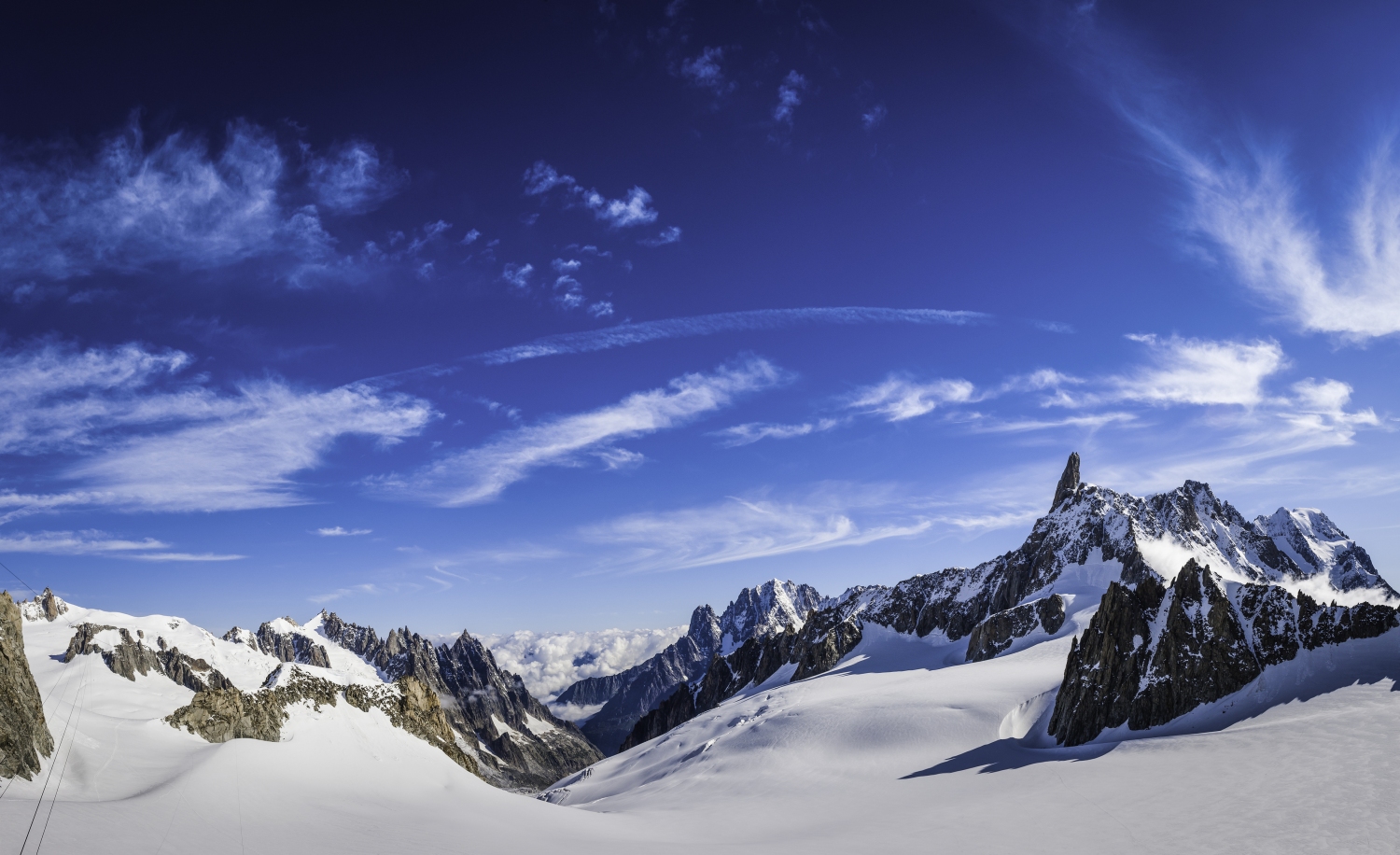 Courmayeur
Courmayeur is the classic Alpine resort, set amidst the impressive scenery of Italy's historic Aosta Valley. Nestled at the foot of Monte Bianco (Mont Blanc), on the opposite side from the French town of Chamonix, this well-established mountain town retains much of its traditional character and offers a charming blend of old-world style and modern facilities, all in a stunningly beautiful setting.
When it comes to skiing in Courmayeur, most of the ski resort's runs are on straightforward open terrain above the tree line in the Checrouit sector, linked with the north-west facing forested slopes of the steeper Val Veny sector which offers spectacular views of Mont Blanc and its glaciers. There are no home-run pistes to Courmayeur itself, but there is a good long red down to the gondola base at Dolonne.
There are beginner areas at the top of the main lifts in both sectors, plus one at valley level in Dolonne, but the majority of the slopes are best suited to intermediates. Experts will inevitably head for the serious big-mountain off-piste terrain, over towards Chamonix, including the Vallée Blanche, or any of the less famous, but more technically demanding descents. There's a reason the Freeride World Tour stages an event here every year, the terrain is nothing short of epic.
As with all the best ski resorts in Italy, après ski is by and large a civilised affair (especially when compared to skiing in Austria, for example). It's largely focused on the central quarter of the town, where some of the stylish café-bars and lounge-bars offer complimentary canapés with drinks – the Caffe della Posta is one of the best for this.
For the full lowdown, check out our Courmayeur ski resort review in full, here.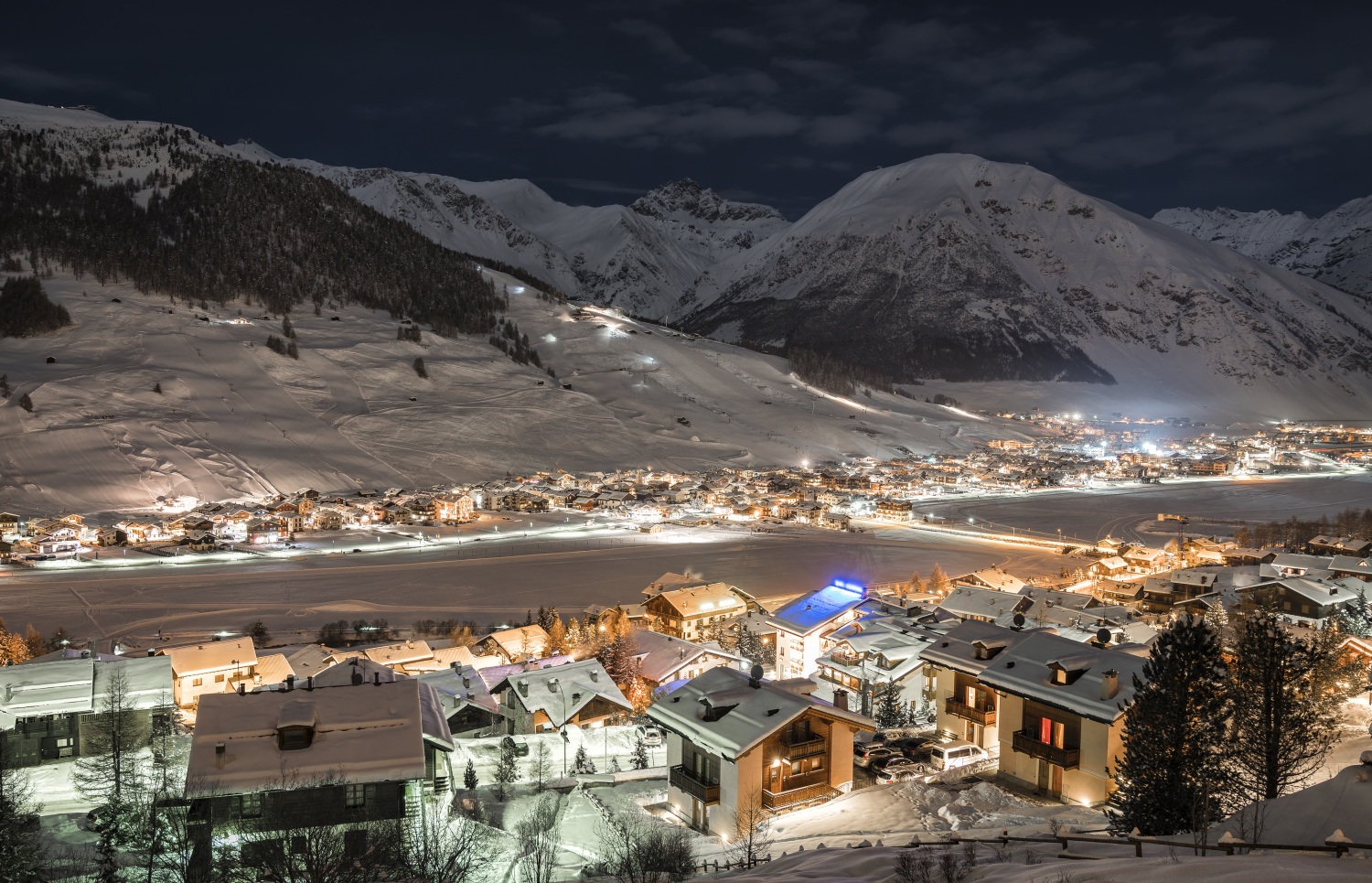 Livigno
Tucked away on a high alpine plateau, and known colloquially as "Piccolo Tibet" (or Little Tibet) Livigno's location has given it two crucial advantages. The first is that it's snow sure, with a long season that lasting from late November well into May. The second is that the whole village is duty free, making après, alcohol and cigarettes significantly cheaper than they might be otherwise.
The town's tax free status dates back to the 16th Century, when rulers were eager to tempt people to live here because of its strategic importance as a border region, and worried that the difficulty in getting there in winter made it unappealing.
These days, getting to Livigno still involves a significant transfer time, but there's no danger of the destination lacking appeal. There are two large, separate ski areas, one on either side of the broad, gently sloping valley: the biggest is Costaccia-Carosello 3000, whose gentle base-area slopes spread out along almost the entire western edge of the resort; the other is the Mottolino area to the east.
The majority of Livigno's pistes are middling reds, with a couple of short black runs; the pick of the runs are the long descents from the Carosello sector down to the base area at San Rocco. There are plenty of beginner slopes scattered around the resort and good blues to progress onto, making this an excellent destination for beginners and intermediates.
But there's also plenty here for advanced skiers and snowboarders to sink their teeth into. The Mottolino side of the mountain is home to the best snowpark in Italy, and one of the best in the Alps, which serves as the winter training base for the British Freestyle Ski & Snowboard team. There's plenty of off-piste to explore too, and the resort even allows heliskiing. .
The village is made up of three original hamlets: Santa Maria, San Antonio, and San Rocco, now rolled into one resort that stretches for around 4 km along the flat valley, with ski areas on either side. If you can tear yourself away from the duty-free shops, there are some lively bars to choose from, including Daphne's Pub and Helvetia, all of which benefit from the VAT free prices. Eating out is good value too - and as tasty as you'd expect anywhere in Italy.
Read our Livigno ski resort review for the full lowdown.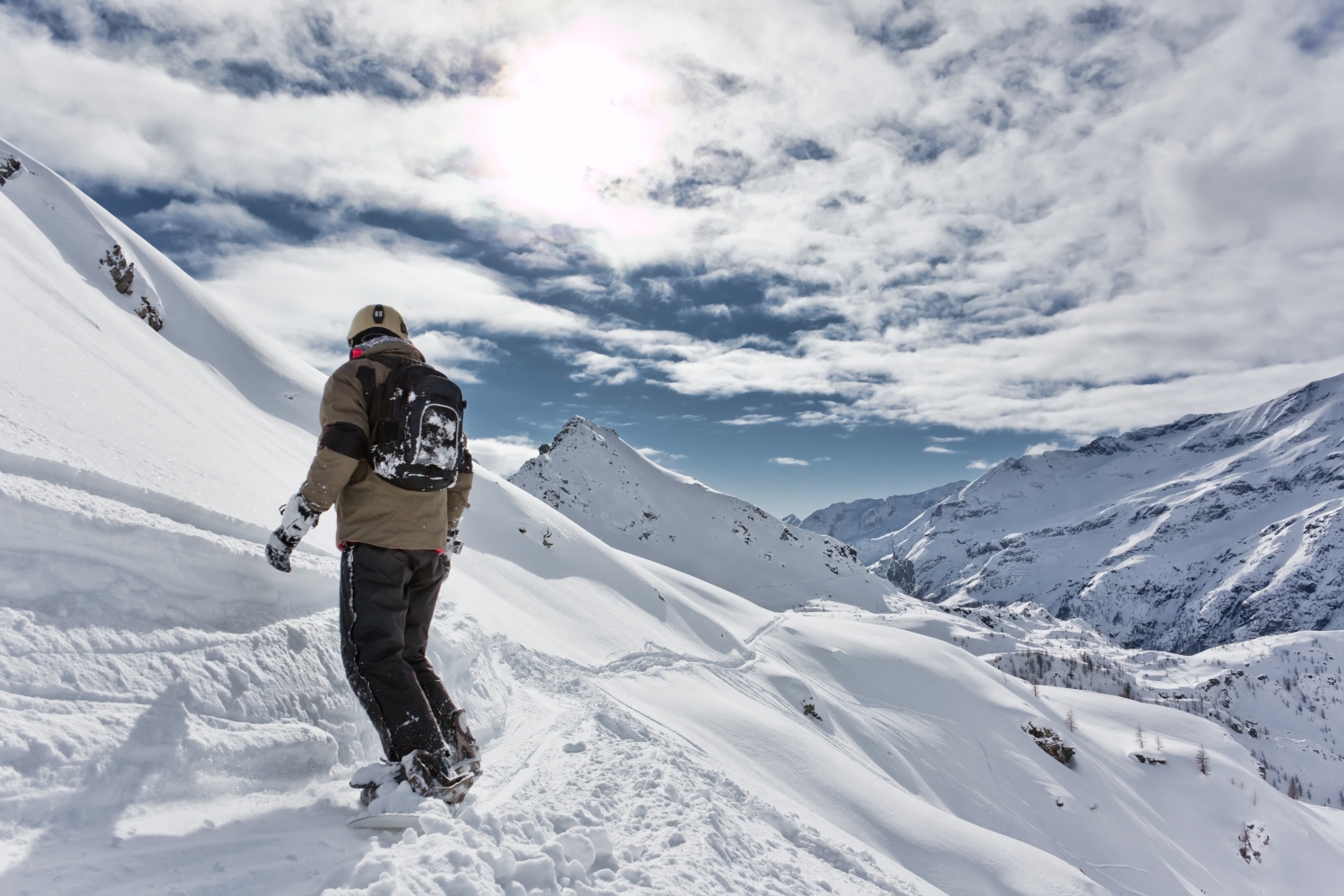 Monterosa
Moterosa could make a case for being Italy's 'Trois Vallées', given that its' made up of three lift-linked resorts in three adjacent valleys. But unlike the French version, these are hidden gems, still charmingly unspoilt, with some glorious skiing on and off-piste and very few crowds.
Monterosa has three main resort villages – Champoluc, Gressoney-La-Trinité and Alagna – one in each of the three valleys. All share the same network of lifts and the same friendly, small-scale, rustic Italian ambiance. Champoluc is the largest and makes the best base; Gressoney, in the middle, is a quiet little village; and Alagna is smaller still and more remote.
These ski resorts may seem relatively small in the sense that there aren't a lot of pistes, but if you ski all three valleys you'll clock up some decent mileage. Open slopes dominate and intermediates will find plenty to love. More timid skiers will want to avoid the Goat – a steep, narrow and bumpy red descent into Champoluc. Alagna remains a haven for expert skiers, as the village sits beneath the Punta Indren glacier, one of the world's greatest lift-served verticals (1,759m) skiable by many off-piste descents. Heli-skiing is also available - which you obviously can't do if you're skiing in France.
From Gressoney, lifts stretch up on either side to reach trails back down to Champoluc on one side and Alagna on the other. Runs of all standards descend on either side and back down to the resort.
When it comes to food and drink, Monterosa is - you guessed it - excellent, and excellent value. The ski area is blessed with some good value mountain restaurants – try the wild boar at Punta Jolanda above Gressoney for a flavour. Après ski is quite mellow: the Bistrot and the Atelier Gourmand near the Champoluc gondola base are cosy, but the restaurants in any of the villages are world-class. If you're looking For family fun, Gressoney and Champoluc have ice rinks.
Learn more about the Monterosa ski area in our resort guide.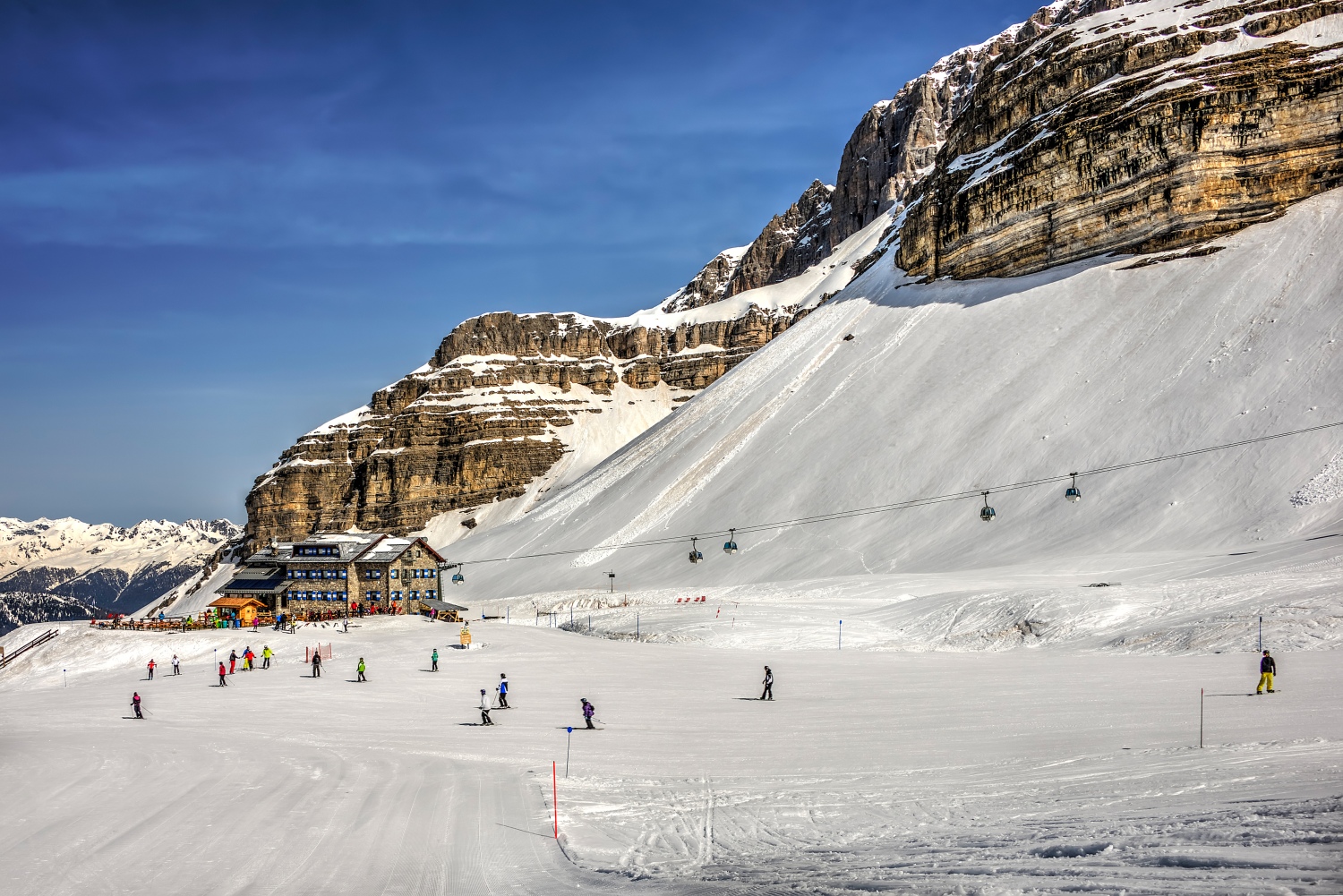 Madonna di Campiglio
Madonna di Campiglio manages to be simultaneously one of the largest ski resorts in Italy in terms of skiable area, and one of the least spoilt. The lifts rise out of a picturesque village located on a spur of the Val di Sole - the sunny valley - accessing around 150km of pistes.
The runs are largely cruisey blues and reds, and there is plenty for intermediate skiers to enjoy here - particularly up the Pradalago side of the mountain. There are a decent proportion of trails marked as blacks too, but they're perhaps not as challenging as those you'd find in a resort with more vertical, like Verbier or Chamonix.
The Ursus Snowpark at the top of the Passo Groste lift, is immaculately sculpted and well maintained, but expert skiers and snowboarders will perhaps find the limited accessible off-piste terrain slightly frustrating. However, the nearby ski resort of Passo del Tonale, accessible on the same Superskirama liftpass, boasts lifts that will carry you up to 3,000 metres and some of the best ski touring terrain in the Dolomites if you need to scratch that freeride itch.
But our favourite thing to do in Madonna is simply cruise around the uncrowded pistes taking in the scenery. The towering red rock spires of the Dolomiti di Brenta are some of the most picturesque mountains you'll see anywhere on the planet. This, combined with the plethora of brilliant slopeside restaurants, makes this one of the best ski resorts in Italy for family holidays.
Down in town, the culinary excellence continues, and while the prices aren't astronomical, especially when compared to France, wealthy Italian stereotypes abound - expect to see plenty of women in fur coats and Gucci sunglasses, carrying tiny dogs whose attire is scarcely less expensive than their own.
Find out more about everything Madonna di Campiglio in our full resort guide.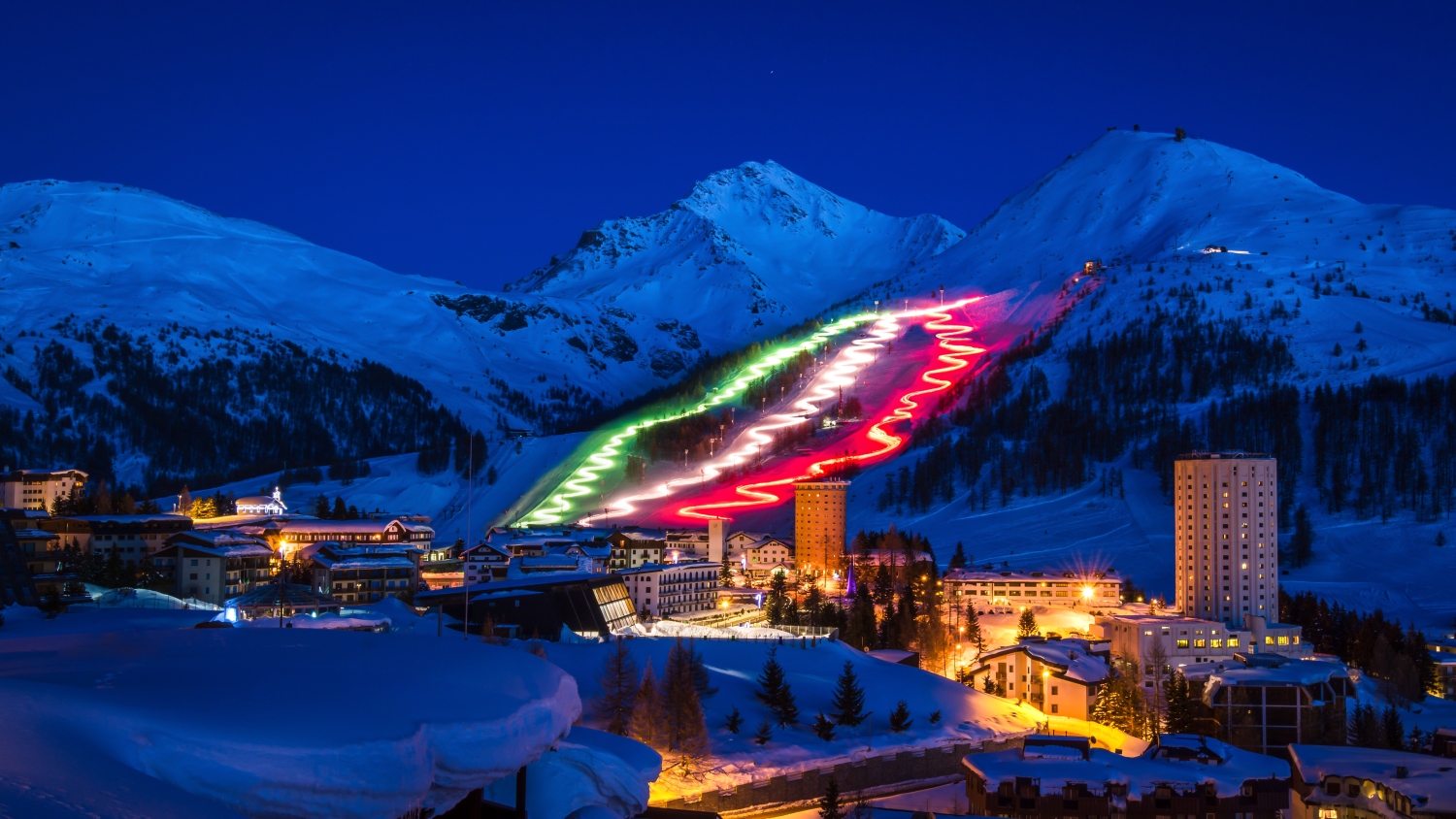 Sestriere
The highest-altitude ski resort in the extensive Milky Way linked ski area, which straddles the French-Italian border, this is also a good choice for beginners and intermediates. Founded in the 1930s, Sestriere was one of the world's very first purpose-designed ski resorts, created by Fiat's Giovanni Agnelli. Offering access to a frankly incredible 400km of lift-linked pistes, Sestriere is still arguably the most upmarket resort in the Milky Way (if not the galaxy).
Sestriere's local ski area has two distinct linked sectors: Monte Sises, directly overlooking the town, and Monte Motta, above the linked village of Borgata to the east. The spacious snowfields at the foot of Monte Sises are mostly for beginners and are served by a number of short ski-tows. Head to the upper slopes of Monte Sises to ski the World Cup and Olympic slalom piste. Head to the upper reaches of Monte Motta to ski long red and black summit-to-valley descents, among them the historic 'Kandahar Banchetta' World Cup and Olympic downhill course. A gondola west of the village links to the Milky Way, via Sauze d'Oulx.
Weekday evenings are normally very low-key. But when Friday comes, so does Turin, and things perk up. One of the best early après ski bars is Pinky's; it's also a great pizzeria, so expect to stay put once you get comfy here.
Read our full ski resort review of Sestriere here.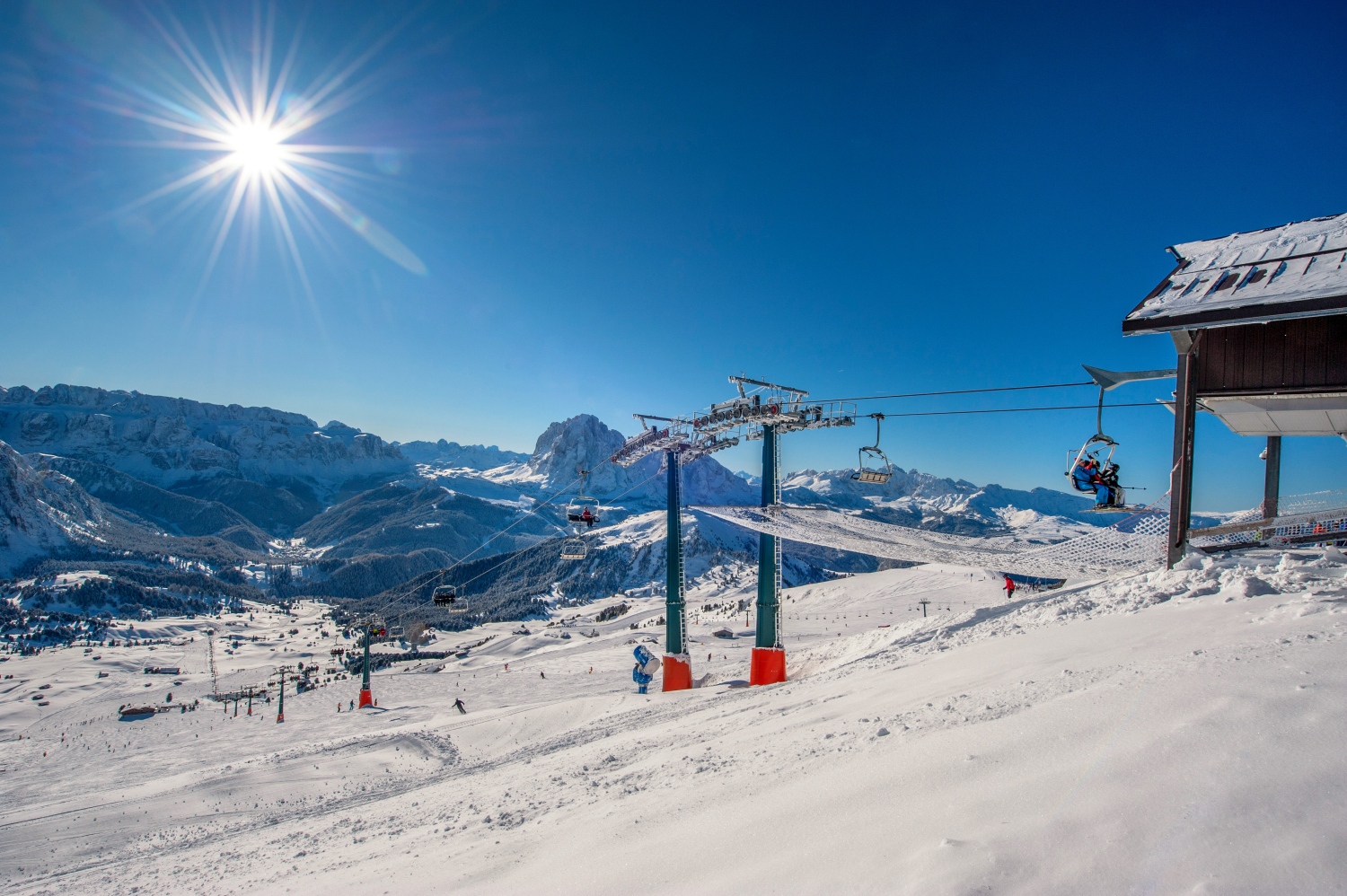 Val Gardena
Val Gardena is the umbrella name given to a group of villages – Ortisei, San Cristina and Selva – strung out along the floor of a beautiful valley in the midst of the enormous Dolomiti Superski area.
Although there are slopes to appeal to all abilities, the runs above San Cristina are mostly red and black, topped off with the Saslong World Cup downhill - all of which make Val Gardena arguably one of the best ski resorts in the Dolmomiti Superski area for expert skiers. Its position near the middle of the vast ski area - where one ski pass offers access to 12 separate resorts and more than 1,200km of slopes - also makes it a great place to base yourself in if you want to rack up the miles and do some proper exploring.
Val Gardena also makes up a sizeable chunk of the Sella Ronda, a 24 km circuit that takes in four valleys around the beautiful Sella Massif. Easily skied in either direction in a day, it's a must-do for any intermediate skier.
When it comes to après ski, Val Gardena is more geared to eating than full-on partying, but even if this isn't one of the best ski resorts for drinking there's more than enough to keep party animals occupied if you're determined to go "out out". The food is excellent in town, and don't neglect lunch on the mountain, either. Try the Emilio Comici, near Passo Sella for gourmet cuisine and a chilled out vibe.
Get the full lowdown on where to eat, drink and ski in Val Gardena here.
Independently researched and written by the Snow Magazine team, sponsored by the experts at Crystal Ski Holidays.