Sitting at the northern edge of the Milky Way ski area (Via Lattea), Sauze d'Oulx is the ideal base to explore the 400km of lift-linked pistes stretching across five Italian resorts, plus the French resort of Montgenèvre.
Sauze d'Oulx sits on a natural mid-mountain balcony overlooking the upper Susa Valley in the Piemonte (Piedmont) region of Italy, surrounded by forests and facing an impressive horizon of peaks which mark the nearby border with France.
Its own, attractively-wooded local ski area offers some of the most enjoyable snowsports terrain in the Alps, with big-mileage cruising for adventurous intermediates who can make the most of the vast Milky Way territory - when snow conditions are good enough.
Historically, Sauze's lively nightlife is its other big attraction for many young and young-minded visitors on their ski holidays. Affectionately nicknamed 'Suzy does it', Sauze d'Oulx attracted infamy during the 1980s and 90s when crowds of boisterous young Brits thronged the slopes and the bars, making the resort feel like an Anglo-dominated enclave for much of the winter season. Thankfully, the rowdy element has now mostly moved onm and this likeable corner of north-western Italy is now treated with a lot more respect.
Suzy may have mellowed with age, but she certainly hasn't forgotten how to party - and this is still a great choice for those seeking a good-value fun winter-sports holiday.
--Best deals on Sauze d'Oulx hotels - Book now
Sauze d'Oulx - Ski Map & Pistes:
Despite being strongly promoted to beginners, Sauze d'Oulx is actually best suited to intermediates, and more so to skiers rather than snowboarders. Absolute beginners generally find the resort's small and often crowded nursery slopes on the Sportinia plateau above the town a touch daunting, and the predominately red pistes of the main ski area are too challenging for all but the most confident and competent of novices.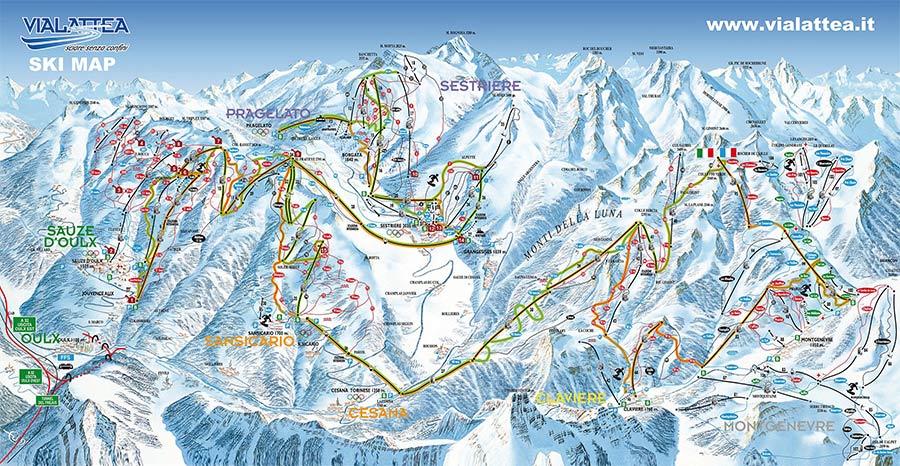 The layout of the ski area is also quite fragmented, and still relies on some steep and antiquated drag lifts - a particularly frustrating bane for snowboarders, who also have to navigate their way across a couple of sectors in order to reach the snowpark.
Intermediates will particularly enjoy the cruisey pistes in the Moncrons sector, and there are some testy blacks both at Moncrons and Genevris.
Some key links are prone to closure in rough weather and during [notably frequent] periods of snowfall drought, although a recently much-improved network of snowmaking equipment, combined with excellent piste grooming, has done much to improve matters.
From Sportinia there's easy access to the great reds and snowy bowls around Sansicario and on to Sestriere. However, if you've got the legs for it, you can really clock up some high mileage if you leave Sauze's slopes behind and make it all the way across the galaxy to Montgenèvre. Just remember you've got to get back though!
Sauze d'Oulx - Off-Piste, Backcountry & Ski Touring:
Sauze is not renowned for its off-piste, but, especially after fresh snowfall, there are great opportunities both in higher backcountry areas and through the larch forests. The area doesn't get tracked out too quickly either.
Of course, you can always head deeper into the Milky Way area to earn your turns. Sestriere has some decent descents, and if you can make it all the way to the far side of Montgenèvre, there's some good terrain around Col de l'Alpet area.
Interestingly, Sauze d'Oulx offers not just heliskiing (check Pureski for packages) but also cat-skiing with Powder Catski Italy, a rarity in Western Europe.
Sauze d'Oulx - Restaurants, Bars & The Town:
A stroll around the attractive warren of narrow streets and alleys in the oldest part of the village beyond the central square is a pleasant way to spend an hour or two in Sauze d'Oulx: there are a few boutiques and local produce shops dotted amongst the usual array of snowsports shops, together with some pleasant cafés.
There's also a weekly street market, but with no other noteworthy visitor attractions or municipal sports centre there's little else to do for non-skiers, or anyone taking time off from the slopes. A small outdoor ice rink is located in the upper part of the village, and snowmobile excursions, horse riding and snowshoe treks are available, but the primary focus for tourists is the ski area, followed a close second by the nightlife.
Sauze d'Oulx has a longstanding reputation for lively après ski, although it doesn't really offer much in the way of competition for Austrian-style slopeside partying in the afternoons.
The evenings though are generally always very animated, with plenty of live music sessions and theme nights to choose from during the week. The Derby and Paddy McGinty's are two well-established Sauze après ski hotspots. The Scotch Bar at the Stella Alpina Hotel is a friendly après bar. Late-night revellers should head for the Osteria dei Vagabondi, Banditos or the Miravallino nightclub, where the party will carry on into the small hours, and beyond.
-- Want hassle-free car rental? Book now
Sauze d'Oulx - Ski Hire:
For ski hire in Sauze d'Oulx, outlets include Faure Sport, 3Sixty, Eydallin Sport and Besson Sport.
Sauze d'Oulx - Ski School:
Options for ski lessons in Sauze d'Oulx include the Sauze Sportinia Ski School and the Snowmaxx Ski & Snowboard School.
// HIGHLIGHTS //
beginner
intermediate
expert
// USEFUL LINKS //
Tourism and Ski Area