Alta Badia is the collective name for an area covering several villages, on the north east corner of the Sella Ronda, in the Südtirol region of the Italian Dolomites.
The villages of Corvara and Colfosco are best placed to access the Sella Ronda circuit, and are inevitably busier, while Badia, Le Villa and San Cassiano offer quieter local slopes and a relaxed holiday setting. Great for beginners and intermediates, Alta Badia is justifiably proud of its food and wine, hosting three Michelin-starred restaurants.
Alta Badia has 130km of runs of its own, mostly easy and intermediate, but as part of the lift-linked Dolomiti Superski area, it also has access to 1,200km of runs in 12 ski domains - one of the largest ski single-pass ski areas anywhere in the world.
Alta Badia - Ski Map & Pistes:
Much of Alta Badia's skiing is on an undulating plateau accessed from the villages below, and only the runs back down offer much of a test for advanced skiers.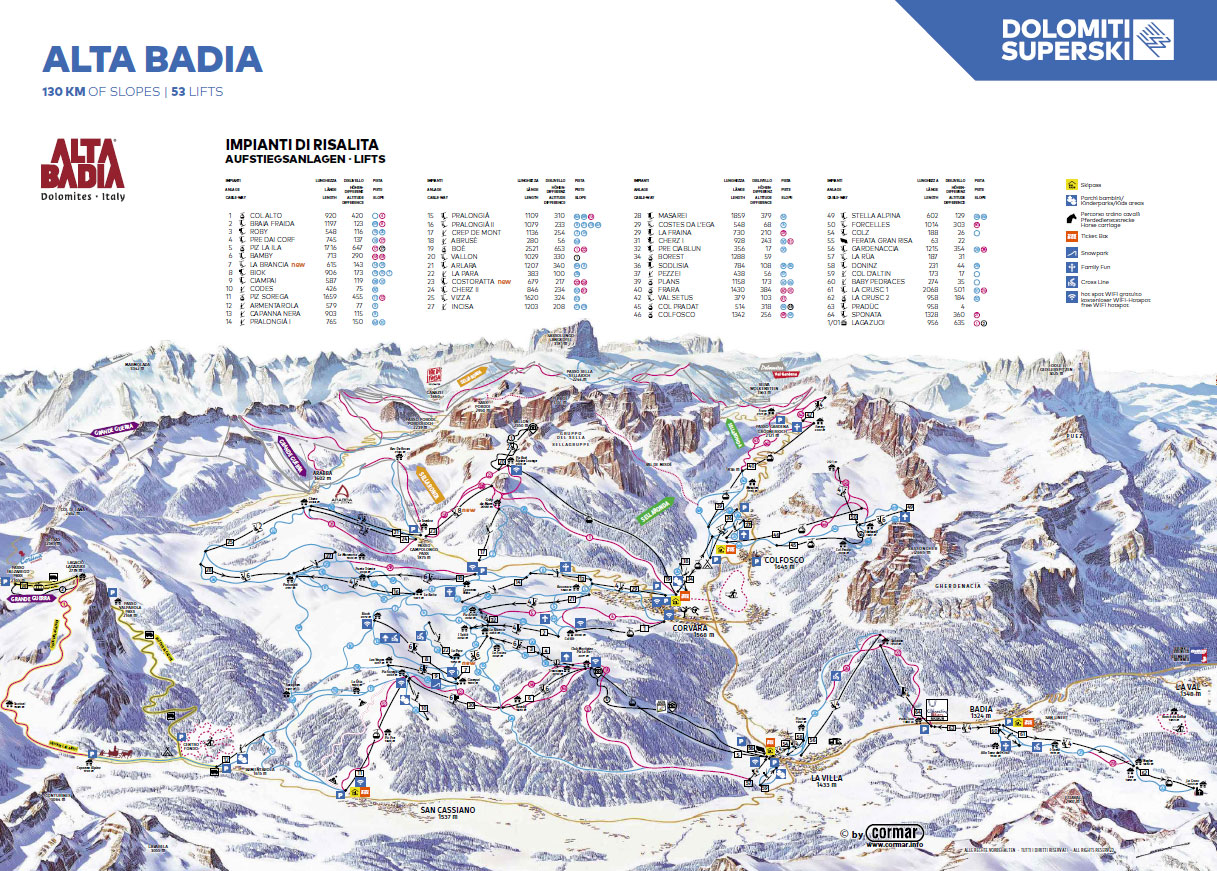 The plateau itself is criss-crossed by a network of mostly blue and red runs, offering very relaxed, leisurely skiing for beginners, families and intermediates. Here, the emphasis is very much on enjoying the breathtaking scenery, soaking up the sunshine and lingering over the astonishingly good food.
Experts will find one black run here - the Gran Risa World Cup descent to La Villa - and will need to visit the outer edges of Alta Badia to find more challenging terrain, such as the Vallon black run and the Mt Lagazuoi descent. This one involves a taxi ride from Armentarola, near San Cassiano, to the Falzarego Pass to get the cable car up to the summit of Mt Lagazuoi from where the 7.2km descent takes you past ice waterfalls and rounds off with a horse tow back to Armentarola and civilisation.
Alta Badia's altitude and very low air humidity ensures plenty of lovely powdery snow, and its pistes are mostly wide and well-groomed, making it a very safe area for families. Getting onto the Sella Ronda is easiest from Corvara, as the ski circuit passes right through it, and you can happily ski off in either well-signposted direction.
Alta Badia is also a great base for a longer stay, because the Dolomiti Superski pass allows you to explore more than enough terrain to suit every level, from novice to expert. Kronplatz is an easy bus ride from Badia. Adventurous intermediates and advanced skiers should make the most of the Sella Ronda ski circuit which takes in Selva Gardena, Arabba and Canazei, all of which are stunning resorts in their own right.
Alta Badia - Off-Piste, Backcountry & Ski Touring:
Although the core area of Alta Badia offers mostly benign piste skiing, the stunning Sella Massif does host some incredible off-piste skiing. Famous descents worth exploring include Val Mezdi - an off-piste ski-touring route from the Rifugio Boe that offers a vertical drop of 1,450m with a very steep start - Val Setus, which has a 1,400m vertical drop, Val Lasties – or Witch's Valley - and some steeps around Piz Boe.
As always, you'll want to hire a guide to show you the best descents safely. You can book through Alta Badia Mountain Guides Office (https://www.altabadiaguides.com/en/index.html).
Alta Badia - Restaurants, Bars & The Town:
Alta Badia is foodie heaven. As well as its three Michelin-starred restaurants - St Hubertus and La Siriola in San Cassiano, and La Stua de Michil in Corvara - it is the home of slope food, a mountain version of street food, with finger-food snacks created by Michelin-starred chefs in 14 of Alta Badia's 40 mountain huts. Rifugio Bioch is a particular Snow Magazine favourite, offering simply stunning views across to the Marmolada glacier.
The resort also offers several gourmet ski tours, and a wine safari. When it comes to après, you can get the party started on the mountain at the Utia Club Moritzino. It's a bit of a tourist trap, despite its location, but it's worth a visit nonetheless. If après is going to factor into your choice of village, Corvara is the best place to base yourself - the Murin bar at the Hotel La Perla and the Taverna at the Posta Zirm, will give you all the aperitivi you need. Having said that, all the villages in the Alta Badia area have plenty of great bars, restaurants and cafes - this is Italy, after all, and they take this stuff seriously!
Alta Badia - Ski Hire:
For ski hire in Alta Badia, where you stay will dictate which outlet you use. Options include Sport Badia and Sport Kostner in Corvara, La Munt and Ski Top in Badia and Sport Pescosta in Colfosco.
Alta Badia - Ski School:
For ski school and skiing lessons in Alta Badia, try La Villa Ski School, the Dolomites Ski School and the Badia Pedraces Ski & Snowboard School.
// HIGHLIGHTS //
Airport
Innsbruck (2hrs)
Verona (2hrs 30)
Train station
Bolzano (1hr 30)
beginner
intermediate
expert
// USEFUL LINKS //
Tourism and Ski Area