Sponsored by the family ski experts at Esprit Ski

Monterosa isn't technically a resort in its own right. Rather, it's the name of a huge massif on the border of Italy and Switzerland, and the (mostly) lift-linked ski area that spans several villages scattered across three valleys.
Recent investment in new lifts means that there are now 180km of lift-linked pistes between the three valleys, and the resorts of Champoluc-Frachey, Gressoney la Trinite-Stafal, and Alagna-Valsesias. The skiing extends almost up to 3,000 metres, offering spectacular views across Aosta Valley and Piemonte.
The ski area was 'reborn' for the 2003/4 season when the spectacular Funifor cable car finally completed the long-planned link in the circuit between the Valsesia and Gressoney-La Trinite resorts (themselves connected to Champoluc). Nowhere in the Monterosa ski resort area has a huge après ski scene, but its quiet, off-the-beaten track vibe and large amount of accessible terrain makes it great for both families and freeriders, depending on which valley or village you choose to stay in.
Monterosa - Ski Map & Pistes:
Beginners and early intermediates are probably best off staying in Frachey, as they'll be spending most of their time in the Champoluc-Frachey valley, and just over the col in Stafal, where they can graduate from cruisey green runs up to red runs with relative ease. Advanced skiers should stay in Alagna which, of all the villages in the wider Monterosa ski area, offers the best access to both pisted and off-piste terrain. (If you do find yourself staying in Alagna as a beginner, there is a separate ski area, Wold, about 500m north of the village where you can learn).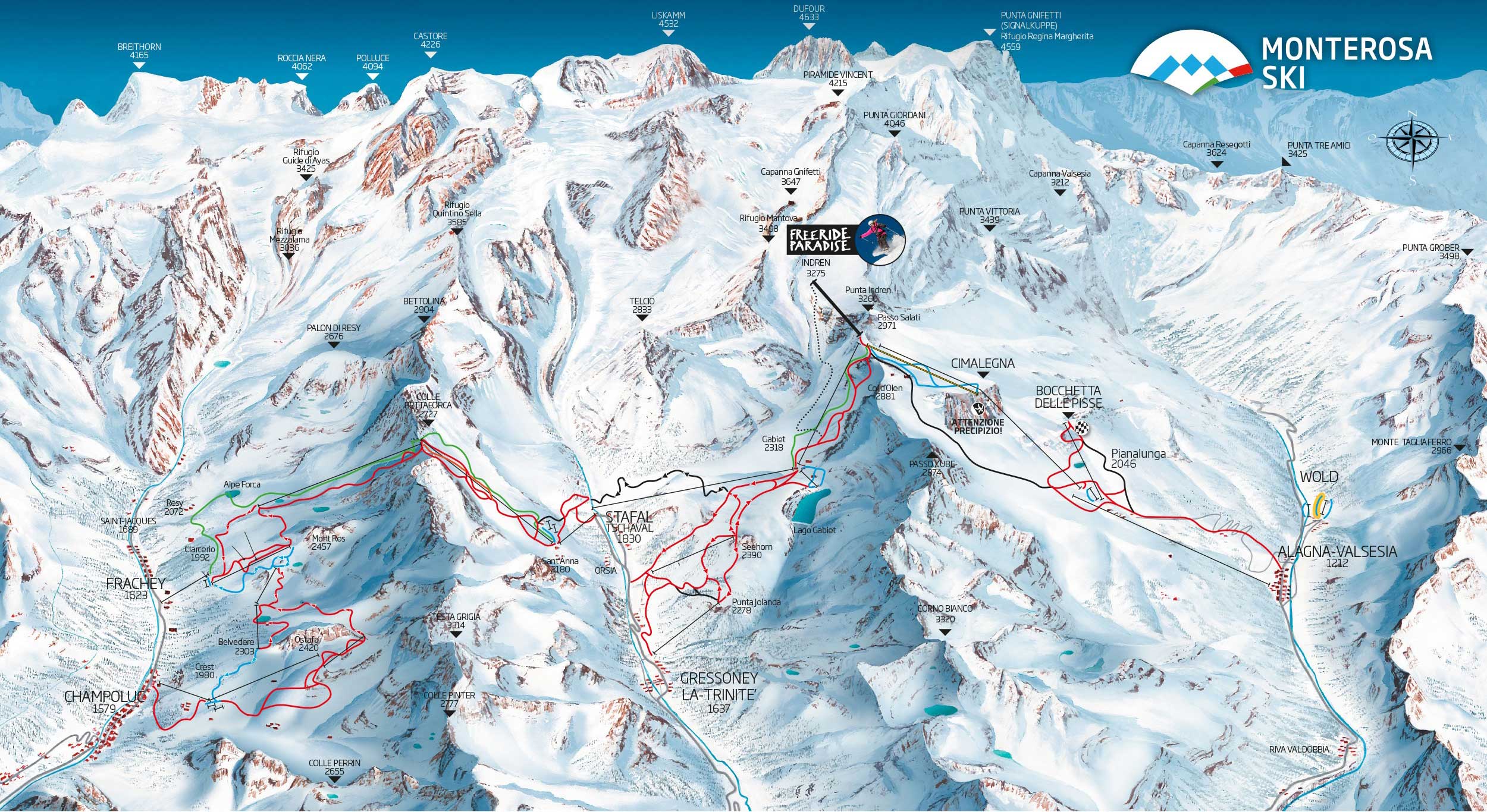 Skiers in Alagna can take the modern cable car from the village centre straight up to Pianalunga (a rise of nearly 850 vertical metres) and from there decide whether to take the new cable car a further 850 metres higher to Col d'Olen at 2,881m (a world-beating 1,700m vertical ascent from two lifts!) which opens up the links to Gressoney and Champoluc. Alternatively, they can ride the chairlift to Bocchetta elle Pisse (at 2,396m) and head onto the slopes used for competitions.
From there it is possible to ascend to the Punta Indren Glacier, and make the most of the full 2,000m plus of vertical descent. The Olen and Bors Valleys offer fairly difficult skiing and spectacular off piste opportunities.
From Gressoney, the central valley, lifts stretch up on either side to reach trails back down to Champoluc on one side and Alagna on the other. Runs of all standards descend on either side and back down to the resort.
Monterosa is included on The Aosta Valley pass which covers 800km (500 miles) of terrain served by nearly 200 lifts in over a dozen ski areas, including Cervinia, linked to Zermatt and other famous resorts in the area such as Pila, La Thuile and Courmayeur (a 30 minute bus ride away) which is linked to Chamonix (although you need a special International variant of the ticket at an additional cost), but it's just about physically possible to ski over if you set off on the early bus.
There are many different versions of the Aosta Valley Pass. Variants include the six day 'International Pass' which is valid for two days in Chamonix.
Monterosa - Off-Piste, Backcountry & Ski Touring:
Monterosa's high-altitude terrain, and a lift layout which covers a vast amount of terrain, makes the resort something of a freeride paradise - but sssssh! One of the best things about the Monterosa ski area is that not many people know that, despite a section of the piste map being marked, quite literally, as "freeride paradise". Unlike, say, Chamonix, or Zermatt, just over the border in Switzerland, there's a good chance of finding fresh tracks several days after a dump here.
Of the many off piste itineraries in the area, one of the best is the descent from Punta Indren at 3,260m, down towards Gressoney. There's also an epic, 1,700m descent down from Passo Salati down to Alagna.
Heliskiing is another popular activity given the wide range of high peaks in the area - and the proximity to France where heliskiing is banned. There's a wide choice of descents available to suit almost all ability levels. You can also take a helicopter to the top of the Lys mountain pass for a descent along the Grenz glacier down to Zermatt.
Monterosa - Restaurants, Bars & The Town:
The most internationally-famous resort in the Monterosa area, Alagna, was founded in the 12th century. Built around the local parish church, it maintains its old world charm, having escaped the ravages of the concrete-driven building spree that scarred so many ski resorts in the 1970s.
At the other extreme of the pass, Champoluc at 1570m is the main resort in the Val d'Ayas. Surrounded by pine woods, it offers spectacular views of the Monte Rosa glaciers and the rocky buttresses of Mont Sarezza and the Testa Grigia. Antagnod above at 1,710m also has spectacular views as well as well preserved old buildings, including the famous "maison Fournier" once the stronghold of the counts of Challant.
Between them lies Gressoney La Trinite, which is linked to the Monte Rosa circuit, and Gressoney St Jean beneath it, which isn't. The architecture is again beautiful, with chalet style buildings and again spectacular views.
Even the main villages here are fairly quiet, so don't come expecting a rave. But there is après fun to be had at the Golosone Pub (aka Il Golo) in Champoluc which, despite claiming to be an ice cream shop, gets pretty lively later on. If you're looking to carry on, head for the West Road Bar in the Hotel California, out of the village towards Frachey. Make sure you try the regional beverage called Fil d'Fer which is a sort of Creamy Mandarine Orange Punch with a hints of cloves and is served hot. In Alagna, we'd reccommed Imland Bierstube which has a pub / beerkeller vibe, and a great selection of beers on tap.
If you're just after some good grub after a long, hard day skiing, La Grange in Stafal is good for gourmet cuisine. In Alagna, Zam Tachji serves great food and boasts a wonderful outdoor terrace. The restaurants in the Hotels Castor and Mount Cervino in Champoluc are also recommended.
Monterosa - Ski Hire:
Skiset offer ski hire in Monterosa, with a shop in Champoluc, but if you're after something more specialist (like a really decent pair of freeride skis, for example) try Telemark Ski Hire in Champuloc. Unsurprisingly, they can also rent you the eponymous, heel-free skis. If you're looking for ski hire in Gressony, then Cisko Ski have a decent selection of rental skis or if you're staying in Alagna, try Edelweiss Sport.
Monterosa - Ski School:
For ski schools and ski lessons in Monterosa, try the Scuola Sci Gressony in Gressony, the Ski Academy in Alagna, or the Scuola Sci in Champoluc.
// HIGHLIGHTS //
Resort height
1,212m - 1,830mm
Train station
Chatillon Saint Vincent (50mins)
beginner
intermediate
expert
// USEFUL LINKS //
Tourism and Ski Area