Chamonix and its surrounding ski areas are some of the most emblematic names in winter sports, attracting thousands of advanced-level skiers, snowboarders and ski-mountaineers from all over the world each season.
But this historic valley town at the foot of Western Europe's highest peak, Mont Blanc isn't your average ski resort. Ever since Jacques Balmat and Michel Paccard made the first successful ascent of Mont Blanc in the summer of 1786, Chamonix has been a year-round Mecca for serious Alpinists too. Likewise, masses of aspiring advanced skiers and snowboarders are drawn to Chamonix each season, intent on ticking off one of the most hyped high-mountain off-piste routes in the Alps: the Vallée Blanche.
You don't have to be an expert to ski Chamonix though; there are other more conventional ski areas in the Chamonix Valley, five in total, although only the linked Le Brevent and La Flégère areas are directly accessible by ski lift from Chamonix itself; the others are all separate and situated some distance away from the town, but served by bus and/or train links. These can get very crowded, however, so unless you have a car, getting round is undoubtedly the area's achilles heel! The town also has a well-deserved reputation for lively nightlife.
Getting here is easy: it's just over an hour from Geneva airport. All snowsports enthusiasts should plan a pilgrimage to Chamonix to experience the magic of the Mont Blanc massif at least once.
Chamonix - Ski Map & Pistes:
From a snowsports perspective, Chamonix is best known for its outstanding off-piste terrain and for being the defacto capital of European big-mountain freeriding, but the Chamonix Mont Blanc ski area has much to offer all skiers.
The Aiguille du Midi is the area's iconic lift-served highpoint, directly accessible from Chamonix town via the world's highest vertical-ascent cable car, and is the starting point for the well-documented and much-hyped Vallée Blanche descent; the astounding summit terminal on the Aiguille du Midi is a must-see viewpoint for most visitors to Chamonix, and is also the link point for the lift connection with the Italian ski resort of Courmayeur. The ski routes off the Aiguille du Midi are accessed via a catwalk along an exposed arete. They are totally off-piste, and shouldn't be attempted without a guide.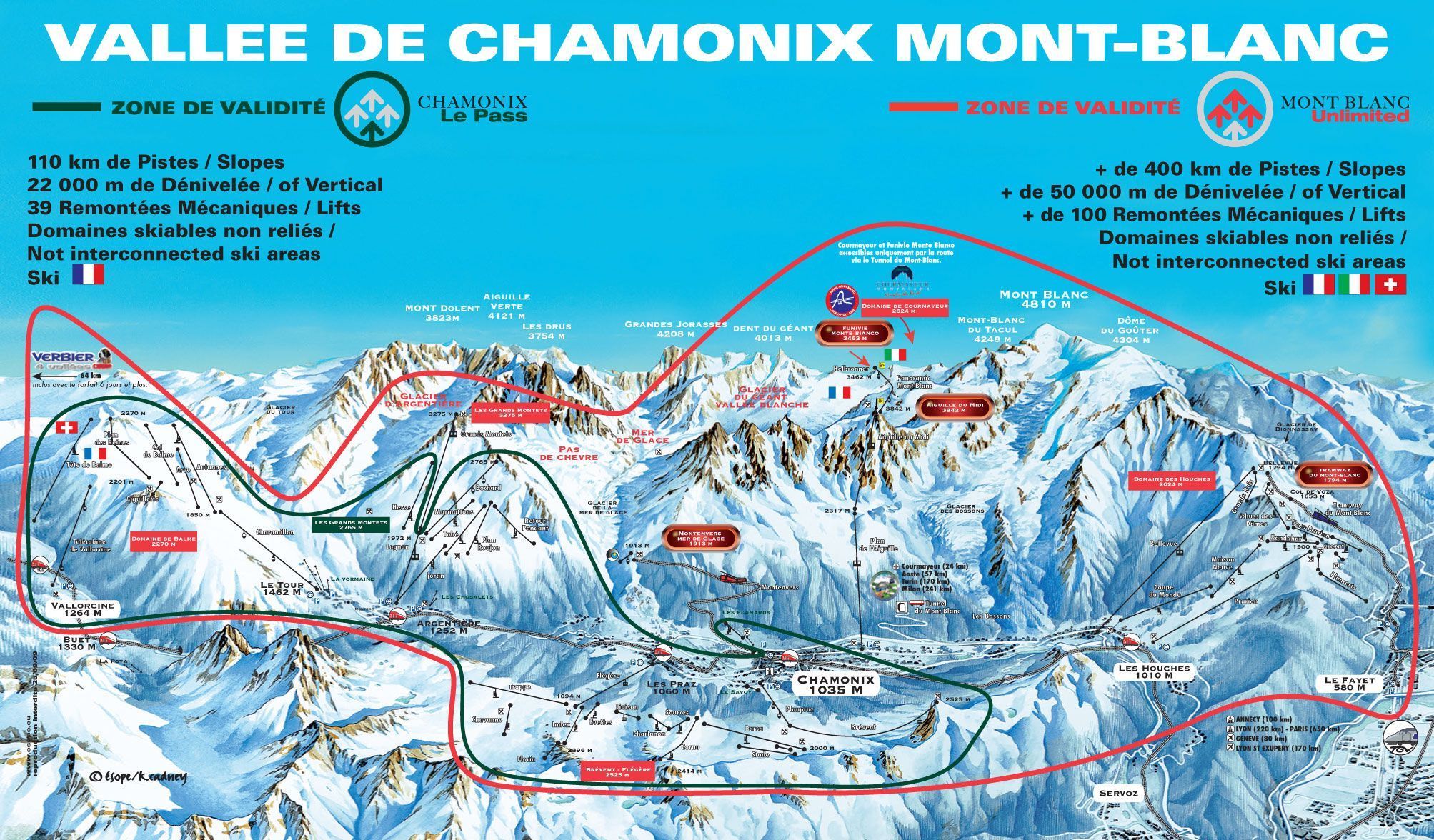 The Grands Montets ski area at the resort village of Argentiere, 8km up the valley road from Chamonix, is the other principal playground for serious freeriders and fans of steep-&-deep terrain. Beyond Argentiere, at the village of Le Tour at the head of the Chamonix Valley, is the more conventional La Balme ski area, which offers the most suitable slopes for novices and intermediates.
Chamonix's own local pisted ski slopes are found on the lift-linked Le Brevent and La  ski areas, directly accessible by gondola from Chamonix (for Le Brevent), and by cable car from the neighbouring village of Les Praz (for La Flégère). These twinned areas offer a good range of intermediate-level cruising pistes and some excellent inter-piste freeriding terrain, but the only home-runs to Chamonix are steep black runs (alternatively, download by lift).
A further major ski area is located at Les Houches, 6km down the valley from Chamonix; its pleasant wooded slopes are popular on days when visibility is poor higher in the valley, but this fairly extensive ski area is generally much less busy than Chamonix's other more adrenaline-stoking sites.


Chamonix - Off-Piste, Backcountry & Ski Touring:
As already indicated, Chamonix is one of the best ski resorts in the world for off-piste terrain. The caveat, as always, is to ensure you know what you're doing or hire someone who does to show you around.
Get proper insurance, avalanche equipment and training, and know how to call upon the emergency services should they be necessary. There are many crevasse and avalanche zones off-piste in the Chamonix valley. Your reward, however, comes in the form of vast glacier systems, wide powder slopes, steep couloirs and exciting tree skiing.
The famous Vallée Blanche off-piste ski route is 20km long with a vertical descent of 2,700m. The views are stunning and the high mountain landscapes provide a real sense of wilderness. If the conditions are good, this unforgettable experience is accessible, with a guide, for most intermediate skiers. There are a number of variations on the Vallee Blanche, involving steeper skiing over a more difficult terrain. These routes are only recommended for advanced skiers with extensive off-piste experience. The Vallée Blanche is covered with crevasses and the avalanche risk is often high.
Some of the best off-piste is to be found in the Grand Montets sector, including iconic descents such as La Face and Pas de Chevre, the Grand Mur (Big Wall) on the Glacier des Rognons and the Bochard and the unfortunately-named Herse, a huge sector accessed from the two cable cars of the same name.
Le Tour's off-piste is popular and accessible, while Les Grands Couloirs at Brévent are four famous couloirs which converge into the wide Brévent bowl. Off-piste novices might like to earn their spurs on the bowls and powder fields of La Flégère.
Chamonix - Restaurants, Bars & The Town:
The attractive and atmospheric town centre of Chamonix is a pleasant place for a stroll and has a good selection of shops plus a wide range of good restaurants, cafés, and bars. The town has good local bus and rail connections; quick and easy bus links with the Italian resort of Courmayeur are possible thanks to the nearby Mont Blanc Tunnel.
Chamonix's sports facilities include a public swimming pool, ice rink, and tenpin bowling alley. As well as the serious mountaineering challenges offered in this region, other more tourist-friendly activities include ice-circuit driving, paragliding, dog-sledding, snowshoe trekking, snowmobiling, and tobogganing. You should also take the Montenvers funicular up to the Mer de Glace glacier for the views, spectacular restaurant and ice grotto.
The appeal of Chamonix to the 'climb hard, ski hard, play hard' fraternity is further supported by its very lively après ski scene and buzzing nightlife; the town has numerous bars and pubs, many of which feature live music and entertainment.
The key après ski spots for happy-hour shenanigans and live music are
Chambre 9
,
Monkey Bar
,
South Bar
and
MBC
, the latter of which features its own in-house micro-brewery. All of the most popular bars and lounges keep rocking until well after midnight, diehard party animals then move on to the town's nightclubs. Try
White Hub,
which is arguably the hippest (although that's not saying much - this is still a mountain town after all!)
-- Car rental without the hassle?

 

Book now

 
Chamonix - Ski Hire:
Chamonix - Ski School:
Chamonix has a great many ski schools and private instructors and mountain guides, so it pays to do your research.
ESF
is the main ski school in Chamonix, offering its full range of group ski lessons and individual classes. You could also try
Evolution 2
, the environmentally-conscious
Ecorider
and the
Sensations ESI
.
// HIGHLIGHTS //
beginner
intermediate
expert
// USEFUL LINKS //
Tourism and Ski Area