Like the story of the tortoise and the hare, journeys to ski resorts never quite make sense. You'd imagine that, for speed, flying to the Alps would beat train travel hands down. But in my experience, it rarely works like that. Airport queues, cramped flights and crawling transfers (which invariably take longer than they are supposed to), can add up to long delays. I learned the hard way that flying isn't the best way to the white stuff. Now, like many other skiers, I travel to the ski resorts of the Alps by train every time.  
Ski holidays by train certainly feel different from flying: legroom, scenery, a café bar and most importantly, the feeling that your holiday has already started. Plus, your journey guzzles less fuel and produces only a fraction of the carbon emissions of flying, too. 
So what are your options to get to ski resorts by train?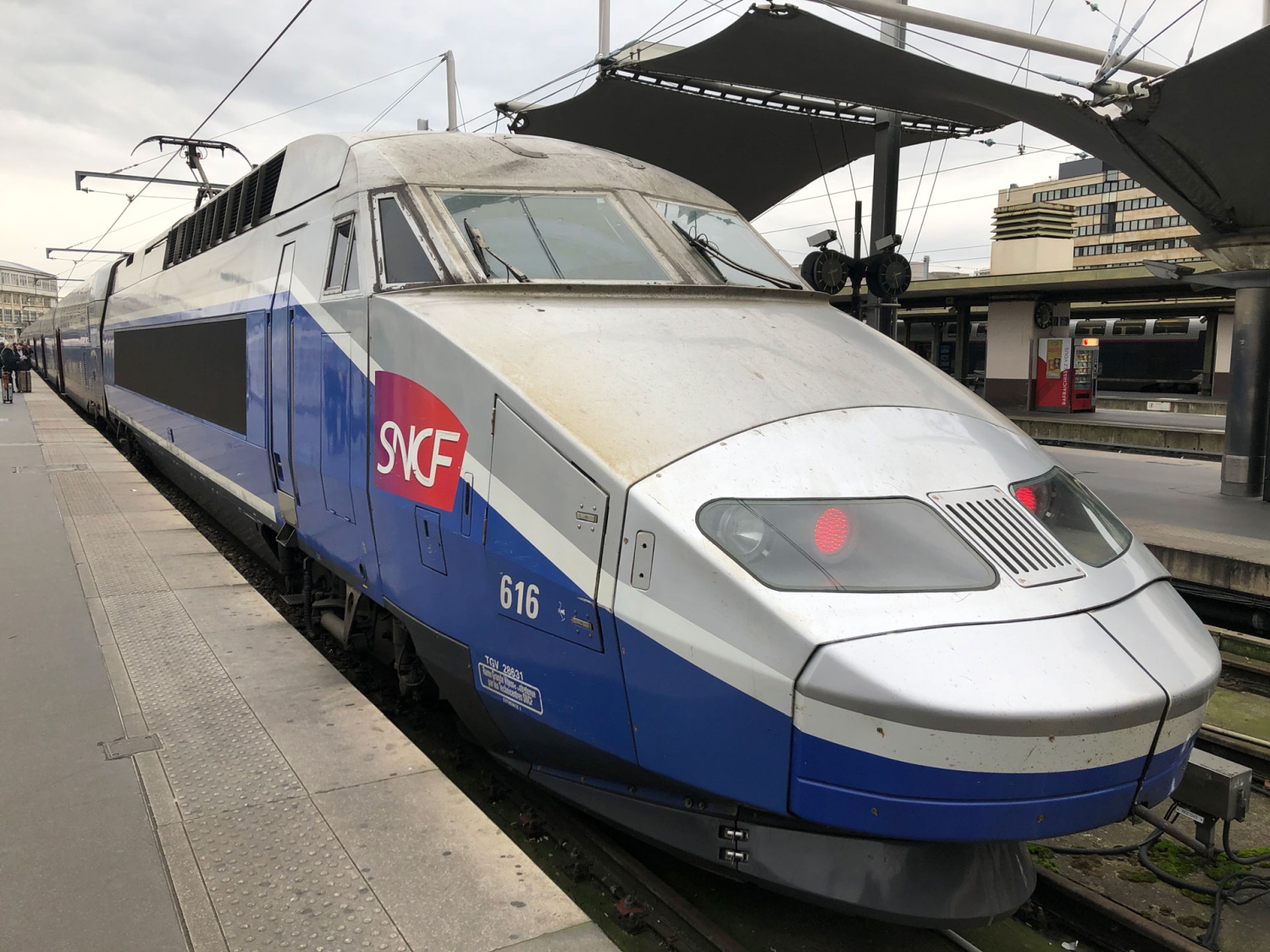 The Ski Train
The simplest way to European ski resorts by train has always been the direct Eurostar Ski Train direct from London to the Tarentaise region of the French Alps. But things have changed since we last wrote about the joys of travelling to ski resorts by train in 2016. The Eurostar ski train is no longer running – yet another victim of the pandemic. 
However, French tour operator TravelSki has stepped up to fill the gap, chartering a Ski Train entirely and rebranding it the 'TravelSki Express'.  The downside of this is that you can only buy tickets for the TravelSki Express as part of a while ski holiday package, that includes train, transfer, accommodation, and a seven-day lift pass. You can't buy Eurostar ski train tickets by themselves any more.
The ski resorts served by the new TavelSki Express however, do include of the French Alps big hitters: La Plagne, Les Arcs, Les Menuires, Méribel, Tignes and Val d'Isère. The outbound journey — overnight on Fridays — drops you in the Alps in time for first lifts on Saturday mornings. The included transfer means that there's no waiting around for a bus and no need to book a taxi.
Like the Ski Train before it, the Travelski Express only has sit-up seats but no flat beds, so you might not get the best night's sleep, and booze is banned. Coming back from the Alps, however, the journey is by day (and alcohol is permitted). 
Independent Travel to the Alps by Train
The other way to get to the slopes by train is, of course, to travel independently. Travelling independently gives you a far wider choice of resorts. Combining a Eurostar and a TGV (mostly via Paris) will get you to any destination in France, and some resorts in Italy, within a day. By adding another train to the journey, you can get to resorts in Switzerland and some of Austria's finest ski resorts, too.
Some skiers are put off by the idea of changing stations in Paris, but if you don't want to cross Paris by Metro, a taxi from the taxi rank or a pre-booked taxi makes it smoother. 
To get yourself into resort earlier on your first day or give yourself more rail options, you could also consider taking a Eurostar to Paris, Lille, or Brussels one night earlier, stopping over, and then catching a train to the Alps from there the next morning.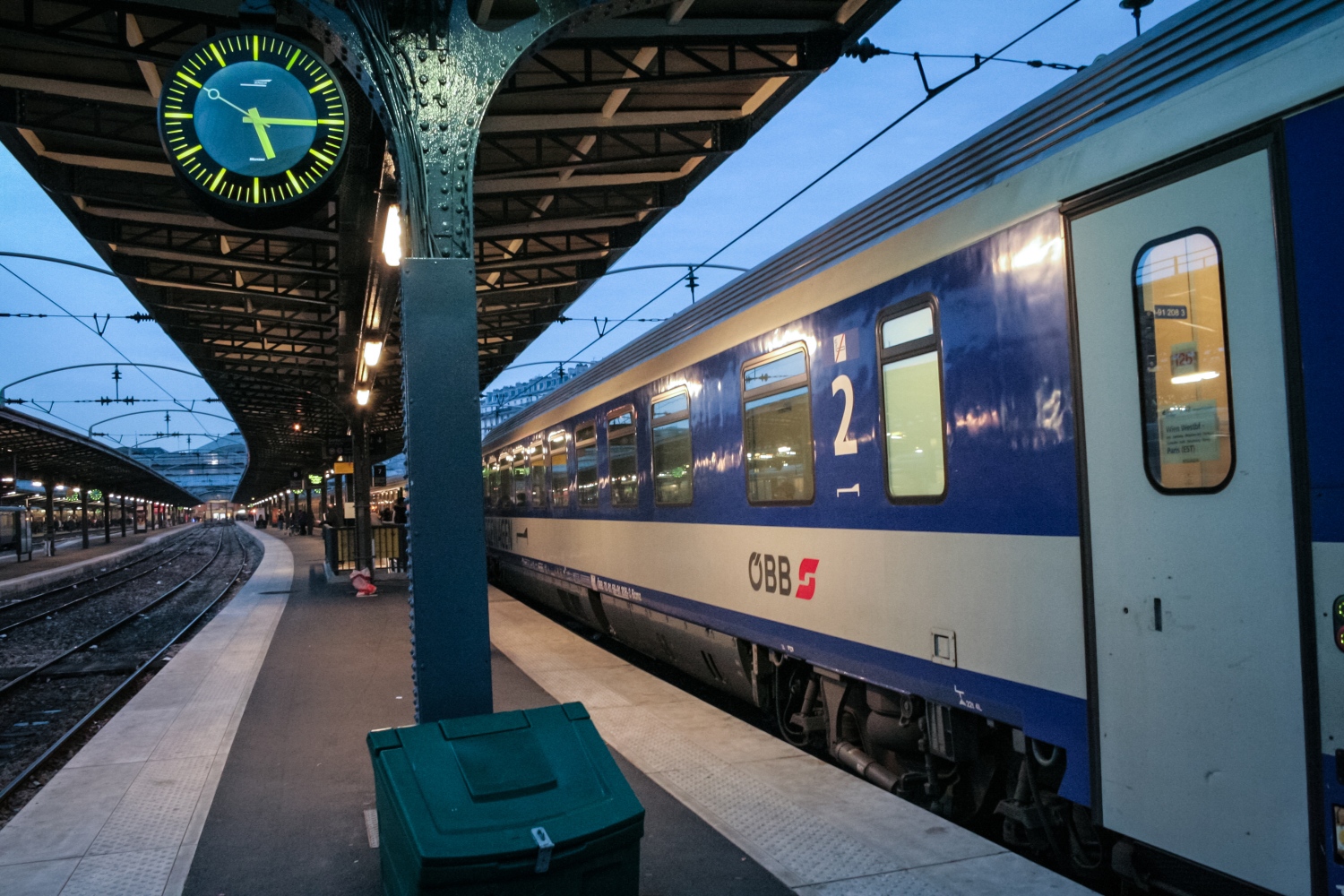 Sleeper Trains to Austria
The Tirol region is home to some of Austria's best resorts, many of which have a train station located right in the village. Overnight journeys to this region are easy. You take a Eurostar to Brussels, switch to the adjacent platform and board an ICE train, whose restaurant carriages serve draft beer, wine, and the kind of hot meals and fresh salads that wouldn't be out of place in any bistro. 
At Cologne, grab a beer opposite the station before taking a NightJet sleeper train, which has two, three and four-berth sleeping compartments, to your ski destination. The overall journey is several hours longer than the direct TravelSki Express to France, but with a flat bed and privacy, you're more likely to sleep soundly.
The New Night Train Renaissance
As well as the NightJet, there's something of a night-train renaissance happening across Europe, and it's about time. In 2016, for example, the French government axed lots of popular sleeper-train routes. Skiers and the French public protested, but the sole survivor of the cull was the Paris – Briancon route (good for the resorts of Serre Chevalier and Montgenevre). 
Now, in all their infinite wisdom, the French railway authorities have decided to reinstate ten routes by 2030. The line linking Paris to the Pyrenees has already been reintroduced, and will soon be followed by Paris to Bourg St Maurice and Paris to St Gervais. Skiers can look forward to more wine, cheese and cosy couchette bonhomie.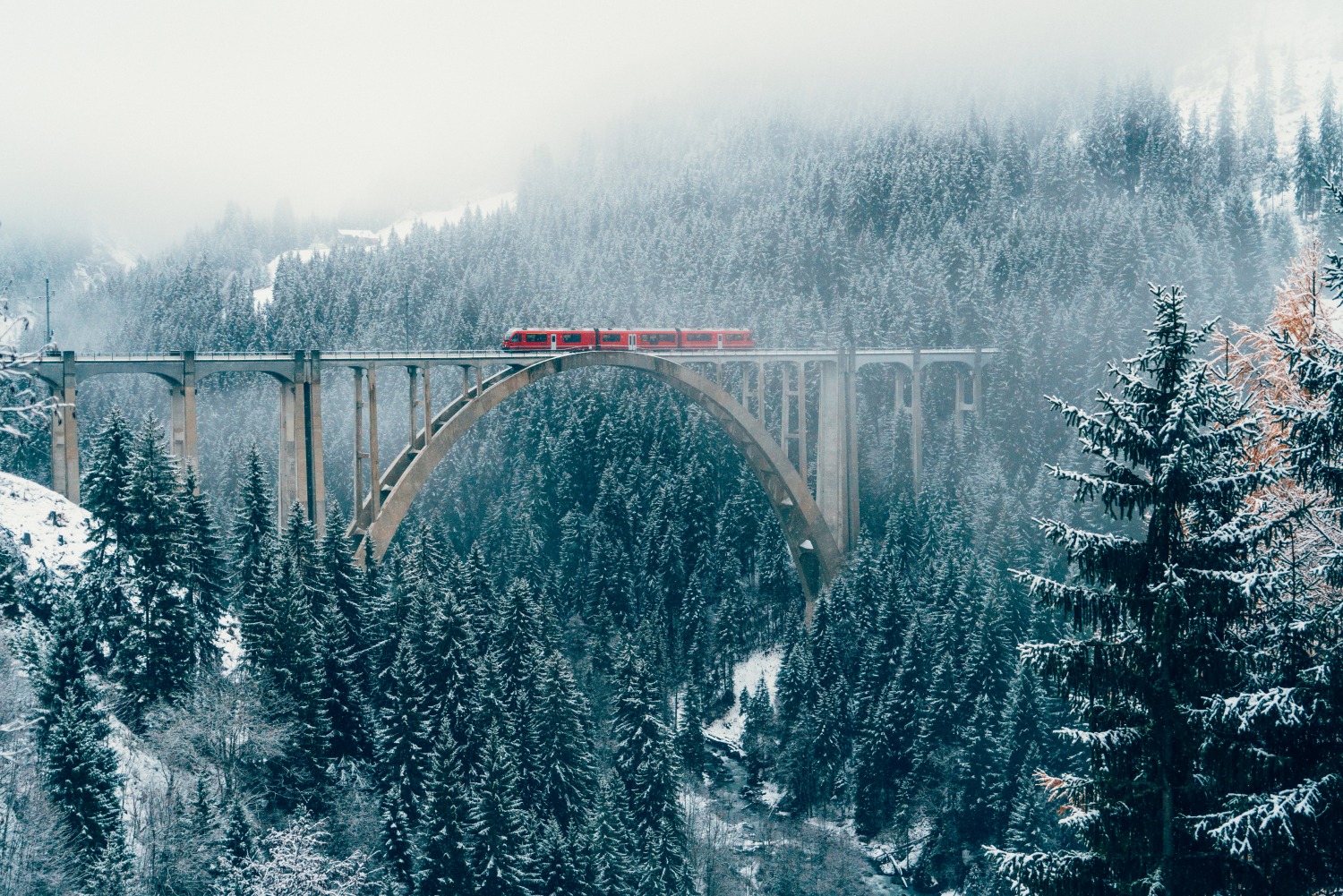 How to Book a Ski Holiday by Train
Booking train travel to the Alps isn't as straightforward as booking a flight. Some journeys can be easily booked online, and good starting points are the Rail Europe and Trainline websites. Be aware, however, that these websites don't always show you the most suitable journey options, because the algorithms that power them can't always cope with the complexities of the train-ticket systems. 
If you're in doubt or struggling, contact an expert rail-booking agent, such as The Travel Bureau or Trainseurope.  These experienced companies have sophisticated booking systems and can offer any combination of trains that you want, to anywhere in the Alps. 
Also, online booking isn't possible, for groups of 10 or more. So if you've got a big ski party, you'll need to go to an agent too. As with flights, train fares increase the closer that you are to your desired date of travel, so book early where possible. 
Here are eight of the best ski resorts to get to by rail – all of which have new and exciting things happening this winter. (NB: To calculate the comparative journey times, we've assumed that our example passenger lives in Central London, no more than a half hour away from St. Pancras station).
Eight of the Best Ski Resorts by Train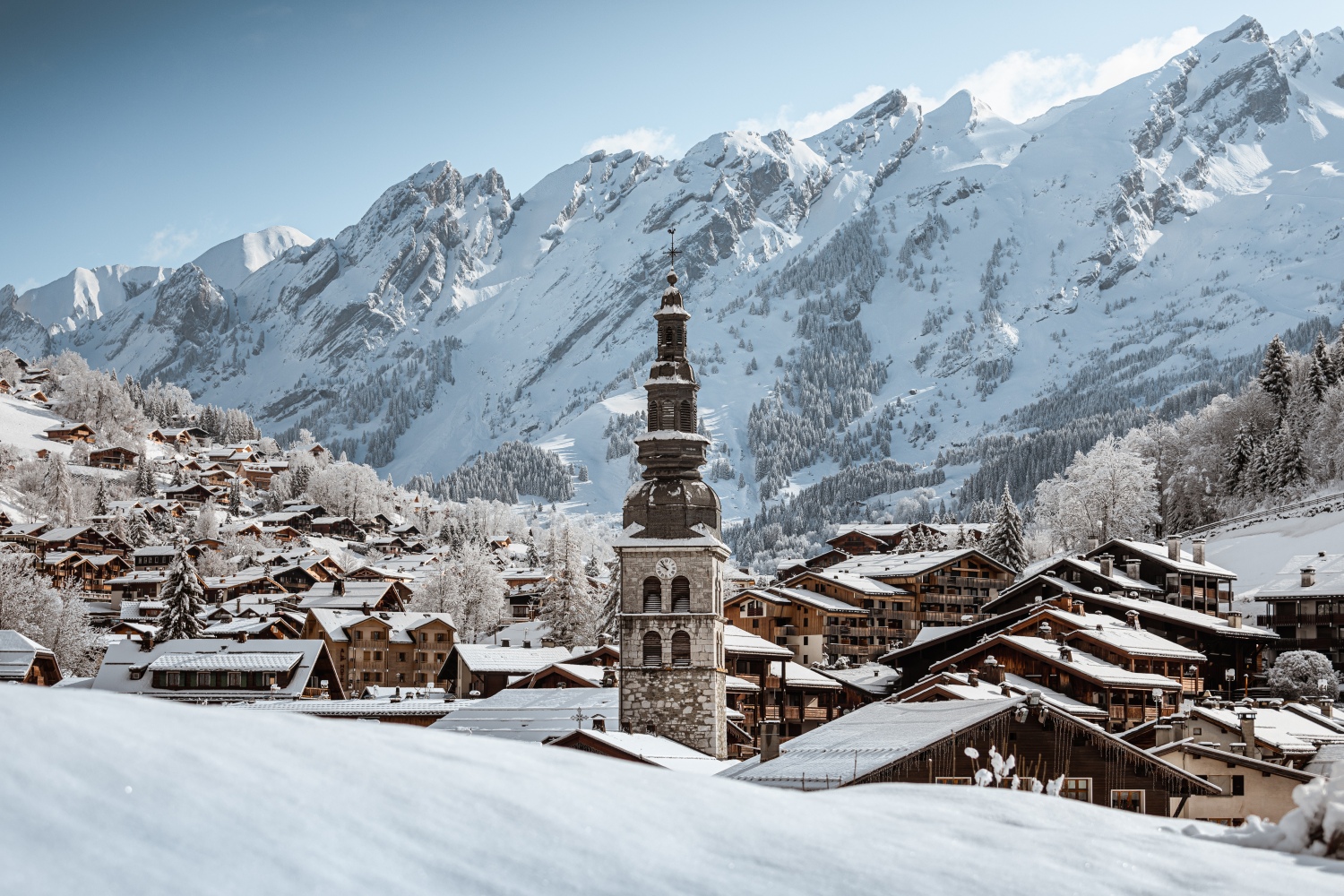 La Clusaz, France
10h 10m by daytime train / 7h 25m hours by plane 
The beautiful ski resort village of La Clusaz, in the Aravis mountain range, is arguably one of the most romantic resorts in France, with an abundance of hospitable Savoyarde restaurants, and some great skiing. The resort's Aqua Park has views over the surrounding snowy peaks from its indoor and outdoor pools. 
Getting from London to La Clusaz by train
Depart London St Pancras on the 08.01 Eurostar to Paris Gare du Nord. Then take the 12.47 TGV from Paris Gare de Lyon to Annecy, arriving 16:30. Transfer time is 45 mins.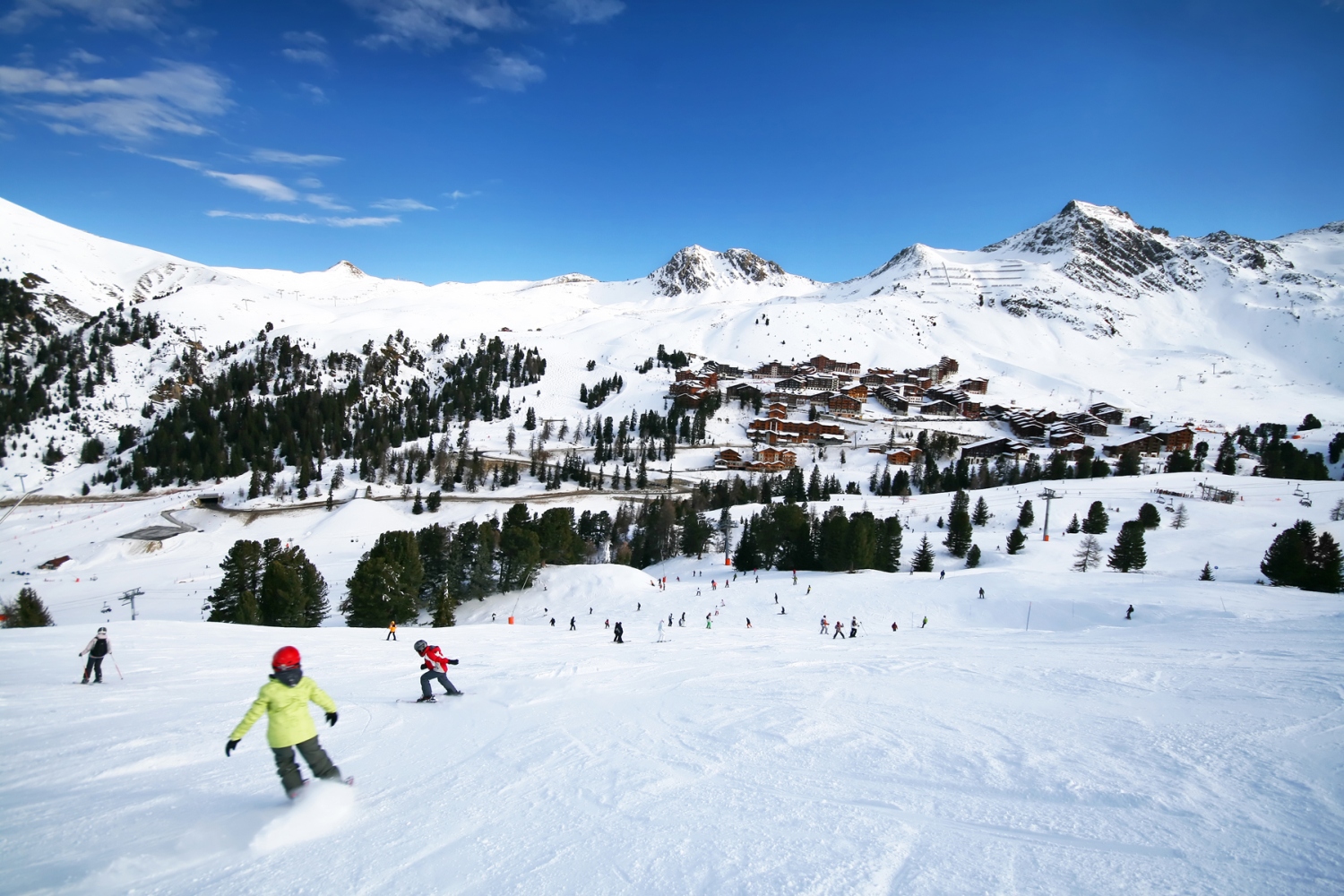 La Plagne, France
12h 20m by overnight train / 8h 45m hours by plane
The 11 villages that make up La Plagne offer some amazing ski-in-ski-out bases for exploring the vast 425km Paradiski area. There's plenty to do in this ski resort apart from the skiing too, including moonbiking, which launches this winter on 100 percent electric machines that are a cross between snow-scooters and skidoos.  
Getting from London to La Plagne by train
Depart from London St Pancras on the 19:45 Travelski Express to Bourg St Maurice, arriving at 06:16. Transfer time is 45 mins.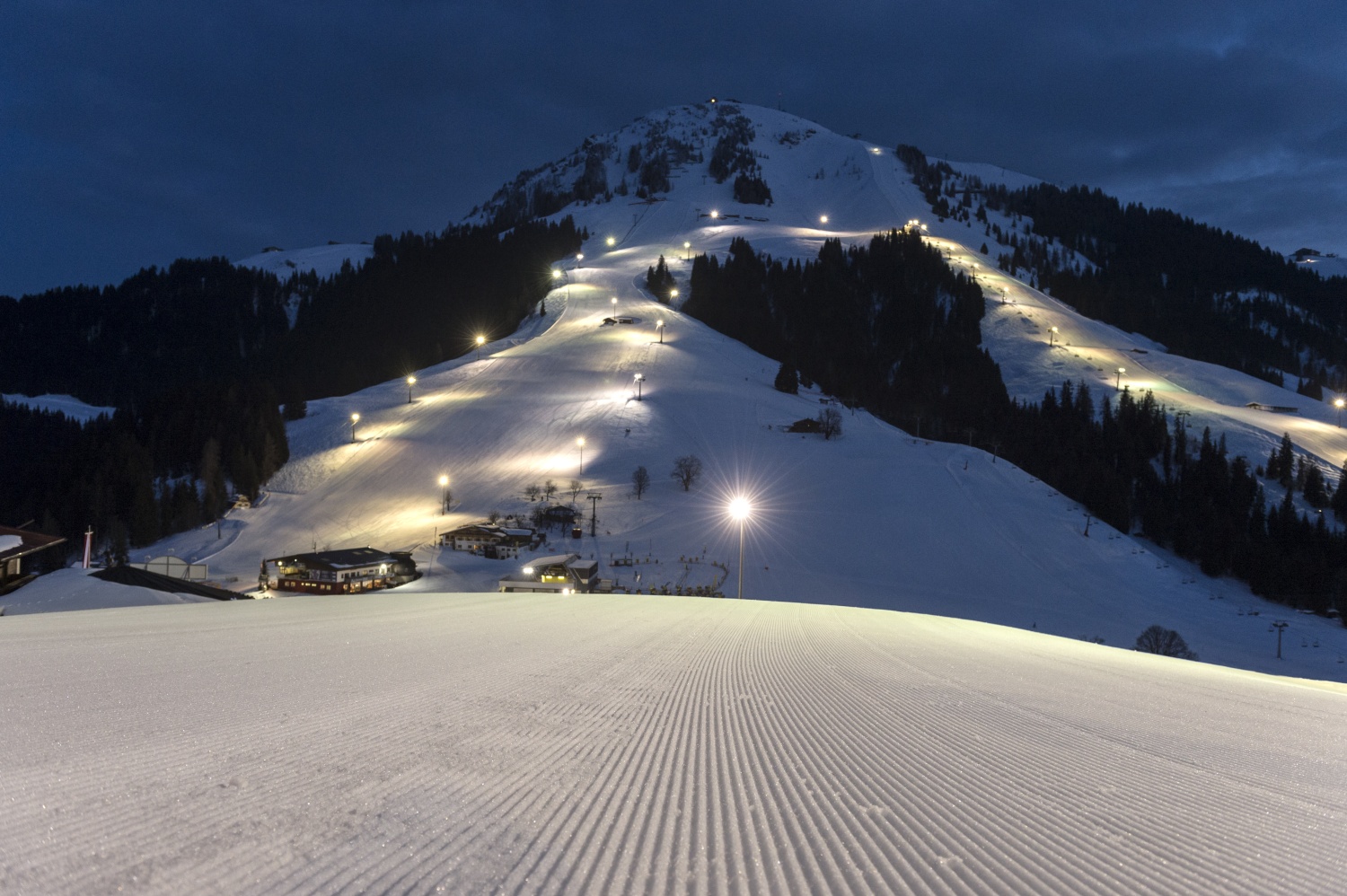 Söll, Austria
18h 40m by overnight train / 7h 55m hours by plane
Intermediate skiers will be in their element in the ski resort of Söll, part of the SkiWelt area. It's a paradise for cruising, and you'll quickly clock up the mileage in a ski area that boasts incredible views over the Wilderkaiser mountain range. The après ski and village vibe is lively too. 
Getting from London to Söll by train
Depart London St Pancras on the 15:04 Eurostar to Brussels, arriving 18:05; take the 18:25 ICE from Brussels to Cologne, arriving 20:15; have dinner and take the 22:17 NightJet sleeper train to Kufstein, arriving 08:26. Transfer time is 15 mins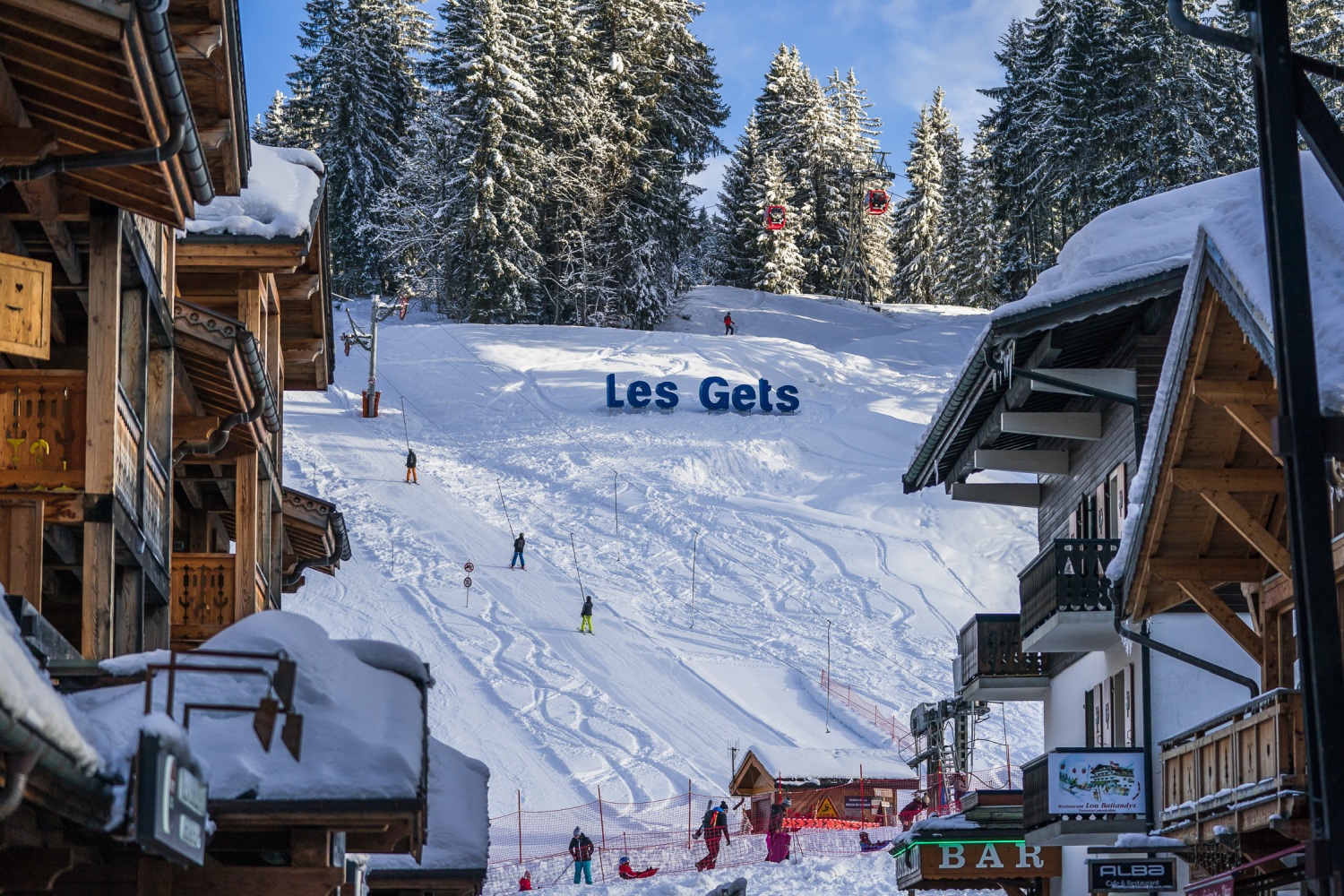 Les Gets, France
10h 50m by daytime train / 7h 35m hours by plane
The friendly village of Les Gets is part of the huge Portes du Soleil ski area. Its nearest neighbour is Morzine, and beyond that, Avoriaz. On its own picturesque local slopes there's a new kind of accommodation, the Chéry Dôme, where skiers can sleep up on the mountain, under the stars with a stove and outdoor fire-pit. 
Getting from London to Les Gets by train
Depart London St Pancras on the 09:31 Eurostar to Paris-Nord. Change to Paris-Lyon and take the 14:18 TGV to Bellegarde, and then local TER train to Cluses, arriving at 18:52. Transfer time is 25 mins.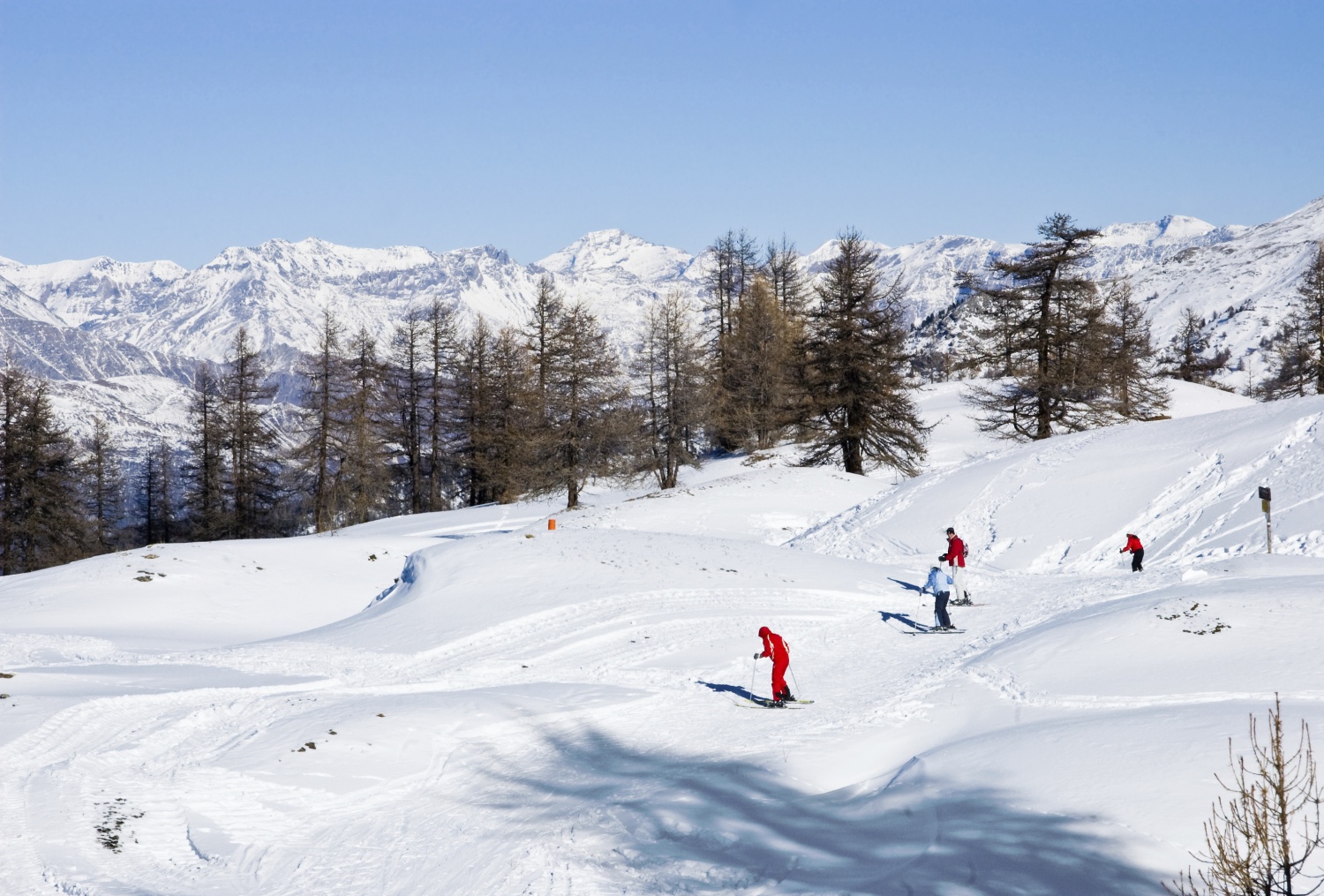 Sauze d'Oulx, Italy
10h 45m by daytime train / 7h 45m hours by plane
Just over the French border in the Piedmont region, the village of Sauze d'Oulx makes a great base for exploring the 400km Milky Way ski area. You'll find a friendly, relaxed vibe on the tree-lined slopes, and plenty of ambience in the village. Restaurants such as Da Salvo, Il Cantun and L'Ortiche have gained a deserved reputation for great Italian cuisine. 
Getting from London to Sauze d'Oulx by train
Depart London St Pancras on the 08:01 Eurostar to Paris-Nord. Change to Paris-Lyon and take the 12:47 TGV to Oulx, arriving at 17:28. Transfer time is 15 mins.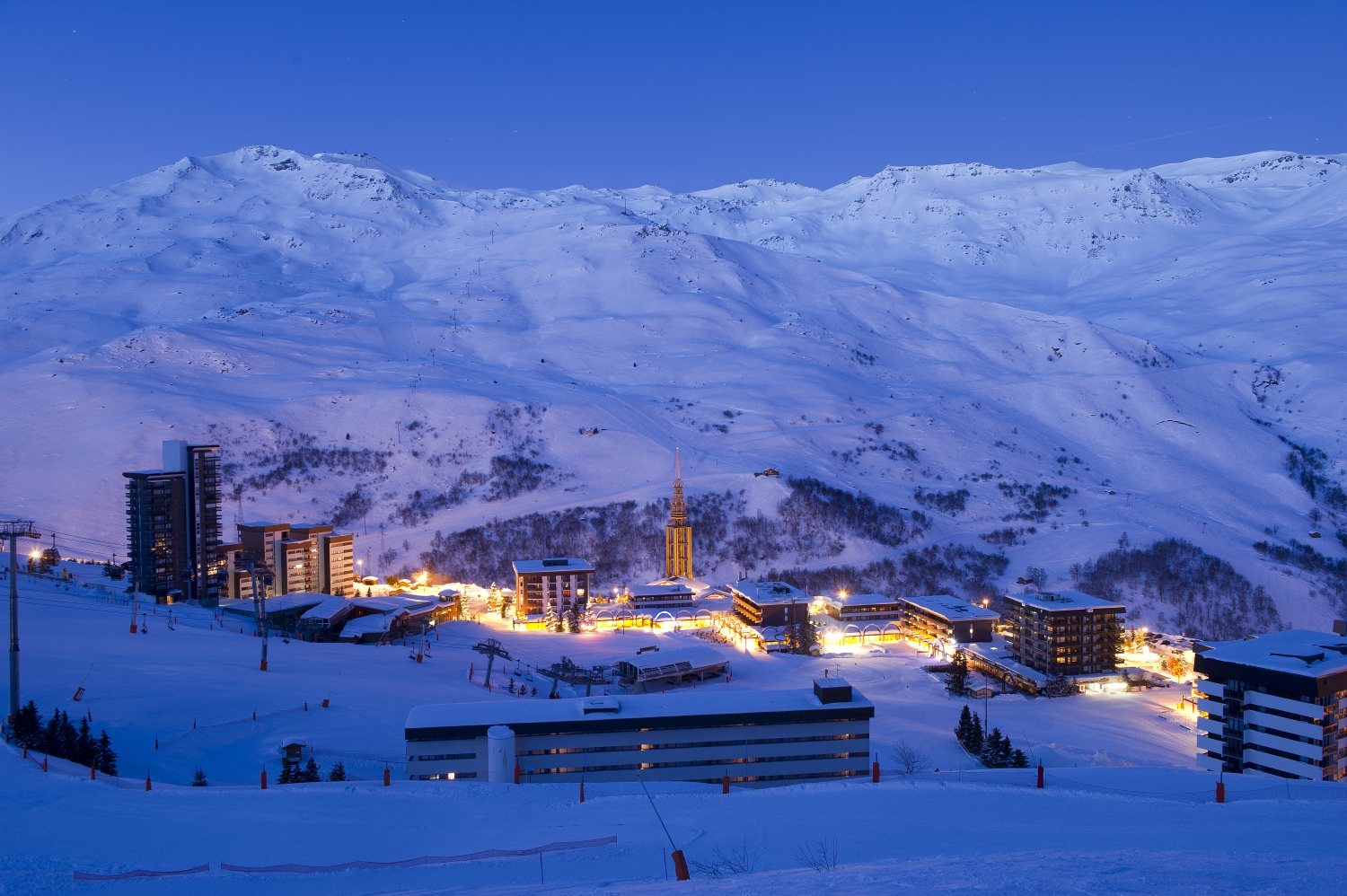 Les Menuires, France
11h 20m by overnight train / 8h 40m hours by plane
One of the best-value resorts in the vast Three Valleys ski area, Les Menuires is introducing a new course in "wilderness skiing" this winter, where as instructor guides you through some of best spots in resort for spotting wildlife. These include Vallée des Encombres, home to ibex, the Lou Valley, with its frozen lake, and the forests of Les Yvosses. 
Getting from London to Les Menuires by train
Depart London St Pancras on the 19:45 Travelski Express to Moutiers, arriving at 05:32. Transfer time is 45 mins.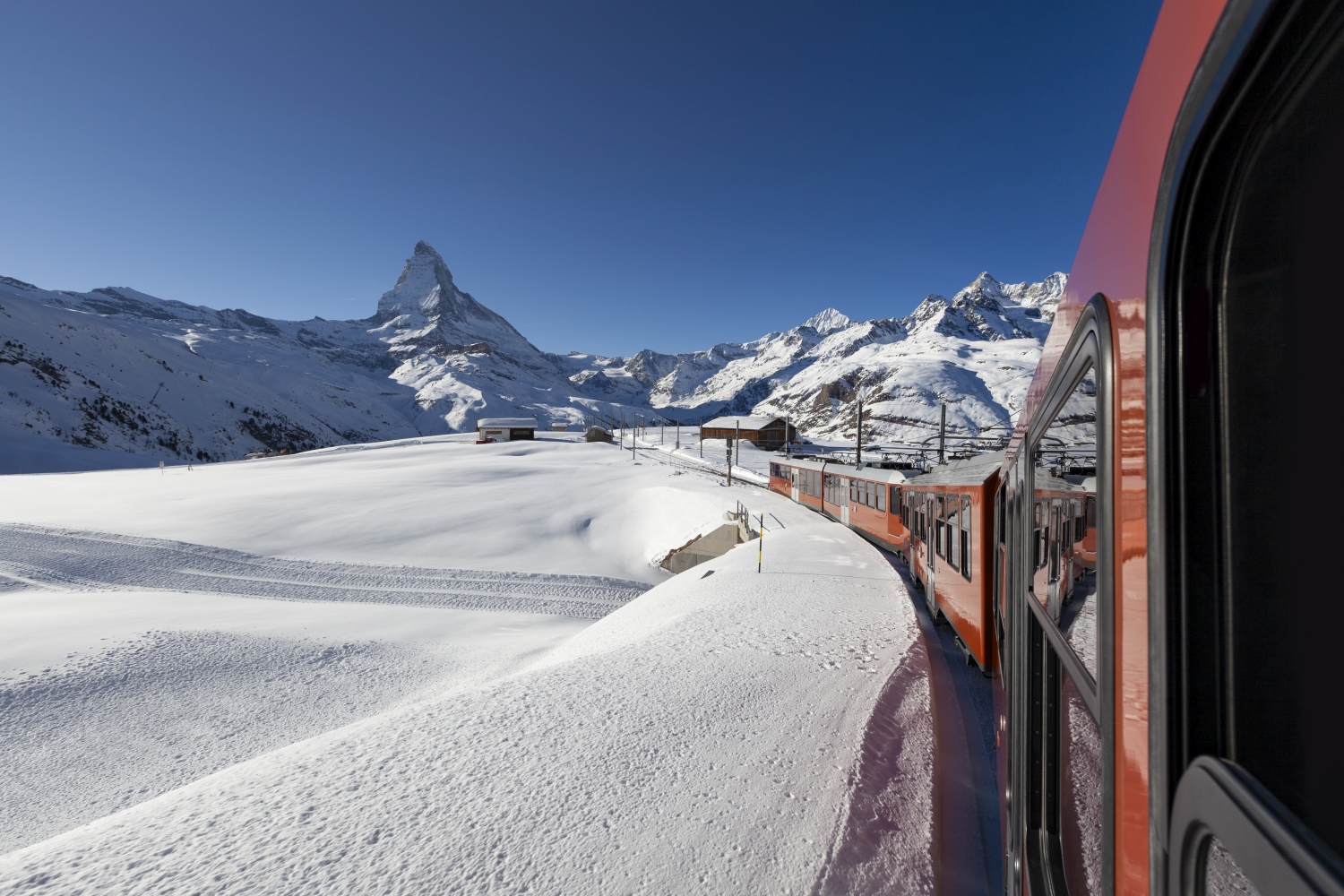 Zermatt, Switzerland
23h 05m by train with stopover / 8h 55m hours by plane
One of Switzerland's best-known resorts, Zermatt is famous both for luxury, and challenging skiing. The magnificent shape of the Matterhorn looms over the village, and the slopes on its flanks provide some of the best terrain anywhere in Europe. 
Getting from London to Zermatt by train
Depart London St Pancras on the 18:01 Eurostar to Paris-Nord. Stopover in Paris and take the 07:56 TGV from Paris-Lyon to Lausanne, then an InterRegio to Visp and a local train up to Zermatt, arriving 15:14, in the village.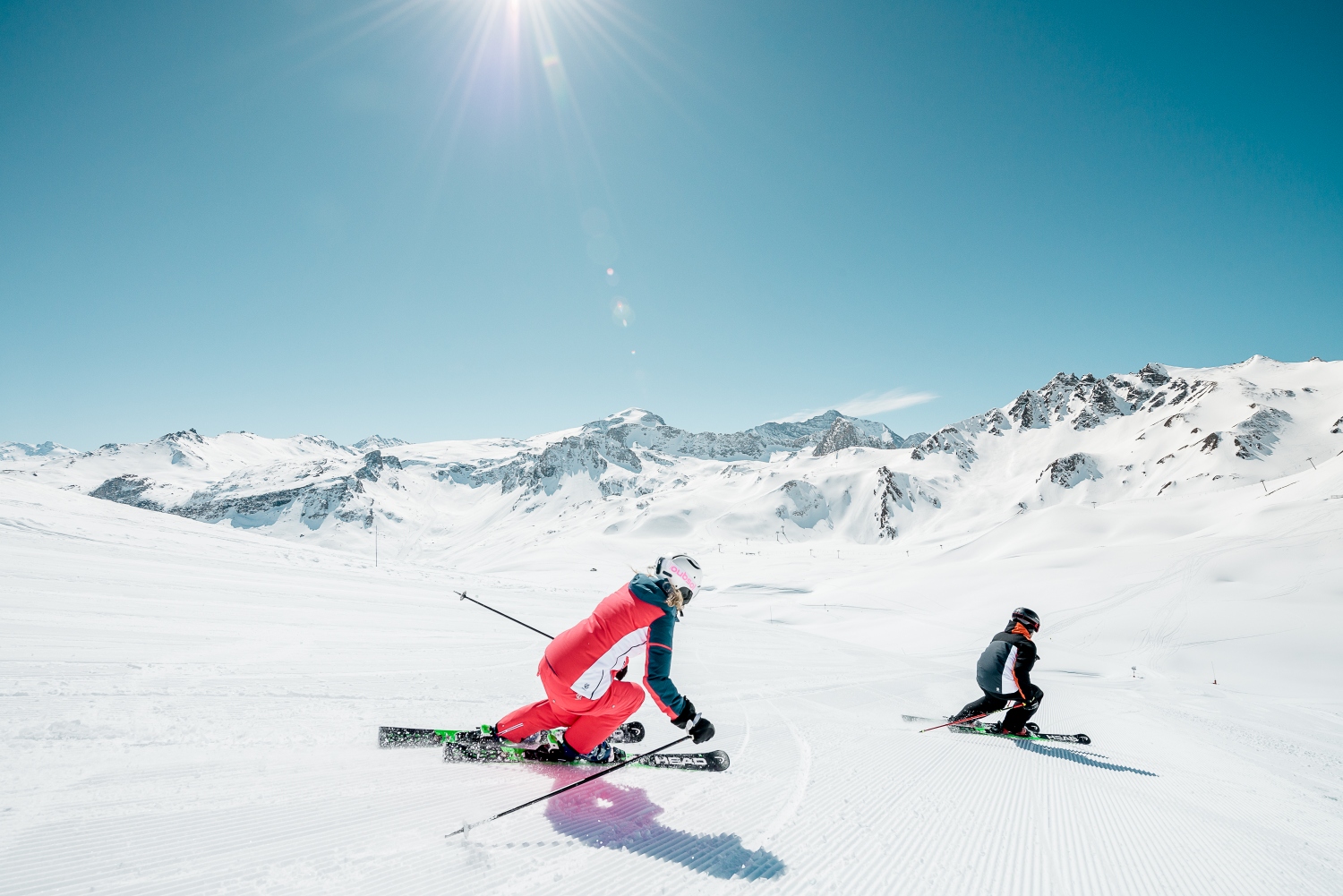 Tignes, France
12h 20m by overnight train / 9h 05m hours by plane
One of France's most snow sure resorts, Tignes has an abundance of ski-in-ski-out properties on its high-altitude slopes. This winter, the resort is introducing adventure-survival courses on the lake, with explorer Alban Michon. Children on the course can learn to build igloos and practice trapping skills.  
Getting from London to Tignes by train
Depart London St Pancras on the 19:45 Travelski Express to Bourg St Maurice, arriving at 06:16. Transfer time is 45 mins.