One of the world's leading mountain resorts and a longstanding pioneer of ski-in/ski-out accessibility, Avoriaz is impressively perched in a commanding position atop sheer cliffs high above Morzine, on the French side of the extensive Franco-Swiss Portes du Soleil area, in the Northern French Alps.
The resort was founded in the mid 1960s under the direction of famous French Olympic ski champion and sunglasses entrepreneur Jean Vuarnet, setting an award-winning benchmark for purpose-built ski resort planning and design, with bold urban-scale architecture and a car-free skier-/pedestrian-centric layout. Up close, the massive angular-shaped apartment blocks look austere and incongruous to their beautiful Alpine setting, yet when viewed from a distance these cleverly designed cedarwood-clad buildings blend remarkably well into the rocky bands of cliffs and crags of the surrounding mountainsides. It definitely elicits a love-it or hate-it response from its visitors, but the continuing growth and popularity of Avoriaz are certainly testament to its success.
Having the altitude means that Avoriaz invariably gets snow when Morzine gets rain - and that also means it gets Morzine's skiers too, via the Super-Morzine lift mostly, or the Prodains cable-car link. That it can pretty much absorb that kind of influx is testament to a well worked ski area with plenty of variety, and onwards links to Chatel and the Swiss sectors of the 650km Portes du Soleil.
Avoriaz - Ski Map & Pistes:
Many visitors may find that the slopes of the four local 'Grand Avoriaz' sectors are more than adequate for a week's holiday, because there's a good mix of parks, powder-fields, and pistes to suit all ability levels, all lift-served directly from the village. As the central resort in the vast Portes du Soleil ski domain, Avoriaz is also arguably the most convenient base from which to explore the surrounding cross-border collection of linked resorts, perfect for keen intermediates and advanced visitors.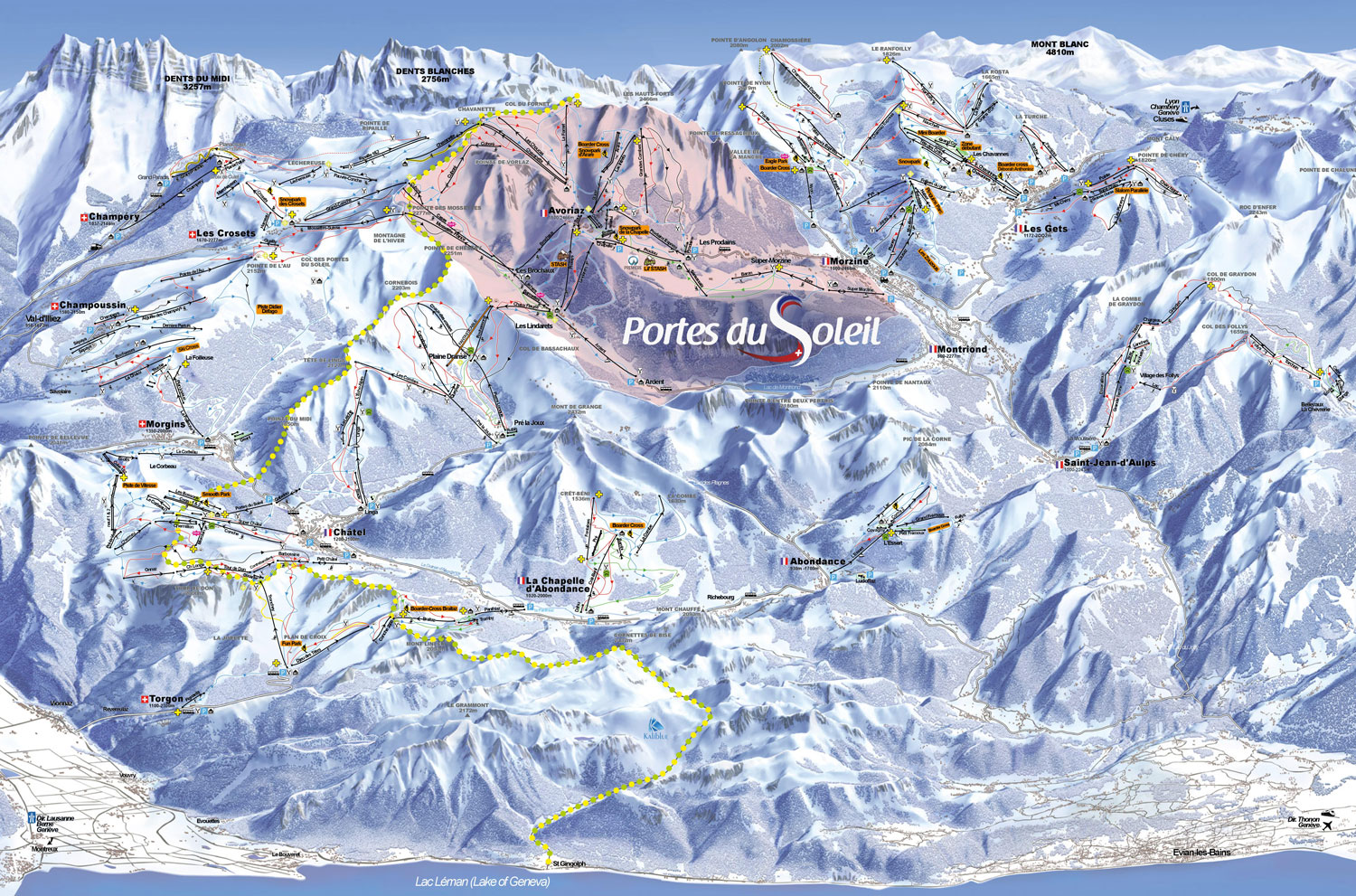 Beginners start off on the wide and often sun-drenched plateau at the entrance to the resort, close to the well-constructed and well-maintained La Chapelle snowpark which is filled with an excellent range of modules aimed at novice through to confident intermediate-level freestyle enthusiasts. More advanced freestylers can shred the superpipe which is situated over on the other side of the village. Plus there are two further specialist terrain parks (including one featuring all-wood modules) to be discovered in the resort's other core sectors.
A great selection of cruising blues and red runs funnel into Avoriaz from the surrounding ridges, served by a good network of chairlifts and ski-tows which fan out from the resort. These provide links towards the nearest piste-linked resorts, including the Swiss villages of Les Crosets and Champoussin. The former is reachable via the infamous super-steep, 'Swiss Wall' descent off the Chavanette ridge, (the one with moguls the size of VW Beetles near the top!) but also, by other less intimidating routes. On the French side, links to Ardent and the Linga ski sector are quite straightforward, and there's an easy blue run all the way down to the Super Morzine area just above Avoriaz's sister resort, from where you can catch onward links towards Les Gets.
Avoriaz - Off-Piste, Backcountry & Ski Touring:
Avoriaz is blessed with several unpisted but secured areas where you can enjoy the freedom of the off-piste close to the safety of the runs. These do get tracked out quickly, however, so you need to be fast to score fresh tracks - and remember that if they are closed then they are very dangerous.
One such area is the Canyon du Pschott Snowzone, accessed from the Choucas or Fornet lifts. This is a large unpisted area of canyons, natural half pipes, cliff drops and kickers. It's very popular after fresh snowfall, but despite it staring you in the face as you sit on the lift, it can withstand a lot of traffic before it gets too roughed up. If you're prepared to look further afield (or better still, strap on your skins) there's an awesome amount of terrain to discover here - the Portes du Soleil is one of the largest ski areas in the world, and although it's not the highest, there's more than enough backcountry potential here for a lifetime's worth of exploration.
Avoriaz - Restaurants, Bars & The Town:
Although Avoriaz is very much a high-altitude resort purpose-built for skiers and snowboarders, it's really quite a sizeable little town, with all the municipal amenities and facilities one would expect to find in a community of its size. This means there's plenty to keep non-skiers occupied, while the unique ski-through design of the resort means that all visitors get to experience the thrill of being in the midst of this stunning high Alpine setting together. And with no cars to clutter the place, you get around either on skis, by foot, or by horse-drawn sleigh.
The resort hosts several annual international cultural festivals and, during high season, a daily programme of events. There are a number of supermarkets, shopping arcades, spas and beauty clinics, a fabulous tropical-themed aquatic-leisure centre, a cinema, tenpin bowling, plus dozens of restaurants and bars.
Après ski is very lively, although venues are somewhat scattered around the various quarters of the resort village. Key après spots include the latest Folie Douce, Shooters, and the English-style pub Le Tavaillon. Plus there's a nightclub, called Le Yak, which pushes on for a couple of hours past the general 2AM closing time of most of the other bars.
Adventure activities accessible from the resort include snowmobiling, dog-sled mushing, mountain biking, under-ice lake scuba, and even freefall parachuting from a helicopter. Less adrenaline-fuelled alternatives include sledging (floodlit for evening sessions) and ice skating.
Avoriaz - Ski Hire:
There are plenty of options for ski hire in Avoriaz, including the famiiar chain names such as Sport 2000, Skiset at Amara Sports, Skimium at Avoria Sports and Ski Republic at Pelen Sports.
Avoriaz - Ski School:
Learning to ski in Avoriaz, is mostly in the hands of the local ESF. Good alternatives include the Avoriaz Alpine Ski School, Ski School 360 and Evolution 2.
// HIGHLIGHTS //
Train station
Cluses (1hr)
beginner
intermediate
expert
// USEFUL LINKS //
Tourism and Ski Area