That an English knight born in India would become known as the "father of alpine skiing" may seem a somewhat unlikely tale, but then, Sir Arnold Lunn was a somewhat unlikely man. Lunn was a winter sports pioneer, best known for setting the first ever slalom course in Mürren in 1922, and for popularising downhill skiing in the decades that followed.
But Lunn didn't let sport define him. As well as being an outspoken convert to Catholicism (a faith which still carried a certain stigma in the England of his day), Sir Arnold authored over 80 books—writing about everything from philosophy, to modern science, to the Spanish Civil War.
Lunn, the son of a Methodist missionary, was born in Madras in 1888. The family moved back to Lincolnshire the same year Arnold was born, but his father, Sir Henry Lunn, didn't lose his desire to travel.
He took advantage of the new trend for winter tourism among the English upper classes, launching a tourism company which took Brits to the Swiss Alps. Among his guests was Sir Arthur Conan Doyle, and it was apparently Sir Henry who planted the seed for one of the author's most celebrated scenes—suggesting that, should he ever want rid of Sherlock Holmes, he'd simply have him pushed off Reichenbach Falls. 
It was against this backdrop that the future Sir Arnold grew up, visiting the family's holiday home in Grindelwald each winter. He learned to ski aged 10 in Chamonix in 1898, founded the Oxford University Mountaineering Club while a student at Balliol, and by 1909, was embarking on long-distance ski tours—his traverse of the Bernese Alps being one of the first on record.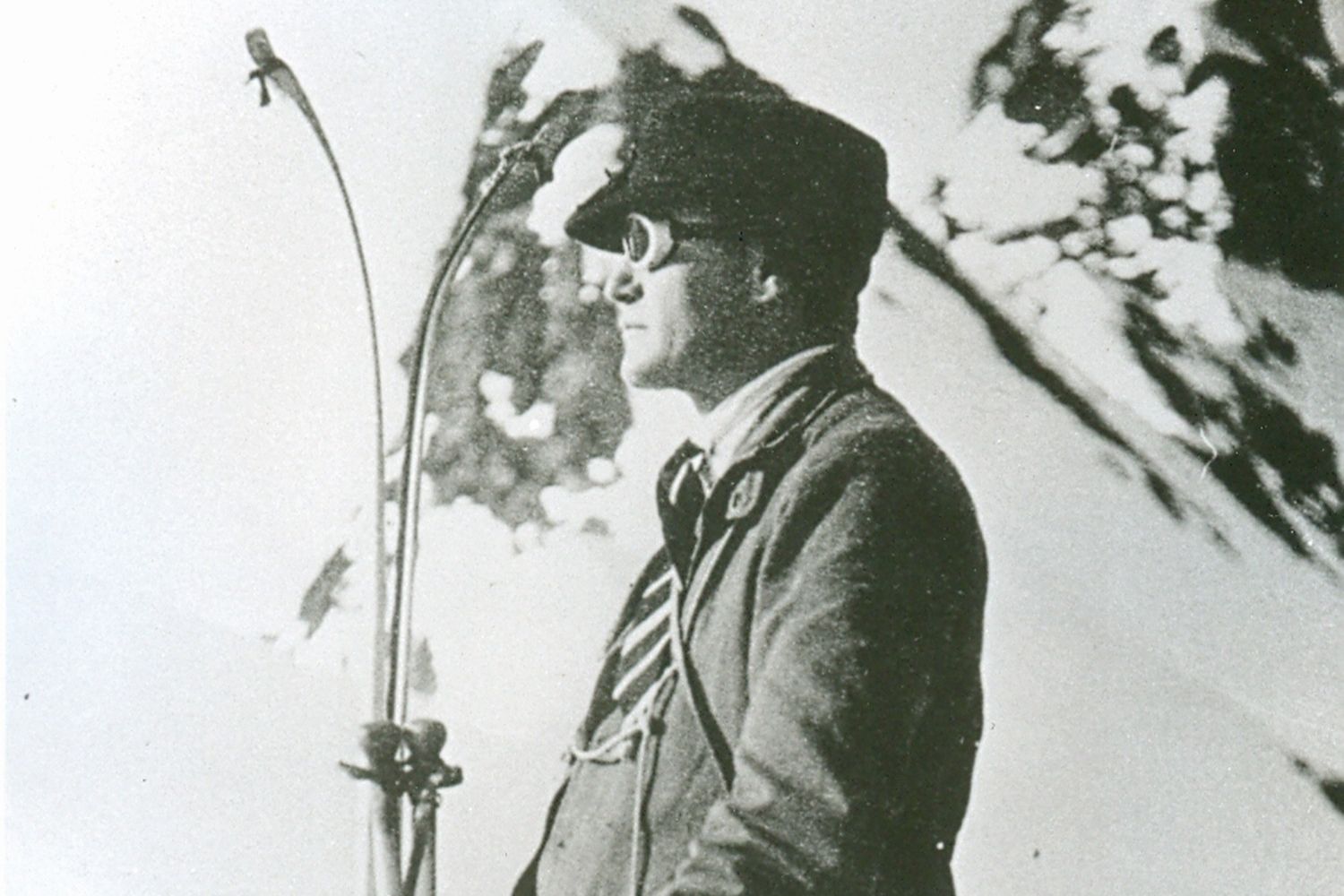 Lunn suffered a horrific fall while climbing Cader Idris in Wales that same year, crashing 100ft down the mountain and breaking a leg, after a rock he was holding onto snapped. The leg would remain two to three inches shorter than the other for the rest of his life, but he continued to ski, even making the first ski ascent of the Eiger in 1924. That same year, he founded the legendary Kandahar Ski Club in Mürren (having already founded the Alpine Ski Club well before, in 1908)
It was in 1922, however, that Arnold Lunn made his biggest contribution to skiing. A racing course had previously been laid by the Moravian Mathias Zdarsky (who also developed the basis for the modern ski binding). But Zdarsky's events were judged on style, not speed. Lunn wanted to change that. "The object of a turn is to get round a given obstacle losing as little speed as possible," he wrote. "Therefore, a fast ugly turn is better than a slow pretty turn.
The Nordic skiing establishment weren't overly enamoured by this Englishman changing the rules, but Lunn took it all in his stride. One anecdote has a critic telling Lunn: "We Norwegians were born with skis on our feet," to which he replied: "That must be very awkward for your midwives."
By 1930, Lunn had convinced fledgling Federation International du Ski (FIS) to recognise slalom and downhill as disciplines, leading to the first world championships in Mürren in 1931. This was crucial in legitimising alpine skiing, and laid the foundations for their inclusion in the 1936 Winter Olympics.
While Lunn had long campaigned for the inclusion of slalom and downhill in the games, he was critical of the IOC for awarding the games to Garmisch-Partenkirchen, and so to Hitler's Nazi Germany. His son Peter (who would later become a Cold War spymaster) captained the British ski team, but neither he nor Lunn senior marched in the procession, or attended the Nazi banquets.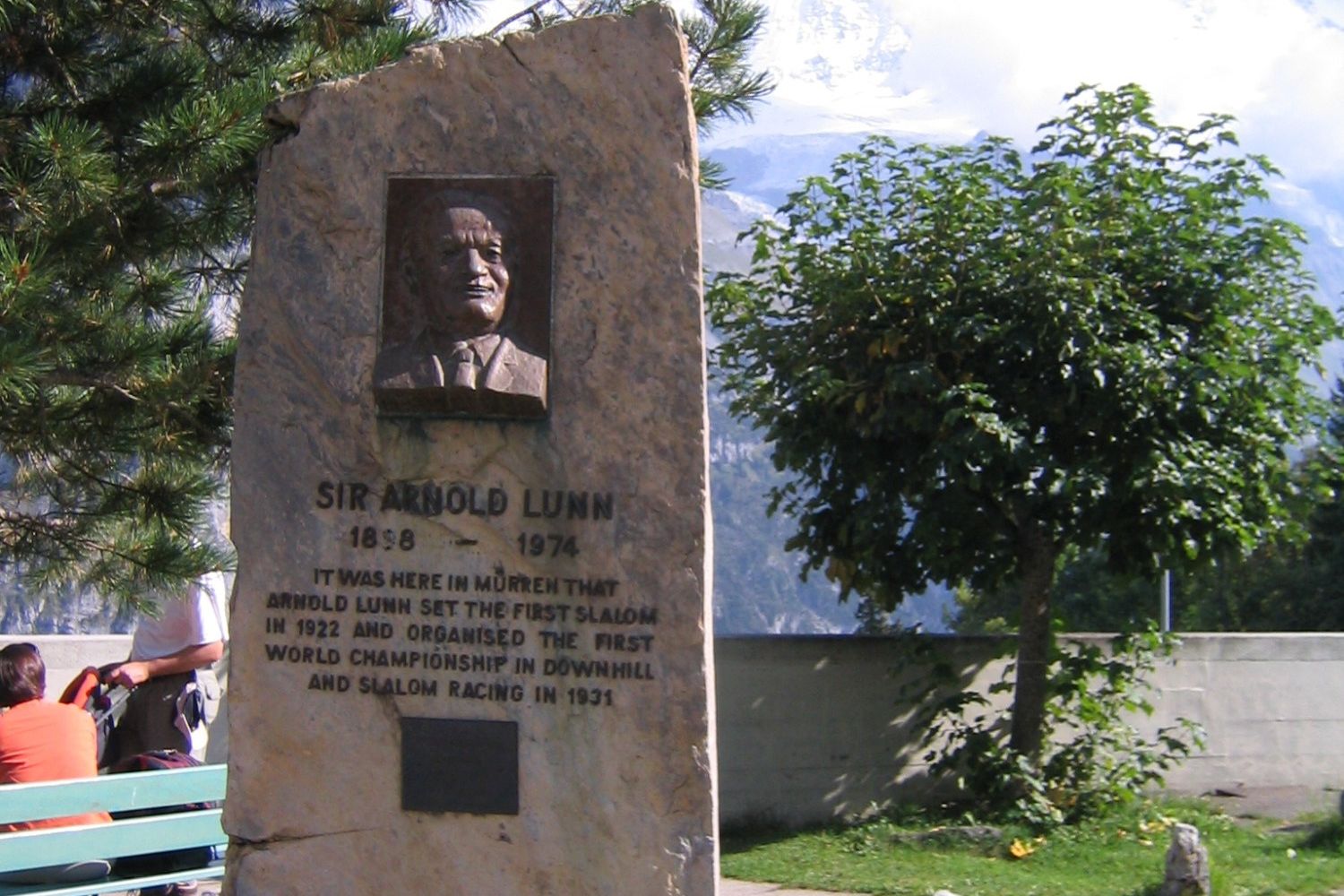 Lunn was knighted in 1952, for "services to British Skiing and Anglo-Swiss relations," and his influence on the sporting history of both countries, cannot be overstated. Before Lunn, downhill skiing was deemed to be only for those too scared to try ski jumping, or too weak for cross-country. Sir Arnold saw the beauty in it. As the Englishman wrote in 1925: "when every pulse is throbbing with the thrill of a swift descent on skis, the mind is alert to observe and to record a thousand delicate beauties." A sentiment many would recognise to this day.