Piste skis are for those who dream of crisp mornings in corduroy heaven on marked and groomed runs.
Spanning from absolute beginner level right through to highly tuned speed machines, the one thing these skis have in common is that they are able to turn and hold an edge in hardpack snow.
Above and beyond that, a piste ski might be amazing at GS carves, super playful, great in moguls or a good all-rounder.
Even within this well-defined category, hundreds of different ski models are available across loads of different brands, which of course makes the task of choosing your downhill slaying weapon somewhat baffling and overwhelming.
Before you begin the task of choosing the best piste ski it's wise to whittle down the options using our handy buyer's guide at the bottom of the page.
Below we've picked our absolute favourite options for the 2023 season, whittled down from over 80 pairs that were thoroughly put through their paces on the slopes.
Atomic Cloud Q12 Revoshock

Best for Advanced to expert women skiers that want to carve up the piste at all speeds
RRP £650
Atomic excel at producing powerful skis designed to carve up groomed slopes and the Cloud Q12 Revoshock is no exception. The women's specific ski is 83mm underfoot making it versatile enough to handle the occasional foray into more variable terrain off the side of the piste and they perform well in the moguls too. The Revoshock C system helps to dampen the skis and create more power, whilst the multi directional sidecut means switching from long to short radius turns is a breeze.headmaster. But they're not just for learners. They're a model designed for high speed agility, which will also suit more advanced skiers. As is so often the case, K2 have found a high level of performance while sidestepping that stern, earnest requirement for disciplined technique.
Verdict A powerful and responsive performer with versatility in short and long radius turns.
Overall rating 8/10
Fischer Curve DTX

Best for Intermediate to advanced skiers that want a sporty ski to carve every turn
RRP £750
Fischer seem to excel in designing and producing high-level piste carvers that perform like race skis, yet allow recreational skiers to get the most out of them. The Curv DTX feels no different and for intermediates keen on improving right through to experts that enjoy a smooth ride, they will deliver on all levels. What they aren't good for is wishy washy turns­—they cry out to be put on the edges and with the 70mm underfoot width, are less forgiving than a wider all mountain ski.
headmaster. But they're not just for learners. They're a model designed for high speed agility, which will also suit more advanced skiers. As is so often the case, K2 have found a high level of performance while sidestepping that stern, earnest requirement for disciplined technique.
Verdict: Smooth ride with excellent edge grip and the ability to handle short and long turns.
Overall rating: 8/10
Head Supershape E-Original

Best for Advanced to expert skiers who like nothing more than fun short turns on piste
RRP £670
At 66mm under foot, the Supershape is one of the narrower skis on the market. They excel at short turns on groomed slopes and hard packed pistes, with a solid but snappy rebound that feels fun. Head has packed in its usual mix of high-end technology, including a laminate wood core with a titanium plate, an extra graphene layer, ERA 3.0 tech and, of course, the EMC (Energy Management Circuit) that converts kinetic energy into electronic energy, helping to dampen the skis.
headmaster. But they're not just for learners. They're a model designed for high speed agility, which will also suit more advanced skiers. As is so often the case, K2 have found a high level of performance while sidestepping that stern, earnest requirement for disciplined technique.
Verdict Highly responsive rebound with a fun, snappy feel and great at short turns on piste.
Overall rating 8/10
Volkl Flair 79
Women's best piste ski

Best for Intermediate to advanced skiers sticking mostly to the piste.
RRP £575
This year's Volkl Flair 79 is the ideal women's piste ski for those that want a little fun off the sides sometimes too. However, we found that its talents really lie on the piste. It is a dynamic ski for intermediate to advanced women wanting to shred the whole resort. The 3D ridge construction comprises of steel and a centre sidewall giving the Flair its sporty riding style, stiff and powerful with great edge hold for ripping the groomers. A steel layer in the ski provides durability and performance at speed, and a stiff tail helps the Flair to really perform on the piste, placing it in premium territory. The sintered P-Tex base also improves the longevity of the ski, making it a sustainable investment.
Verdict A good value, sporty, all-mountain ski for charging on the piste and, occasionally, off it.
Overall rating 10/10
Buy Volkl Flair 79 Skis: $799.99 at Amazon (US)
Buy Volkl Flair 79 Skis: £620 at Snow & Rock <<Best Deal>>
K2 Disruption SC
Men's best piste ski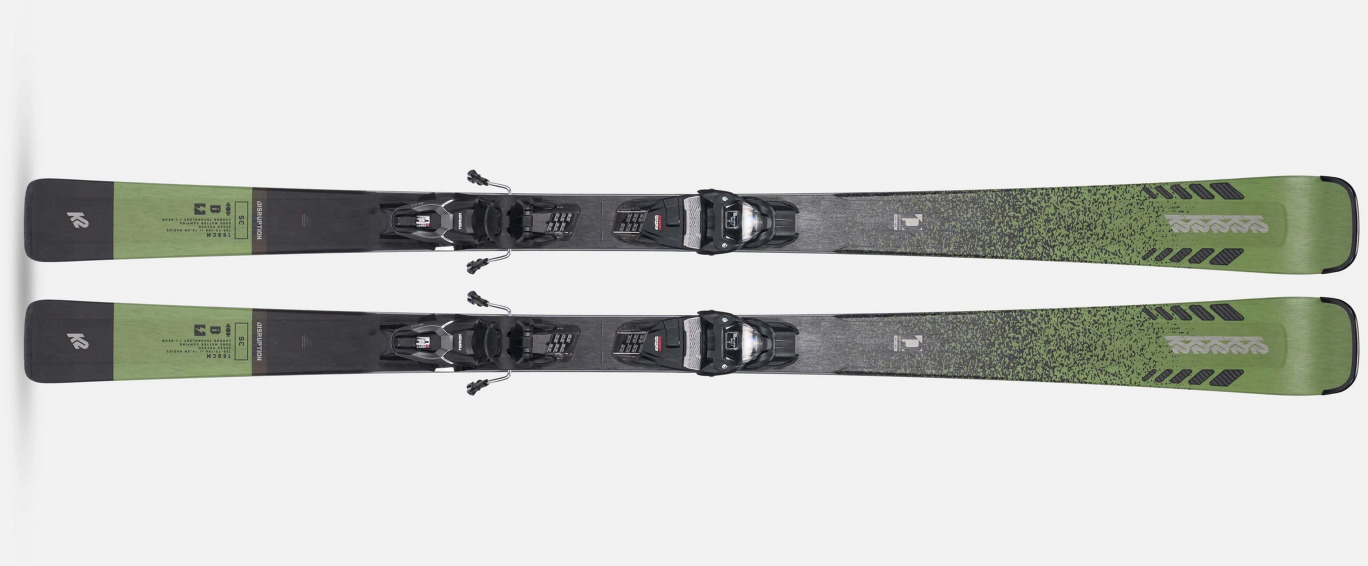 Best for A wide range of piste skiers, from those learning to carve, right through to advanced.
RRP £525
If anyone's going to shake up the piste category then you'd probably bet on K2 to be the one to do it. The Disruption family claims to be "the new standard in high-speed piste performance" with the Disruption SC being described as the 'gateway' to this addiction. This is certainly a gateway when it comes to price, which will suit the intermediate skiers these are aimed at. These encourage carving without punishing poor technique - more in the mould of the cool young teacher than the stern headmaster. But they're not just for learners. They're a model designed for high speed which will suit more advanced piste skiers. The carbon adds a feeling of latent energy - like you could turn on a sixpence.
Verdict Nobody marries performance and fun quite like K2. This brings it to the piste in spades.
Overall rating 10/10
Buy K2 Disruption SC Skis: £565 at Ellis Brigham
Rossignol Hero Elite ST

Best for Athletic intermediate to advanced piste skiers.
RRP £750
Designed for hard charging piste skiers, the Hero Elite ST takes the best of trickle-down technology from Rossignol's race skis and puts it into an accessible piste package. And we say accessible because this could turn an intermediate skier into a slalom skier with the right amount of slope time. Super responsive with a massive sting in the tail, the Hero Elite ST is as nimble and agile as a cat and edge hold through short and long turns is exceptional. The tail is stiffer than expected which adds to the pzazz but this makes it unforgiving if caught backseat. The Hero Elite is stable and precise but if you're tired of pushing the pace it will happily amble along the piste making it the perfect race ski for recreational skiers.
Verdict An epic balance of speed, edge hold, and responsiveness.
Overall rating 9/10
Buy Rossignol Hero Elite ST Skis: £829.99 at Amazon (UK)
Head SuperShape E-Rally

Best for Piste performance.
RRP £800
Head recently re-imagined its whole Supershape line of piste performance skis. The core five models all retail at the same price point - £800 with bindings – which leaves the buyer to focus on which features they need rather than which they can afford. The e-Rally iteration on test here includes their EMC technology, hence the "e" prefix in the name. This converts flapping energy into electricity, helping reduce vibration and giving a smoother ride. This is enhanced by the slightly wider dimensions (78mm underfoot) of the e-Rally, and the extra rocker relative to other models in the family, which combine to make it a more all terrain capable ski. But it is still very much a piste ski, despite some more optimistic marketing claims.
Verdict: The EMC tech really works - this is stable, and turns like a dream on piste.
Overall rating: 9/10
Buy Head SuperShape E-Rally Skis: £782.99 at Amazon (UK)
Buy Head SuperShape E-Rally Skis: £670 at Ellis Brigham <<Best Deal>>
Atomic Cloud C12

Best for Advanced women looking for a high-end piste ski.
RRP £650
Coming in at the top of the already established Atomic Cloud range, and with the same technology as their Redster racing line, the Cloud C12 is the perfect choice for confident skiers that want to rip up the piste. Some of Atomic's World Cup technologies have trickled down into this hard-charging model, like the premium base finish. A rod and elastomer fixture hold the ski in a pre-stressed position, making it responsive and dampening vibrations. The Cloud 12 also has a full sidewall for precision steering at speed. Like most piste and racing skis, it has a full active camber giving maximum edge contact, and providing grip on hard, icy pistes.
Verdict The Cloud C12 is a powerful piste machine punching well above its weight.
Overall rating 9/10
Salomon S/max No8
Women's best budget piste ski

Best for Playful intermediates wanting fun AND performance.
RRP £500
If you like to use all the runs on a mountain then the S/max No8 is a damn good choice of ski. Equally at home carving gentle turns on a blue run as navigating moguls on a tricky black, the No8 is as versatile as it is pretty. This is a ski for the fun-loving skier too, it feels energetic and playful way before you put the serious face on to schuss back into town. Stability, responsiveness and turn initiation are all excellent so you can really ride the No8 hard, but then it's also very smooth and forgiving at both high and low speeds making it the perfect tool for intermediates and playful advanced skiers.
Verdict The piste ski of your dreams, sharp agile, precise and a whole lot of fun.
Overall rating 9/10
Buy Salomon S/max No8 Skis: £450 at Ellis Brigham
Head Power Joy

Best for Hard carving intermediate piste skiers.
RRP £620
Coming in at a premium price you would expect the Power Joy to do a lot, and it just about pays its way. Although perhaps not as stable as others in the category it carves like a dream, offering excellent edge hold and responsiveness, especially in short radius turns where the ski whips from edge to edge effortlessly. All this leads to the playful feel, these skis just want to take you for a ride - the only thing holding you back is ability. Although marketed at intermediates we would say that high performance women would get the best out of them, not necessarily advanced skiers, just those looking to ski hard all day showing off their carving prowess.
Verdict Does everything you want it to do with ease, but you pay for the privilege.
Overall rating 9/10
Salomon S/Force Bold

Best for Great for a skier who likes to charge hard all day long in all conditions.
RRP £860
The Salomon S/Force Bold is the perfect match for competent piste skiers who are looking for top-notch stability and speed, combining the power and precision of a pure piste performance ski with the versatility of a wider all-mountain model. The construction is very much geared towards power and responsiveness on the piste, with Edge Amplifier technology helping to transfer energy straight to the edges and giving outstanding hold. A 15% tip rocker profile helps initiate the turn quickly despite the slightly wider waist and a 16mm sidecut is ideal for juicing out mid-radius turns. The S/Force Bold is very stable and keeps good snow contact throughout, even in slushy or cruddy spring snow.
Verdict The best of the best on-piste ski that will let you ski hard all day long - if you can afford it.
Overall rating 10/10
Blizzard Firebird CA

Best for Intermediate resort piste skiers who fancy a taste of the racing life!
RRP £470
Blizzard's Firebird range of racing skis has won fans and accolades for years, but you don't need to be a fearless pro to take advantage of the brand's know-how in this regard. The Firebird CA takes Blizzard's top skis and distils their essence into a piste ski that is accessible to all. With a full wood core and carbon topsheet, this is much beefier than its designation as a "recreational" piste ski would suggest. Of course, it's way less stiff than most of the Firebird range, making it easier to learn on. But this is still good in quick linked turns. It won't kick your butt, but if you push it you'll be rewarded with good feedback- you can feel the pedigree in the responsiveness of the carve. And it wants to go fast!
Verdict A very accessible piste ski with good turn initiation, that's still impressive at higher speeds.
Overall rating 8/10
Atomic Redster X9 S

Best for Piste skiers who like to create big edge angles.
RRP £1019
As soon as you clip into the Redster X9 S you can feel its race pedigree - ideal for anyone who likes to ski hard and carve turns like Marcel Hirscher, no matter how icy the piste. You need to know what you're doing to get the best from these skis - if you let them get away from you at the end of the turn, you'll soon be in the back seat. The wood core, made from a combination of beech for strength, and lightweight poplar, gives the skis real pop at the end of the turn. The Redster X9 S also uses Servotec, a design innovation from the World Cup race skis, which makes them more agile when initiating the turn and means they power up smoothly. This feature also makes them more stable when straight-lining.
Verdict If you're prepared to put the effort in and blast on the piste, these are for you.
Overall rating 9/10
READ NEXT: The Best All Mountain Skis of the Season
Piste Ski Buyer's Guide
Ski Length
Piste skis should come up to between chin and eye level. Your skill level will also affect the length to an extent, with shorter skis usually being easier to handle than their longer counterparts. Also consider that if you're particularly heavy or light for your height you should go up or down a few centimetres in ski length to compensate.
Radius
A piste ski will usually have a shorter sidecut radius than an all mountain or freeride ski, as you look down the length of the ski there will be a pronounced curve between the nose and tail. This makes for quick turns, but the resulting narrow waist doesn't provide much float in powder. The length of the sidecut radius will influence how the ski feels from edge to edge, so think about whether you like long carving GS style turns or quicker, shorter turns.
Camber profiles
If you lay a ski down on the floor or a table and look at it side on, you'll notice that the base rises and falls along its length. Imagine a banana balanced on its side. If the ends of the banana are touching the surface it can be said to have a traditional or positive camber profile, if the middle is touching it has a rocker, or banana, profile.
As a rule of thumb the best piste skis will have a positive camber profile which provides maximum contact and therefore control along the length of the ski.