Have you ever watched a great skier ski down the slope below the chairlift wishing that could be you? Do you feel frustrated that you can't cope with moguls or ice or make the jump from skiing the pistes to the off-piste?
Or perhaps the perfectly groomed piste you adored skiing in the morning becomes slushy and chopped up in the afternoon, and somehow your movement pattern just doesn't seem to work anymore…
But don't stress. You are not alone!
Thousands of skiers are trapped in the so-called 'intermediate plateau' and are often frustrated that despite countless lessons trying desperately to improve, they've stopped getting better.
The answer could be that you are trapped in trying to fit a mould, that you have been trying to apply a set pattern of movements, regardless of the piste or conditions?
Break free!
If this is you, it's time to turn your skiing on its head and break free! Gone are the days of facing your shoulders downhill and skiing with your feet together!
Stop worrying about what you look like and start enjoying your skiing. Stop trying to make every turn perfect and accept that being thrown off balance is a massive part of skiing and learn to recover instead.
Start feeling the slope through your feet and that way you can constantly adjust and adapt what you are doing rather than getting into a position and hoping that this position will miraculously get you down the mountain.
How do you try to balance? Is it by moving your body or by moving your feet underneath you? If you feel through your feet, then you will move your feet to stay balanced. Your feet are your connection with mountain and it's through them that you can feel the ice, the slush, the powder, the bump and adjust accordingly.
I recently watched Mikaela Shiffrin, the American superstar ski racer, who at 19 is World Champion and Olympic Champion, ski her way to her first victory in Giant Slalom (she is commonly known for her Slalom prowess). When she skis she appears to have not a care in the World and when she skied her second run there weren't two turns alike.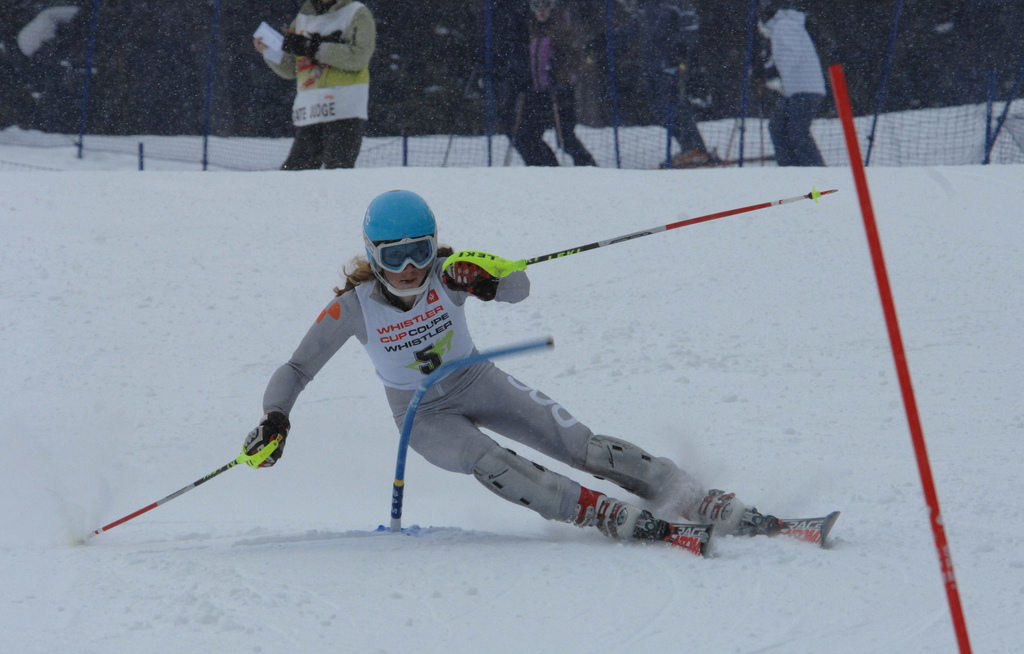 Mikaela showing her Giant Slalom prowess
You could tell she had trained incredibly hard for most of her young life but she had developed skills and bucketful's of them rather than fixed techniques. It was poetry in motion watching her ski and it reminded me that the best skiers in the world feel through their feet then react.
You may have no desire to be the next Shiffrin but we can all learn from her and start developing a toolbox of skills that can be used wherever you find yourself on the mountain.
Wouldn't it be incredible to be your own teacher so that you decide what you do at which point depending on what snow and what slope you find yourself on, rather than trying to fit a mould or trying to match someone else's idea of how a skier should look.
We are all made different and we are all individuals, so let's work from the feet up and start developing skills to deal with different situations. At first it may seem like a scary journey to start along but I assure you it is an incredible one and the rewards are huge. Break free from the norm and let's really start enjoying this beautiful sport called skiing. 

Emma Carrick-Anderson is a four times Olympic Ski Racer, BBC commentator and Snoworks instructor for snoworks.co.uk