Avalanche Safety
Each year it seems more common to hear of avalanches and horror stories of those caught in them. Sometimes leading to the elation of knowing people have been found. Occasionally resulting in the horrendous news that they haven't.
We're naturally becoming more and more adventurous in our snow pursuits but with the knowledge that 90 per cent of people caught in avalanches actually triggered them themselves, how can you minimise your risk of becoming a news headline on your next ski holiday?
We spoke to Mammut partner and owner of Chamonix based Mountain Adventure Company, Bruce Goodlad and avalanche education school, Avalanche Geeks in the hope that they can help spread the avalanche safety message as well as sharing their mountain experience.
Avalanche equipment can be expensive - what are the absolute basics anyone should be carrying all times?
We talk about a trilogy of safety equipment – a transceiver, a shovel and a probe. And these three things have to go together. You need the transceiver to find someone, the probe to pinpoint location and the shovel to physically dig them out.
The statistics show that if you are not killed by trauma you have a good chance of surviving an avalanche if you're dug out within 15 minutes. That's why speed is so important. And why it's commonly referred to as 'companion rescue' – you need your companion to rescue you.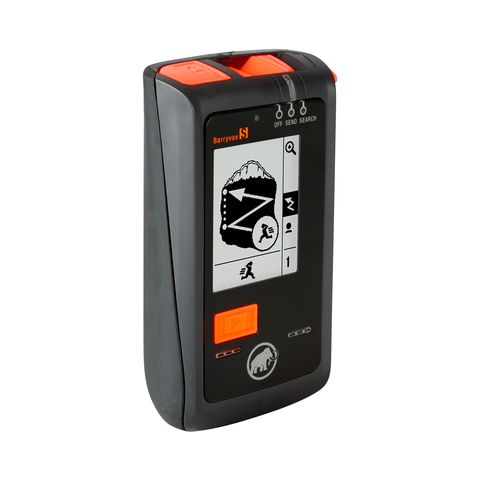 What are the key elements you look for in avalanche equipment?
Ease of use. That's the number one. With a transceiver, I think a great test is to place them around your garden and then get a five-year-old to try and find them. Whenever I have done this we've always found Mammut to be the best – I like their Barryvox S because of its easy interface.
With a shovel and probe it's a balance between weight and robustness. Look for products like the Black Diamond Evac Shovel and the Ortovox Carbon 240 Superlight Probe. Also consider an Avalanche Airbag like the Mammut Pro X which doubles up as a backpack.
When should you carry avalanche equipment?
We always talk about 'put it on at the car, take it off at the bar'. If you don't have your avalanche kit and you head out for the day and the off piste conditions are looking nice then you're not trying to resist temptation. If you have it every day then fantastic!
Can you tell us any initial signs to look for in the landscape or weather forecast which signal danger?
Nature's biggest clue is signs of recent avalanches. It sounds daft but people miss this. As well as temperatures rises and wind developments. A snow pack is like a grumpy old man. It doesn't like rapid change – like chucking a huge pile of snow on top. People go into holiday mode when skiing and switch off their situational awareness. A moderate wind can move as much snow around as fresh snow falling from the sky.
Why are most avalanches triggered by the victim?
Any snow pack on the hillside is trying to find an equilibrium between gravity and friction. During a storm cycle avalanches will release as the new snow is too heavy. As this event passes the snowpack will begin to stabilise and bond. But when you ski onto a slope your additional load can cause these bonds to fail, creating an avalanche. Weak layers in a snowpack can be there for anything from a few hours to months.
There is a big push in avalanche education at the moment in developing this concept of the human factor. It's often due to people making decisions that are emotional rather than based on cold hard facts. There's blue sky weather and you're going home the next day so you make decisions about where to ski that you wouldn't normally make if you actually analysed what you were about to do."
Can you give us an example?
Once I was in Sweden and everyone had been stuck in the hotel for two and a half days due to bad weather. The next day was perfect, blue skies. And we said to ourselves someone is going to get killed today.
One member of the public went off, ignoring everything they had seen. They hiked up a peak, often used for freeride competitions, then skied a steep, wind-loaded slope triggering a large avalanche. He was very lucky as someone saw him and managed to locate and dig him out in only 10 minutes. If no one had seen him it is unlikely he would have survived due to the size of the avalanche.
Why should you practise using your avalanche equipment?
You have to practise. The equipment can be really easy to use but in a rescue situation you are under immense pressure. The first thing that stops working when you're under stress is your fine motor skills. I get people to practise regularly because the muscle memory helps it to become an automatic process for them. You need to be able to do it without thinking about it. Why do the Fire Service and Police practise?!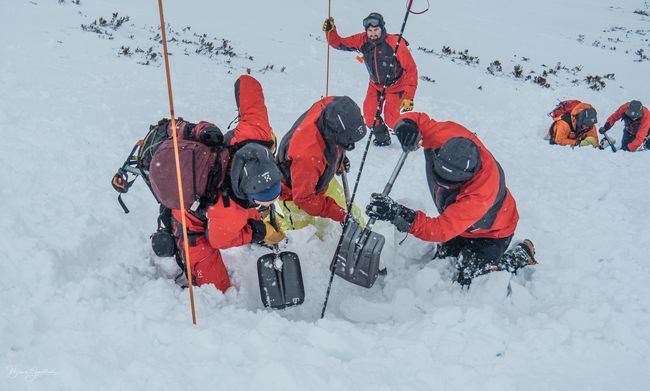 Why do you encourage people onto Avalanche Safety courses?
It's not just about teaching people about safety, it helps you to understand how snow works. Which in turn helps you to choose the best places to go skiing dependent on the conditions. Your strike rate for good skiing gets much higher.
It also stops you becoming unconsciously incompetent. We don't know what we don't know. Blissfully ignorant! Luckily it doesn't happen much, but your luck can run out. If you find out a bit more about avalanche safety then you can make a more informed decision.
Are avalanches on the rise?
I think there are far more people going back country skiing at the moment. Anecdotally if you wander the hills there are places I used to ski where you would never see anyone, now there are people there all the time. That's why we're witnessing more avalanches. If there was no one there, then there would be fewer avalanches.
30 years ago, our strategy was to wait 24 hours after a big snow dump. Now everyone wants to be the first to ski the fresh snow. It's a huge human factor with people putting pressure on themselves and others to get out. We never used to operate like that.