It's the snow that really makes the difference here, light, fluffy powder comes by the metre. Utah's car registration plates proclaim the state as the home of the 'Greatest Snow on Earth', a boast that might equally come from Colorado. Park City, Aspen, Vail, Breckenridge…resorts in both states get smothered in feather-light snow.
The terrain is pretty special, too. Steep Alpine bowls above tree-lined runs and unforgettable glade skiing, wide cruisers and legendary off-piste – there's something to suit every skier and snowboarder. And as American slopes are invariably empty during the week, you'll find plenty of elbow room on the slopes.
Aspen | Best for glitz and glamour
Resort 2422m Summit 3815m Vertical 1330m Ski area 5517ac Parks 5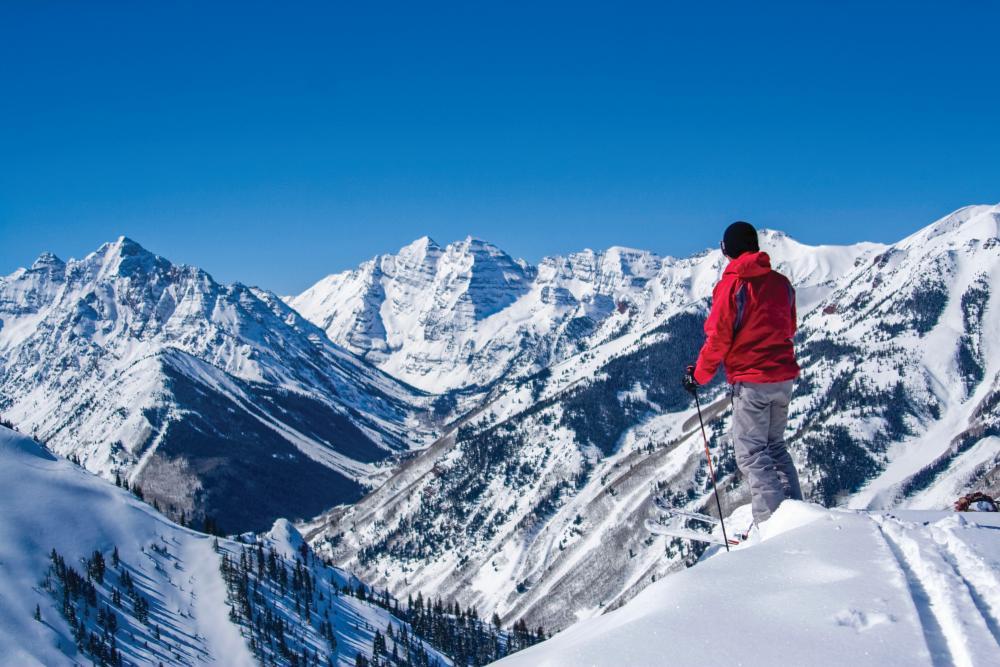 The undisputed queen of USA ski towns, this Colorado resort revels in its ritzy image
– it even has its own airport. The skiing is stellar too!
A former silver-mining boom town, Aspen retains much of its elegant Victorian-era architecture, tastefully renovated and housing many upmarket hotels, swanky restaurants, and chic boutiques. It's where the rich and famous come to ski, but we mortals will find it's welcoming and affordable to all-comers.
Ski area
The Aspen-Snowmass Four Mountain area lift pass covers all four of Aspen's ski areas:
Aspen Mountain is the flagship ski area, renowned for its long, high-end 'groomers', glades, tree-lined steeps and mogul fields.
Aspen Highlands has some good greens, but the headline draw is the legendary Highland Bowl, an experts-only zone of ultra-steep faces and powder-filled chutes.
Buttermilk is the beginners' mountain, and is also home to one of the longest slopestyle parks in the world. Snowmass is the state's second-largest ski resort in its own right, and works for all abilities.
Off the slopes
With over 100 restaurants and bars, plus hip nightspots, this is not your average après town. Cloud Nine over at Highlands is often the liveliest on-mountain venue, whilst Ajax Tavern and hip 39 Degrees Lounge are two of the prime spots in Aspen itself.
Jackson Hole | Best for Experts
Resort 1924m Summit 3185m Vertical 1261m Ski area 2500ac Parks 4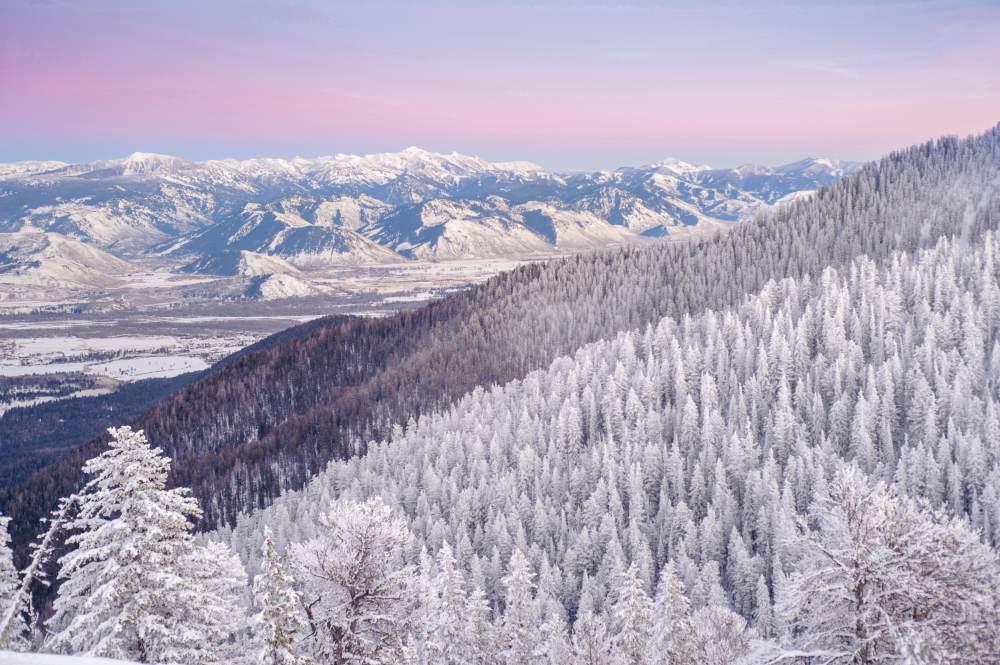 This remote Wyoming resort is cited as the American Chamonix; both are best for seasoned skiers seeking tough terrain and full-on après ski.
Both in geography and in spirit, Jackson Hole is a long way from the USA's mainstream mega-resorts of Colorado and Utah. It's a Wild West magnet for big mountain skiers and boarders who are drawn here for the super-steep in-bounds terrain and huge expanses of extreme backcountry; that and a ride-hard, party-hard lifestyle.
Ski area
This is spread over two principal peaks: the minor Après Vous Mountain to the north and the major Rendezvous Mountain to the west. Après Vous houses most of the intermediate-level terrain, but you'll find plenty of opportunities to progress to ungroomed glades and steeper black-diamond runs. For advanced and expert skiers and riders Rendezvous is the go-to peak. The headline descent here is the notorious Corbet's Couloir; this short but super-steep chute is entered by leaping off a cornice, with cliffs either side plus rocks in the middle of the fall-line. There are also numerous other difficult couloirs, boulder drop-offs, mogul fields, steep and deep powder bowls, plus a vast backcountry.
Off the slopes
Après ski at the friendly base area, Teton Village, is lively and fun, particularly at the Mangy Moose bar, which features regular live music.
Big Sky | Best for cold smoke snow
Resort 2286m Summit 3403m Vertical 1377m Ski area 5750ac Parks 7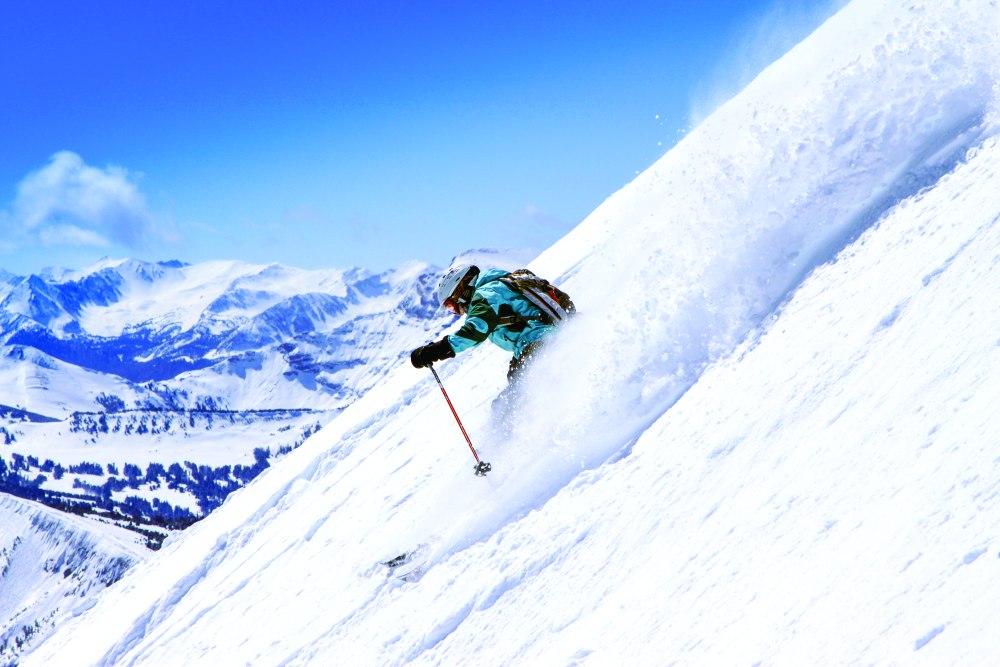 Famous for cold smoke snow, that's so dry you leave a smoking trail, Big Sky is Montana's top
ski resort and one of the best in the USA.
A well-established resort, with snow-sure slopes and a great infrastructure, Big Sky is easily able to compete with the best of North America. Yet come here and you'll get crowd-free slopes, pistes up to six miles long and deep bowls, all buried in over 10 metres of annual average snowfall.
Ski area
From the top of Lone Peak, you can ski 360 degrees, ranging from steep, yet wide-open powder fields, to the Big Couloir, a very steep and long rocksided chute – once in there's no way out other than down. The tree skiing is truly world class, especially on Andesite Mountain, where we heartily recommend the double-black diamond run called Snake Pit. The many groomed green and blue pistes make Big Sky perfect for beginners and intermediates. It's also brilliant if you want to learn to ski powder, as it snows so much here that even the bashed pistes are often knee-deep in fresh snow.
Off the slopes
Big Sky has a large base station and a good choice of eateries and beds. The other option is to stay in Bozeman an hour's drive away. For food, we found the Andiamo Italian very good and not too pricey, and check out either the Bugaboo Café or the Wrap Shack. For a pint head for Choppers Grub and Pud, which boasts over 100 beers.
Telluride | Best for stunning scenery
Resort 2659m Summit 3831m Vertical 1172m Ski area 2000ac Parks 3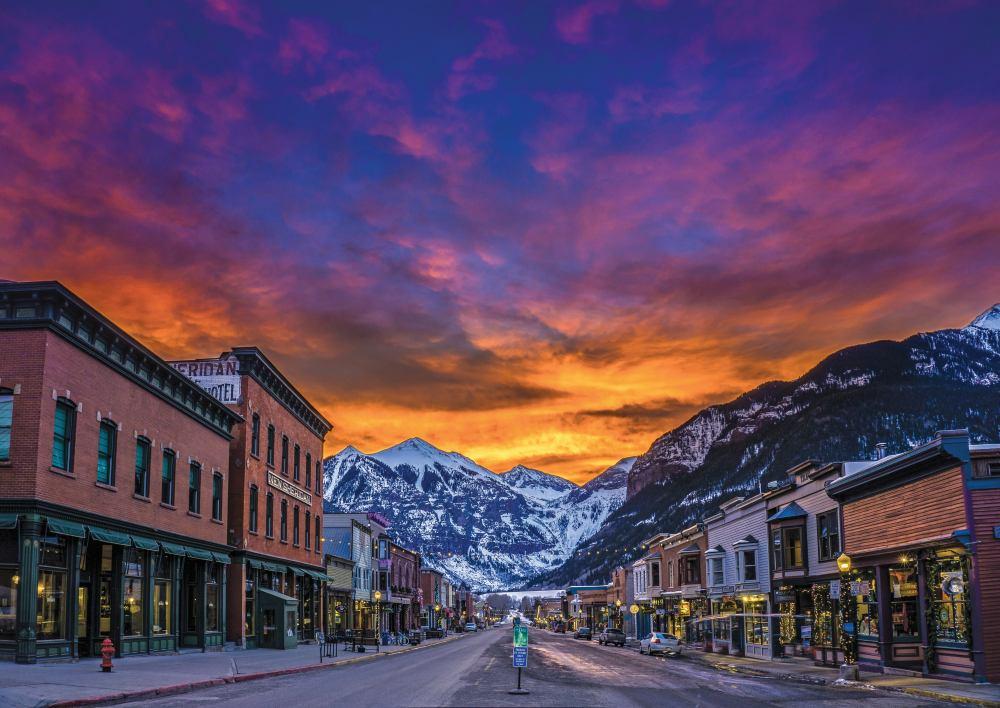 This small but perfectly-formed resort in remote south west Colorado is built above a beautifully renovated old goldrush mining town, and packed with Wild West frontier charm.
Filled with history and with many attractive Victorian-era buildings, Telluride is relatively upmarket yet unpretentious. It's a lovely place to stroll around, and with just enough shops, cafés, bars and restaurants it has a friendly, laid-back ambiance. The town's remoteness means uncrowded slopes and negligible lift queues.
Ski area
This is relatively small but with a good all-round variety of terrain and an ideal layout where novice, intermediate and advanced sectors are safely segregated, yet all within easy reach of one another – perfect for lunchtime meet-ups. Beginners start out on the Meadows nursery area closest to Mountain Village, but can safely access many of the higher slopes too, particularly on novice-friendly Bald Mountain.
Intermediates have all but the toughest terrain to choose from, with many runs below the treeline, while the choicest slopes for experts are the Gold Hill Chutes and the couloirs off the ridge up to Palmyra Peak, all of which are hike-to zones.
Off the slopes
Families will love the snowshoeing, dog-sledding, snowmobiling, horseback riding, horse-drawn sleigh rides and ice climbing. There are also ice rinks in both Mountain Village and Telluride town.
Après ski and nightlife are relaxed, with end-of-day jolliness at base-area bars, but generally more refined and family-friendly than is the case in most mainstream ski resorts. One of the nicest bars is the one at Allred's at Station St Sophia (the mid-station on the gondola from Mountain Village and Telluride town). It has a smart wine bar ambiance and superb views over the town.
Heavenly | Best for Après Ski (with a difference)
Resort 1907m Summit 3060m Vertical 1059m Ski area 4200ac Parks 4

This Lake Tahoe resort is as famous for its glitzy casinos and nightlife as for its huge ski area that straddles the California and Nevada state lines.
Heavenly is a purpose-built city block that creates a snowsports-focused oasis in the midst of the buzzing little city of South Lake Tahoe. As gambling is permitted in Nevada but not in California, you find huge casinos and casino-hotels only on the Nevada side of its Stateline Avenue. Nightlife here is unlike that in any other ski resort, anywhere!
Ski area
We rate the views across Lake Tahoe from the upper slopes at Heavenly as some of the best in the world; the views towards the desert are pretty special too. Pistes flow back and forth between the two states; so you can ski into Nevada for lunch and a flutter on the slots.
Heavenly is just that for intermediates who have their pick of virtually every pisted run and should be able to tackle some of the open glade areas. Plenty for experts too, especially the steep mogul runs down to California Lodge and the double-diamond craggy chutes of the ungroomed Killebrew and Mott Canyons on the Nevada side.
Off the slopes
There are masses of good bars and restaurants in South Lake Tahoe, but the main focus for nightlife is provided by the huge casinos; the MontBleu also hosts Vegas-style shows, with big-name acts.
Park City | Best for mile-munchers
Resort 2103m Summit 3048m Vertical 975m Ski area 3300ac Parks 6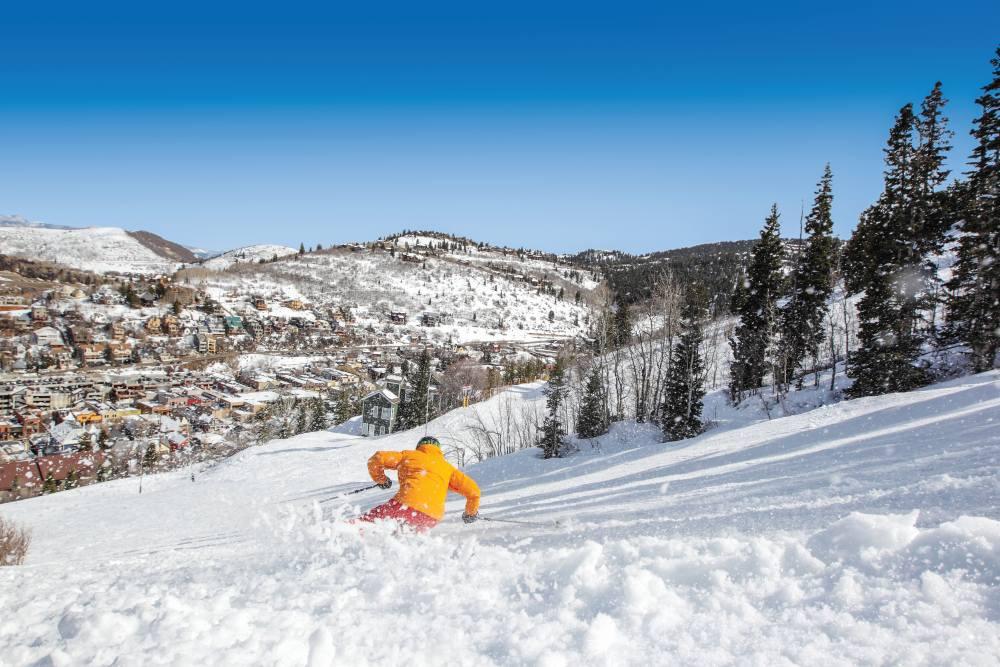 In one of the biggest hook-ups of recent years, Park City and Canyons have joined together to form the USA's largest linked ski area, with more than 300 marked trails.
These two separate resorts under an hour from Salt Lake City have $50m and a new gondola to thank for their wedded status, though of the two Park City is by far the best base for a stay – a one-time ski-mining boom town, its historic Main Street is undeniably quaint. The main slope-side base area and ski lifts are located just off the city's main Park Avenue highway. Canyons' small purpose-built village just doesn't quite match up.
Ski area
The Park City share of the resort is spread over a series of lightly wooded ridges and bowls that stretch back deep into the mountains. It mostly consists of blue and black runs cut into the trees, with the highest and toughest terrain found off the summits of Jupiter Bowl and Jupiter Peak.
Park City also has three cracking terrain parks covering all abilities. King's Crown is the pro-park with the biggest jumps.
Canyons provides the biggest share of the new ski area, with a great range of terrain best suited to keen intermediates and advanced skiers and boarders. Heli-skiing is also available from Red Pine Lodge, offering guided off-piste trips deep into the surrounding Wasatch Range.
It's also worth noting that the Park City slopes literally rub against another – seriously up-market – neighbour, Deer Valley, which is also well worth a visit.
Off the slopes
Après at Canyons is pretty quiet, but Park City's bustling downtown district is just a few steps away from the many shops, cafés, restaurants and bars that line Main Street: the key spots nearest to the lifts are The Brewhouse and Doolan's; music fans check out the Spur Bar.
Silverton | Best for fresh tracks
Resort 3169m Summit 3749m Vertical 579m Ski area 1819ac Parks 0
Silverton Mountain in Colorado is a unique mountain experience, like a cross between heli-skiing, cat-skiing and resort skiing.
There is just one chairlift leading up into a high alpine environment surrounded by amazing lines in every direction. The terrain is entirely for the advanced and expert skier and those who enjoy adventure.
There are no frills: no groomed runs, no cut trails, and absolutely no crowds – most days there are fewer than 80 skiers on the mountain. Sign the waivers and ski at your own risk. You can expect to get in 3-6 runs during a day. Avalanche gear is required at all times.
It's the highest ski area in North America and the steepest. There is no easy way down. The recycled double chair unloads at the top of a beautiful cirque and from there you can hike even higher for extra elevation! You lodge in the town and après is chugging down a few beers at the base-tent.
Vail | Best for intermediates
Resort 2475m Summit 3525m Vertical 1050m Ski area 5289ac Parks 5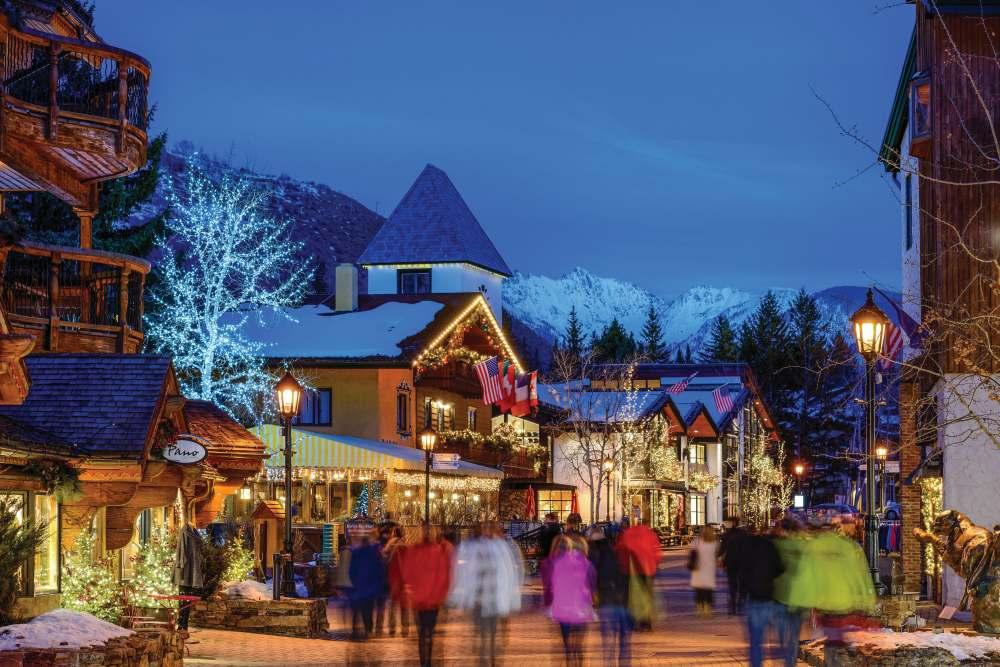 The ski racing capital of North America, this Colorado behemoth is getting even bigger but remains a must-ski for confident intermediates.
In being wholly purpose-built rather than claiming some tenuous link to the 'Old West', Vail differs from many other famous Colorado ski resorts. It has more of an Alpine village feel with its mock-Tirolean pedestrianised village, and its vast ski area gives you a proper feeling of exploring.
Ski area
Vail has great skiing for all levels and it's all on one mountain so you don't need to take shuttle buses – unless you want to use your lift pass at another of the Vail Resorts' ski centres in the area (including upmarket Beaver Creek).
The 47% of easy/intermediate terrain is mostly on wide open trails, often cut through pleasant woodland and forest. Beginners get their own zone as well as long easy runs from the top of the mountain. Intermediates have the biggest single mountain ski area in North America to play on, while the draw for experts are the 'legendary Back Bowls'. Six miles wide, these snowy expanses have dozens of black trails and off-piste routes.
Off the slopes
Kids have their own après hangouts, including 'the Hangout' teen centre. For the rest of us, the choice of night spots cannot be bettered. We suggest Pepi's Bar and Sheika's nightclub. Microbrewery, the Hubcap, is a favourite with locals and visitors.
Breckenridge | Best for mixed-ability groups
Resort 2925m Summit 3962m Vertical 1037m Ski area 2901ac Parks 5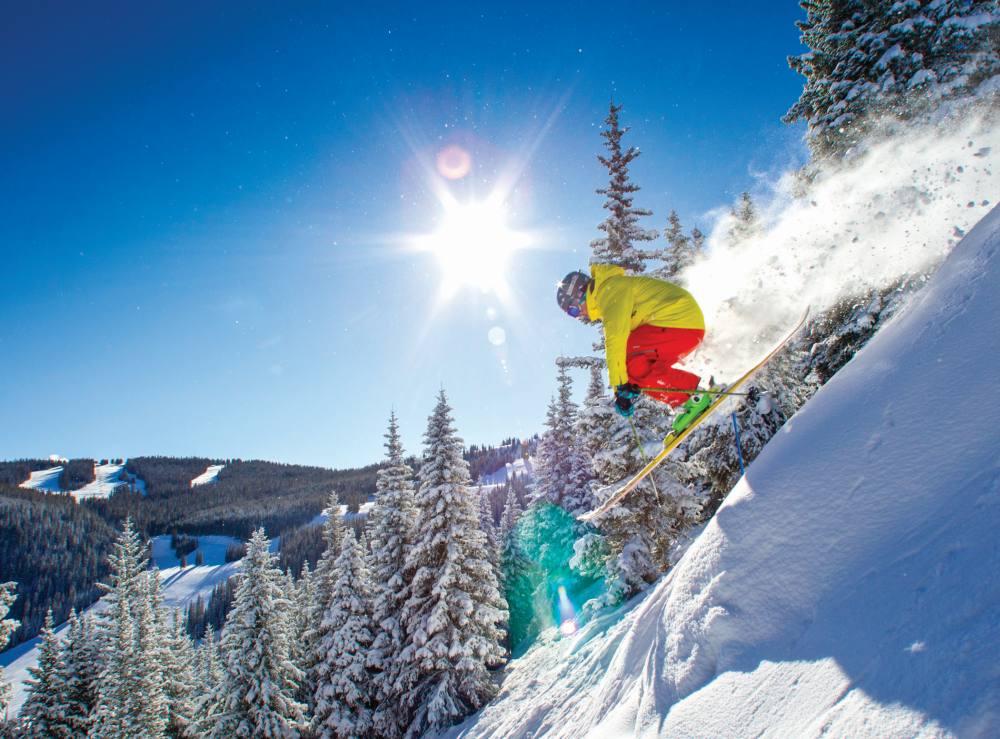 This Colorado resort offers some of the highest and toughest ski terrain in the region, with fantastic slopes for beginners and intermediates.
Breck is high up in the Rocky Mountains, a two-hour drive from Denver. A member of the Vail Resorts Group, it's a sprawling resort but the centre retains a Wild West flavour. It is a very high resort so watch out for mountain sickness. Try to spend a night acclimatising in Denver before you hit the slopes.
Ski area
Breckenridge has a vast amount of skiable terrain in its five peaks (imaginatively numbered 6-10) and there are virtually no queues. Peak 10 is almost exclusively for experts, offering steep pisted runs, ungroomed glades and tough mogul fields. The most challenging in-bounds terrain is spread across the ultra-high summit sectors of Peaks 6, 7 and 8, which are laden with fluffy powder bowls and super-steep chutes.
Intermediates will relish the pistes and glade areas across the lower and mid-mountain of Peaks 7, 8 and 9. Even beginners can eat up the miles on the green runs here. Breck is also one of the best US resorts for boarders: riders flock here, even beginners.
Off the slopes
If you're feeling brave try the 10-mile zipline. Otherwise, it's happy hour at the Maggie or the Motherloaded Tavern. And don't miss the Gold Pan saloon – said to be the oldest bar west of the Mississippi.
Alyeska | Best for heli-skiing
Resort 76m Summit 1200m Vertical 762m Ski area 1610ac Parks 3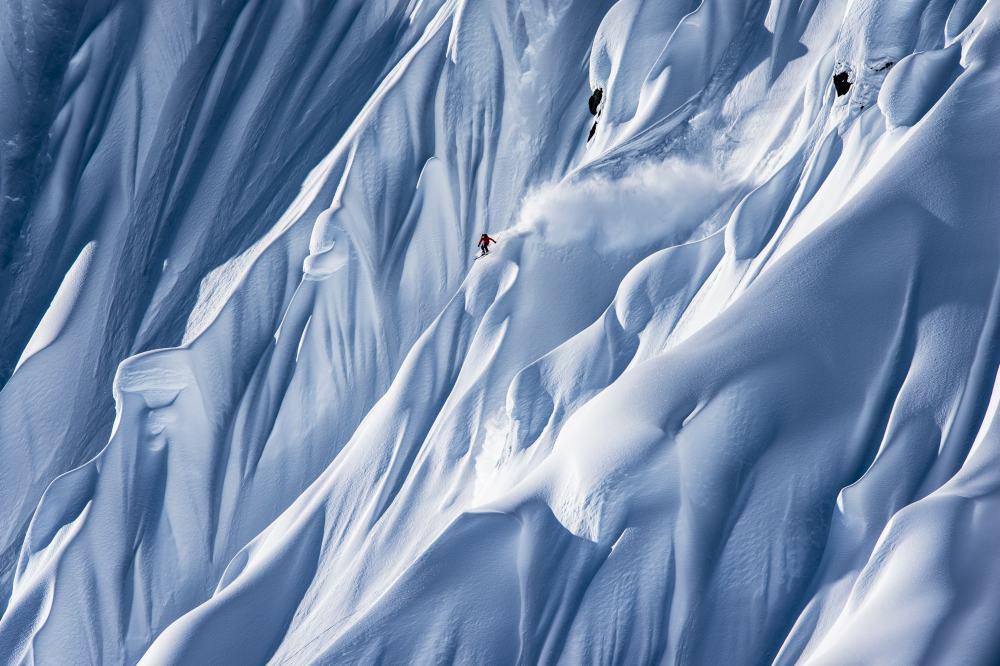 Just 40 miles south of Anchorage, Alyeska is by far the largest of the ski areas in Alaska, which has potentially more skiable terrain than the rest of the US put together.
Tucked away in the quaint town of Girdwood amid the Chugach Mountains on Alaska's south central coast, Alyeska Resort has built its reputation on steep terrain and deep snowpack. (Annual snowfall is around 1,650cm.) Yet despite the almost mythical wilderness appeal of 'skiing Alaska', Alyeska has plenty of less intimidating terrain for intermediates –and the scenery is spectacular.
Ski area
Alyeska has wide ranging terrain including wide open bowls and long top-to-bottom runs that are ideal for intermediates, while tree-lined runs will suit beginners. The fast cruisers among more than 70 runs include Trapline, Main Street, Ego Flats and Klondike. Bump run options are Prospector, South Face and Don's. The steepest on-piste trails are double black diamonds like Lolo's Leap and Gear Jammer. There are 650m vertical of lit night-time terrain – one of the biggest floodlit verticals in the world. Chugach Powder Guides offer snowcat or heli-skiing adventure in the world-famous Chugach Mountains. Their exclusive-use permit area covers miles of mountain terrain with gentle bowls, giant mountain faces, massive glaciers and sheltered tree skiing. A full days heli-skiing guarantees 16,000 vertical feet of skiing/riding with a maximum of 20,000. Oh yes, that's why we love it...
Off the slopes
The main après venue is the Sitzmark, with live music on Friday and Saturday nights. But you must eat at least once at Seven Glaciers. It's at the top of the cable car/tram, and offers stunning views of seven 'hanging' glaciers. And the Alaskan King Crab is phenomenal!