Montana Tree House Retreat, Montana, USA
If you're looking for the ultimate Instagrammable winter ski chalet getaway, look no further. The Montana Treehouse Retreat, just outside the tiny mountain town of Whitefish, is a fairytale-pretty dwelling built around two living trees. It's not one for groups, with just the one double bedroom, but with 500 square feet of living space spread over two floors, there's plenty of space for a couple plus ski gear.
Located at the gateway of the Glacier National Park, the treehouse chalet offers access to an enormous wilderness area, which joins with the Waterton Lakes National Park in Canada to create an enormous 1,766 square mile wild playground. In summer, it's a paradise for hikers, mountain bikers, and adventurers of all stripes. And in winter there's endless terrain to explore if you're into ski touring or splitboarding.
You don't have to be skinning up though - the Treehouse Retreat is a short, 25 minute drive from the lifts of Whitefish Mountain Resort. It's not enormous when compared to the mega-resorts of the Alps, but with 11 chairlifts accessing 93 individually-named runs, there's more than enough to keep you entertained for a week.
Prices for the Treehouse vary, but for most of the winter it's a snip at just £340 per night, or just over £2,000 for a full week. Booking is via AirBnB, where the house rules include "NO SMOKING!"
Price: £2,040 per week. Sleeps 2.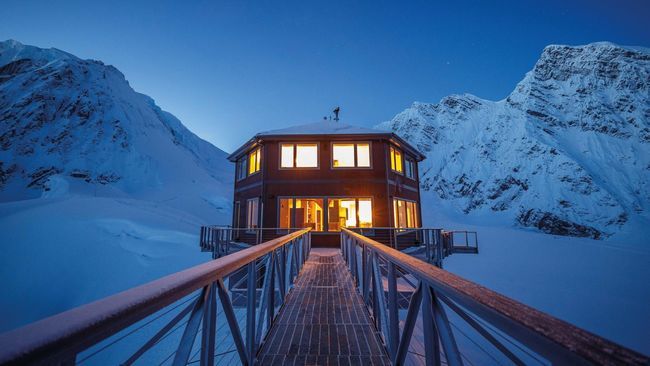 Sheldon Chalet, Alaska, USA
It doesn't get more remote, or much more luxurious, than Alaska's Sheldon Chalet. Accessible only by helicopter, it perches on a ridge just 10 miles from the summit of Denali, North America's tallest and toughest peak. Inside, the chalet is plush and cosy, with gourmet meals on tap. Outside, you can go ski touring on untrodden snow by day and spot the northern lights by night. A remote mountain bothy on the property is also available to book if you're an experienced backcountry skier.
Price: On request, including meals and helicopter transfers. Sleeps 10.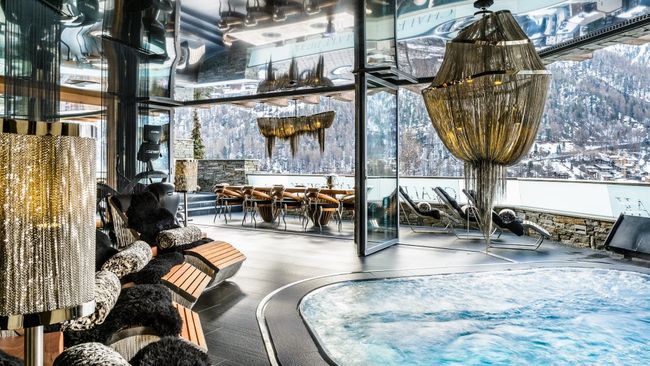 Zermatt Peak, Zermatt, Switzerland
No top ten list of expensive chalets would be complete without at least one in Zermatt. We've chosen Zermatt Peak, and wow, is it flash and over the top.
Built into the edge of a cliff, this chalet has double height, floor to ceiling windows with the glass continuing above and over your head, enabling you to make great use of the highly polished brass binoculars for star gazing. The 13 guests (a maximum of 10 adults) will be cared for by the chef, waiter, chauffeur, masseuse and house maid.
If you can drag yourself away from the 3D cinema, pool, library, gym and hot tub, the skiing in Zermatt, one of Europe's highest resorts, isn't too bad either. As for the lack of après this season, worry not - you'll have a world-class wine cellar at your disposal.
Price: From £43,750 to £84,000 per week.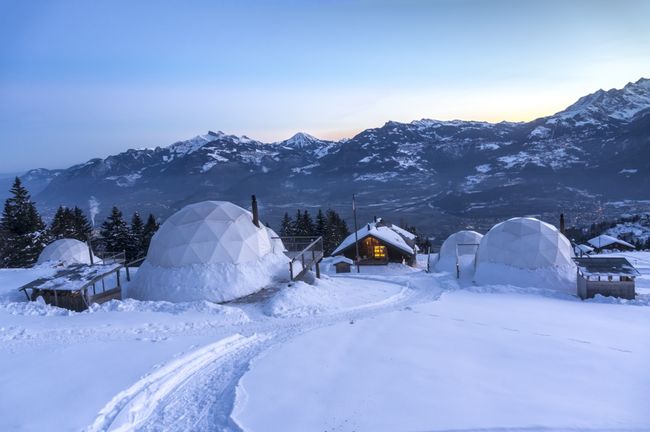 WhitePod Hotel, Valais, Switzerland
Set against the backdrop of the craggy Dents du Midi, with stunning views up the Rhône valley to the distant waters of Lake Geneva, the 15 domes of the WhitePod Hotel couldn't be better situated. Despite each pod having a fully-fitted luxury bathroom and a wood burner, there's still a whiff of adventure to a stay here - how many luxury hotels give you a backpack, map, headlight, snowshoes and walking sticks when you check in?
Your reward for 'roughing it' is the undisturbed tranquillity of the setting – not to mention your very own private ski domain in beautiful Valais. Guests have the exclusive use of two ski lifts, accessing 7km of red and blue slopes.
Price: From £1818 per week, for a 2-person pod.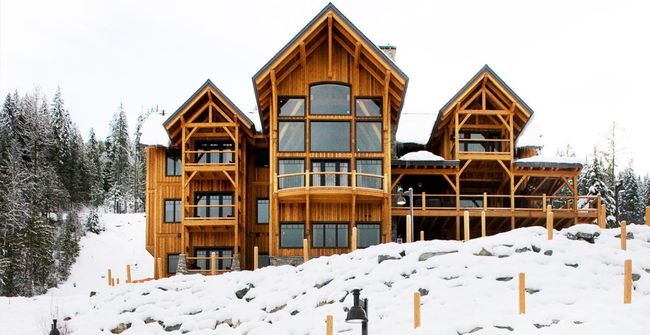 Bighorn, Revelstoke, Canada
Fancy flying into the wilderness from your own private helipad, and spending the day ripping around in nipple-deep BC powder, with just your buddies and a guide for company, before retiring to a lodge that's been voted 'World's Best Ski Chalet' for four years on the trot? Yep, us too.
Unfortunately, we don't have a spare 40 grand burning a hole in our back pocket. But if you do, you and 15 friends could spend a week at Bighorn, Revelstoke - with your own spa, gym, hot tub, pool table, and private cinema. You'll have three local heliski operators to choose from too, offering access to 1,284,000 acres of terrain. So you certainly won't be bored.
Price: From £37,000 to £67,000.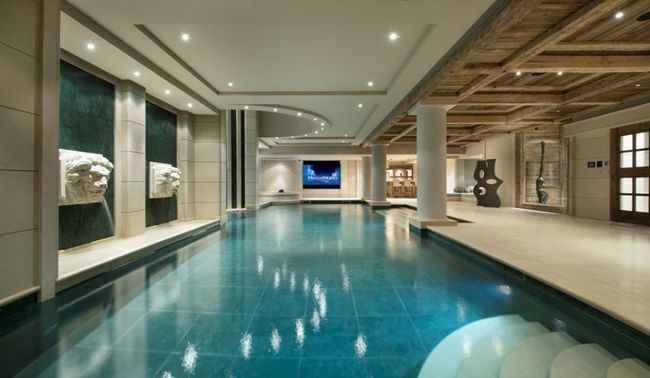 Chalet Edelweiss, Courchevel France
Ten nights just after new year comes in at a mere £450,000, while the February half term week is a bargain at £280,000. So what do you get for splashing the cash in the exclusive resort of Courchevel?
Well, there's an enormous indoor pool, state of the art gym and a private bar/nightclub for starters. Edelweiss sleeps 16, with the two main bedrooms being around 100m² each, and you also get a steam room, snooker table and a lift for your car - you wouldn't want to have to walk up some stairs after parking your car now would you? Oh and did we mention the cinema, massage room and library?
During your stay, you'll be waited on hand and foot, by a chef, a butler, and a driver - who actually costs an extra £50/hr after 10pm. Bizarrely, the price doesn't include food or drink. But then if you're paying this much, what's a few extra grand for some fine wine eh?
Prices from £66-372,000 per week.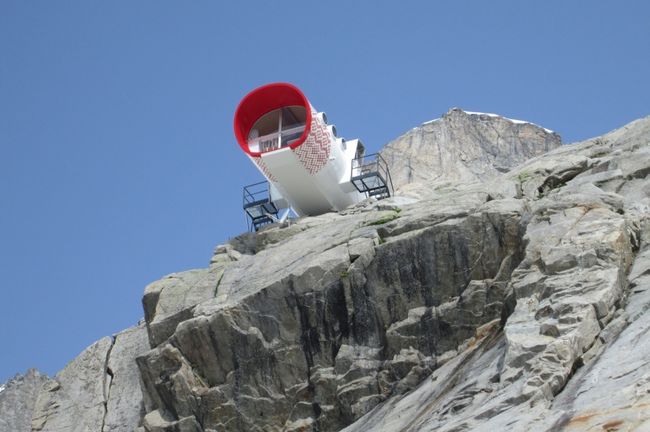 Bivacco Gervasutti, Courmayeur, Italy
Looking for all the world like an abandoned section of airplane fuselage, the Bivacco Gervasutti refuge sticks straight out of the side of Mont Blanc, 2,835m above the Italian resort of Courmayeur. Dedicated to legendary climber Giusto Gervasutti, the Bivacco was designed by a pair of Italian architects, Luca Gentilcore and Stefano Testa, and built in 2011. It replaced a wooden refuge, which had sat on the spot since 1949, and required a production process as futuristic as its design - each section of the cylindrical shelter had to be flown up the cliff face by helicopter.
Accessible only by foot, the refuge comfortably accommodates 12 with solar powered heating, lighting, cooking and even internet access - not to mention one of the most stunning mountain views you'll find anywhere in the world. Best of all, it's free.
Price: Free, although donations towards its upkeep are encouraged.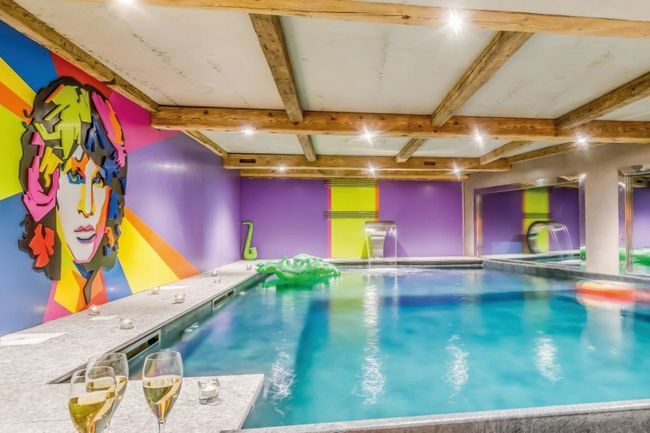 Chalet Rock N Love, Tignes, France
Lovers of both kitsch and the golden age of rock and roll will go nuts for Rock N Love. Bright, bold, and just the right amount of bonkers, the chalet is stuffed with pop art, guitars, Route 66 memorabilia, and features classic song lyrics on its floors.
There's a vintage baby blue Mini fashioned into a pool table in the middle of the sitting room, a massive indoor swimming pool full of inflatables and even a jukebox loaded with tunes. If you ever manage to tear yourself away from your rocking new pad, Tignes' snow-dependable pistes, and epic backcountry ski area are right there on your doorstep.
Price: From £17,000 - 28,000 per week. Sleeps 14.