Free Spirit Spheres treehouses, Vancouver Island, Canada
British Columbia provides some of the best skiing in North America, with the eastern Vancouver Island resort of Mount Washington getting as much as 13 metres of snow during the season. For those chasing extraordinary accommodation off the mountain, less than an hour's drive from its slopes are the three surreal spherical treehouses of Free Spirit Spheres hanging in the pines near Qualicum Beach.
These handcrafted spheres are suspended like giant eyeballs in the coastal rainforest, offering small but perfectly formed living spaces. The three living orbs sleep from two to three (with one small child in a loft bed in the sphere called Eyrn) and are ingeniously kitted out with a versatile living space that moves around depending on whether you're eating, sleeping or just chilling out.
Each sphere has its own separate luxurious fitted washroom, and melody has a beautifully designed and built mushroom-shaped composting toilet.
Price: From £225 per night
Alpen Iglu Village. Kitzbuhel, Austria.
High in the SkiWelt Wilder Kaiser next to the Hochbrixen mountain station in Austria's Kitzbuehel resort you'll find the 18 Individual igloos of the Alpeniglu village. Carved out of packed snow and decked with fur throws and cosy sleeping bags the Alpeniglus are decorated with ice sculptures and carvings, while the restaurant and bar tables are chiselled out of crystal clear ice.
Book the total iglu experience and you can even carve your own ice sculpture and go on a torch-light guided hike under the stars. A unique experience for romantics and adventurers or all ages located in the heart of the SkiWelt Wilder Kaiser.
Price: From £420 per night for 2, including dinner, bedding, ice carving workshop and welcome drink
White Pod Hotel, Valais, Switzerland
With a backdrop of the legendary climbing and hiking destination of the Dents du Midi and stunning views up the Rhone valley to the distant waters of Lake Geneva in the distance, the 15 pods of the WhitePod Hotel are beautifully situated. Despite each pod having a fully fitted luxury bathroom and kitchen, as well as a wood pellet burner and every luxury for your cosy comfort, you still need to be prepared for a bit of rough with the smooth of this luxury glamping destination. For instance, not many 'luxury hotels' give you a backpack, map, headlight, snowshoes and walking sticks when you check in.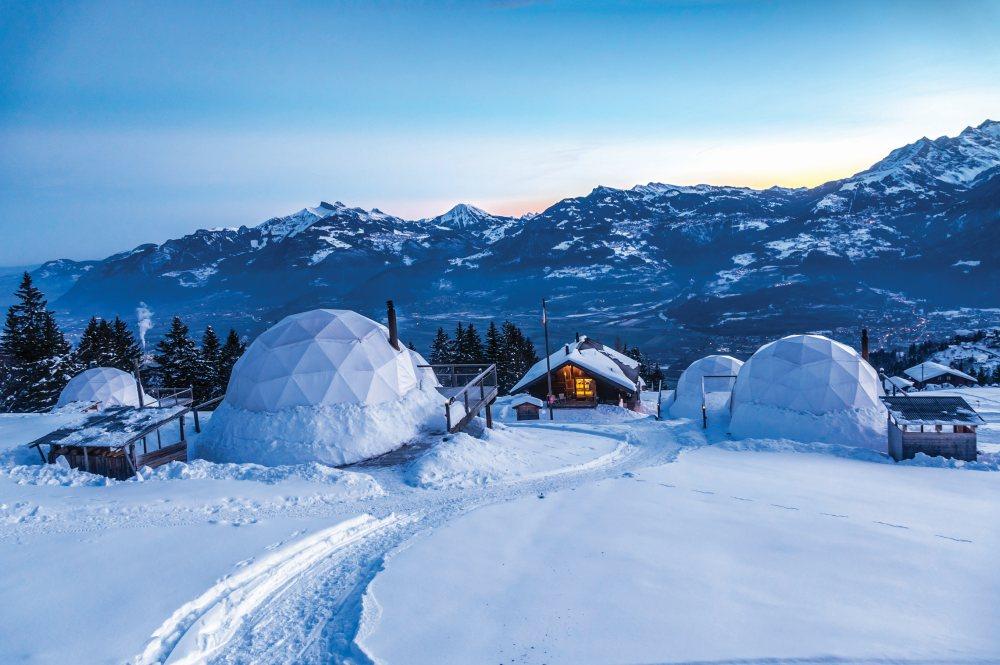 Your reward will be the undisturbed tranquillity that this setting deserves – not to mention your very own private ski domain with exclusive use of two ski lifts and 7km of red and blue slopes. All meals are at the acclaimed Les Cerniers Restaurant just a few minutes walk from the private deck of your pod.
Price: From £303 per night for a 2-person Cosy Pod
The Finnish Barrel, Auverne, France
Just five minutes from the ski resort of Super Lioran in the Massif Central you can enjoy the tranquillity, nature and beautiful landscapes of the Regional Natural Park of Auvergne Volcanoes… and sleep in a 4.5 metre-long Finnish barrel house.
Found on a campsite with other 'quirky' accommodation, such as wooden Lapish Kotas and cabins, as well as a cosy the barrel sleeps two people and has its own dining area, and there's even a cosy finish sauna and a Kota grill house that can seat a party of 12 around its central fire pit grill. Just a few kilometres away Le Lorian ski resort offers 44 mostly intermediate and beginner-friendly runs serviced by 18 ski lifts, 70 percent of which are covered by snow making facilities.
Price: From £34 per night
Nids des Vosges treehouses, Alsace, France
Ideal for an off-resort stay with a difference, the Nids des Vosges (Nests of the Vosges) tree houses are less than 10 kms away from the alpine and cross-country lakeside ski resort of Gerardmer in north eastern France's Alsace region.
Here you'll find individually designed treehouses in the Forest of Vosges in a 'trapper' design, with lapped plank treehouses. Perched over five meters above the undisturbed forest floor, the treehouses are suitable for up to a family of six people, each with its own panoramic terrace high in the Scots pines, to survey the quiet forest during the day or admire the star-filled sky at night.
Whether you tire yourself out with skiing, cross-country skiing, snowkiting or husky sledding, you'll be able to find comfort and even pampering back at the Nids des Vosges, with a range of 'Massages in the Trees' and other health treatments.
Price: £170 for two adults
Click to see the next 5 quirky lodgings!
---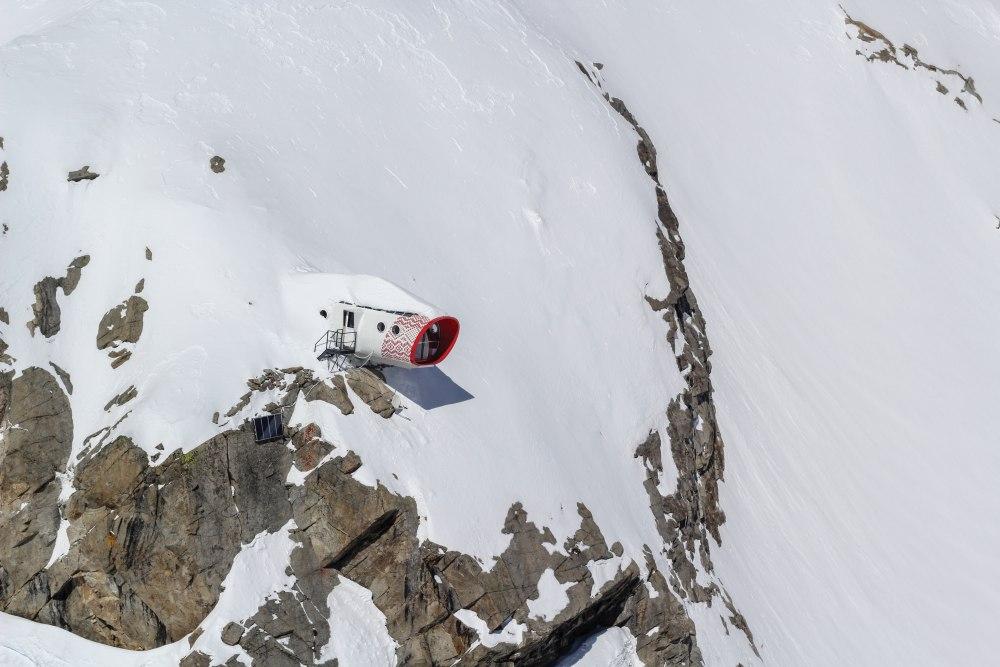 Bivacco Gervassuti refuge, Mont Blanc, Italy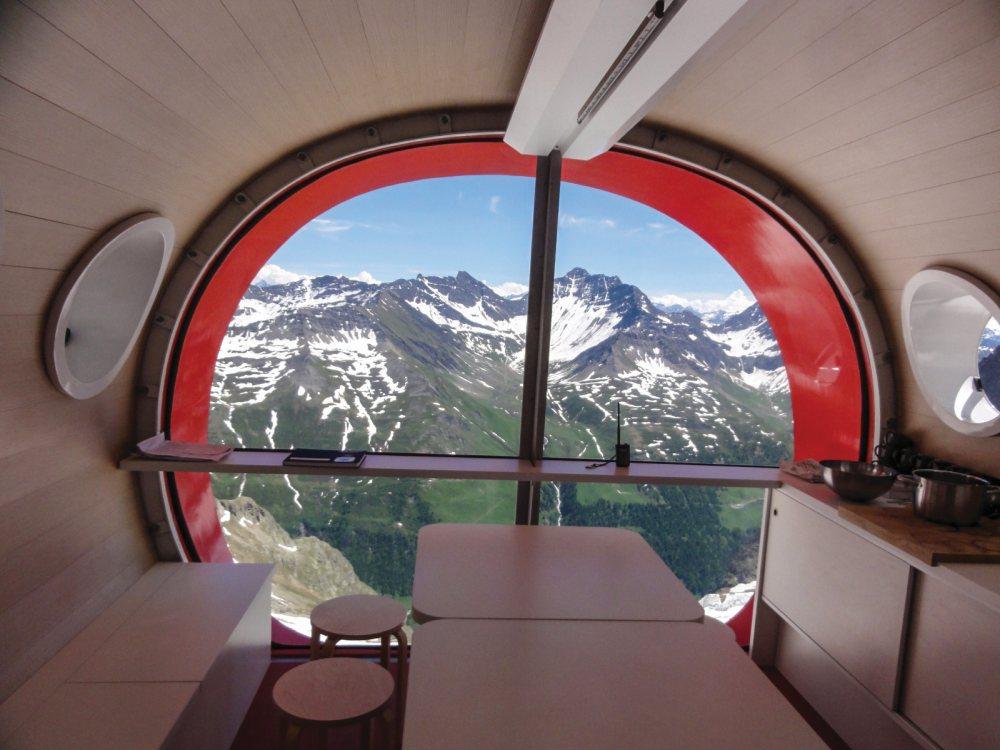 High above the Italian ski resort of Courmayeur, at 2,835m on the southern flank of Western Europe's highest peak Mont Blanc, sits the Bivacco Gervassuti refuge.
Like an abandoned section of aircraft fuselage the cylindrical refuge teeters off a rock overlooking the Val Ferrat and is only accessible to only those who are capable of getting there on foot. Dedicated to legendary Italian climber Giusto Gercasutti, the Bivacco was installed, section by section, in 2011 with the help of helicopters and replaced a wooden refuge which had sat on the spot since 1949.
If you can get there you'll find a free, futuristic shelter which can sleep up to 12, with living and dining areas, two sleeping quarters, solar powered heating, lighting, cooking and even internet access. Not to mention one of the best mountain views in the world.
Price: Free, although donations towards its upkeep are encouraged.
Bell Lake Yurt, Montana, USA
Deep in the heart of Montana's finest back country ski country, and yet 'only' four hours door-to-door from Bozeman airport (believe us, that's good for the Rockies), Montana Adventures' Bell Lake Yurt is the perfect back-to-basics base for guided back country adventures, avalanche and backcountry skills courses.
This place is not just for adrenaline junkies though, as whether you want to lay tracks down wide-open Alpine bowls, glide through beautifully gladed whitebark pine forests or shoot granite-walled couloirs and hanging faces, there is terrain at Bell Lake for everyone.
The 20-foot diameter Bell Lake Yurt itself balances comfort with a close-to-nature experience for up to eight guests, so while you'll have a short snowy walk to the outhouse, inside a woodstove, kitchen area and hot water from the stove's backboiler will ensure you're kept cosy after a hard day on the mountain. Go for a fully catered option and you'll get to enjoy hearty Montana dishes such as bison red curry and elk Bolognese.
Price: From £133 per person per day for fully guided and catered packages

Image: travelita.ch
Felsenhotel La Claustra Rock Hotel, Switzerland
Not for the claustrophobic, as it's buried at an altitude of 2050m inside the mountain itself, La Claustra Hotel in the Swiss Alps is a mountain military fortress converted into a luxury underground hotel and unlike any other hotel in the world. Although bathroom facilities are shared, the hotel only sleeps 30 so you can always book it out with a large group of friends. When it's snowbound in winter, you can only access the hotel by snowplough, then climbing down a six-metre ladder.
Rooms are basic but modern and comfortable, with red carpets running down the corridors hewn out of the mountain, and you'll find a Jacuzzi in its own separate 'cave'. Six-course dinners are served in the glass-fronted restaurant. Just two kilometres away is the town of Sasso San Gorrardo, with its famous (also underground) fortress museum, and the snowsure resort of Andermatt is just 12 km away.
Price: From £580 per night for a standard room
Hotel Jested, Czech Republic
Like a giant Mongolian hat, the Hotel Jested sits at 1,012m on top of the Czech Republic's Jested-Kozakov Ridge near the city of Liberac, in the region of Bohemia. The pointy bit on top is not for decoration but for transmitting television signals across the region with the base underneath it housing an ultra-modern 59-bed hotel and restaurant.
The hotel is the highpoint, literally, of the small, nine-lift Jested ski resort, and can be reached by a short cable car ride directly from the resort base. Every room takes the space-age design ethos inside but you're more likely to be admiring the mountaintop views each one provides for you, with those on the northern side looking deep into Germany and Poland.
Price: From £46 per room, per night
Barin Hotel, Iran
Although not yet quite finished and open, this hotel has to take the biscuit for not only quirkiest ski lodging but also quirkiest location. Iran is one of the hottest new destinations for intrepid travellers any time of the year but it's always had an enthusiastic – if decidedly different – ski scene. Its second biggest resort of Shemshak is only about an hour from the capital Tehran, nestled in the Alborz Mountains at an altitude of 2,500m, and the Barin has to be one of the most exciting looking new hotels there – or indeed anywhere.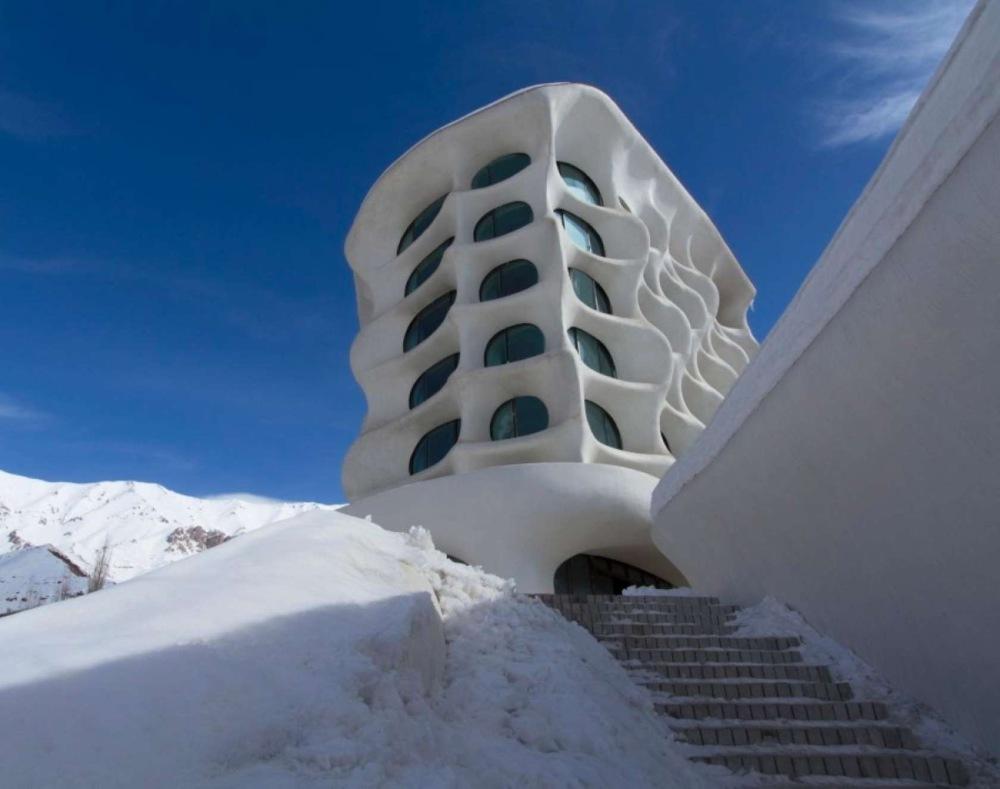 10 storeys high and looking like a giant adobe honeycomb, there isn't a sharp angle to be found anywhere in this futuristic design – neither in the rounded corridors, nor in its 67 organically curved rooms, where the walls, bed, chairs and even ceilings are a all described with compound curves.