In the most exclusive resorts in the Alps, a scattering of super chalets offer money-no-object skiing – costing over £100,000 a pop for a week's stay in peak season, with no mountain too high if you want to make your trip even more spectacular.
Private swimming pools and bottomless champagne come as standard and chalet staff include gourmet chefs, private chauffeurs and a concierge to grant every wish, however weird and wonderful... Fancy a Mexican mountain party with a live mariachi band, Prada-filled piñata, fireworks forming the national flag and jeroboams of your favourite tequila? No problemo!
Introducing ten of the most expensive ski chalets. Secure a spot on the rich list and here's where you could stay…
Truffe Blanche, Verbier, Switzerland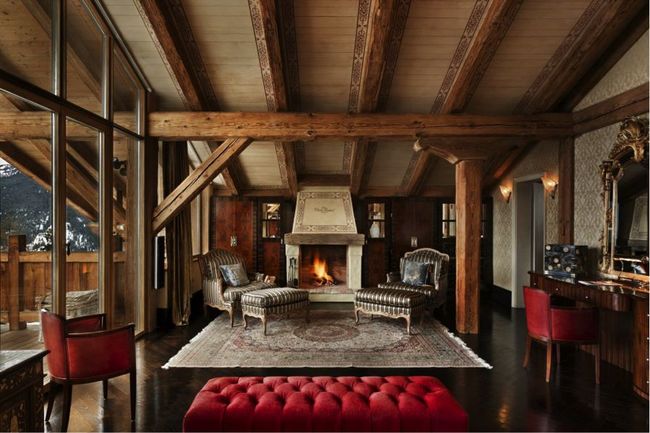 You'd be forgiven for thinking this chalet is a boutique hotel because when it comes to interiors, Truffe Blanche is spectacular. While most chalets are all timber and neutral tones, this one mixes your usual mountain materials with 17th-century style furnishings, decadent Italian silk wallpaper, elaborate wood carvings, huge antique art pieces and an art deco library.
There's a spa floor with a hammam, sauna and stunning onyx swimming pool, finished off with grand pillars, ornate railings… And that modern chalet spa essential, a vodka bar.
There's also an entertainment floor with a cinema, billiard room, grand piano, sushi bar… And a private nightclub with DJ set and karaoke.
Price: CHF 185,000 for 7-nights based on the week starting 29/12/18, sleeps 18
Extravagant extra: Fly in a world class DJ like Guetta or Garrix to work their magic in the nightclub.
Chalet Les Anges, Zermatt, Switzerland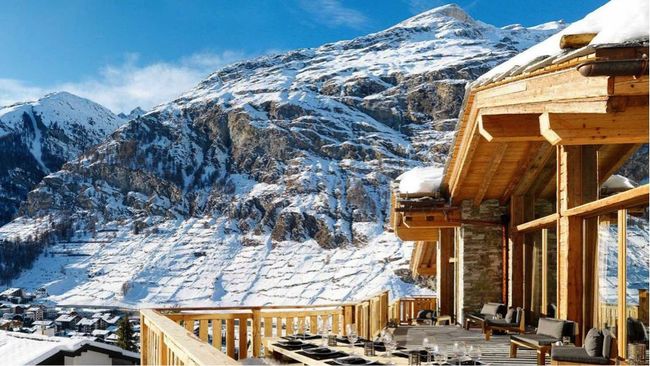 An award-winningly idyllic retreat, Les Anges holds title of the World Ski Awards 'World's Best Ski Chalet 2017'.
Its three, lift-served floors feature reclaimed timber and picture windows looking out over Zermatt, with six out of the seven bedrooms having Matterhorn views.
The living room is contemporary, calming and cosy with a crackling open fire and – the latest chalet must-have - a grand piano. An incredible indoor spa includes a sauna, steam room, massage room and relaxation area decked in cool marble.
If you venture outdoors, you'll find a black granite power jet plunge pool. On a clear night it'll give you the swim of a lifetime under starry skies.
Price: CHF 185,000 for 7-nights based on the week starting 29/12/18, sleeps 14
Extravagant extra: Take a private helicopter flight around the Matterhorn and, for the ultimate ski experience while you're at it, bring a mountain guide and arrange a heli drop on a deserted mountainside.
Marco Polo, Val d'Isere, France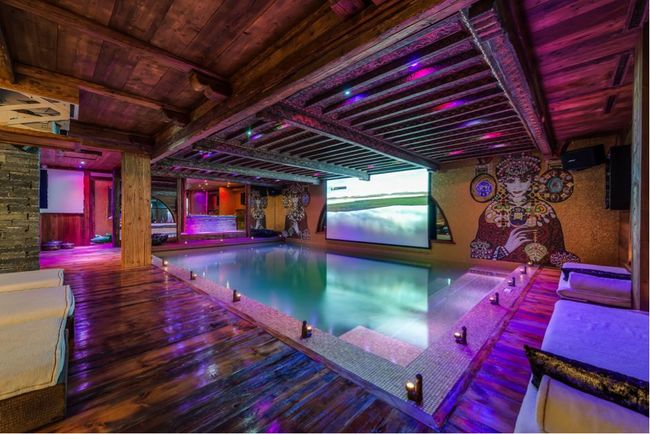 Marco Polo has won the World Ski Awards prize for 'France's Best Ski Chalet' on numerous occasions, and if there was an award for most awesome chalet facilities we're positive it would get that too. One of the biggest chalets in the Alps, it offers two bars, a wine cave, a fromagerie and a decadent dining room (there are also al-fresco and subterranean dining areas if guests fancy a change of scene…). And that's just the food and wine side of things!
The first floor is a relaxation zone, with essentials like a Jacuzzi, hammam and a jet stream pool (tiled in 24-carat gold leaf, with a drop-down projector screen). There are treatment and massage rooms where the chalet's in-house therapist can provide all sorts of wellness rituals whenever guests demand them. If you fancy a pool party, the area also has lasers, smoke machines and a DJ booth.
Then there's the basement floor which is focused on fun – besides a pool table and darts board, it has a biathlon laser shooting game and an über cool racing track (kind of like a supercharged Scalextric). There's a gym here too (if you find working out fun…) and an indoor garden.
Price: EUR 122,700 for 7-nights based on the week beginning 02/01/18, sleeps 10 adults & 4 children
Extravagant extra: Get the concierge to arrange a cheese and wine tasting, have the chalet totally transformed for a jungle/beach/any other themed party, whatever you can dream of… The key here is that there's nothing off limits (unless it's illegal!).
No 14, Verbier, Switzerland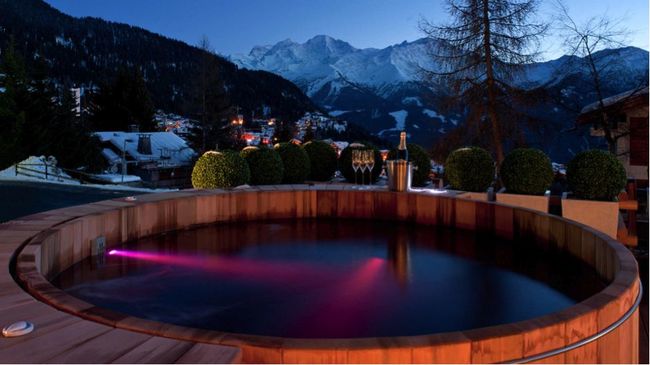 Formerly a hotel, this mega chalet is Verbier's biggest by room numbers (13 bedrooms sleep 26 guests, with the master boasting its own cedar hot-tub). Westminster-based Fiona Barratt took charge of the design here, which is all cool whites and greys with bespoke soft furnishings.
This supersized, super-stylish chalet has no limits when it comes to lavish facilities: hot-tubs, spa treatment rooms, a plunge pool, hammam and 10 metre indoor swimming pool, as well as a cinema.
It's the perfect find for foodies – the chalet chefs have experience in 1 and 2-starred Michelin kitchens and will cook up whatever feasts guests desire.
Price: CHF 180,000 for 7-nights based on the week starting 30/12/18, sleeps 26
Extravagant extra: Book Lyndsey Vonn, Bode Miller or Verbier local and instructor to the stars Warren Smith as a world-class skiing companion.
Shemshak Lodge, Courchevel, France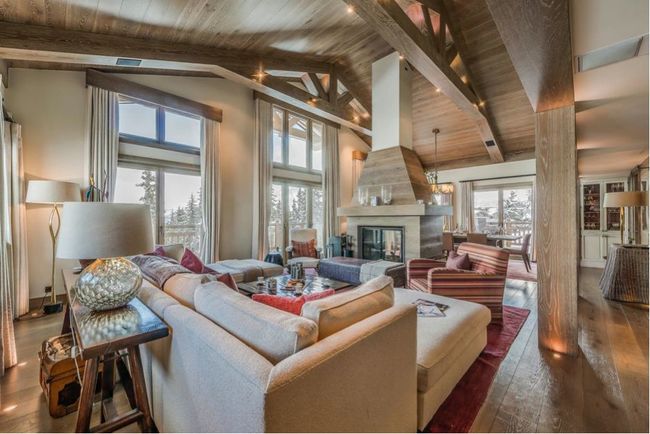 Shemshak offers the height of chalet chic in the ever exclusive Courchevel 1850. The ski in, ski out property has been decorated by Chelsea based designers Todhunter Earle - white-walled with huge picture windows, it's light, airy and effortlessly elegant.
Naturally there's a swimming pool – which is heated and belongs to a whole wellness floor featuring a sauna, hammam, massage room and hot-tub looking out to the peaks.
Young guests are treated like royals (and may well actually be royals!), with a cool bunk room for slope-side sleepovers and slipper socks, teddy bears and specialist toiletries provided for each child.
Stays in Shemshak include a team of talented staff who'll take care of everything from providing fresh flowers to organising a professional, personalised firework display. Your chalet chef will serve whatever you want for breakfast and afternoon tea as well as sumptuous suppers (with canapés and paired wines) on six days of the week. Perrier-Jouët Champagne is free-flowing and there's an unlimited open bar.
Price: EUR 149,900 for 7-nights based on the week starting 26/12/18. Sleeps 8 adults & 5 children
Extravagant extra: Fly into Courchevel Altiport by private jet.
Alpine Estate, Verbier, Switzerland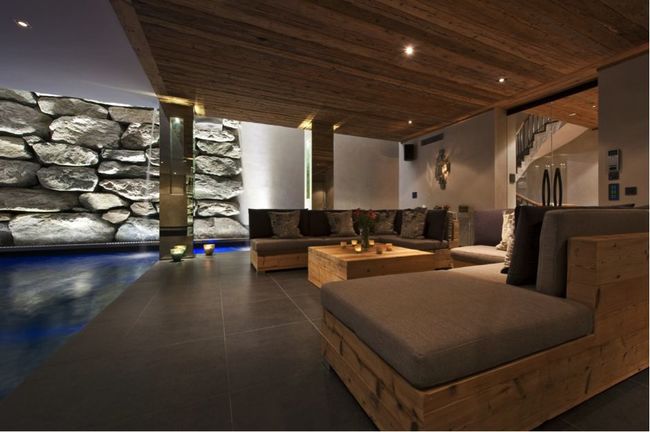 Wondering what could possibly beat an exclusive Verbier chalet? Two exclusive Verbier chalets! The Alpine Estate features courtyard-connected properties, the Norte (sleeping 10 adults and 2 children) and the Sirocco (sleeping 8 adults) as well as a separate chalet that serves as staff quarters.
In an elevated location peering over Verbier and the surrounding peaks, you can book the chalets separately or secure the whole grand Estate which feels like a private ski resort.
Indoors, original oil paintings meet modern art installations and seating ranges from sofas and armchairs to beanbags and futuristic hanging bubbles. Totalling two state of the art indoor swimming pools, two cinema rooms, two bars and two wine cellars, the Estate also has indoor and outdoor hot-tubs and a fitness suite.
Price: Chalet Norte - CHF 186,100, Chalet Sirocco - CHF 118,700. Whole Alpine Estate - CHF 295,900, sleeps 18 adults, 2 children. Prices are for 7-nights based on the week starting 27/12/17
Extravagant extra: Get your hosts to arrange in house ski fittings, private guides and après ski entertainment (like a master mixologist and live band) to make the Estate feel even more like your own ski resort.
Chalet Maurice, Zermatt, Switzerland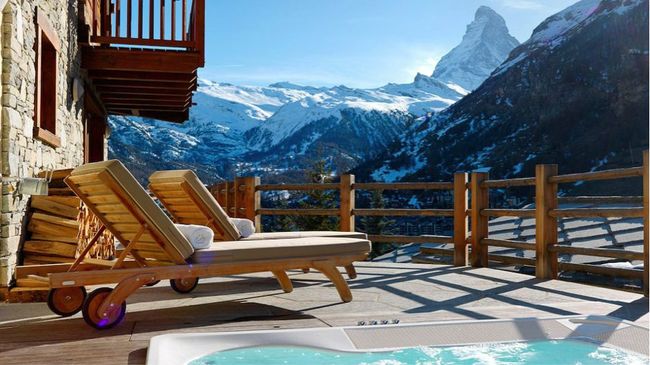 Maurice is a free-standing chalet perched on the mountainside above Zermatt. Its breathtaking views of the Matterhorn alone make this one of the coolest chalets in the Alps. And there's the fact that it's reached by its own private funicular.
A fine feat of alpine architecture, there are south facing balconies on all floors and the top floor is dedicated to the Master suite with its vaulted ceiling and open fire. Light wood and dark slate are found throughout, and to ease aching limbs, wellness facilities include a sauna, massage room and outdoor Jacuzzi.
Michelin-standard meals are made with fresh, regional and organic produce by accomplished chefs, who will create 1-7 course menus tailored to your taste. Premium drinks like Perrier Jouët champagne, local Zermatt Bier and Swiss house wines are available at all times. There are countless little touches, including the ski pack of hand warmers, sun cream, homemade snacks and the gifts left on your pillow after turndown.
Price: CHF 142,000 for 7-nights, based on the week beginning 29/12/18, sleeps 12
Extravagant extra: Employ a massage therapist, physio or osteopath (or why not all three?) for the week to make the most of the massage rooms.
überHaus, Oberlech, Austria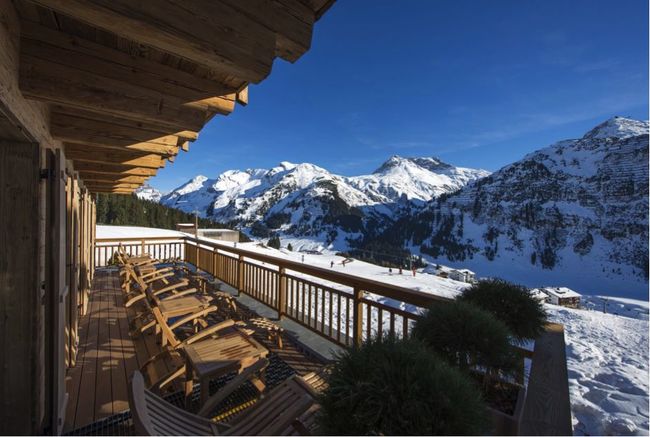 Switzerland and France have long held the market share for luxury chalets, but Austria's edging its way in. Chalet überHaus - up in the satellite village of Oberlech above Lech - is a perfect example.
Kitted out with an outdoor hot tub, sauna, gym and massage and treatment room – with robes and slippers given for guests to lounge around in, this one's wellness offerings are exemplary.
There's a wine cave and library, and you'll also find a bar with a full-size snooker table and a cinema room with sofas so squishy you'll struggle to budge from them… Until you remember the property is ski in, ski out in the magnificent Arlberg area.
Price: EUR 134,500 for 7-nights based on the week beginning 27/12/18, sleeps 10
Extravagant extra: If you're too famous to face public restaurants on the hosts day off, fly in a Michelin starred chef to prepare an unforgettable banquet (one of the luxury add-ons available when you book through SNO).
Alpaca, Meribel, France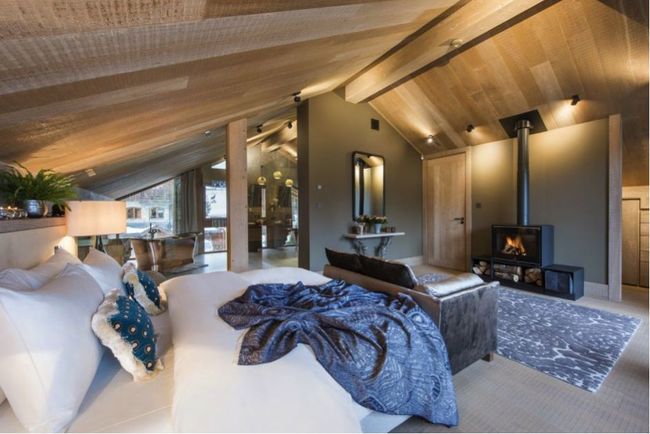 New to Meribel in 2017, Alpaca has immediately become one of the swankiest chalets in the Three Valleys.
Before you step inside, there's a heated infinity pool, copper hot-tub, huge terrace and south facing garden with stunning mountain views.
Indoors, you're greeted by so many facilities you'll soon forget the outdoors exists: an interconnecting games room and cinema. An indoor climbing room. A spa with a sauna, hammam and massage room. A gym. A wine cave. A library with a crackling log fire… A master suite with a designer copper bath that looks out to Saulire, a wood burner, AND rain shower you could probably fit another bed in.
Price: EUR 102,000 for 7-nights based on the week beginning 27/12/18, sleeps 12 adults & 2 children
Extravagant extra: If you're travelling with your children, have an exclusive family photo shoot in the chalet garden like the royals did.
Chalet Makini, Verbier, Switzerland
A chalet of stone, wood and glass, Makini is the epitome of modern alpine chic occupying a ski-in, ski-out position in Verbier's Hameau enclave.
The spacious living area is home to an 18th-century stone fireplace, one of many antique features throughout the chalet which is decorated with art pieces, glittering chandeliers and intriguing old chests.
Double height windows give unbeatable views over L'Hammeau lake with its famous black swans. Guests can relax in one of Verbier's biggest private spas which is separate from the main building – a pamper oasis with a heated pool, hammam, sauna, massage rooms and gym.
Price: CHF 170,000 for 7-nights, based on the week beginning 27/12/18, sleeps 10 adults & 1 child
Extravagant extra: Hire a private yoga instructor to provide daily pre and post ski sessions in the fitness suite.