What is ski touring and split-boarding?
At its most basic, ski touring is attaching skins to the bottom of your skis or split-board (the touring version of a snowboard), and 'skinning' up a mountainside with the intention to ski back down again. For some it's more than that: a way of travelling through high mountain terrain on a multiple-day journey, with the downhill part being secondary to the journey itself.
So why forgo lifts, and choose to hike uphill with your skis on?
A lust for fitness could be one answer, or a desire to ski fresh powder could be another - and is the main reason for some people. But if you ask most people who go ski touring why they do it, they will tell you that it's the whole mountain experience that grips them; the escapism and isolation that only travelling within a small group, well away from the lifts, pistes and crowds of a ski resort can bring. There's also that self-satisfied internal glow of knowing that you've earned your turns the hard way!
Do you need to be super fit?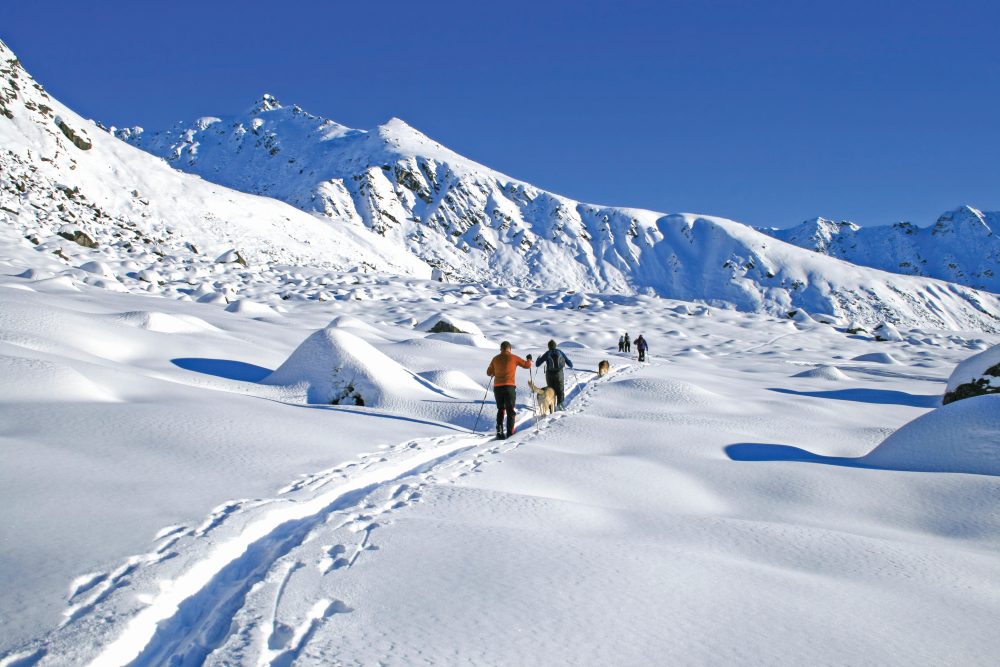 You don't have to be super fit, as touring is only slightly harder than going for a hike at altitude. In fact, many ski tours will start in a ski resort and use the lift system to gain most of the altitude, before skinning into the nearby off-piste (slack country) areas.
Do I need to be able to ski off piste well?
While you don't have to be super fit, you do need to be able to ski/snowboard off-piste in both good and bad snow conditions and poor light. There's little point in climbing a mountain on skis if you can't ski back down it, and if that's the case, then you must first take off piste lessons.
Is it safe?
Traveling in the mountains always comes with risks. But the risk can be minimised by wearing an avalanche transceiver and carrying full back country safety kit (and knowing how to use it - see Snow Magazines's avalanche advice feature), alongside making appropriate route planning based on the terrain, and the weather. If at all in doubt, travel with a guide - and always seek local avalanche advice before setting out.
GET THE GEAR
Split-board
This is a snowboard which splits in half, lengthways, and can be used as a set of skis when climbing up hill and converted back into a snowboard when it's time to come back down. Most don't perform as well as a standard snowboard on piste, but are fine when descending through powder.
Touring skis
Any skis can be fitted with touring bindings, but most people choose to use specific touring skis which are lightweight and not too wide underfoot. Wide, heavy skis make for hard work when climbing, but are more fun on the way down, so it's a compromise.
Touring bindings
Special bindings are needed when touring. They hinge on the ski at the toe, allowing your heel to lift as you stride when ascending. The bindings will lock flat to the ski, in the same way they would on a downhill ski.
On a split-board you'll find normal snowboard bindings: these are used normally when descending in snowboard mode, then taken off and reattached in the centre of each ski, when the board is split in half lengthways to form skis.
Skins
These are called 'skins' after the original material that was used - seal skin. Skins are a piece of fabric that is stuck to the bottom of your skis or split-board for ascending. The side of the skin which is in contact with the snow is smooth when rubbed one way, but rough and grippy when rubbed the other - thus allowing you to slide the skis smoothly forward when climbing, and yet grip the snow, rather than letting you slide backwards.
Crampons
Ski boot compatible crampons are worn when climbing directly up steep icy slopes, or when hiking through icy rocky areas where there's no or little snow.
Crampons fit over the sole of your boots, and are fixed around the ankle and top of foot by self-locking straps. They have large spikes that stick directly into the ground underfoot, and protrude slightly at the toe.
Ski crampons
These fit onto the bottom of your binding, and only have teeth on either side of your boots. They are wide enough to wear while you still have your skis on. Used while skinning up on particularly steep and icy slopes, when your skins don't have enough grip alone.
Ice Axe
An ice axe is used when wearing crampons, as one would use a hiking pole. If you fall over and start to slide downhill, you use the ice axe to self-arrest your fall (not to be confused with ice climbing axes, which are short handled tools for climbing vertical ice).
Ski touring courses for beginners and experts alike
Ski Touring
Mountain Tracks offers a whole range of courses, from introductory through to advanced courses.
mountaintracks.co.uk
The Ski Club of Great Britain offers holidays and courses for all levels of ski tourers to their members.
skiclub.co.uk
Splitboarding
Rude Chalets run splitboarding introduction weeks, including hire kit, guiding, instruction, accommodation and transfers, for £1399
rudechalets.com
McNab Snowboarding offers excellent 5-day introduction courses, with a high emphasis on back-country safety and rescue techniques for £1235 – instruction and equipment only.
mcnabsnowboarding.com