What could be better than a huge mountain with a phenomenal snow record? How about one which is almost always deserted and has a massive vertical? Well, welcome to Revelstoke Mountain Resort which, lying deep within British Colombia's interior, delivers on all the things that make an ideal ski mountain.
Revelstoke ski resort has always been a great mountain to ski - if you had a helicopter, or didn't mind hiking. It holds the record for the most snowfall in Canada in a single winter at 80 feet or a whopping 2,438 cm, and the resort's slopes are blanketed in an average of 10.5 metres of powder every winter.
When it comes down to it, that legendary powder is one of the three main reasons why Revelstoke has acquired an almost mythical status among big mountain skiers: the other being its epic terrain and its small-town vibe.
Revelstoke gets a fraction of the skiers that Whistler gets, presumably because of its isolated location, and yet it has a vast ski area for you to explore.
The downside is that Revelstoke, Canada, is not easy to get to. The nearest international airport is four and a half hours away at Calgary, though two domestic airports, Kelowna and Kamloops are around 2-2.5 hours away. You can get the Canadian Pacific Railway to Revelstoke from Vancouver, but it takes eight hours.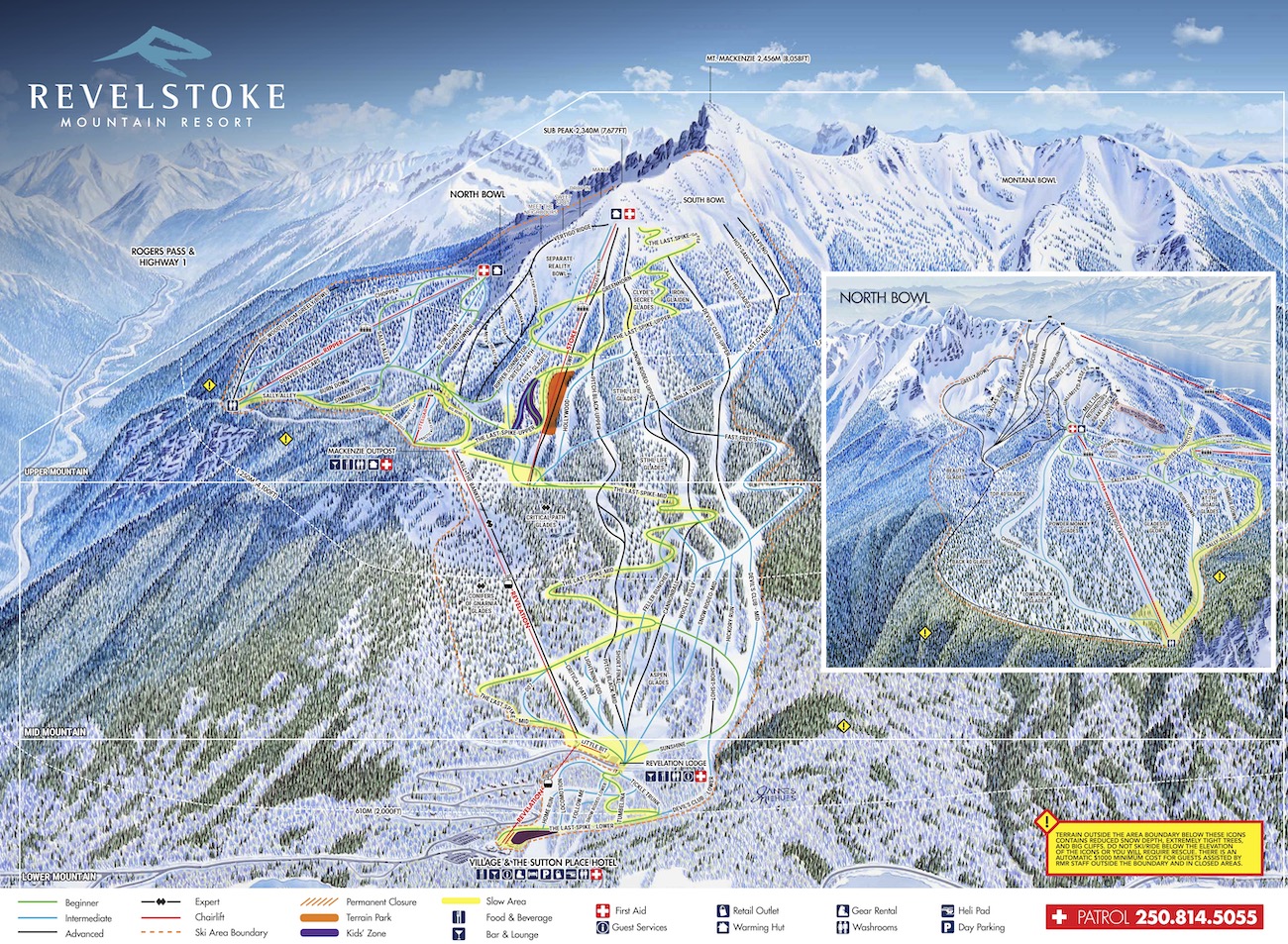 Revelstoke - Ski Map & Pistes:
Revelstoke ski resort has the longest vertical in North America - 1713m - and a whopping great big 3,121 acres of skiable terrain.
The piste skiing here is aimed at the strong intermediate and advanced skier. Beginners are catered for with some well-groomed blues, but with only 7% of the mountain graded as beginner, you can see what we mean.
There are some perfect groomers for intermediates to tackle at speed, with most of the pistes winding their way down through the legendary trees of British Columbia, and with the trees beautifully laden with snow, it would be a shame not to get in amongst them.
Now with all this mountain on offer, you'd expect a large lift system, but no; not here. There are just 3 lifts of note, a long gondola from the base station which then links up - via an easy ski- with two chairs that are perfectly placed to open up this great mountain. If the resort were ever to get busy then the lack of lifts would be a problem, but you'll be very unlucky to ever have to queue at Revelstoke mountain resorts.
Revelstoke - Off-Piste, Backcountry & Ski Touring:
The best of all the Revelstoke stats is that it only has 65 pistes, so those who love what we in Europe would call off-piste, have quite literally miles and miles of the stuff. Revelstoke's world is your oyster.
The tree skiing here is truly world-class, and with an annual snowfall of between 9-14 meters, once you've mastered your turns through them you won't be back on the pistes again. If you've never skied in trees then don't worry, as you can take one of the Cat/Heli prep days, which will help no end.
Another truly excellent part of Revelstoke's mountain is the nearby cat-skiing. A large bowl directly adjacent to the inbound terrain is set aside for the exclusive use of Revelstoke's cat-skiing operation and we're not joking when we say it's probably the best cat-skiing operation on the planet.
First, there's no long drive in, as you use the lifts to gain height and simply duck the rope to meet your cat. The terrain on offer is varied as most runs start with a wide-open powder face before heading into the trees for some shredding. The return drives are long enough for you to be fit and raring to go again, but not so long to make you chomp at the bit. Be warned though - 80% of the cat days are often booked up by Dec 1st.
If the cat-skiing isn't hardcore enough for you, then let the helicopters of Selkirk Tangiers whisk you up to the mountain tops from nearby Rogers Pass for an epic day of powder adventure.
Revelstoke - Restaurants, Bars & The Town:
The ski resort itself has some luxury condo accommodation - the Sutton Place Hotel - a wine bar and a good sports bar, the Rockford Wok, which has a good selection of local beer and serves up some great Asian food.
The town of Revelstoke, about a 15 min drive from the resort, has more to offer with lots of local bars, good eateries, and the Revelstoke Railway Museum. However, we think that chilling out is the best option here, as it would be a waste of such amazing skiing to go out and have a skin full of ale, and not be on top form the next day.
If you really want to party then you could try the Burner Bar and Grill, a restaurant with a bar built in a sawmill waste burner. If you're feeling a little homesick, try the Last Drop Pub, which offers real British fares such as bangers and mash.
Revelstoke - Ski Hire:
For convenient slopeside ski hire in Revelstoke, look no further than the Revelstoke Mountain Resort's own Ski and Snowboard Rental. Alternatives in town include Revelstoke Powder Rentals and The Wax Bench.
Revelstoke - Ski School:
If you want to learn to ski in Revelstoke, or more pertinently learn how to tackle the powder, the Revelstoke Mountain Resort Snow School has everything covered from first steps to backcountry guides.
// HIGHLIGHTS //
Airport
Kelowna (2hrs)
Kamloops (2hrs 30)
Calgary (4hrs 30)
beginner
intermediate
expert
// USEFUL LINKS //
Tourism and Ski Area