Situated above the British Columbia railway town of Golden, Kicking Horse is loved equally by the extreme powder hounds - for its gnarly chutes - and by foodies, for Canada's most elevated dining experience at the Eagle Eye Restaurant.
Kicking Horse Mountain Resort, to give it its official full name, has a justified reputation for being a bit hard core and its many double black diamond chutes and bowls can give over-cocky skiers a good kicking. Its stats include 45% black runs and 15% double-black diamond runs, although some of the single black diamonds would stand as double blacks elsewhere.
It's fair to say the Horse is a bit on the isolated side; it's right in the heart of British Colombia's powder highway, about 150km west of Banff. If driving from Calgary, you will need to drive past many well-known, and excellent, resorts to get here, but that just makes it all the more special for those who put in the effort to drive just that little bit further (2.5 hours plus from Calgary airport).
The resort's base, a little charmless when compared to European Alpine resorts, has a central dining base station, a bar, a few tall condo units and some smaller private chalets. But it's not the resort's base you come here for; it's the excellent and varied terrain, the 1,315m of vertical - one of the biggest in North America - and the legendary BC snow (750cm seasonal average).
Kicking Horse - Ski Map & Pistes:
Kicking Horse consists of three huge bowls, which are divided by long spine-like ridges. The piste skiing here, while very good and well maintained, winding through the trees and adding up to 128 named runs totalling some 40 percent of the resort's 2,800 acres of terrain, is not really why you would choose Kicking Horse over some of the other powder highway resorts.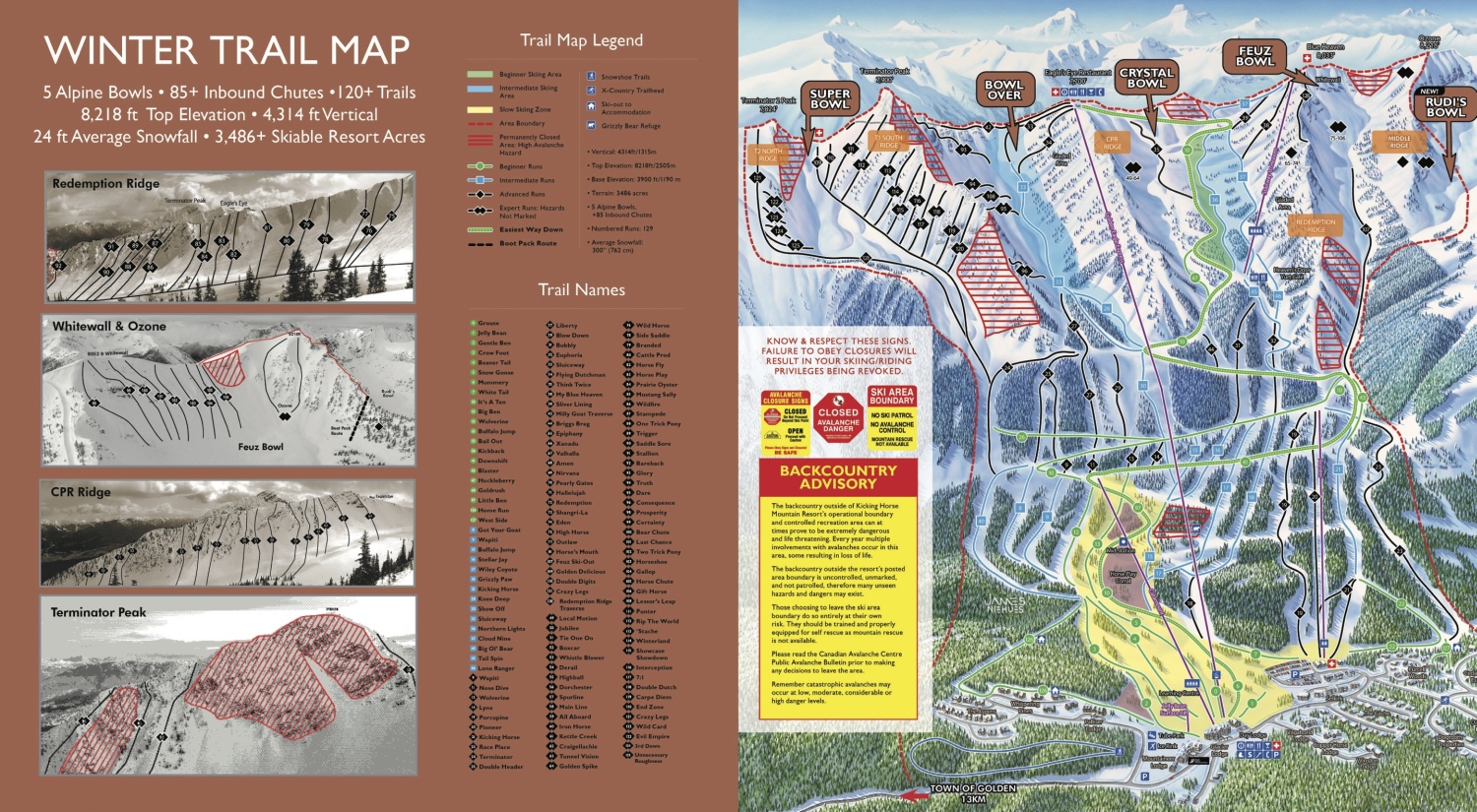 If you're looking for a wide choice of piste skiing to keep you, or a young family, happy for a week, you would probably stop at Lake Louise before you got here. But, and it's a huge but, if you like to ski or snowboard uncrowded powder, Kicking Horse will be right up your street.
From the top of either the Golden Eagle Express Gondola or the Stairway to Heaven Chair, you can ski along CPR or Redemption ridge and choose where you would like to drop into one of the legendary chutes, or couloirs. Entrances to the many chutes range from wide open to terrifyingly narrow rock slots. Once in, the chutes are steep but never too long before you're into wide open powder for a quick blast, before heading back to the chair for another loop.
To access the black chutes from North and South ridge you will need to take a short hike from the Golden Eagle Express, which is well worth it, as the snow, as well as the fantastic long descents, will make you soon forget the hike.
Kicking Horse - Off-Piste, Backcountry & Ski Touring:
Only 40 percent of the terrain at Kicking Horse is pisted. So you do the math, as they say. This being North America, the rest of the terrain that Kicking Horse Mountain Resort counts as part of the resort is all "in-bounds" - i.e. it's patrolled, and controlled for avalanches. Of course that doesn't make its completely safe.
Kicking Horse is an off-piste, and backcountry resort, and needs to be respected as such. The Big Mountain Centre ski school offers private instruction, group lessons and a range of excellent Avalanche Skill Training Courses.
If you were to ever get bored of the in-bounds terrain (and really, you'd be hard pressed to in a week-long trip here) there's plenty of out of bounds backcountry further afield too, if you have the guide, and the touring kit, or sleds to access it. If you're after cat-skiing, check out Chatter Creek Cat-Skiing, a 30 minute drive out of town, or if you've got money to burn, Purcell Heli-Skiing will happily help you incinerate it, letting you explore an incredible amount of BC backcountry terrain in the process.
Kicking Horse - Restaurants, Bars & The Town:
On mountain, the Whitetooth Grill in the resort's day lodge is the best place to catch a beer post ski: there is often a good offer on the locally produced brew, and the nacho plates could easily feed a family of four. If you're looking for something a little more stylish, then at the very top of the mountain is the Eagle Eye Restaurant, which is simply fantastic. It does come at a cost, yet is still reasonable considering the service and quality of the food.
The resort base is generally pretty quiet. Golden is the place to stay, if you want more of a ski town vibe. It's a bit rough round the edges and has a real frontier feel, which is great and completely the opposite to staying in Banff, which has a more generic North American feel.
In Golden, the Rockwater Grill and Bar has live music and comedy served up with the staple Canadian bar food, while the Eleven 22 restaurant is a more family-friendly place with an Asian twist. If looking for a cheap bed, then the Dreamcatcher Hostel has affordable bunk rooms. Just out of town on the Interstate 1, there are a whole host of chain hotels, such as Best Western and Ramada.
Kicking Horse - Ski Hire:
Ski hire in Kicking Horse starts with the Kicking Horse Mountain Resort rental service, but if you're staying in golden, try Selkirk Sports or Higher Ground. Snowboarders might like to check out Darkside Snow Skate Life, a store dedicated to boarding.
Kicking Horse- Ski School:
If you want to learn to ski in Kicking Horse, or want some pointers on skiing powder, the Telus Winter Sports School will take care of your baby steps or giant leaps. An alternative is In-Bounds Ski Guide based in Golden.
// HIGHLIGHTS //
Train station
Golden (16 mins)
beginner
intermediate
expert
// USEFUL LINKS //
Tourism and Ski Area