Jasper ski resort is at Marmot Basin, in Canada's beautiful Jasper National Park in Alberta on the eastern edge of the Rockies. Sounds straightforward, but Jasper is seriously remote, more than 400km north-west of Calgary and over 370km west of Edmonton. It is Canada's northernmost ski resort, more than 300km north of Lake Louise and Banff, and is close to the provincial border between Alberta and British Columbia.
Jasper National Park is a UNESCO World Heritage Site and one of the last fully protected caribou ranges in the Rocky Mountains.
Founded as a fur-trading post at the beginning of the 19th Century, Jasper developed into an important provincial station on the Grand Trunk Pacific Railway and a key supplies stop on the Trans-Canada Yellowhead Highway. It is still very much a genuine working junction town today, yet has also evolved into a successful mountain resort that serves as the principal gateway into the surrounding pristine wilderness.
Jasper's ski area, Marmot Basin, is 19km (25mins) south of the town, a designated recreational zone within the national park that still retains an atmosphere of being far away from civilisation. There's no accommodation at the ski area itself, only day-lodges catering for daily visitors. Facilities though are good, with a choice of restaurants, cafés and bars, plus an equipment rental shop, ski school and childcare centre.
Some of the earliest skiers here were British Army troops in 1942 who came to Canada to train in Alpine manoeuvres requiring a crude trail for snowmobile and snow cat transportation. But Marmot Basin was put on the ski resort map in the early 1960s and has grown steadily ever since.
Nowadays, Jasper caters for all levels, but is best for adventurous intermediates and up attracted to the steep and deep terrain and genuine edge-of-wilderness location.
And if you've taken the trouble to get here, you won't want to leave in a hurry, but it can make sense to combine a stay here with a road trip down the incredible Icefields Parkway to Banff - an unforgettable experience in its own right.
Jasper - Ski Map & Pistes:
With 1,800 acres of skiable terrain and more than 90km of pistes, Marmot Basin's ski area is compact (just the seven lifts) but varied with groomed runs, trees, moguls, alpine bowls and chutes. It also has the highest base elevation of any major Canadian ski area.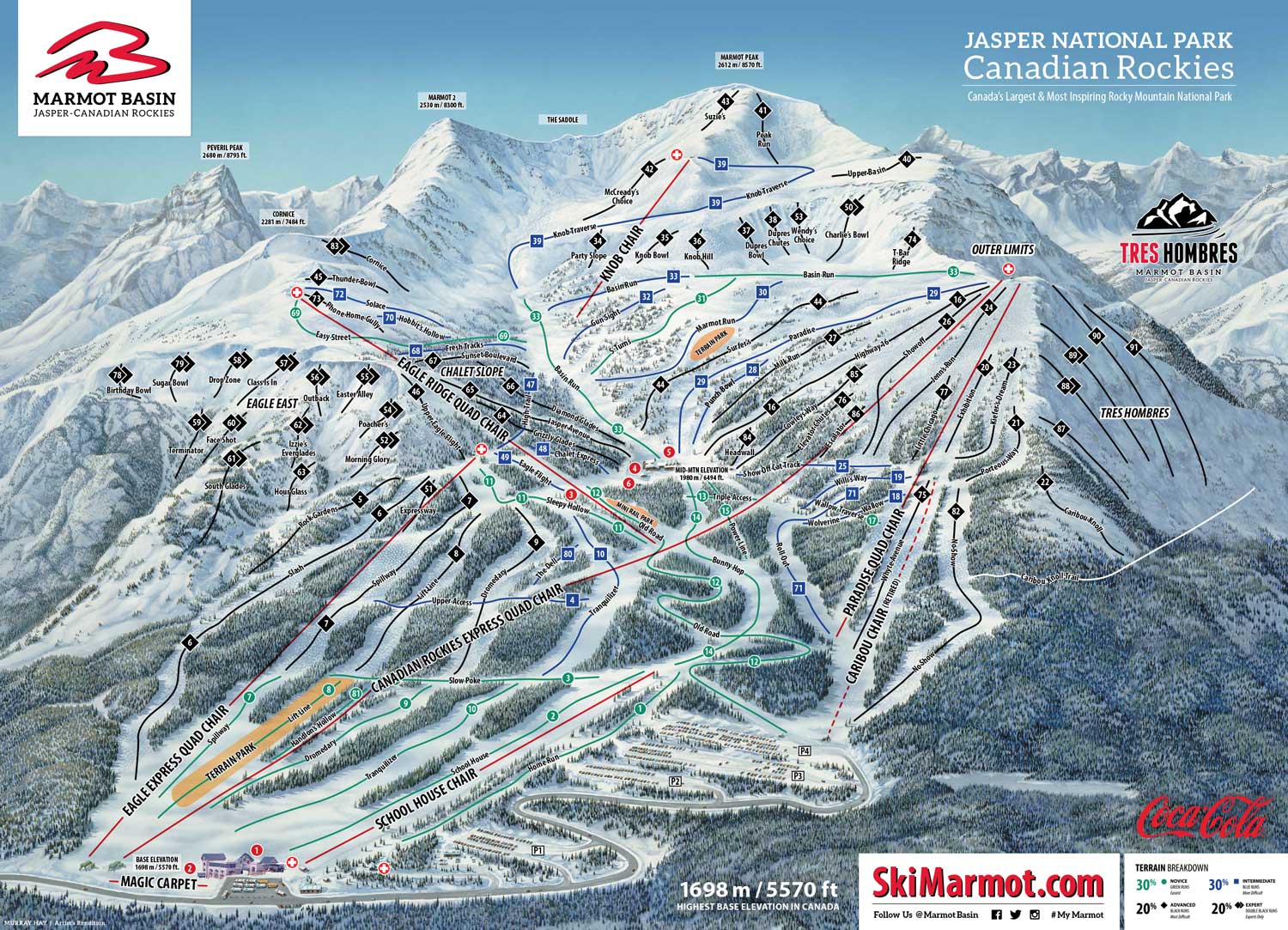 A key feature of Marmot Basin is that visitors can park up and directly ski off towards the lifts, then ski back to their vehicles at the end of the day.
The ski area is mostly contained within one big alpine bowl, overlooked by a cirque of summits and ridges that arcs round from the central high point of Marmot Peak. The slopes range from open terrain in the uppermost sectors, through pretty glades at mid-altitude, to sheltered forested slopes on the lower half of the mountain. There are 91 named runs, with plenty to entertain and challenge experienced skiers and boarders, together with a good selection of routes for novices.
The beginners' zone is closest to the base-area day-lodge, with straightforward lift-served progression routes out on to the novice-friendly lowest slopes. All other lifts (except the uppermost Knob Chair) also provide access to at least one green-graded run, meaning competent novices can explore almost the entire area.
The few intermediate runs are mostly groomed cruisers, with good progression routes to black diamond slopes, but most intermediate-level visitors will find they can exhaust all of the marked blue runs within a day or two.
Jasper - Off-Piste, Backcountry & Ski Touring:
The expert "in-bounds" terrain is superb: lots of super-steep chutes high up and tree-lined gullies lower down, plenty of ungroomed powder lines to hike to in the upper bowl, plus some [limited] access to backcountry off-piste.
Freeriders will enjoy the descents off the Eagle Ridge chair and Knob chair, particularly if you increase the vertical by throwing in the hike up to the top of Marmot Peak.
There's a nice story that the name of Marmot Basin's newest expert terrain. Tres Hombres, with its long and wide open steeps, gets its name from a ZZ Top album, the reputed favourite of a trio of 1970s skiers who were the first to ski the then out-of-bounds area.
As with everywhere in North America, there's a big difference between "in-bounds" off-piste (ie. areas that are patrolled and controlled for avalanches) and "out-of-bounds". The latter, near Jasper, is nearly limitless. But you need not just the safety equipment, but also the navigational know-how to head beyond the resort boundaries, because once you duck under the ropes, you're on your own.
Jasper - Restaurants, Bars & The Town:
Après ski at Marmot Basin is relaxed and friendly, but is no more than day-visitors having end-of-day beers, usually on the terrace-deck at the Caribou Chalet park lodge. With no on-mountain accommodation here, everyone has to journey back to Jasper.
Jasper is a small friendly town with a nice community feel. It has a good selection of accommodation, shops, cafés, restaurants, lounges, and bars, plus a couple of small nightclubs. For such a remote location, its restaurants actually offer a surprisingly good range of internationally influenced cuisine.
The town also has a cinema, museum, art galleries, a sports and fitness centre, and a leisure centre with swimming pools, water slide, hot tub and steam room. Non-ski activities available locally include ice skating on a frozen lake, ice climbing, ice-fishing, dog-sled tours, snowmobiling, and the wonderful Maligne Canyon Ice Walk.
A bigger excursion idea for a day away from the slopes to see more of this stunningly beautiful region is to take a railroad tour alongside the Fraser River to Dunston, stopping at the ghost town of Lucerne and taking in the views of Mount Robson, the highest peak in the Canadian Rockies.
And, of course, there's the Icefields Parkway, a stunningly scenic drive down to Banff, past glaciers and through dramatic scenery, that, on a clear day merits its tag as one of the world's top ten scenic drives.
Jasper - Ski Hire:
You can hire your ski equipment at the resort's own Day Lodge Rental Shop. Ski shops in Jasper itself include Totem Ski, Edge Control and Gravity Gear.
Jasper - Ski School:
If you want to learn to ski in Jasper, the Marmot Basin ski school has its own team of instructors and guides offering a full range of lessons and guiding.
// HIGHLIGHTS //
Airport
Edmonton (4hrs)
Calgary (4hrs 45)
beginner
intermediate
expert
// USEFUL LINKS //
Tourism and Ski Area