Skiing in Canada should be on everyone's wish list and Fernie, BC, is probably where you'll find the most snow. Offering more than 2,500 acres of ski terrain, up to 37 feet of snow in a winter, 142 named runs, five alpine bowls, huge vertical and an exceptional beginner's area, Fernie is a Rocky Mountain high for skiers and riders of all levels.
The town itself is legendary, full of passion, character, and characters with passion. The actual Fernie Alpine Resort is situated five kilometres away, and while there is some accommodation and basic amenities at the base area, Fernie is primarily a day-visitor ski area, with most visitors based in the town. Annual accumulated snowfall figures here are very high. The upside to this is the fabulous quantity and quality of powder, the downside is that sometimes it takes a couple of days to dig out the ski lifts after a snowstorm!
Fernie is located in the Elk Valley in the Lizard Range of the Canadian Rocky Mountains in south-east British Columbia, just 42km from the Canadian-USA border, nicknamed the Whiskey Gap during the US prohibition era in the 1920s. The town and the resort are named after a pioneering prospector called William Fernie, whose discovery of coal in this region in 1897 started a mining boom that led to the establishment of the community here. The town itself is quite quiet and still has an authentic Victorian mining town look and feel to it, although it's gradually being gentrified as more of the old buildings are renovated and turned into shops, restaurants and bars.
Fernie - Ski Map & Pistes:
The ski area at Fernie is spread over five Alpine bowls - Siberia, Timber, Currie, Lizard, and Cedar - on predominately forested mountainsides filled with lots of lovely glades. An upwards expansion to the summit of Polar Peak also opened up some terrific super-steep lines off the uppermost ridges beyond Currie Bowl.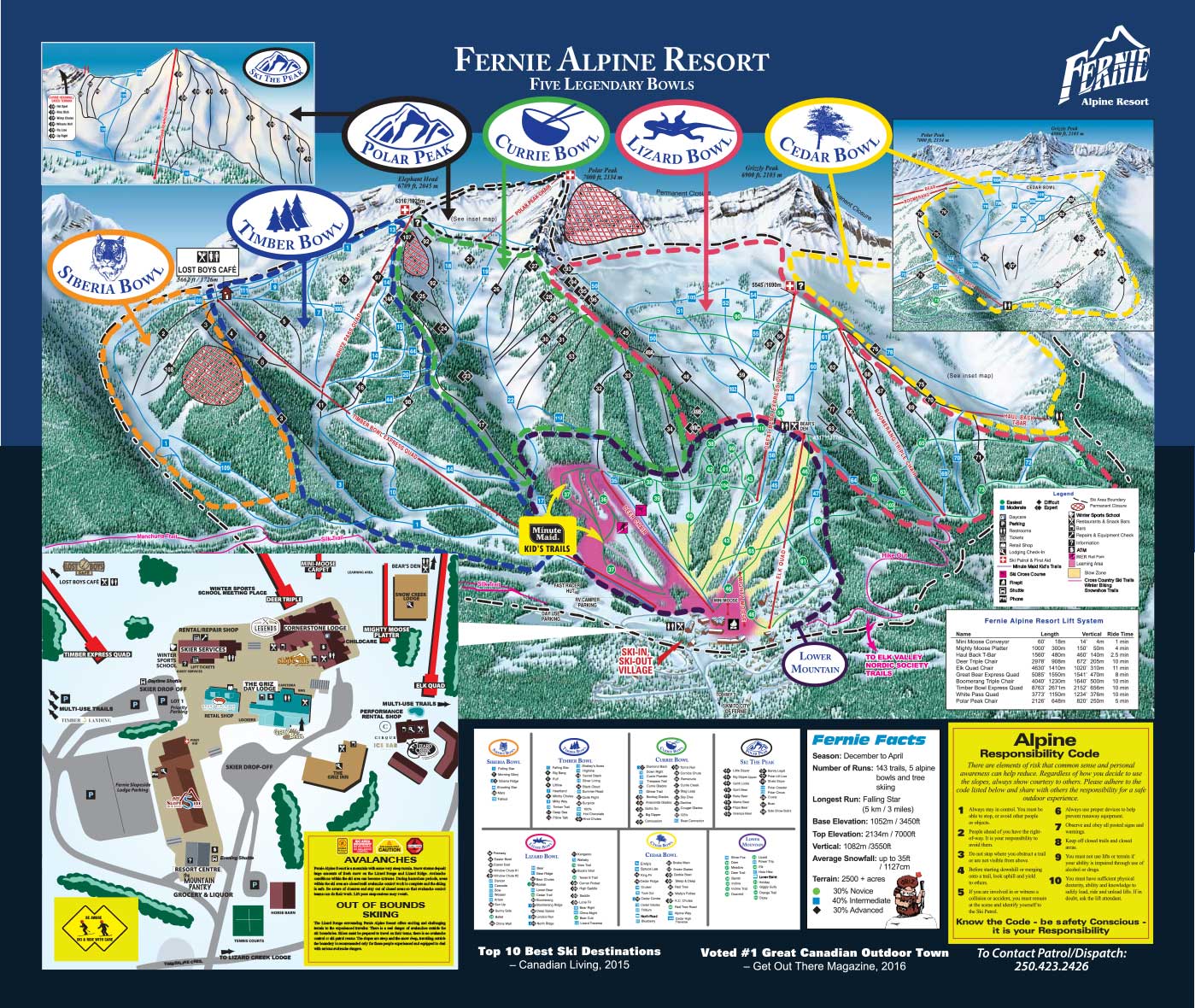 There are more than 140 named runs in the ski area, including many ungroomed chutes and gullies, although many are quite short in length and modest in vertical. Free familiarisation tours are hosted by the resort's Winter Sports School team, subject to reservation.
The Mighty Moose sector, on the gentlest slopes closest to the base area, houses an ample and attractive beginners' zone, with excellent progression routes close at hand courtesy of the Elk and Deer chairlifts. The principal access chairlift towards the majority of the intermediate terrain, and towards the summit sector, is the fast Timber Bowl Express, giving direct access to Siberia Bowl and Timber Bowl, plus, via the further piste-linked White Pass chairlift, Currie Bowl and Polar Peak.
Fernie provides plenty of terrain to keep most visitors of all ability levels entertained, but the most demanding enthusiasts are further catered for by the resort's lift-pass sharing agreement covering two other ski resorts in this province: Kimberley and Kicking Horse.
Fernie - Off-Piste, Backcountry & Ski Touring:
One end of the famous Powder Highway, Fernie is a freerider's dream. If you're looking for untouched, hidden powder, Siberia Bowl is the place to check out. Timber is laden with challenging terrain through the powder-laden trees but also has some slightly easier and wide open spots, like Shaky Acres.
Currie Bowl is a favourite with the more extreme rider who will delightedly drop into Currie on powder day for some of the best steeps on the mountain. As with most of North America, the bulk of the freeride terrain here is all "in-bounds," meaning its patrolled and controlled for avalanches. That, and the sheer amount of snow makes it a great place to get into freeriding for the first time, although beware that some of the terrain is seriously challenging.
Of course, you can always go under the ropes and beyond the boundaries of the ski area, provided you have the appropriate safety equipment and navigational knowledge, but if you do, you're on your own. A safer (and, let's face it, probably better) option for more advanced freeriders is Fernie Wilderness Adventures (https://ferniewildernessadventures.com/) the cat-skiing operation nearby, whose pick-up point is just two kilometres from Fernie.
Fernie - Restaurants, Bars & The Town:
Horse-drawn sleigh rides are a featured day and evening activity at Fernie Alpine Resort. Dog-sled excursions, snowshoe treks, snowmobile tours, and ice-hole fishing trips are also available. Further activities and tourist attractions down at the town of Fernie include an aqua-leisure centre with a swimming pool, water slides, hot tub, and stream room. There's also a cinema, a fitness centre, a climbing wall, and an ice rink, which hosts regular top league ice-hockey matches (the Ghostriders are the local team).
More sedate attractions include a mining museum and a number of small spas. The town is also a pleasant place for a stroll and has a fair selection of shops, restaurants and bars, but only a couple of venues that offer anything resembling lively nightlife.
Après ski up at the resort is fun and can get quite lively, depending on the sociableness of guests and visitors at the resort's hotel and condos, but there are only a couple of bars and restaurants that stay open later in the evenings. The Griz Bar is the go-to base-area hang-out when you've earned your beer.
Fernie - Ski Hire:
There are plenty of options for ski hire in both Fernie town and at the resort itself. The resort's own rental service RCR is right on the slopes, making it easy to switch gear if you need to. Alternatives include Gear hub Adventure Rentals, All In Skier Services and Ski Base.
Fernie - Ski School:
If you want to learn to ski in Fernie, you'll find lessons dominated by the resort's own Telus Winter Sports School. To take your skiing even further call in the Mountain Addicts for ski touring, guiding and instruction.
// HIGHLIGHTS //
Train station
Cranbrook (1hr)
beginner
intermediate
expert
// USEFUL LINKS //
Tourism and Ski Area