Sitting at the Northern end of Chamonix, Le Prieure hotel offers a prime location just a short walk from the main shopping street with its bars, cafe's and restaurants as well as shops from all the big names in skiing and snowboarding. The imposing Mont Blanc massif envelopes you on both sides giving you a palpable feeling of being in some serious mountains, and all in one of the most picturesque streets of any ski resort we've visited.
Not content with just being a pretty town, Chamonix has a real buzz about it thanks to a large local community who permanently reside in the town, most of them gnarly mountain folk who you're just as likely to see carrying ropes and ice axes as sipping espressos in the local bar. Known as the mecca of mountain sports, Chamonix is a place you come to scratch your high mountain itch, but equally if you just want to ski easy pistes all day long you're well served by the five surrounding resorts of Grands Montets, Les Houches, Le Tour/Balme, La Flegere and Le Brevent.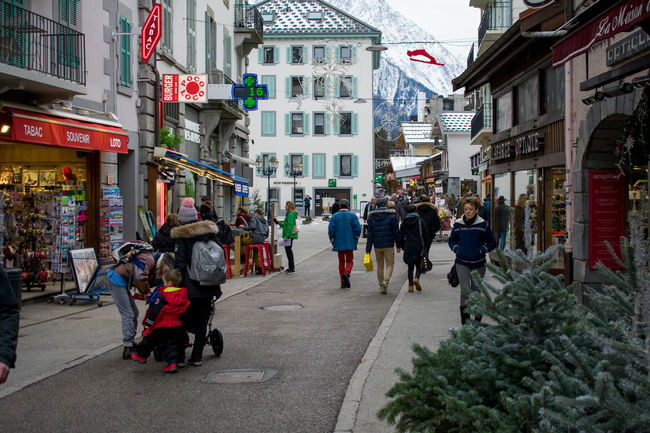 Rue du Dr Paccard, image Mike Walker
The Hotel itself has a striking modernist exterior which is reflected on the inside, but expertly mixed with cosy old world charm. We had the pleasure of whiling away many hours in front of a roaring log fire, sunk into deep, comfortable sofas lapping up the alpine hotel vibe we yearn for when sitting back at our desks in the UK.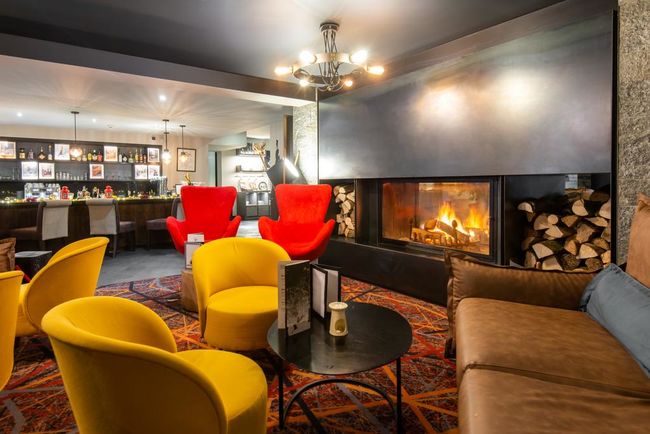 Bedrooms are generally well appointed and follow the same aesthetic lines as the downstairs areas. We had a twin room with pretty standard tea and coffee making facilities, a bench area and two decent sized, comfortable single beds. A small balcony offers views to the steeply rising mountains beyond and as you would fully expect the bathroom had a decent shower with plenty of hot water on tap.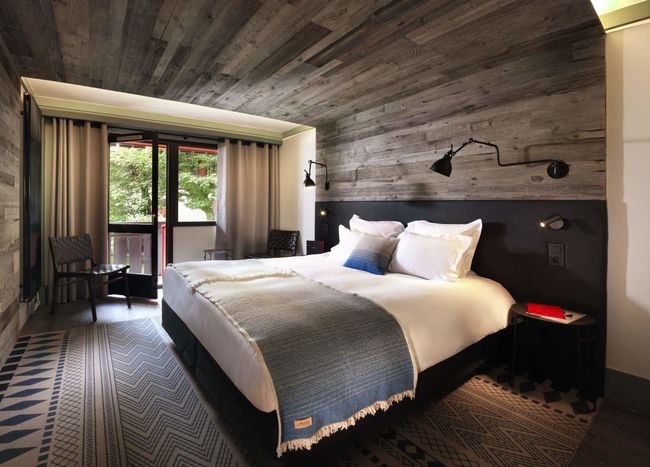 The morning ushers in a buffet breakfast in the on-trend restaurant. As usual with any buffet we ate as much as we could fit of the array of fresh fruit, hams and cheeses, juices, coffee and granola to set us up for the day ahead.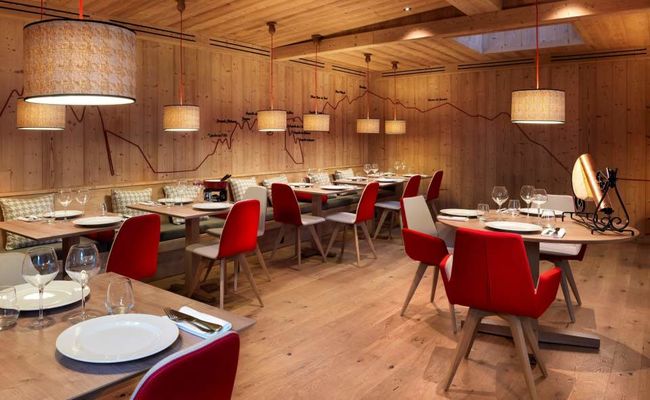 Any good advice on skiing in Chamonix will recommend hiring a car to access the sometimes far flung resorts dotted around the valley, and as we're the font of good ski and snowboard advice we recommend the same. If you decide not to treat yourself to a hire car the local bus service is prompt, regular and free, if a little crowded at peak times.
Overall, a decent mid-range Chamonix ski hotel that won't break the bank, and in a good location to boot.
Rooms at the Prieure Chamonix start from £75 per room, per night. More information at prieurechamonix.com