Gstaad, Switzerland, is one of those names that needs little introduction. One of the world's top resorts, with an enviable range of on and off-slope facilities, and a collection of hotels that have become legends in their own right, it's a true institution in the world of winter sports.
The skiing is somewhat limited locally, but the area pass covers half a dozen areas with some 250km of trails covering a wide range of ability levels. You can hop on and off the mountain trains to get to the base stations of each of these ski areas with gondolas or cable cars, almost invariably departing a few yards away from the rail station in each case. The only exception is the high altitude and snowsure Diablerets glacier, to which you need to catch the ski bus (also included on the pass).
Luxury hotels, such as the Gstaad Palace, smart designer shops, and gourmet restaurants abound in the pedestrianised centre of Gstaad, and it is certainly one of the most upmarket resorts in the Alps. That said there are boutique hotels in Gstaad, and budget hotels in Gstaad, for those of us who aren't Hollywood A-Listers / Minor Royals / Russian oligarchs.
One curious factoid: the Saanenland, the region in which Gstaad sits, still has an active agricultural life and as many as 90 cheese farms.
Gstaad - Ski Map & Pistes:
Gstaad sits between four valleys, each lined with ski centres. In one direction there is a gondola from the outskirts of the village accessing the ski area above Saanen. That skiing continues over the German/French language barrier and on above neighbouring Rougemont. Two more separate ski centres are located above famous Chateau d'Oex, a former home of actor David Niven. All three of these ski areas are on the Ski Gstaad pass.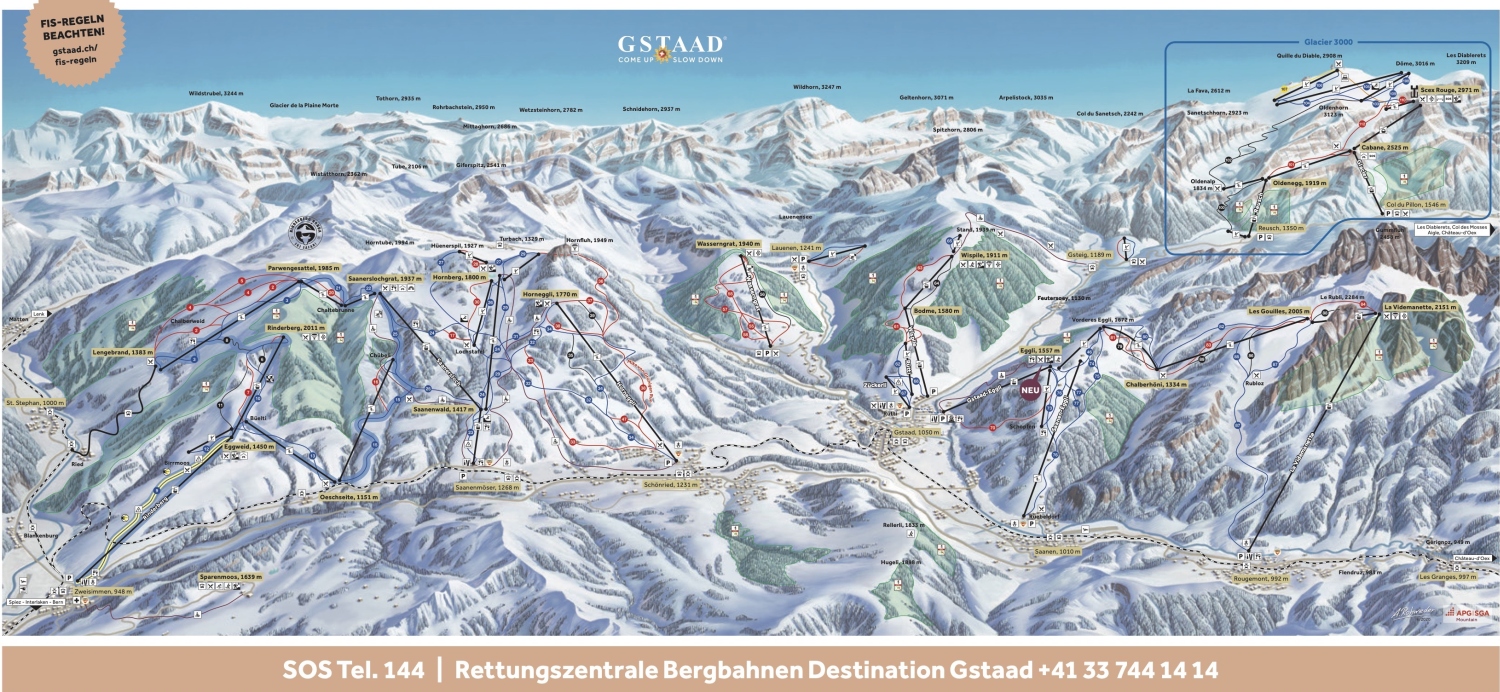 Another valley takes in Schönried, Saanenmoser and Zweissimen, also all on the pass and lift-linked to one another to form the largest single lift-linked sector on the pass. You can enjoy great glacier skiing at Glacier 3000. Fans of ski arenas will find plenty of space on the Rinderberg, Lengebrand, Saanerslochgrat, Hornberg and Horneggli. Eggli has nearly 60km of wide open, mostly blue runs.
Gstaad has its own 'local' slopes on the Wispile and in a second area up a short valley a bus ride from the centre at Lauenen. The Wispile has some village level nursery slopes, and an easy run at the top of the mountain accessed by a two stage gondola. There's a long intermediate and a long black run from the top station back to the valley.
Most of the rest of the terrain at all the other ski areas is graded either easy (60 percent) or intermediate (30 percent) and most of it takes place on wide open trails cut through thin woodland on north facing slopes and meadows on the lower slopes. The advanced ski runs are dotted around the area with most of the individual areas having at least one good long black to try. The Tiger Run, the legendarily steep ski slope, is on the Wasserngrat
From the Diablerets glacier there's a wonderfully long easy run of 14km (9 miles), with one unavoidable steep black mogul section, which eventually takes you back to the ski bus stop at Reusch on the road to Gstaad. You will ski a 1,650m vertical on this one descent. Château d'Oex has several black-graded descents including a rather long one down from Monts Chevreuils to Les Moulins, above the village, and heli-skiing is another option.
It is a complex ski area and the resort offers a complex range of lift tickets and passes to cover a wide range of different options. It pays to do your homework on the resort's website.
Gstaad - Off-Piste, Backcountry & Ski Touring:
The Glacier 3000 area has a deservedly strong reputation for its off piste, with nearly 2,000m of vertical on some descents. But as Olympic snowboarder Jenny Jones found out when she visited for Snow magazine, there's plenty of fun backcountry terrain elsewhere too. The trees beneath the Saanenmöser base are excellent if its snowing, and there are plenty of lines to be had down the valleys beneath the Horntube peak. There's also fun to be had over on the Eggli side of the resort too.
Aside form the Diablerets Glacier area, nothing in Gstaad is hugely high, but when the snow's good the rolling, open terrain, packed with bumps and features, makes this a brilliant backcountry playground. Meanwhile, the relative lack of crowds means you should have no problem finding fresh tracks after good snowfall. After all, your stereotypical Gstaad client is more concerned with seeing and being seen in the slopeside bars, than getting first tracks on the slopes themselves.
Inevitably, there's heli-skiing here too, which is a great option for skiers with pockets to match their powder preference.
Gstaad - Restaurants, Bars & The Town:
Off the slopes, Gstaad is a good family choice because of its pedestrianised centre, relaxed atmosphere and superb facilities. It is difficult, but just about possible, to find a place both to stay and eat economically if you are financially challenged. And of course, if you're not, you can have the run of the place, and the Palace, the legendary hotel which has welcomed everyone from Hemingway and F Scott Fitzgerald to Bernie Ecclestone and Madonna.
There are several dozen restaurants in Gstaad including, not surprisingly, some superb gourmet establishments. Must-try local products include Hobelkäse - wafer thin slices of the mouth-watering alpine cheese and the local Saanen mustard.
Gstaad is able to cater for all types of après ski, but of course the top night spots don't come cheap. The top venue in town is the Greengo nightclub at the five star Palace hotel. However, the resort is usually lively as soon as the lifts close and, with a lot of non-skiing tourists, even earlier. The Rooster bar is where apres lives on Glacier 3000.
Other popular spots include Rialto Bar and the Hornybar - but Gstaad is not short of a good place to party. Apart from the wide ranging sports facilities you can take an evening toboggan run, sleigh ride or try bowling.
Gstaad - Ski Hire:
Plenty of good options for ski hire in Gstaad. Try Silver Sport, Vertex Sports, Z-Sports or, for snowboarders, Pure Snowboarding.
Gstaad - Ski School:
When it comes to learning to ski in Gstaad, the Gstaad Ski School is a good place to start. Alternatives include Altitude Ski & Snowboard School and Snowsports Saanenland.
// HIGHLIGHTS //
Airport
Geneva (2 hrs)
Zurich (2hrs 30)
Basel (2hrs 30)
beginner
intermediate
expert
// USEFUL LINKS //
Tourism and Ski Area